Got products?
Retail holiday sales are expected to increase this year, and we want to make sure you get your share of the $730 billion dollars that people are about to spend.🎄
Get straight to the ideas that will put more holiday sales $$$ in your pocket using  one of the strongest social-shopping platforms on the internet: Instagram.
Find out what tools, features, and methods will help turn Instagram holiday shoppers into customers with tips to help you:
Get an edge on your competitors
Make the most of New! Instagram features
Develop trending seasonal content
Launch winning campaigns quickly with these trends, tools, and tactics for increasing your holiday sales with Instagram.
How Instagram can Boost Your Holidays Sales
It's been another impressive year on Instagram, with new tools and features rolling out like Christmas candy all year long.
Here's a few of our favorite Instagram updates from 2019:
Instagram shopping stickers
Branded (influencer) ads
Ads in Explore feed
Shopping posts as ads
Product launch reminder stickers
We want to help you blend the best Instagram tools into campaigns you can launch quickly!
According to the National Retail Federation, holiday retail sales (excluding automobile dealers, gas stations, and restaurants) will total between $727 – $730 billion dollars this holiday season.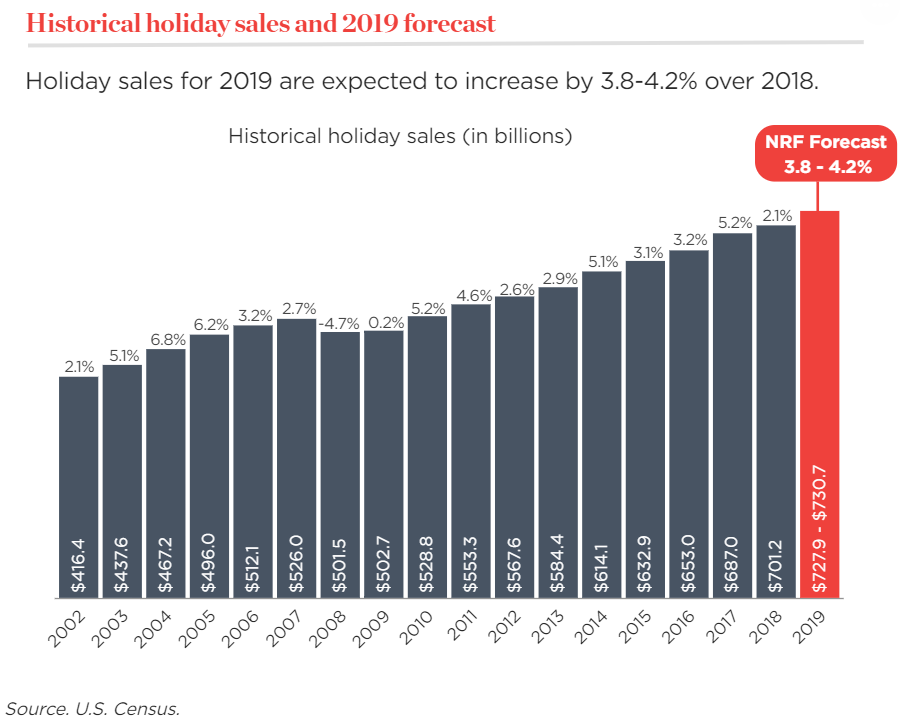 Instagram's success and expansion over the past year has been building up to this moment – an ecommerce holiday explosion of increased growth, conversions, and sales for retailers.
Get ready for your Instagram holiday campaigns with the 23 tools, features, ideas, and tips below.
We've chosen some of the most valuable Instagram holiday campaign ideas that will help make your season bright — and profitable. 😀
Tip #1 – Run a Quick Check on Your Industry, Competitors, and Influencers
Before you develop your Instagram holiday campaigns, find out what's working for your competitors, and learn about the latest Instagram trends.
You can do the research manually or use a monitoring tool to help you.
If you research manually, start by making  a list of competitors, influencers, and news outlets in your industry.
Next, visit your list of pages and scroll through to review 20-30 of the most recent posts from each account, noting the following:
What posts get the most comments
What posts get the most shares
What posts generate the most overall engagement
There are tools that can make your research quicker.
We think Sharelov's monitoring tool is the best for all your marketing campaigns because it's super user-friendly and fast. Plus, it makes many tasks – such as research – much easier.
The "Monitor" tool is located on all your campaign pages.

All you need to do is enter the Instagram handles of the competitor, influencer, and industry accounts you want to research.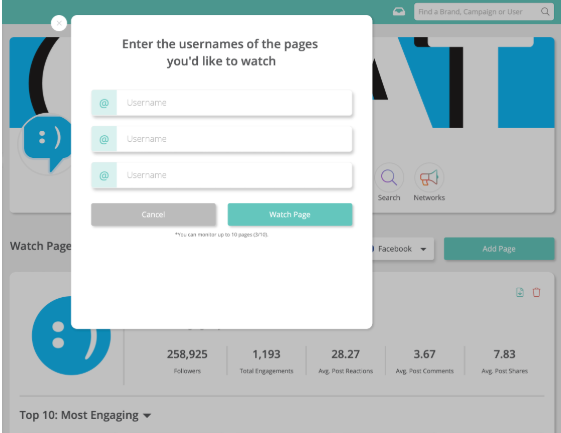 It only takes a second to pull up all the data you need — and you can sort by most comments, shares, engagements, or recent postings.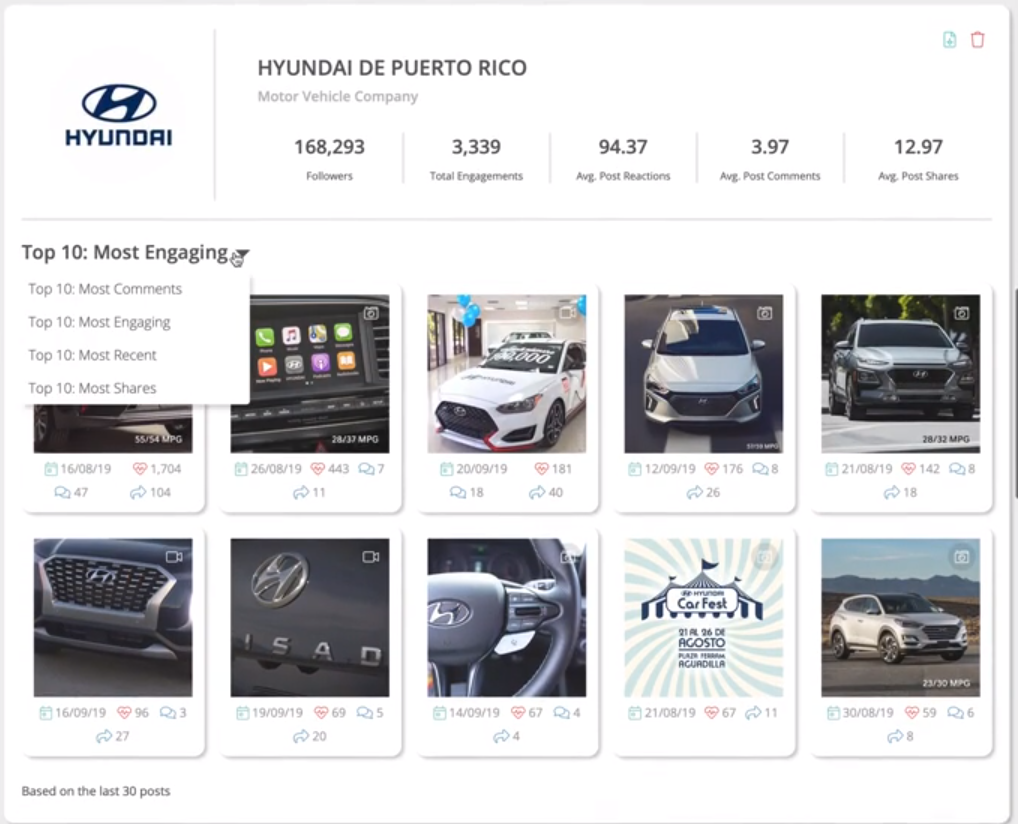 Instantly, you get a visual report of what's happening in your industry, and you can click any of the results for complete details.
Find out what's working for people in your industry before you plan your holiday campaigns.
With the right tools, 5 minutes of research will reveal valuable insights that can increase your sales during the holiday season and beyond.
Tip #2 – Choose Instagram Hashtags that Get You Into Trending Holiday Newsfeeds
Expand your reach dramatically by dropping your posts into trending holiday search feeds on Instagram.
Hashtags get your posts in front of new people, and it's easy to find out which hashtags are trending.
Searching Instagram hashtag feeds shows you which topics are the most popular right now.
For example, typing #Christmas into the Instagram search bar shows you trending Christmas-related hashtags such as #Christmasdecor, #Christmastree, and #Christmasgifts.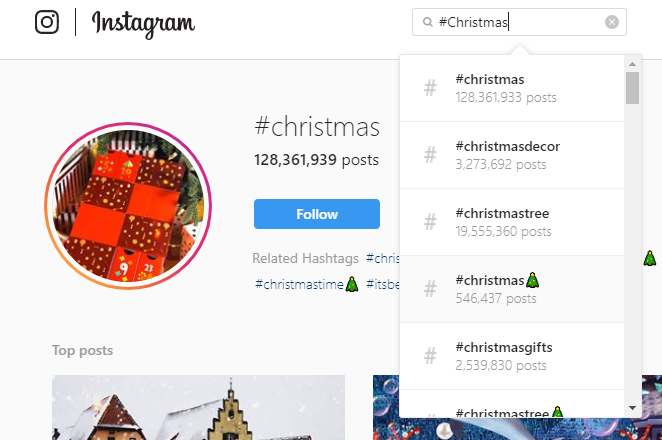 If your team uses Sharelov, you can research and insert trending Instagram hashtags, in seconds, every time you post.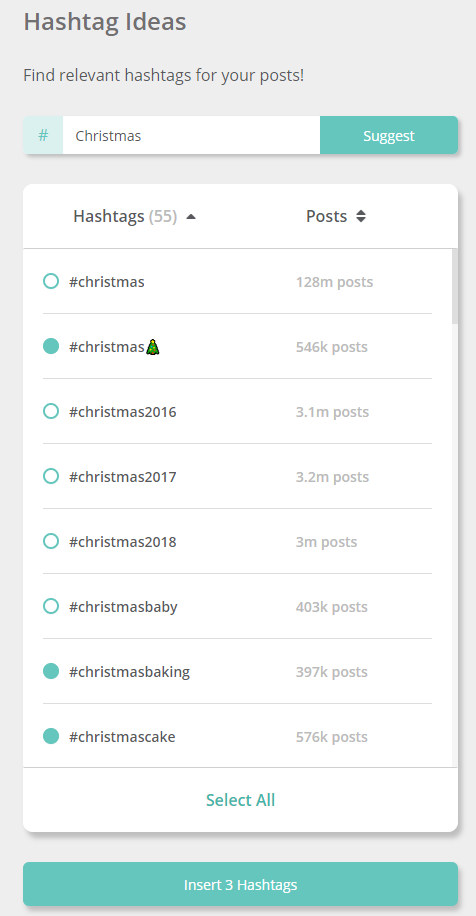 Just select your favorite hashtags and click "insert" to add them to your post.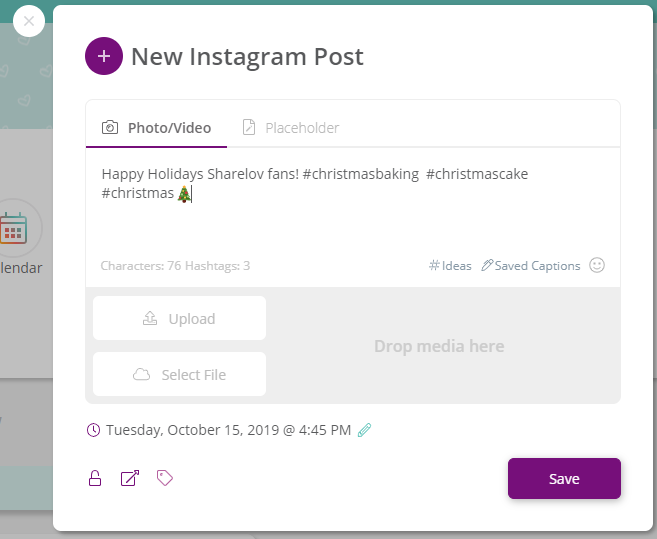 Tip #3 – Select a Couple Niche Hashtags for Less-Competitive Exposure
Instagrammers are obsessed with hashtags, so there's a lot of competition in the search feeds.
If you only choose trending hashtags, your content can get lost among tens of thousands of other posts.
Try adding at least one highly-niched campaign hashtag to everything you publish on Instagram. Niche hashtags add your content to smaller search results pages where there's less competition.
For example, #ChistmasCandy has 61,000 posts, but  #ChocolateChristmas only has 2,740.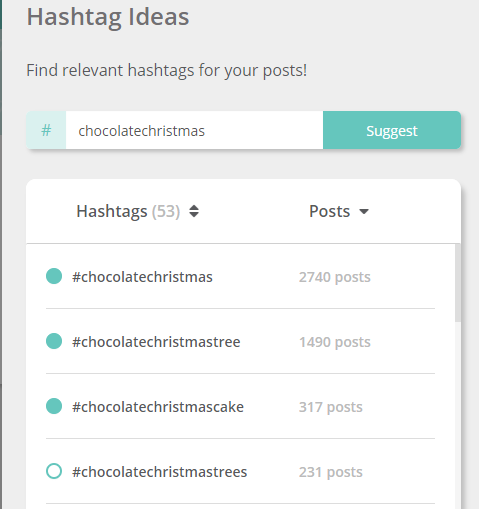 Adding one or two niche hashtags to every Instagram post can help drive more traffic to your Instagram account.
You can also create your own campaign hashtags for holiday contests.
For example, one year Ted Baker and POKE agency's #TedsElfie campaign sent people searching for missing elves on Instagram.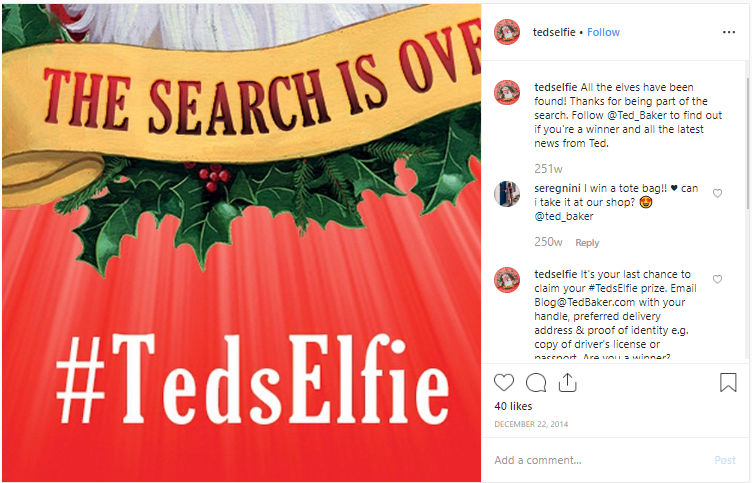 When you create unique hashtags to match unique holiday campaigns, research your hashtags before using them to make sure they haven't been used before.You'll also want to confirm that your unique hashtags haven't been associated with any negative publicity in the past.
Tip #4 – Get Your Whole Team Brainstorming
Bring your entire team in on the excitement of the season by inviting everyone to share ideas or contribute to your Instagram holiday campaigns.
When you get the whole team involved, they're more likely to advocate for your company and share content to their Instagram accounts.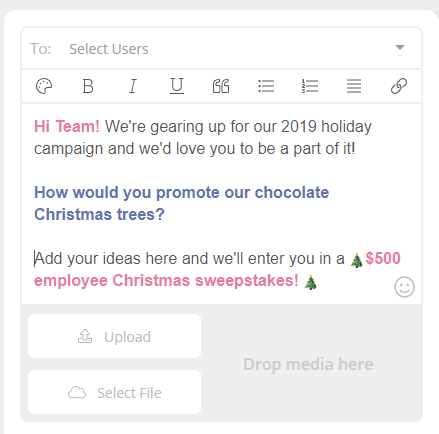 Consider offering incentives such as giveaways and sweepstakes or prizes for people who share ideas.
Opening your holiday brainstorming to employees helps get them engaged and excited about your Instagram presence.
Tip #5 – Create a Flawless Task-Tracking System
The holiday season is a rush of personal and professional obligations that put your team under  pressure at work and home.
There are several things you can do to ease the stress and ensure your Instagram projects run smoothly:
Share "to-do" lists with all your team members
Set deadlines for all tasks
Use a task-tracking system
Provide team members a platform that allows them to collaborate on ideas, artwork, and content.
Avoid using email because messages can get lost or ignored
Strong organization helps your team avoid holiday burnout and keeps them fully engaged throughout the entire season.
For example, Sharelov's collaboration software lets you assign and track time-based tasks. Team members have 24/7 access to task details and deadlines, and only need to click on the checkmark to clear their completed tasks.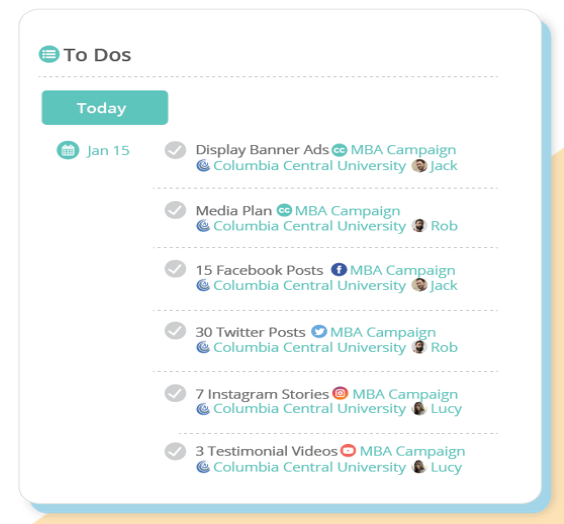 A detailed, but user-friendly, task-tracking system can keep your teams and marketing projects running smoothly throughout the holiday season.
Tip # 6 – Motivate Your Marketing Team with S.M.A.R.T. Goals
Focus your marketing team's efforts by posting measurable objectives for each Instagram campaign. Make them SMART!
Specific
Measurable
Attainable
Revelant
Time-based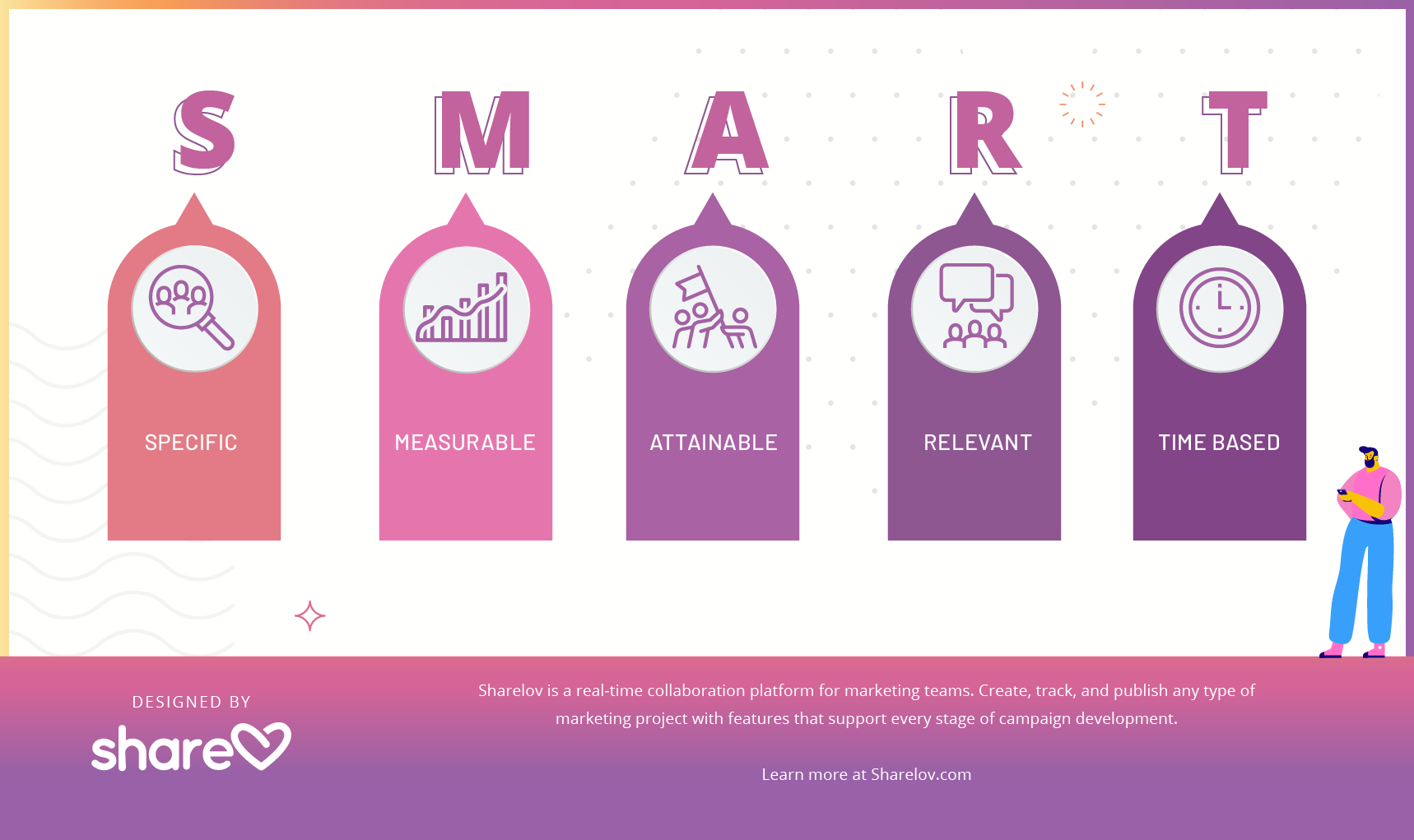 You can include S.M.A.R.T. goals in your campaign brief, making them visible throughout the entire holiday season.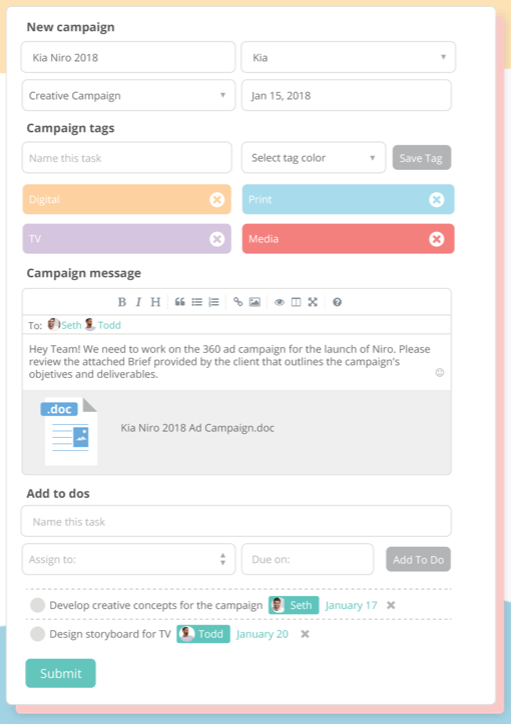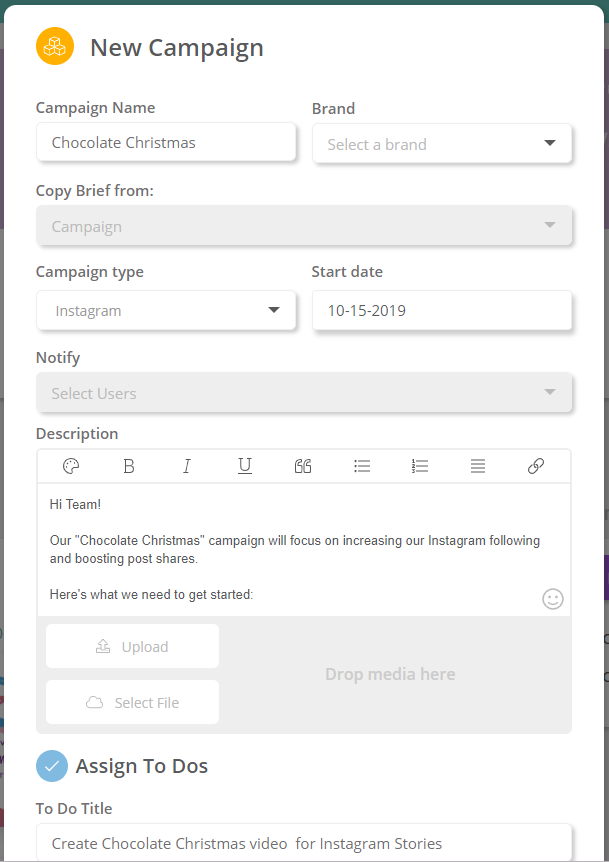 Posting tangible, metric-based goals helps your marketing team focus, create, and execute strategies that sell more products.
Tip # 7 – Prepare for Daily Instagram Insights Tracking
Tracking your progress daily during the holiday season allows you to adjust, pivot, and enhance your holiday content.
You can track your campaign analytics with Instagram Insights.
Reviewing several metrics on a daily basis can become rushed or disorganized if you're not prepared, though.
Consider using an app or tool that makes data-review quick and simple.
For example, Sharelov users can review their most-important KPIs instantly. The app can quickly pull up lists and charts that show your:
Top 5 posts with the highest reach
Top 5 posts with the highest clicks
Top 5 posts with the highest engagement rate
Top 5 posts most recent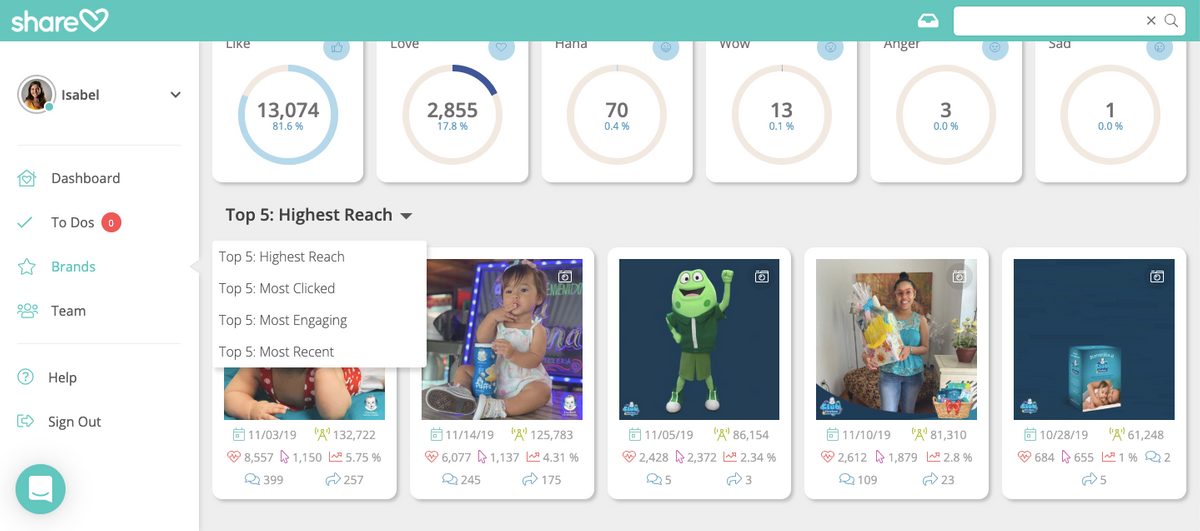 Clicking on any post brings up individual metrics:
Reach
Engagement Rate
Total engagements
Clicks
Reactions
Comments
Shares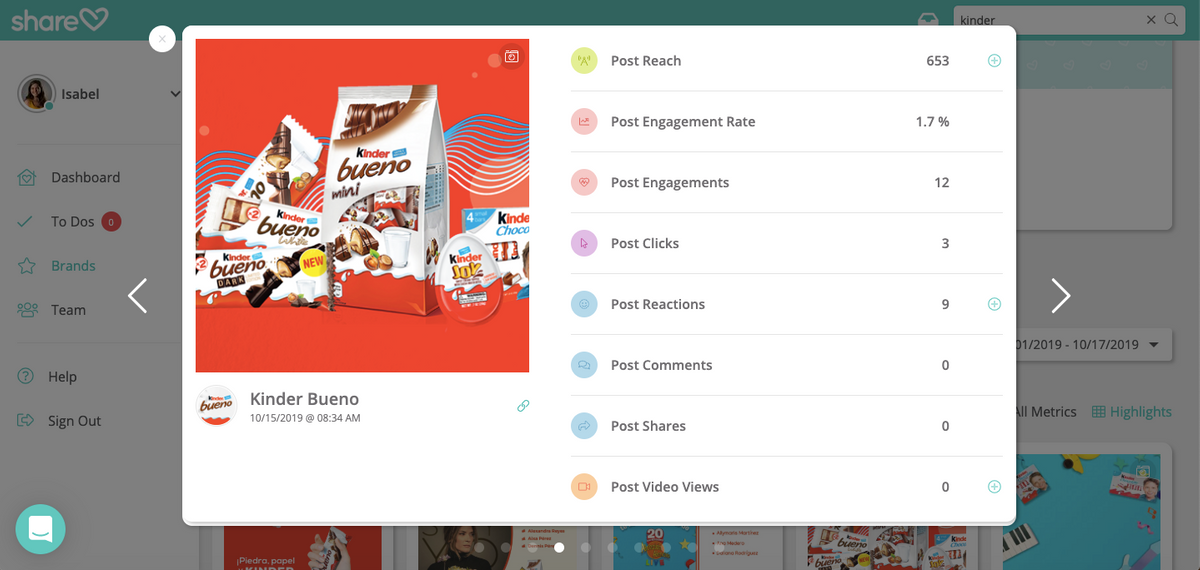 When you find posts that are generating high engagements and conversions, adjust your content planning to create more like them.
You can review your metrics daily using Instagram Insights or a professional app like Sharelov to learn what's engaging your Instagrammers this holiday season.
Tip #8 – Use Tools to Help You Visually Map Holiday Content
Using a visual content calendar helps your team track the progress of your holiday campaigns.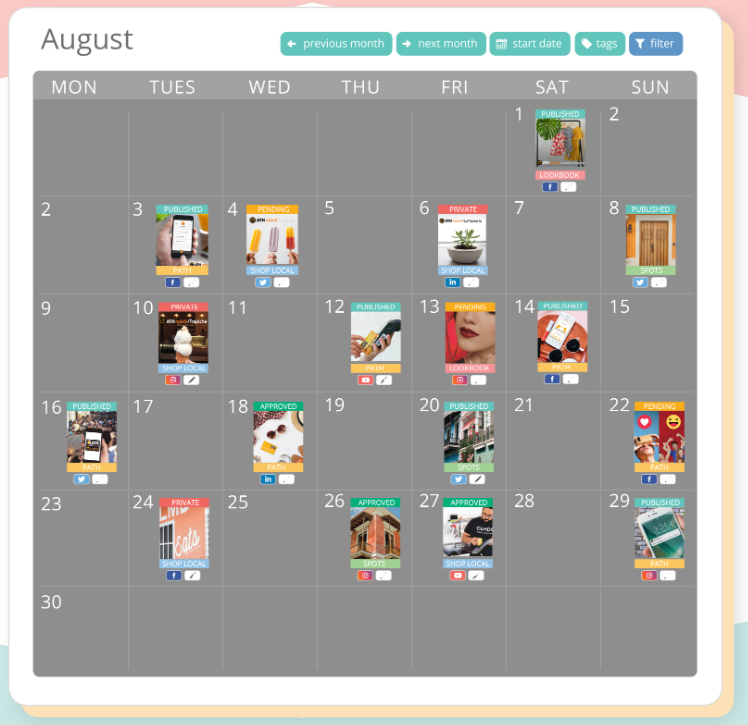 Visual content calendars are valuable tools for holiday campaigns because they help save time and improve the flow of your Instagram content.
Tip #9 – Plan Your Holiday Posting Schedule Early
Planning your posting schedule before the season begins will help you publish high-quality content on a consistent basis.
Posting Instagram content on the same day of the week –  at the same time of day – builds a trustworthy and reliable reputation for your brand.
Before you create a holiday posting schedule, find out what days and times your audience is most likely to engage with brands on Instagram.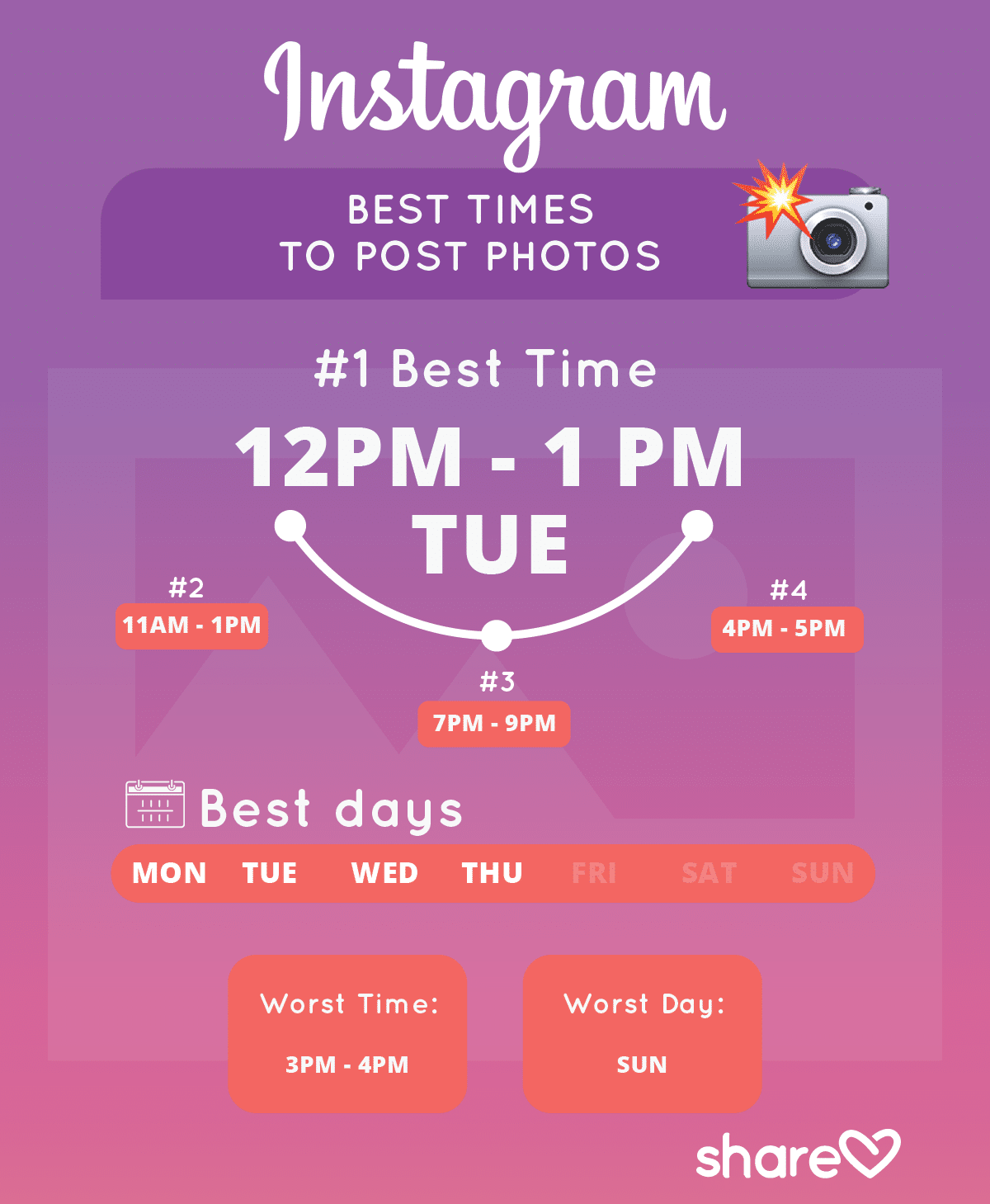 Tip #10 – Prompt Followers to Use Instagram's Bookmark Tool
Instagram's bookmark tool lets users save posts to a private area of their profile.
Give your followers a reason to bookmark your posts!
For example, you could share an exclusive holiday discount code:
Exclusive Instagram Discount Code – 50% Off – Bookmark This Post!
Bookmarking your posts means followers save your content to a private area, giving your brand multiple private views throughout the holiday season.
Tip #11 – Align Your Instagram Holiday Campaigns With Other Social Platforms
Spread the holiday cheer across all your social platforms!
Most people visit several social media platforms daily. Maintaining consistent branding across all your social platforms is essential because it helps to build trust and strengthen your brand name.
Krispy Kreme Donuts keeps its branding consistent by launching one promotion across all its platforms.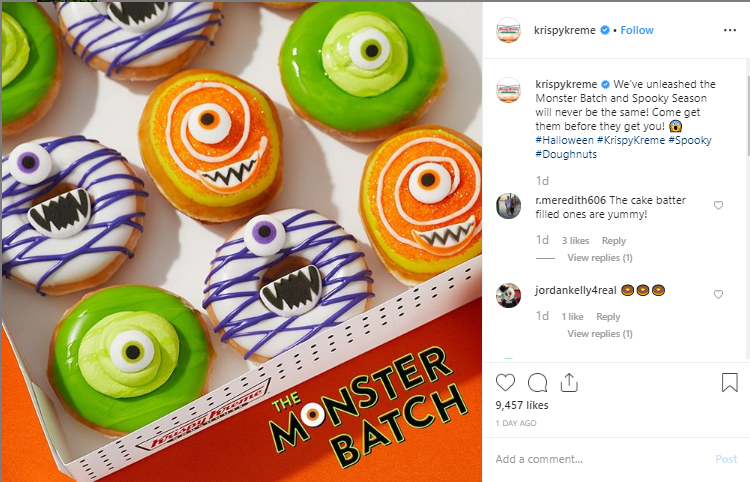 The donut brand keeps its holiday promotions near the top of its social media feeds.
On Twitter, Krispy Kreme publishes a similar holiday promotion at the top of its feed.
On Facebook, the brand features its holiday campaign theme with a wall photo.

Organizing campaigns across multiple platforms requires a reliable tracking system.
Try to use a social media scheduling calendar with a grid tool that simplifies the process
Sharelov Grid View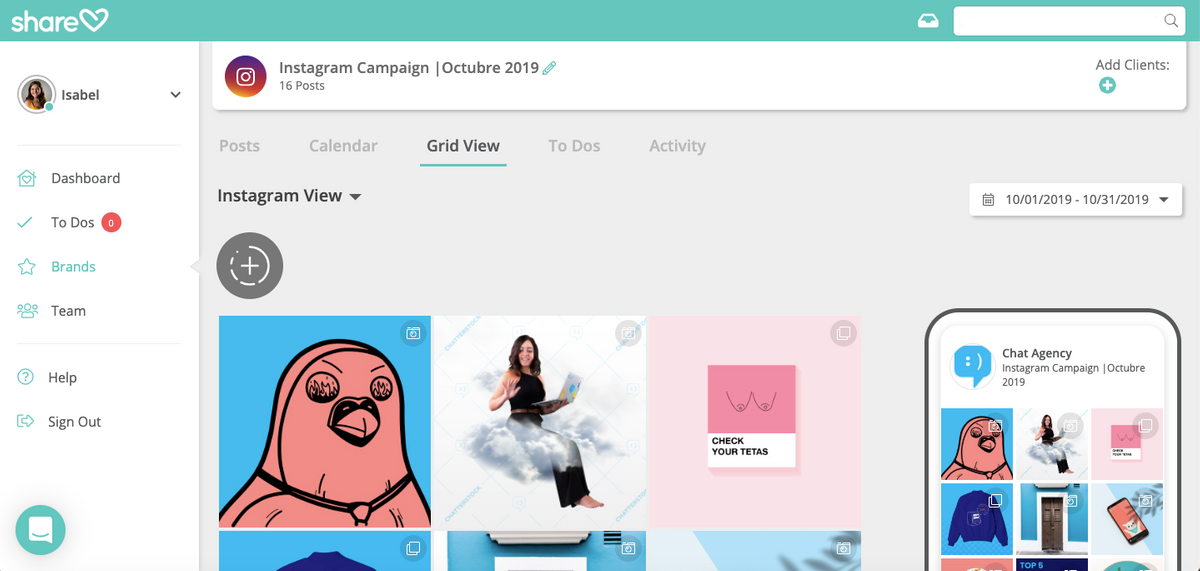 Tip #12 – Mid-Season Product Launches — A MUST for 2019!
Here's why planning mid-season product launches are a MUST for your 2019 Instagram holiday campaigns…
Instagram's NEW! Product Launch sticker sends notifications to subscribers when your product launches.
Planning one or more mid-season product launches is a great way to get your brand in front of people, and notifications are an excellent way to make a personal connection.
Encourage your followers to set reminders for your product launch dates!
When your product launches, Instagram sends reminder notifications to people who subscribed.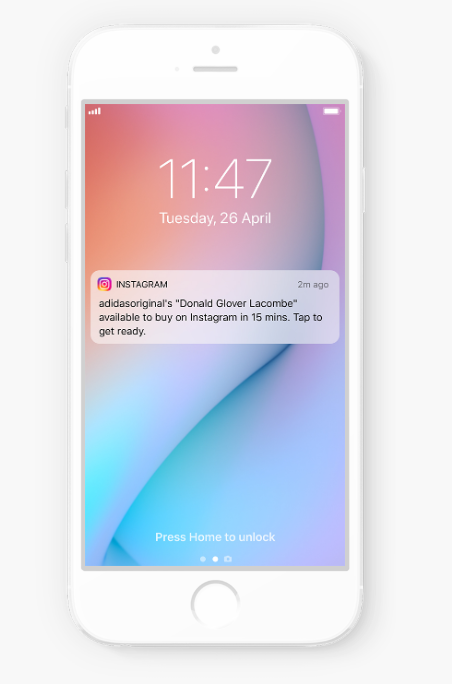 If you sell products through Instagram Shopping, plan for mid-season releases so you can build excitement with product launch notifications.
Tip #13 – Partner with Influencers, then Use Instagram's NEW! Branded Content Ads
Brand new this year! Instagram's Branded Content ads allow businesses to reach new audiences by running ads with influencer content.
Instagram influencers can help you grow your audience and boost your engagement rates overnight.
Any size business can work with influencers.
Micro influencers can help small businesses grow with highly-engaged audiences and affordable rates.
Branded content ads allow you to advertise the content you co-create in your influencer campaigns.
To learn more about Instagram's branded content ads, visit Instagram for Business for step-by-step instructions.
Tip #14 – Reach a Wider Audience with NEW! Shopping Post Ads and NEW! Explore Feed Ads
Spread the excitement of holiday shopping with Instagram's NEW! ad formats: Instagram Shopping Posts as Ads and Ads in Explore feed.
Instagram Shopping Posts as Ads let you boost your shopping presence by using organic shopping posts as ads.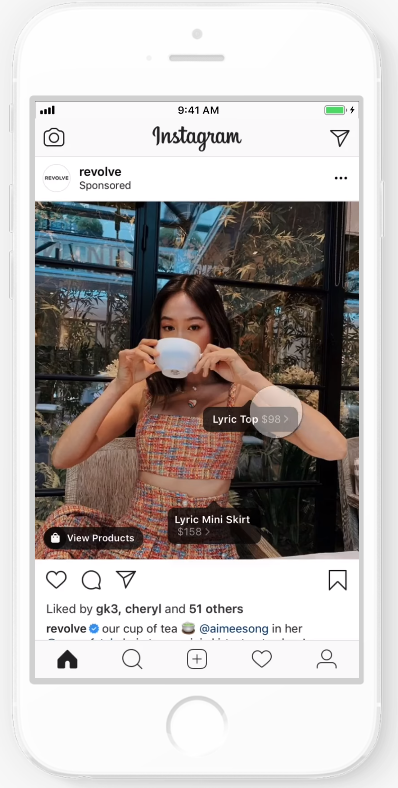 Instagram Explore Feed Ads are new this year, also!
Placing ads in explore feeds, where people are already looking for new products, is an excellent way to help increase your holiday sales.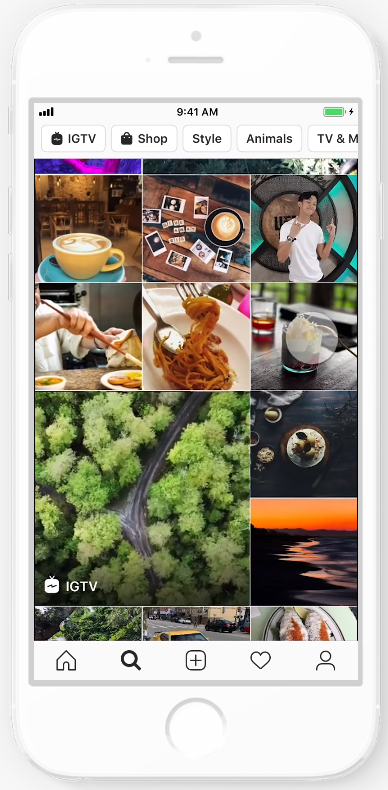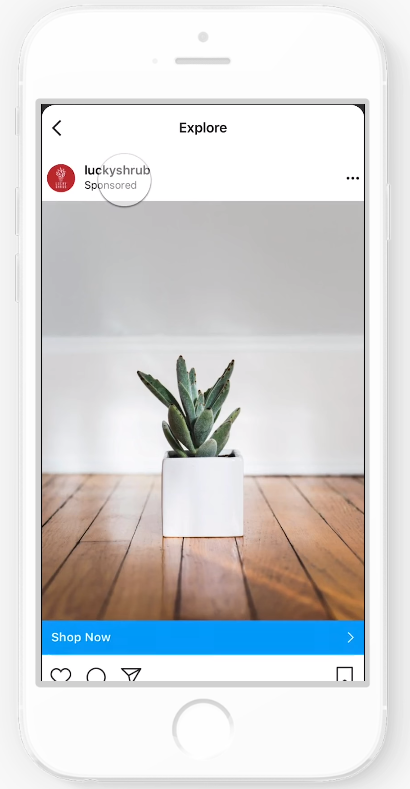 Instagram's new ad formats can help you expand your reach and boost sales quickly!
Tip #15 – Layout Holiday Ads With Instagram Campaign Templates
Save time and improve the quality of your advertising by using templates to guide your layouts.
You can create your own campaign templates, or use a tool to guide you towards more professional layout styles.
Sharelov's campaign templates help brands develop ad campaigns for Instagram, Google, Facebook, and more.
Tip #16 – Boost the Holiday Excitement with Instagram Live!
Introduce your new products, launch a Q & A session, or broadcast a live chat roundtable with Instagram Live video.
Live videos let you show off your brand's personality, which is especially helpful in forming a human connection during the holiday season.
Live videos are an excellent way to build holiday excitement, engage your followers, and get noticed in the Instagram news feed!
If your followers love your videos, consider publishing content that's 5 minutes or longer instead of working within Instagram's usual 60-second limit.
On IGTV, all brands can publish videos between 15 seconds – 10 minutes long, and bigger brands can host videos up to 60 minutes.
Viewers can watch up to 60 seconds of your IGTV video in their Instagram feed before getting transferred to the IGTV app.
IGTV viewers love fast-paced how-to and action videos like the ones produced by the Red Bull – GoPro partnership.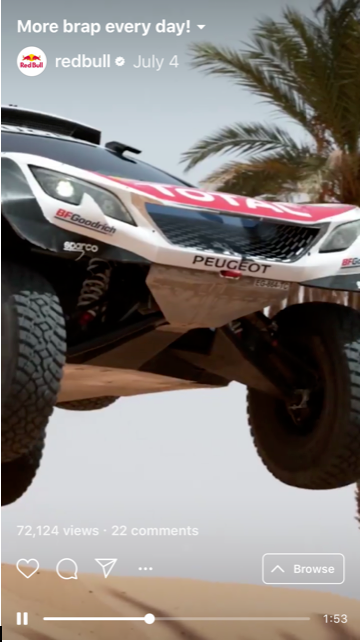 If your brand can produce highly-engaging long-form content, consider publishing on IGTV to grow and engage your audience this holiday season.
Tip #18 – Use Swipe-Up, See More, and Profile Links to Build Your Mailing List for Postseason Sales
Build your email list early in the season so you can market your best last-minute Christmas deals directly to subscribers!
Try using your Swipe-Up, See More, or profile links to convert viewers to email list subscribers.
If your brand can produce highly-engaging long-form content, consider publishing on IGTV to grow and engage your audience this holiday season.
Email marketing helps you sell more during the holiday season, and is an excellent way to promote post-season sales or engage buyers long after the holidays!
Consider using one of your Instagram links to promote your brand's email list early in the season.
If your brand can produce highly-engaging long-form content, consider publishing on IGTV to grow and engage your audience this holiday season.
Tip #19 – Turn Your Best Stories into Profile Highlights
Use Instagram Stories as often as you can during the holiday season, and make sure to pin them to your Instagram profile!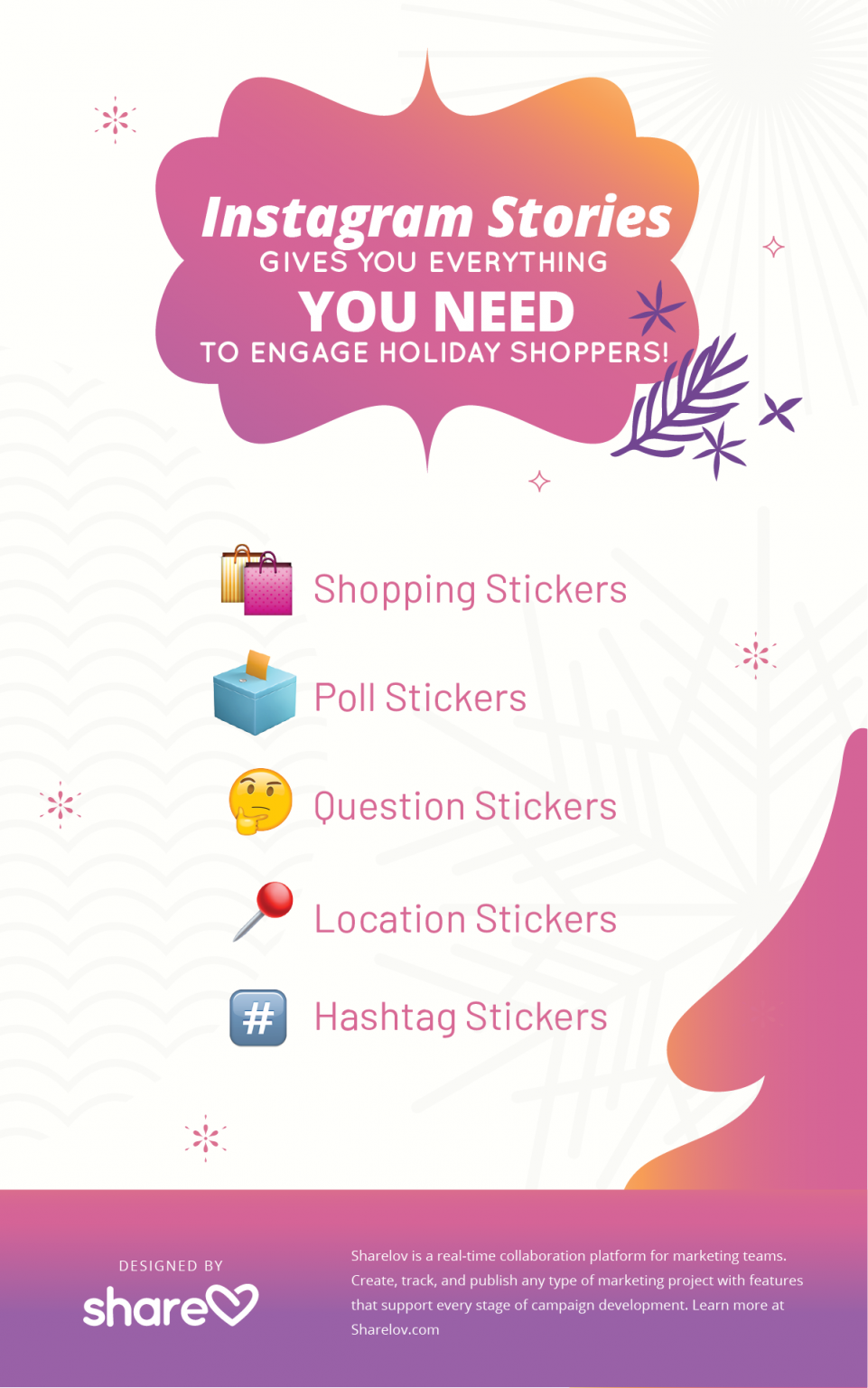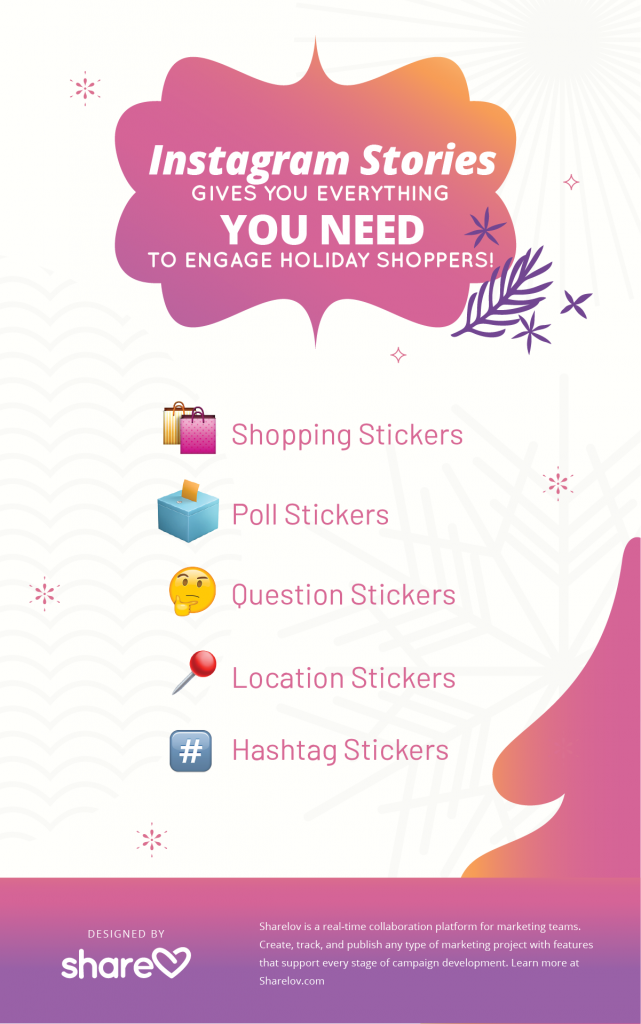 Instagram Stories provides you with everything you need to engage followers, including:
Shopping stickers
Poll stickers
Question stickers
Location stickers
Hashtag stickers
For example Rocksbox Jewelry pins Stories to its Instagram profile to let visitors know what its company is all about.
The Ellen Show represents its company by sharing highlights packed with educational, uplifting Stories.
If your brand can produce highly-engaging long-form content, consider publishing on IGTV to grow and engage your audience this holiday season.
Tip #20 – Use Shopping Stickers Like Crazy
This year brings all-new holiday shopping excitement, thanks to the addition of Instagram Shopping stickers for posts and Shopping tags for Stories. 
Now, you can create posts and Stories with products, product pages, and links that go directly to your website.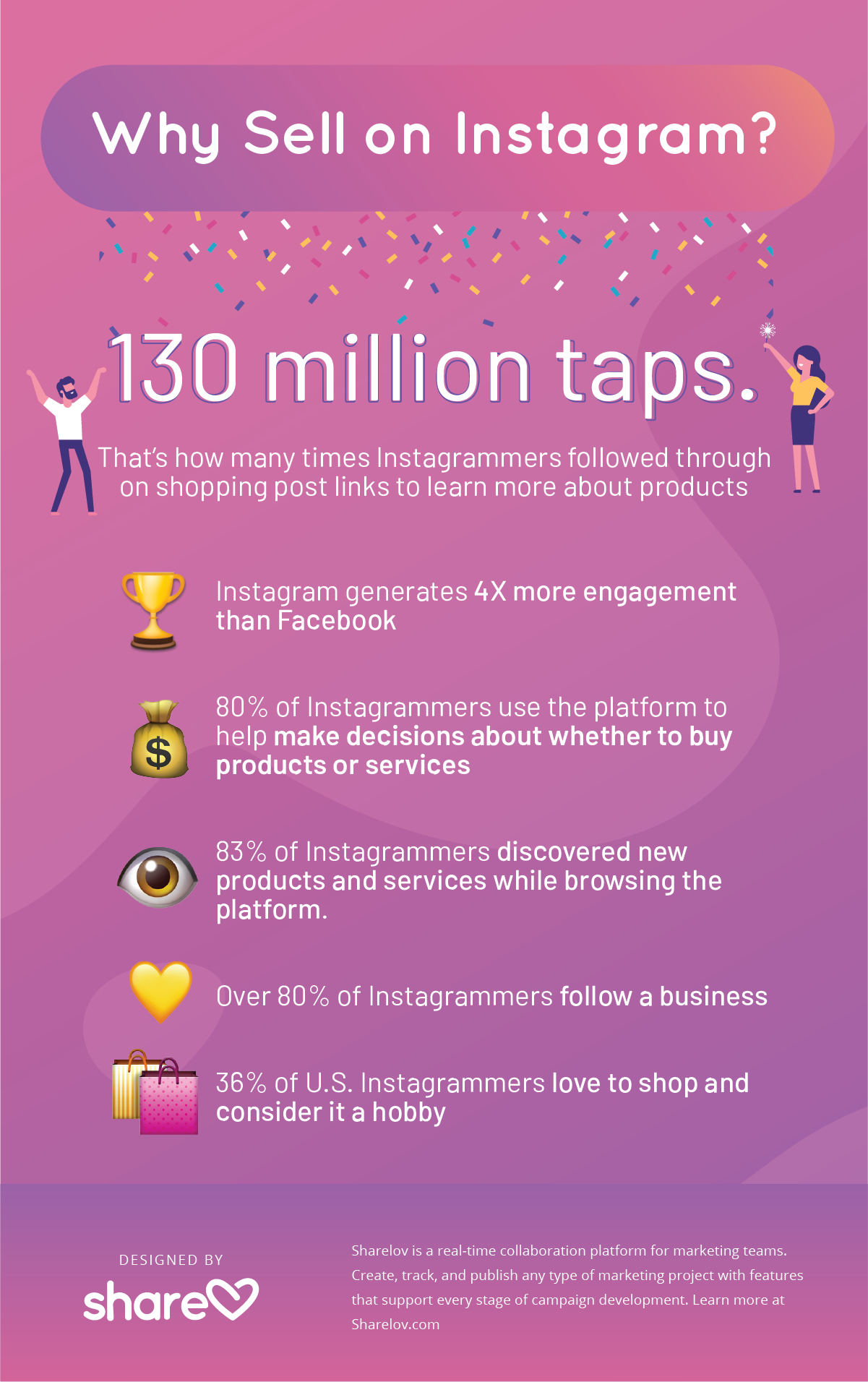 Tip #21 – Encourage Followers to "Add This to Your Wishlist!"
People can save your product posts to a personal wishlist on Instagram. Encourage your followers to save your products to their Instagram holiday wishlist!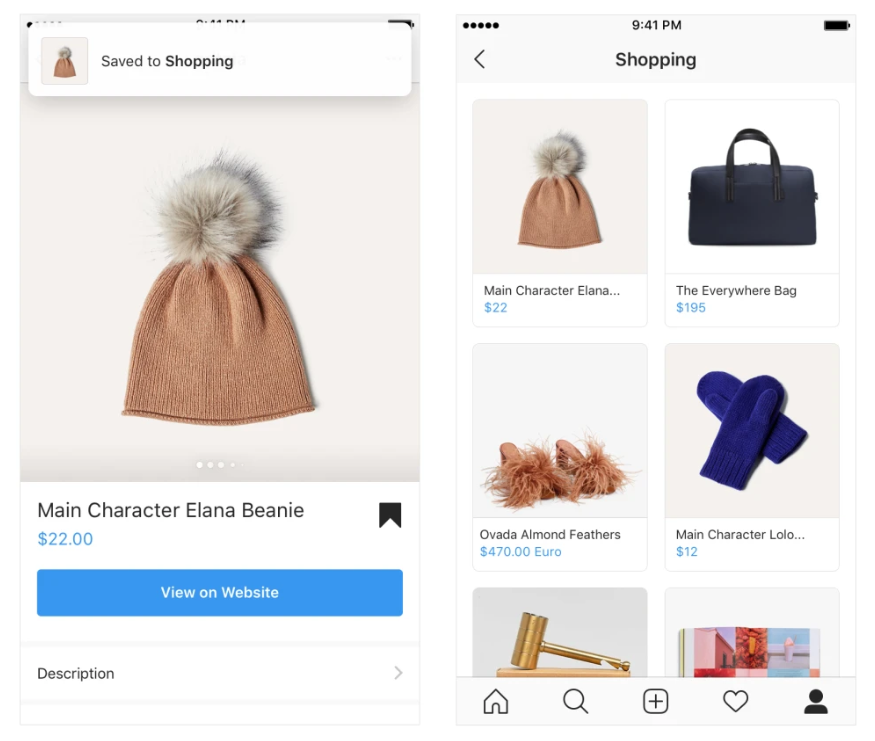 Instagrammers save products by tapping on a shopping sticker, then tapping the "save icon."
Tip #22 – Add Some Holiday Spirit To Your Instagram Bio!
Use holiday-themed Emojis in your Instagram bio, post captions, and Stories to create a fun and festive atmosphere.
Decide, in advance, which holidays will your brand celebrate. Will you take a religious or secular approach to the season?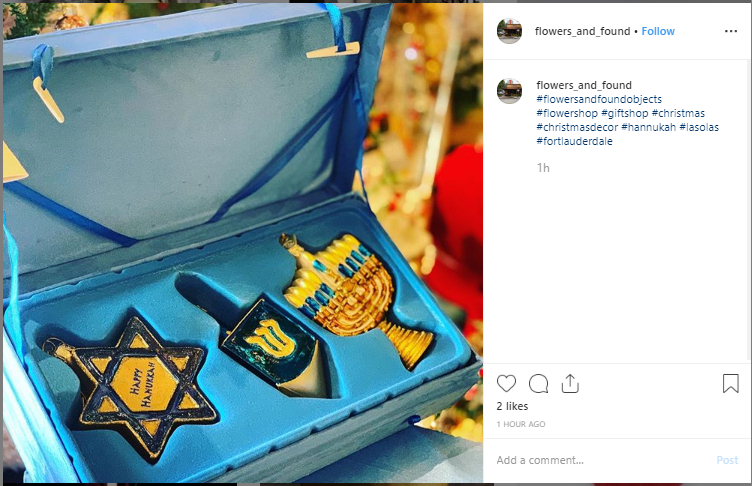 However you celebrate, take the time to enhance the experience by decorating your Instagram posts, Stories, and bio with festive emojis.
High-quality, holiday-themed images are another excellent way to connect with your audience.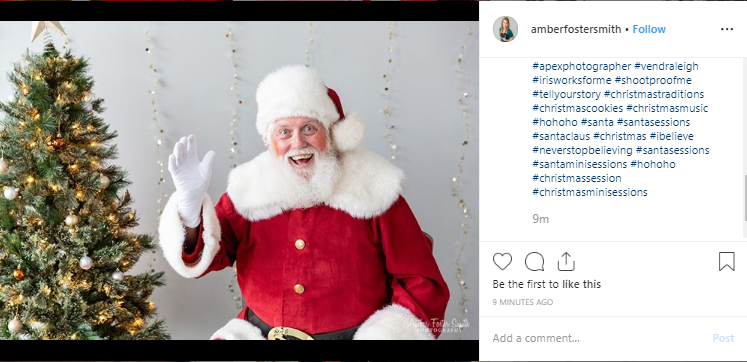 Tip #23 – Flaunt Your Responsible Retail Practices on Instagram
Social causes, carbon footprints, and CSR Policies will significantly influence where shoppers spend their money during the 2019 holiday season.
Shoppers plan to spend an average $637 on holiday purchases this year.
Many will spend their money at businesses committed to improving the environment, the lives of their employees, and the social landscape of 2020 and beyond.
This year, nearly half of consumers (45%) say they're more likely to shop with brands that employ responsible business practices and working conditions.
Help nudge Instagrammers toward bookmarking your posts, wishlisting your products, and tapping product stickers by promoting your responsible retail practices.
For example, Starbucks promotes its efforts toward sustainable business practices using Instagram Stories.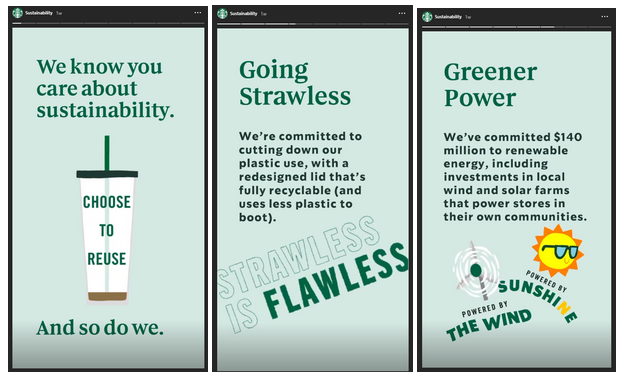 Share posts, Stories, and videos that inform shoppers of your sustainability practices, social campaigns, social good activities, and environmentally-friendly shipping options.
Instagram Holiday Season — A 2019 Marketer's Playground
Instagram's new marketing tools and features can help your brand sell more products than ever this holiday season.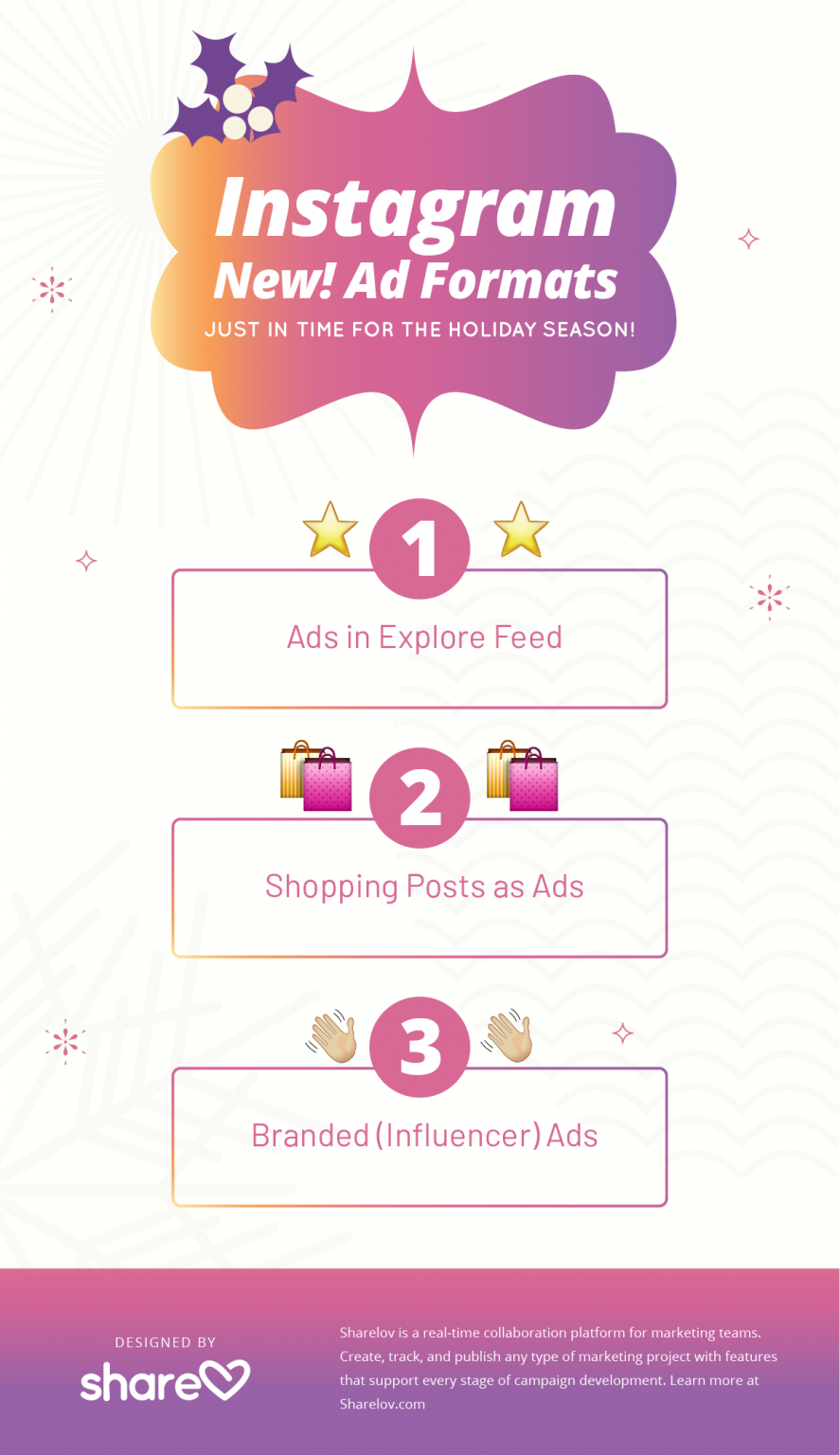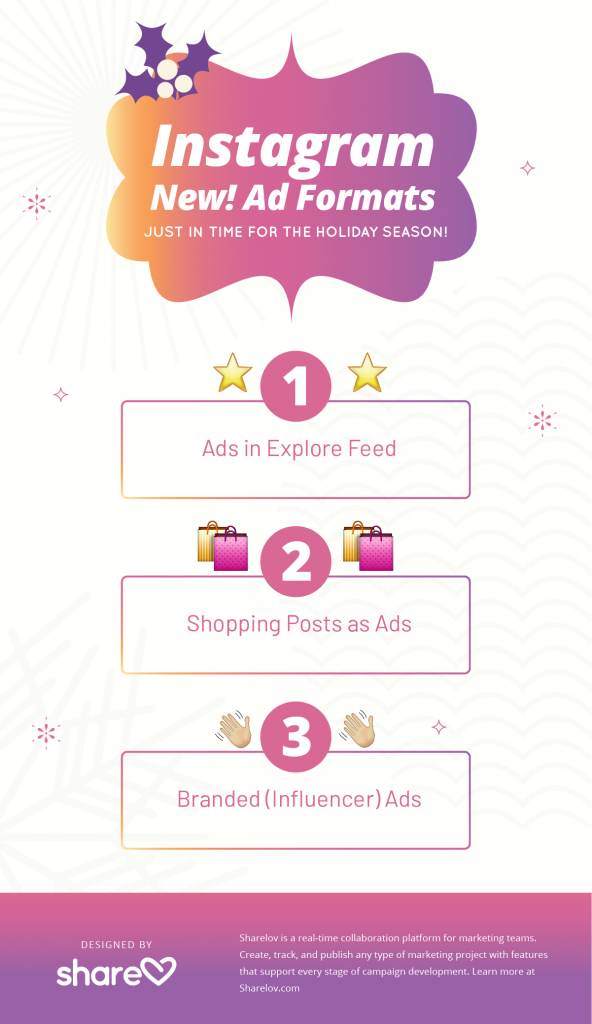 Do you have unique insights about Instagram holiday marketing? We'd love to hear your tips and ideas! Share them in the comments below — or feel free to ask questions about any of the tips above!