Updated April 2022
Want to take your brand from unknown to viral overnight, without a major investment?
On most platforms, people spend their time scrolling through newsfeeds, but on Tiktok, most users spend 75% of their time browsing the For You section — where new brands get discovered every day.
How to go viral on TikTok
Keep up with TikTok trends.
Post original, irresistible videos.
Make your brand interesting.
Create hashtag challenges.
Join in on challenges.
Hire TikTok influencers.
Optimize your videos for TikTok.
Find out exactly how to keep up with trends, create compelling videos, and make your brand interesting and successful on TikTok in our guide below.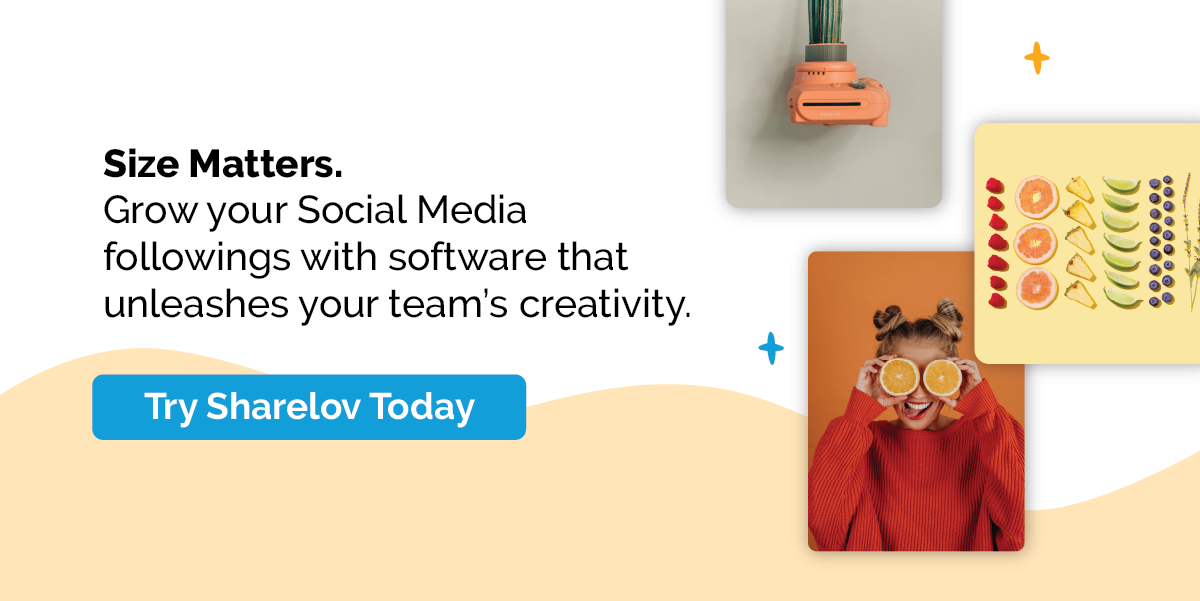 In this article, we show you how to create viral-worthy content for TikTok, so you can build a giant audience and reach your marketing goals, even if you're new to the platform!
Keep Up With TikTok Trends
TikTok is all about current trends, but if you're not familiar with TikTok, how will you know what's trending?
Tip #1: Understand the TikTok culture. Driven by Gen Z and fueled by joy and creativity, the platform's unique spin on authenticity is unlike any other social media channel.
Tip #2: Browse TikTok videos daily, especially the popular ones, to keep up with the current hashtag challenges and songs.
Tip #3: Browse news sources to discover the latest viral videos and stories on TikTok.Tip #4: Browse TikTok's Discover tab to view content from sources you don't normally get to see.
Tip #4: Browse TikTok's Discover tab to view content from sources you don't normally get to see.
Tip #5: Check for trending hashtags (and follow them) on the Discover tab.
Tip #6: Follow the creators of trending TikTok content.
Tip #7: Follow the creators of successful TikTok challenges.
Tip #8: Find your industry leaders and follow them on TikTok, if they have an account.
Tip #9: Scour TikTok for viral content by looking at the number of comments, likes, and views of content in your search or "For You" pages.
Tip #10: Follow your industry trade blogs for niche tips on creating viral TikTok content. Try to locate current guides and avoid outdated content, despite what's at the top of Google.
For example, Google searching for footwear trends results in a 2019 article showing at the top of the results. That's old in TikTok time! 
Instead, keep scrolling down the results page until you find content published in the past six months.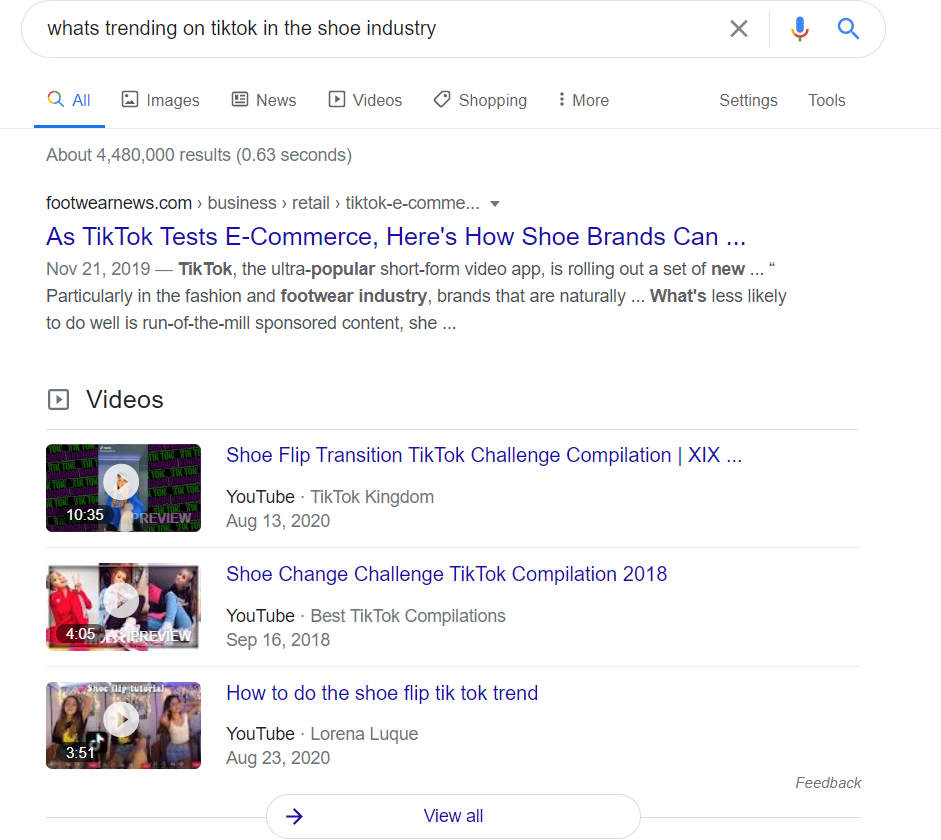 Tip #11: Use Google predictive search plus Answer The Public, to discover the most current questions about your products or industry.
Google predictive search is the function that suggests questions as you begin to type in a search term. The predictions try to guess what you might be searching for, based on what other people have already searched for.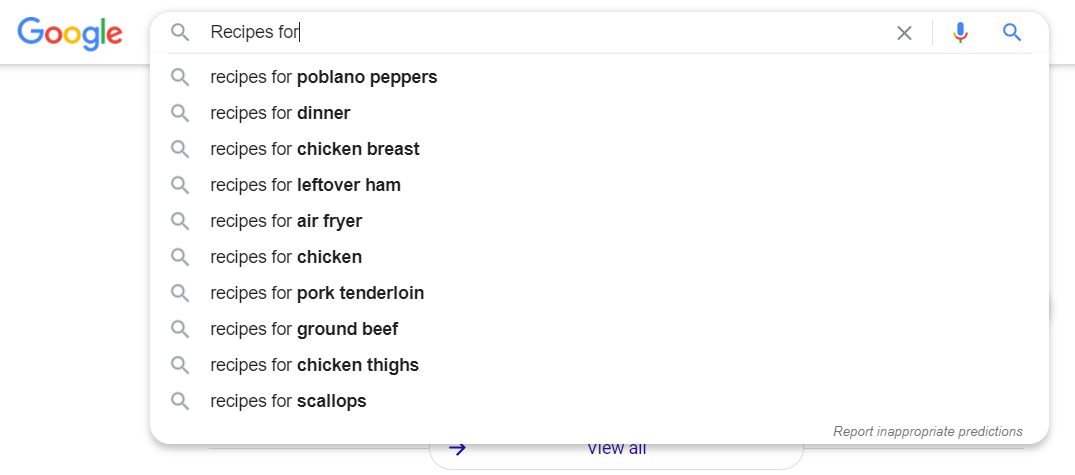 Tip #12: Use Google Trends to uncover advanced research on current topics and questions about your industry.
Keep in mind that, ultimately, you want to learn what content goes viral in your industry and with your audience — and why it becomes so popular.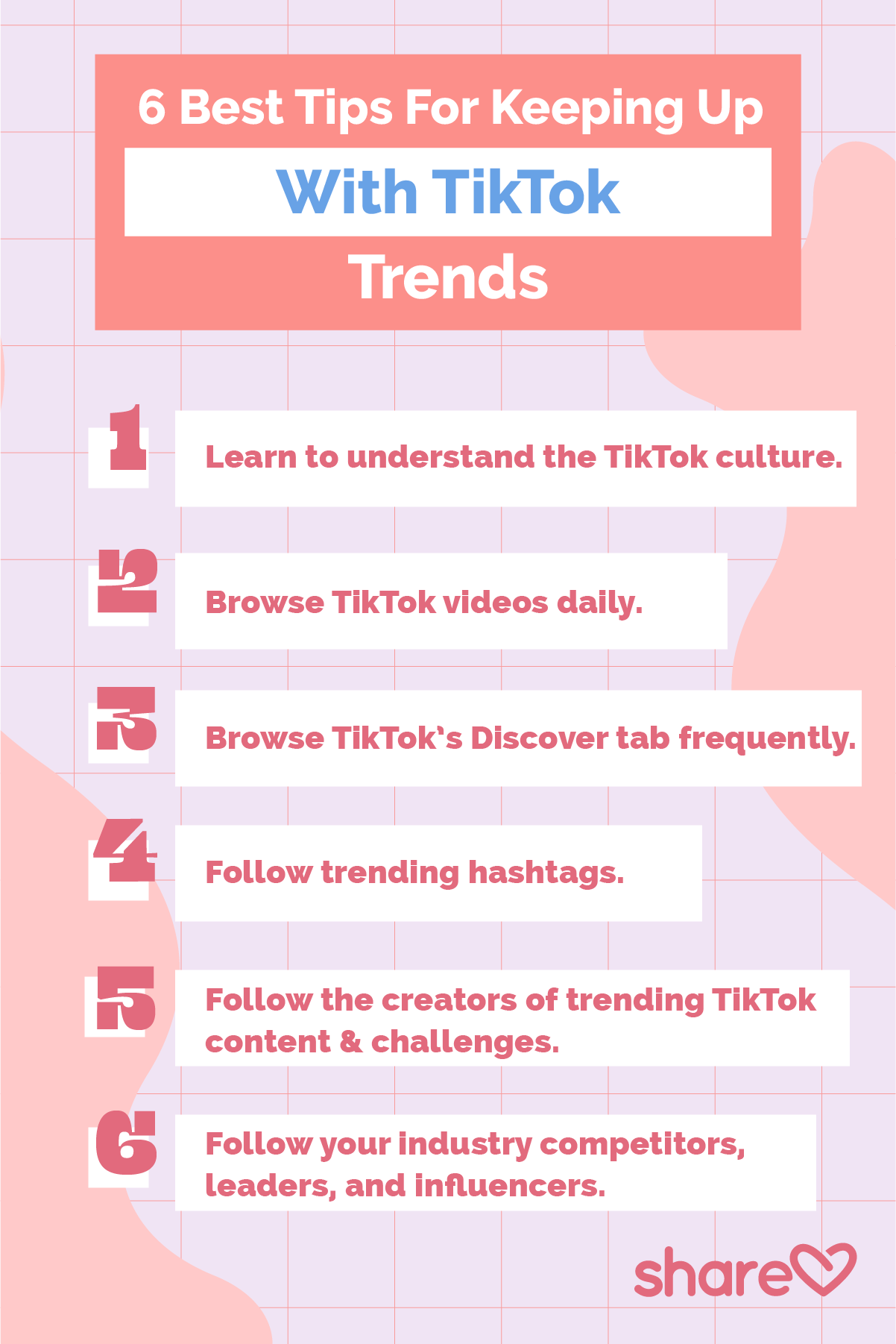 Browse and follow many types of creators and content, but pay special attention to what's trending with your audience and in your industry by using TikTok analytics. In a short time, you'll get a feel for what kind of content may go viral with your audience.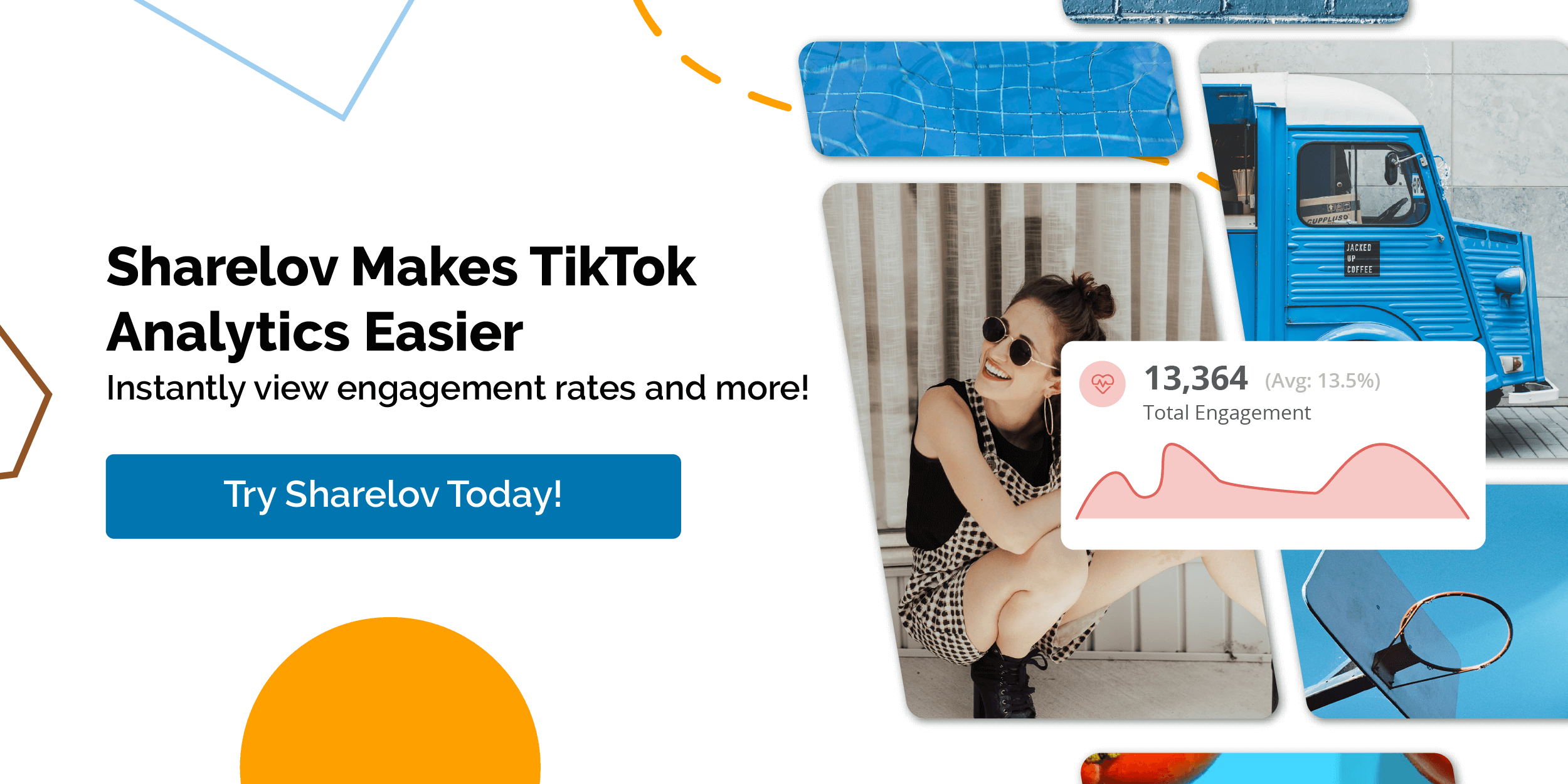 Publish Compelling Original Content
To create viral videos you've got to publish unique, original brand content that sparks a widespread reaction from users. So, where do you start?
Here are some tips to help you create videos that can go viral on TikTok.
Tip #13: Capture attention quickly! Going viral requires you to capture viewers' attention within the first second or two, so they continue watching.
For example, the #3 viral video from last year was an imitation of "The coworker you hate during a Zoom meeting." @itscaitlinhello's imitation of the annoying zoom coworker hit home with the more than 800,000 users who like her video.
"The coworker you hate during a Zoom meeting" video immediately lets viewers in on the topic with a text overlay. She immediately jumps in and begins imitating the irritating coworker, within the first second or two of the video.
This one's a great example of how to grab attention immediately, because, without the text overlay, the video may have been a complete fail. 
But, because the creator grabbed attention by using text overlay AND beginning her imitation immediately — the video became irresistible to hundreds of thousands of TikTokkers.
Tip #14: Keep your videos short. When viewers watch your entire video, TikTok's algorithm ranks your video higher. Shoot for videos that are 8 – 15 seconds long.
Tip #15: Avoid over-promoting your products or services. The TikTok environment is guided by Generation Z, who generally despise advertising.
Instead, pull viewers in with irresistible videos, and look for non-traditional ways to promote. You're more likely to get more TikTok followers and engagement by not linking to your products right away.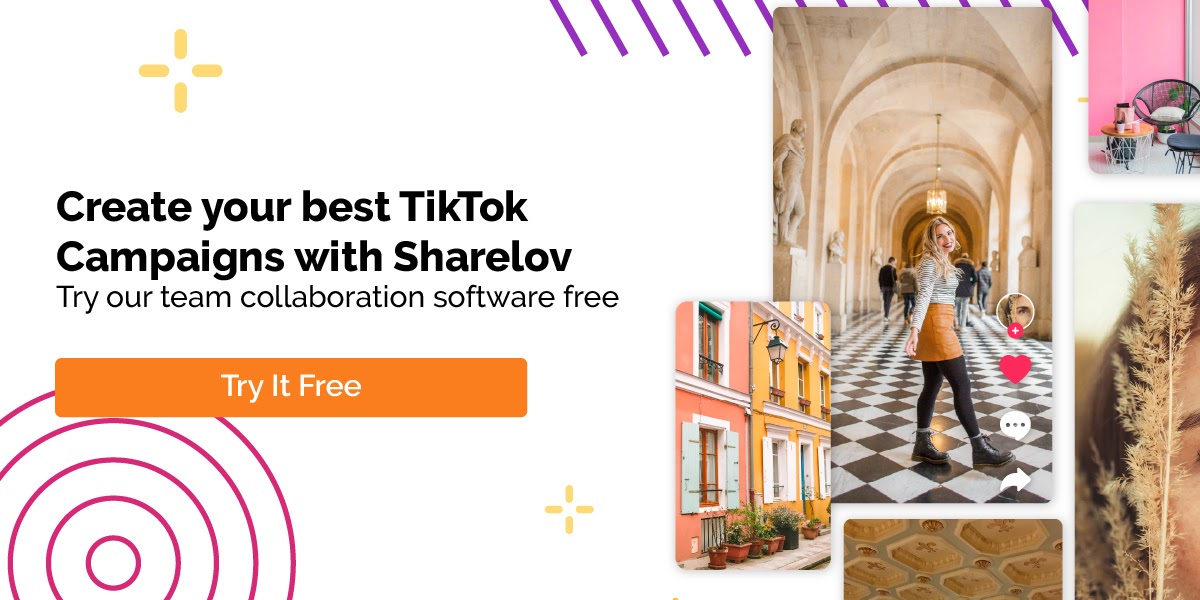 Tip #16: Instead of putting your product upfront and center, try placing it in the background, as Croqs did with its video of a cute puppy barking at a pair of shoes.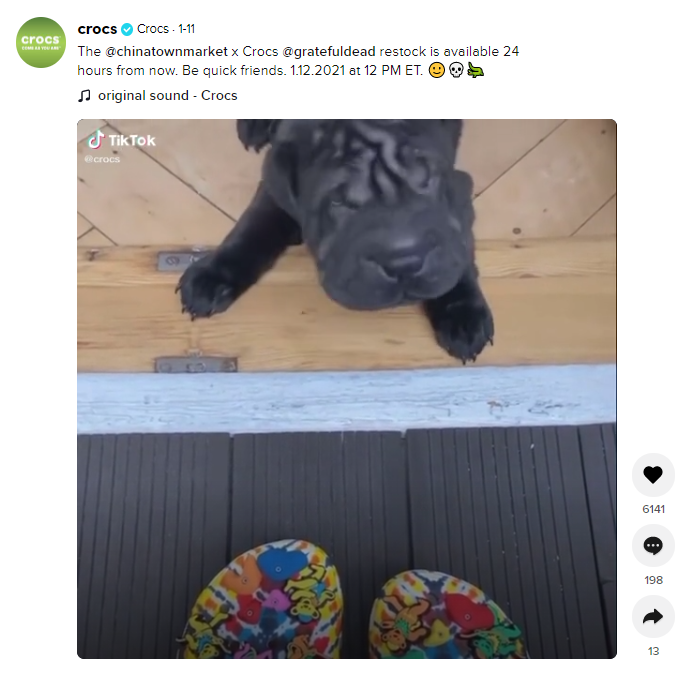 Tip #17: Offer cash prizes or giveaways in exchange for user-generated content. 
For example, Vessi Footwear offered viewers a chance to win a free pair of shoes by sharing videos that show them wearing Vessi shoes and including the hashtag #vessifootwear.
Tip #18: Track your brand mentions to learn when and where your content is getting shared.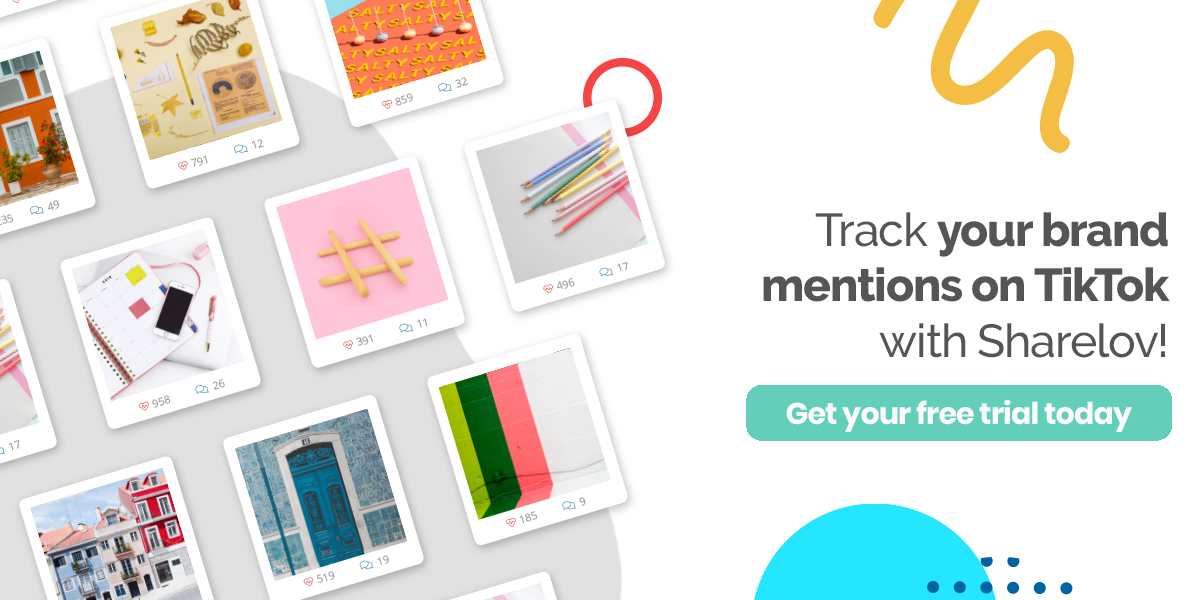 Tip #19: You have 150 characters for post captions — don't forget to include hashtags and mentions when writing them!
Tip #20: Avoid long captions, which can distract viewers from enjoying your video. Most TikTok captions are 10-20 characters long, followed by 2-3 hashtags.
Tip #21: Remember, it's not Instagram — keep hashtags to a minimum!
Tip #22: To save space, try using a text overlay to place your CTA in the video instead of the caption.
Tip #23: Encourage creativity when asking for engagement of any kind. 
Tip #24: Add some playfulness to your post captions and don't forget to include emojis!
Tip #25: Describe your video within the first 2 seconds using a text overlay.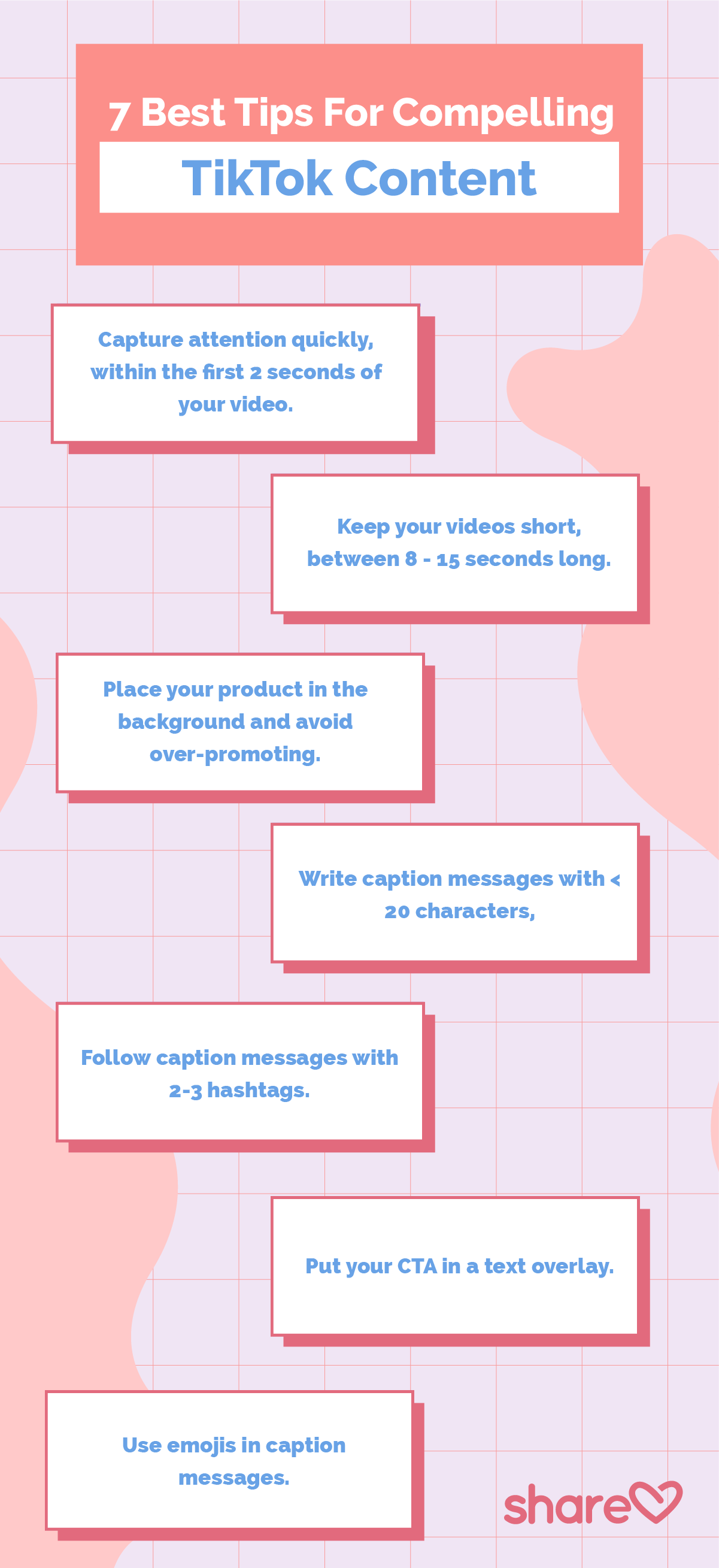 Make Your Brand Interesting!
Wondering how to create branded content that entertains your viewers? Try these tips to turn your everyday work life into entertaining TikTok content!
Tip #26: Turn your customers into heroes by telling their stories instead of yours. 
Tip #27: Make your everyday life fascinating by filming your work in a way people don't normally get to see.
For example, @ra_treeservice filmed a dramatic tree takedown that inspired more than 26,000 comments, and @texasbeeworks shared a video of a live bee removal project that got more than 50,000 comments.
Tip #28: Thought leaders, consider ways to turn tips and tricks into fun video moments by shortening the message and using special effects or onscreen text to make it more interesting.
Tip #29: Find your most unique employees and put them in the spotlight. 
Tip #30: Throw a "bring your pet to work" day and introduce viewers to the pets of your office. TikTok loves pets ☺.
Tip #31: Show instead of tell. Got a message you want to share? Find unique ways to share it through video and text overlays without speaking.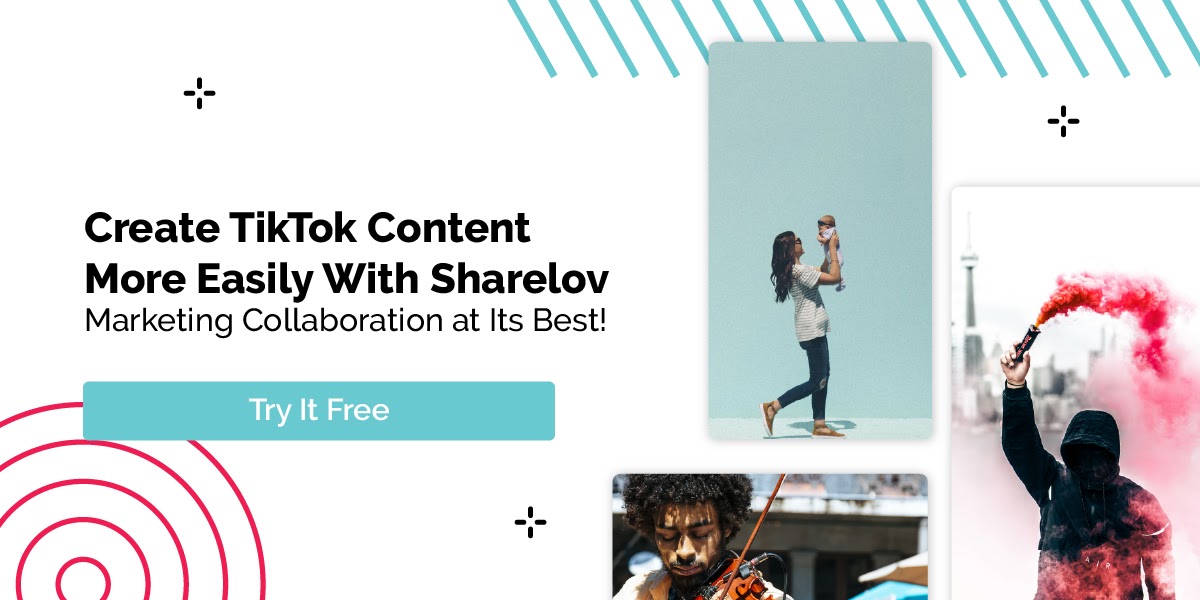 Tip #32: Create mini-product tutorials that help your customers master using your products in seconds. 
Tip #33: Give a quick behind-the-scenes tour of your office or facility.
Tip #34: Turn your employees into celebrities by featuring them in  your videos — the more unique they are, the better!
Tip #35: Ask employees to make videos that show tips and tricks they've learned about your products or services.
If you're wondering how to feature your employees in videos or cater to TikTok audiences, look no further than the Washington Post. 
On TikTok, WP writers post short videos with bites of news. Instead of delivering the news in the brand's typically serious fashion, they poke fun at it or find other ways to keep it entertaining.


Tip #36: Share insider tips on your products or services – or on another product relevant to your audience.
For example, @frankmcshan shares a tip on how to make your AirPods louder.
Tip #37: Hold company-wide fund-raising events or activities centered around your favorite holidays, such as women's day and black history month. Post your employee's efforts and share the results on TikTok.
Tip #38: Dial-up your passionate activism. What causes does your company care about? Share information and behind-the-scenes knowledge related to a cause that you care about, but do it in bite-sized portions.
For example, @drleslie regularly shares health tips and Covid information in her TikTok videos. Her videos are honest, unpolished, and authentic — which makes her more believable.
If you want your brand's videos to go viral on Tiktok, create unique content that captures attention quickly and compels viewers to share.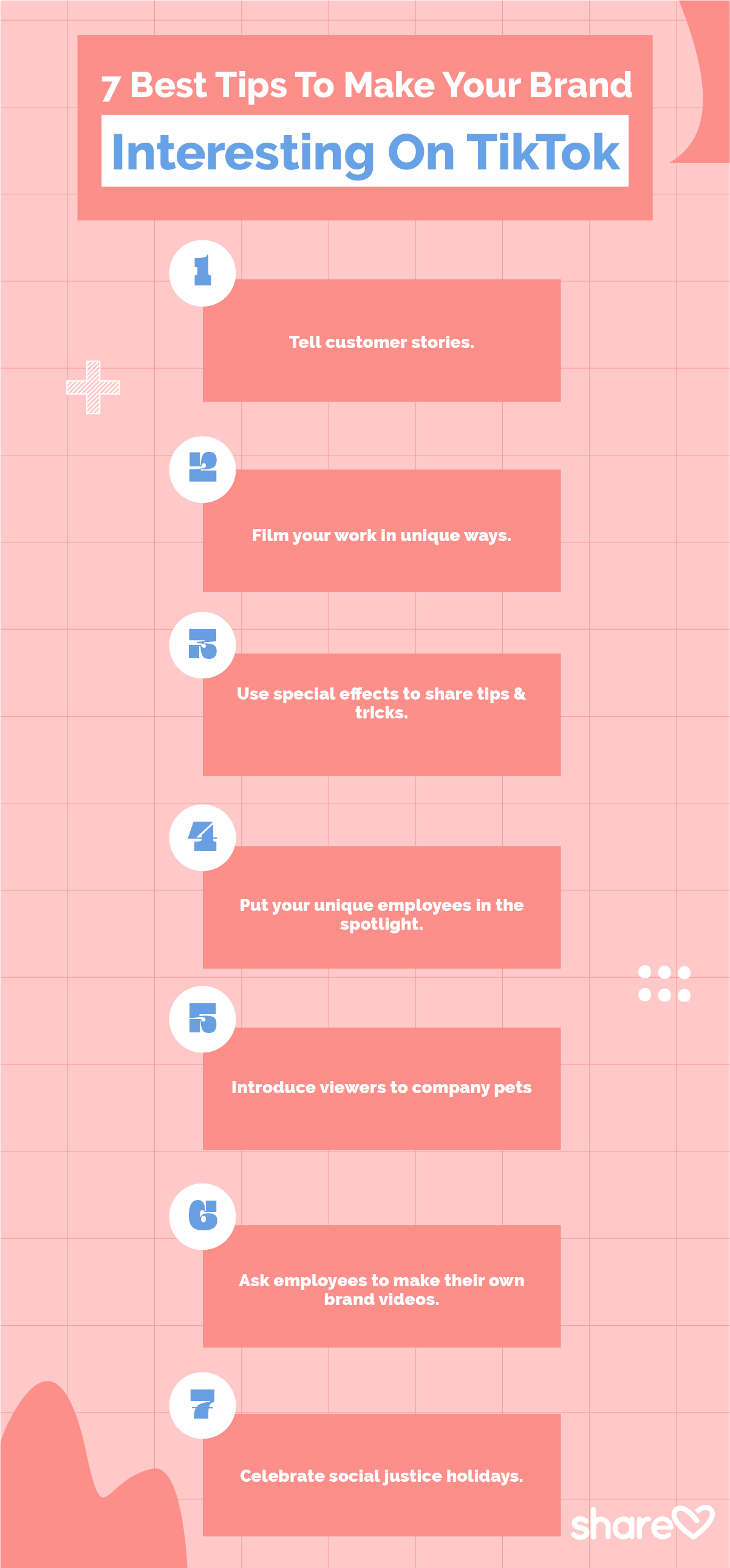 Create Branded Hashtag Challenges
Branded hashtag challenges are one of the most popular ways to take your brand viral on TikTok. Here are some tips for creating hashtag challenges that compel your viewers to engage.
Tip #39: Consider enlisting a specialty ad agency to help you create your own branded hashtag challenge.
Tip #40: If you don't have an agency, study some of the most successful TikTok campaigns and follow the blogs of agencies that launched them. Many of them share their tips for success alongside case studies, which can help you produce better content.
Tip #41: Begin with a clear call to action when posting the challenge –  let viewers know exactly what you want them to do.
Tip #42: Encourage unique interpretations to spark creativity.
Tip #43: Consider producing your own music for an original hashtag challenge.
For example, Ad Agency Movers and Shakers produced an original song to promote the famous #eyeslipsface challenge for E.L.F. Cosmetics. 
The campaign was a wild success — the first-ever TikTok campaign to reach one billion views AND the first time an ad held the #1 trending spot on TikTok.
To date, the E.L.F. campaign has produced more than 5 million user-generated videos and 6 billion views.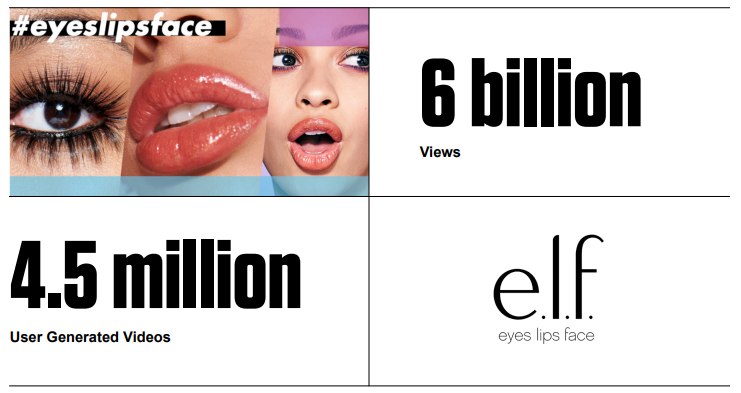 Branded hashtag challenges are an excellent opportunity to compete for viral attention on Tiktok. Get to know your audience and study other successful viral challenges before creating your own.
Work With TikTok Influencers
Influencers are essential to helping TikTok content go viral. They can help guide your creative direction and kick off your campaigns with massive reach.
Tip #44: Monitor the TikTok influencers in your industry to keep up with what's popular and trending.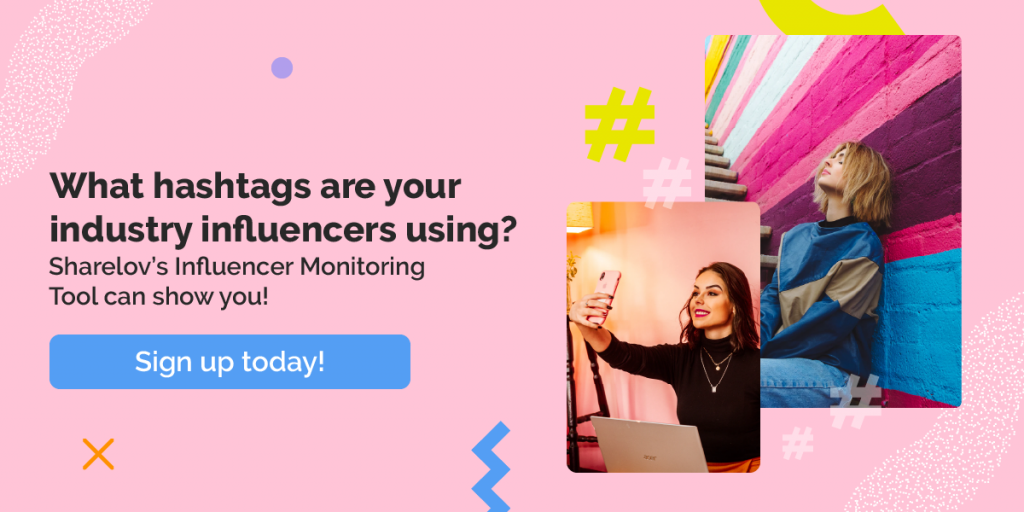 Tip #45: Collaborate with influencers to expand your reach through account takeovers, endorsements, and product reviews.
Tip #46: Seek out TikTok influencers instead of using influencers from your other social media platforms, since they will usually have a better feel for what works on TikTok.
Tip #47: Allow your influencers to create and guide the content they create for you — they are the experts in their audience. 
Tip #48: When working with TikTok influencers, keep in mind that many of them are young and aren't yet professional creators. Give them an extra dose of time, patience, and coaching when working together.
TikTok influencers can help expose your brand to a wider audience. For example, fashion designers and brands often turn to TikTok to discover new talent, such as @youngmanpowell,  to represent their brands.



Source: @youngmanpowell, TikTok
Tip #49: When you're ready to invest in massive exposure, consider hiring an influencer agency to help you retain and develop influencers.
Tip #50: You don't need an agency or a big budget to work with influencers!
If you're a small business or a new business on a budget, reach out to micro-influencers, whose engagement rates are often significantly higher than other influencers.
Want to find out more about working with micro-influencers and TikTok influencers? 
Build Your Brand Presence
You don't have to have a large audience to go viral on TikTok — but it doesn't hurt!
If you're brand new to TikTok and wondering how to build your brand's audience, these tips will help you get a feel for the platform as you build your following.

Tip #51: Monitor brands in your industry to discover which ones are getting the most attention (and why).
Tip #52: Monitor your competitors on TikTok to learn how you might fill gaps they are missing.
Tip #53: Engage in challenges and activities on TikTok! Don't just put out your own content — half the fun is joining in and becoming part of the TikTok culture. 
You and your staff can help to promote your brand on TikTok by joining in on other viral challenges, duets, dances, and other trending material. It's an excellent way to connect with people and show off your fun side, and it can help your brand get more profile views and followers.
Tip #54: Engage with other users on the platform! Comment, like, and share other people's content, which will help you build more personal relationships with other TikTokkers.
Tip #55: Tailor your content to TikTok's trending hashtags to help it appear relevant to the algorithm.
Tip #56: Add one keyword hashtag to ensure that you reach people who are searching for your type of product or service.
Tip #57: Create a hashtag strategy in advance.
Tip #58: Use a service such as TikTok Hashtags to discover up-to-date popular hashtags.
Tip #59: Monitor the hashtags that are popular in your industry so you can see how content develops and what types of videos are most popular.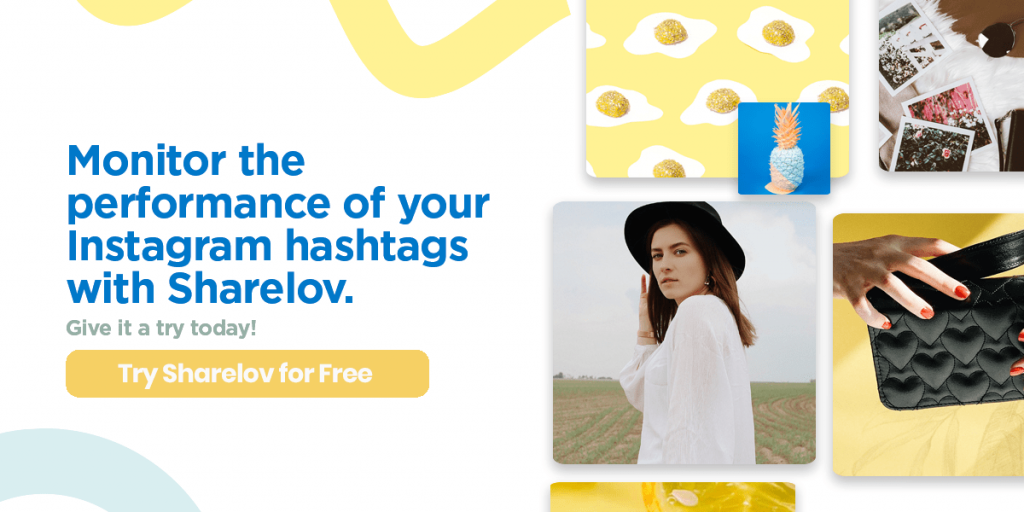 Tip #60: Think before you hit "publish," since captions can't be edited after you publish them.
Tip #61: Get to know your audience. TikTok is aging up — 30% of new users from April 2020, are now over the age of 35!
Tip #62: Post content daily, even if it's short and simple (but make sure it's awesome). TikTok's algorithm rewards frequency.
Tip #63: Find the best times to post for your brand, since the time of day you publish can affect whether or not it goes viral!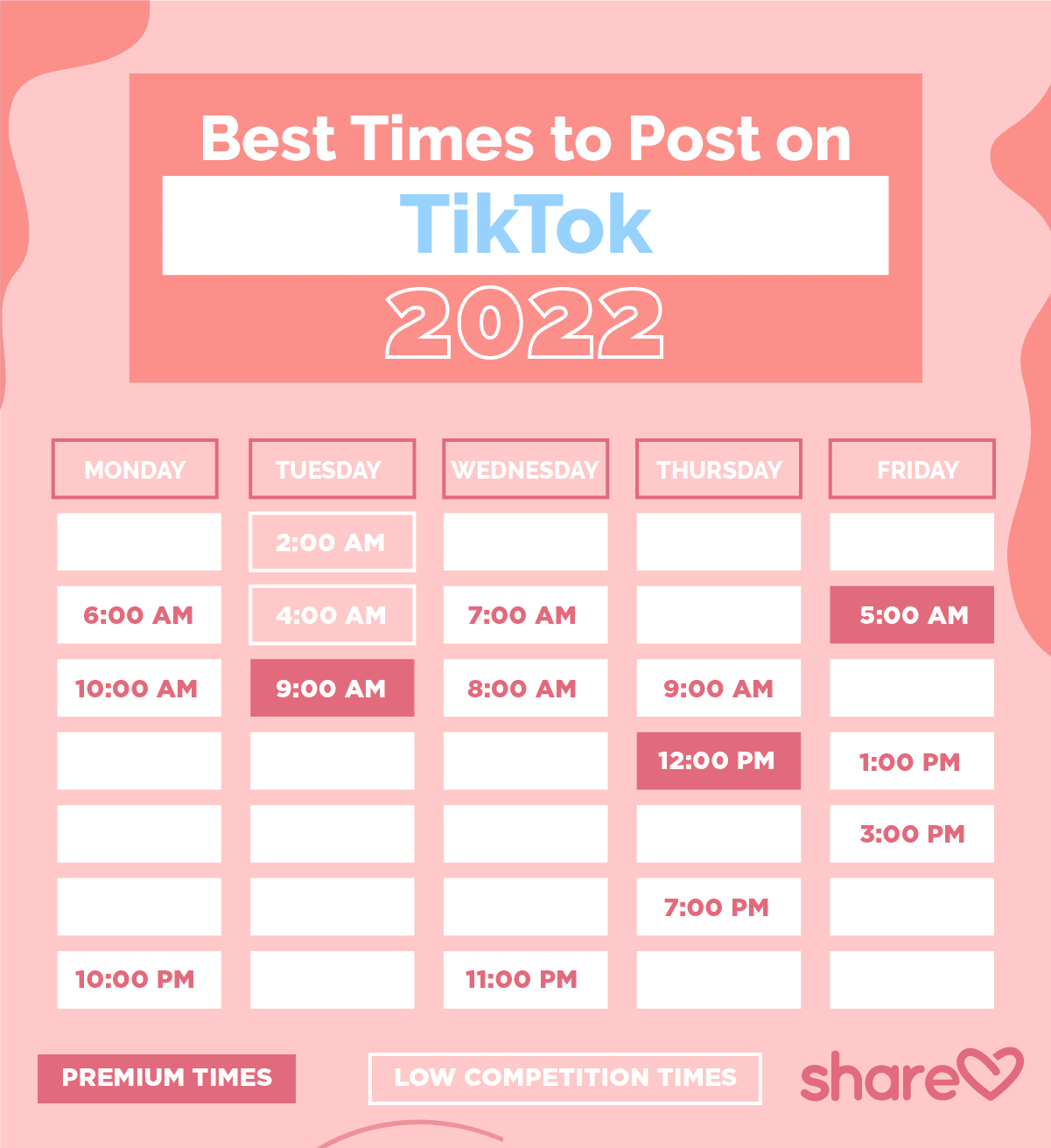 Tip #64: Use TikTok paid advertising to boost your brand reach and awareness.
Tip #65: Use in-feed ads if you're new to paid advertising on TikTok. They are less expensive and will allow you to experiment more freely.
Tip #66: Design ads specific to TikTok and avoid using the same ads you use on other platforms.
Tip #67: Join TikTok Pro so you can get expanded content insights for your brand videos.
Tip #68: Visit TikTok Business Center and check out its new self-serve ad platform.
Tip #69: Visit TikTok For Business for case studies, inspiration, and resources to help you create even-better content.
Tip #70: Consider getting your brand verified on TikTok, which will boost your trust level and likely encourage more followers.
Tip #71:  Share your TikTok videos on other social media platforms to drive traffic to your TikTok content.
Create The Perfect Brand Bio
Tip #85: Upload an inviting profile image in JPG or PNG format (size: 200 X 200).
Tip #86: Describe who you are and what you do.
Tip #87: Include a CTA.
Tip #88: Include emojis in your bio.
Tip #89: Keep your total character count to 80 or less – or it will get cut off!
Tip #90: Use your one bio link productively, preferably to a conversion page.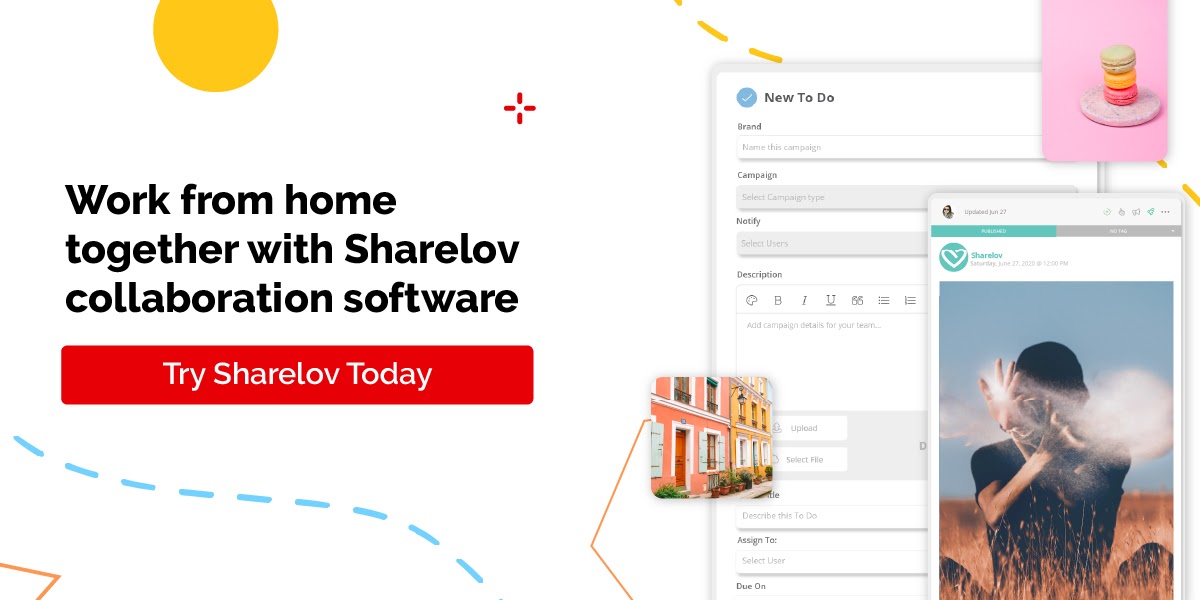 Boost Your ROI
Remember to keep your bottom line in mind when creating TikTok content. 
When brands "go viral" they do so with a purpose, such as boosting their presence, increasing conversions, or developing a personal relationship with their audience.
If you kick off new TikTok campaigns with a clear marketing objective, then all the attention you receive from viral content can boost your ROI.
The most effective way to measure your content's effectiveness is by using TikTok analytics to measure the success of your content.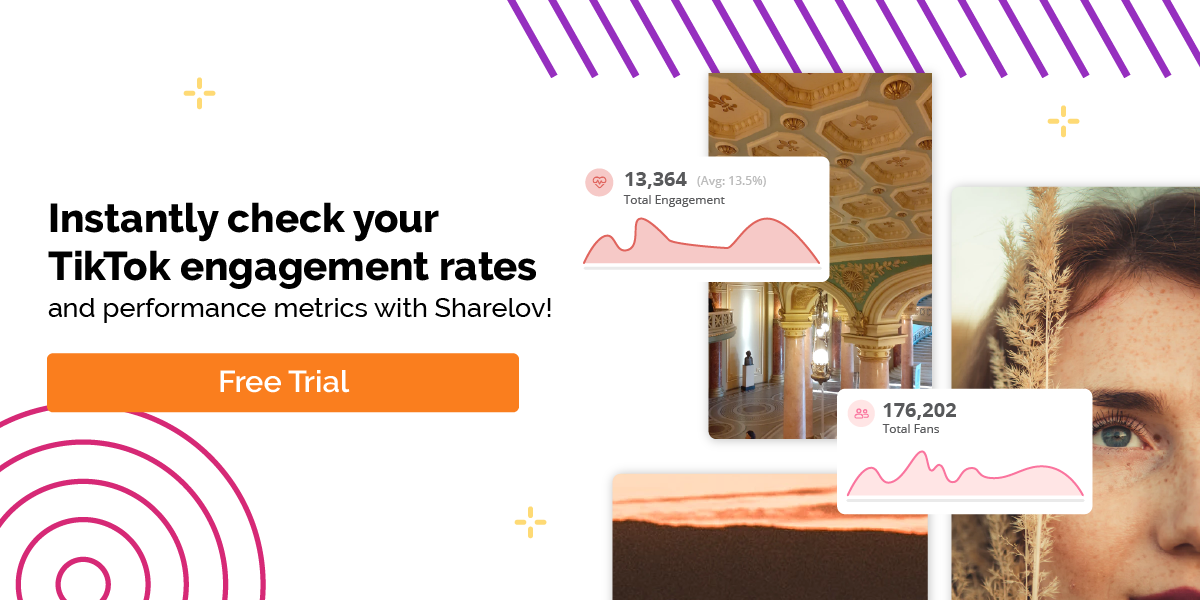 Use TikTok analytics to discover which of your videos are trending with your audience. The insights show you what content is engaging your followers, and will also uncover any "flops," so you can adjust along the way.
Sharelov makes it easier to review and share TikTok analytics with your team.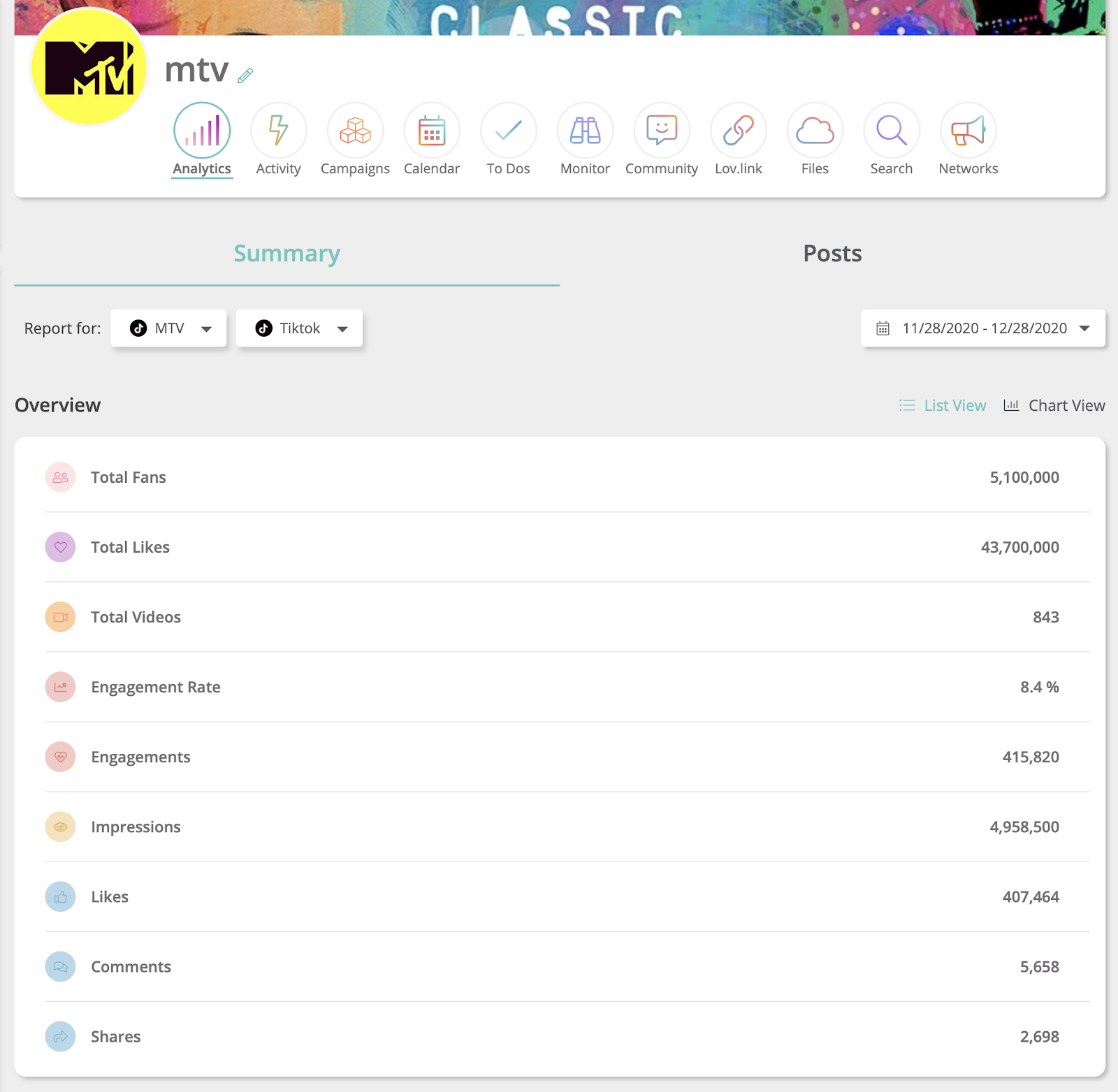 With Sharelov, you can review important audience statistics from your dashboard, or pull up an overview of any engagement metric or post performance — in just one step.
To get started measuring your brand's success, make sure to learn about all the resources TikTok provides to help brands succeed:
Tip #91: Access your content analytics through TikTok Pro (get step-by-step instructions in our Guide To TikTok Analytics), or:
Tip #92: Use Sharelov's TikTok analytics to make reviewing your insights easier. It also allows you to share data cards with your team, so you can follow the success of your content together.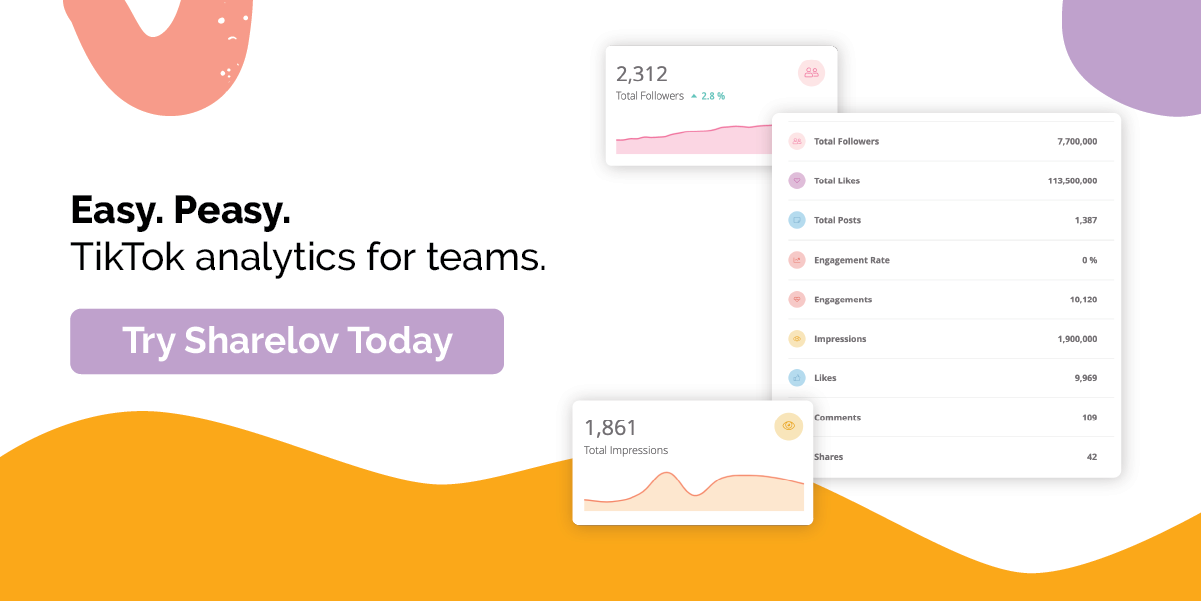 You can use the wealth of information provided by analytics to discover whether your content is reaching its goals, and:
Tip #93: Build your audience by creating more of the type of content they love — your metrics will show you what videos are most engaging.
Tip #94: Increase your conversions by boosting the number of followers in your region with location-targeted paid ads.
Tip #95: Produce more compelling content by reviewing your audience's habits and activities.
Create TikTok Content That Builds A Bridge With Your Audience
When creating brand content for TikTok, keep in mind that the platform is drastically different from the other social media channels that you're probably used to.
On TikTok, users respond to creativity and uniqueness over flash and polish. If you spend time browsing the platform each day, you'll get a good feel for what works — and what's more likely to help your videos go viral.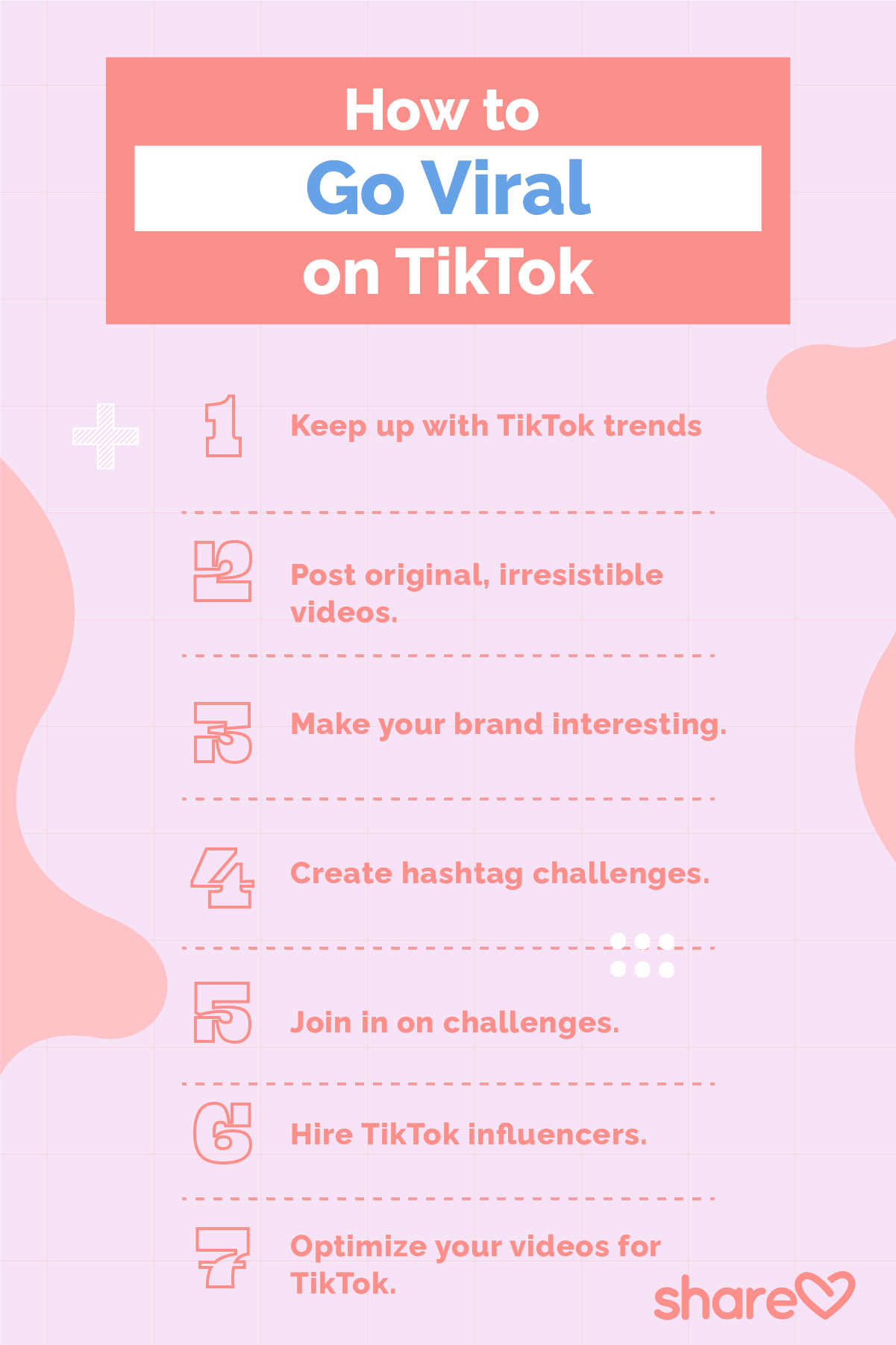 To give your content the best chance at viral success, keep your content relevant with Tiktok's current environment, publish compelling original content, build your brand presence, and pay attention to the details of your video production and bio.