You work hard to create brand content for Instagram, so shouldn't you give it the best chance of getting seen? Posting on Instagram at strategic times can make a significant difference in who sees (or doesn't see) your content.
Are you still posting on weekday mornings and lunch hours? If so, put the brakes on your current publishing schedule and consider what the latest data shows about the best times to post.
The best times to post on Instagram in 2022 are in the evening hours, and Sunday is the best day of the week to publish:
#1 – Sundays 8:00 – 9:00 pm

#2 – Saturdays 8:00 pm

#3 – Mondays 8:00 – 9:00 pm
Keep reading to find out more best (and worst) posting times, and learn how to use them to boost your brand's reach or engagement. Plus, we explain how to customize a publishing schedule for your brand and find engagement data more quickly, in the guide below.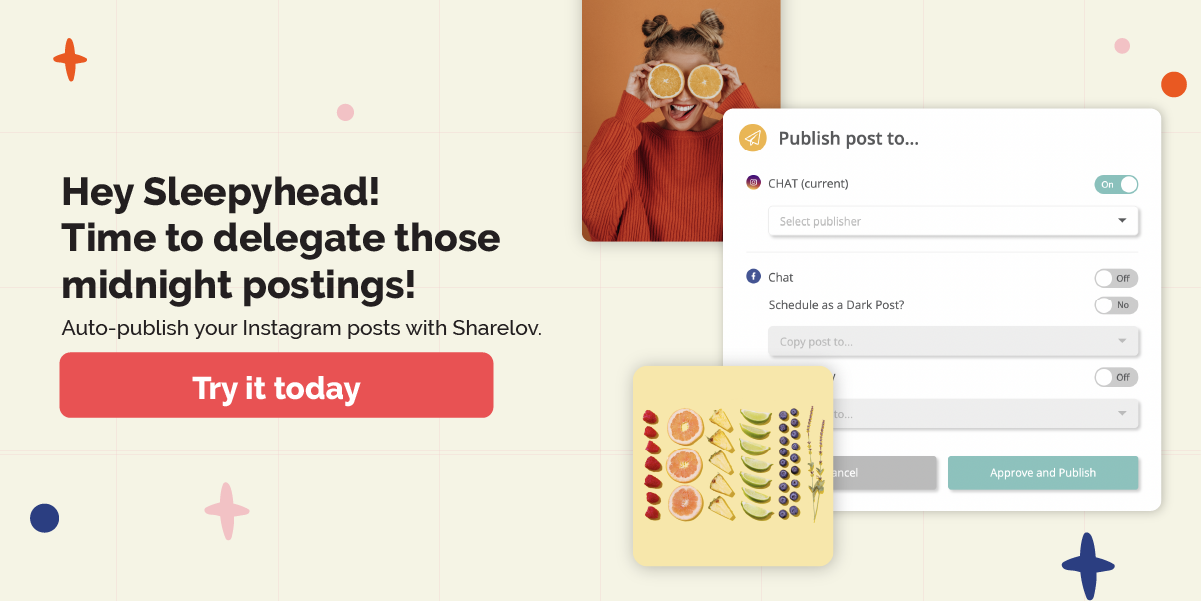 Don't forget to bookmark this page before you go, so you can share it with your team later!
Does Post Timing Matter On Instagram In 2022?
Wow, what a year for Instagram scheduling! 
Instagram algorithm changes, plus its user feed updates, would be enough to warrant a fresh look at the best times to post your brand content in 2022.
But this year, Instagram marketers will spend more time in the "in-between," where the workforce returns to the office — or not — and audiences engage at different, perhaps unexpected, times of the day and night.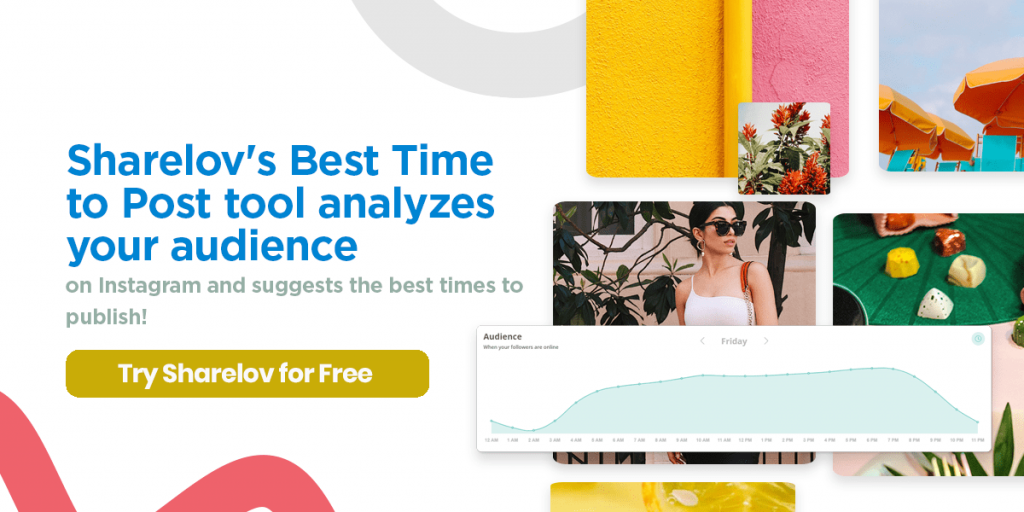 We've got you covered.
In the report below, we share the absolute best times to post on Instagram based on the most recent data, then give you tips to improve your scheduling and increase engagement along the way.
Timing Matters On Instagram — And Here's Why
Posting times do matter on Instagram, although most of its content is not listed chronologically. Instagram presents content according to what they think its users want to see, however, recency is a factor. 
Posting times may soon take a larger priority thanks to an upcoming new feed, called "Following," which Instagram says will take some version of a chronological feed.
In January 2022, Adam Mosseri announced that Instagram is testing expanded feeds so that, in addition to their home feeds, users can also browse Favorites and Following Feeds.
Instagram's Home feed

will continue to operate as it is, using its algorithm to deliver content based on what it thinks users want to see.

Instagram's Favorites feed

will present users with a list of accounts they choose to follow more closely — family, friends, and brands whose posts they don't want to miss.

Instagram's Following feed

will be "some version of" a

chronological

list of posts from accounts users follow.
The new feeds are expected to launch sometime during the first half of 2022.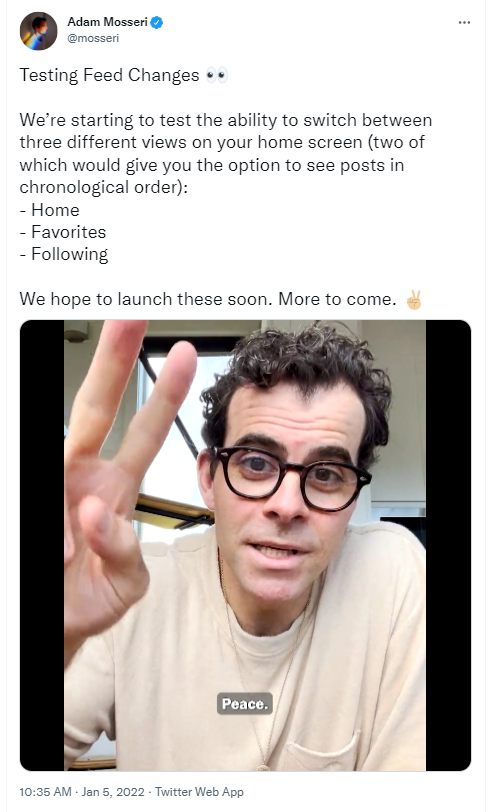 Timing matters on Instagram, and it may become even more significant with the launch of its upcoming chronological Followers feed this year.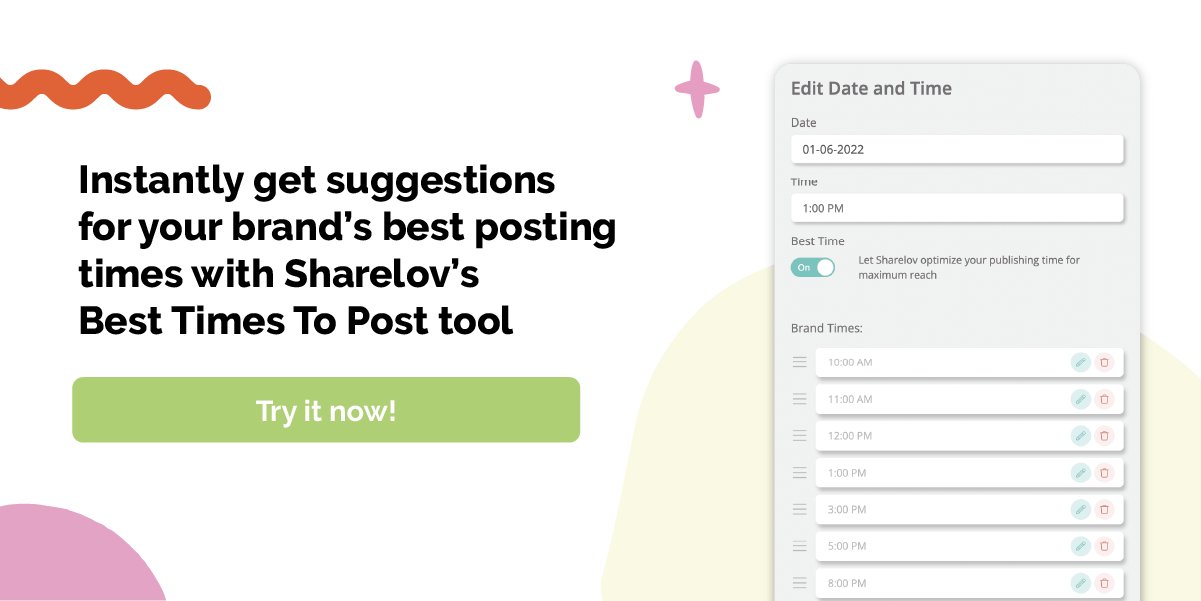 Now is the time to test new ideas and experiment with your brand's publishing schedule, so you'll be prepared to adjust as the year evolves.
How To Use Best Posting Times To Boost Reach And Engagement
The best posting times listed in this report reflect the times when audiences are most engaged on Instagram. How you can best use the recommendations depends on your brand's objectives and goals for 2022.
If your brand's objective is to expand your reach, consider posting an hour or so before the recommended times

. In this case, one of your top goals is to get seen in the Home feed, where exact timing isn't a major factor (but recency matters).

Try using the best times recommendations as a starting place, then

watch your analytics

, run experiments, and make adjustments to help you find the absolute best posting times for your audience.

If your main objective is to increase engagement, try posting at exact times

, but run continuous experiments to determine what works best for your audience.





You might consider aiming for a top spot in the soon-to-launch Following feed, which will be a "version of a chronological feed." In this case, the timing of your posts could have a massive impact on whether they get seen.





That's why we want you to begin experimenting with precise timing now — so that you can run multiple tests and use analytics to customize exactly what times work best for your brand.
If your engagement rates are low, now is the time to increase them because the new "Following Categories" feature could work against you if you're not actively engaging your audience.
The new feature allows Instagrammers to review their most and least seen accounts. They can then unfollow brands they've lost interest in or re-engage with brands they haven't seen in a while. 
When determining the best posting times for your brand, keep in mind that recommendations are only a starting point. The best results come from continuous experimenting and analytics monitoring.
Make it easier!
Sharelov's, Best Time to Post tool, Instagram Insights, and competitor & influencer monitoring tools help you customize the best publishing times for your audience. They're all free with your Sharelov subscription. Drop by and sign up for a free trial today.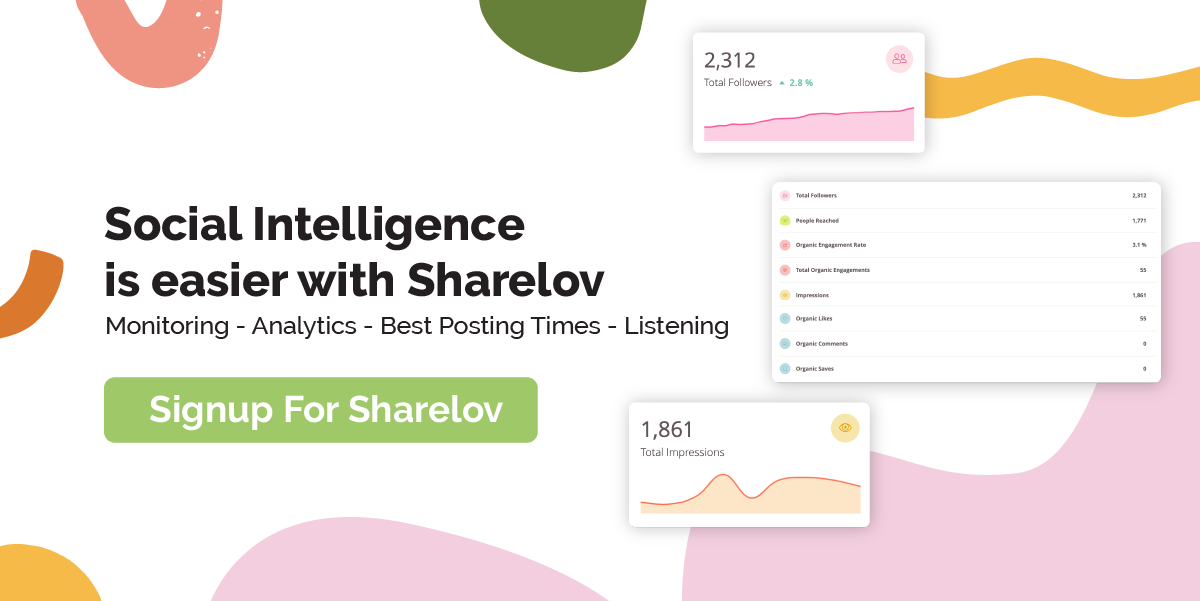 Best Times To Post On Instagram In 2022
We analyzed several recent studies and research, based on data from over one hundred million Instagram posts across the globe. Our recommendations are based on the latest research from Hubspot's 2022 Instagram Engagement report, with additional consideration from insights by Oberlo, Sprout, Later, and Hootsuite.
#1 The Best Time To Post On Instagram Is 8- 9 pm On Sundays
Sundays between eight and nine o'clock in the evenings is currently the #1 best time to post content on Instagram.
Unlike previous years when weekdays and late mornings were clearly the best time spots for publishing, 2022 ushers in a whole new time frame that favors weekends and evenings as the most-engaged times for Instagrammers.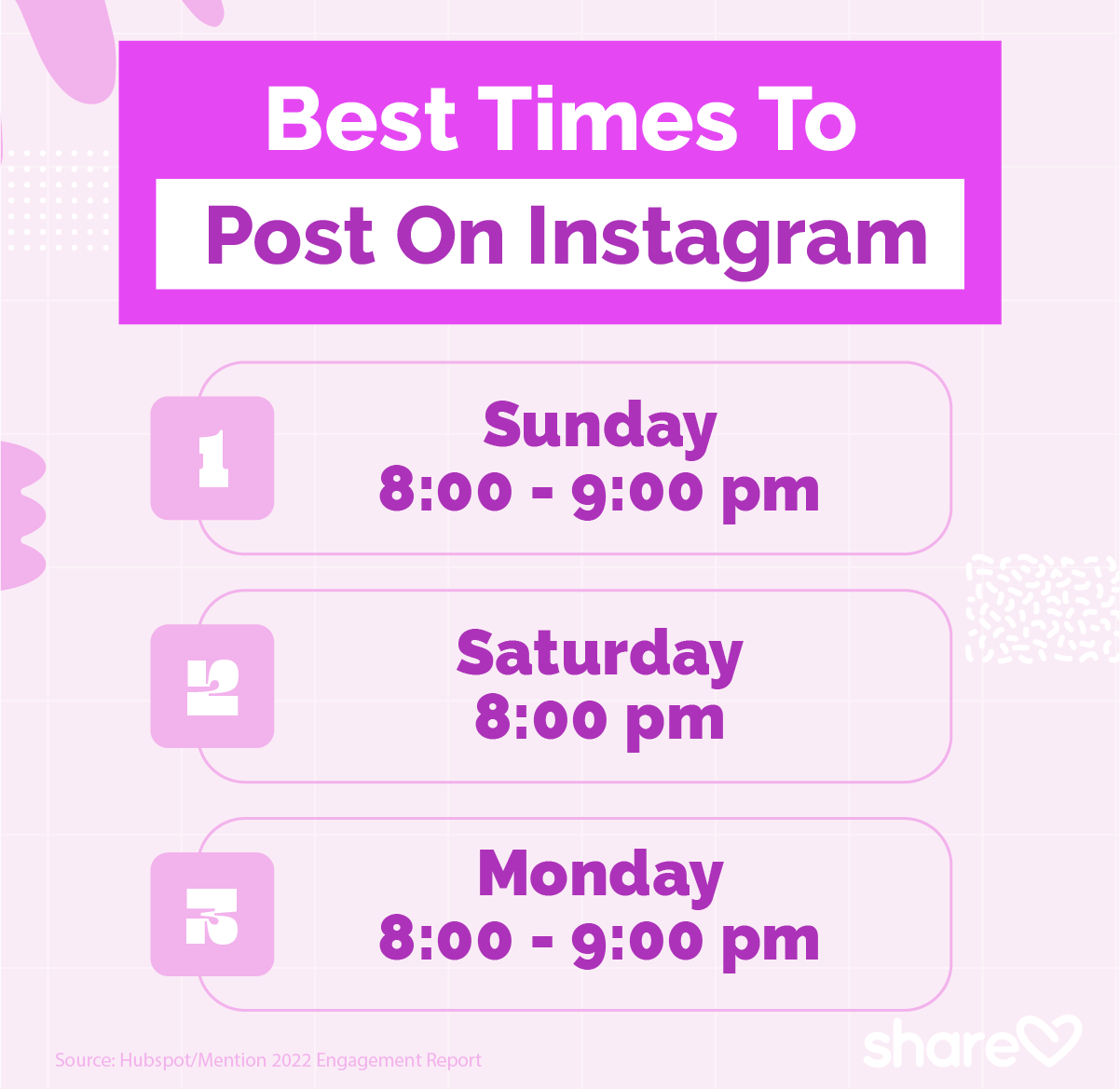 As you'll notice later in this report, the previous 11:00 weekday time slot that's been so popular in the past couple of years has now moved to the "worst times to post" list. 
What will happen as more workers return to the office? 
We may eventually see social media usage pick up during business hours, but each industry and every audience is likely to vary.
Monitoring your Instagram analytics, along with your competitors and industry influencers, is the only way to get up-to-the-minute reports on how your target audience is interacting with brands.
Fortunately, the right marketing software can make it super-easy for you and your team to monitor Instagram insights daily.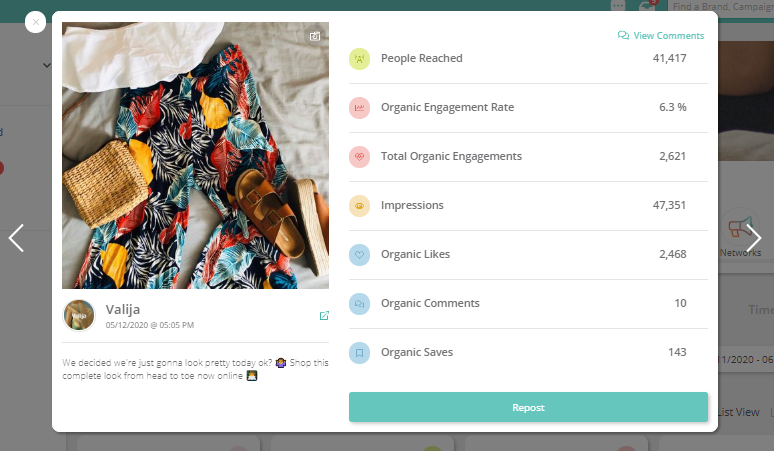 Throughout 2022, consider testing evening time slots, but don't give up on daytime spots entirely, especially if they're already working well for you. Keep experimenting throughout the year, testing results through insights to learn how your audience's behavior changes as people return to the office.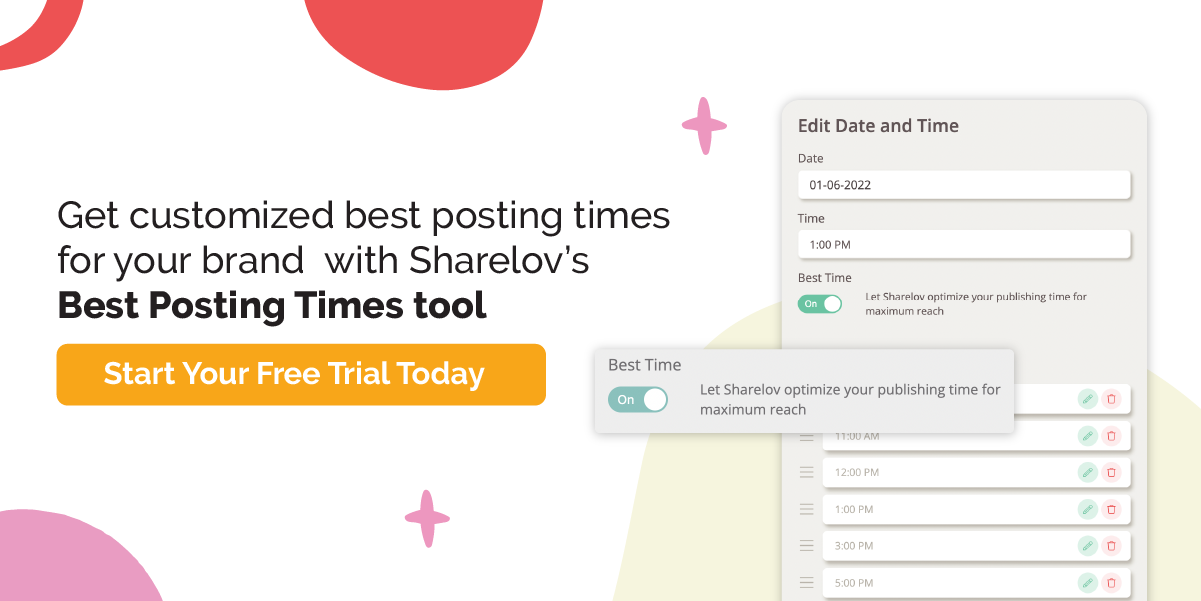 #2 The Second Best Time To Po
st On Instagram Is 8:00 pm on Saturdays
Once again, evenings and weekends win more engagement from Instagrammers than weekday daytimes.
Previously, lunch hours were a popular posting time on Instagram, but in 2022 the lunch hours show lower-than-average engagement, except on Sundays.
In 2022, the #2 best posting time on Instagram is 8:00 pm on Saturdays.
As people get back into the office, they'll begin socializing more and may not want to log on at 8 pm on date night. So while you might benefit from publishing at 8:00 on a Saturday night right now, you'll want to keep a close eye on your engagement rates to find out if and when your audience's routines change.
You can stay on top of your brand's ideal publishing times with Sharelov's Best Times To Post tool, which automatically suggests customized posting times for your Instagram content.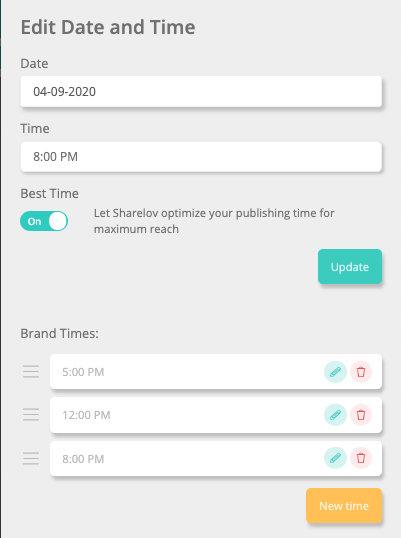 Right now, there's heavy engagement at 8:00 pm on Saturdays, but that could change as the year progresses. Keep an eye on your Instagram analytics and use the marketing tools available to you for the best insights on key times for your brand and industry.
#3 The Third Best Time To Post On Instagram Is 8:00 – 9:00 pm On Mondays
Again, evenings overwhelm with high engagement, but surprisingly — Mondays emerge as an excellent day for engagement.
Previously, Monday and Friday mornings were our 3rd most-popular time to post. 
We could see a resurgence in morning engagement as the year progresses, but for now, we'd recommend giving the Monday evening spot a try if you're looking to boost your engagement rates.
Fortunately, you don't need to work late to publish evening posts on Instagram. Sharelov's auto-publish tool lets you schedule posts to publish automatically, so you can set your own work hours without having to log on and post at specific hours.
Monday evenings between 8:00 – 9:00 pm are a high-engagement time period on Instagram, and you may want to consider experimenting to see if your audience responds well at this time, too!
Best Time Each Day To Post On Instagram
If you're posting daily content, it helps to understand what time of day people are most likely to engage with content.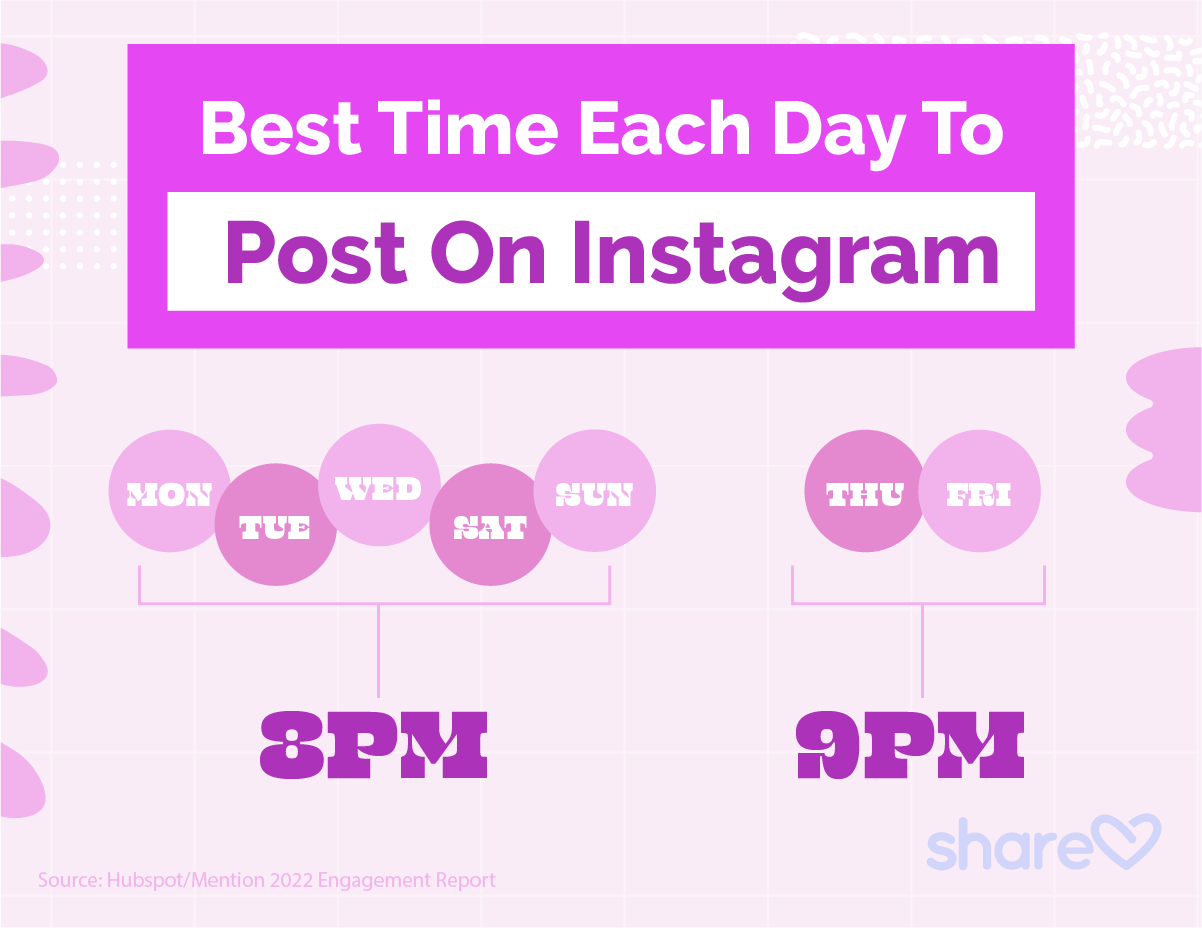 Here are the times when audiences are most engaged:
Monday at 8:00 pm

Tuesday at 8:00 pm

Wednesday at 8:00 pm

Thursday at 9:00 pm

Friday at 9:00 pm

Saturday at 8:00 pm

Sunday at 8:00 pm
As with any posting schedule, experiment with different time slots to find out which posting times are best for your brand.
Best Days Of The Week To Post On Instagram
If you're wondering when to post your best content or what days to post most often, it helps to know which days get the most engagement.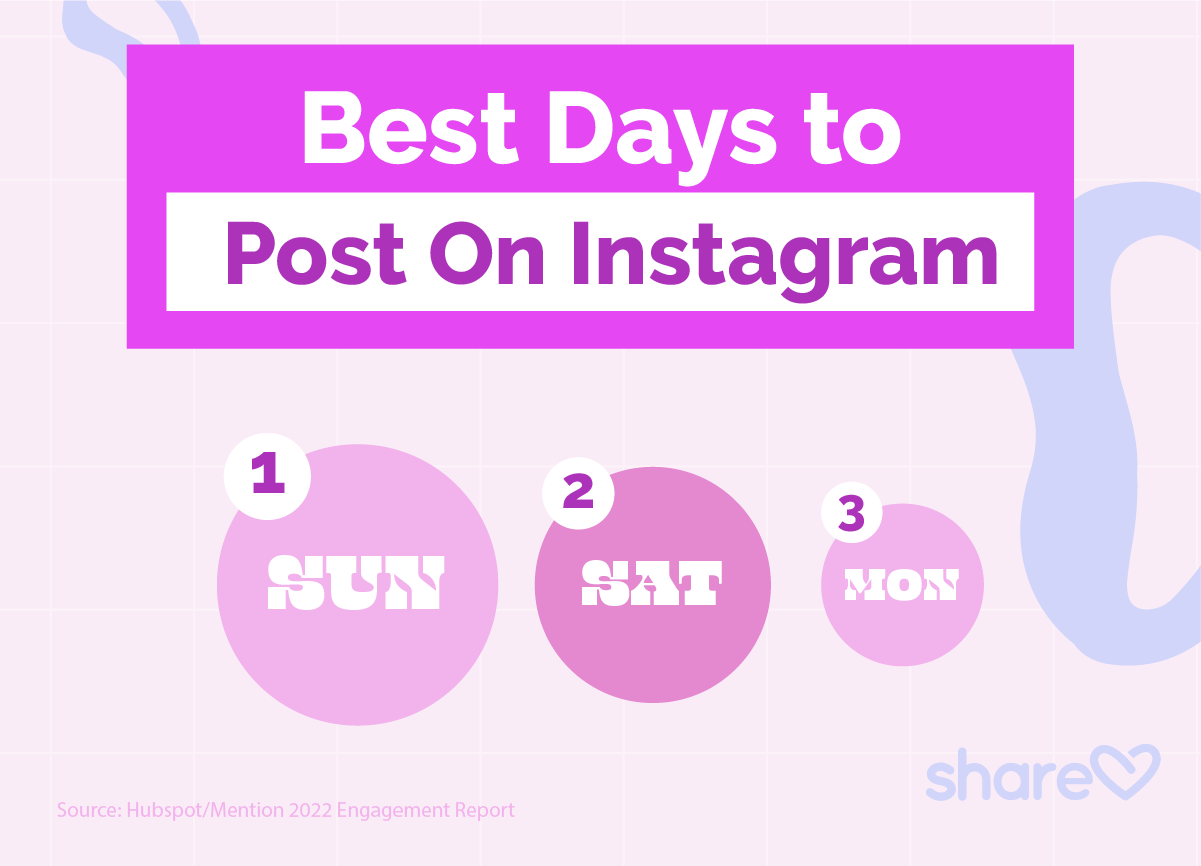 Here are the days when Instagrammers are most engaged.
#1 Best Day To Post On Instagram: Sunday. Sunday. And more Sunday!
#2 Best Day To Post On Instagram: Saturday
#3 Best Day To Post On Instagram: Monday
Worth mentioning: By pure volume, Wednesday ranks as the #1 best day to post on Instagram. Anytime between 5 pm and 3 am on Wednesdays are great times for content engagement.
More Excellent Times to Post On Instagram
The highest-ranked engagement periods aren't the only great times to post content on Instagram. Below we show you some of the other great posting times, which could turn out even better for your brand.

More Excellent Times to Post On Instagram
The following time periods got higher-than-average engagement on Instagram.
Any day between 6:00 – 9:00 pm

Any day between 10:00 pm – Midnight

Varies by day:
Monday between Midnight – 1:00 am

Tuesday at Midnight

Wednesday at 3:00 am

Thursday at Midnight

Friday between Midnight – 2:00 am

Saturday at Midnight or between 4:00 pm – 6:00 pm
Yes, you read that correctly — Wednesdays at 3 in the morning are very active on Instagram! Knowing this, you might want to avoid asking for a raise on Thursday mornings 😆.
Worst Times To Post On Instagram
The absolute worst times to post (times with the lowest engagement rates) on Instagram are:
#1 Lowest engagement: 5:00 am Thursday

#2 Lowest engagement: 5:00 am Friday

#3 Lowest engagement: 5:00 am Wednesday
Worth mentioning: Tuesday, Wednesday, Thursday, and Friday between 5:00 am – 11:00 am also showed low engagement rates.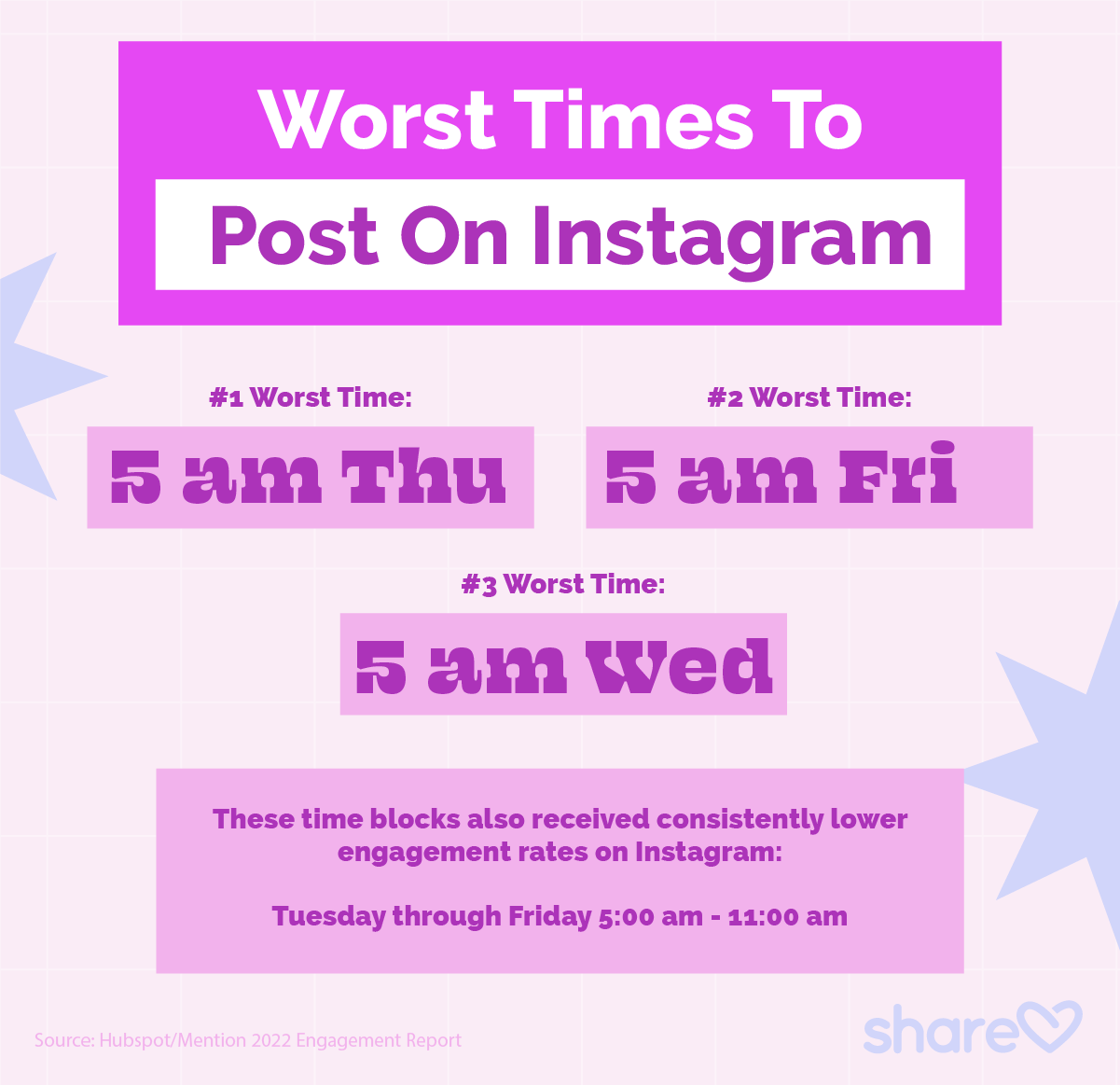 When You Should Never Post On Instagram
The only time you should never post on Instagram is when you don't have good content to share. 
Overall, you can't go wrong posting on the platform. 
Even during the "worst" posting times, Instagram content got an average 4-5% engagement rate in Hubspot's extensive study, which is a higher average than other types of marketing such as email and advertising rates.
Experiments and analytics are the keys to finding sweet spots for the best times to post for your company.
One way to learn more about what posting times are working for your industry is by monitoring your competitors' activity so you can see what's working (and not working) for them. 
For example, if a competing brand is getting massive engagement from posts released in the morning, then you might want to go against the typical high-engagement time slots and try mornings for your own brand.
Industry influencers can also shed light on what times of day your target audience is engaged with brands. By monitoring some of the top influencers in your industry, you can quickly get ideas for the most popular times on the platform.
The challenge is that if you pull up your competitors' or influencers' posts, you can't see what time of day they were published unless you're using a tool like Sharelov.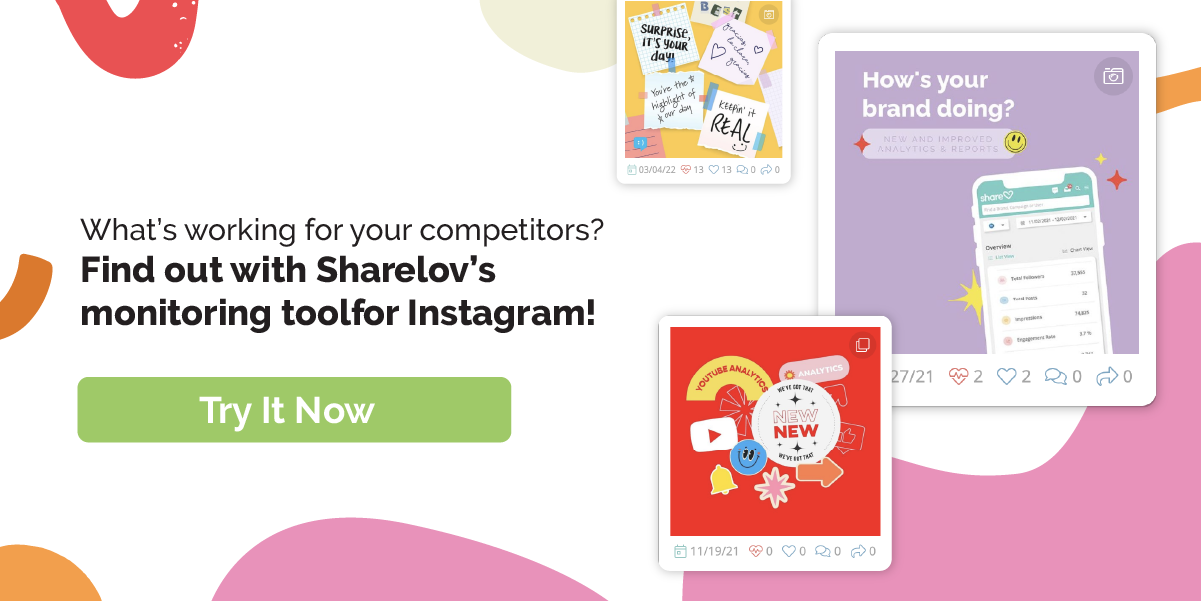 Sharelov's competitor and influencer monitoring tools let you track popular posts and review exactly what time they were published.
Consider posting during the evening hours instead of business hours to help boost your engagement on Instagram.
How To Find Your Brand's Ultimate Best Time To Post
The schedules above are based on the highest-engagement times for businesses. 
If you're new to Instagram, they can be very helpful in making decisions about when to post your content. However, you'll want to use them as a starting point for discovering the absolute best posting times for your audience.
To find and customize the best publishing times for your brand, use Instagram's analytics (Insights) to learn when your audience is most engaged.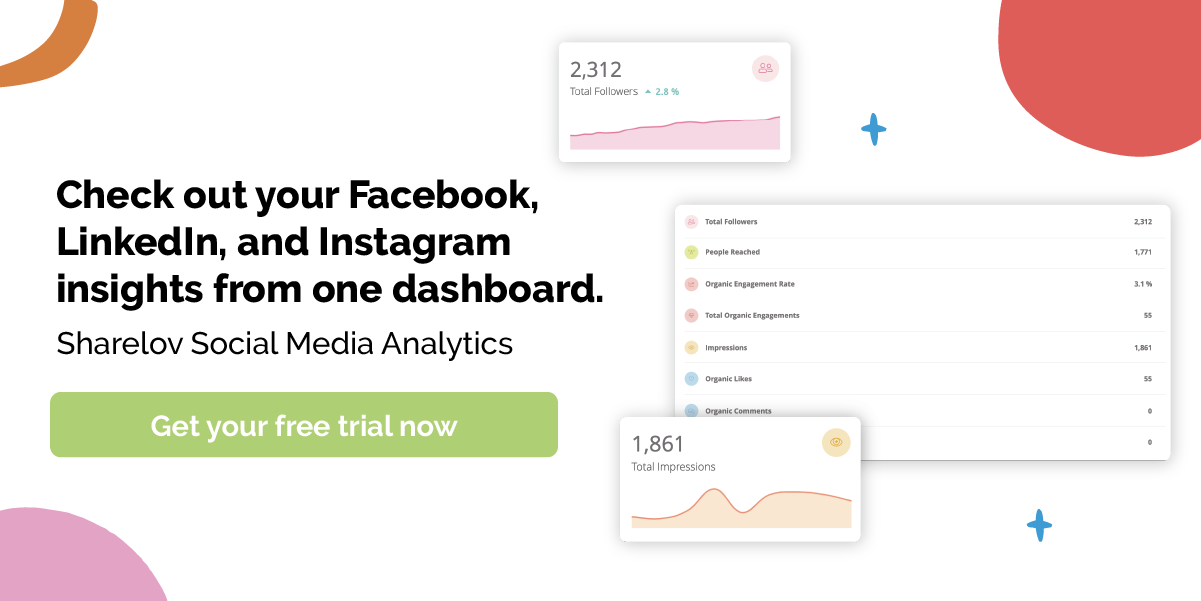 Marketing tools can help you find personalized posting times even quicker.
For example, Sharelov's Best Times to Post feature takes the guesswork out of when you should post. Just toggle it "on" and you'll automatically get suggestions based on your audience.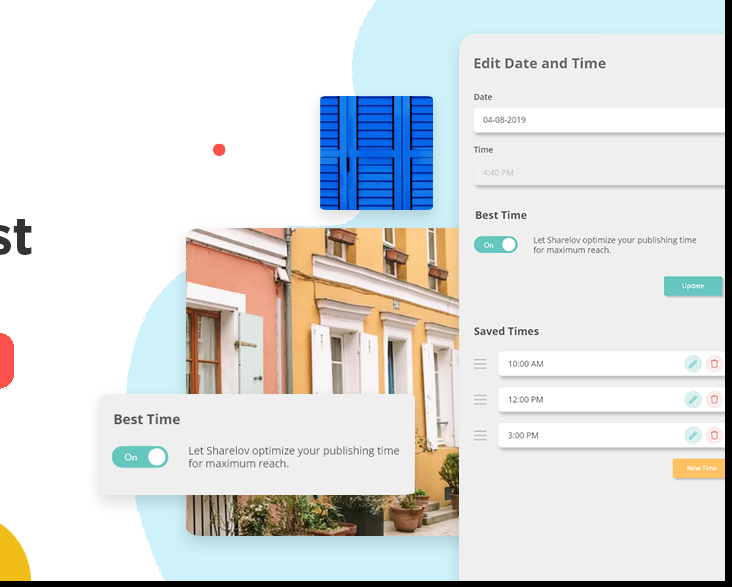 Monitoring your Instagram analytics regularly, and using specialized marketing tools, will help you find the top time slots for reach and engagement for your brand.
How Often To Post On Instagram
The #1 rule on how often to post on Instagram remains: Never post more often than you can produce amazing content.
Here are some tips to help guide your posting frequency:
Publish

posts

only as often as you can create high-quality, interesting content that your audience loves to engage with. 

Post

Stories

as often as possible.

Post content

more often during special events

.
Remember — quality has more power than frequency!
If you're wondering what to aim for in terms of posting frequency, consider the size of your audience.
Later studied more than 81 million feed posts (not Reels or IGTV) and discovered that more is not always better.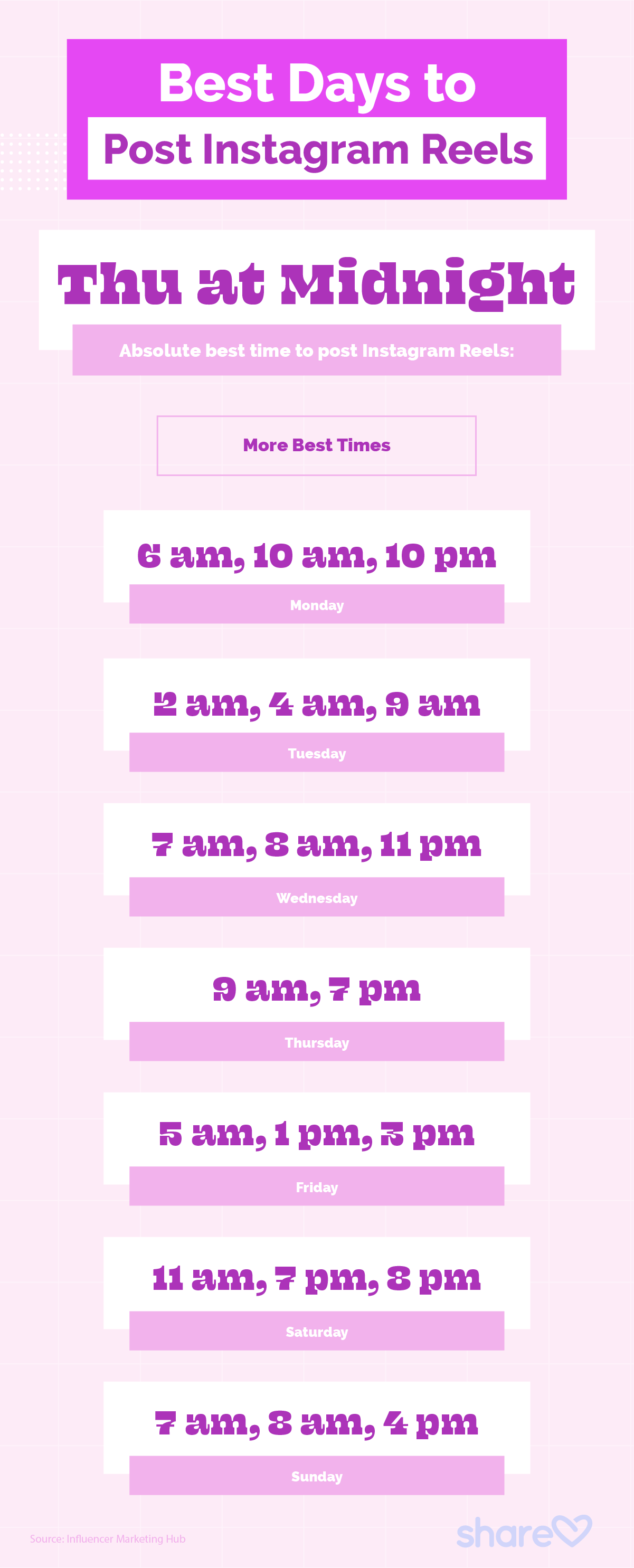 You can post more frequently when you have a smaller audience, but generally speaking, brands with mid-to-large audiences get better engagement by posting once a week.
| | | |
| --- | --- | --- |
| # of Followers | Highest reach with this # of weekly posts | Highest engagement with this # of weekly posts |
| 1,000 or less | 14 | 14 |
| 1,000 – 250,000 | 14 or 20 | 1 |
| 250,000 or more | 1 | 1 |
When deciding how often to post on Instagram, keep two things in mind:
The quality of your Instagram posts is far more important than frequency.

Your content is more interesting when it contains a healthy balance of video, photo, and Stories  – but only according to your ability to consistently publish quality material.
On other social media platforms, you may get higher reach and engagement by posting more often. Use those platforms to drive traffic to your Instagram account for increased reach and engagement!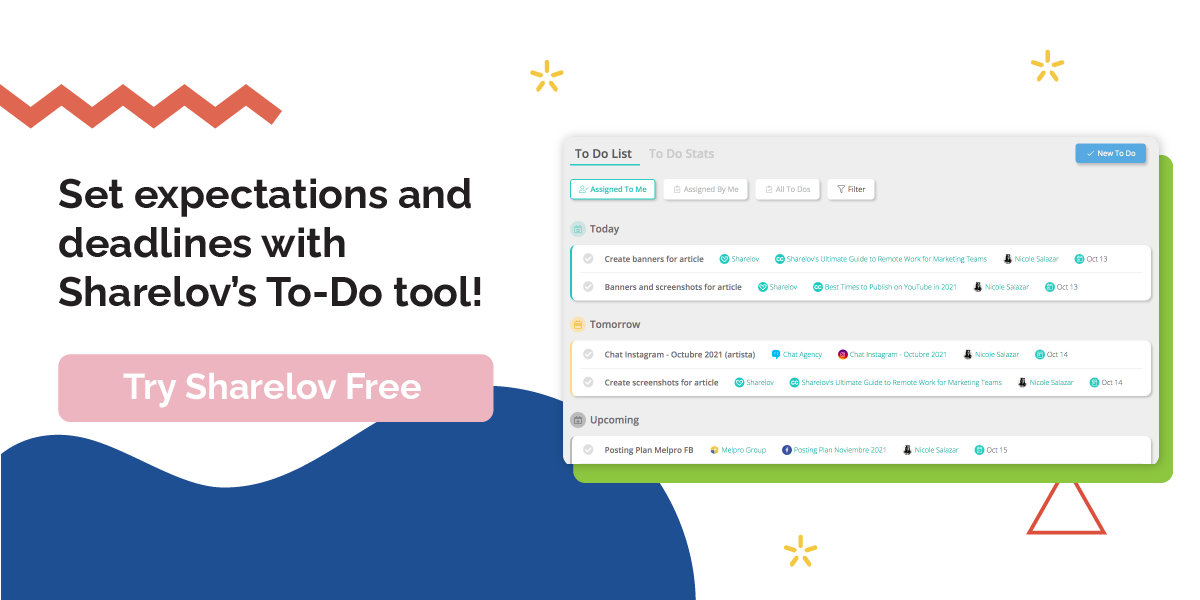 What Time Zone Should You Post In?
Now that you know what the data says about the most engaging times for Instagram posts, you might be wondering what time zone those suggestions refer to. Check out the suggestions below to help guide your time zone adjustment.
If you're a local business you should apply the best posting times to your regional time zone.
If you're a national or global business, you should post according to the time zone that most of your audience lives in, if that exists.
If all else fails and you're still not sure what time zone to follow, post in Eastern time because it houses the greatest number of people:
Nearly half of the U.S. population (47.8%) lives in the Eastern time zone.

About 30% of Americans live in the Central time zone.

16.6% of Americans live in the Pacific time zone.

Only 6.7% of Americans live in the Mountain time zone.
Sharelov's Best Times to Post feature automatically recommends posting times that are ideal for your audience. All you need to do is toggle the feature "on" to receive suggestions as you create content!
Tips To Help Boost Post Engagement
How often and when you post on Instagram is only the first step in boosting your Instagram engagement rates. 
Here are a few more tips to help you get your audience interacting with your brand more often.
1. Make your posts irresistible.
Publish the most compelling photos, videos, and stories your brand is capable of. 
When people interact with your posts, this tells Instagram that your brand is sharing quality content, and then more people will see your posts.
2. Consistency matters more than frequency.
Develop a posting schedule based on how often you can publish quality material, and then stick to the plan. 
It's better to post one compelling image a week than six that get ignored. 

Publishing on a consistent schedule builds trust between your brand and its audience.
Consistency is easy when you have access to auto-publishing tools for Instagram. However, Instagram is picky about which software programs it allows to auto-publish, so finding the right tool can be a challenge (unless you join Sharelov).
Auto-publishing to Instagram is now available on Sharelov!
Join Sharelov today and start auto-publishing your Instagram posts. The auto-publish feature is included with your Sharelov subscription — all you need to do is set it up with our step-by-step visual guide.
Try auto-publishing to Instagram with Sharelov now.
3. Work in teams.
Instagram's demand for quality is high, and successful content is usually produced by a team of people working together. Collaboration can dramatically improve a brand's chances of success because:
Teams can create original, engaging content week after week.

Teams can quality-check photos, videos, and messages before they're published.

Teams help avoid errors in messaging that might harm a brand's reputation.
Best Times To Post On Instagram Are Constantly Evolving
This year's best times to post on Instagram make the leap from traditional business hours to late evening hours, even into the wee hours of the morning. While some of the change is due to work-from-home schedules, that doesn't necessarily mean that the changes are temporary. We'll know more as the workforce returns to the office in 2022.
This year, more than ever, customizing your Instagram publishing schedule according to your insights will help you get the best reach and highest engagement rates possible. 
The best posting times in this report are an excellent place to start but take it a step further with continuous testing and data review throughout the year.
To find your way to customized high-engagement times for your brand quicker, monitor your competitors and industry influencers, use a best posting times suggestion tool and monitor Instagram insights with your team frequently.