Want to bypass the Instagram algorithm and shoot straight to the top of your followers' feeds?
You can be the center of attention – as often as you like – by using Instagram Live.
Quickly build meaningful connections with your audience using techniques that are so simple — your kids could master them in minutes.
In this article, we'll show you everything you need to know about Instagram Live:
How to create quality broadcasts that get noticed – with minimal effort and expense
How to use Instagram Live and its features (step-by-step)
How to turn followers into relationships
We'll show you how to use IG Live to build the engaged and loyal audience you dream of, with minimal effort.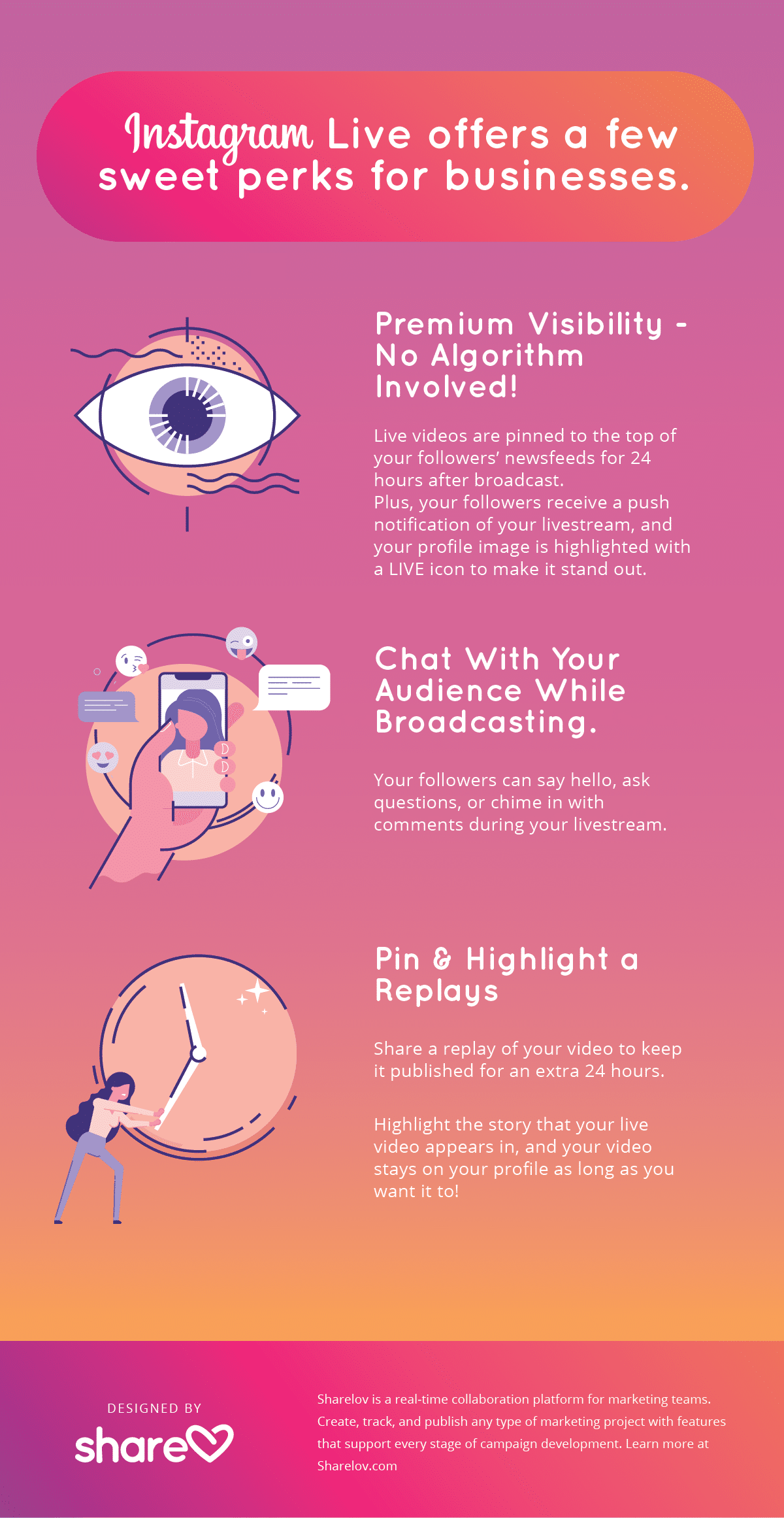 Instagram Live Gives You Premium Visibility – No Algorithm Involved!
Live videos are pinned to the top of your followers' newsfeeds for 24 hours after broadcast.
Normally, your content shows up in the news feed based on based on Instagram's algorithm. How high up your content appears is based on factors such as relationships, timeliness, and interest.
Plus, your followers receive a push notification of your livestream,
and
your profile image is highlighted with a
LIVE
icon to make it stand out.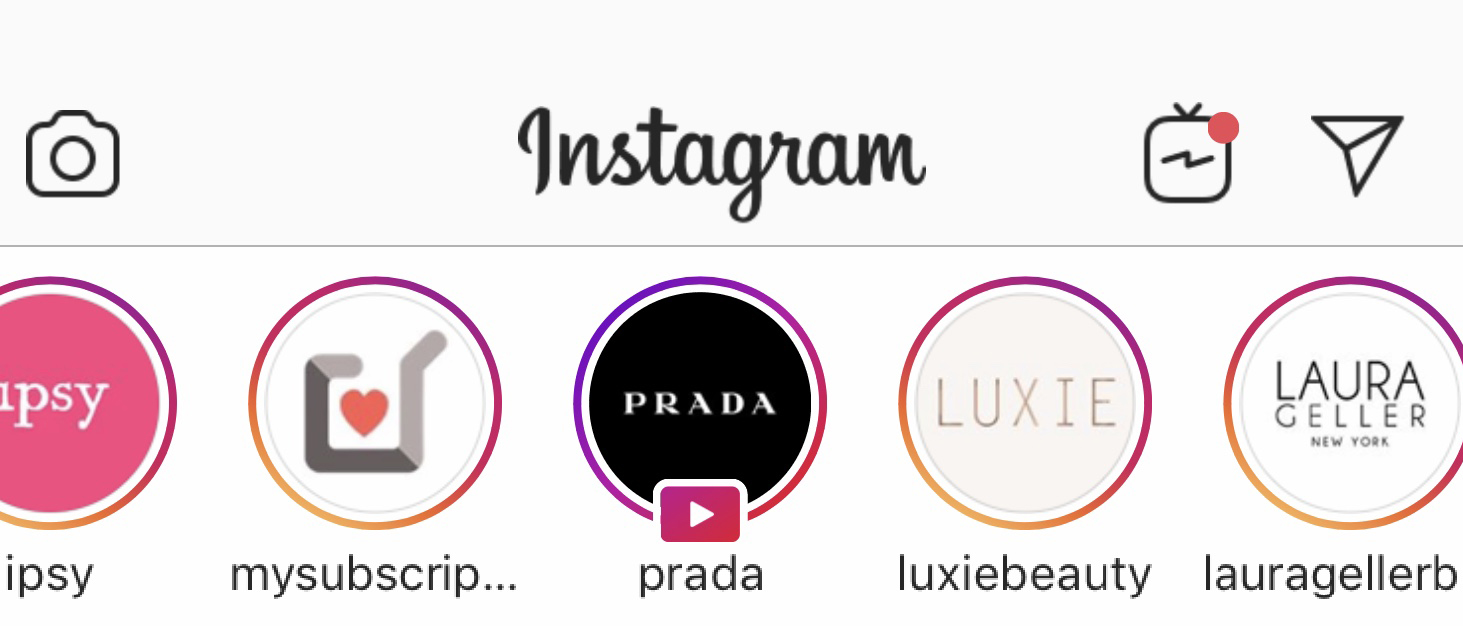 Instagram Live is a golden opportunity for brands struggling to get noticed because it bypasses the algorithm and gets your broadcast in front of all your followers.
Instagram Live Lets You Chat With Your Audience While Broadcasting
Your followers can say hello, ask questions, or chime in with comments during your livestream.
For example, the image below shows a Sephora livestream with a chat conversation in the lower left corner of the screen.
During the broadcast, you're able to acknowledge your followers, say "hello" back, and answer their questions in real-time.
The boost in visibility and audience participation make Instagram Live a "must" for brands seeking visibility and engagement.
Instagram Live Audiences – Who are They?
About one-third of all internet users and more than half of 13 – 34 years olds watch live stream broadcasts.
On Instagram, live videos are a feature of Stories.
Instagram's one billion active users love Instagram Stories. 400 million of them interact with Stories daily, usually giving videos twice the engagement than that of photos.
Instagram Live offers businesses a chance to create a sense of urgency with ephemeral content. Combined the way Instagrammers embrace brands and love to engage with live broadcasts, it's an ideal platform for brands.
How to Create High-Quality Live Videos for Instagrammers
Take advantage of the visibility and engagement  you get from Instagram Live by creating high-quality content for your broadcasts.
Live videos don't have to be fancy or big-budget to be exceptional. You can create an outstanding video with good planning and an inspired creative team.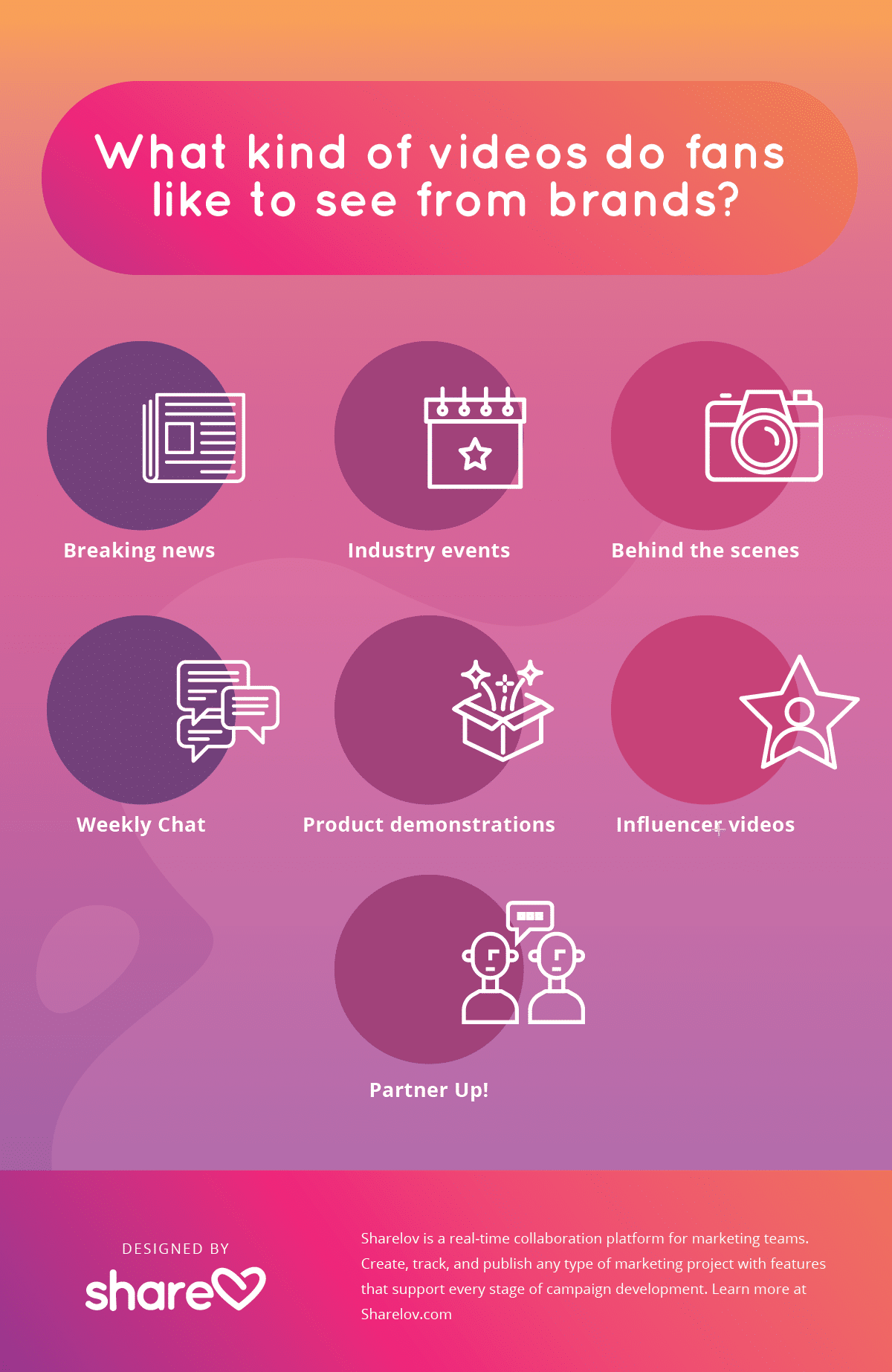 Here's a list of suggestions for video formats that work great for brands. As always, tailor your content to the personality and interests of your audience.
Breaking news
When there's new in your industry, turn it into opportunity by getting in front of the camera to announce it to your Instagrammers. Live video doesn't have to be 60 minutes long! Take 5 minutes to update your followers, and your video goes to the top of the feed for 24 hours.
Industry events
If your audience is business-to-business, try streaming from an industry convention, conference, or workshop is a winner. Taking them inside an industry event gives them a chance to "be there" when they can't break away in person.
Behind the scenes
Users love to get to know the people in your organization and the care that goes into your products. Behind-the-scenes videos take your followers into the real-life world of your brand and help to form a human connection.
Weekly Chat
Talk it up! Scheduled weekly broadcasts give you a chance to promote your broadcasts and build upon your audience over time. Use weekly chats to offer advice, share news, or answer questions that engage your followers.
Product demonstrations
Build excitement for your product with livestream demonstrations. Get creative! Whether you're showing how to use the product or walking a live customer through it, make it fun. Product videos can help sell products and retain customers.
Influencer videos
Hire a social media influencer to take over for streaming session. This gives your audience the chance to interact with someone they look up to or admire.
Partner Up!
Pair up with another brand for broadcasts, so you can both expand your reach through a 2nd audience.
For example, champion rally car driver Piotr Fetela shares a video that combines and tags multiple brands.
Interviews
Interviews are an excellent way to capture your audience. You might interview your own team members, industry experts, or even customers. Interviews are another way to gain a 2nd audience since the interviewee's followers will also take an interest.
There are many ways to create high-quality content that captures the attention of your followers and encourages interaction. Look to your analytics and your competitors to discover what types of videos are most engaging.
Add a Title – New!
It looks like Instagram is testing a new feature that allows you to write a title for your Live videos, according to Social Media Today.
Keep an eye out for Live video titles, because they'll help improve your live video reach and engagement!
How to Use Instagram Live
Instagram Live is simple to use and has a few awesome features that help engage your audience. In this section, we'll show you how to live stream and use some of its helpful features.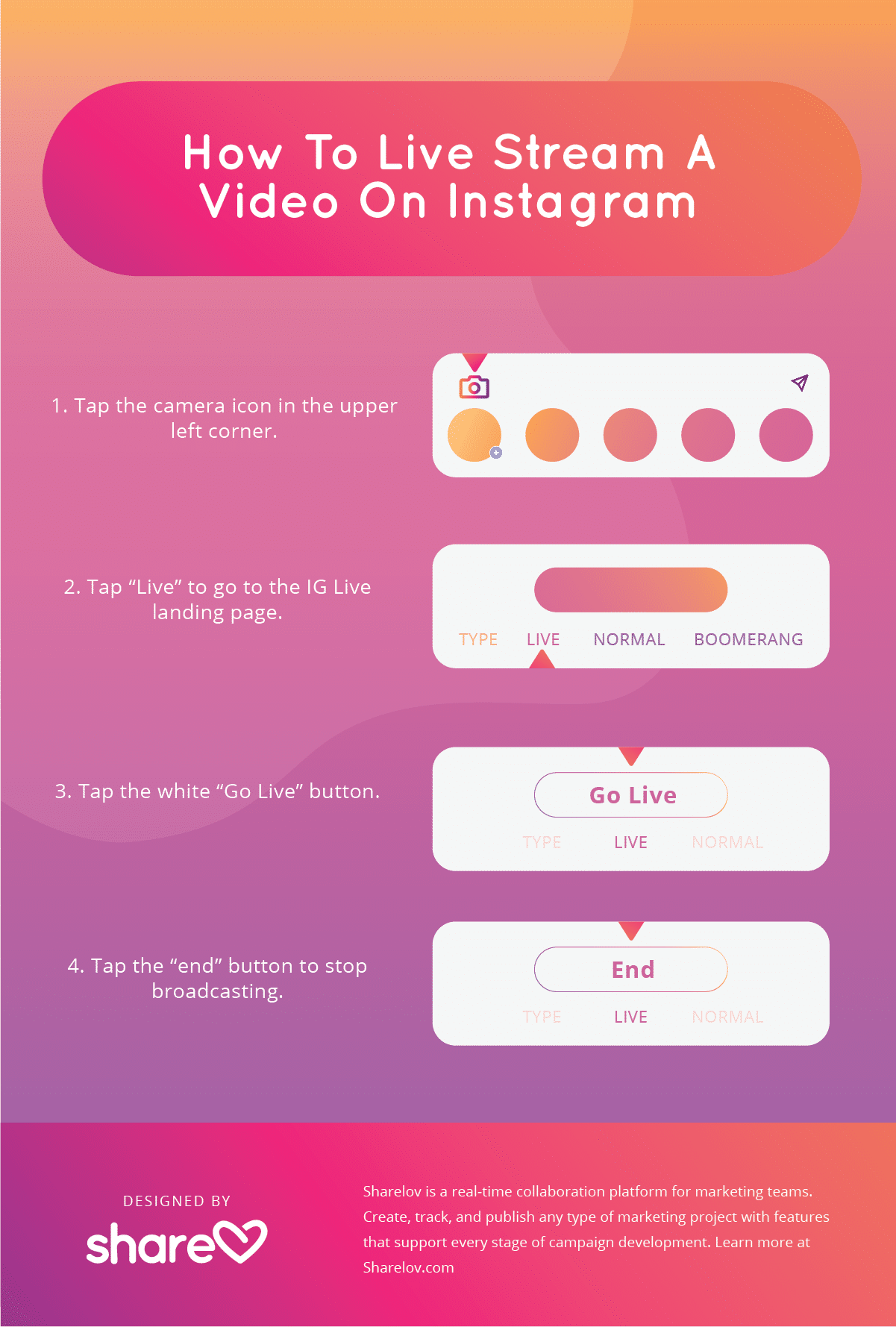 How to Create High-Quality Live Videos for Instagrammers
On Instagram, tap the camera icon in the upper left corner or swipe right from anywhere in your feed.
Next, tap "Live" to go to the IG Live landing page.
Tap the white "Start Live Video" button.A pink "Live" icon light ups in the upper left corner to let you know you're broadcasting.
Once you begin streaming, Instagram will highlight your profile picture and notify your followers.
Viewer count: Next to the pink "Live" icon is your viewer count. This shows you how many people are tuned in.
Tap the "end" button to stop broadcasting.
How to Use Instagram Live Stream Features
Pin Comments to Videos
Instagram's "Pin to comments" feature helps you retain followers who join in the middle of a livestream.
When people join in after you've already begun the conversation, they can view important messages and comments.
Using pinned comments can help you make your audience feel welcome, so they're not left behind if they join in mid-conversation.
How to pin a comment: Tap on a comment, then tap "Pin Comment."
When you pin a comment, it's pinned to the bottom of the comments feed for the duration of the broadcast.
Invite a Friend To Join Your Live Stream (Split screen)
You can tag a friend to join you in a livestream once it's begun. This is helpful when you want to interview someone or even invite a follower to join you.
How to Invite a Friend to Join You in a Split Screen Live Video:
I. First, tap the camera icon in the top left corner of your screen.
II. Next, tap "Live," then "Start Live Video" to begin live streaming.
III. Tap the double happy-face icon, then tap on a person's name to invite them. The person must be viewing your live video at the time you invite them.
IV. Your friend then appears in a split-screen view, unless they decline the invitation.
How to remove a friend from your live video: Tap "x" in the right corner at any time to end the split-screen sharing.
Disable Comments
If you prefer to livestream without viewer comments (although – why?!?), you can disable them.
How to disable comments: Tap the 3-dot menu and select  "Turn Off Commenting."
Save Your Video After the Livestream (or it will disappear!)
Live videos are ephemeral content that disappears at the end of your broadcast — unless you share a replay.
A replay disappears after 24 hours unless you highlight it, which adds it to your profile.
How to share a replay (saves for 24 hours): Tap "Share" at the bottom of your screen after you end the broadcast. Your reply includes likes and comments. Viewer Count reflects both the audience that watched your live stream and everyone who watches the replay.
How to highlight a replay (permanent until you remove): Highlights are Stories that are permanently pinned to your brand's profile page until you remove them. To pin your live stream replay to your profile:On your brand's profile, tap "Stories Highlights."Then, tap the plus (+) sign.Next, select the Story with your replay video in it and tap "Next."FInally, choose a cover photo and name for your highlight, then tap add/done.
How to share to your camera roll: Tap "Save" in the upper right corner, after your broadcast, to save your video to your camera roll.
How to delete your live video:  Discard your live video by tapping the blue button, then select "Discard."
Now that you know the basics of how to use Instagram Live, you're ready to discover how to market them. In the next section, we'll show you how to get started promoting your live broadcasts.
Tips for Success with Your IG Live Broadcasts
Make the most of your Instagram Live broadcasts with these expert tips.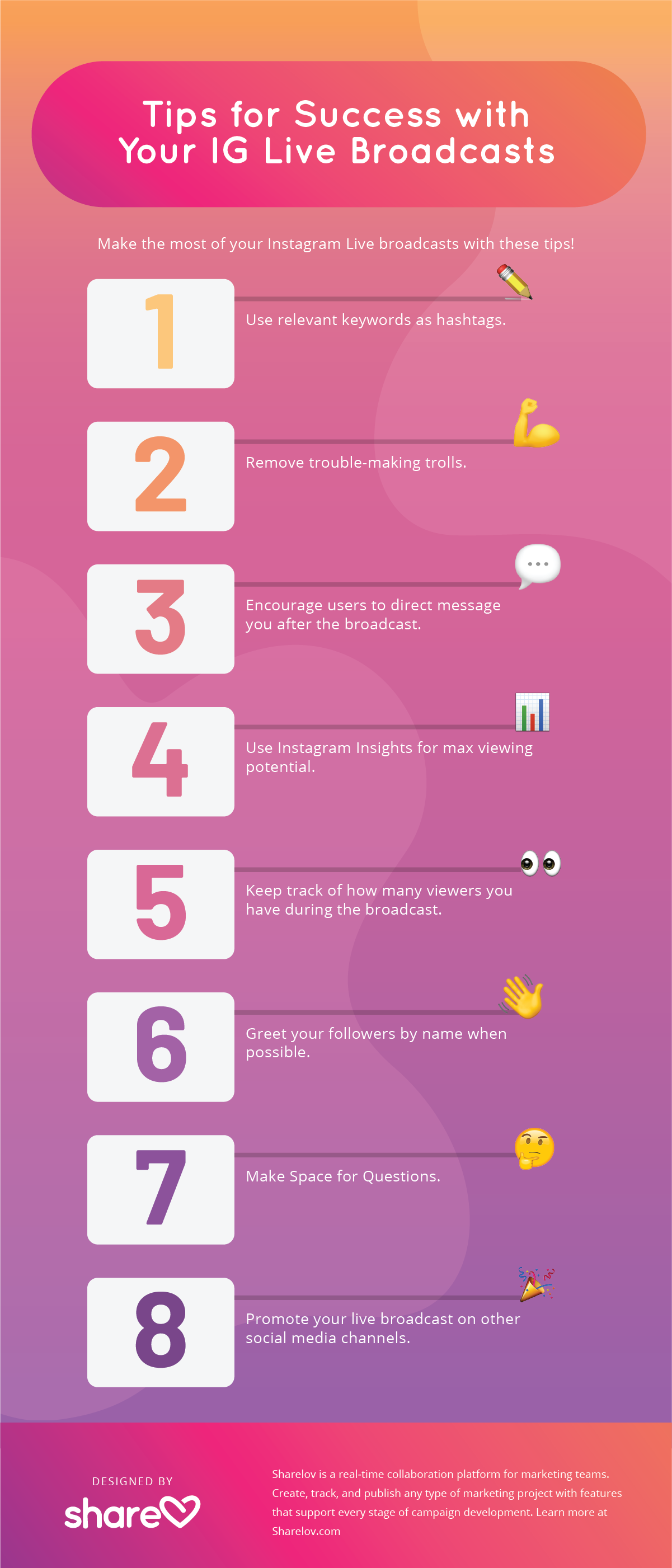 Pin your title.
Pin the title of your live video by typing it into comments, then highlighting the comment.
Remove trouble-making trolls.
Be prepared for internet trolls, just in case you have problems. If anyone joins you for the purpose of making trouble, you can mute them from the chat by clicking the "x" next to their name.
Encourage users to direct message you after the broadcast.
If you can't get to everyone's questions, or if someone needs a bit more help than you can offer at the time, ask them to DM you. It's a great way to make a personal connection with people and will help keep the show moving along.
Use Instagram Insights for max viewing potential.
Plan your live streams for times when the largest number of your followers are normally online. Your Instagram Insights will show you when your audience is online.
If there are 2 popular times during the day, try the first one. Then, the video will still be fresh when the second audience comes around.
Keep track of how many viewers you have during the broadcast.
Take a screenshot after your broadcast so you can record the number of viewers.
Greet your followers by name when possible.
One of the best parts of Live is the opportunity to make connections with your followers. Try to greet them by name, especially as you're getting started. Remember the most active audience members so you can give them a special "hello" next time.
Make Space for Questions.
Create breaks in your content to allow for questions from the audience. This encourages engagement and creates meaningful connections with your followers.
Promote your live broadcast on other social media channels.
Use your other social media channels, plus your email list, to promote upcoming live streams.
For example, auctioneer Nick Davies encourages his Twitter followers to stop by Instagram for special content.
Wirecast uses YouTube to promote its Instagram Live broadcasts.
Promoting your Instagram activity on other social media channels helps drive more traffic to your live stream broadcasts.
What do you think? Have you tried Instagram Live? If so, we'd love to hear how it went for you.
Share your own stories or questions in the comments section below.