Updated Feb. 2023
Should you become a TikTok Creator? Find out what TikTok creators do, how much money they earn, and how you can get started as a successful TikTok Creator.
TikTok creators are people who publish content for the purpose of educating or building their brand. Successful creators earn widely different incomes, ranging from $200/month to $1 million per post. The first step toward becoming a TikTok Creator is to build a niche audience of engaged followers.
Keep reading to find out more about what creators are, how much they earn, and how you can get started as a TikTok creator.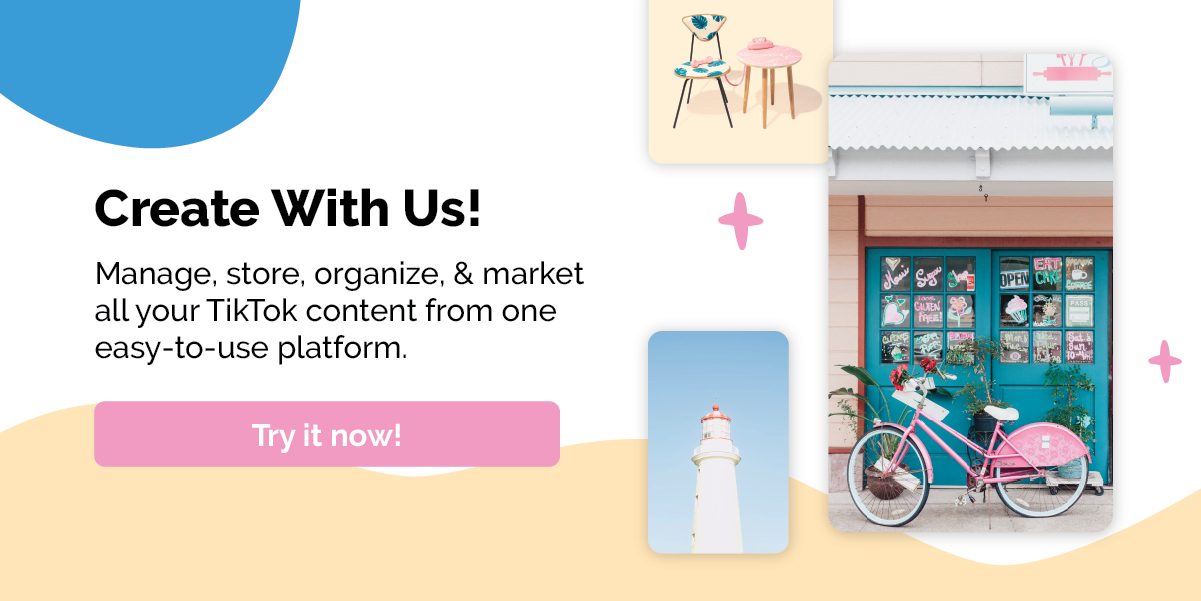 What Is A TikTok Creator?
TikTok Creators are individuals who publish original content for the purpose of sharing knowledge or building a brand.
To meet eligibility requirements for some of TikTok's best Creator tools, you'll need an audience of 10,000 – 100,000 or more (eligibility requirements vary by region).
71% of TikTok creators have somewhere between 10 – 50 thousand followers, and  0.1% of all creators have 5 – 10 million followers, according to a report by Statista.
The difference between a Creator and an Influencer is:
Creators produce unique, original content for the purpose of teaching or building a brand. Their focus is building an engaged community.
Influencers are personalities that publish content for the purpose of making money and gaining popularity. Their focus is typically to generate profits.
However, the lines between creator and influencer sometimes blur. Creators can be influencers, influencers can be creators. Influencers are well-known for promoting brands through partnerships, and Creators can do the same, but often do so with a more authentic approach.
About half of all TikTok influencers have a following of 1,000 – 5,000 followers, 30% have 5,000 – 20,000 followers, and 15% have 20,000 – 100,000 followers.
Monitoring influencers and other brands in their niche can help creators get more followers and increase engagement rates quicker.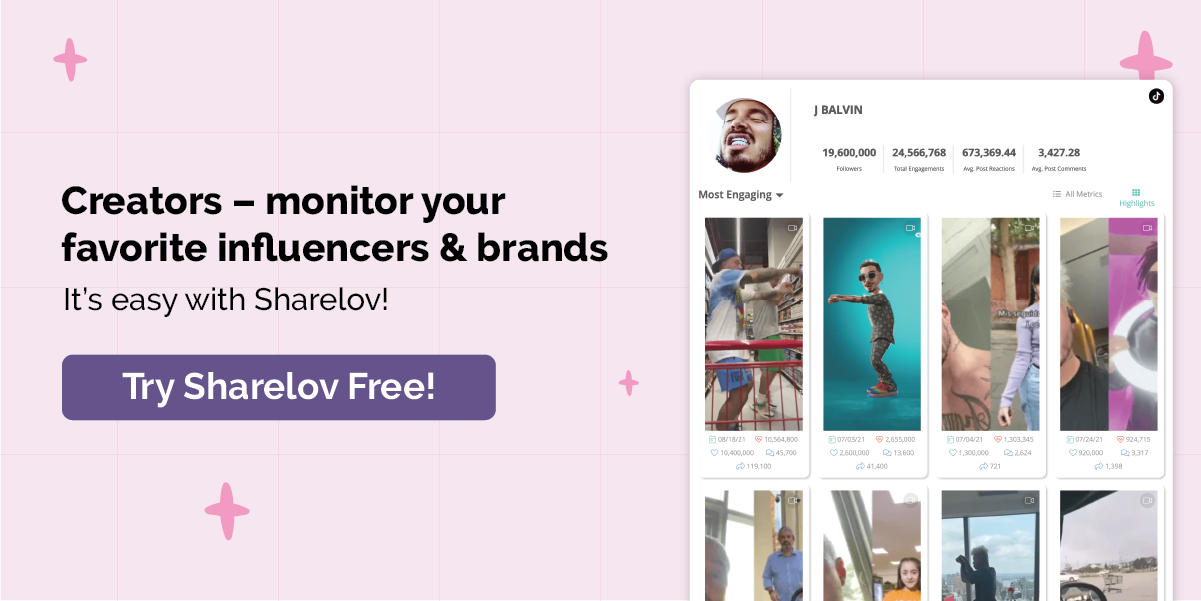 Should You Become A TikTok Creator?
With more than one billion active users, TikTok's rapid growth (average of 340 million new users per year since 2018) sets it apart from all other social media platforms.
The short-form video channel is an excellent resource for creators looking to grow their presence (and profits) on social media.
Unlike other creator platforms such as YouTube, TikTok creators don't earn income through ads played during their videos.
Instead, the platform provides several other ways to monetize content, including its Creator Fund, Live & Video gifts, Tips, and brand partnerships.
How Much Money Do TikTok Creators Make?
Successful TikTok Creators make anywhere from $200 a month to $1 million per post, depending on the size of their audience.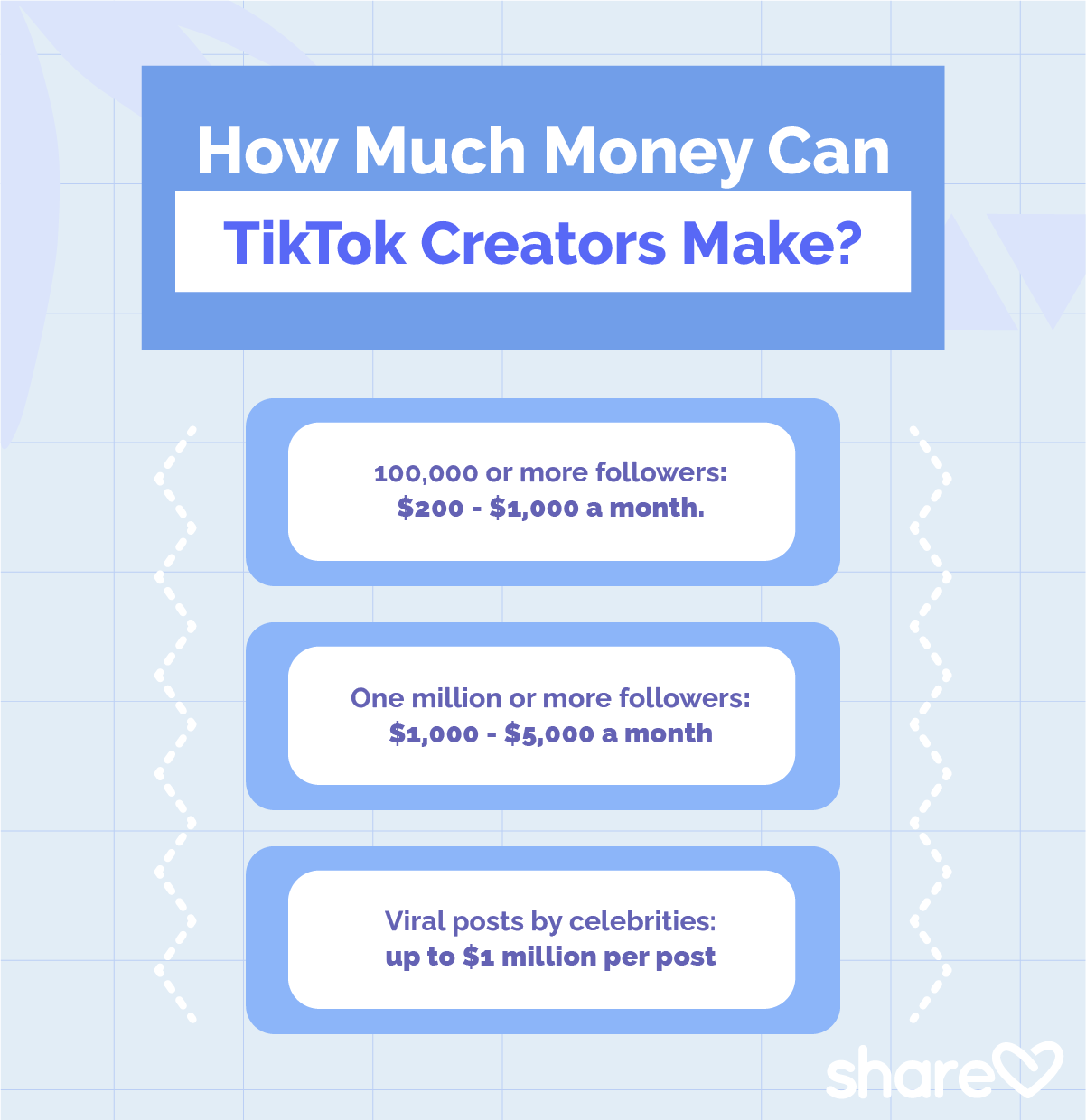 Here's how much TikTok Creators and TikTok viral "stars" can earn:
Content creators with 100,000 or more followers can earn between $200 – $1,000 a month.
Content creators with one million + followers can earn $1,000 – $5,000 or more on the platform.
Viral posts by celebrities, such as Addison Rae, and Charli D'Amelio, can earn up to $1 million per post
Earning money directly on the platform isn't the only way to pull in profits from TikTok, though.
Creators can also use TikTok to drive traffic to their websites and Patreon channels, where they can sell products, subscriptions, and training videos — or even accept donations to help them continue creating.
How To Get Started As A TikTok Creator
To get started as a TikTok Creator, start by making sure that you have a personal, not business, account on the platform, then gradually build an engaged audience.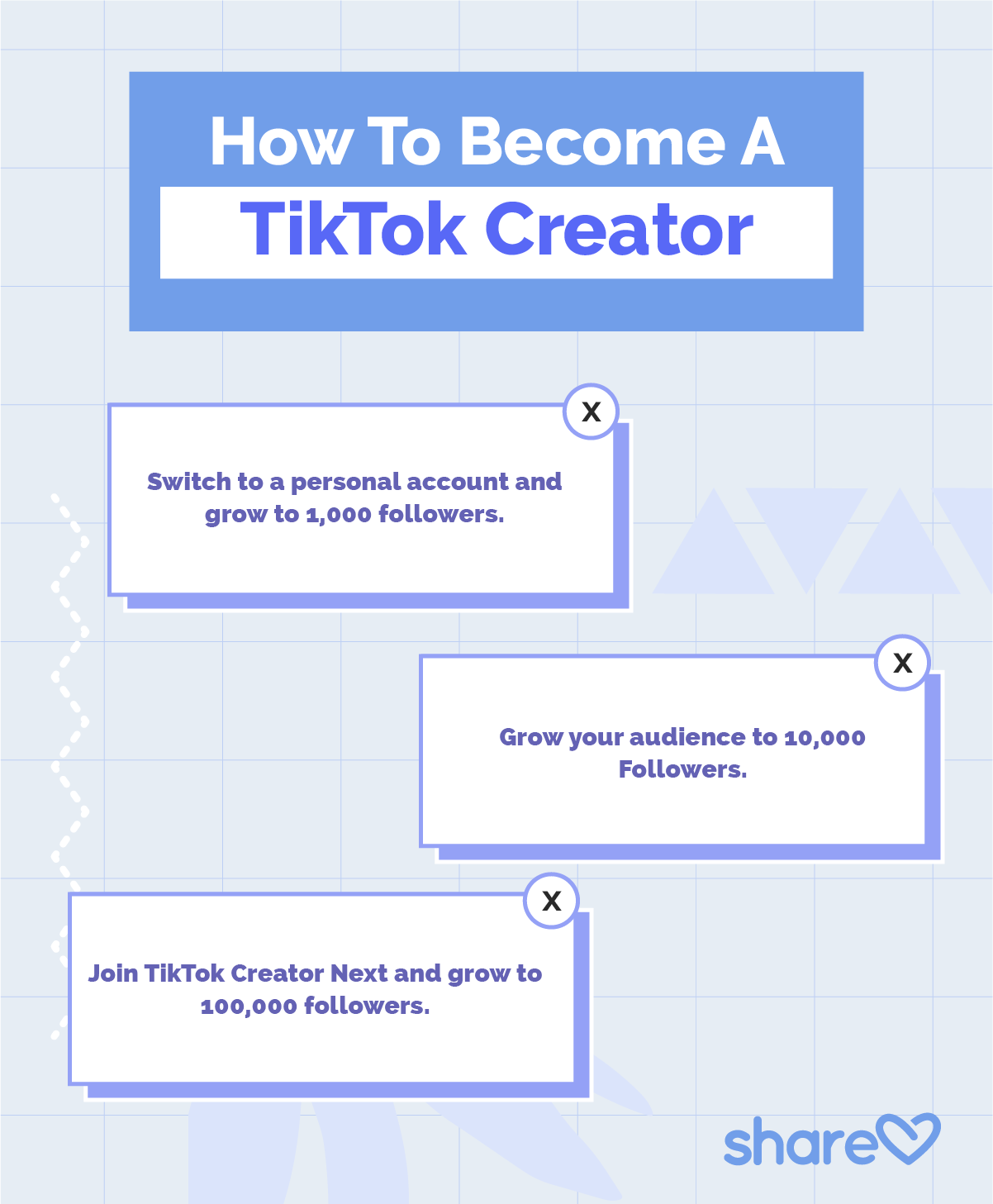 There are three phases to becoming a successful, well-paid TikTok Creator:
Switch to a personal account and grow to 1,000 followers.
Grow your audience to 10,000 Followers
Join TikTok Creator Next and grow your audience to 100,000 followers.
Each step opens up new opportunities and monetization options that help support your creative efforts.
Step #1 Switch To A Personal Account And Begin Growing Your Following
To establish yourself as a creator on TikTok, begin by switching to a personal account if yours is currently a business account.
To switch from a business to personal account, go to: Profile > Menu > Settings & Privacy > Manage Account > Switch To Personal Account.
Next, you'll want to build an audience of 1,000 followers. There are several resources that can help you reach this goal, such as:
TikTok Creator Tools [Profile > Menu >Creator Tools}
Creator Tools is a portal to free support resources to help you build an engaged audience. It includes:
 Analytics to help you track content performance so you can learn what type of videos your audience is most likely to engage with.
Creator Portal, a resource section with information to help you get started producing successful content.
Live Creator Hub with information and resources to help you get started creating live videos and video subscriptions.
Sound On for musicians, a tool that helps increase exposure of your original music.
Once you reach 1,000 followers, you can monetize live broadcasts using the following tools:
Subscription LIVE allows you to receive monthly payments from participating followers.
LIVE is a streaming video feature that lets you broadcast and interact in real-time. Live broadcasts can help you gain followers, form stronger ties with your existing audience, and even go viral. Anyone over the age of 16 with at least 1,000 followers can go LIVE.
To learn more about creating, marketing, and preparing successful LIVE videos on TikTok, check out Sharelov's guide to Live TikTok broadcasting.
Step #2: Grow Your Audience To 10,000 Followers
In many regions, you need to build an audience of at least 10,000 followers before you can join TikTok Creator Next, a hub with multiple resources that helps creators monetize their content as they grow to 100,000.
To build an audience of 10,000, check out Sharelov's guide to building a following on TikTok, where you'll learn how to expand your reach, create irresistible content, target a niche audience, and create multiple TikTok marketing strategies.
For more professional guidance, stick with the Sharelov blog to learn how to create viral videos, use analytics to your advantage, and market your brand on TikTok.
Step #3: Join TikTok Creator Next And Grow Your Audience To 100,000 Followers
Once you meet the eligibility requirements (typically 10,000 followers, but depends on your region), you can join Creator Next.
TikTok Creator Next is a hub for multiple resources that helps creators monetize their content as they grow to 100,000 followers and beyond.
When you reach 10,000 followers, you can join Creator Next and further monetize your videos with the Video gifts tool.
Once you reach 100,000 followers, you can gain access to tools and resources that help you begin earning much more money from your content, such as:
Tips allow you to receive money from viewers without paying a commission to TikTok. Tips are processed through Stripe, and processing fees may apply.


The TikTok Creator Fund pays creators money for their content. The amount paid varies and changes per creator, video, and over time, so it can be unpredictable. Higher content engagement pays more, and available funds vary depending on the number of creators.
Reaching the 100,000 follower mark opens up many opportunities for creators, both on and off the platform.
New! (February 2023) 
TikTok recently announced a brand-new program for Creators called the TikTok Creativity Program, which will be available to all eligible U.S. Creators in the coming months. 
The TikTok Creativity Program Beta is a new addition to the platform's monetization tools. It was developed with input and feedback from actual creators, and designed to help "generate higher revenue and unlock more opportunities for creators." 
The new program is currently in testing, and TikTok has not released its full details yet.
If you are a TikTok creator who is at least 18 years old and has an account in good standing, you may be eligible to join the TikTok Creativity program when it's released. Eligibility will also rely on minimum follower and view requirements, but TikTok hasn't been specific on the numbers yet.
To learn more about the TikTok Creativity Program as it is tested and released in the U.S., follow the Sharelov blog for full details!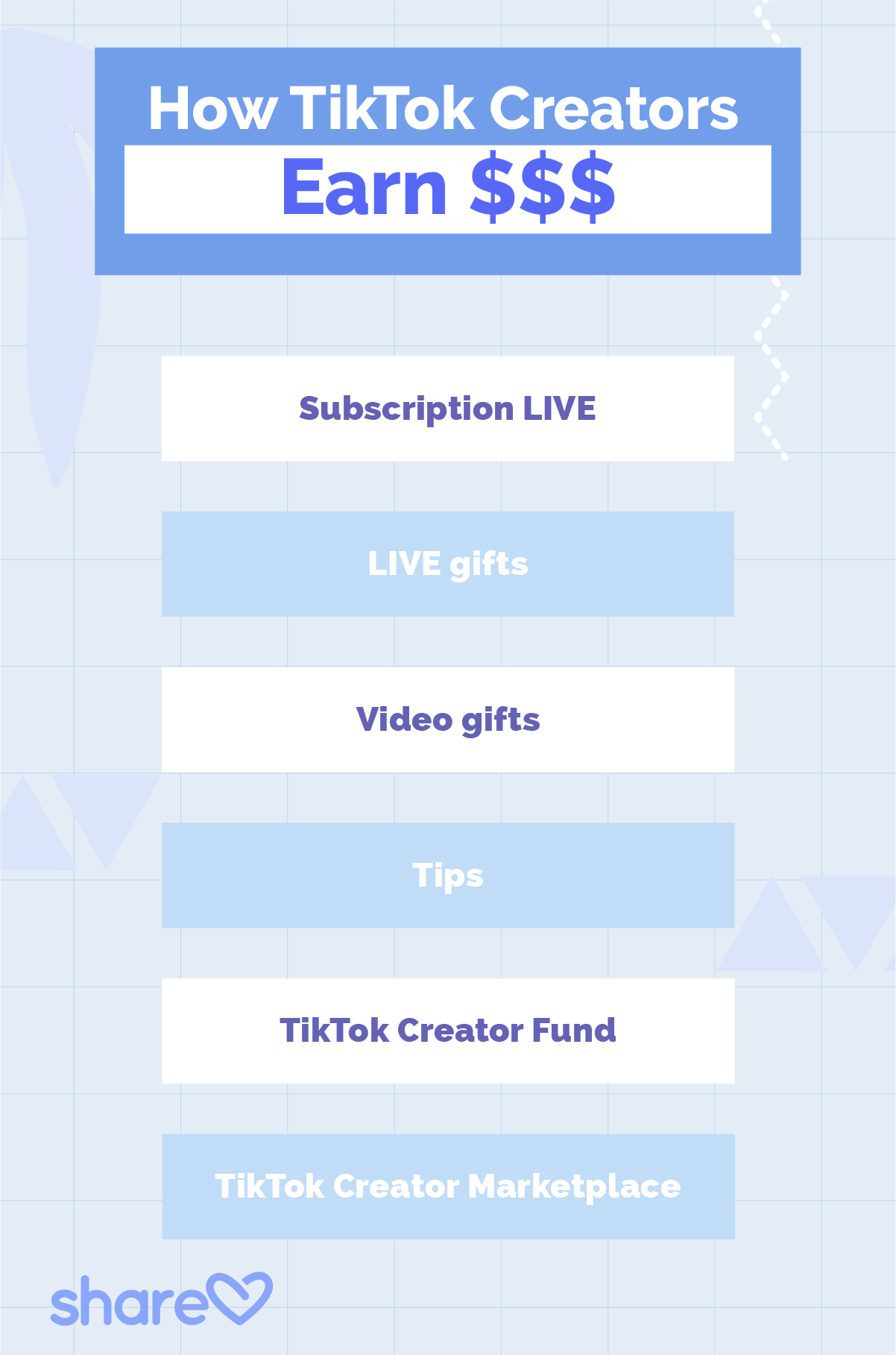 Creating And Marketing Successful TikTok Content
Getting started as a TikTok creator begins with producing and managing unique content geared toward a niche audience.
Thanks to the success of brands and influencers who've paved the way, creators have access to countless tools, resources, and tips to help them create and market irresistible TikTok content.
Sharelov marketing software can help you develop, manage, and publish TikTok content, whether you're just getting started or managing an audience of millions.
On Sharelov, you'll enjoy features and tools to help you succeed on any social media platform. You can develop and schedule posts, create a content calendar, collaborate on content, request approvals, create and track to-do's, and so much more.
Give Sharelov a try today! At $10 a month, it's sure to fit your budget, and you can even get started with a free trial.