Get ready to increase your brand's engagement, conversions, and brand recognition on Instagram.
In this article, you'll discover some of the greatest advantages that Instagram Stories offers brands as we move into 2020.
We walk you through the latest Story tools, techniques, and strategies to help your brand gain an edge on its competition this year.
Social media changes quickly – don't get left behind by counting on strategies that are built on last year's audiences! 
In this guide to Instagram Stories, we show you everything you need to create relevant, high-quality Stories that deliver results for your brand in 2020.
What Are Instagram Stories and Why Do They Matter?
Instagram Stories are critical to successful social media marketing, yet its tools and formats change frequently. 
Marketers wanting to compete in their industry need to keep up with the latest updates and strategies related to Instagram Stories.
In this section, we share a quick review of what Instagram Stories are and why they're essential to marketing your brand.
What are Instagram Stories?
Instagram Stories are like slideshows, but in a more engaging and appealing format.
For example, Star Wars Instagram account features several Stories on its profile, including one titled #HanSolo. 
The HansSolo Story shares the world premier in 13 slides (or "frames"), including a mix livestream videos and photos from the event.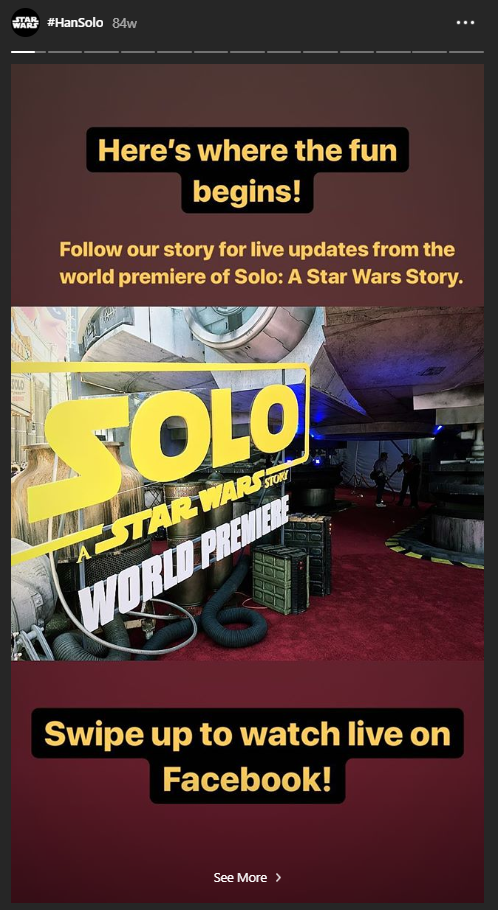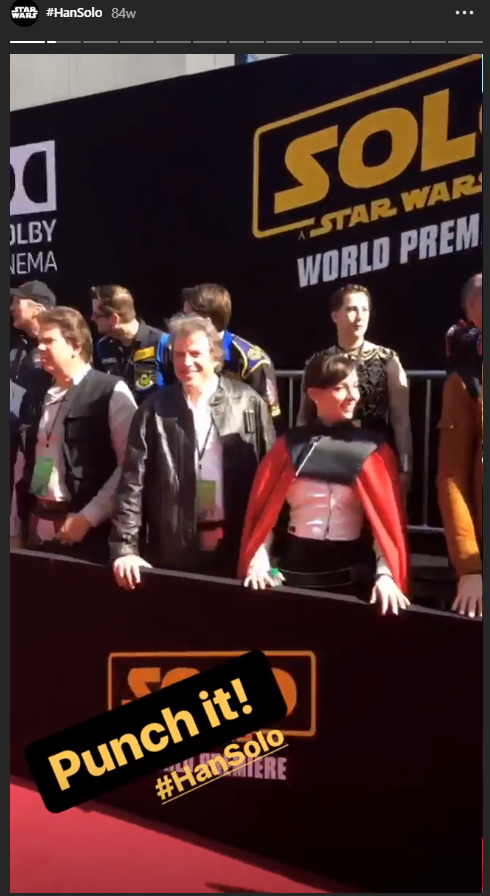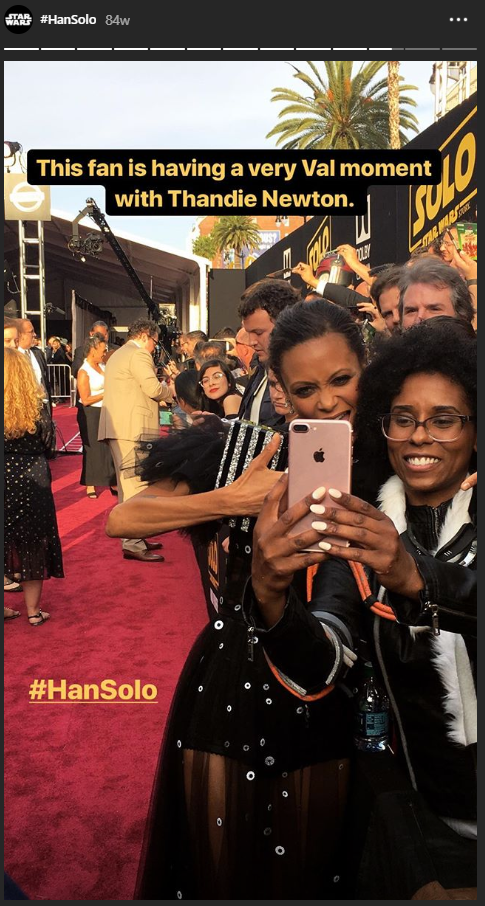 Source: Star Wars on Instagram
The Star Wars Story includes several stickers that help engage viewers:
Text stickers

Hashtag stickers

Location stickers

Mention stickers

Swipe-Up link for viewers who want to see more on YouTube.
Instagram Stories are widely used by businesses, and can be tailored to assist with any marketing objective.
Where Do Stories Appear?
When Stories are published, they appear next to your company name in the Instagram news feed, putting your brand up front and in the center of attention for 24 hours.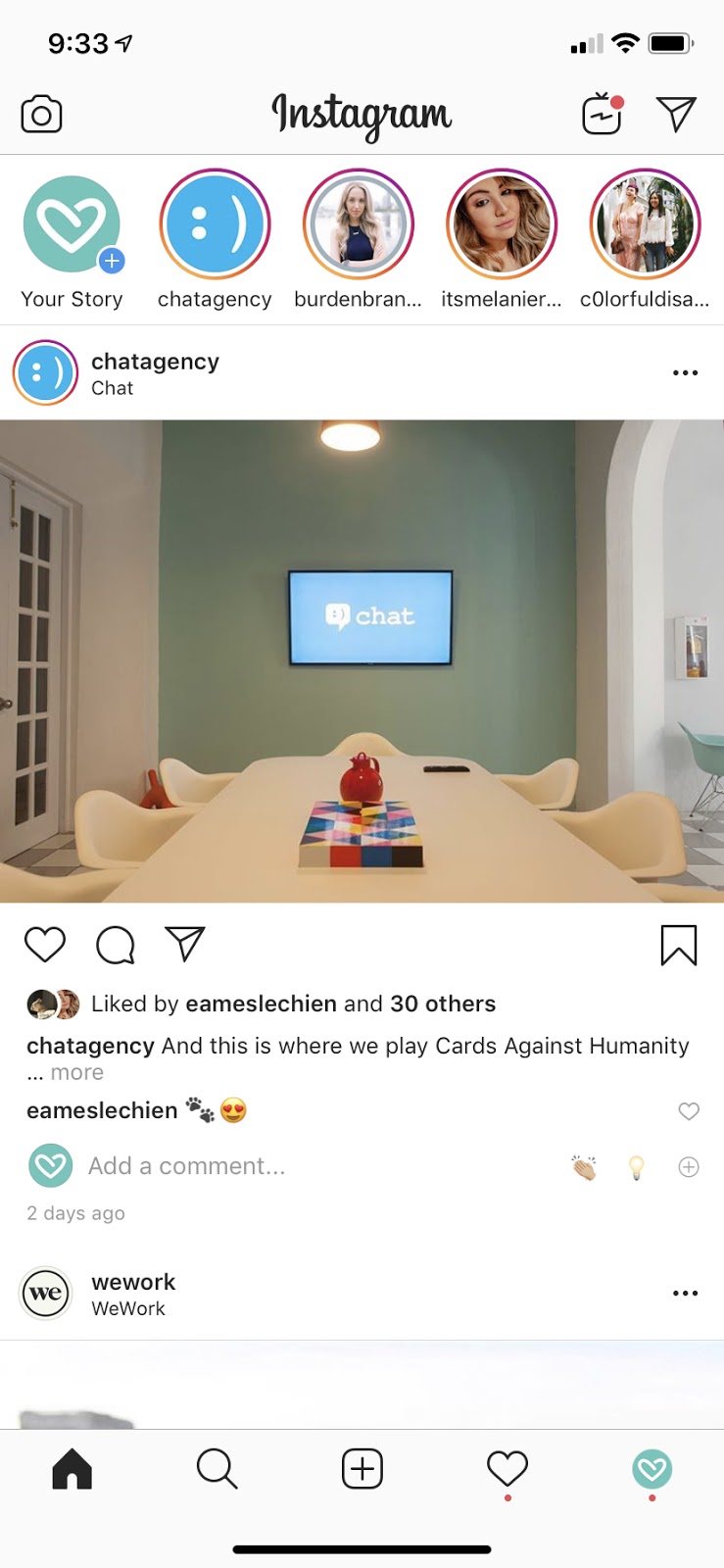 You can also save your Stories as "highlights," meaning they get pinned to your Instagram profile for as long as you want to stay there.
For example, The MET showcases several Stories in its profile.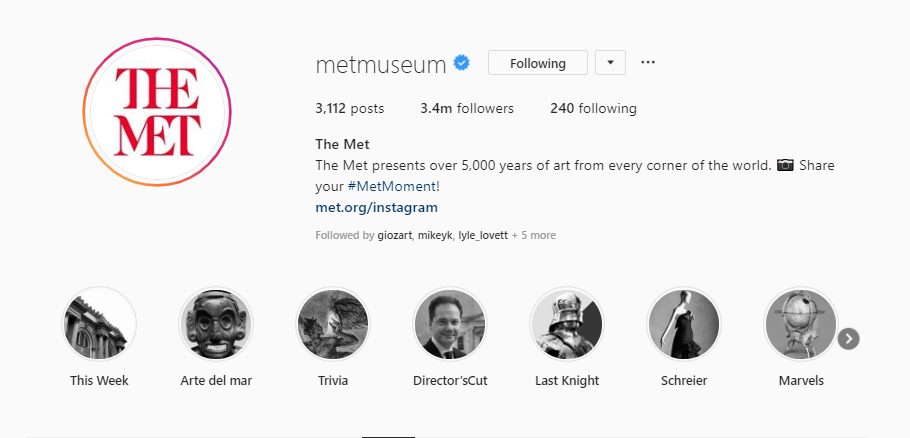 Stories are an excellent way for businesses to inform and engage their audience — over half of all businesses on Instagram create at least one Story per month.
Why Do Instagram Stories Matter to Marketers?
Stories are a win for brands and consumers. 
500 million Instagram accounts view Stories daily, and one-third of the most-viewed Stories are from businesses.
Many social media platforms, including Facebook, provide a story format for brands, but none are as popular as Instagram Stories.
Instagram Stories' bite-sized, interactive format lets people get to know brands in a way that's fun and entertaining — and Instagrammers can't get enough.
Here's why half of all Instagram businesses create at least one Story every month:
200 million people visit at least one business profile daily

(where Stories are pinned as highlights)

62% of Instagrammers say they've become more interested in a brand after seeing it in Instagram Stories.




Most (80%) Instagrammers use the platform to decide which products and services to buy.
The unique stories format gives businesses a way to turn information into fun and interactive presentations that catch the attention of consumers.
Whether you're looking to increase brand awareness, drive online sales, boost in-store traffic, increase conversions, or engage with your audience — the Stories format provides tools that help your brand achieve its objectives.
What's New in Instagram Stories 2020?
In this section, we show you the features Instagram added to Stories in the past year, from chat and quiz stickers to reels mode and more!
Donation Stickers
Adding a donation sticker to your Story allows you to fundraise for any Instagram-approved organization such as:
GLAAD

The Nature Conservancy

ASPCA

Black Girls Code

No Kid Hungry
Non-profits who wish to fundraise through Instagram can apply for charitable giving tools to raise funds for their own charities.
When viewers use the donation sticker to make a contribution, they never have to leave your Story.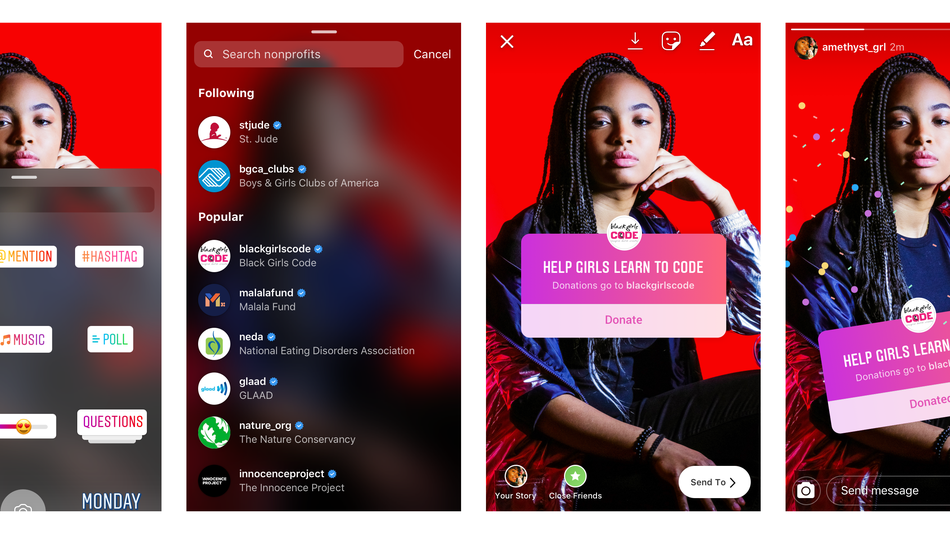 An added benefit of donation stickers is that Instagram guarantees that all donations go to the nonprofit organizations.
Product Launch Reminder Stickers
Product Launch stickers in Stories let followers subscribe to product launch day reminders.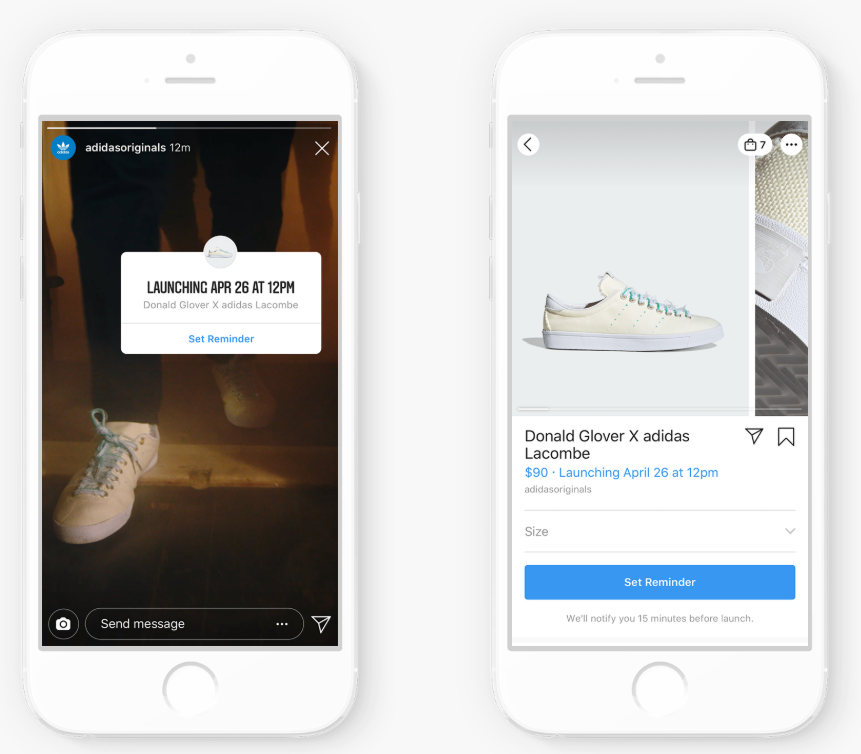 On launch day, Instagram sends notifications to people who signed up for your product launch reminder.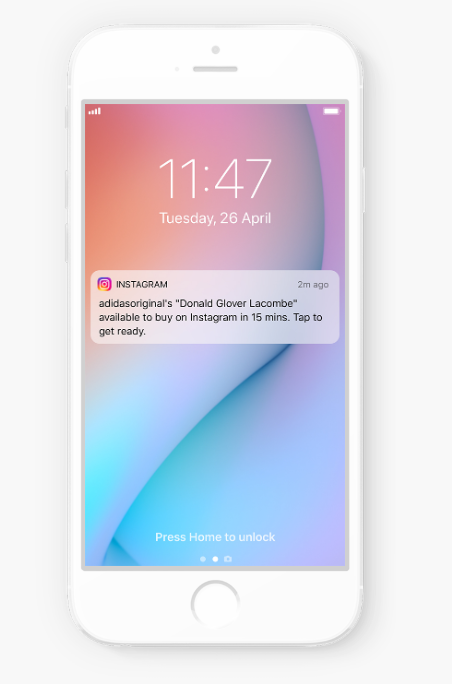 Product launch stickers are an excellent way to build excitement for your upcoming product releases in Instagram Stories.
Chat Stickers
The Instagram chat stickers for Stories let you hold real-time conversations on Instagram.
Chat stickers allow you to launch a private group chat with up to 31 followers who must get your approval before gaining access to the chat.
Introducing the new chat sticker in Stories. Now, there's an easy way to start conversations with a group of friends right from your story. pic.twitter.com/A1An7d9TjJ

— Instagram (@instagram) July 2, 2019
Chat stickers can be used for focus groups, team meetings, and to enhance live events. You can also use them to create small communities that meet on a regular basis.
Quiz Stickers in Stories
Quiz stickers in Stories allow you to post multiple-choice questions for your Instagram followers.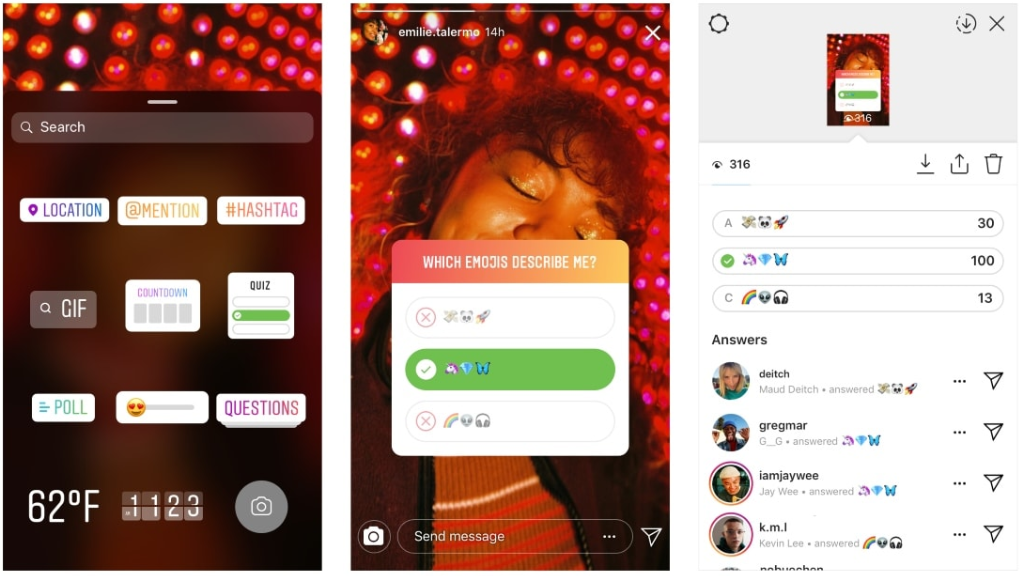 Quiz stickers are an excellent way to boost engagement in your Instagram Stories.
Reels Mode (Brazil only)
Instagram Reels Mode is only available in Brazil right now, but we're hoping it makes its way around the globe soon!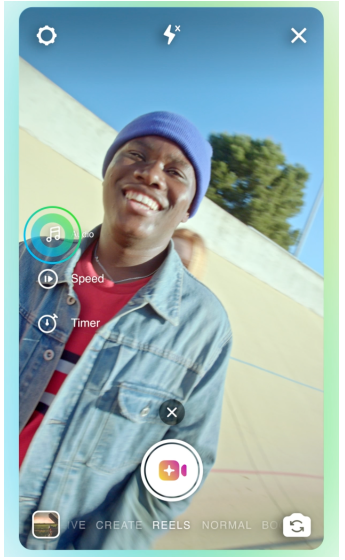 Reels mode, which works within Instagram Stories, provides quick, simple, and easy remixing and editing features for short videos, similar to the massively-successful TikTok interface.
Saving Stories
Everything you capture with the Instagram Stories camera now lasts for 7 days in the app, instead of disappearing after 24 hours.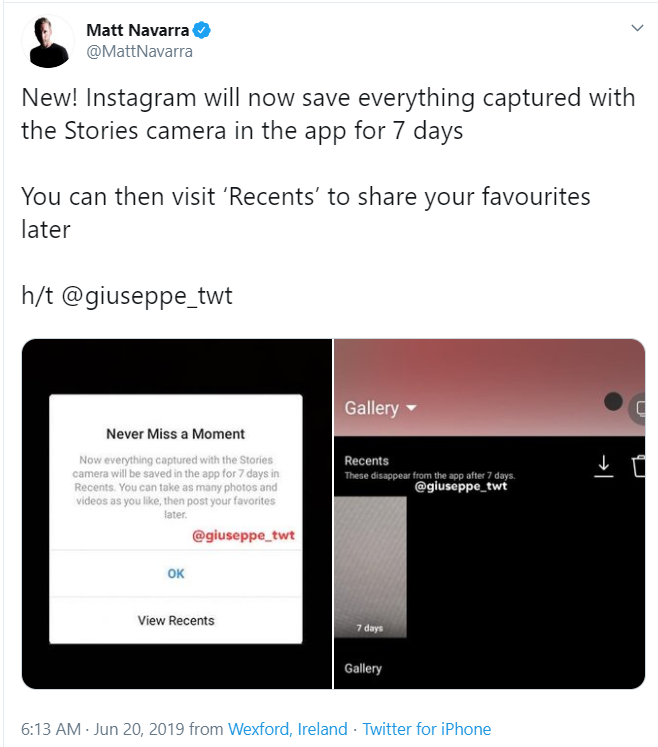 Instagram Stories latest tools and features will help make your 2020 content stand out. 
If you have any predictions about what Instagram Stories features might get released in 2020 — share them with us in the comments section below!
How to Create Instagram Stories
You can create Instagram Stories within the Instagram app, however, instructions may vary depending on which device you're using.
How To Create An Instagram Story From Your Smartphone
You can publish Stories manually from your smartphone or device, however, you may run into limitations depending on which devices you're using. 
Tap the camera icon

in the left-hand corner of your Instagram app. 

Tap at the bottom of the screen to

take a photo

, or hold to

start videotaping.
Or, upload a photo from your library by swiping anywhere on the screen.
Tap to

add a sticker

to your photo or video.

Tap "Your Story" in the bottom left corner to

publish your Story

.
Instructions may vary depending on your phone or device.
Professional marketing teams typically use Facebook Creator Studio or collaboration software such as Sharelov to create Instagram Stories instead of publishing Stories from their Smartphones.
How To Create an Instagram Story Using Sharelov – From Any Computer or Device
Sharelov makes it easy to visually plan your brand's Instagram Stories campaigns on any device in the cloud. 
Sharelov lets your team create stories with multiple videos and photos, send feedback, procure approvals, and schedule Stories at the best time to post.
Find out how to create Stories in Sharelov by watching the video below — or, scroll down for step-by-step instructions.
With Sharelov, you can create Stories that include multiple videos and images. Then, your team can preview all your Instagram Stories – and posts – in Sharelov's content calendar.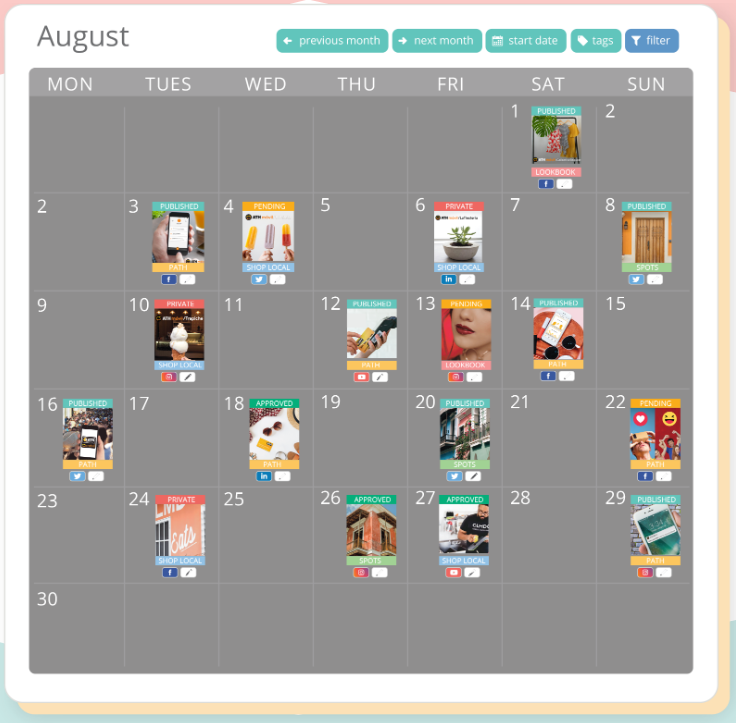 Using Sharelov to create Instagram Stories makes your content more effective because your team and clients can preview Stories before they're published and provide feedback and approval.
Here's how to create an Instagram Story in Sharelov:
1. Sign into Sharelov, then select "Create a Post" and click the "Stories" tab.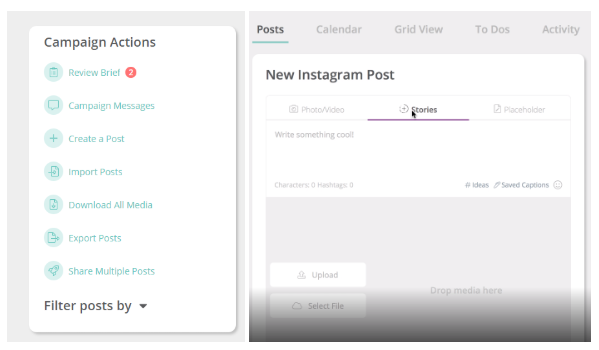 2. Click "upload" to select the images and video you want included in your Story, then click "choose" to add them.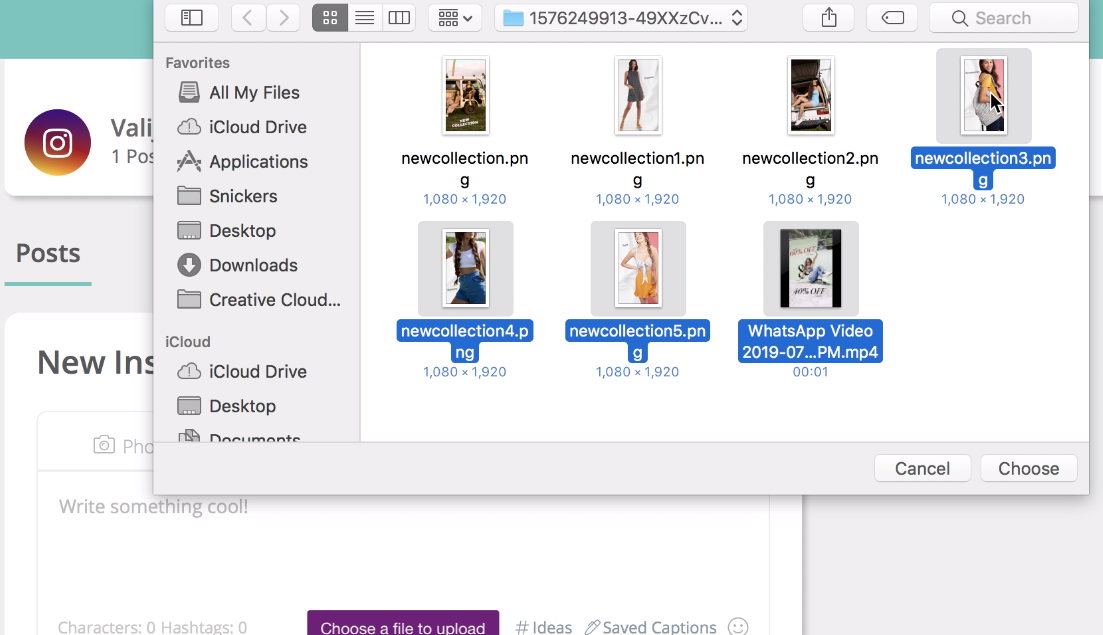 3. Wait a couple seconds until you see the images have uploaded, then click "save."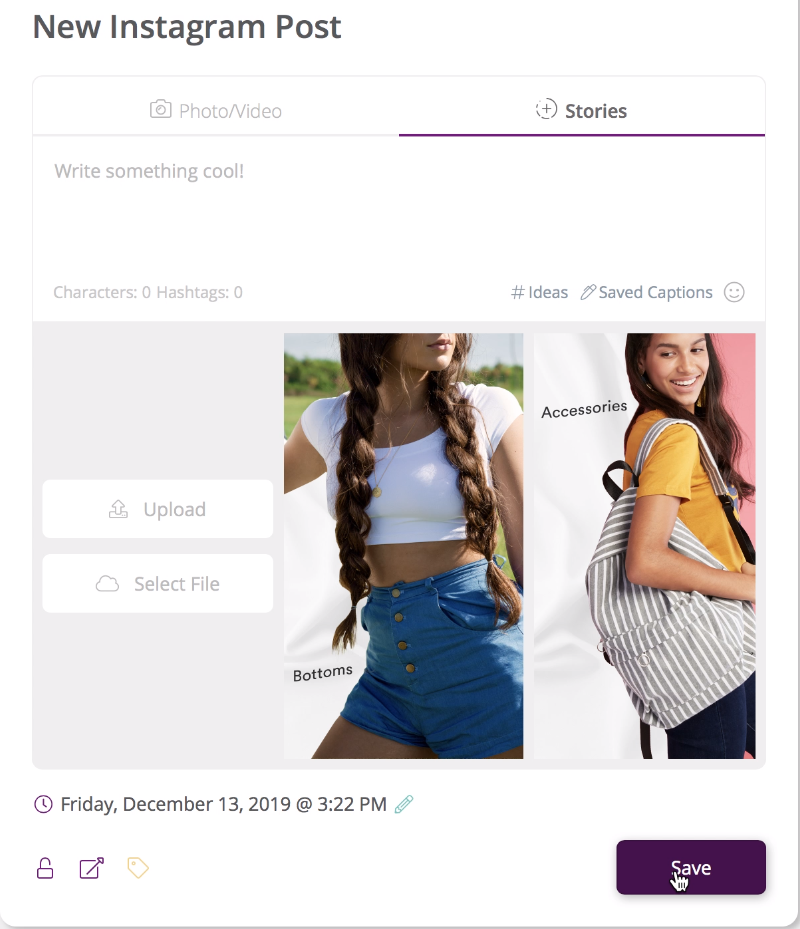 Optional – Add Swipe-Up link (for brands that have swipe-up link privileges) or additional text you might want to overlay.
Once you save your Story, it will be available for all your team members to see.
Scroll down to find the post you just published, tap the pencil icon in the lower right corner of the "notes" then add the link you want included in your Story.

Click the green check-mark to save your link.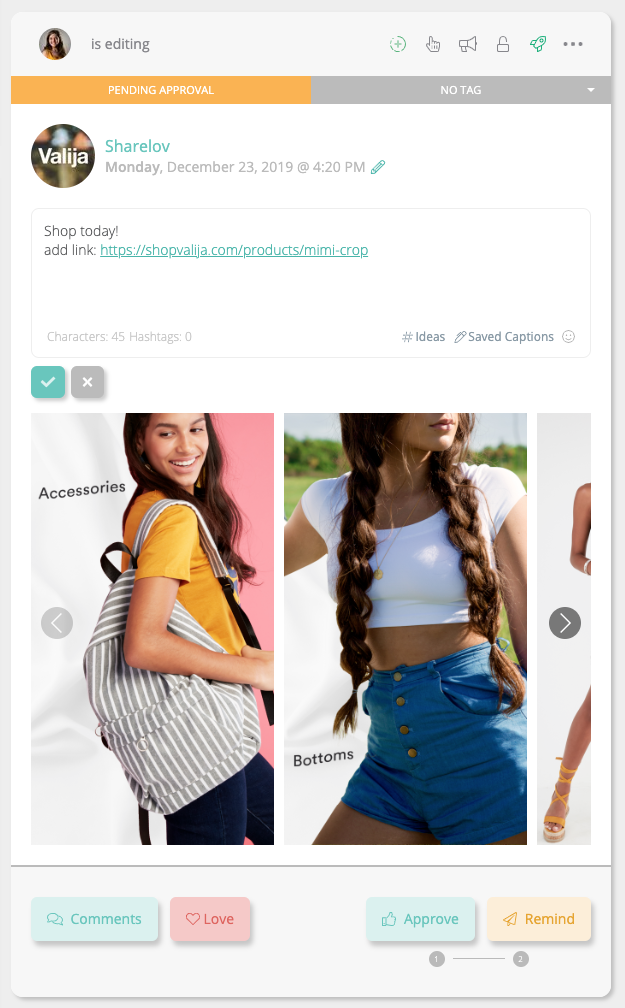 4. Click "Preview" and watch your Story.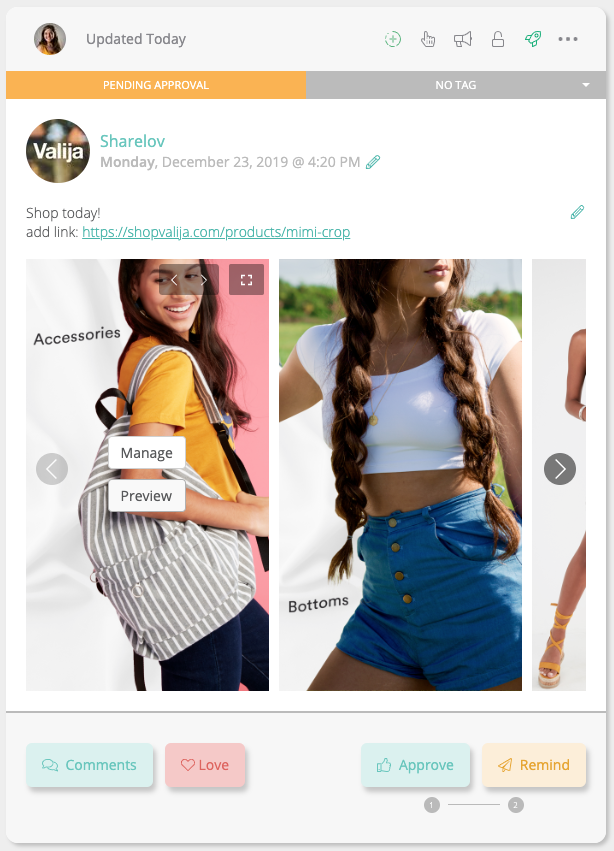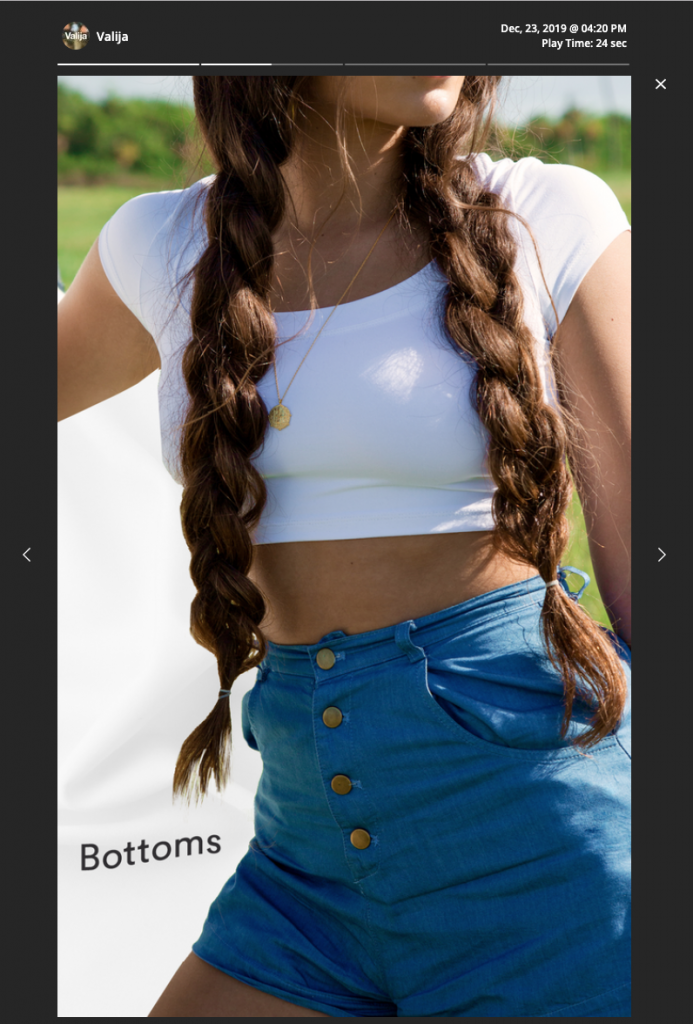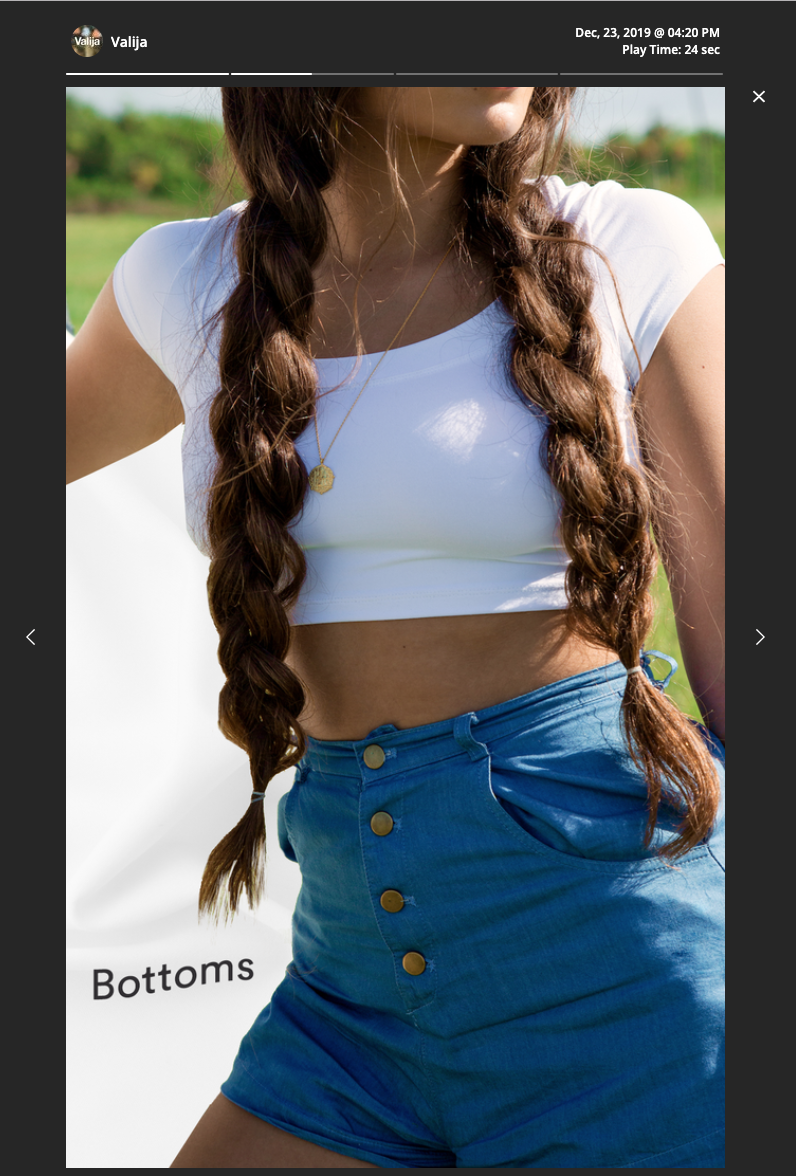 To change the order in which your images and videos appear:
Hover over any image, then click the "Manage" option.

Arrange images by dragging the grid icon on the left.

Click Outside the "manage" window to return to post.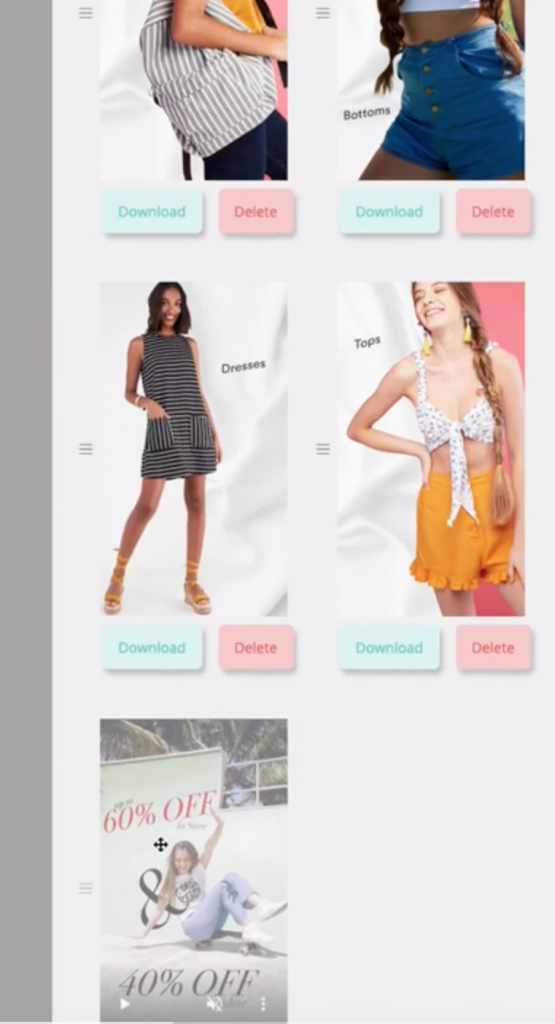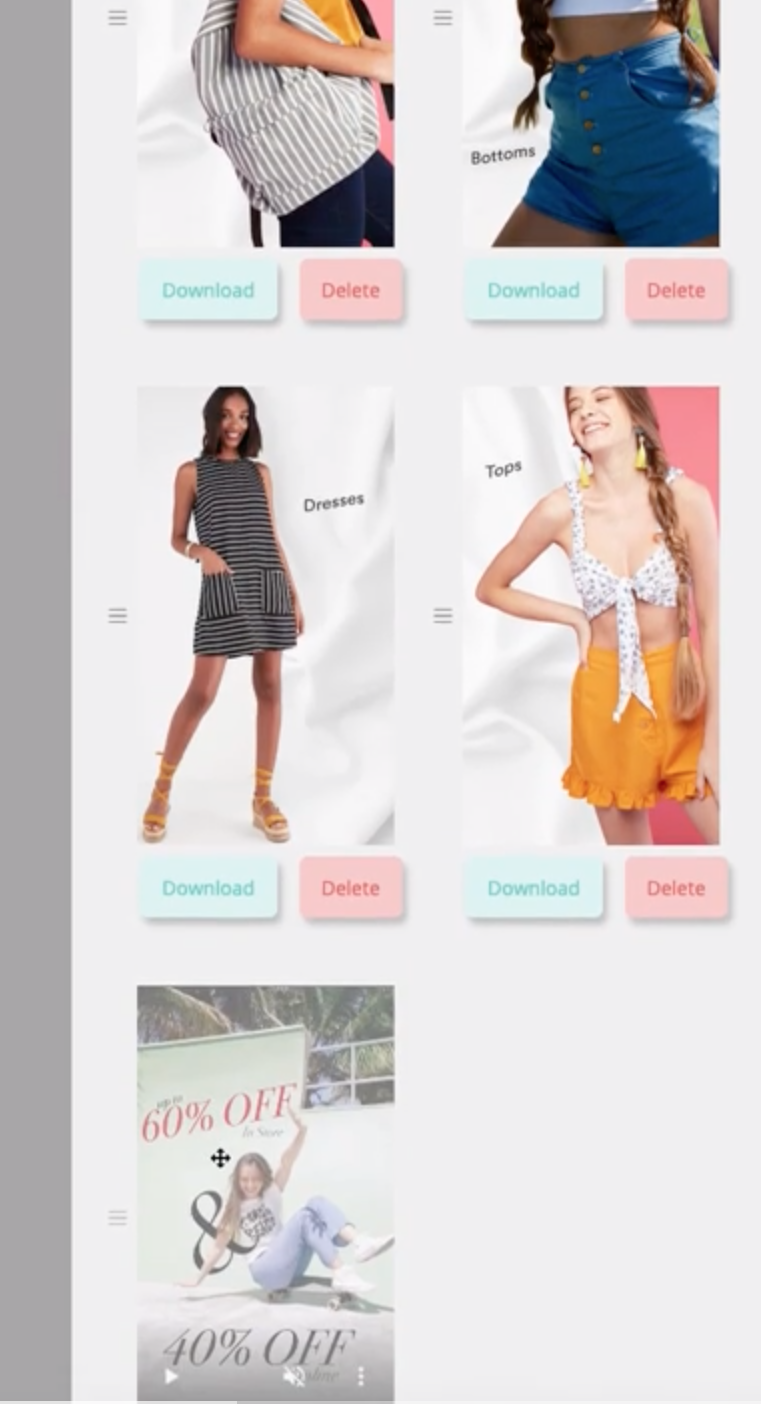 5. Schedule Stories to publish during your brand's most engaging hours.

Schedule your Story by clicking on the green pencil icon and choosing the date and time you'd like to receive a publishing reminder.

Or, let Sharelov optimize your publishing time for maximum reach by opting in to "Best Time."

Click on the "Update" button to save your changes.
How to Add Stickers to Instagram Stories
In this section, we'll explain what Stories Stickers are and how to use them in your marketing campaigns.
Stickers are elements that you add to images and videos in your Instagram Stories.
Stickers can massively boost your success by helping you reach new followers, increase engagement, and boost conversions.
• Some stickers are interactive and encourage viewers to engage with your Story.
• Others add your Story to explore feeds, helping you reach a wider audience.
• You can also use stickers to catch viewer attention with graphics, animation, and text.