Are you on LinkedIn? 
If so, we've got some great data and tips to help boost your LinkedIn ROI.
In this guide, we help you navigate the unpredictable business routines of 2021 with current recommendations for the best times to post on LinkedIn.
Discover information to help you form a LinkedIn posting schedule that can keep up with today's rapidly-changing workforce habits.
It's 2021, and business routines are still unpredictable.
Many people are working from home and juggling multiple schedules under one roof, turning long-held routines into unpredictable patterns.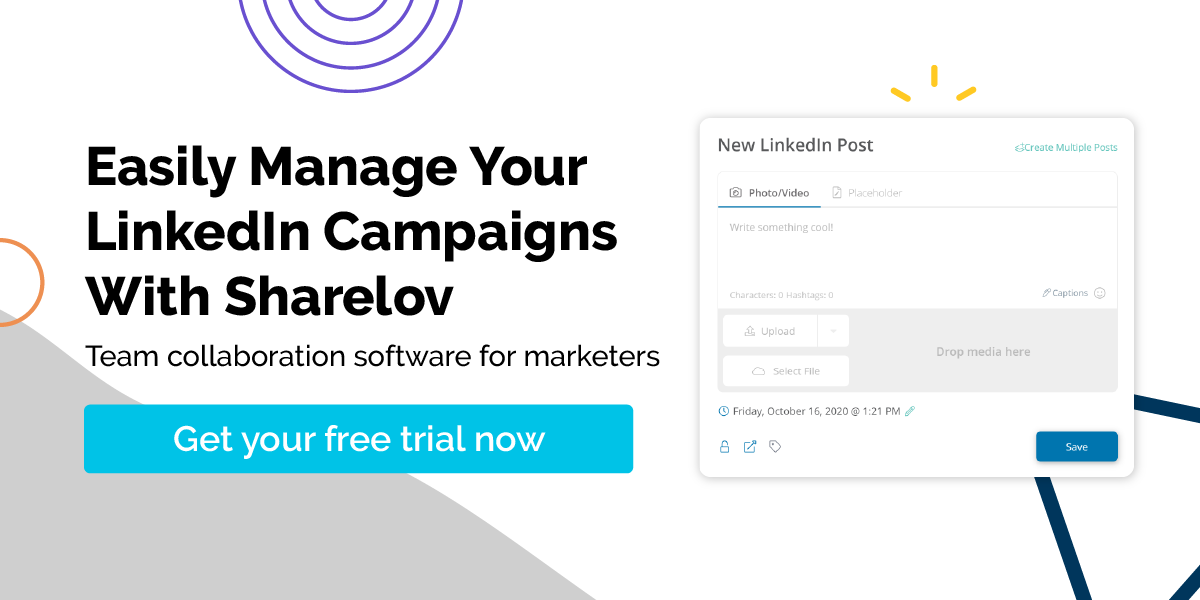 Your audience's schedules can change from month to month, or even from one day to the next. 
So how do brands and marketers adjust their LinkedIn publishing schedules to put content in front of audiences at the best possible times?
In this article, we show you how all these changes affect when your audience is on LinkedIn and most likely to engage — so you can determine the best posting times for your brand in 2021.
Our recommendations are based on an analysis of several studies and reports from LinkedIn specialists, marketing experts, and analytics drawn from tens of thousands of post data.
Be sure to bookmark this page so you can return anytime you want the best, most thorough guide to the best times to post on LinkedIn!
Why LinkedIn Matters To Marketers
If your business wants to reach decision makers, executives, and business owners, then LinkedIn should be your first stop.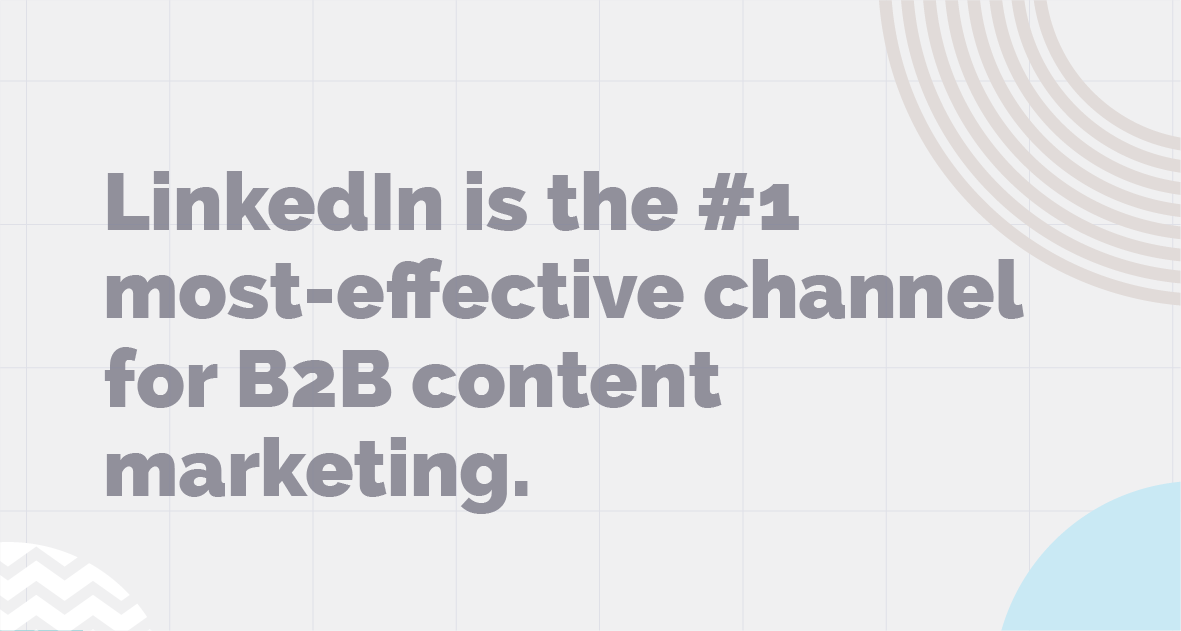 Here's why you'll want to make sure your brand is well-represented on LinkedIn this year:
LinkedIn is the #1 most-effective channel for B2B content marketing.

LinkedIn is the #1 platform for B2B lead generation.

97% of B2B marketers use LinkedIn as part of their content marketing strategy.

82% of B2B marketers claim LinkedIn is the most-successful platform for B2B marketing.

80% of LinkedIn members drive business decisions.
*Stats provided by LinkedIn Business and the 2020 Sophisticated Marketer's Guide to LinkedIn.
What Is LinkedIn?
LinkedIn is a professional social media platform with more than 722 million global users and 30 million businesses that dominate the business-to-business (B2B) world. 
It provides a platform for professionals to network, recruit, job search, and share information.
The LinkedIn newsfeed features posts tailored to professionals, executives, and business owners, and the platform is also well-known for its impressive recruitment and job search tools.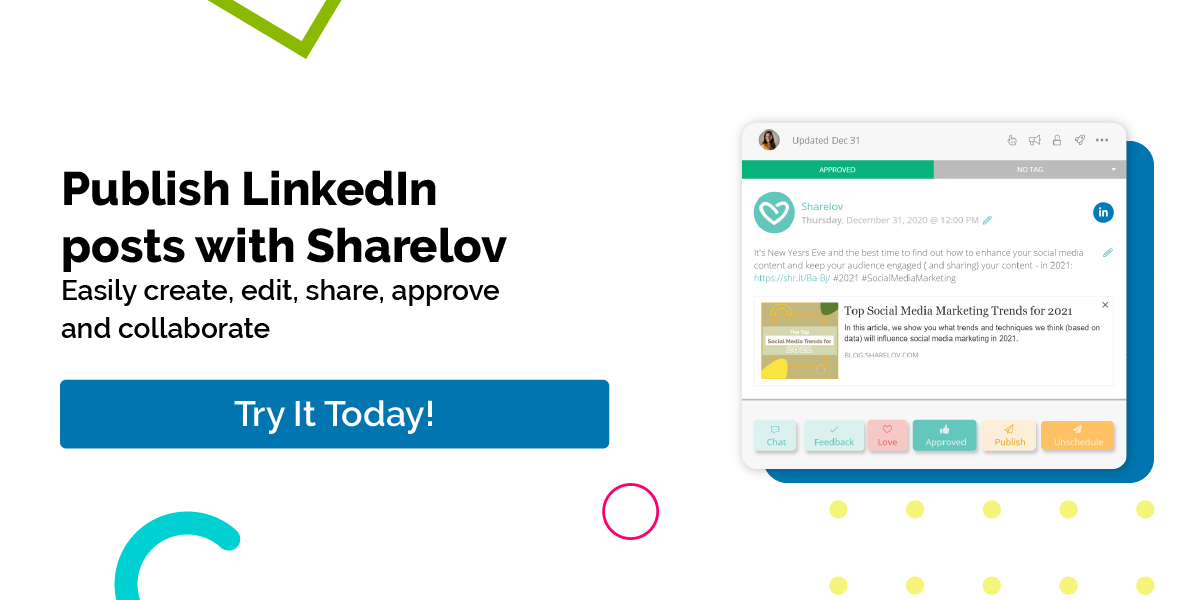 On LinkedIn, professionals connect to advance their careers, stay informed, and work more effectively. 
People log onto LinkedIn in for several reasons:
Gain insights and recommendations from their peers

Get career training

Browse industry news

Consume content published by other LinkedIn members
For example, SEO expert Rand Fishkin frequently posts tips for his followers, along with updates about his company, SparkToro.
In addition to the user newsfeed, LinkedIn's home page also features news headlines, special reports, and LinkedIn Learning highlights.
The platform provides easy access to business news, such as its Daily Rundown Top News Headlines and special reports.
More than 2 million LinkedIn groups allow people from any industry to stay informed and connected to their peers.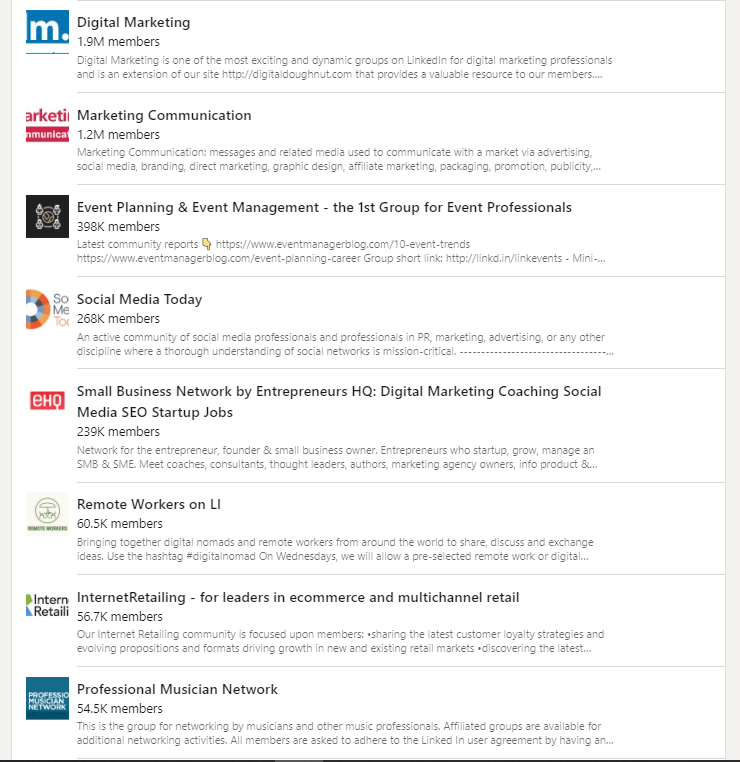 LinkedIn provides business professionals with advantages that no other platform offers, making it a top source for B2B marketing and networking.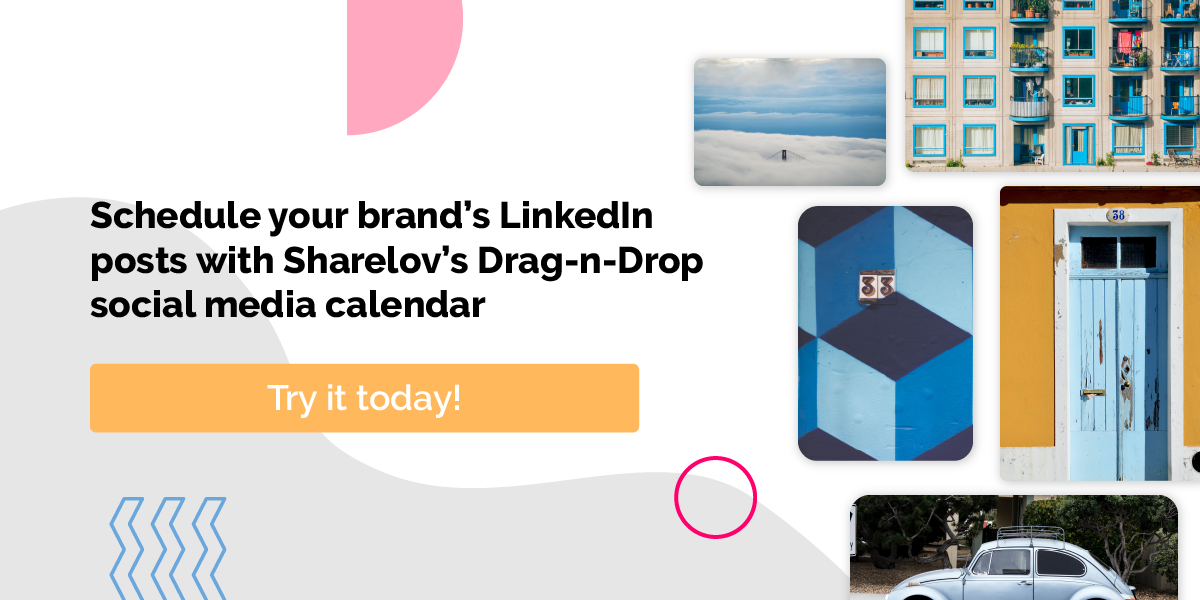 Who Uses LinkedIn?
Business leaders, executives, decision-makers, and owners use LinkedIn to connect with colleagues, peers, and customers.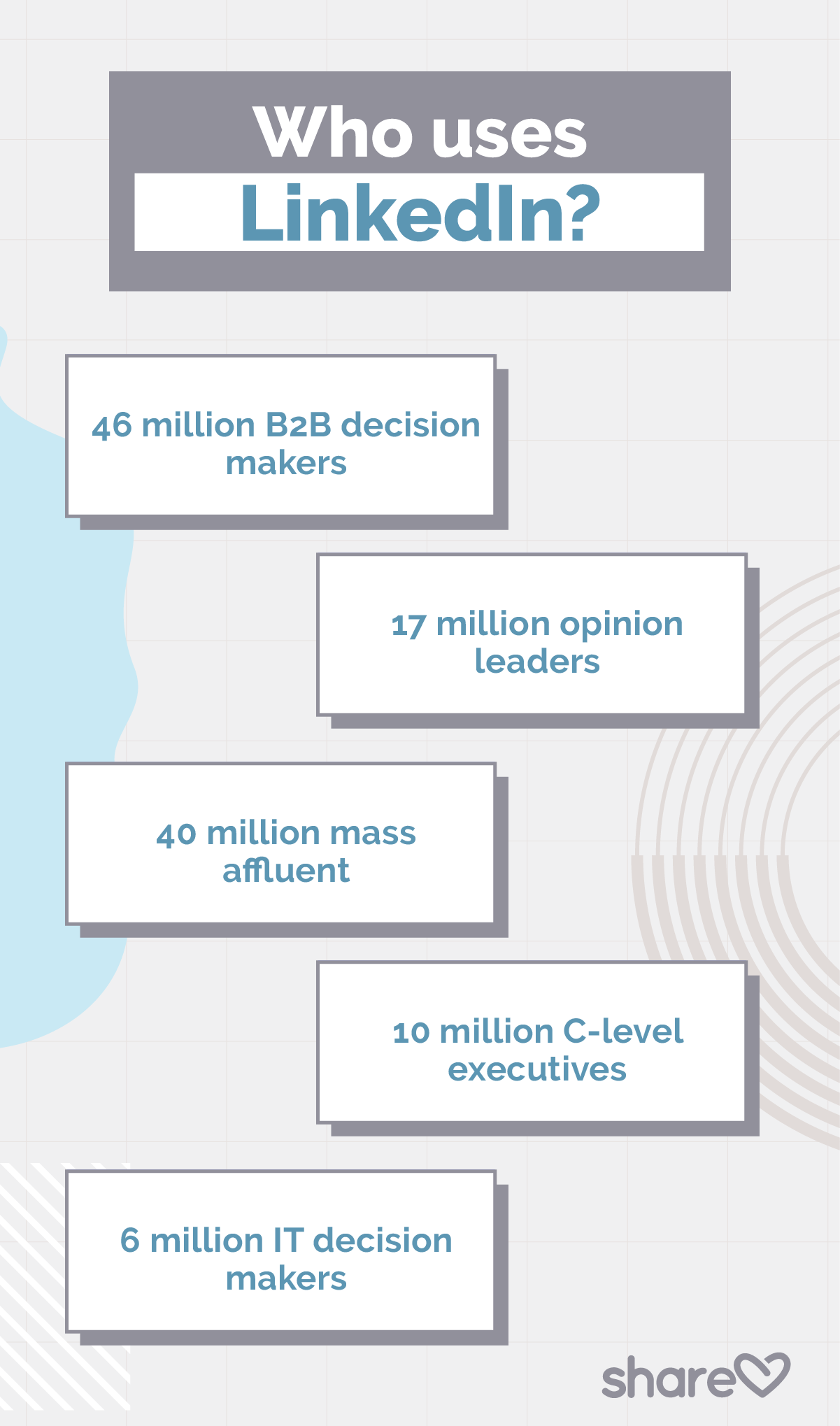 LinkedIn users include:
46 million B2B decision makers

17 million opinion leaders

40 million mass affluent

10 million C-level executives

6 million IT decision makers
Women account for forty-three percent of LinkedIn users and forty-one percent of the company's leadership roles.
In the U.S., professionals from every age group login to the platform to strengthen their professional network, but people 26 and older use the platform most often.
Percent of U.S. internet users who use LinkedIn:
19% of U.S. internet users between 15 – 25 years old use LinkedIn.

36% of U.S. internet users between 26 – 35 years old use LinkedIn.

38% of U.S. internet users between 36 – 45 years old use LinkedIn.

40% of U.S. internet users between 46 – 55 years old use LinkedIn.

40% of U.S. internet users ages 56 and older use LinkedIn.
How Often Do U. S. LinkedIn Users Access The Platform?
Most users log on to LinkedIn at least once a week, with about one-fifth accessing the platform on a daily basis.
Daily: 22% of users

At least weekly: 63% of users

At least monthly: 87% of users
LinkedIn attracts a wide range of business people who promote their content, share industry news, network with peers, and take advantage of its recruiting and career guidance tools.
In the sections below, we share tips for when to post, how often to post, and what type of content to post for engagement, leads, and connections on LinkedIn.
Best Times To Post On LinkedIn (For Most Brands)
We analyzed studies, reports, and expert advice from Hubspot, Oberlo, Sprout Social, and LinkedIn Business, based on tens of thousands of LinkedIn posts and insights, to find the best general posting times for marketers.
Many LinkedIn users are following the same or similar routines since they began working from home last year. 
In this section, we show you the best general times to post to LinkedIn based on typical work routines. 
To find out more about best posting times and tips for pandemic, work-from-home routines, please scroll to the next section titled "Best Times To Post On LinkedIn During COVID".
The recommended posting times in this guide are generalized, but are an excellent place to start if you're new to (or haven't been very active on) LinkedIn. The best times to post for your brand will always be determined by your audience behavior!
The #1 Best Time To Post On LinkedIn Is Wednesdays At Noon
Tuesdays, Wednesdays, and Thursdays are the best days to post on LinkedIn, especially during the early morning, lunchtime, or early evening hours. 
Wednesday noon is one of the rare spots that multiple studies agree on, and has been listed as a "best posting time" for several years, including in 2020.
It's worth noting that lunch hours are different on Thursdays. If you're posting for the Thursday lunch crowd, try publishing a bit later — between 1:00 – 2:00 p.m. — instead of at noon.
The Second Best Time To Post On LinkedIn Is Tuesdays And Wednesdays Between 8:00 – 10:00 a.m.
Early mornings are a busy time on LinkedIn as people seem to check in as they're starting the workday or a bit before.
Posts published to LinkedIn on Tuesdays and Wednesdays have a higher median and 95th percentile clicks.
The Fourth Best Time To Post On LinkedIn Is Between 8:00 a.m. – 5:00 p.m. On Tuesdays, Wednesdays, or Thursdays
Middle-of-the week days are excellent times to post to LinkedIn, since most people have caught their workplace groove by Tuesday, and remain focused on business until Friday mornings.
The Fifth Best Time To Post On LinkedIn Is Fridays At 9:00 a.m.
Fridays aren't the most-active days on LinkedIn, but if you catch people early (before the weekend starts calling), you'll probably find them receptive to new content!
The Worst Time To Post On LinkedIn Is After 5:00 p.m.
For most industries, posting after 5:00 p.m. is less effective, since people tend to log off after work.
The 95th percentile of LinkedIn posts show a drop off when published after weekday work hours. 
Anytime on Saturday, Sunday, or Monday is also a bad time to post, unless you're in a weekend industry such as food and beverage or sports.
If, like the majority of businesspeople, you're familiar with the ebb and flow of the Monday through Friday work week, you'll notice that all the "best times" recommendations are part of the natural weekly routine. 
On Mondays, people are catching up on any backlog from the weekend and getting oriented into their 9-5 routines, and aren't as receptive to new content.
Likewise, when business closes for the day or the weekend, LinkedIn activity tends to drop significantly.
Best Times To Post On LinkedIn During COVID19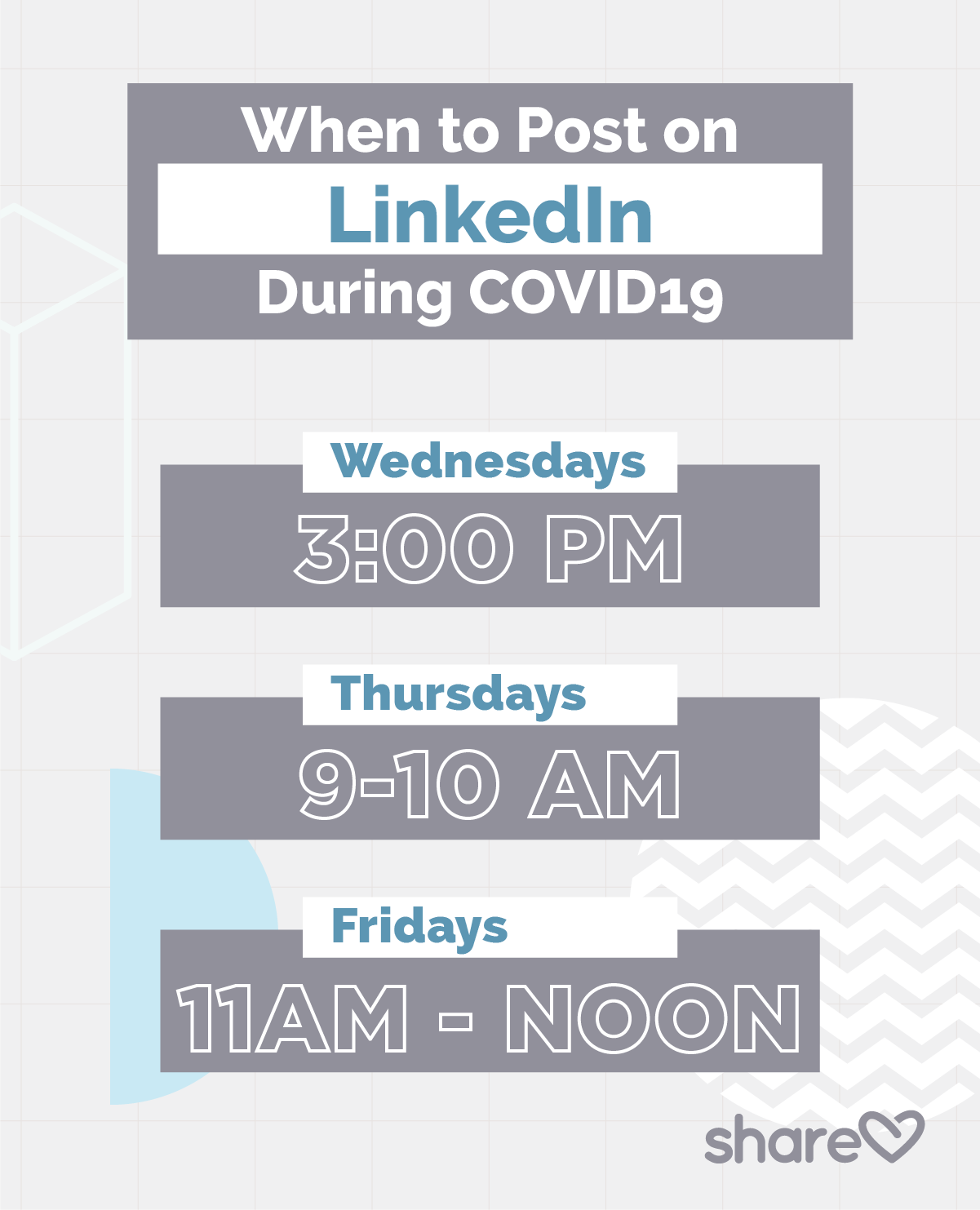 As of April 2020 (after a couple months of work-from-home adjustments), the best times to post on LinkedIn during COVID19 (according to Sprout Social) were:
#1 Best time to post on LinkedIn during Covid:

3:00 p.m. on Wednesdays

#2 Best time to post on LinkedIn during Covid:

9:00 – 10:00 a.m. on Thursdays

#3 Best time to post on LinkedIn during Covid:

11:00 a.m. – noon on Fridays
According to a report by Business Insider (from US Social Media Usage Report 2020), LinkedIn users were more active between 8:00 a.m. and 4:00 p.m. as opposed to their previous 7:00 a.m. to 3:00 pm habits.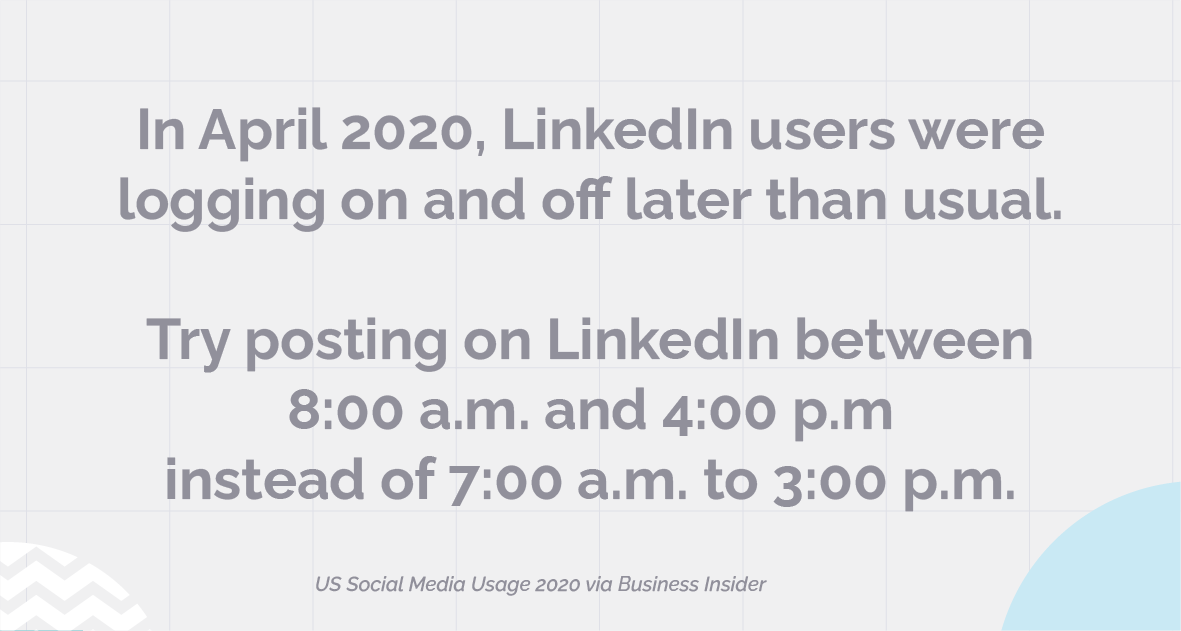 This data was also based on LinkedIn user behavior from April 2020. 
If you don't know when your audience is online, try testing a combination of the general Best Times To Post and COVID19 Best Times To Post, to discover your own best posting times.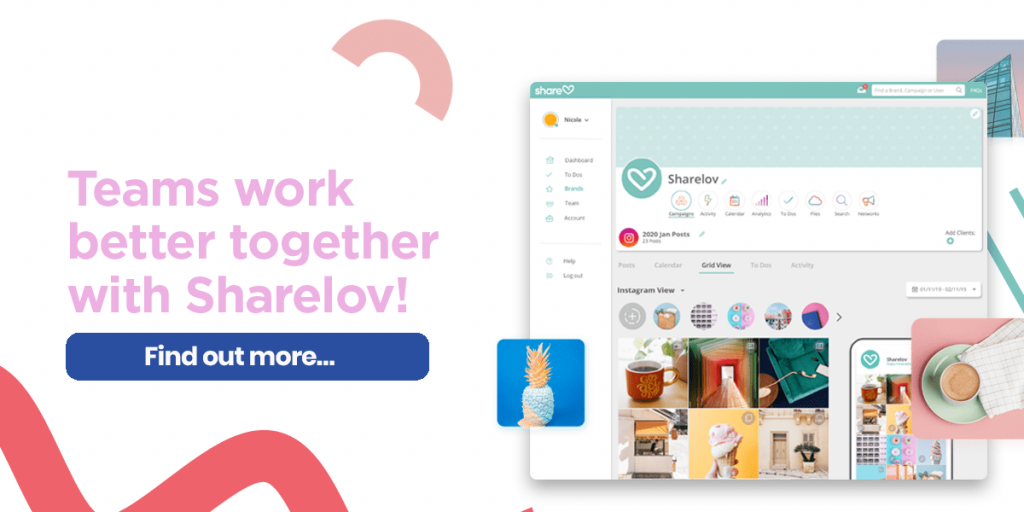 As always, the ultimate best times to post to LinkedIn are determined by your audience's behavior. After you begin publishing posts more frequently, you can access your LinkedIn analytics to discover when your audience is online.
More people are using social media, and LinkedIn, than ever before.
Fifty-one percent of people over the age of 18 are using social media more often than they were before the pandemic.
No study can predict the best times to post for 2021.
Work situations and routines will change again as the world returns to life after the pandemic. While many hoped for a structured resolution, via global vaccinations, the timeline of our return to routine schedules looks like it will be a messy one.
When the time comes for businesses to operate freely again, chances are that they won't return to the same model – or schedule – as they did before.
So how can we keep up with constant change and inconsistency when choosing the best times to post brand content?
Fortunately, marketers are a tenacious bunch. 
Many companies have found ways to adjust (and in some cases excel) despite the unpredictability. 
Marketers who remain flexible, curious, and data-driven (use those LinkedIn Insights!) in 2021 will have the best chance at succeeding in spite of the unpredictability ahead.
Best Times to Post On LinkedIn for Your Industry
Except where otherwise noted, the industry recommendations below come from Hubspot's LinkedIn report.

B2B Businesses
The best time for B2B companies to post on LinkedIn is:
Before your audience begins its workday
During lunch hours
11:00 a.m. – 1:00 p.m. Tuesdays
Business-to-business companies will find that analytics deliver the best recommendations for when to post. 
Understanding your audience's behavior, and when they start work or break for lunch, is the #1 way to determine your best posting times.
B2C Brands
The best time for business-to-customer brands to post on LinkedIn is:
Between 11:00 a.m. to 2:00 p.m. 
For most brands, this means posting between 11:00 a.m. – 2:00 p.m. on the busiest days, which are Tuesdays, Wednesdays, and Thursdays.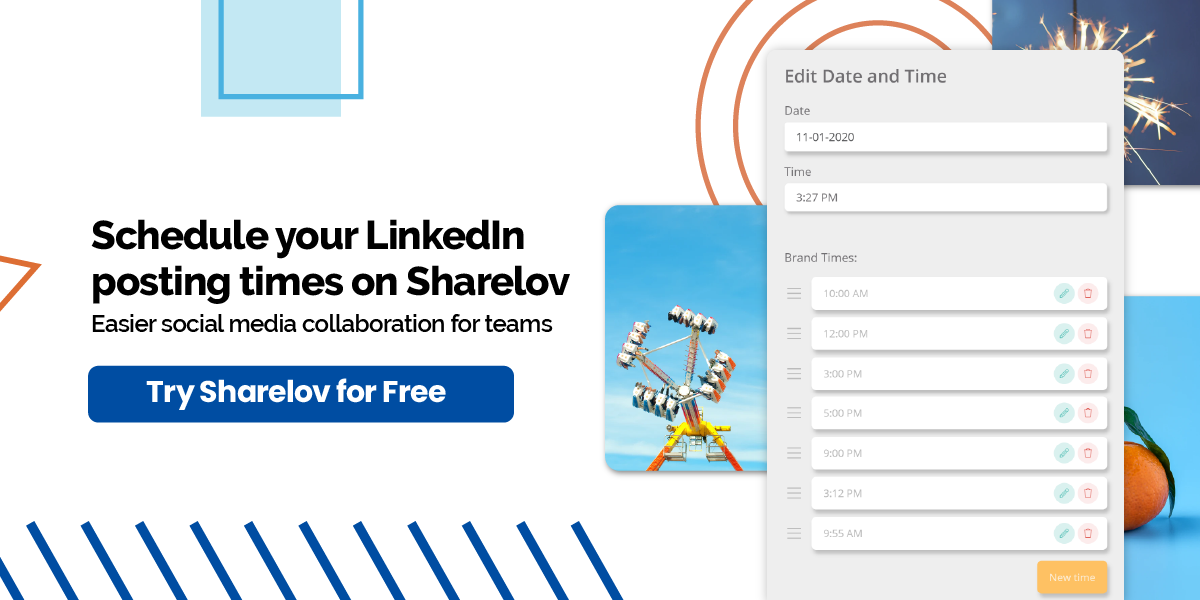 Media Companies
The best times for media brands such as broadcasting, digital media, news, and advertising, to post on LinkedIn are:
Between 8:00 – 10:00 am Monday through Friday
Audiences like to browse social media feeds and news stories in the mornings, so this is an excellent time to post to LinkedIn when sharing news-type of content.
Healthcare Industry
The best time for professionals in the healthcare industry to post on LinkedIn is:
11:00 a.m. – 1:00 p.m.
Mid-morning, about 10:00 a.m.
2:00 p.m.
Consider publishing on LinkedIn's most-active days, which are Tuesdays, Wednesdays, and Thursdays.
Tech Industry
Some tech companies find an advantage when posting outside of typical LinkedIn business hours.
Software companies: Outside of typical 9 – 5 hours
C-suite companies: 8:00 p.m., when C-suite executives and decision-makers are online and engaging.
Many tech executives work beyond 5:00, so if you're hoping to reach executives and leaders from any niche in the tech industry, experiment with after-work hours.
This doesn't mean you should toss out popular posting times such as weekday morning hours, but you might enjoy higher engagement rates by testing after-hours posting times on LinkedIn.
Education Industry
On LinkedIn, the best time for higher education companies to post is:
11:00 a.m. – 1:00 p.m.
Mid-morning, about 10:00 a.m.
2:00 p.m.
Finance Industry
According to a COVID business report by Convince and Convert, the best time to engage finance brands on social media is:
10:00 p.m. in the evening
Prior to Covid, 10:00 a.m. was the best time to post for the finance industry.

However, work-from-home schedules have turned routines upside down, and you should now try reaching them late in the evening.
Tip: Engagement rates for posts with no photos, videos, or links have increased dramatically this year. Try publishing text-only posts to better-engage your finance audience.
How To Find Your Brand's Ultimate Best Times To Post: Step-By-Step Instructions
Never before in social media history has analytics been as vital to marketers as it is in 2021.
Your audiences' habits can change weekly, depending on major events outside their control, such as lockdowns, social unrest, and natural disasters.
The good news is that it's super-easy to review analytics and discover when your audience is online and engaging with brands.
To access your post analytics in LinkedIn, follow these steps:
Click or tap the "Me" icon in the navigation menu.



Select "Posts & Activity" from your

Me

menu.

Now, you should be looking at a feed of your posts. Select any post you've published over the past sixty days or article published in the past six months, and click or tap the analytics icon (the squiggly arrow) on the bottom of your post.


This opens analytics that show you information such as:
Number of views, likes, and shares

Number of reshares on articles, posts, and videos

Audience demographics, including job titles, location, and companies
How to access advanced LinkedIn Insights:
Joining LinkedIn Business Premium grants you access to advanced insights on your LinkedIn pages, including competitor data.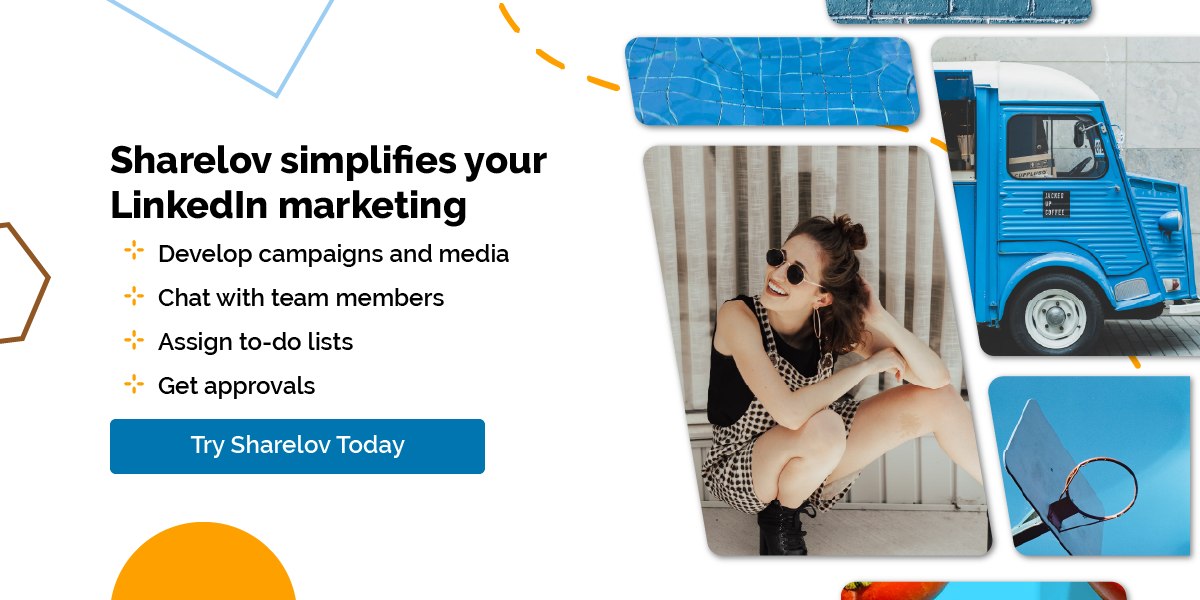 Experiment, experiment, experiment.
Don't hesitate to experiment with off-hours posting times. Testing and adjusting your posting strategy is an excellent way to find the absolute best posting times for your brand!
How Often To Post On LinkedIn
Now that you know the best times to post on LinkedIn, you may be wondering how often you should publish posts on the platform. 
The ideal posting frequency on LinkedIn is: 2X – 5X per week.
Publish no more than once per day.
When you publish more than five times a week, your ROI is likely to drop significantly.

If you publish more than one post a day, your second post will most likely bury your first post.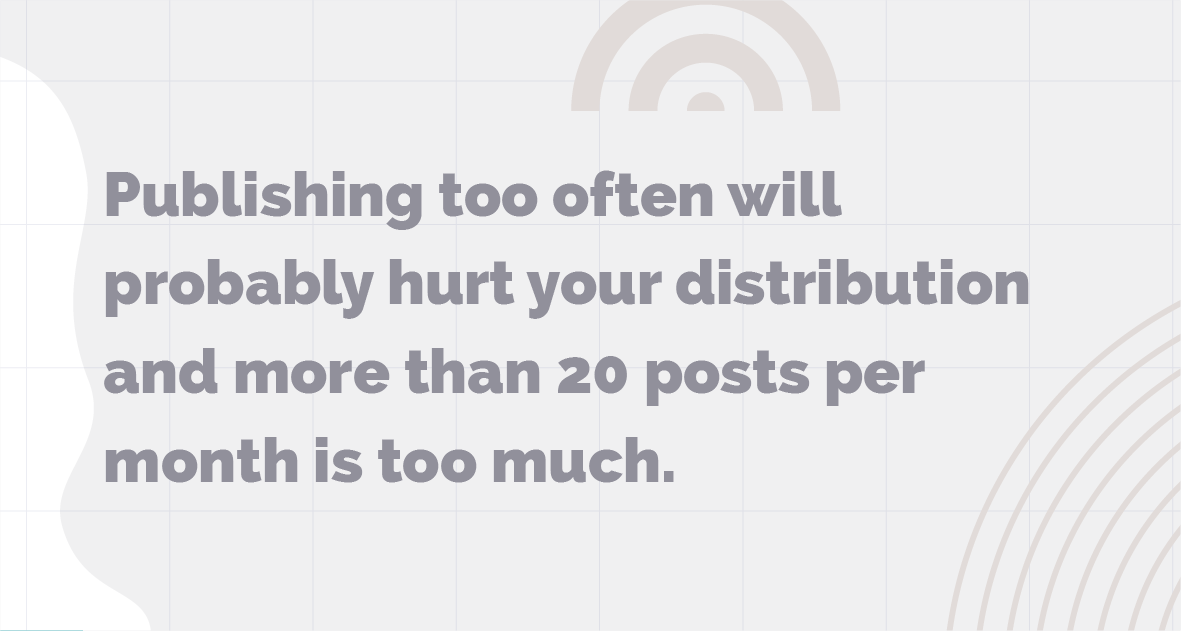 If you post too often, LinkedIn's algorithm will punish you.
Publishing too often will probably hurt your distribution and more than 20 posts per month is too much.
LinkedIn wants its newsfeed to feature posts from many people, instead of getting dominated by mega-users. You'll notice if you share more than one post in a day, getting views is more difficult and one of your posts ends up getting buried by the other.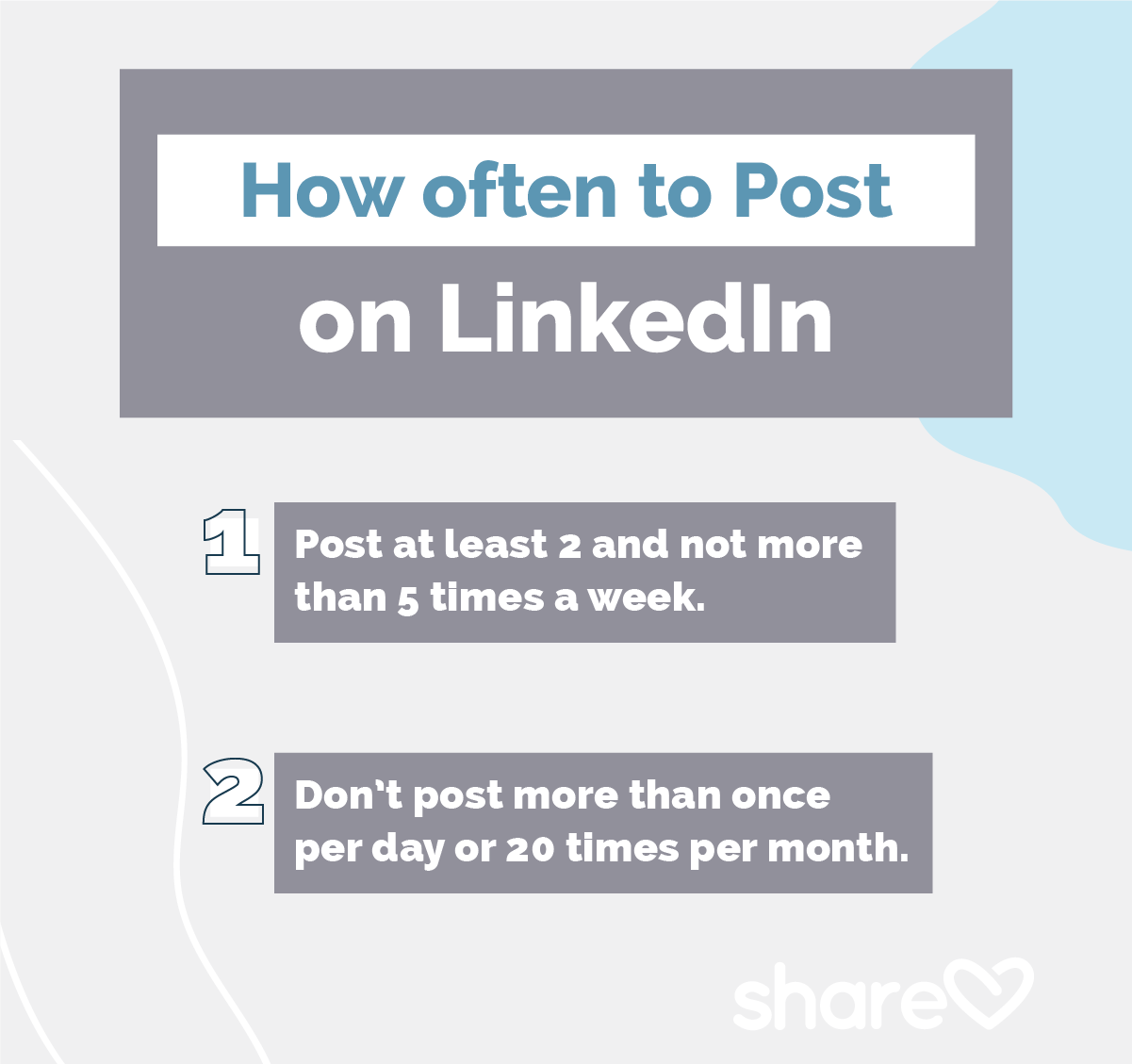 Make it good.
LinkedIn's algorithm attempts to score the quality of your post by scanning for pre-engagement signals such as:
Who posted

Post content

Text

Photos

Relationship between poster and potential viewer
When you post on LinkedIn, make sure your content is relevant to your audience and well-written. This will help boost your quality rating with the algorithm.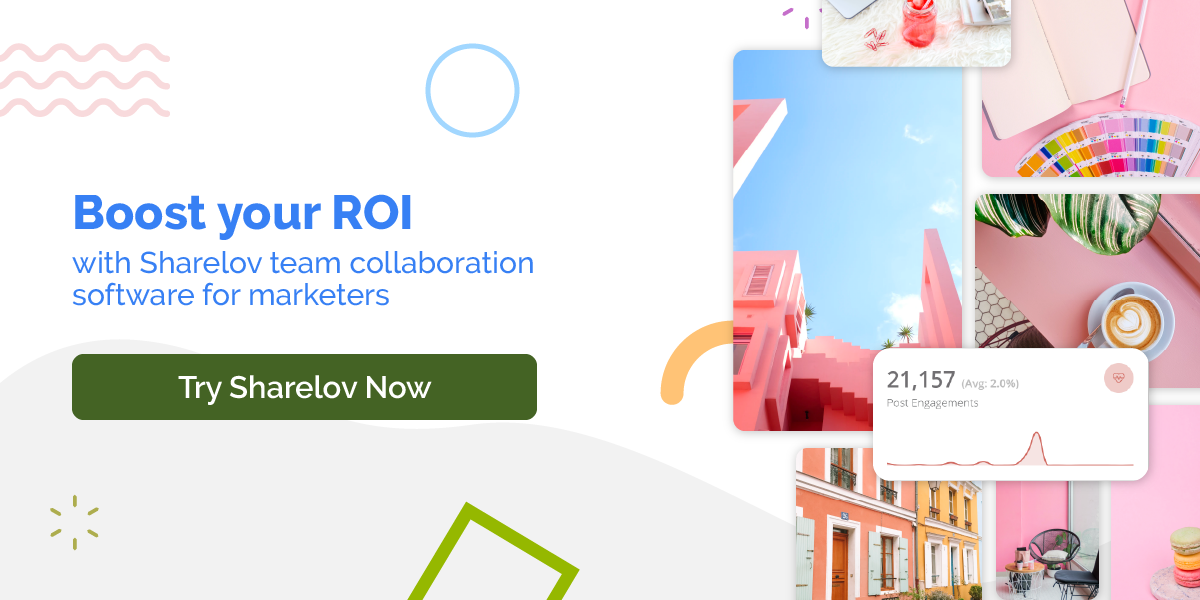 3 Ideas To Help Boost Your Engagement On LinkedIn
Posting at ideal times can help boost your visibility and engagement on LinkedIn, but you'll want to follow up with a top-notch marketing strategy, also.
Here are some tips to help you increase the engagement of your posts on LinkedIn.
1. Get Your Team Members On Linkedin
9 out of 10 top LinkedIn brands with the most followers have at least 60% of their employees on LinkedIn, according to a BrightEdge study. 
Content shared by employees sees 2x higher engagement than content shared by the business.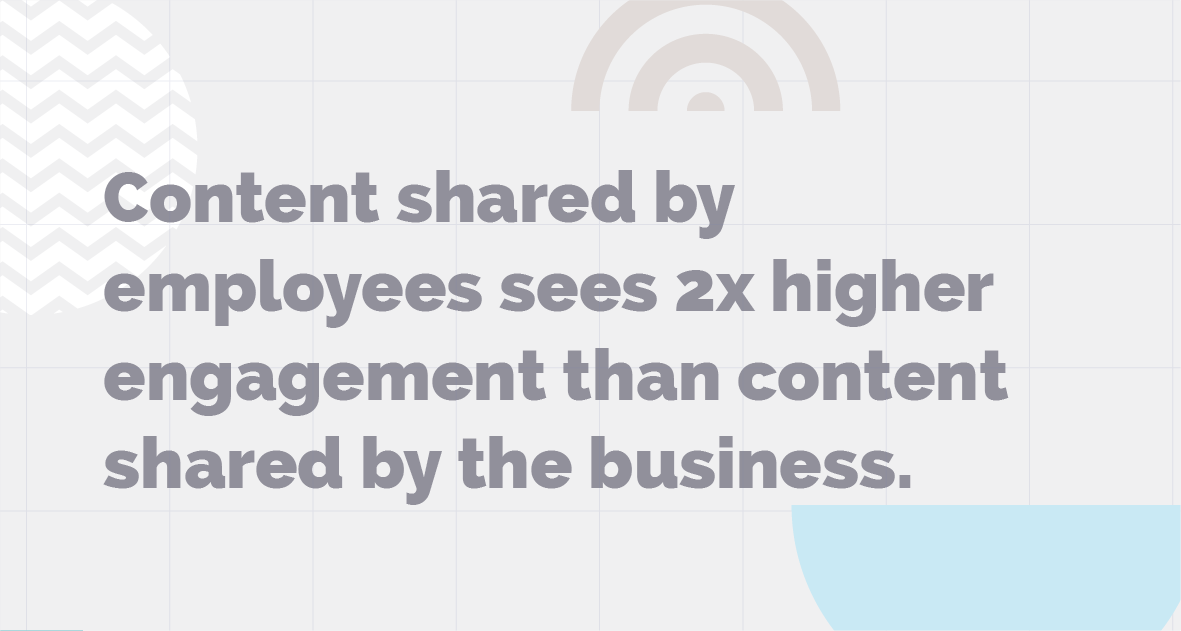 2. Follow The 4-1-1 Rule
For every one post you publish, comment on one relevant post and share three relevant pieces of content written by other people.
The 4-1-1 rule originated on Twitter, and you'll find several variations of it across the internet, but the message is universal: Always be helping. 
You can help other people out on Linked in by sharing their relevant, high-quality content and interacting with their posts. 
3. Glitz Up Your LinkedIn Profile
Use high-quality photos that show who you are.

Write a clear headline that immediately says who you are.

Write a profile that supports your objectives.

Create a seamless, high-quality experience for your profile viewers.
Boosting the quality of your LinkedIn profile can help you gain followers and make more connections. 
Get LinkedIn image specs and caption recommendations to make your posts shine in our Complete Guide To Social Media Image Sizes.
Let people know who you are and what you do, so they know whether your contributions will be relevant to them.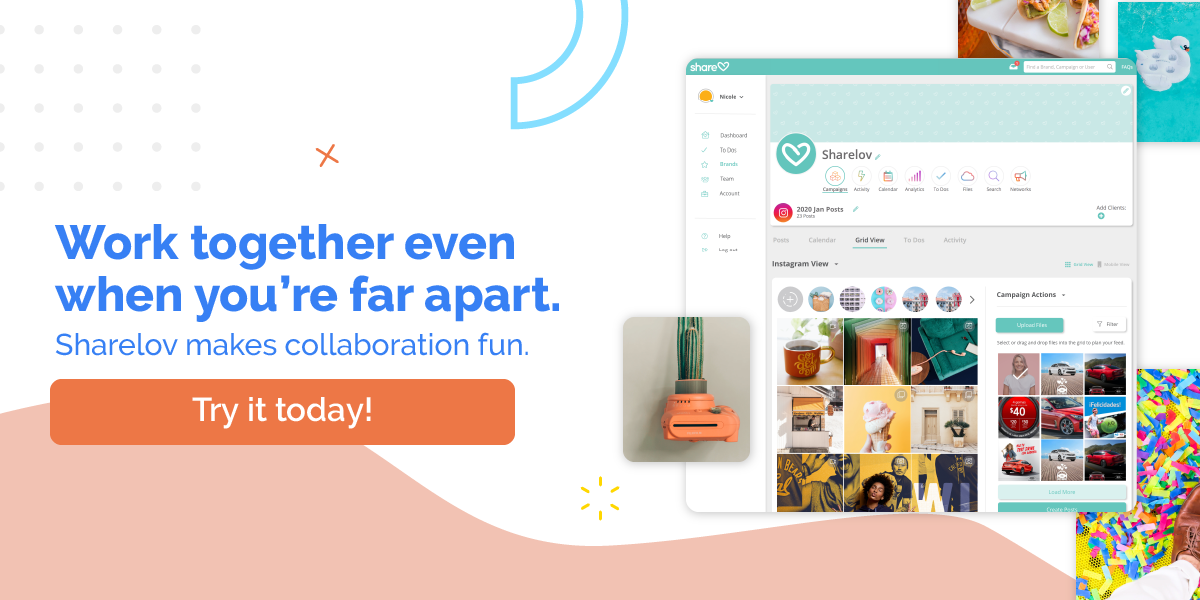 LinkedIn Best Posting Times Help You Get Started
The best times to post listed in this guide are an excellent place to start if you haven't been publishing on LinkedIn and need some ideas to get you started.
Using LinkedIn analytics and insights will help you narrow posting times to what works best for your audience and delivers the highest ROI for your company.