If you have products to sell, here's a secret that Facebook and Instagram don't want you to know about…
Pinterest is #1 with shoppers and drives 3.8x more sales than the other types of digital campaigns.
Most online shoppers (59%) turn to Pinterest before Facebook or Instagram when looking to discover new products.
Here's another mind-blower: Almost everyone on Pinterest (90%) is browsing for ideas on what to buy next.
One more shocker: The competition on Pinterest is about 60 times less than that of Facebook.
In this article, we'll show you how to tap into millions of shoppers who are actively looking for new products on Pinterest.
The Ultimate Guide to Marketing on Pinterest includes everything you need to get your brand started.
Why Market on Pinterest?
Pinterest is a visually-driven social media network where people love to shop and find products.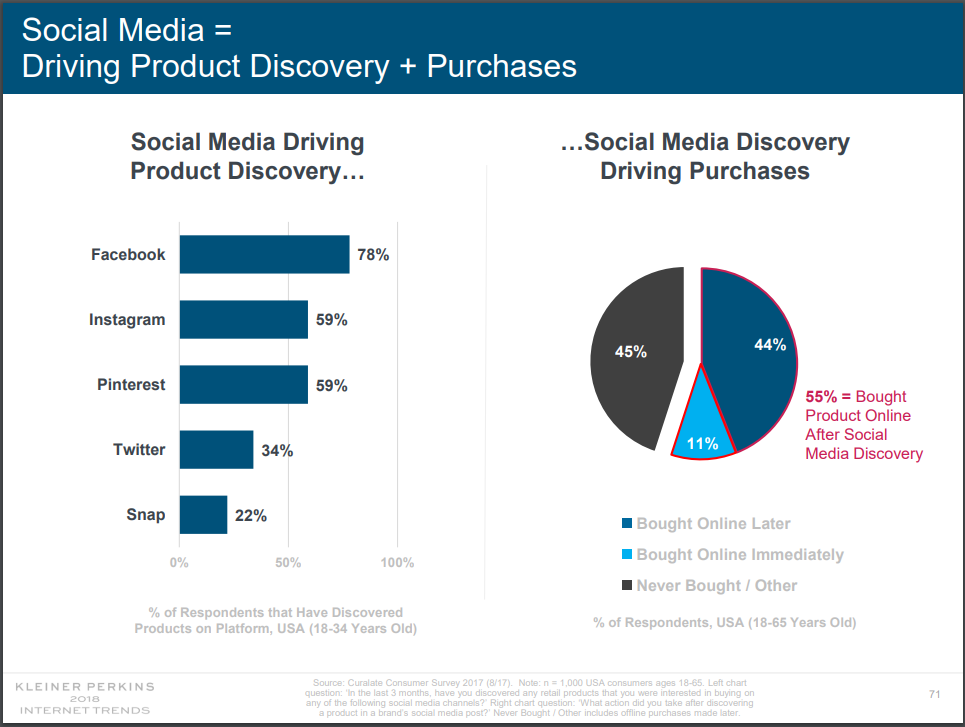 Pinners Are Men and Women Across Multiple Generations
Each month, 250 million people browse Pinterest for an average of 14 minutes a day.
Are men taking over Pinterest?
Well, they're not taking over yet, but they are catching up! Men make up 40% of all active pinners and account for 50% of all new signups on the image-driven platform.
While Pinterest was once a mostly-female platform, men now play a more active role, balancing the demographics for marketers looking to reach both genders.
Millennials and baby-boomers alike love to pin. According to Pinterest, 1 in 2 Millenials use Pinterest.
Pinners browse for inspiring content that enhances their offline lives. They turn to the platform to help them plan their next vacation, discover the latest fashion, or find tutorials for their next home project.
According to a study by Statista, the top 3 most-popular Pinterest categories are:
Art, art supplies, and hobbies

Flowers, food, drink, and gifts

Home, Garden, and pool/spa
Health, beauty, clothing, entertainment, jewelry, and sporting goods are also very popular interests for Pinterest users.
If you're new to Pinterest, you can quickly learn how it works by visiting the Pinterest Guide.
19 of the Best Tools and Features Pinterest Offers Brands
Pinterest offers many features and tools to help brands succeed. In this section, we'll show you how to use organic and paid Pinterest tools to build an audience, engage your followers, and boost your conversion rates.
Organic (non-paid) Pinterest Features and Tools
The following Pinterest tools are available to all brands on the social platform. Some have requirements such as verifying your website, but all are free for businesses to use.
1. Pinterest for business account
When you convert your personal account to a Pinterest business account, you get extra features like Pinterest analytics. A Pinterest business account also allows you to place paid advertising.
Converting your account takes only seconds, and it's free. Plus, if you change your mind and want to revert back to a personal account, the customer help center will assist you.
To create a Pinterest business account or convert your personal account to business, visit the Pinterest help center for step-by-step instructions.
PINTEREST TOOLS FOR YOUR WEBSITE
The Pinterest business center offers a range of free tools that you can use on your company website.
2. Save button: The "save" button allows your site visitors to easily save what they like to their Pinterest boards.
3. Follow button: The "follow" button makes it easy for people to follow you on Pinterest without having to leave your website.
4. Pin widget: The pin widget allows you to embed a pin on your website.
5. Profile widget: The profile widget allows you to display up to 30 of your latest pins on your website.
6. Board widget: The board widget allows you to display up to 30 pins from your favorite board on your website.
7. Pin it button: The "Pin It" button helps people save your content directly to Pinterest from your website.
Once installed, users simply click on the Pinterest logo from any page on your site to save the content to their board.
8. Buyable pins: Buyable pins allow pinners to make purchases directly from the Pinterest platform. There are a few requirements and best practices for buyable pins, which can be found on its business blog.
9. Shop the Look pins: These pins let people find and buy products directly from your fashion and home decor boards.
Shop the Look pins have white dots that indicate links. Users click on the white dots to find out more about the product.
10. Rich pins: Rich pins allow you to show more information on a pin, such as a recipe, product details, and more. There are 4 types of rich pins:
App pins allow you to include an "install" button in the pin.

Product pins let you include pricing, availability, and purchase information.

Recipe pins offer space to add ingredients, cooking time, and serving information.

Article pins include room for details like headlines, author, and summary.
There's a process for adding the rich pin feature to your account. The Pinterest Developers blog offers step by step information on how to get started with rich pins.
11. Influencer API's Partnering with influencers on Pinterest has been 92% effective for marketers. That's a pretty high success rate!
To encourage more collaboration with influencers, Pinterest offers its Influencer API, which allows you to access data that helps you find the best partners and track your campaign results.
Get started with influencer marketing on Pinterest by visiting its business blog and Partner's Hub.
PINTEREST ANALYTICS TOOLS
Pinterest offers a robust look into how audiences are interacting with your content. These tools help you measure results so you can continually test and improve your growth, engagement, and conversions.
12. Pinterest Audience Insights
Find out everything you want to know about your audience and content performance with Pinterest's advanced analytics and insights. Audience Insights and Pin Stats offer an easy, visual way to view and measure your brand's performance.
13. Pin Codes Pin codes help you drive offline traffic to your Pinterest social media boards and pins. You can place them on physical products, in your store, at events, in publications, and more.  
When a user scans your pin code, they're taken to your Pinterest account where they can save and share pins.
To learn how to use pin codes, visit "How to Create a Pin Code" on the business blog.
PINTEREST EDUCATION AND RESEARCH TOOLS
Define and connect with your target audience by soaking up the wisdom of the folks at Pinterest. Its team goes out of their way to offer tips and advice to help you succeed in building, engaging and converting an audience.
14. Pinterest business blog The Pinterest business blog offers a ton of advice, tips, and how-to's for brands that want to take that extra step toward success on Pinterest.
If you follow the blog, you'll also stay current on the latest Pinterest tools, features, and news.
Pinterest's business blog is a valuable tool for any brand that wants to gain an edge on the competition.
15. Pinterest newsletter is an email newsletter that shares some of the social platform's latest stories, methods, insights, and news. It's helpful because it draws from the blog, news, insights, and other sections to bring you the most relevant and current information to help you succeed.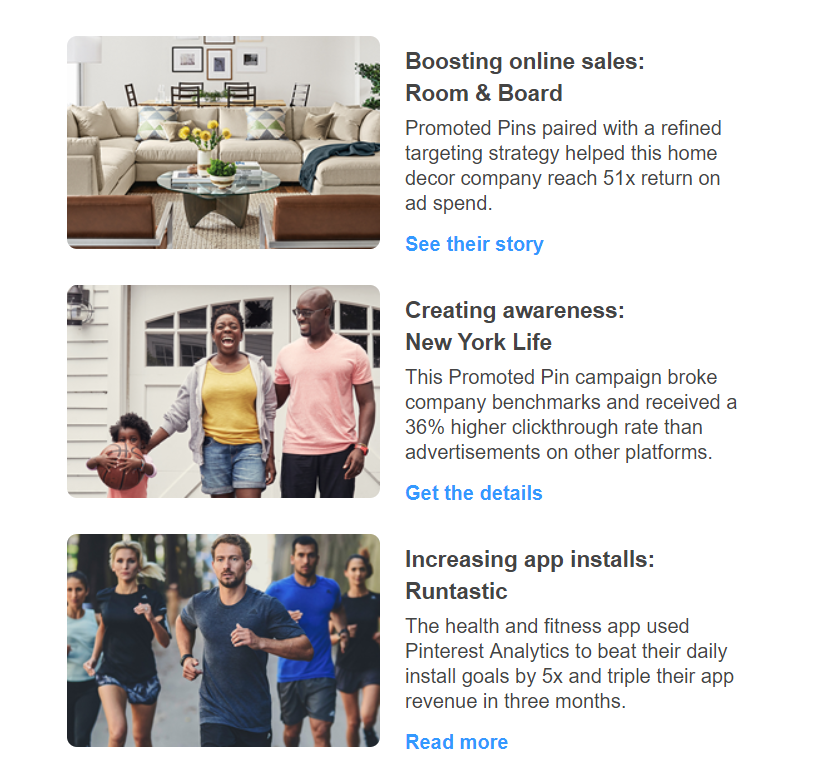 Paid Advertising Tools and Features
Pinterest offers a number of ways for advertisers to promote pin and videos or place paid ads. Below are some of the features it offers in its paid advertising section.
Quickly promote your content with the following paid services from Pinterest:
16. Promoted pins Easily promote any pin by navigating to it and clicking the "promote" button.

17. Promoted carousels are the newest Pinterest ad format. Promoted carousels let you include up to 5 images in one ad. Pinners see a carousel in their feed and can swipe directly from their feed to view the images or tap to go to the landing page.
18. Promoted videos at max width is another new feature available to Pinterest advertisers.
19. Pinterest taste graphs help advertisers create more effective campaigns with interest-based targeting.
The taste graphs combine a collection of human-curated links (over 100 billion pins) and trillions of weekly interactions that form insights about what pinners are interested in and what appeals to them.
Graphs help brands enhance interest targeting with a wider understanding of how to catch and hold their attention.
You'll find over 5000 interests to choose from when placing ads with Pinterest. Developers who want to learn more about how the taste graph works can check out this article series by Pinterest Engineers.
Pinterest ads and sophisticated (but simple to use) targeting options are available at your Pinterest Ad Dashboard. The ad dashboard is visually-oriented and easy to use, yet offers complex targeting options to help you reach a laser-specific audience.
To learn more about advertising on Pinterest, visit the help center for step-by-step instructions.

6-Step Pinterest Marketing Strategy for Beginners
Below is a checklist to help beginners get started on Pinterest. Even if your brand is already active on Pinterest, this list will help ensure that you haven't missed any important steps!
Pinterest Strategy Step 1: Setup Your Pinterest Business Account
All businesses should set up an official business account and profile on Pinterest before getting started.
Business accounts are free and allow you to access analytics, advertising, and insights that will improve your success.
You can run through the preliminary stages of account setup in under an hour.
Tip: Don't put a lot of time and effort into creating boards and pins at this stage, since the research you do in Step #2 will greatly improve your content planning.
Here are the 5 steps you need to take to get your Pinterest Business Account rolling:
Create a business account from scratch or convert your personal account to a business account.

Connect your website by "converting" it so you can use all the Pinterest special features.

Create your Pinterest business profile

Create your first board. Keep it simple and use this step as a "test run." You'll want to complete research (Step #2 below) before expanding to a full set of boards and pins.

Create your first pin. Like your first board, keep your first pin simple because you'll only be using it as a test until you've completed your research and planning.
Once you've completed the basic business setup, you're ready to move on to the research and planning stages.
Pinterest Strategy Step #2: Research and Plan for Best ROI
Like any social platform, it's easy to get lost in the creativity and popularity that accompanies social networking.
To ensure that your brand profits from your activity on Pinterest, take the time to do the following 3 types of research before you start pinning:
Interest-based research:

Target the right audience

for optimal growth, engagement, and conversions. One way to do this is to check out Pinterests "

Top Trends for 2019

" to learn what's popular with pinners.



SEO research:

Show up in the news feed by discovering

what keywords will help your content

get noticed on Pinterest.



Competitive research:

Remember to take a look at what your competitors are doing on PInterest. This will give you a headstart on what types of content, interests, and audiences are working or not working for your industry.
Pinterest Strategy Step #3: Learn to Optimize
Before you start pinning away, there are a few quick things to learn about how to optimize your content on Pinterest.
How to optimize images

How to optimize pin titles and descriptions

How to Pinterest-optimize your website

What are the best times to post to Pinterest?

How often should you post to Pinterest?
Once you understand how to optimize for Pinterest, you're ready to begin planning your marketing efforts.
Pinterest Strategy Step #4: Plan Out Your Marketing Efforts
Now that you've completed your research and learned how to optimize for Pinterest, you're ready to create a Pinterest marketing plan.
1. What are your goals? There are a number of goals to choose from when marketing on social media. The most common are:
Brand awareness

Audience growth

Engagement

Conversions
Take the time to determine your most important Pinterest goals. This will help you form content and make decisions that contribute to your overall purpose on the platform.
2. What pages will you link out to? Plan how you'll link your Pinterest content back to your website.
Choose links that support your marketing goals, such as:

Blog pages

Product pages

Other pages
3. What will your publishing schedule look like? By planning ahead of time, you'll save time and gain the best chance of getting seen in its news feed.

Plan your content ahead of time by answering the following questions:

What type of content will you post?

How often will you pin?

What times of day will you pin content?



4. Who's on Your Team? This is a good time to think about which team members will handle the different tasks involved when marketing on Pinterest.
5. What boards and pins will you create? Now that you've considered your goals, links, and publishing schedule, you're ready to begin creating. Plan out an organized series of boards and pins that will make it easy for people to discover and browse your content.
Now that you've planned your Pinterest marketing efforts, you're ready to begin planning and schedule the content that you'll publish. In the next step, we show you how to create an editorial calendar that improves your chances of success on the platform.
Pinterest Strategy Step #5: Create a Pinterest Editorial Calendar
Now that you're ready to begin publishing, an editorial calendar will help your team work together more creatively and efficiently for the greatest chance of success.
Use a social media management tool and publishing calendar to manage your Pinterest content publishing.



Look for a simple, visual, drag and drop publishing calendar that lets you schedule posts ahead of time.  When integrated with a social management platform (like Sharelov!), you'll create higher-quality work more efficiently thanks to easier team collaboration.

Plan your themes. Sketch out what types of content you'd like to include over the next 6 months. For example, you might want to include holiday content or event-based pins at certain times of the year.

Create your pins.

Schedule pins in advance with your social media publishing calendar.
This is a ongoing step that you'll continue throughout the months and years. It's a great time to consider how you'll plan, track, and approve your workflow to keep the quality of your content superior and reliable.
Pinterest Strategy Step #6: Analyze Your Efforts
As you create, pin, and engage your way through Pinterest marketing, remember to keep your eye on the prize: ROI.
Analyzing your efforts by constantly reviewing the data available to you is key to your success on any social platform, including Pinterest.
Use Pinterest insights, Google Analytics, and your social media management software to measure, adjust, and test what content works best for your target audience.
Examples of Successful Pinterest Campaigns
Now that you're ready to begin marketing on Pinterest, here's a few examples of successful Pinterest marketing campaigns to inspire your creative efforts.
Home Depot Pinterest Marketing Campaign
Home Depot wanted to reach people who were moving into new homes and wondering how to make their empty rooms feel like home. So, they created a video that shows the before, during, and after stages of renovation.
On Pinterest, "how-to" and "DIY" videos do very well, and the minds behind Home Depot's campaign chose to play to the interests of pinners.
The campaign was such a hit that it inspired "built-in pins" where people shared their own process of transforming blank spaces to beautiful rooms.
This led to the first 360-degree pins, allowing people to virtually enter pins of finished rooms where viewers could click to learn more about each product.
Mission Hammocks Pinterest Marketing Campaign
Zach Wahl founded Mission Hammocks to employ young people with disabilities to build hammocks and hanging chairs.
Wahl used Pinterest to help sell Mission Hammocks products globally. Profits from those sales helped hire more workers, all of whom are paid a fair wage while learning valuable skills.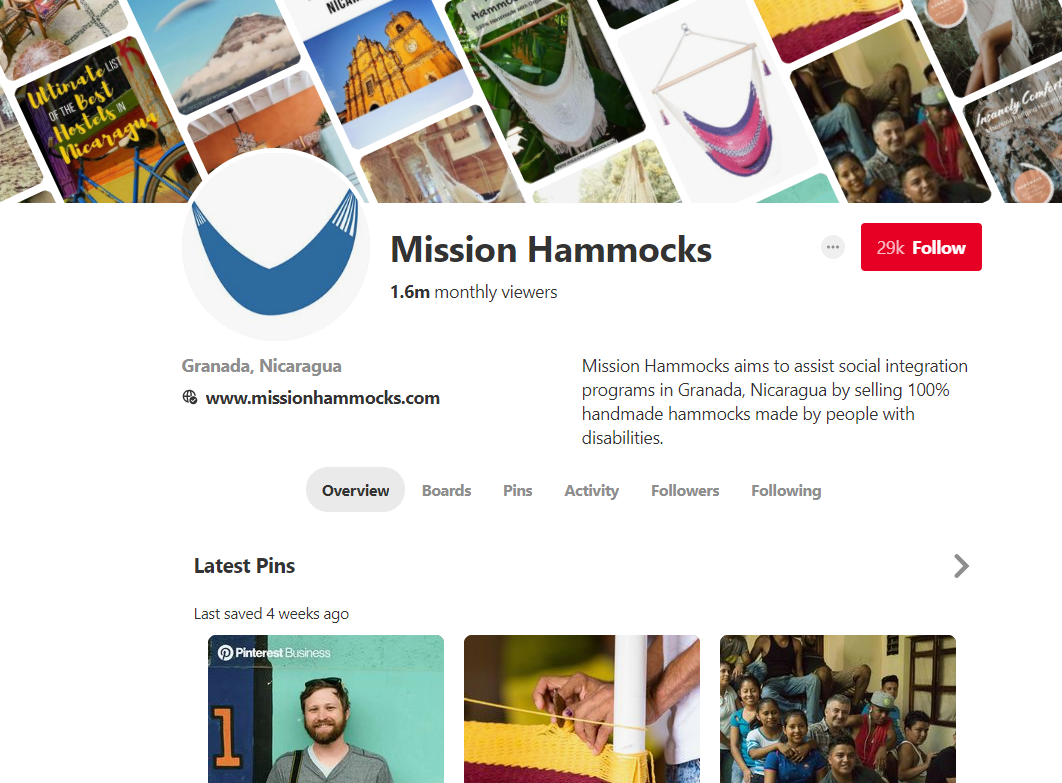 Boursin Cheese Pinterest Marketing Campaign
Boursin's goal on Pinterest was to raise brand awareness in the U.S.
Since entertainment is at the heart of the Boursin brand, the company created a promoted-pin campaign to inspire pinners who were looking for party-planning inspiration.
Boursin's Pinterest boards include party-themed titles such as Award Show Party, Summer Soiree, Baby Shower Inspiration, and Tropical Luau Party.
Within each board are pins full of inspiration for party planning and events.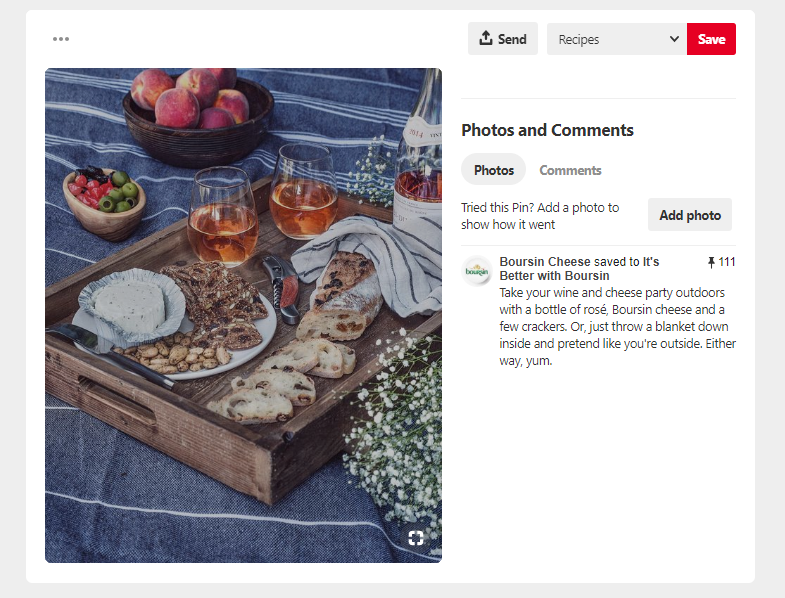 Boursin was impressed with the number of millennials it was able to reach by marketing on Pinterest.
"We've identified Pinterest as a great way to reach the millennials segment of our target, and that's a key finding coming out of this campaign." – Boursin Cheese
Boursin is an excellent example of a brand that utilized clear goals and organized planning to create Pinterest content that got its product noticed.
Pinterest – A Smart Choice for Brand Social Media Marketing
Pinterest has a lot to offer brands, and it's blog is packed with success stories from enterprise and small-to-medium sized businesses.
There's a high ROI available to companies willing to learn from and work with the folks at Pinterest.
Pinterest proves that Facebook and Instagram don't own our social media landscape. While it may not be as big as the Facebook-owned companies, it's higher-up in shopper's minds than both Facebook and Instagram.
Pinterest Marketing Strategy Checklist