Updated: February 2022
On TikTok, your content's engagement rates determine whether your video gets seen by more people — or whether it gets buried far away from the "For You" section, never to be seen again.
---
What are the best times to post on TikTok?
Tuesdays at 9:00 AM
Thursdays at 12 noon
Fridays at 5:00 AM
Check out our full list of TikTok's best posting times below to discover daily recommendations and additional posting times for brands looking to improve engagement. Also, you won't want to miss our exclusive high-traffic, low-competition posting times for growing brands.
---
In this article, you'll discover the best time to post on TikTok and so much more. 
You'll also learn about opportunities to post when traffic is high but competition is low. And, we'll show you when to post for higher engagement, new growth, and by industry.
We've got data-supported recommendations for the best time to post your brand content. Here's what you'll discover in this report:
Three times each day when engagement is at its peak.

A handful of premium time slots

when engagement is exceptionally high.

Two

high-opportunity time slots

when traffic is high but competition is low.
You'll also discover how the TikTok algorithm works, and get 7 Tips To Help Boost Your TikTok Engagement Rates. 
Bookmark this page, because this report's jam-packed with information, tips, and examples to help your brand build its TikTok audience!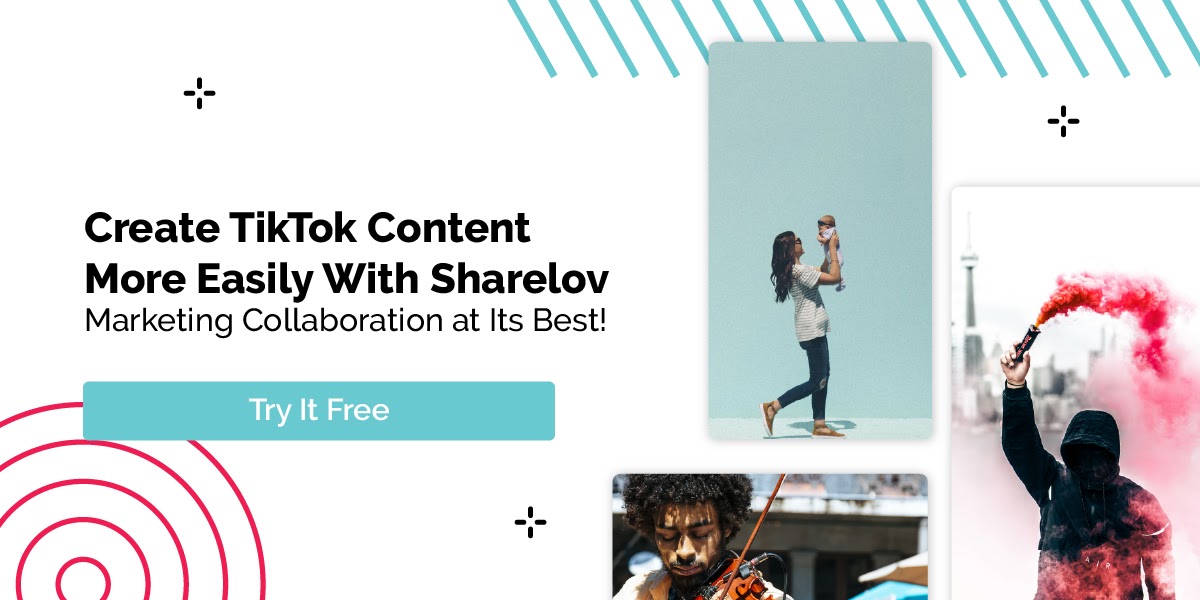 Bookmark this page! This report is jam-packed with information, tips, and examples to help your brand build its TikTok audience!
Find The Best Times To Post For Your Brand
Why Does Timing Matter On TikTok?
When you post videos to TikTok is critical — even more so than it is on most other social media platforms.
The timing of your posts may help determine how many people see your content in the For You section.
On most platforms, people spend their time scrolling through newsfeeds, but on Tiktok, most users spend 75% of their time browsing the For You section.
What Is The
Tiktok "For You" Section
The For You section is where people go to discover videos from people they aren't already following. 
For You is similar to Instagram's "Explore" section, but TikTok's short-video format seems to encourage users to spend even more time exploring random content.
Instagram Explore Section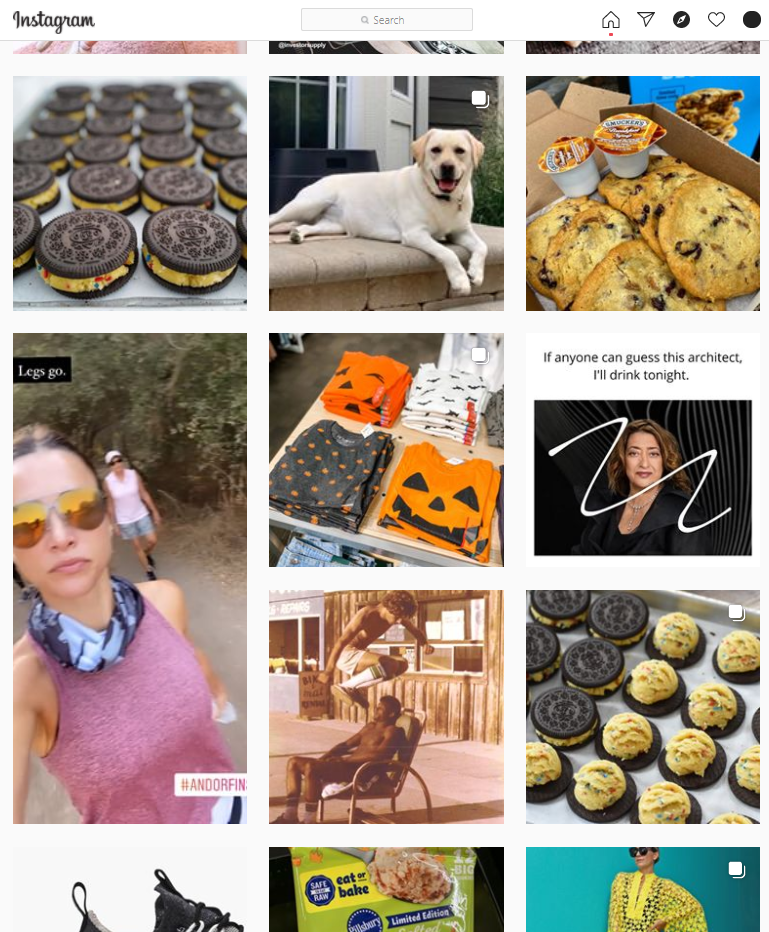 TikTok For You section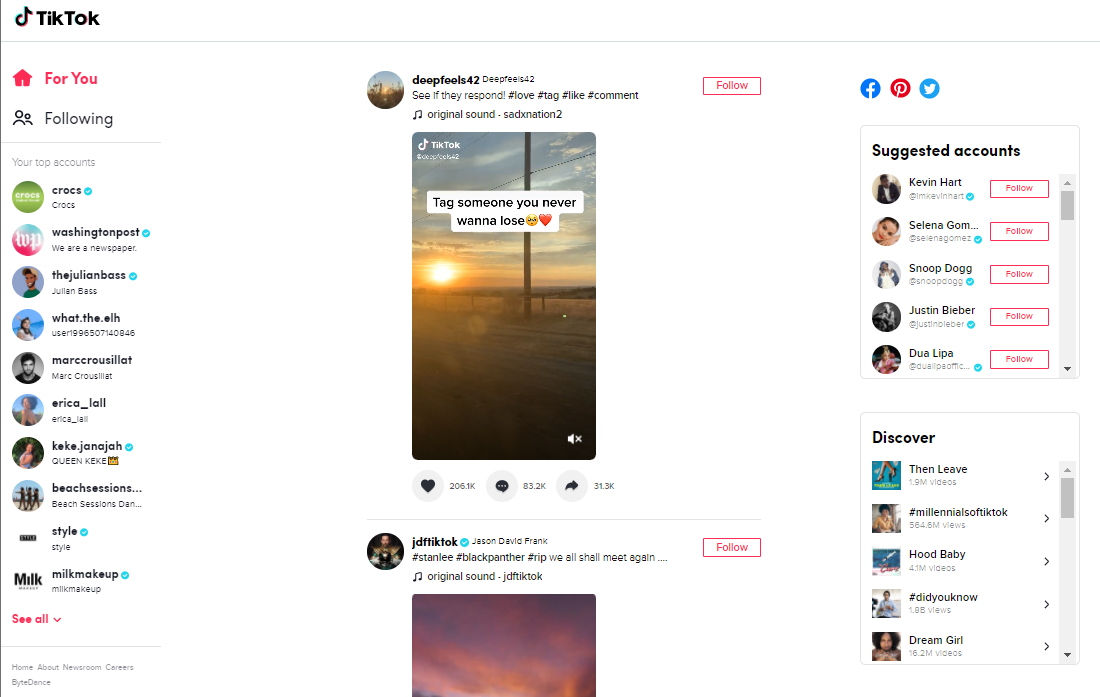 For You is the primary destination of most TikTokkers, and how often your content makes it to this page depends on the immediate reaction of people who are online when you publish your video.
This all ties into TikTok's algorithm, which is about as mysterious as Colonel Sanders Kentucky Fried Chicken. We don't know the whole recipe, but we do know a few things about it (the algorithm, not the chicken).
The TikTok algorithm incorporates artificial intelligence with machine learning that tailors content to give users more of what they like to watch.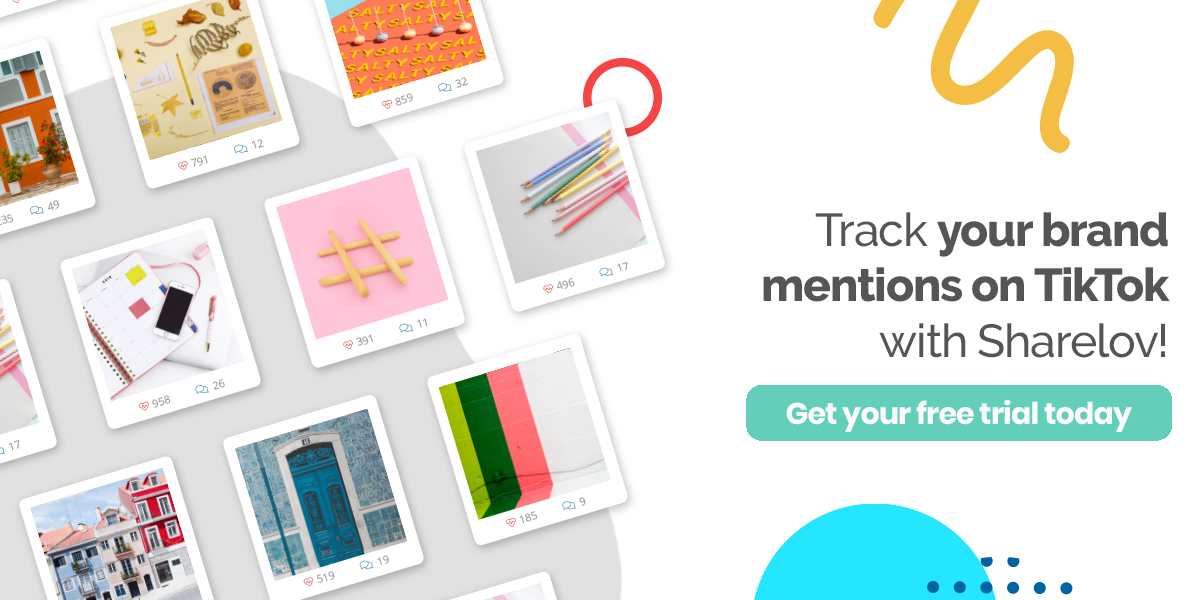 It does such a good job that we suspect it's one of the reasons why TikTok has shattered world records in the app store as the most-downloaded app ever in a quarter and continues to top download charts every quarter — including hitting #1 Most Downloaded App of 2021 at the end of last year.
How The TikTok Algorithm Works
TikTok's machine learning algorithm sets it apart from all other social media platforms. 
For starters, the "For You" feed shows individually-curated videos for each user based on the person's personal history and data:
User interactions (likes, shares, comments, follows, and created content)

Video information such as captions, sounds, and hashtags

Device and account settings to ensure that content is optimized for their devices, language settings, and more.
Additionally, follower counts and previous high-performing videos do not affect the algorithm's recommendations.
TikTok's algorithm is also designed to interrupt repetitive patterns by avoiding showing you multiple videos from the same creator on the same day. It also avoids showing content you've previously viewed.
Finally, it also attempts to diversify the content in its "For You" feed by including videos that may not be relevant to user interest, or even popular on TikTok at all.  
This encourages users to discover new content from new creators without getting stuck in a rut, the way people do on platforms such as Instagram and Facebook.
Unfortunately for brands, the advanced algorithm means that posting at the wrong times can get your content buried.
Videos with high engagement get pushed out to more viewers, and TikTok ranks engagement value in the following order (from most to least influential):
Rewatching

Watching entire video

Sharing

Commenting

Liking
Rewatching and completion rates influence TikTok's algorithm more than sharing, likes, and comments, but likes are also critical.
When you post a video, TikTok tests it by showing it to a batch of people.
Its algorithm then gives your video a rating based on its performance, which is evaluated using the five engagement points above.
If your video does well in the initial stage, TikTok then passes it on to more people.
According to a report by Ranieri Agency, the algorithm is triggered by the velocity of engagement it gets, and you need to get one like for every ten views to get passed onto a larger group of people. If it does well with them, it goes to another group of people.
So, from what we know about the TikTok algorithm, your content passes through several tiers of evaluation and visibility if it does well.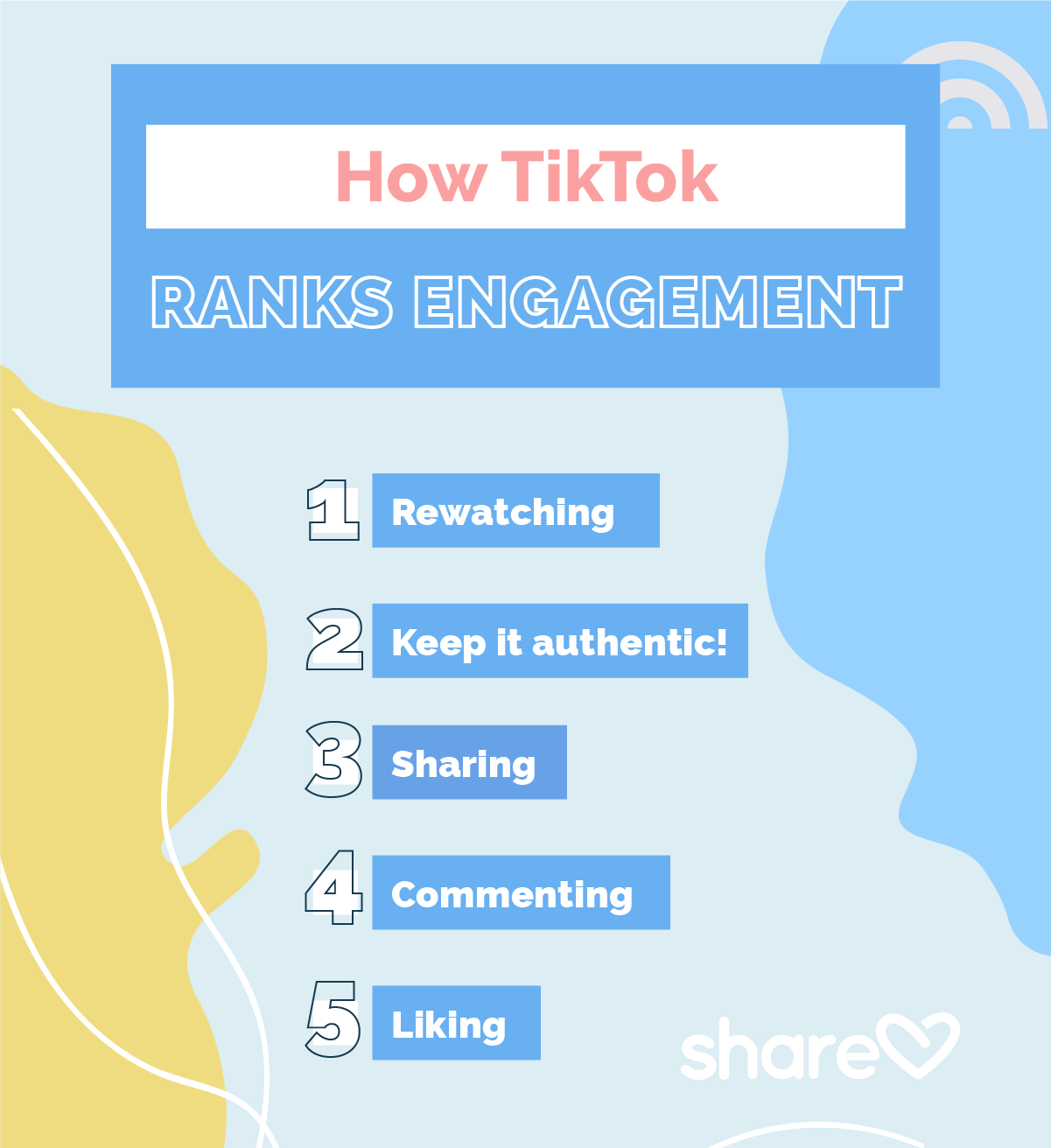 If it fails to engage people from the start, though, your video can get buried and never have the chance to get seen by new people.
If you post your content when people are distracted, you risk losing the engagement that's so critical to the algorithm's performance review.
Now that you understand how posting at the best times can have a significant influence on your TikTok success, let's take a look at how you can give your videos a chance to shine.
What's New In 2022?
TikTok continued its record-breaking popularity growth throughout 2021, giving major platforms such as Instagram a good scare — and for good reason. 
Instagram took 12 years to build its user base of nearly 1.4 billion people, while TikTok's jumped from 90 million users in 2016 (when it was Bytedance) to one billion active users by 2021.
TikTok is still an excellent platform for brands wanting to build a following or go viral on social media.
YouTube creator Joseph Todd refers to TikTok as "Prime real estate for growth," citing accounts such as Footballbros, which gathered more than 36 million likes in under two weeks.
@Footballbros are two young friends, Zach Darras (12) and Carter Ramsey (13) who got bored and filmed themselves playing football outside. 
For fun, the kids published one of their football videos on TikTok, with a slow-motion side effect set to the soundtrack song "Just The Two Of Us."
The morning after posting the video, the kids woke to discover that it had seven million views, and they were shocked at the attention it received.
To date, their account has more than 2.7 million followers, despite publishing less than a dozen videos and (in case you're wondering) the following less than 40 people on the platform.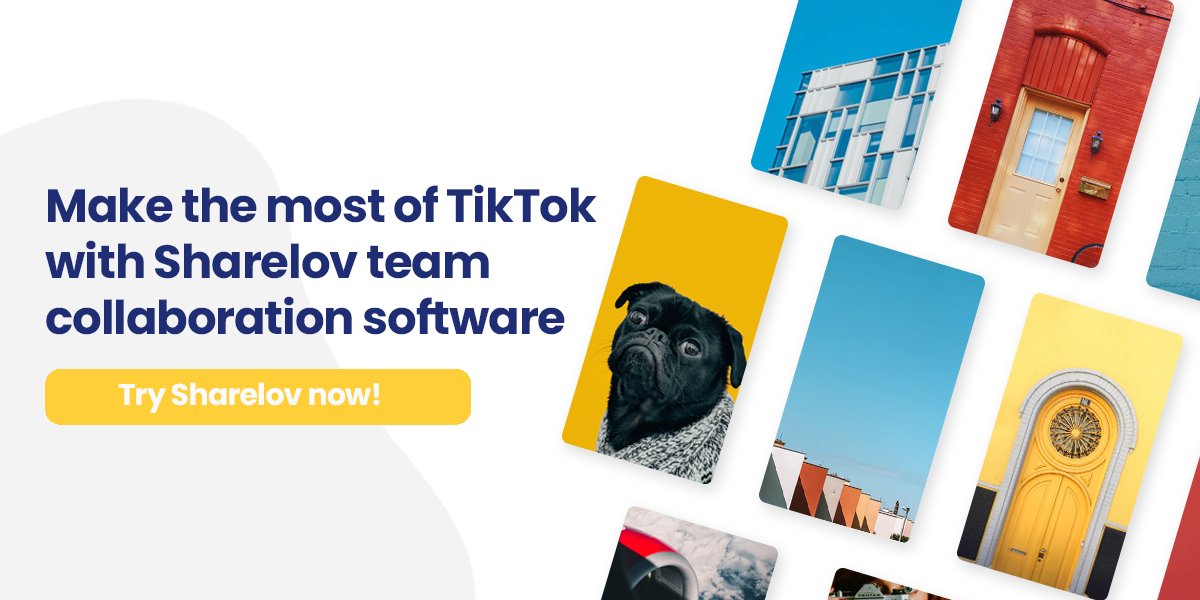 Footballbros viral success shows that TikTok still provides plenty of opportunity for brands hoping for viral success without investing a small fortune into advertising and content.
How To Adjust "Best Posting Times" For The Year Ahead
Nearly half (45%) of full-time employees in the U.S. worked from home at least part of the time, as of late 2021, and 90% of them want to continue working remotely, at least in some capacity. 
Researchers agree that remote work is here to stay, and will only increase in the coming years.
Generally speaking, managers say work-from-home options have improved since its early widespread testing in 2020, and that since then:
Productivity has increased.

Flexibility is a benefit to workers.

Non-essential meetings have been reduced.

Employees don't need to commute.
What does it all mean to your posting times on TikTok?
The monumental change in the way people work means that your audience's routines may continue to change throughout the year, especially if your followers include professionals who used to work in an office.
So, more than ever before, you'll want to use the best times to post to TikTok below as only a starting point, then turn to Tiktok analytics to refine your publishing schedule.
The times we've listed were compiled shortly before Covid hit, but we find that, across all social media platforms, people's schedules haven't changed dramatically.
Here are some of the most common social media activity changes to popular engagement and activity routines:
Many people are

cutting off social media after 6 pm in the evenings

, to give themselves a break from the computer.

Social media users

may be spending more time browsing on the weekends

than they did before.
Brands can expect to see permanent changes to their audience's routines after 2021, but this year, marketers should keep a very close watch on their analytics to identify changes from month to month.
Consider experimenting with posting times.
For example, try posting an hour later than the recommended times to see if your audience is getting a later start than usual. Or, if your weekday engagement is down, experiment with Saturdays or Sundays to learn whether your fans have migrated to a weekend schedule.
You can view TikTok analytics from your Sharelov dashboard, and you can even download or share tailored data cards with your team members.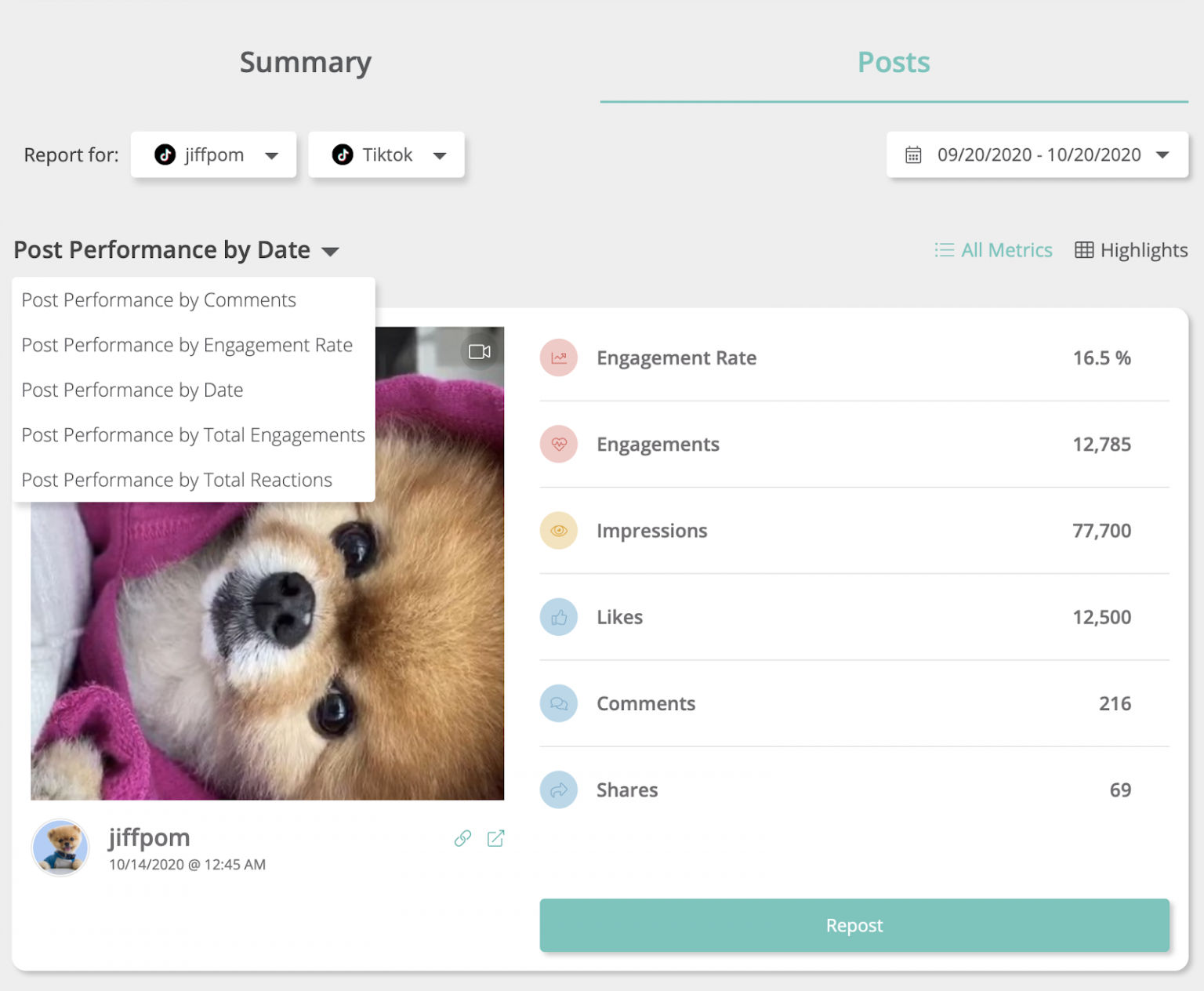 Take a tour through TikTok analytics on TikTok and on Sharelov in our Marketers' Guide To TikTok Analytics.
If you haven't tried Sharelov team collaboration software, stop by and sign up for a free trial. You'll love how much easier it is to work in teams, thanks to features and tools designed specifically for marketers, such as:
Beautiful analytics interface and sharing functions for Instagram, Facebook, and TikTok.

Real-time chat messaging (we're even up when your favorite social media channel is down!)

To-do lists so team members can assign tasks, check deadlines, and check off completed tasks

Awesome interface that lets your team create multiple types of campaigns for any media.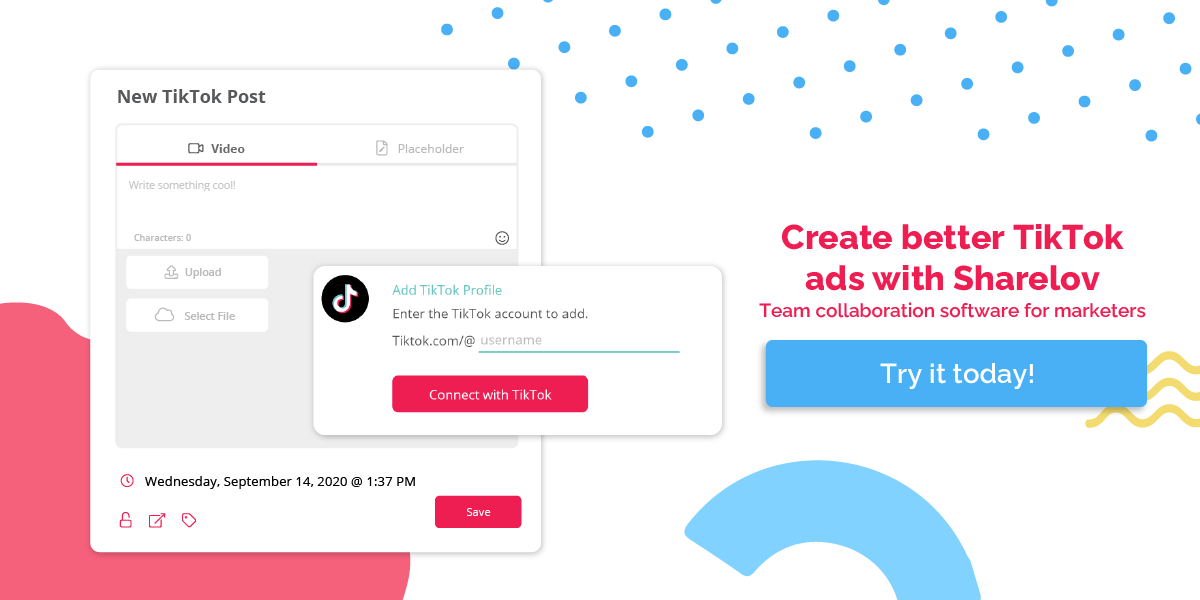 According to an analysis of over 100,000 posts by Influencer Marketing Hub, the following time slots are the best times to post on TikTok for the highest engagement rates.
All times are listed in Eastern Standard Time (EST). We'll show you how to adjust those times to fit your audience in the next section of this report.
Please remember to tailor your publishing schedule to feedback you receive from your brand's TikTok insights, so you can constantly improve your engagement rates.
Best Times To Post Brand Content On TikTok
The best time to post your brand content on any social media platform is always when your audience is online and engaging with brands. 
Recommendations based on data, like the ones below, are an excellent way to get started and begin experimenting to find your ideal publishing schedule.
Please remember to tailor your publishing schedule to feedback you receive from your brand's TikTok insights, so you can constantly improve your engagement rates.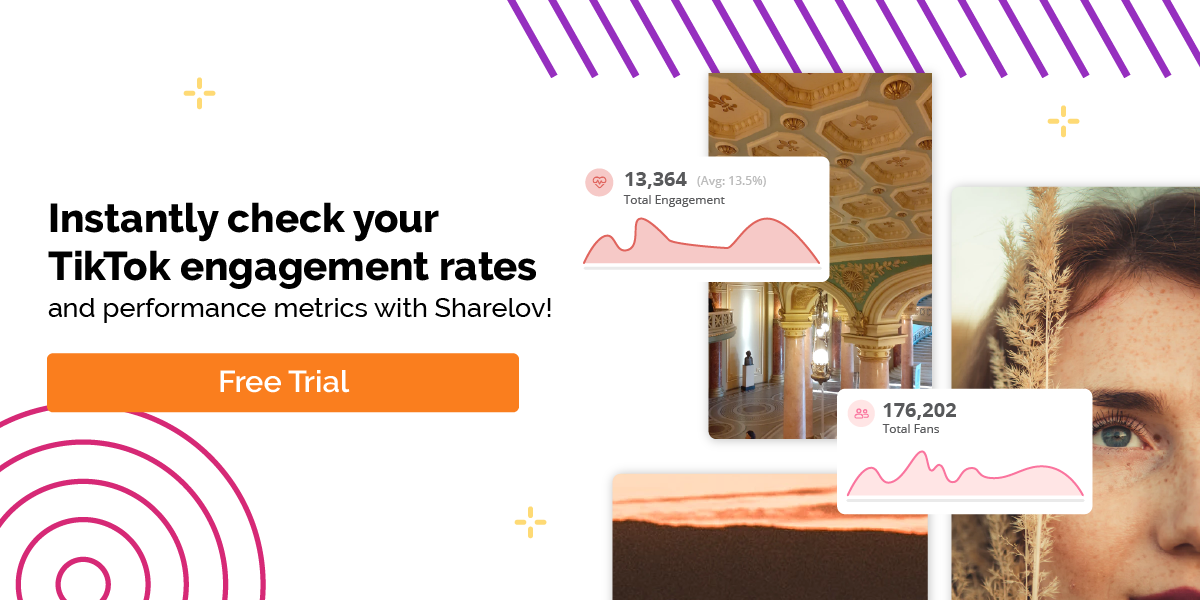 According to an analysis of over 100,000 posts by Influencer Marketing Hub, the following time slots are the best times to post on TikTok for the highest engagement rates.
Best Times To Post On Mondays
On Mondays, TikTokkers are most receptive before work, during their morning break, and just before they go to bed.
To generate the highest engagement for your videos on Mondays, post at these times:
6:00 AM

10:00 AM

10:00 PM

(2:00 AM & 4:00 AM Tuesday)
It's worth noting that users seem to stay up extra late on Mondays, well into Tuesday mornings. We included the early-morning Tuesday best posting times above as a reminder.
All of the Monday times slots are equally engaging, with no specific spot generating more engagement than the others.
To catch people when they're willing to engage on a Monday, publish your videos at 6:00 AM, 10:00 AM, and/or 10:00 PM. Keep the fun going by posting at 2:00 and 4:00 AM the next day.
Best Times To Post On Tuesdays
If you've ever tried adhering to the perfect business routine on Mondays, only to have it fall apart by Tuesday each week, you're not alone!
Seems like TikTokkers reward themselves for all that Monday perfection by staying up super-late into Tuesday morning.
To generate the highest engagement for your videos on Tuesdays, post at these times:
2:00 AM

4:00 AM

9:00 AM

Premium engagement rates!
The good news is – people are awake and interacting on TikTok at 9:00 in the morning — if you're going to post on Tuesdays, this spot proved especially high for engagement rates.
Don't ignore the 2:00 AM and 4:00 AM Tuesday spots, though! 
While these time slots aren't as productive as 9AM, they are still the best times for engagement on Tuesdays, and our bet is that most brands aren't awake and publishing at these hours.
The high demand with low competition creates an excellent opportunity for all you night owls!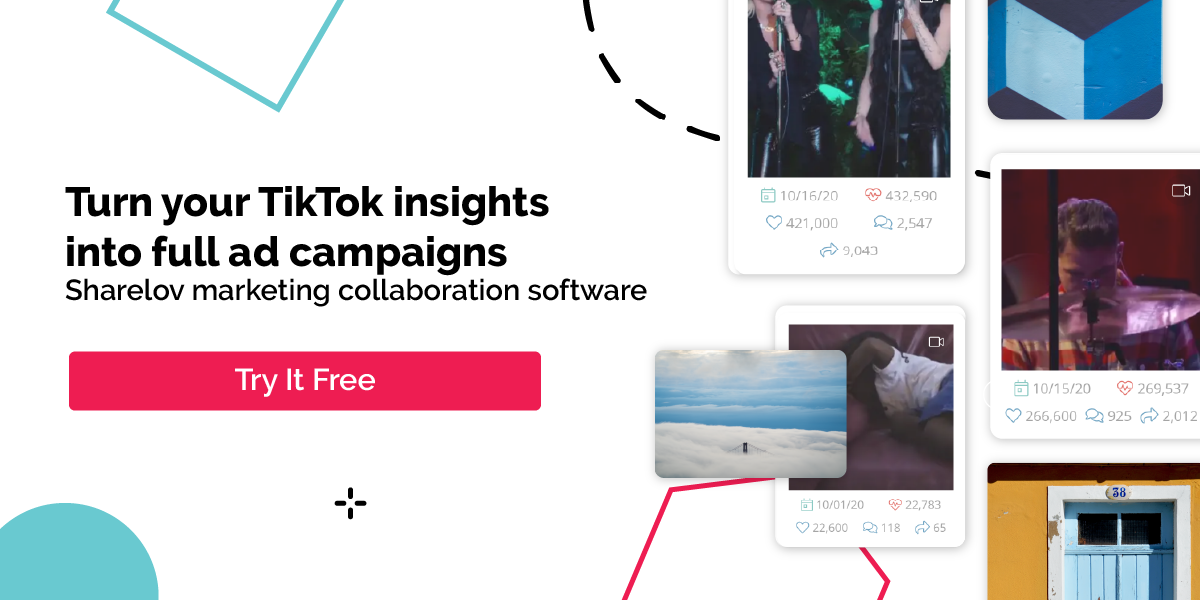 Best Times To Post On Wednesdays
It's the middle of the week, and schedules are settling into a more normal routine on TikTok, with a couple morning sweet spots and a nightcap.
To generate the highest engagement for your videos on Wednesdays, post at these times:
All Wednesday times generate about the same amount of engagement, with none showing especially higher engagement than the others. 
For the best engagement rates on Wednesdays, post your videos at 7:00 or 8:00 in the morning or at 11:00 in the evening. Or, post different videos at all three times!
Best Times To Post On Thursdays
Friday's on the mind, but it's not here yet! Tonight, TikTokkers will sign off earlier and wake up earlier than any other day of the week.
To generate the highest engagement for your videos on Thursdays, post at these times:
9:00 AM

12 noon

Premium engagement rates!

7:00 PM
Don't miss the week's second sweet spot for engagement — publish your videos at noon on Thursdays to take advantage of some of the most-engaged TikTok browsing of the week.
Best Times To Post On Fridays
Even if you don't work a typical schedule, you probably still love Fridays. We all have a sweet spot for the day that celebrates the end of the workweek and kicks off the weekend fun.
If you're publishing a video to TikTok on a Friday, here are the best times to post:
5:00 AM 

Premium engagement rates!

1:00 PM

3:00 PM
You'll want to get up early so you don't miss the premium engagement rates of the 5:00 AM spot. The 1:00 and 3:00 afternoon spots are also excellent times to post videos on Fridays.
Best Times To Post On Saturdays
Users continue to engage with the platform on the weekends.
If you're publishing a video to TikTok on a Saturday, here are the best times to post:
Looks like TikTokkers are sleeping late on Saturdays (good for them!), then scrolling again before they go out for the evening.
You can catch their attention at 11:00 in the morning or 7:00 or 8:00 in the evening.
You might notice that there are no late-night or early-morning spots listed for Saturdays. This is one of the ways TikTok differs from other social media platforms such as Instagram and Facebook. 
Instagram and Facebook users are often eager to check in, tag their friends, and share photos of their Saturday night adventures.
In this sense, TikTok and the other platforms are like apples and oranges. Pulling out your phone to engage with TikTok videos while you're on a date or out with friends wouldn't go over too well. 
If you keep these differences in mind, these differences will help you post better weekend content at ideal times for your TikTok audience.
Best Times To Post On Sundays
Wrapping up the weekend and gearing up for the workweek, we see users' schedules change a bit from the weekend. 
If you're publishing a video to TikTok on a Sunday, here are the best times to post:
On Sundays, reach users earlier in the day and skip the evening posts to get the highest engagement ratings for your content.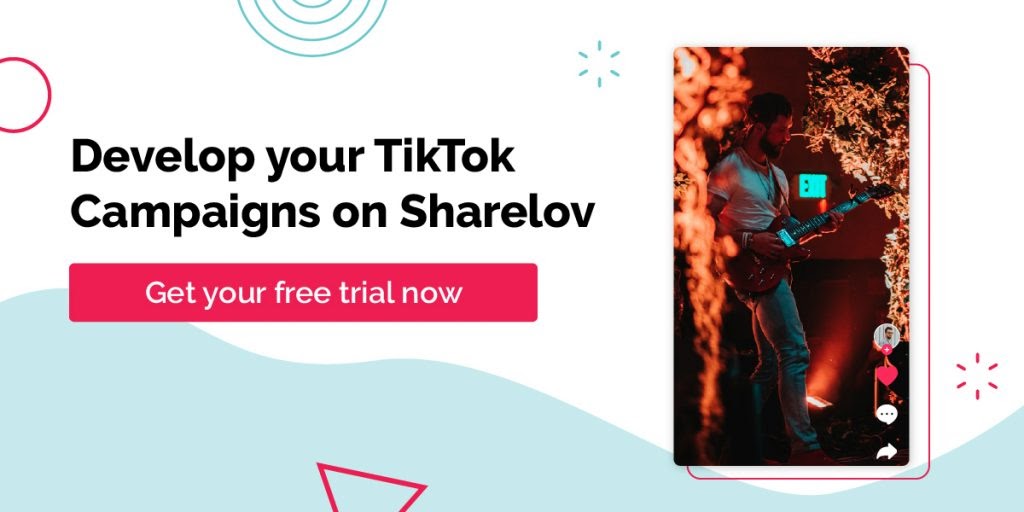 Best Times To Post On Weekdays
As you probably noticed in the listing above, there are plenty of highly-engaging times slots for your TikTok content on every day of the week. 
In this section, we take a look at the best of the best times to post to TikTok on weekdays.
Tiktok Premium Weekday Engagement Times
The following posting times received extraordinary engagement rates.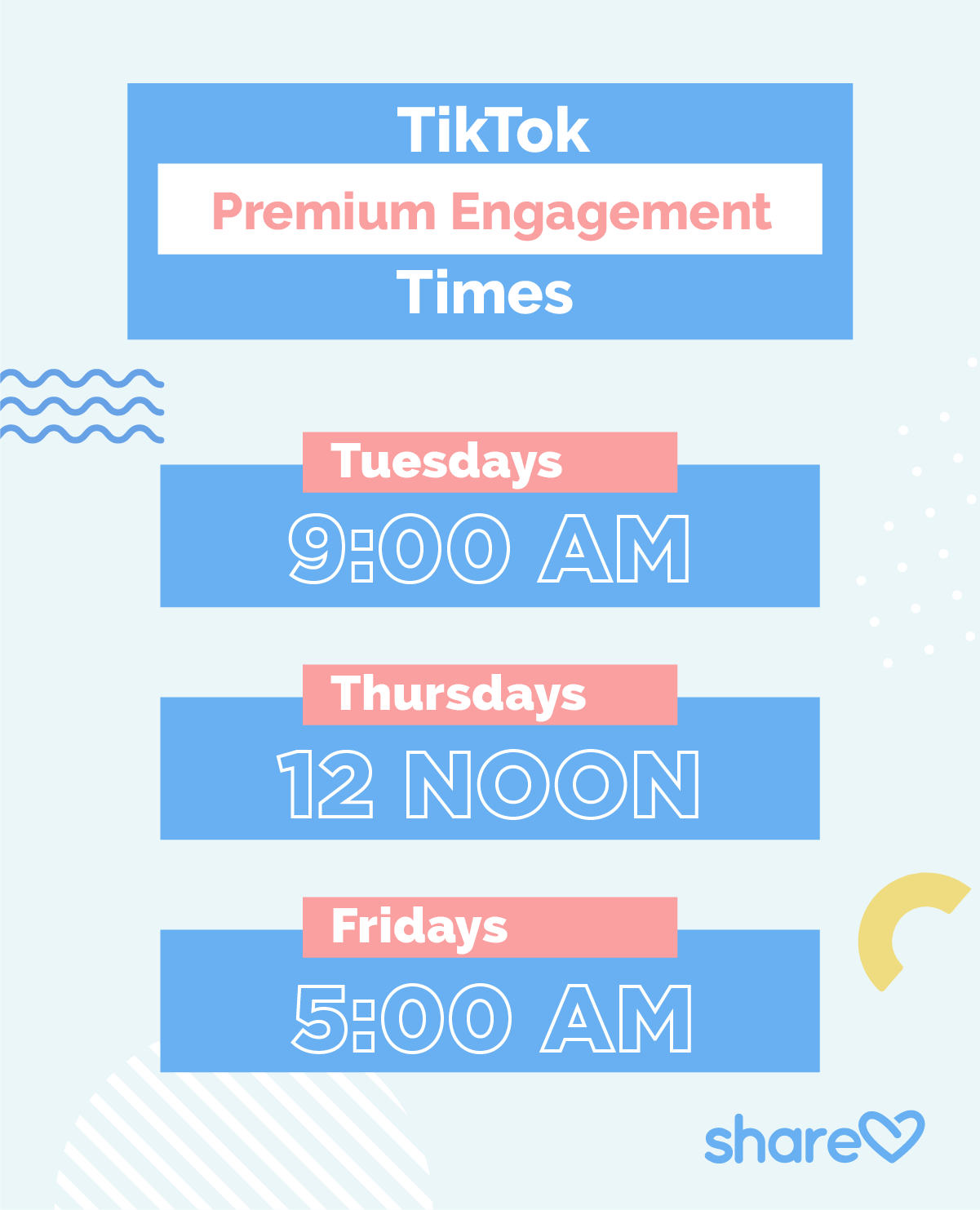 Here are the best of the best times to post on TikTok for high engagement:
Tuesdays at 9:00 AM
Thursdays at 12 noon
Fridays at 5:00 AM
If you're looking for high-engagement posting times, be sure to make these premium spots a priority!

TikTok High-Opportunity Times
Currently, you cannot pre-schedule content to post on TikTok automatically.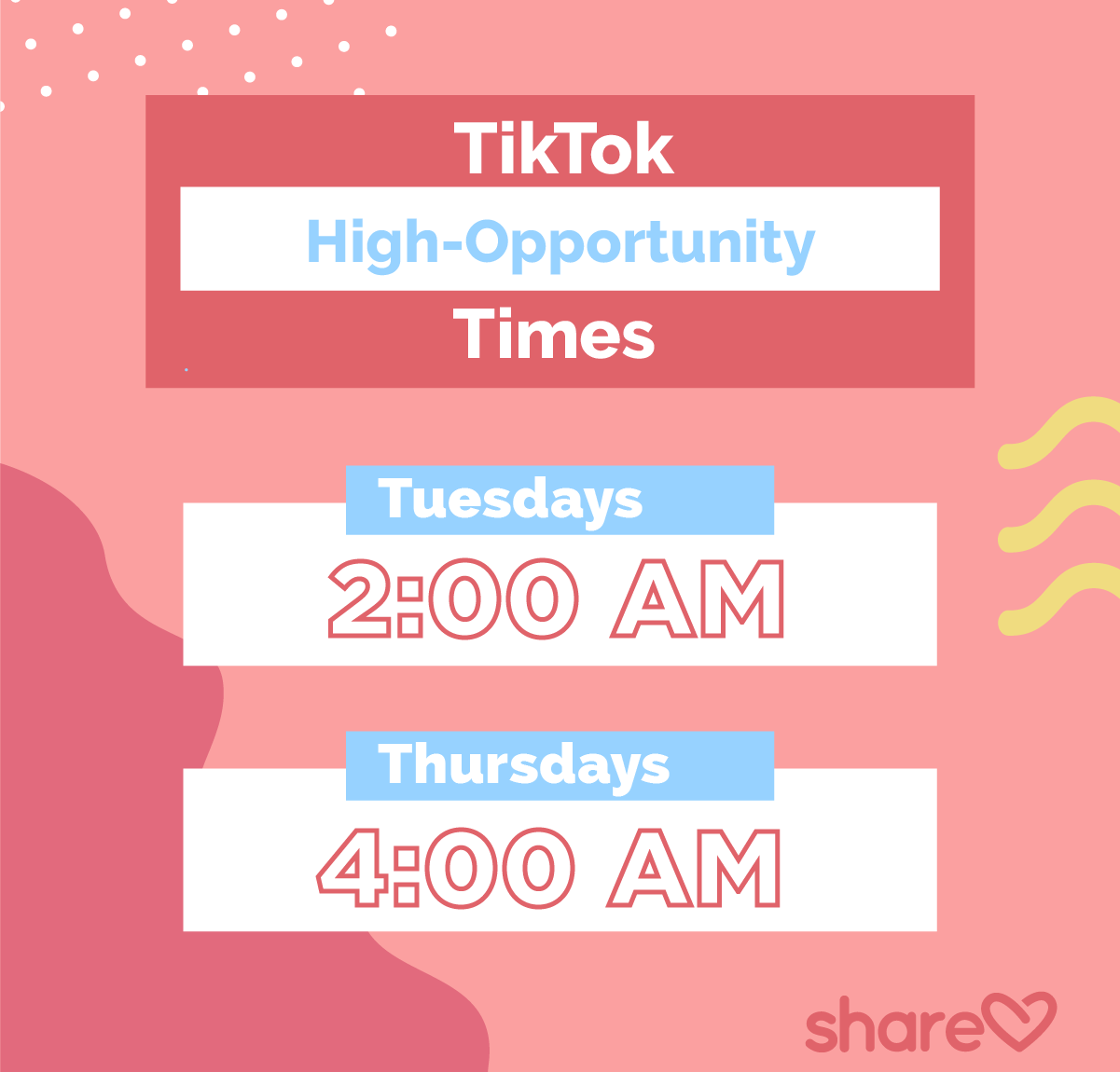 For that reason, these middle-of-the-night spots are an excellent opportunity for brands looking for high engagement, low competition posting times.
Tuesdays at 2:00 AM
Tuesdays at 4:00 AM
We consider these odd time slots (strange, right?) a golden opportunity for brands willing to market aggressively.

As of 2022, there is no way to auto-publish TikTok videos. However, you can schedule publishing notification reminders for your team with Sharelov.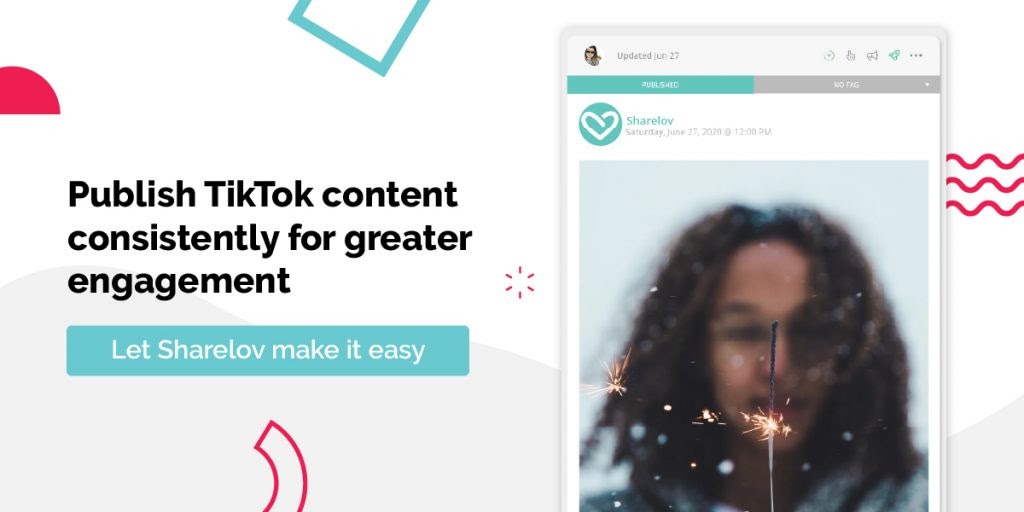 If you're hoping to launch viral videos or gain massive TikTok exposure quickly, consider taking advantage of these unique opportunities for high traffic with low competition.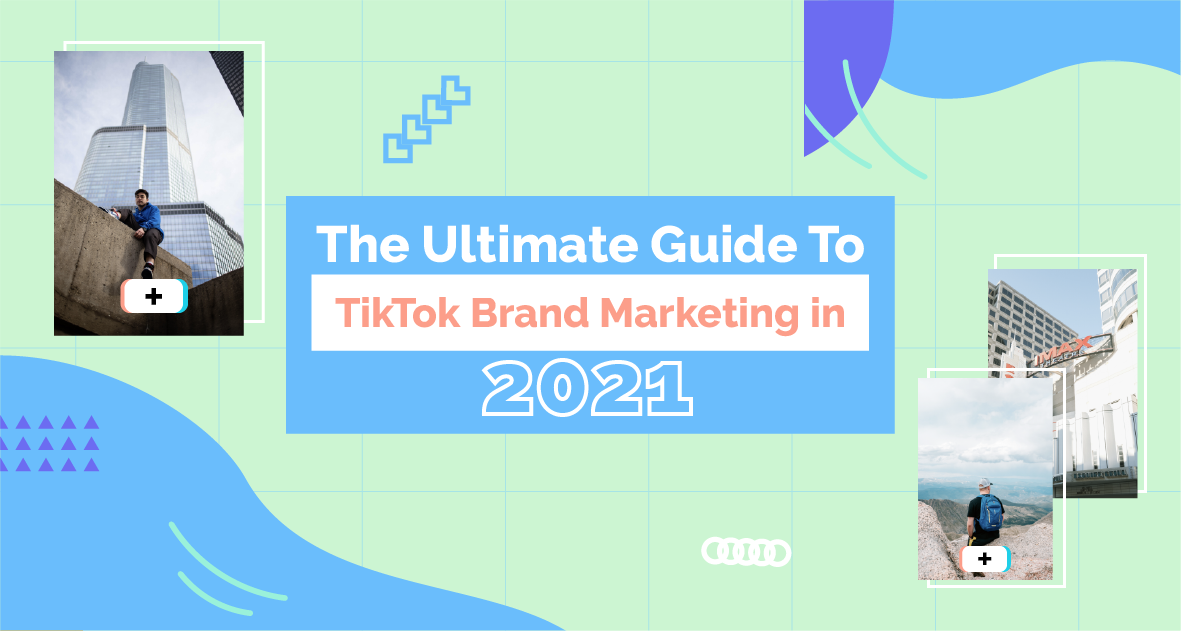 Best Times To Post Each Day
Here are all of the weekday best times to post recommendations for TikTok, with the highest-engagement premium spots listed in pink and high-opportunity times listed in orange.
Mondays 6:00 AM

Mondays 10:00 AM

Mondays 10:00 PM

Tuesdays 2:00 AM
Tuesdays 4:00 AM
Tuesdays 9:00 AM


Wednesdays 7:00 AM

Wednesdays 8:00 AM

Wednesdays 11:00 PM

Thursdays 9:00 AM

Thursdays 12 noon

Thursdays 7:00 PM

Fridays 5:00 AM

Fridays 1:00 PM

Fridays 3:00 PM
Ultimately, you'll want to tailor a publishing schedule to your audience's behavior, posting when they are online and most active. 
TikTokkers keep interesting schedules, though, (as you can see by the recommendations above), so be sure to bookmark this page and keep these times handy to guide you in the quest for the best posting times for high engagement.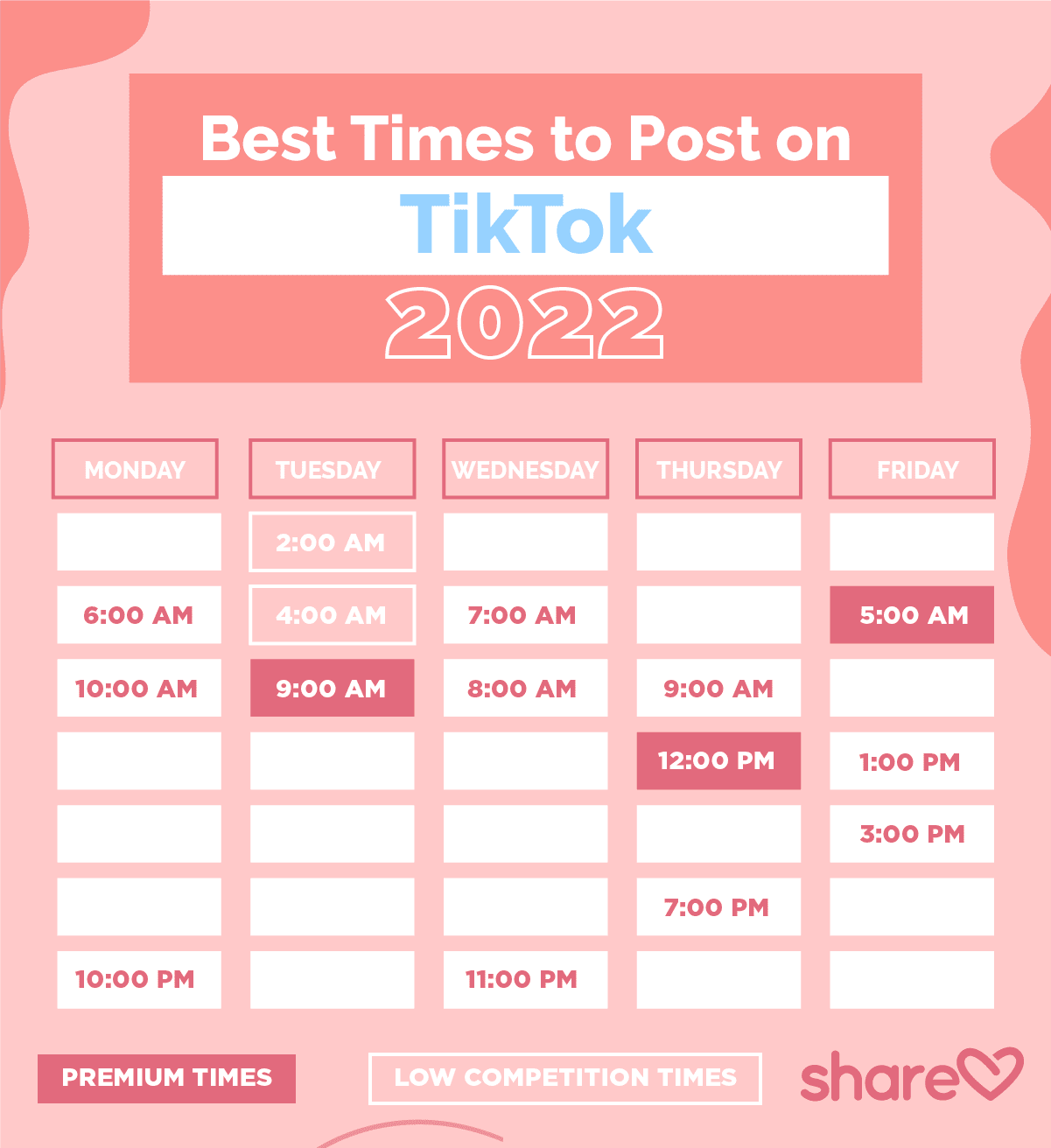 Best Times To Post On Weekends
Weekends work a bit differently on TikTok than on other social media sites like Instagram and Facebook. Unlike other platforms, Tiktok doesn't get as much activity in the evenings when people are out on dates or with friends. 
Unlike its competitors, Tiktok doesn't encourage check-ins, selfies, and location postings, so it's no surprise that weekend evenings are a bit slow.
Here are the best times to post to TikTok on the weekends:
Fridays: No high-engagement times after 3:00 PM

Saturdays 11:00 AM

Saturdays 7:00 PM

Saturdays 8:00 PM

Sundays 7:00 AM

Sundays 8:00 AM

Sundays 4:00 PM
When posting for Saturdays, consider what type of content people might enjoy when they're getting ready to go out with friends.
How To Tailor Posting Times
For Your Time Zone
The best times to post recommendations above are written in Eastern Standard Time (Hello New York!), so how will you convert that data into a schedule that works for your audience?
First, decide who you want to target, which should be either:
The location where most of your TikTok followers live, or

Your brand's target location
If you're a U.S. brand wanting to push your products or services nationwide, consider using the best times to post recommendations above as they are written, in Eastern Time (EST), since nearly 50% (47.6%) of Americans live in the EST.
Where are most of your viewers from? Do they keep a similar schedule, but in a different time zone? Or, is it possible that cultural differences such as religious holidays, work hours, and internet accessibility influence their daily routines?
If your goal is to boost brand awareness and sales in a specific region, then adjust the best posting times above to fit the time zone that's most important to your brand.
Please keep the following in mind when converting to different time zones:
Holiday schedules will affect the best times to post.

The age of your audience may affect your best times to post. If your audience is older, for example, you may not get much engagement late into the night.
When planning your publishing schedule, keep holidays and audience location in mind, then use TikTok analytics to determine what time zones deliver the best results for your brand on TikTok.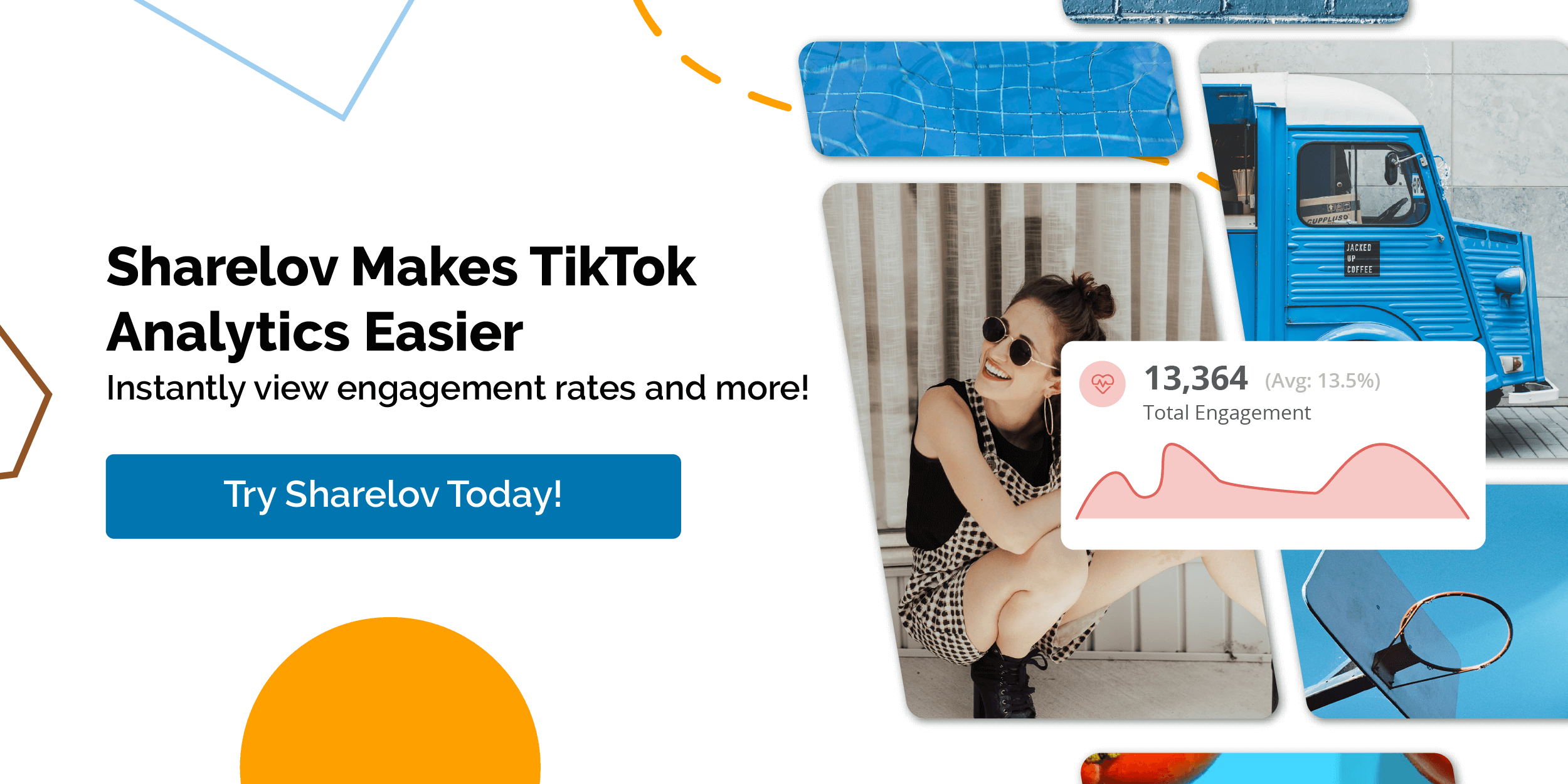 Find out more about TikTok analytics in our Marketers' Ultimate Guide To TikTok Analytics.
Converting t high-engagement time periods to relevant time zone depends on whether you want to target locations where you're most popular or locations you want to market to.
If your objective is to build a global fanbase, use TikTok analytics to determine where most of your audience resides, then set your publishing schedule to that time zone.
If your objective is to target specific areas in your country or region, convert the best posting times recommendations from Easter Time to the time zone your target audience lives in. Keep holidays and demographics in mind when planning your content!
How Often Should You Post To Tiktok?
Post to TikTok as often as you can create high-quality content. For most brands, we recommend 1 – 3 times per day.
If you're able to push out high-quality, engaging content, you may decide to go all-in and publish more frequently, but that's a bit too much for most businesses. 
On MP Social, several creators agree that publishing three times per day works very nicely, but more than that is too much work. 
For example, in a discussion about posting frequency, several users commented that posting three times a day worked well for them. 
Samsam09 added, "I would love to do more, but my wife said that if I go for a fourth she will ask for a divorce."
Focus on high-quality, engaging content that's published at peak times, and you'll do much better than the brand trying to push out high levels of content that fall short when it comes to engagement.
Tips For Producing Engaging TikTok Content
When you discover how to create engaging TikTok content for your brand, it's like discovering a gold mine! The following tips will help create content that's an excellent fit for your audience and the TikTok culture.
1. Creativity over status!
When creating content for TikTok, remember — it's not Instagram! On TikTok, creativity and innovation capture more attention than status and beauty. 
Go for content that reaches people on a more human level than most social media platforms, and find ways to lift people up through humor, dance, and other positive interactions.
2. Niche out.
Create niched content so people know what to expect from your videos. 
Rather than making videos about a random mix of topics related to your brand, choose one topic or approach — and become a master at it!
For example, Boxycharm beauty subscription box posts "how to" makeup videos for their followers.


Gymshark workout Wear shares videos that inspire people to get up and move, such as dance and fitness workouts.


Crocs footwear finds visually-fascinating ways to show off its shoes.



Rather than publishing a variety of video topics, choose a niche and build on it in a way that's creative and innovative when posting to TikTok.
3. Consider shorter videos to boost completion rates.
The shorter your video, the more likely it is that viewers will watch the entire piece. 
When viewers watch your entire video, it boosts your completion rates and improves your visibility in the For You section.
If your business is new to TikTok and you're trying to gain a base of followers, try posting videos that are 15 – 30 seconds long, instead of the 60-second maximum length. 
If you pair high quality content with shorter watch times, this may help your videos earn higher priority in TikTok's algorithm.
4. Use TikTok's special effects or create your own.
Add a personal touch with TikTok native effects such as songs, visual effects, text, or stickers! 
Or, take it a step further with an app such as Viakmaker or Zoomerang, which can provide you with fresh, creative effects.
If you really want to catch attention, take a cue from Julian Bass, and create your own effects. Julian's video went viral and caught the attention of Disney execs last year when he shared his superhero-themed video on TikTok.



Effects can help boost your video's engagement rates on TikTok, but you don't need to go overboard. Add an effect or two that makes your video "pop," and see how your audience reacts.
5. Share to other social media platforms.
After posting your videos to TikTok, increase your exposure by sharing your content to other social media platforms.
With one tap, you can share from TikTok to Snapchat, Instagram, Facebook, Twitter, and more. Just tap the "+" icon on your screen!
Viral sensation Julian Bass, mentioned above, shared his TikTok video to Twitter, where it received over 1.4 million likes, along with the attention of Disney chairman Bob Iger.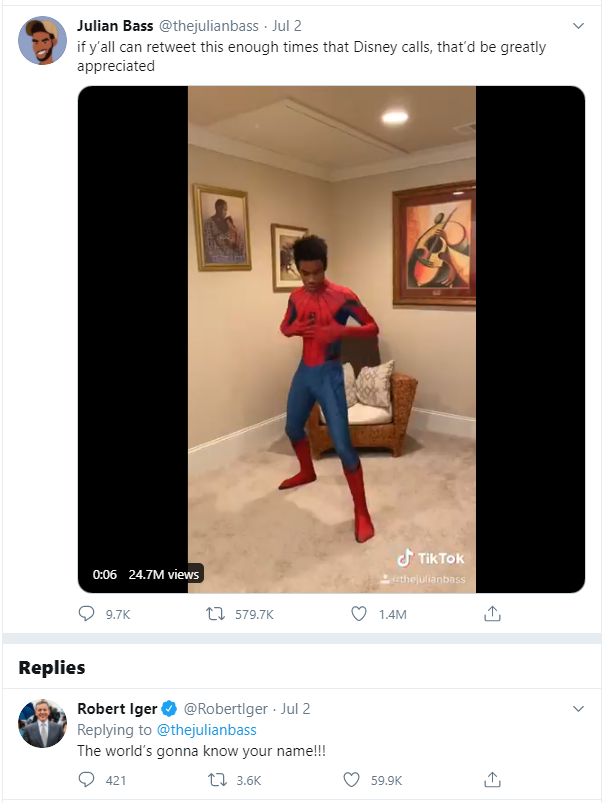 6. Join in on hashtag challenges or create your own.
Hashtag challenges aren't just for TikTok users. Businesses can participate in and launch TikTok challenges, too.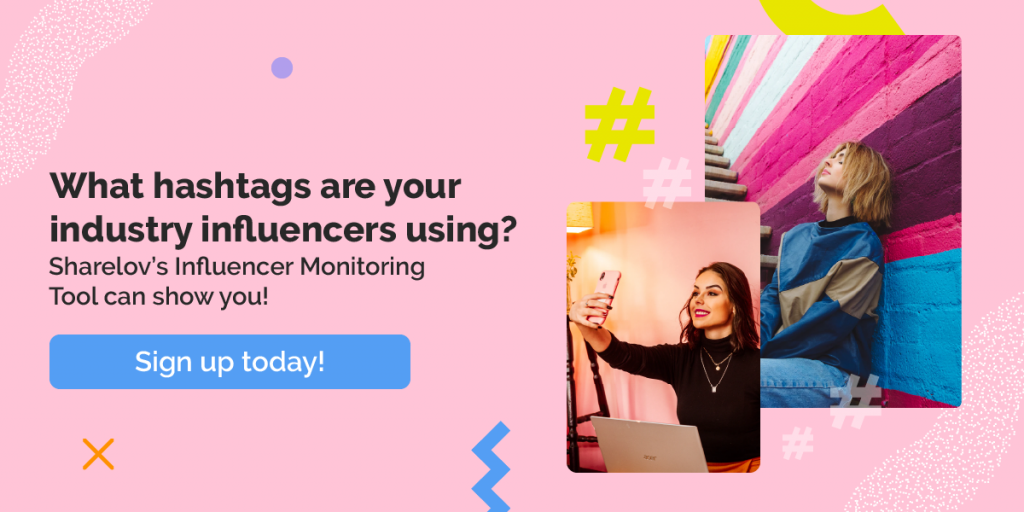 For example, The Washington Post published a #IHaveArrived challenge that garnered nearly 400,000 likes by TikTok users.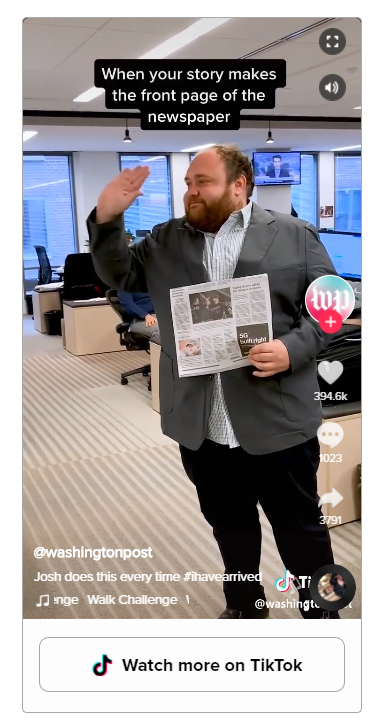 Creating hashtag challenge campaigns and joining in on other challenges is an excellent way to participate and raise brand awareness on TikTok.
7. Fit in with the crowd.
While "fit in with the crowd" sounds a little counterintuitive (that's so UNcreative, right?), you really do need to spend some time getting to know the TikTok culture before you begin creating videos for your brand.
TikTok users love humor, pranks, mischief, music, no-makeup days, and nerds.
How do you take a serious brand to TikTok and fit in with the crowd? Take a note from The Washington Post!
WP's videos bring viewers behind-the-scenes at its home and onsite offices for silly moments such as the "sorry intern olympics" and skits that poke fun at current news stories.


Instead of trying to be impressive or look glamorous, WP plays on its nerdy nature with an endearing sense of humor.
WP is an outstanding example of how businesses can find traits that make their brands human, and show them off in video content. 
"Fitting in with the crowd" doesn't mean that your brand shouldn't get super-creative and unique. Instead, it's a reminder to get to know your audience before you post because TikTok's culture is very different from that of other mainstream platforms.
When building your campaigns, consider advertising on TikTok using its new! self-service ad platform. Find out how it works and get tips for producing effective ads in our Guide To TikTok Ads.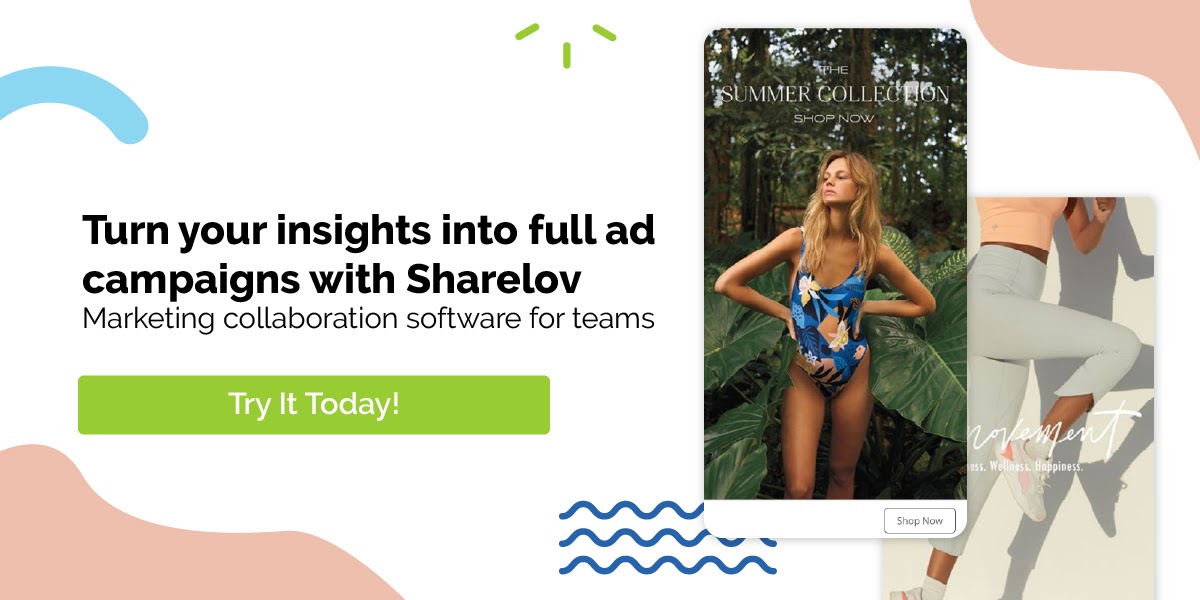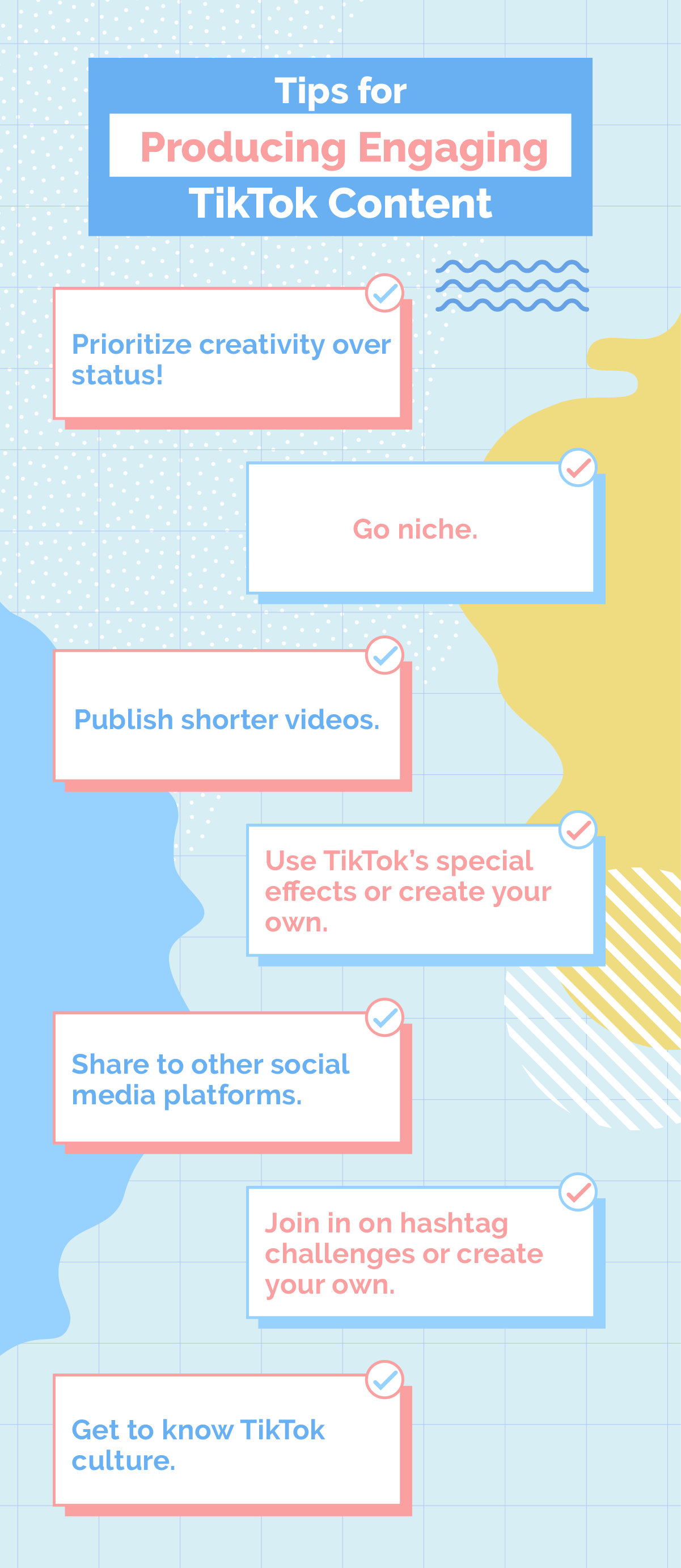 Boosting Brand Success With Strategic Posting Times
On TikTok, engagement is critical to your success. That's why posting your content at strategic times can make or break your efforts on the platform.
Create authentic, innovative content and post it during times when people are most likely to engage. You can start with the best posting times listed above, then use your brand's TikTok insights (analytics) to discover when your audience is most responsive.