Find out what TikTok is and why it matters to marketers, plus get step-by-step instructions, tips, and examples, to help you create highly-engaging content.
Now's the time to get up-to-speed on the rapidly-growing social media network, Tiktok, before your competitors beat you to it!
TikTok isn't just for teenagers and karaoke anymore.
Today's TikTok is home to more than one billion people worldwide, and Generation Z has welcomed (and even encouraged) their parents and grandparents to join them on the platform.
As the platform grows and its age group widens, all types of businesses are enjoying wild success – with many of them building massive, highly-engaged audiences in a very short time frame.
In this article, we show you how TikTok's short video format can deliver big results for brands that are willing to embrace their fun and creative sides to build an authentic connection with audiences.
Plus, we share lots of examples — so you can see how other brands are succeeding on TikTok!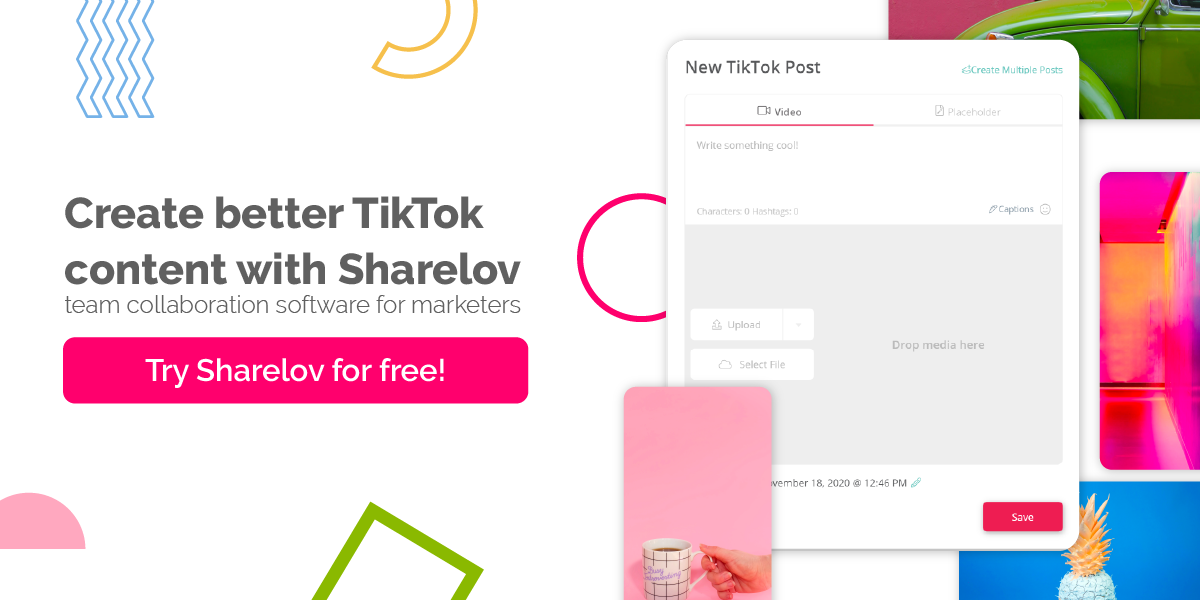 Keep reading (and be sure to bookmark this guide!) and find out everything marketers need to know to get started using TikTok.
What is TikTok?
TikTok, the social platform built on short-form mobile video sharing, is the fastest-growing social media app in history.
TikTok is a rapidly growing social media platform built on short-form mobile video sharing.
Its mission to "inspire creativity and bring joy" motivates users to share content that sparks laughter, creativity, and ideas.
TikTokkers gravitate toward videos that make them laugh, sing, dance, and create.
Just two years ago, TikTok was mostly a platform for Generation Z that served up lip-syncing and dance videos.
Today, people of all generations flock to the social media channel to watch short videos that entertain in countless ways, such as:
Dancing
Challenges
Tips & Lifehacks
Pets. Lots of cute pets.
Cooking
Makeovers
Pranks
Music and dance are still popular TikTok themes and are at the heart of most TikTok challenges.



However, in 2022, users enjoy a wider variety of themes than ever before, including entertainment, pets, sports, gaming, pop culture, fashion & beauty, cooking, and fitness.



Source: rachaelray winstonthegoldenboy, txshay
From farmers to military personnel and celebrity dancers, everyone seems to love "spreading the joy" with their own version of TikTok videos.



Source: TikTok
The best type of videos brands can post on the platform is creative, unique, and entertaining content that reflect current trends.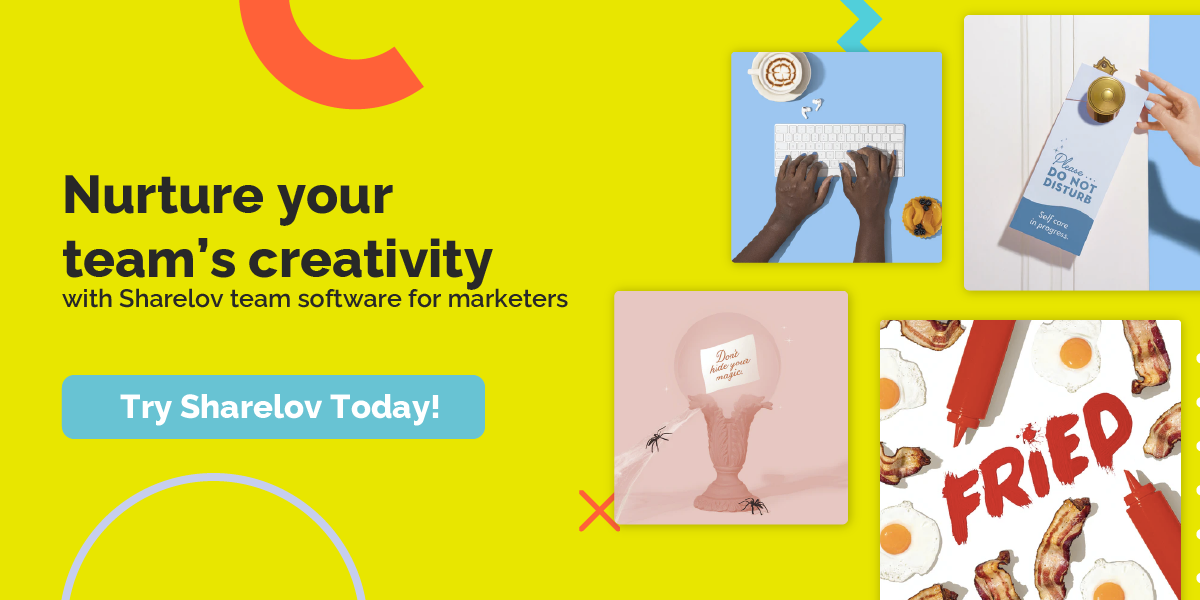 How TikTok Works
TikTok users record 15- to 60-second repetitive-loop vertical videos, often adding fun effects such as AR filters, text overlays, and music before sharing with other users.
Like other social platforms, users can like and comment on content, however, comments don't show up unless a viewer clicks to see them.
TikTok's hidden-comments format allows users a safer type of newsfeed — free from haters, trolls, and the politically determined. This approach helps viewers enjoy content without negativity.
How Challenges Engage Users
Challenges are an inspiration for some of the best content on TikTok.For example, one popular challenge, called #FlipTheSwitch, shows couples trading outfits halfway through the video (when the light flips off and back on).


Source: kanebrown
As it always has, TikTok offers an escape for people looking to take a break from serious news and emotionally-driven headlines. It provides a way for people to join together in something more lighthearted, for the sake of — fun.
Given the explosive growth of TikTok, it seems that fun-filled, joy-provoking, creative short-form videos are exactly what people want.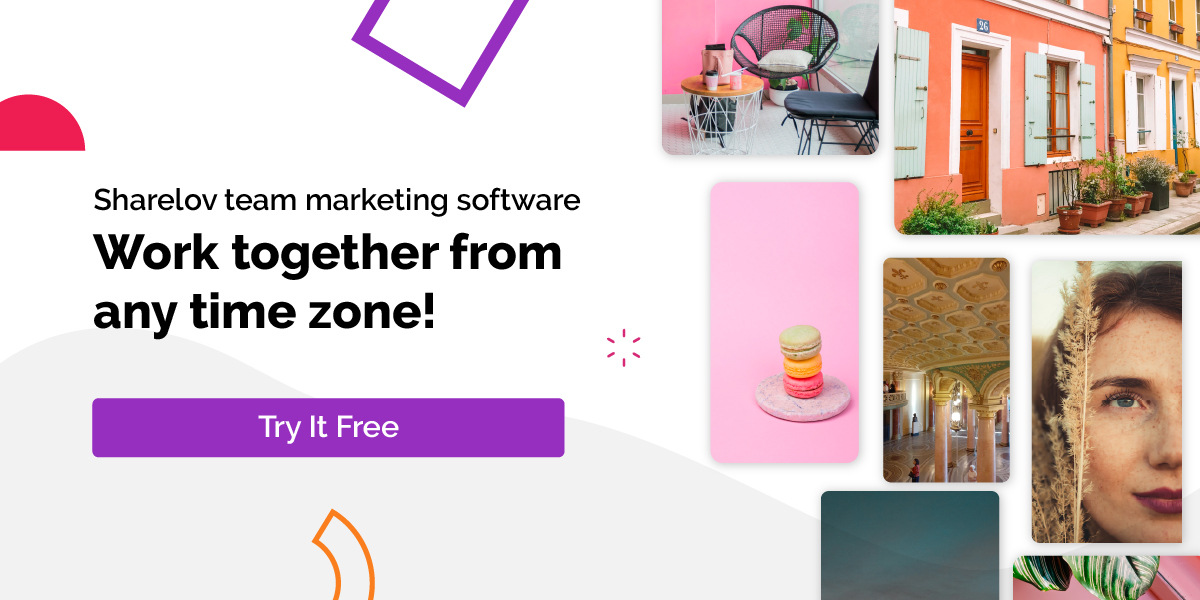 Why Does TikTok Matter to Marketers?
TikTok is an excellent way for brands to develop a human bond with potential and current customers.
It also provides an outstanding opportunity to expand your brand's reach since it's one of the rare platforms in which it's still possible to "go viral" overnight.
Last year (as of Q3), TikTok and YouTube were the only apps to reach 10 million downloads on the U.S. App Store, and TikTok led the way as the #1 most-downloaded app with an estimated 14 million downloads.
To date, the TikTok app has been downloaded more than two and a half billion times.
With its reputation and massive audience now permanently cemented in daily routines, TikTok is no longer a back-burner option for social media marketers.
Today, TikTok is THE social media channel for forward-thinking brands wanting to connect with large audiences on a personal level.
Marketers that want their brands to connect with audiences on a human level should take advantage of TikTok while it's still young enough to provide impressive opportunities for businesses of any size!
Who's On TikTok?
Only a few years ago TikTok was an up-and-coming social media platform driven by Generation Z. Brand presence was existent, but mostly limited to businesses with a Gen Z vibe and young target audiences.
Since then, the platform dedicated to making your day has won its way into the hearts of older generations as well.
Today, TikTok is home to users of all ages and a countless number of businesses that promote their brands on the platform.
How Many People Use TikTok?
In the United States, TikTok hosts more than 138 million active users in the United States and lists 1,600 U.S. job openings, many of which pay very well.
Worldwide, TikTok has more than one billion active monthly users, and its rapid growth has given Instagram some serious competition and sparked several copycat features to emerge on the IG platform.
How Old Are TikTok Users?
The close relationship between Generation Z and their grandparents played a significant role in expanding the age gap on TikTok, especially during 2020.
As the platform grew, teens and twenty-somethings found entertaining ways to incorporate grandparents, and even parents, into their videos.
For example, Grandad Joe says he has "no idea" why 1.8 million users follow him, but he makes the videos because they are a way to experience "tremendous fun" with his 15-year-old granddaughter.


Source: @grandadjoe1933
The latest TikTok demographics don't cover the majority of 2020, when people of all ages began flocking to the platform.
However, the latest figures published in June 2020, show some generational growth over previous years,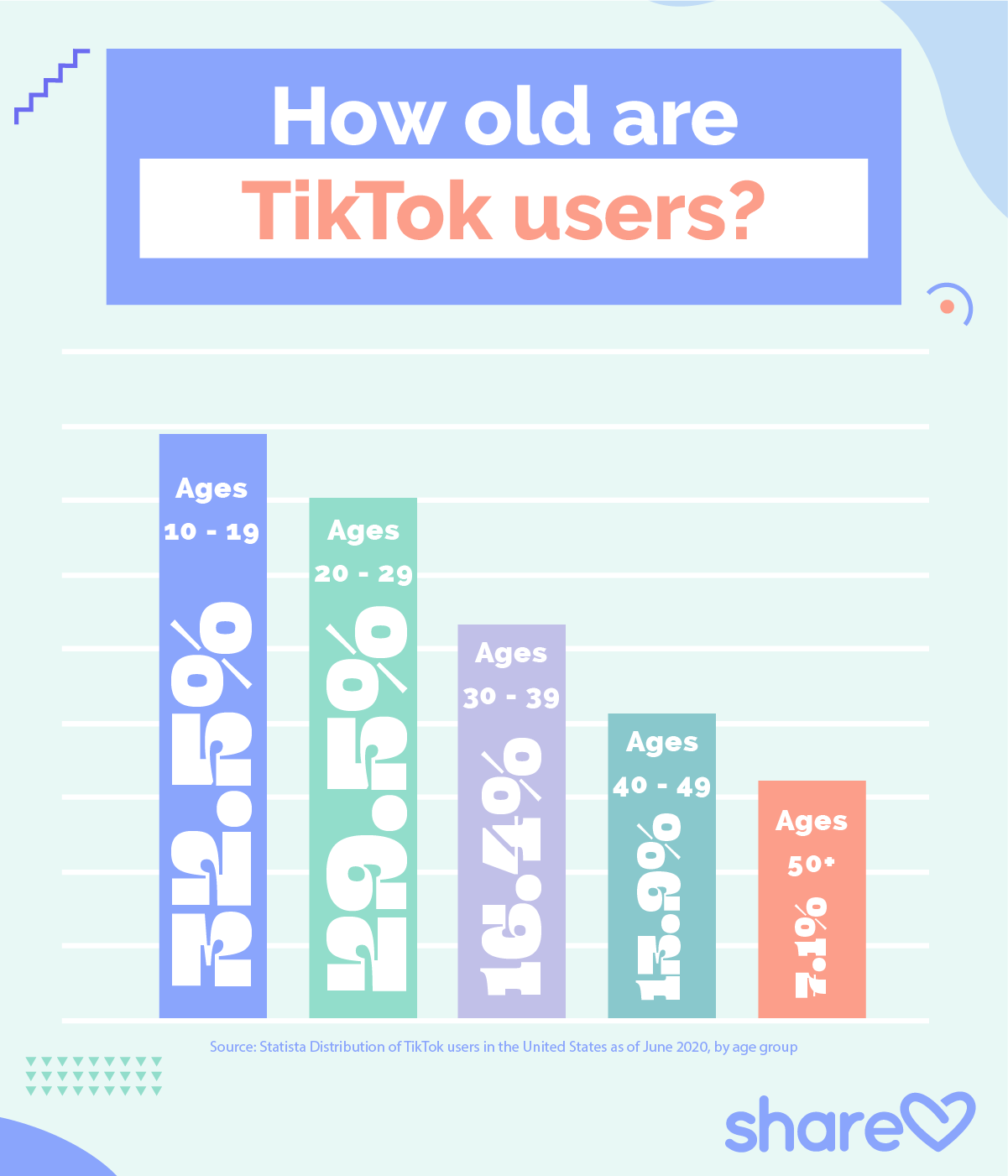 According to the latest report (June 2020) by Statista, at midway through the year, U.S. TikTok was comprised of:
Ages 10 – 19: 32.5%
Ages 20 – 29: 29.5%
Ages 30 – 39: 16.4%
Ages 40 – 49: 13.9%
Ages 50+: 7.1%
As TikTok grows into a multi-generational social media channel, it still manages to keep its youthful atmosphere with the latest music and trends.
This is excellent news for marketers wanting to promote to more than one age group or target older but "in touch" audiences.
Think of TikTok as a world created and dominated by Gen Z that welcomes people of all ages to join them at their level of creativity and joy.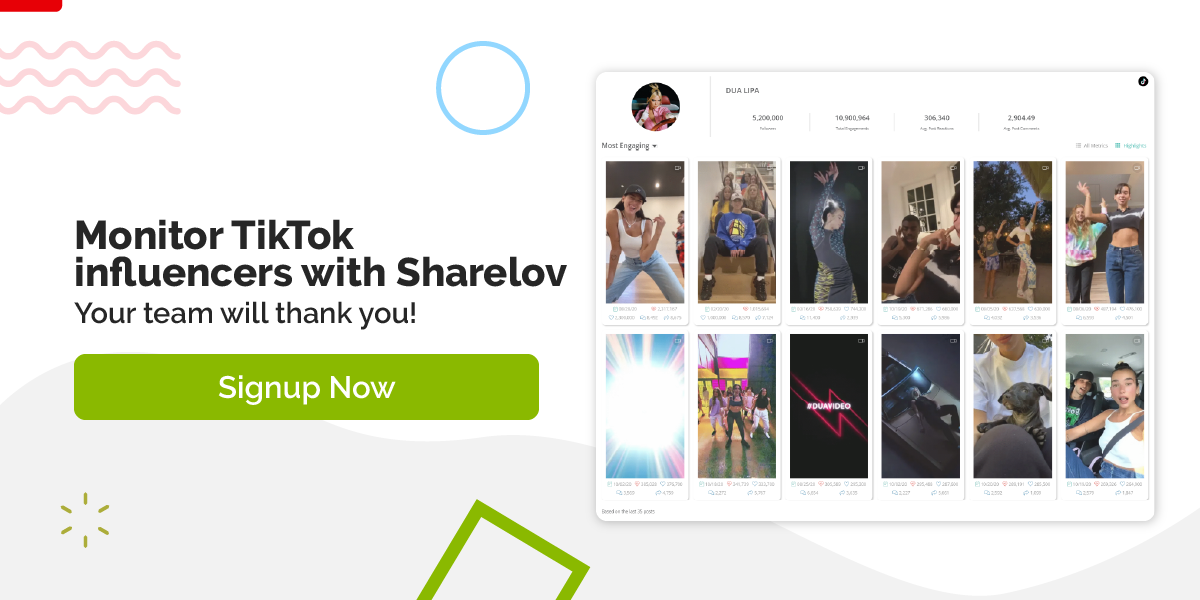 Top Brands And Marketing Campaigns On TikTok
Every day, more brands flock to TikTok to establish a presence.
Below are some of the companies making waves for their success and creativity on the platform.
Engagement Lessons From Cheetos
Cheetos generated more than one and 1.5 million engagements, including 15,000 comments, with its smartly-devised Can't Touch This campaign to promote its then-new popcorn.
Its Can't Touch This strategy kicked off with a Super Bowl spot that played on the orange residue left on your fingers after eating cheetos.
The creative twist was actors showing how eating Cheetos could get you out of doing any type of work, since Cheetos dust can transfer to anything you touch.
While the campaign started with a brilliant idea and massive visibility, the marketers didn't stop there.
To reach the younger generation, it headed over to TikTok.
In the first-ever branded TikTok effect, users were able to add Cheetos dust to their fingers, and encouraged users to create videos showing them getting out of everyday tasks (like the superbowl ad).
In one week, Cheetos #CantTouchThis TikTok challenge generated more than 119 million impressions, 60,000 user-generated videos, and 1.5 million engagements.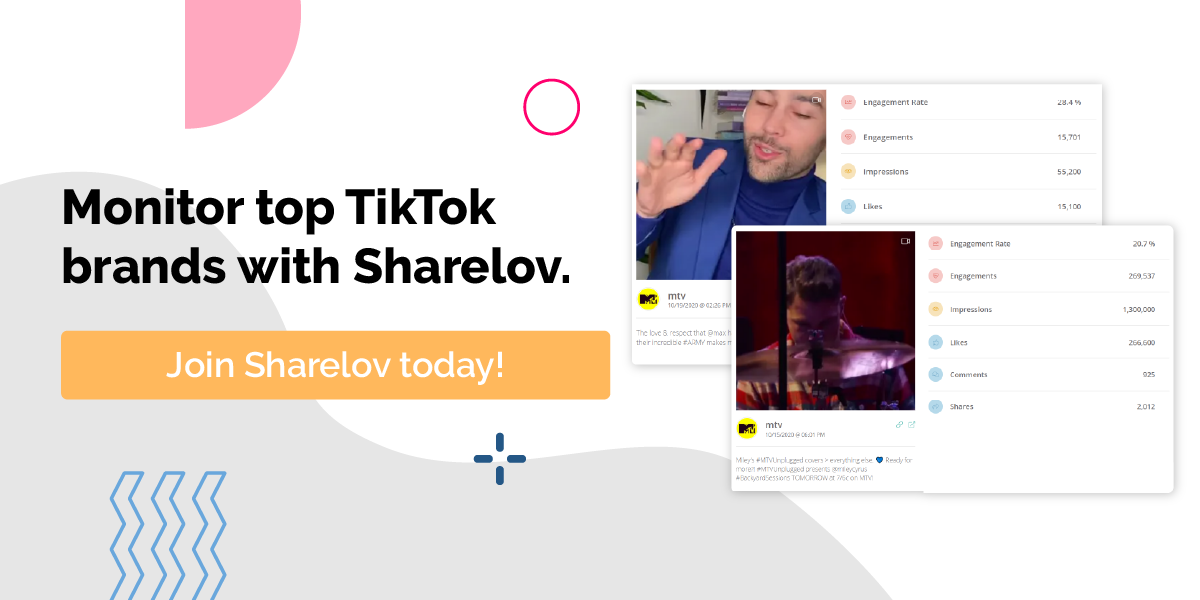 Creative Inspiration From Little Caesars
After announcing its new delivery service in a tv ad during a championship game, Little Caesars asked TikTok influencers to lip-sync its "Little Ceasar's delivery – that's, like, the best thing since sliced bread!" ad.
The campaign generated 1,138 new videos in seven days, resulting in more than seven billion views.
Organic Engagement Examples From Seeker
With roughly 500,000 TikTok followers, U.S. media network and S.T.E.M. content producer Seeker generated more than 4 million engagements and 10.7 million likes on TikTok since launching its account in 2019.


According to a report by eConsultancy, Shorty-award winner Seeker built its highly-engaged audience with a Gen-Z focus on environmentalism.
The company mixes scientific facts and myth busters with humor, compelling visuals, and engaging soundtracks. It consistently engages Gen Z by delivering content that's perfectly tailored to its audience.
User-Generated
Content Examples From Chipotle
Chipotle Mexican Grill, the first major restaurant chain to embrace TikTok, does an impressive job inspiring users to create content for them.
For example, its #GuacDance campaign generated more than 250,000 customer videos during a 6-day TikTok campaign that coincided with National Avocado Day.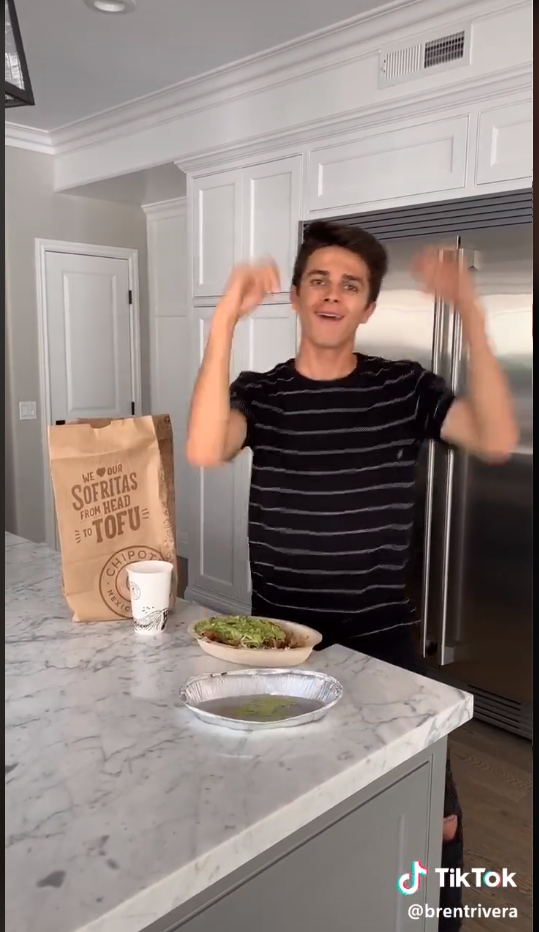 Chipotle's frequent hashtag challenges keep users involved and help to develop a cult-like following with a loyal user base.
For example, its #Boorito hashtag challenge asks fans to show off their past Halloween looks compared to the current one.
To compete for a chance to win free Chipotle for a year, users were asked to share the hashtags #Boorito and #contest, and to use the Monster Mash soundtrack.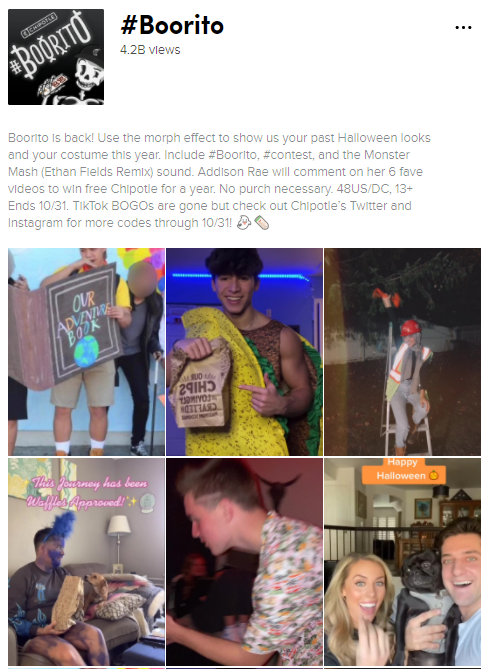 Chipotle's many successful TikTok campaigns provide inspiration for other brands looking to create highly-engaged followings on the platform.
According to the brand's VP of Digital & Off-premises in an interview with QSR Magazine, one of the secrets to Chiptole's social media success is to act as if your brand is a person.
"Bringing through our human side as a brand works really well for us; you don't want to show up and feel like an advertiser,"." – Tressie Lieberman, Chipotle VP
Lieberman also reinforces the same message shared by many top TikTok brands, which is to create content specifically for TikTok's unique audience and avoid sharing from Instagram.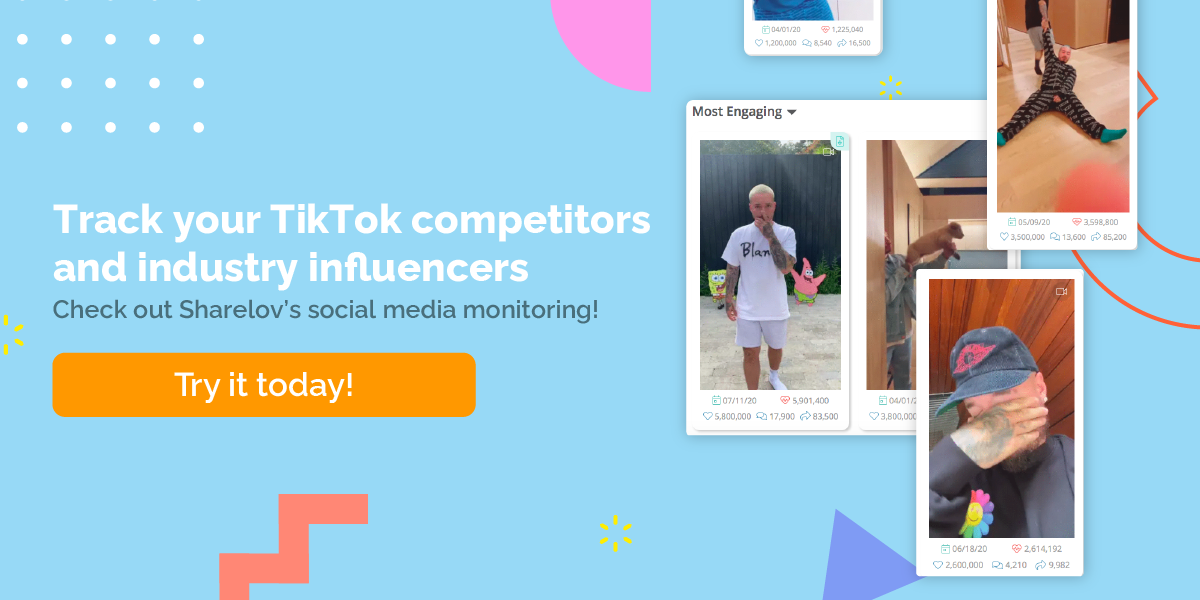 Most-Followed Brands On TikTok
Three of the most-followed brands on TikTok (not including TikTok itself), according to a report by Contentworks, are:
Flighthouse
NBA
Nickelodeon
Each of the brands has amassed huge audiences without sacrificing the personal connection it takes to generate high levels of engagement.
With more than 27.5 million followers and 2.3 billion likes, media & entertainment company Flighthouse leads the way as one of the most-followed brands on TikTok.
Flighthouse media company built its audience through partnerships with influencers.
According to Contentworks, the brand chose to work specifically with native TikTok influencers who were already doing well on the platform, instead of using celebrities or borrowing influencers from Instagram.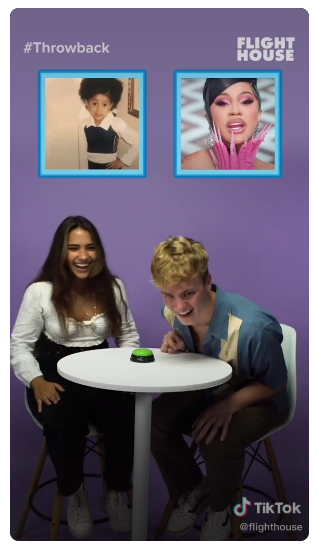 The NBA, with 12.4 million followers and 283 million likes, uses TikTok to show off its fun-loving side to appeal to a younger audience.
In addition to game clips and interviews, the brand participates in hashtag challenges, shares some of its lighter moments, and adds trending music to its videos.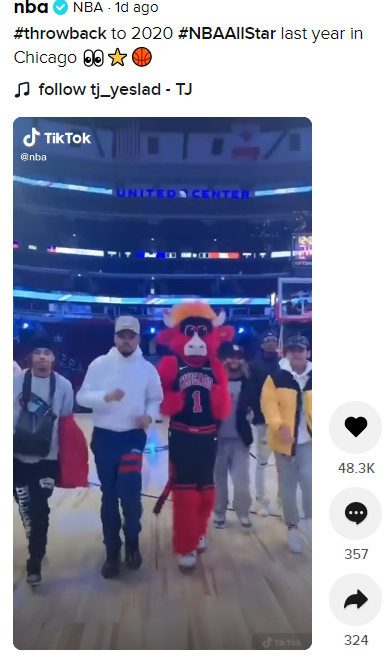 Nickelodeon, with more than 10 million TikTok followers, shares clips, blurbs, and influencer-driven content.
The channel does an amazing job targeting its key audience (children, teens, & parents) by delivering consistent, trending entertainment alongside socially-conscious content that resonates with younger generations.


While more followers doesn't always equal more engagement, these three brands prove that businesses with huge followings can successfully engage and entertain large audiences.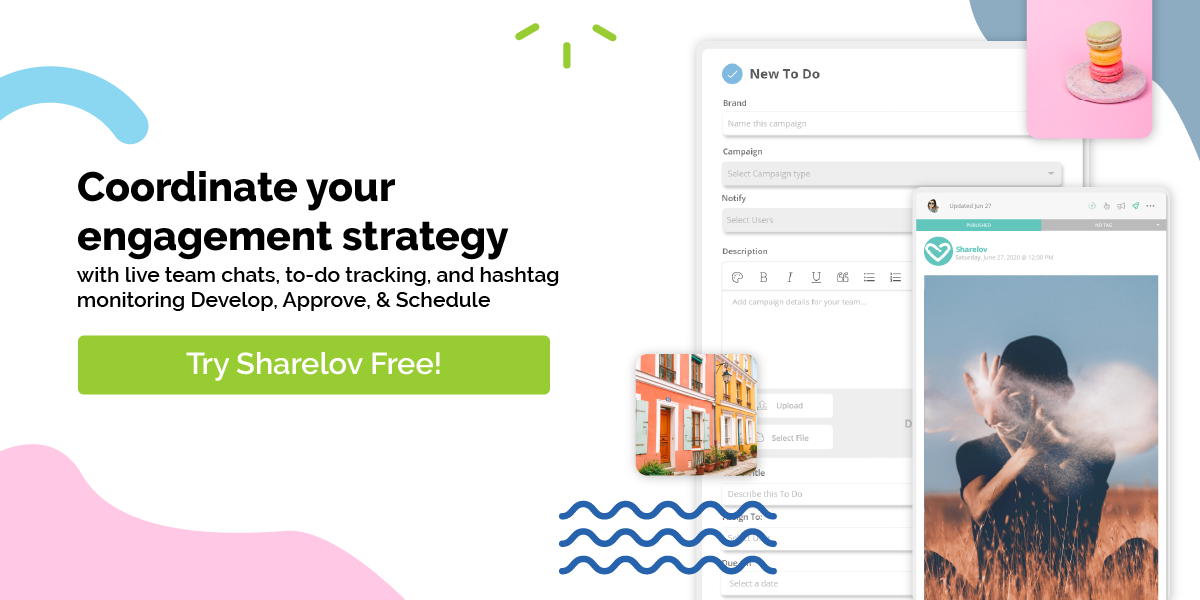 Most Popular Content On TikTok
According to a report by Statista, Entertainment is the top category on TikTok, based on hashtag views.
The top four categories on TikTok are:
Entertainment: 443.3 billion hashtag views
Dance: 150.3 billion hashtag views
Pranks: 54 billion hashtag views
Fitness/Sports: 43.3 billion hashtag views
Other top categories include home DIY, Beauty/Skin Care, Fashion, Recipes & Cooking, Life Hacks, and Pets.
Top brands on TikTok provide a wealth of inspiration and ideas for marketers looking to get a feel for the TikTok platform.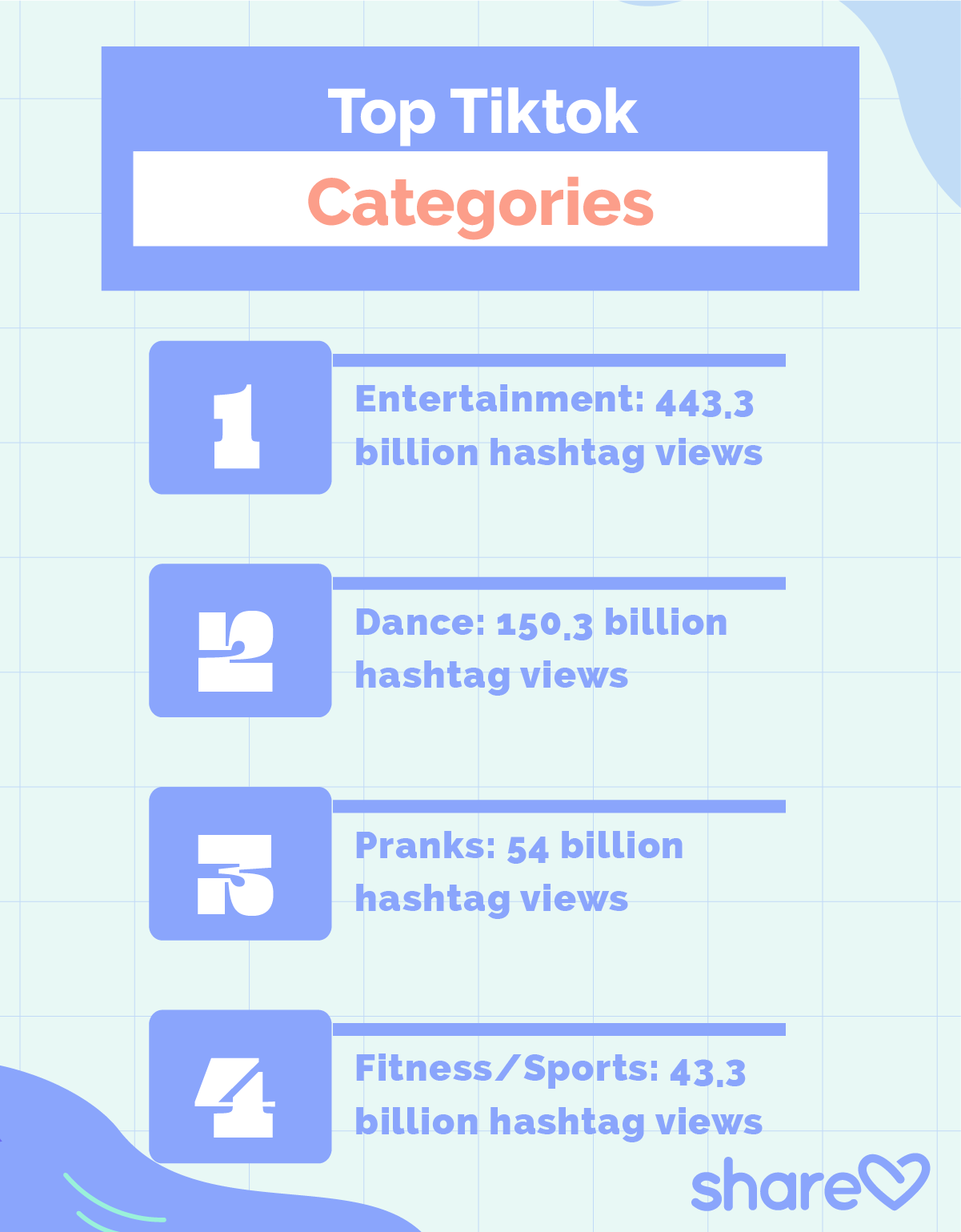 Follow your favorite brands and influencers to keep up with the latest trends, challenges, and music on TikTok!
How is TikTok Different
Several unique features separate TikTok from other major social media platforms such as Facebook, Instagram, and Twitter.
TikTok's AI-driven newsfeed serves up content based on your viewing behavior.
Unlike Instagram, Facebook, and Twitter, TikTok is owned by an artificial intelligence company and not a social media network.
Parent company ByteDance media was founded by AI savant Zhang Yiming, known for his extraordinary ability to build addictive, AI-drive platforms.
Tik Tok's algorithms build a viewing feed based on each user's behavior.
TikTok thrives on content-based interaction.
Most social media channels are fueled by engagement with friends and followers, and that's where TikTok differs.
The app's AI-driven algorithm produces interaction based on content, an objective many other social channels struggle to achieve.
TikTok avoids politics. Sort of.
Political ads are banned on TikTok.
According to TikTok's Global Business Solutions VP, Blake Chandlee, "Any paid ads that come into the community need to fit the standards for our platform, and the nature of paid political ads is not something we believe fits the TikTok  platform experience."
TikTok's initial success was built on manufactured content and advertising.
Unlike Twitter and Facebook whose success grew organically, TikTok's early success was a result of marketing and self-manufactured content.
From publishing its own trending memes to hiring social media celebrities to create content and investing $3 million dollars a day on ads, the company's marketing strategy drove much of its early platform.
TikTok makes it easier for people to create content.
The app provides a never-ending supply of user-friendly tools that allow people to easily create entertaining videos. Some of its most popular features include:
Gesture filters
Virtual reality-type filters
Overlays
Professional music
Speed control
For many, TikTok's unique features provide the type of fun and engaging experience that people need in today's stressful world.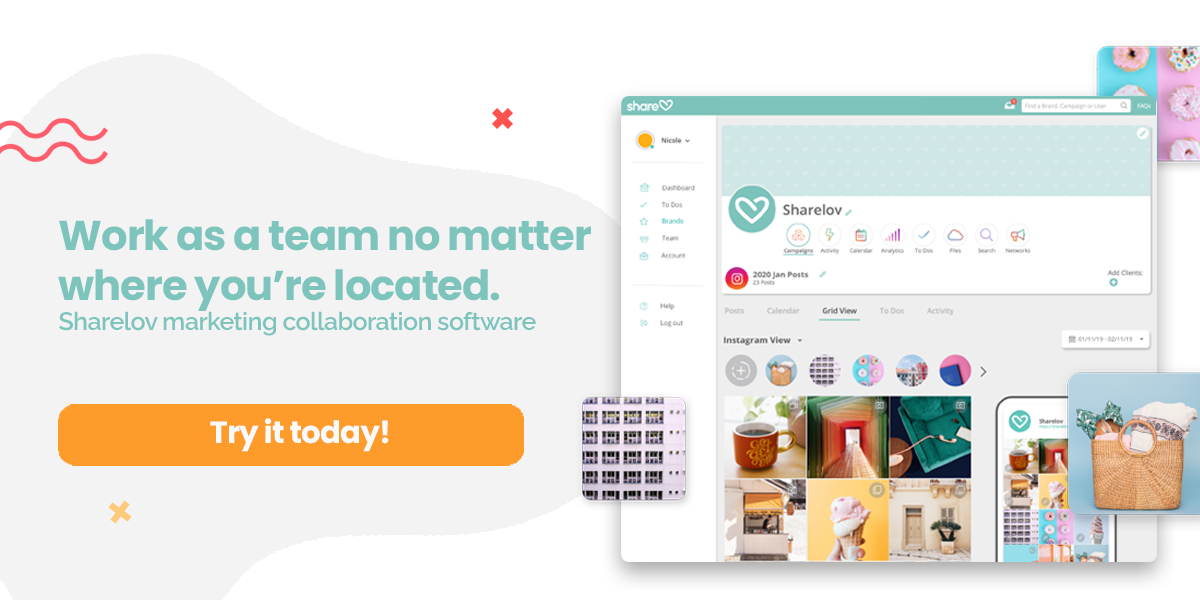 TikTok Features For Brands
Only a few years ago, TikTok was a rapidly-growing new platform designed for users but not yet prepared to accommodate brand marketing, especially in the U.S. 
Today, Tiktok gives social giants Facebook and Instagram some serious competition, thanks to its evolving updates and features, ease of advertising, and a full scope of analytics to help you measure progress.
In the next year, we hope to see more tools and features for TikTok shoppers, such as shareable product links, catalogs, and livestream shopping.
TikTok Business
TikTok Business allows brands to place self-serve ads on the platform — which is a stark contrast to the way ads were managed in earlier years when inquiries were made by email and often resulted in no response!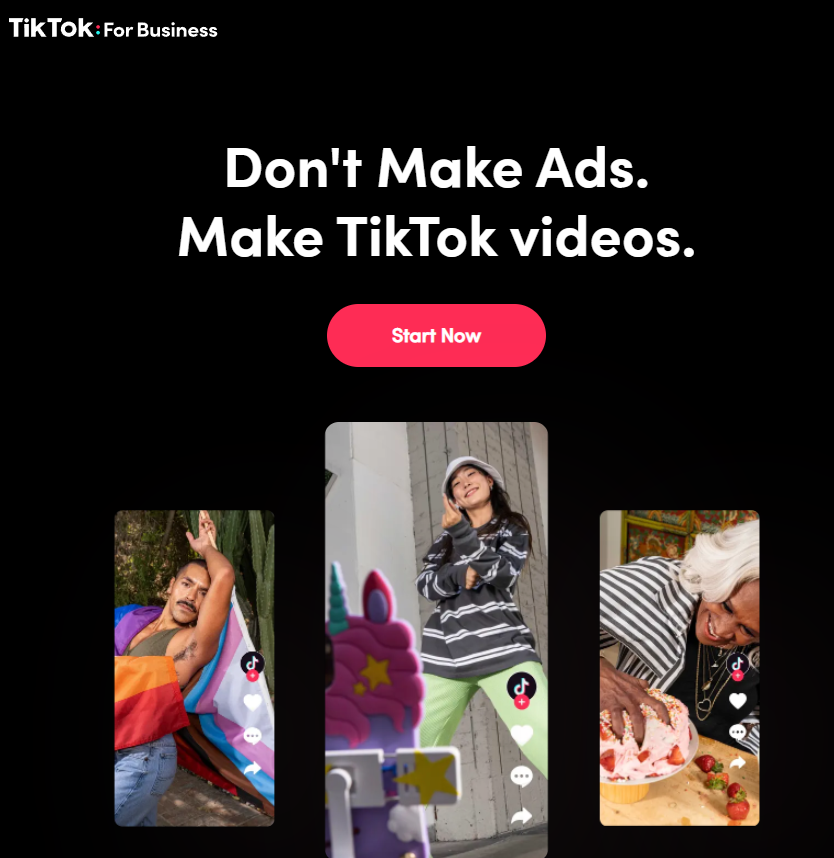 TikTok Business's self-serve ad platform provides targeted advertising with interactive options that inspire creativity and engagement.
To learn more about advertising on TikTok, check out the Guide To TikTok Advertising, which includes step-by-step directions for placing your first ad.
TikTok Pro
TikTok Pro provides comprehensive analytics related to your content.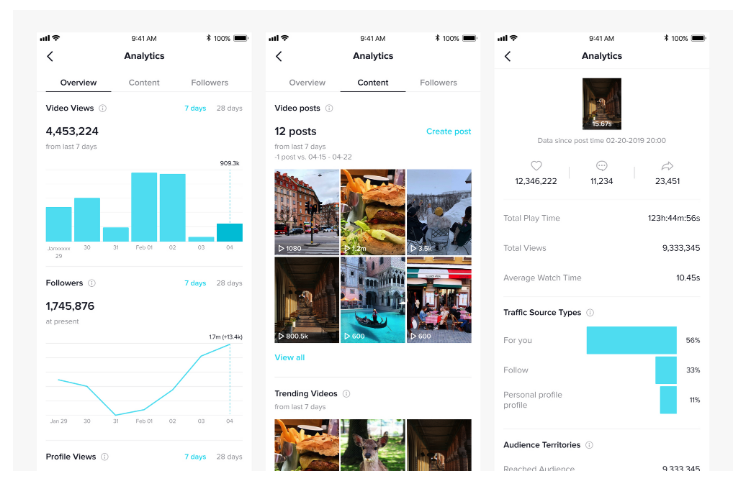 You can set up a Pro account for free in just a few minutes. We've got step-by-step instructions for you in the Ultimate Guide to TikTok Analytics for Brands 2021.
TikTok Shopping
The branded hashtag challenge plus is a paid hashtag that brands use to create their own challenges. It comes with its own landing page and in-app shopping that allows viewers to make a purchase without leaving TikTok.
Additionally, TikTok is working to expand its ecommerce options.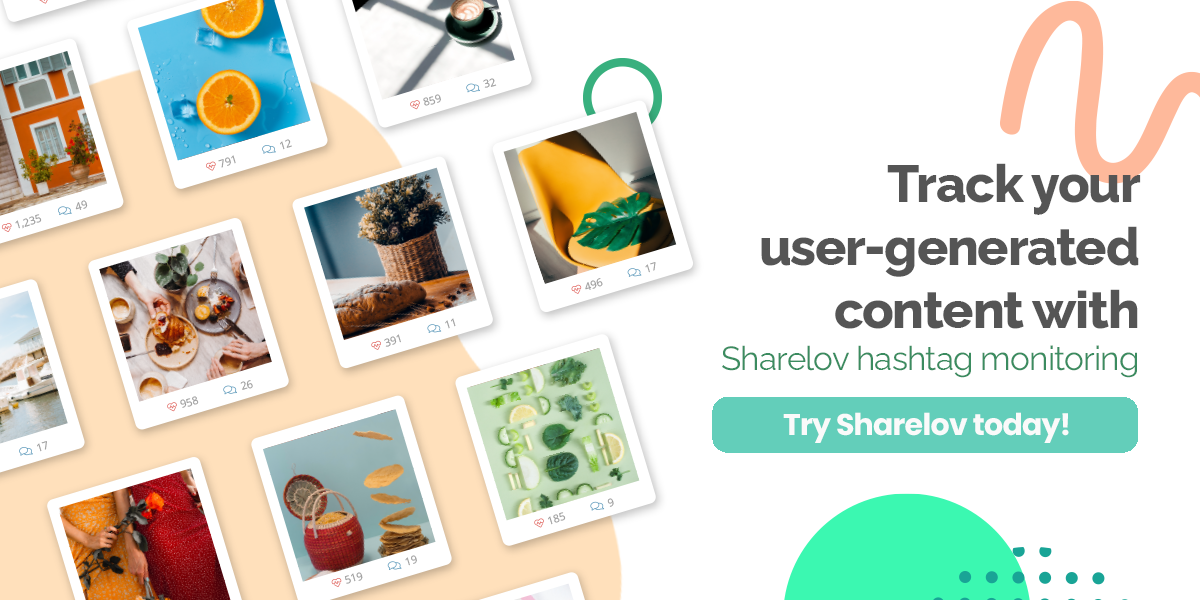 Its global partnership with Shopify "will help more than a million merchants create and run campaigns directly geared toward TikTok's highly engaged community," according to a report by Social Media Today.
Its partnership with Walmart resulted in a "Spring Shop-Along" live shopping event that allows viewers to order skincare products directly on the platform.
Livestream shopping, product catalogs, and commissioned share links are rumored to be on the way.
The good news is that, thanks to the link in bio feature released last year, marketers and brands can monetize their TikTok accounts. Continue reading in the next section to learn how!
Link In Bio
TikTok's Link In Bio feature (now working on both Android AND IOS) is a welcome relief to brands and marketers seeking higher conversions and ROI from the platform.
What Is Link In Bio?
If you're familiar with Instagram, you know that adding a link to your Instagram profile means you can send viewers to your website, another social media website, or even your Amazon page.
TikTok's bio link is similar. It's a clickable link that's displayed at the bottom of your profile, before your content feed.
Why Link In Bio Matters
Adding a clickable link to your TikTok bio means you can send viewers directly to your website, landing page, or eCommerce page.
With the profile link in place, you can use TikTok as a way to drive traffic, conversions, and sales to your site.
The clickable link means you'll be able to do more than build a community on TikTok. Now, you can also use TikTok as a tool to help you meet your marketing and sales objectives.
A link in the profile pages means you can use the platform in the same way you use many other social media channels; to increase sales and conversions while boosting your ROI.
How To Get Started On TikTok
Unlike many other social media platforms, TikTok only allows its users to publish videos — so you can't publish images or memes unless you put them into video format.
The good news is that its user interface provides so many creative options that you won't miss still photos.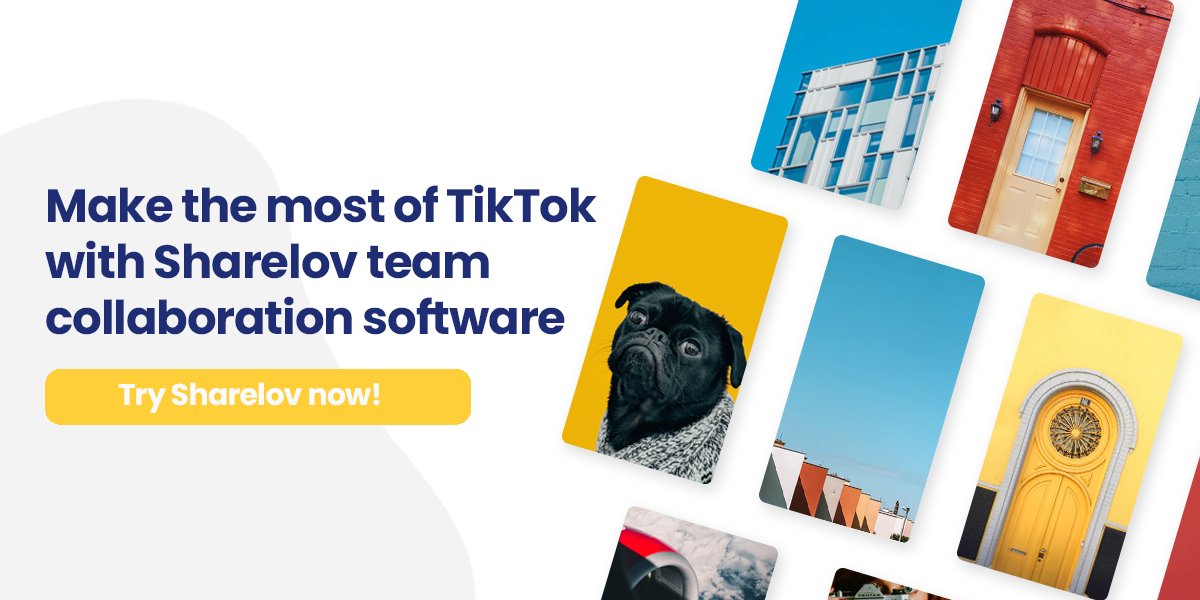 Posting videos, even when you include effects, music, and images, is so quick and simple that it's easy to understand how TikTok became popular so quickly!
How to Create a TikTok Video
First, film your video:
1. Tap the "+" icon in TikTok (usually at the bottom center of app).
2. Tap the large red button to begin filming.
3. Tap the red checkmark to end your recording.
Next, add special effects:
4. Add a song: tap the sounds icon to add a song, then select a song from the TikTok library of free songs. Then, tap the scissors icon just above the song selections and drag to select your song's starting point. 
5. Add effects: tap the effects icon, then select by tapping and holding your choice. You can release the hold and switch to different effects throughout your video.

6. Add text: tap the text icon, then write your message. Next, choose a font type and color.
7. Add stickers: tap the stickers icon, then scroll through to tap and select your animated sticker.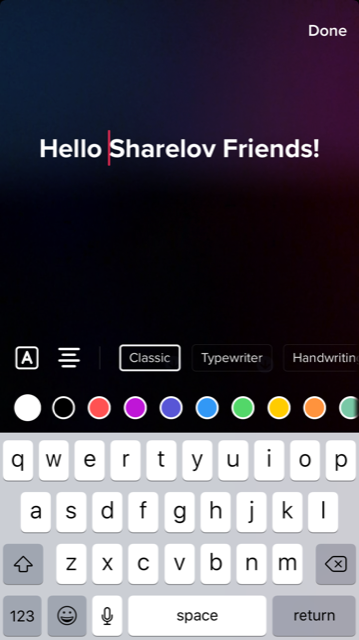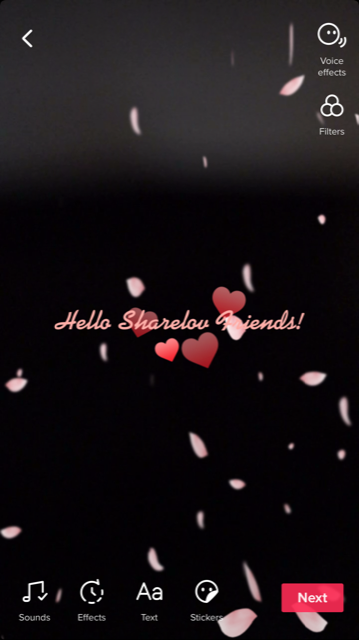 8. Add filter: tap the filter icon (located on the right side for IOS) to select your filter.
9. Add sound effects: if you want to add sound effects such as chipmunk, echo, helium, and more, tap the sound effect icon located near the filter icon.
10. Complete your special effects: when you're finished adding all your creative elements tap "next" to access your post options.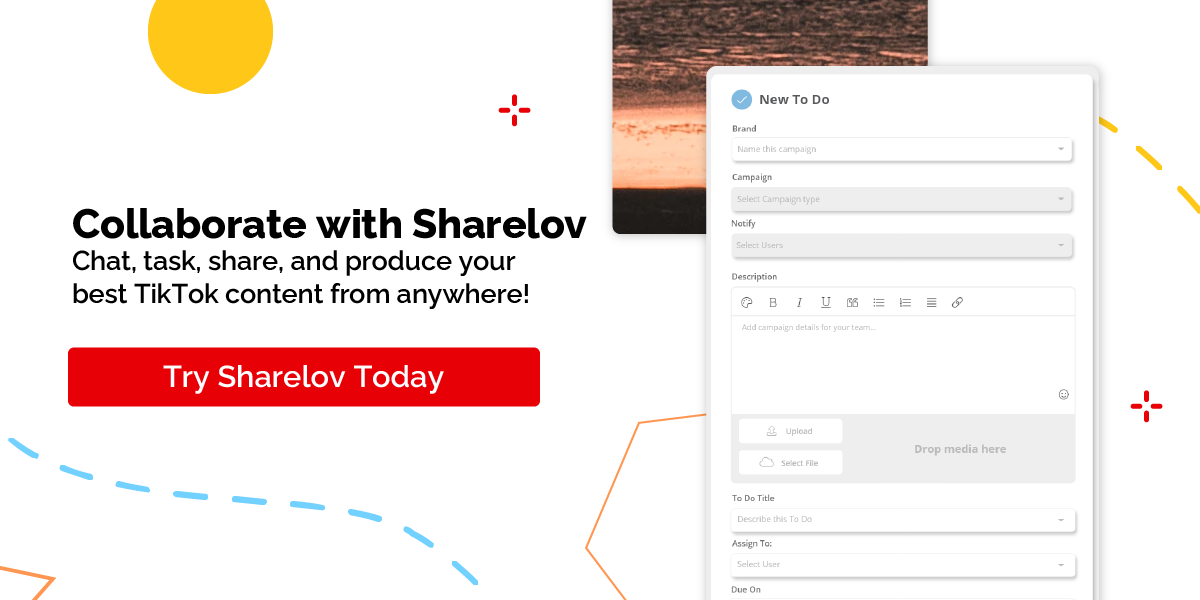 11. Lastly, choose your settings and publish your video: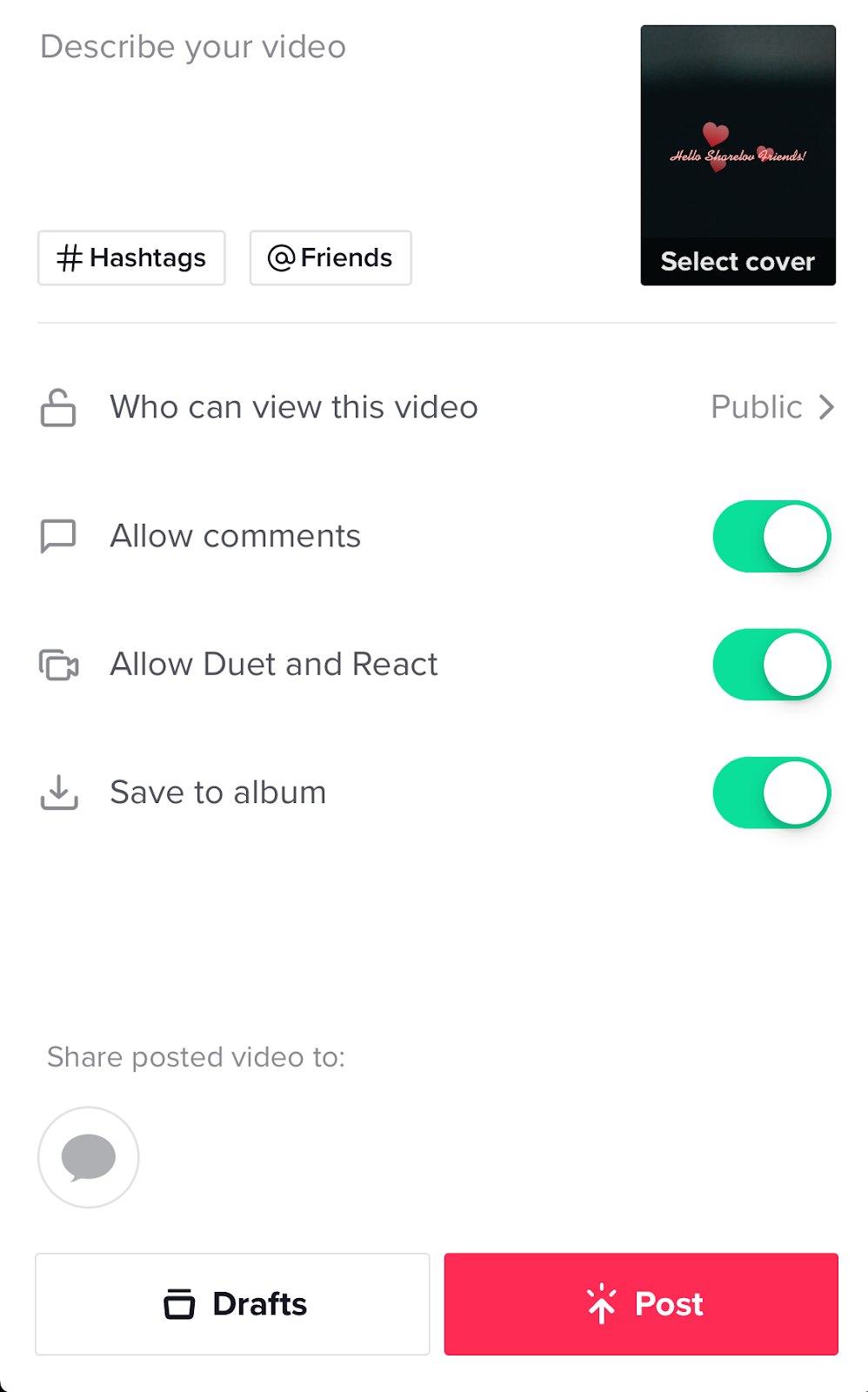 Add a description.

Add #hashtags or mentions by tapping the labeled icons.

Select your cover.

Choose your privacy settings. Choose from public, private, or friends.

Allow comments? 

Allow duet and react?

Save to album?

Tap the red "Post" button to publish your video.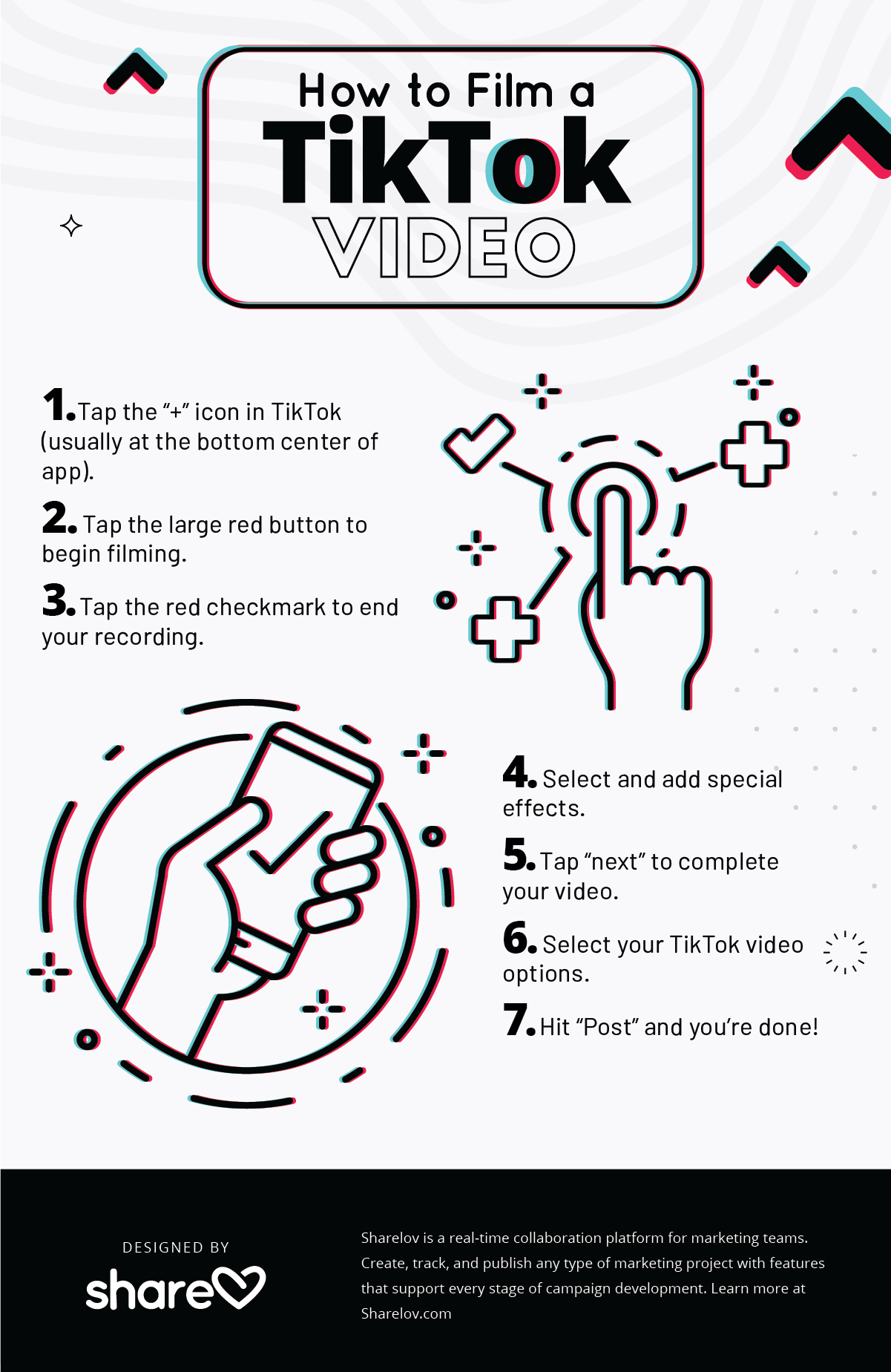 How to Upload and Add Music to Existing Videos
If you've already filmed your video, you can upload it to TikTok from your phone's library with the steps below.
To get started, tap the "+" icon that allows you to create a video, then:
1. Tap "Upload" button
2. Tap "Add Sound" icon
3. Tap "My Sound" in the upper right corner 
4. Select a song from your library by tapping on it
5. Tap "Record" and film your video
6. Tap the ✔ red checkmark ✔ in the lower right corner when you're done filming.
Remove Background Noise
Does your air conditioner make humming noises? Did your dog bark during the video? Does traffic outside interfere with your song quality? 
Remove background noise from your video with the following steps:
7. Tap the mixer icon in upper right corner
8. Lower the original sound to remove background noise (optional)
9. Adjust the soundtrack volume if needed.
Choose Your Song's Start Point
10. Tap on "Trim" icon in the upper right corner
11. Drag the blue slider to select your ideal start point for the song
12. Tap the red checkmark in the lower right corner to finish.
TikTok Content Ideas for Brands
Wondering how to get your brand started on TikTok? Whether you want to add followers, create viral content, or boost your ROI, these content ideas will set you on the right track.
Here are eight ideas for winning social media content you can use to connect with TikTokkers.
1. Participate in a TikTok Challenge
Challenges are a popular activity on TikTok, and they provide an excellent way for brands to participate!
The #RaindropChallenge has more than one billion views..
Mac Cosmetics #YouOwnIt challenges has nearly three billion views..
The #InMyFeelings challenge generated more than 5 million videos and over 603 million views. On Instagram, the same challenge generated only 1.7 million videos.
Check out 2021's current trends and challenges to help your TikTok content go viral in the guide to viral TikTok content here: 95 Tips to Help Your Brand Go Viral On TikTok.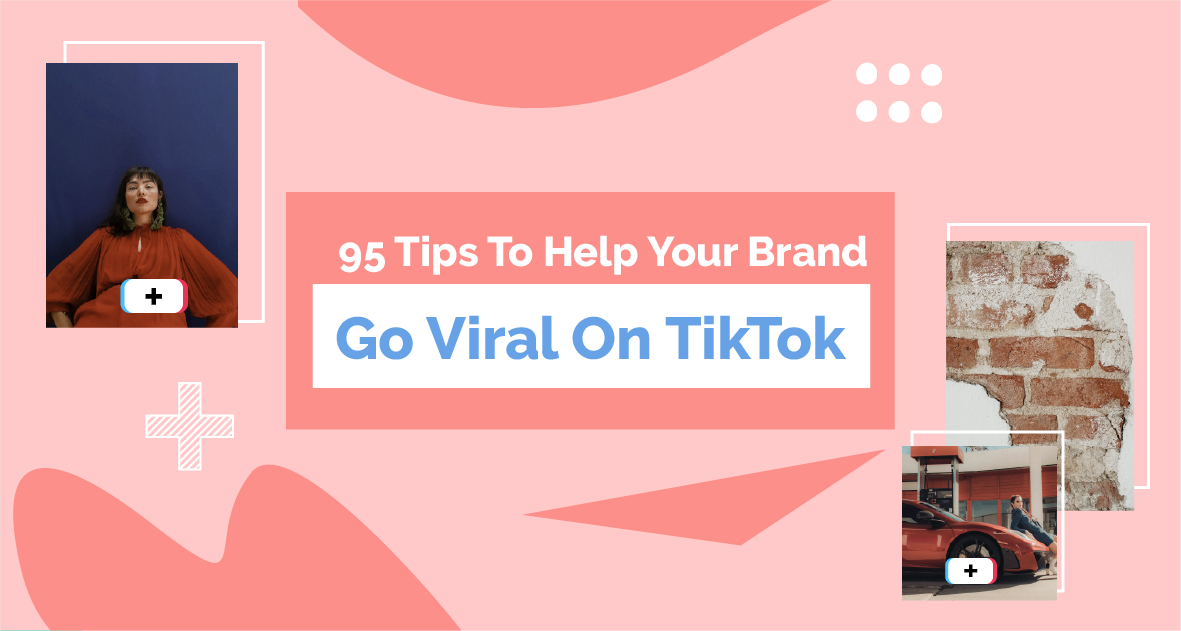 Let your employees participate in TikTok challenges while wearing your company uniform, or displaying your logo in the background.
Consider joining in a dance challenge, such as #Danceforchange, that raises awareness of global warming and other important issues.
The #InMyFeelings challenge, set to Drake's "In My Feelings" song, is another way your employees might enjoy participating.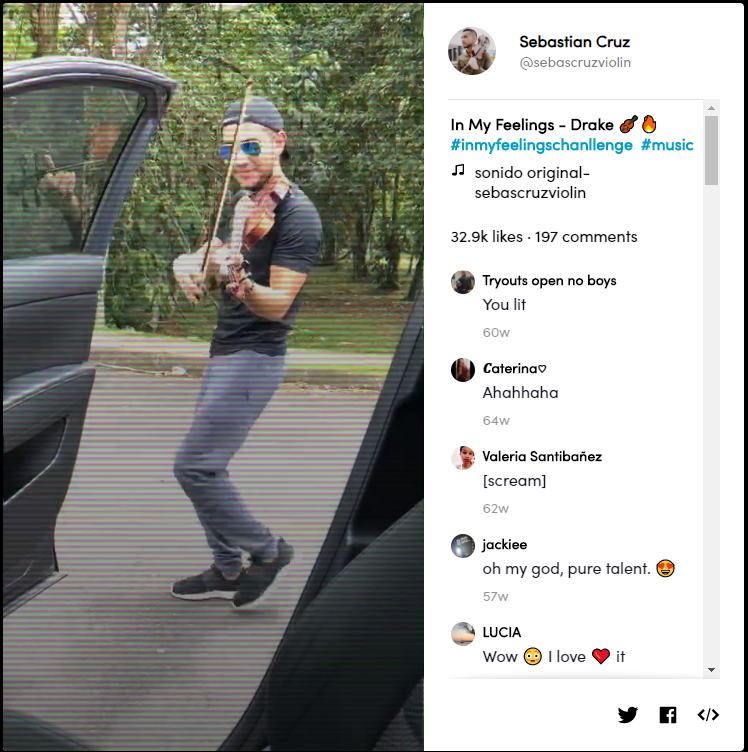 2. Create a Branded Hashtag Challenge
The branded hashtag challenge (different from the PLUS option) is a paid format that helps brands kick off their own challenges.
The paid format boasts an 8.5% average engagement rate, and is an excellent way to kick off excitement and engagement for your TikTok challenges.
Branded hashtag challenges, such as Guess Jean's #InMyDenim, are one of the most successful promotional options on TikTok, according to Social Media Today.
TikTok provides supporting media placements, creative guidance and "seamless" setup for brands using branded hashtags.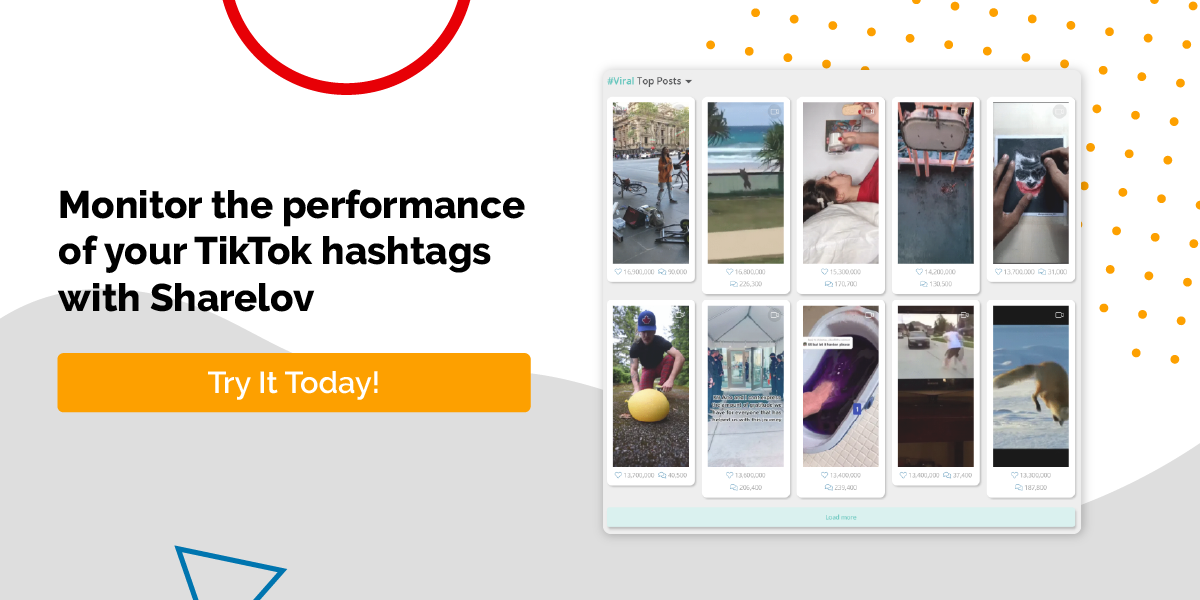 Fashion brand Guess Jeans partnered with TikTok influencers for the #InMyDenim branded hashtag campaign, encouraging users to share photos of themselves wearing Guess Jeans.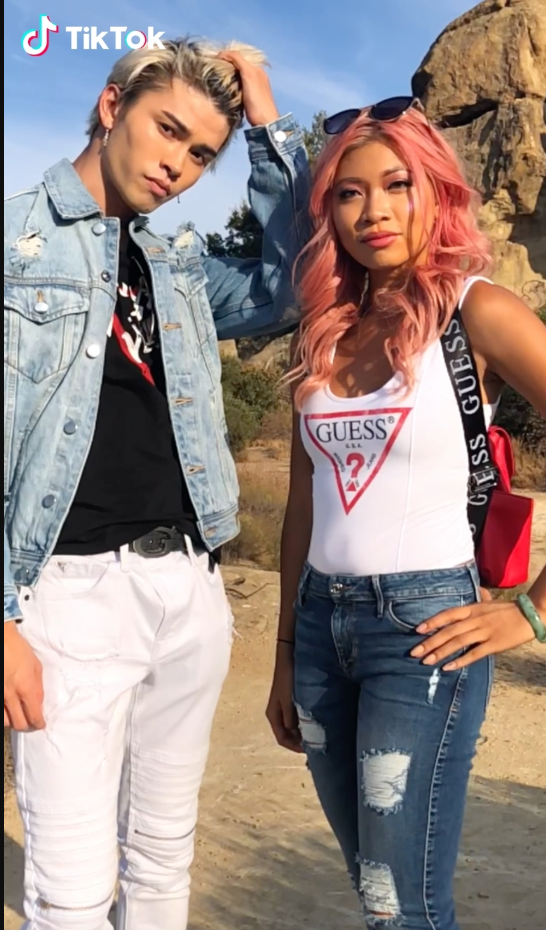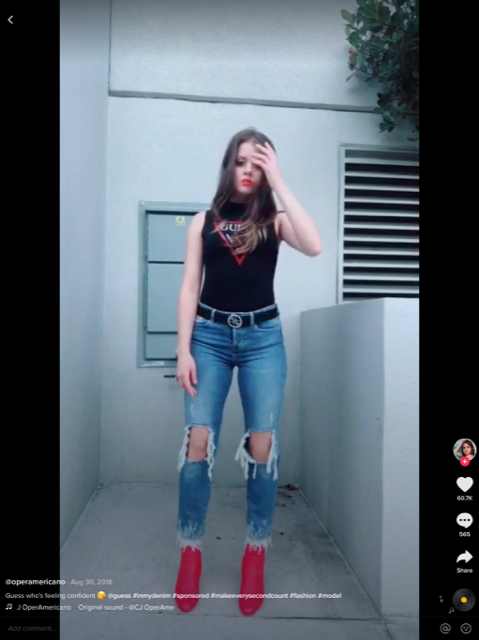 The challenge encouraged jeans wearers to make their jeans look fabulous — resulting in eye-catching Guess Jean images that successfully expanded its brand reach.
The campaign resulted in more than 52 million views.
3. Hold a Contest
Contests are an excellent way to drive engagement on any social media channel. 
For example, Malaysia McDonald's "Big Mac TikTok Challenge" asked TikTok users to post a photo of themselves dancing to the "Big Mac Chant," with the hashtag  #bigmactiktok contest.
The fast-food chain gave away a free Big Mac to all participants, plus offered attractive cash prizes to winners.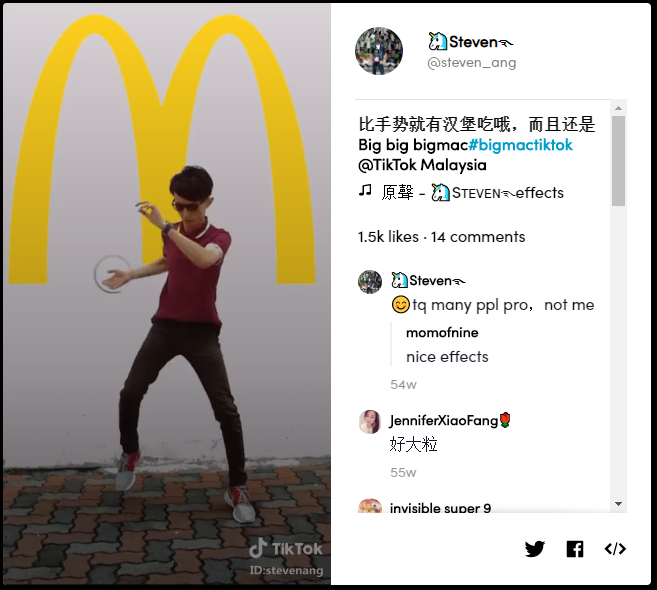 Contests are an excellent way for brands to expand their reach and grow an audience on TikTok.
4. Create Short Music Videos
Marketing on TikTok means rethinking some of your old ideas about music videos. Remember, videos are short but you've got filters and features that let you pack them full of action.
For example, Chipotle syncs video clips of routine employee activities, such as mixing salsa, up with the music using special effects. The result is a music video synced to the song!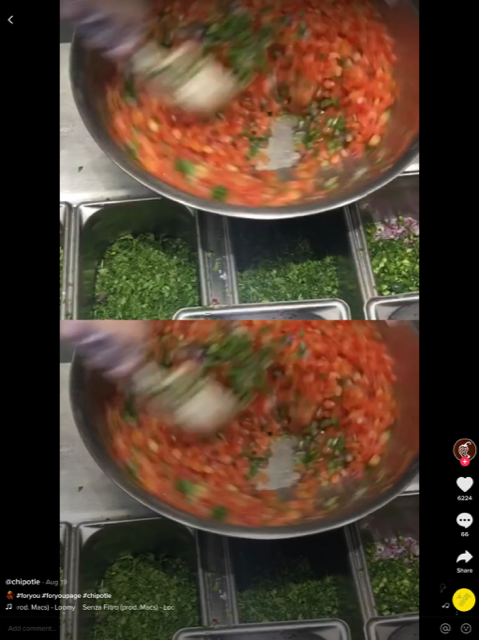 The Washington Post published a "TikTok audition" music video to Redbone's "Come and Get Your Love."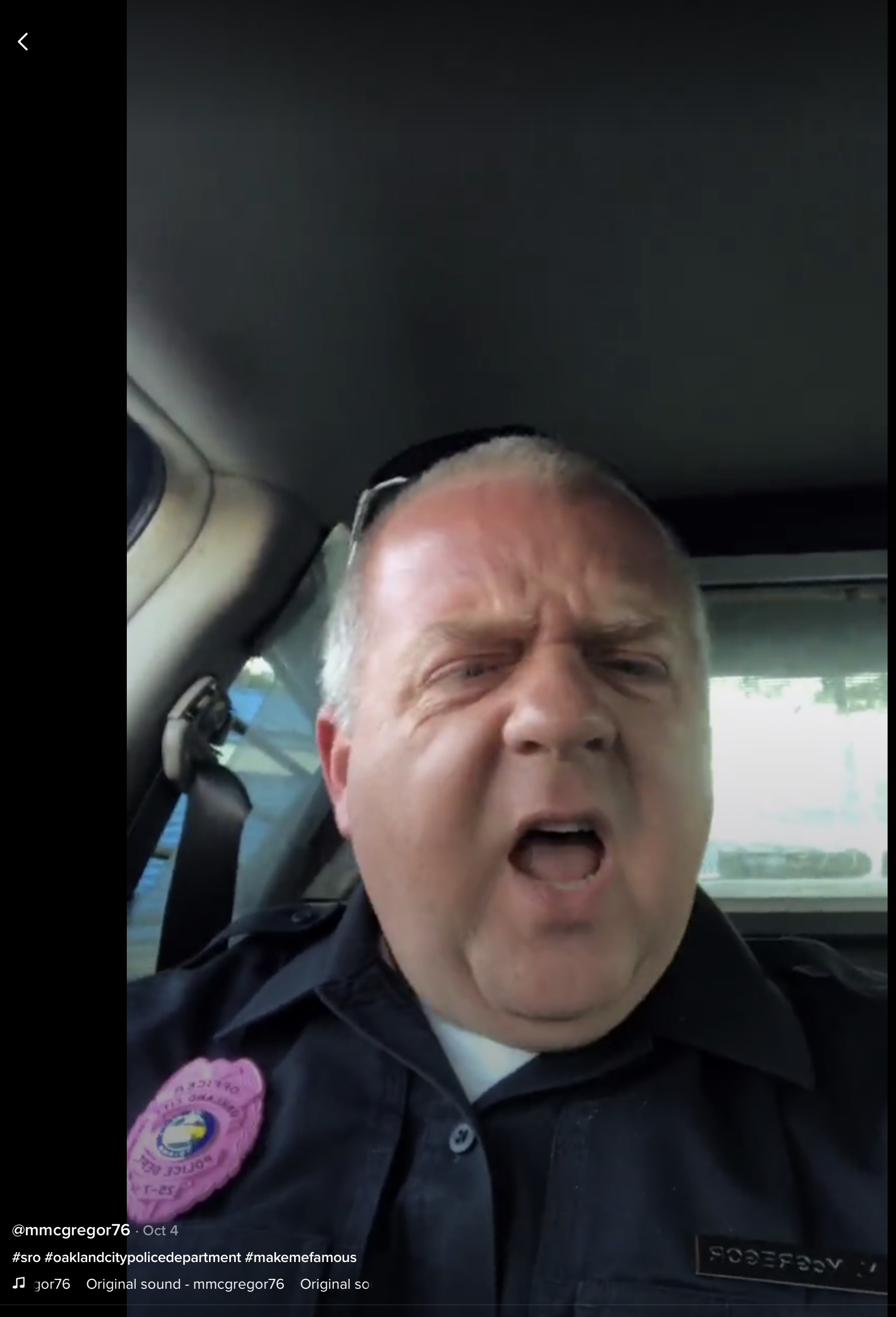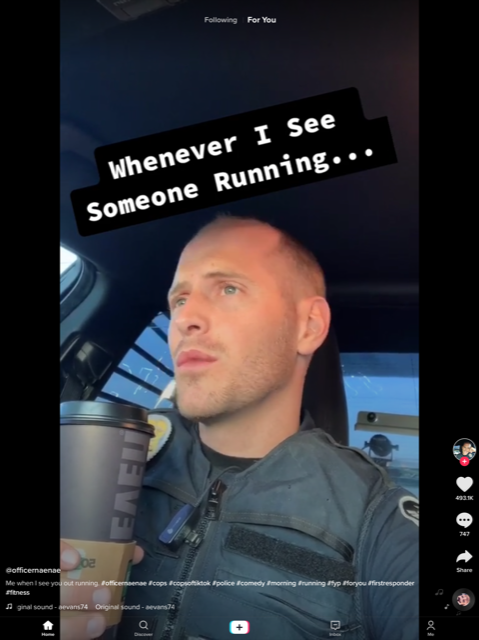 5. Let Your Employees Dance at Work
Whether you choreograph a dance or just let your employees create their own dance video, TikTokkers love it.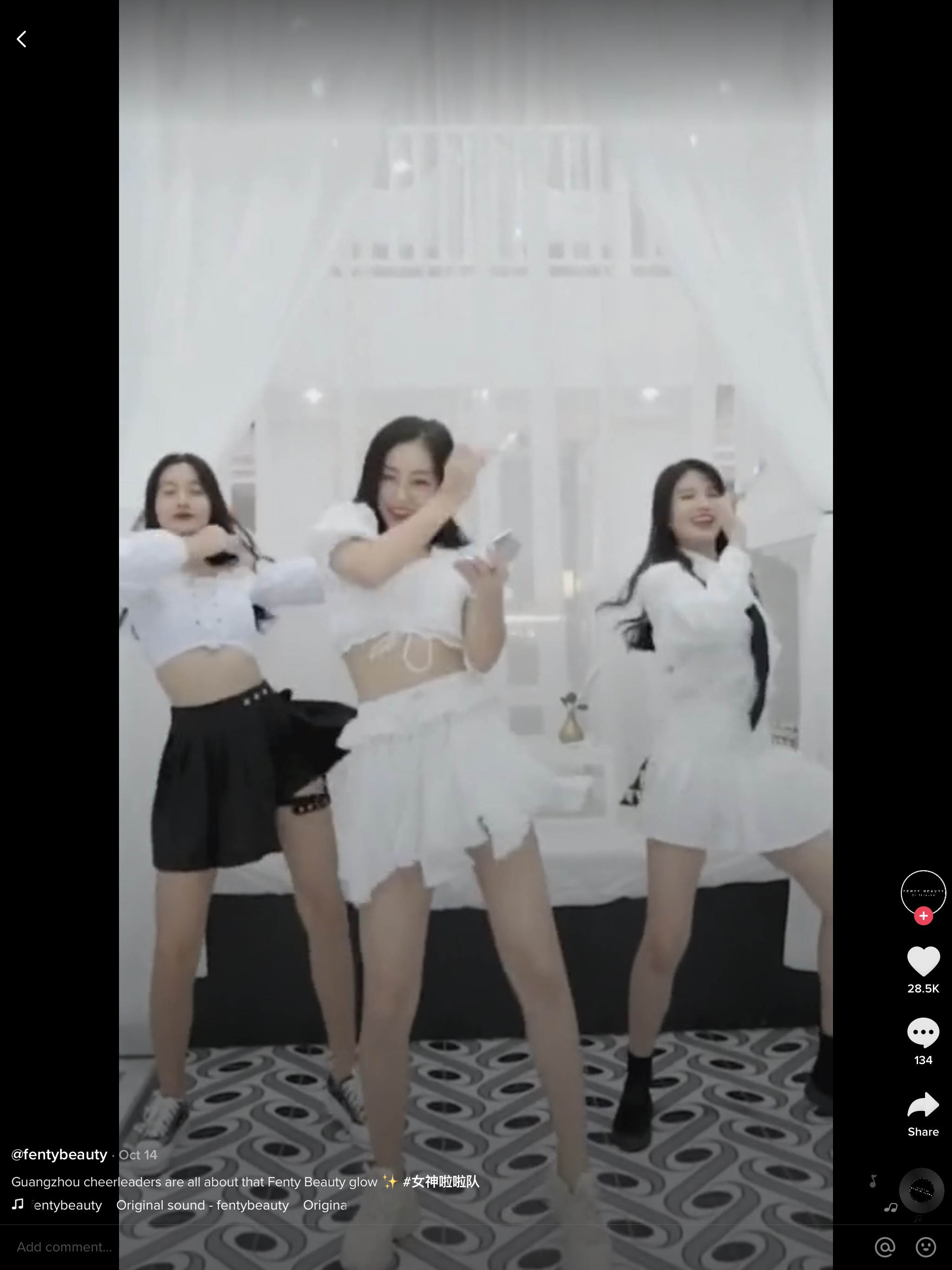 If you've browsed TikTok, you know that inept dancers with a good sense of humor are as welcome as professional dancers with choreographed routines.
You can check out examples of musical duets by searching #musicalduets. Get creative with duets! Use them to share information about your product and its benefits.
7. Join In On Trends 
Trends change constantly on TikTok, but if you're browsing the platform and monitoring your competitors and influencers, keeping up with them is easy.
You can easily monitor your competitors and industry influencers with Sharelov.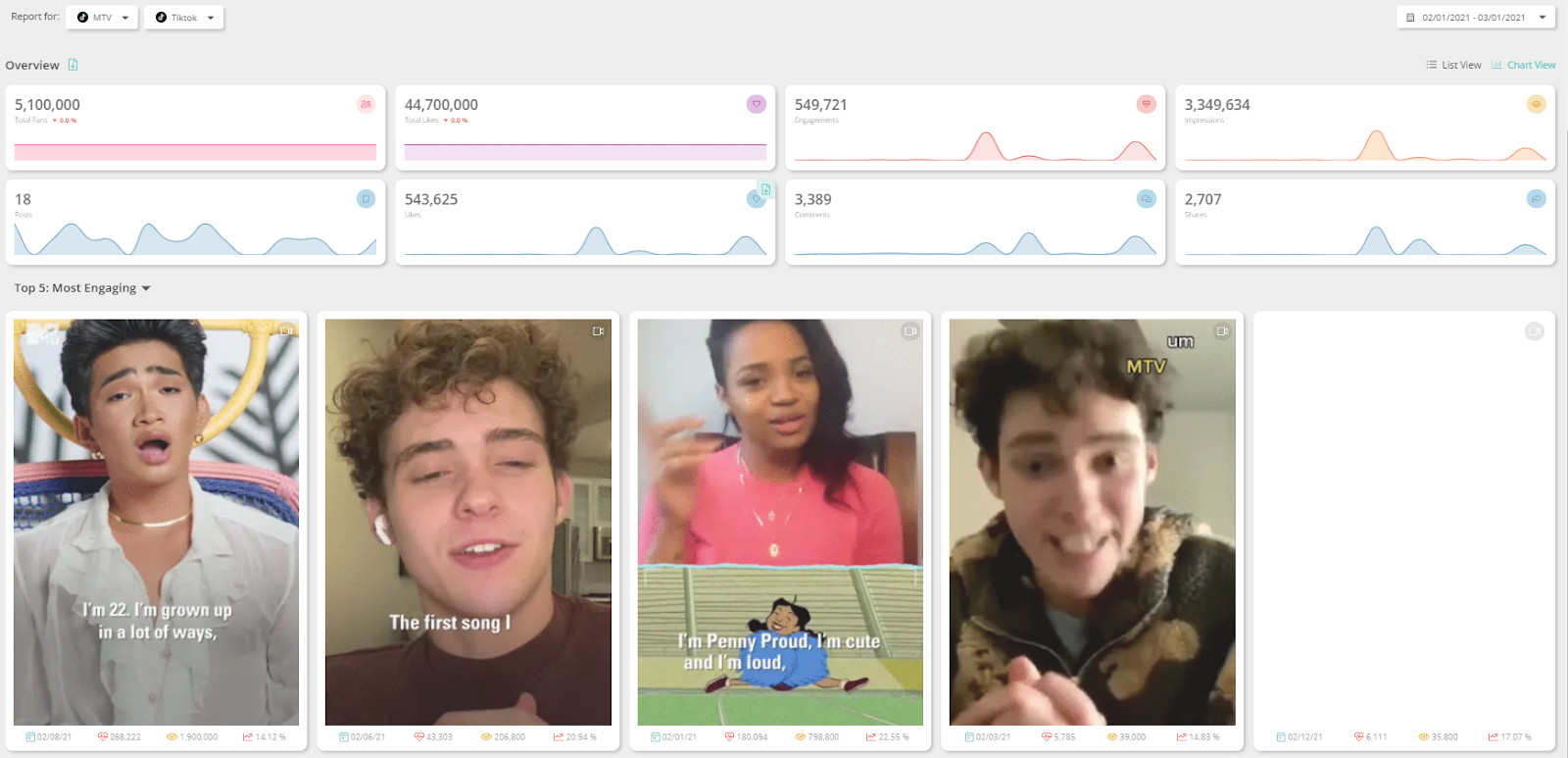 Just add them to the monitoring feature from your Sharelov dashboard, and you can review their latest content in seconds.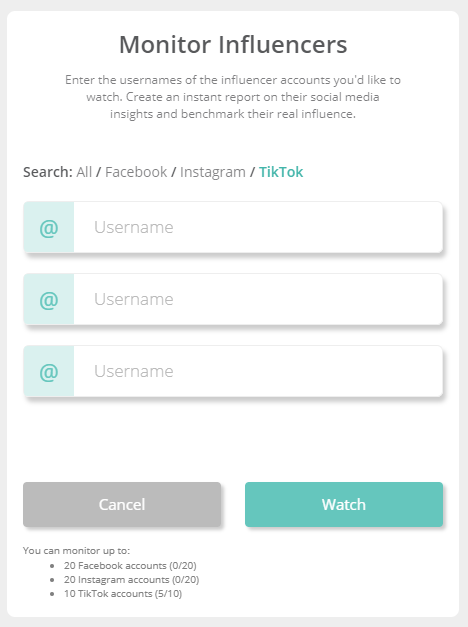 Trends can be an excellent way to develop relationships and form a connection with your audience.
One well-known popular trend was the Nope/Yup videos, in which users answer a series of questions in sync with a rap soundtrack titled "Choices," were once a hot trend on TikTok.
Brands adjusted Nope/Yup videos to fit their personalities..
For example, The Red Cross video about what to do and what not to do in first aid emergencies featured good and bad examples of commonly-used first aid tactics.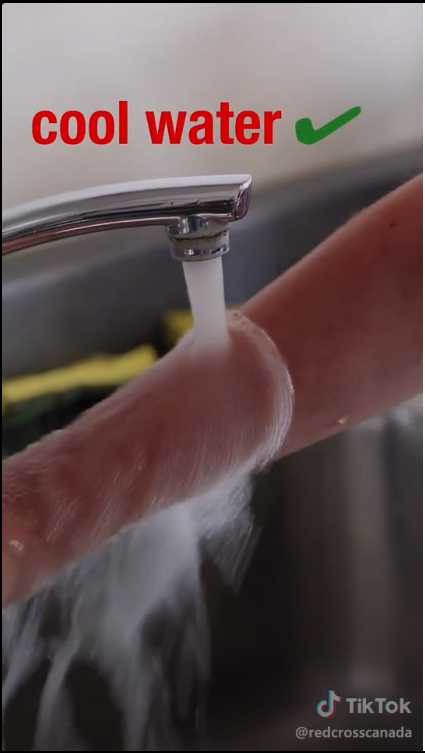 Nope/Yup videos turned common questions into fun, expressive, and engaging  content that brands used to share product info, expand their reach, and entertain their audience.
Trends come and go. Since the Nope/Yup videos, users have enjoyed a wide variety of trending content such as parents imitating their children, bread-making, sea shanties, and tortilla wrap hacks.
Jump in on the latest trends to keep your brand relevant and connected to TikTokkers. Keep in mind that Sharelov makes trend monitoring easier!

8. Partner with TikTok Influencers
Considering partnering with TikTok influencers to promote your brand using features such as:
Feed content

Brand takeovers

Hashtag challenges
Influencers can help you grow an audience more quickly and provide you with creative ideas for generating engagement on TikTok.
To learn more about using influencers for your TikTok campaigns, check out The Ultimate Guide: How to Work with Influencers.

For hundreds more content ideas, visit the Sharelov blog and search for "TIkTok." We got tips and inspiration for brands that want to build their following, create viral content, use analytics to improve their targeting and content, and much, much more!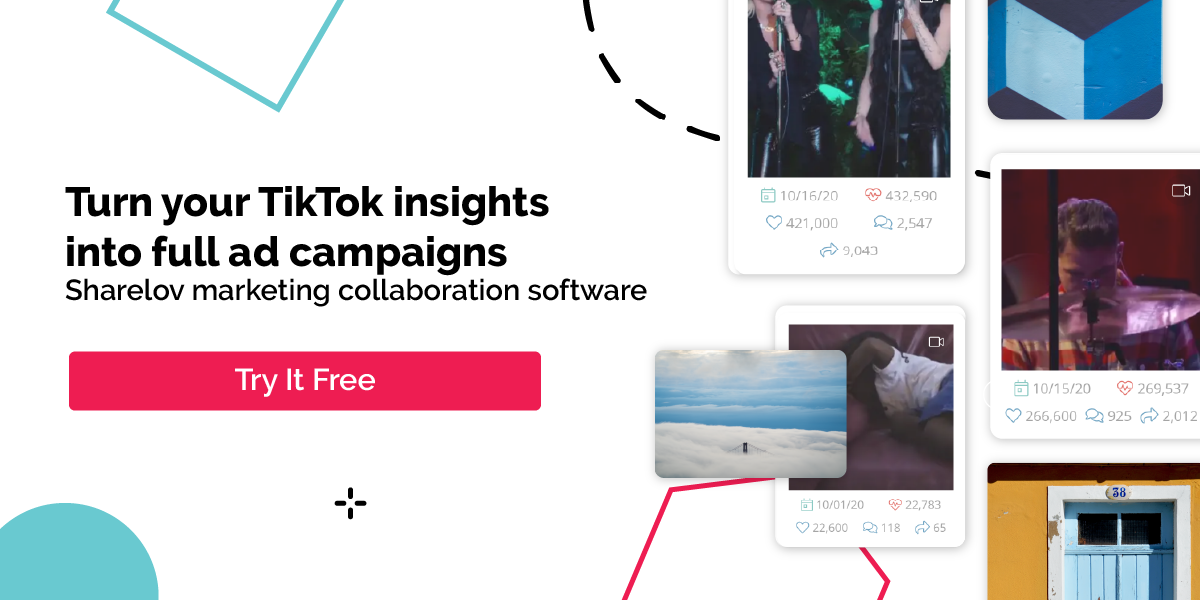 TikTok Provides Unique Ways to Promote Your Brand
TikTok's rapidly growing network of fun-loving audiences provides many ways for brands to build awareness on the platform.
TikTok creates exceptional opportunities for employee advocacy content and user-generated content, which are some of the best types of marketing videos for brands looking to gain trust from consumers.
Have you tried TikTok? We'd love to hear about it! Tell us about your TikTok content and ideas in the comments section below!