The new mobile-video-sharing social media channel TikTok is growing FAST.
Is it time to start marketing your brand on TikTok?
In this article, we show you everything you need to know about the social media channel that's giving Instagram, Facebook, and Twitter some unexpected, but serious, competition.
Here's what you'll discover:
What is TikTok and why it matters to brands

How to Create and Publish videos on TikTok

How to advertise on TikTok

8 TikTok marketing ideas for brands
Plus, we share lots of examples — so you can see how other brands are succeeding on TikTok!
Keep reading to discover what TikTok is, why it matters, and how you can begin advertising and marketing on the rapidly-growing social media network, TikTok.
What is TikTok?
TikTok is a rapidly growing social media platform built on short-form mobile video sharing. 
Its mission to "inspire creativity and bring joy" motivates users to share content that sparks laughter, creativity, and warmth instead of controversy or political debates.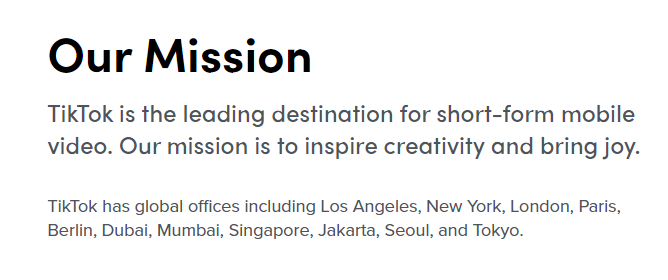 TikTokkers gravitate toward videos that make them laugh, sing, dance, and create.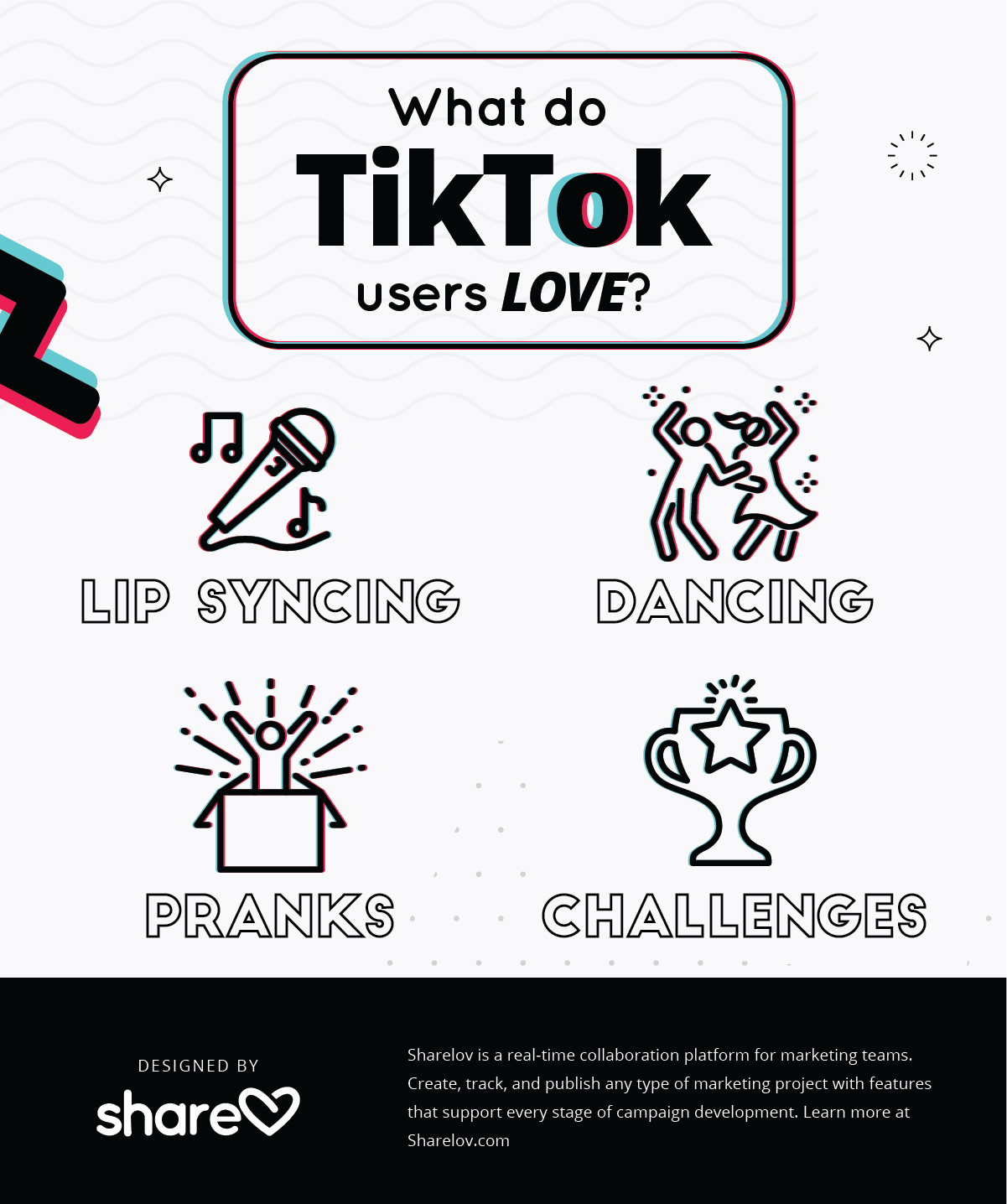 TikTok is packed full of short videos that include:
Lip syncing

Dancing

Pranks

Challenges
For example, firefighters lip sync in one video titled "firefighter shenanigans."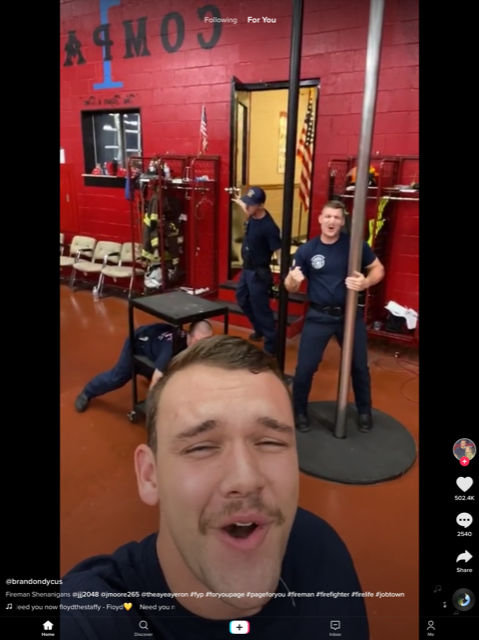 TikTok audiences also love dance videos.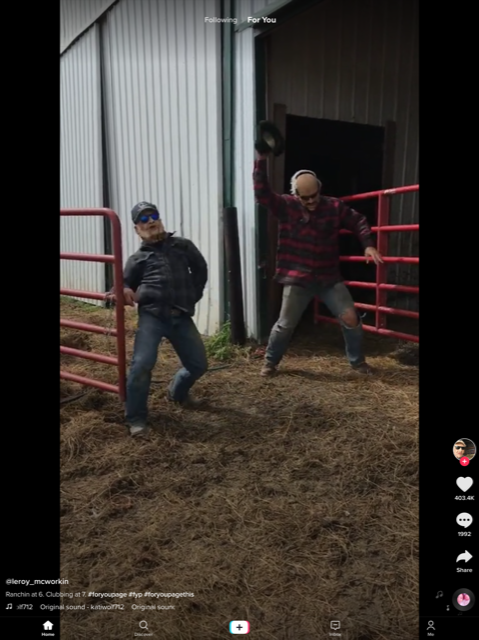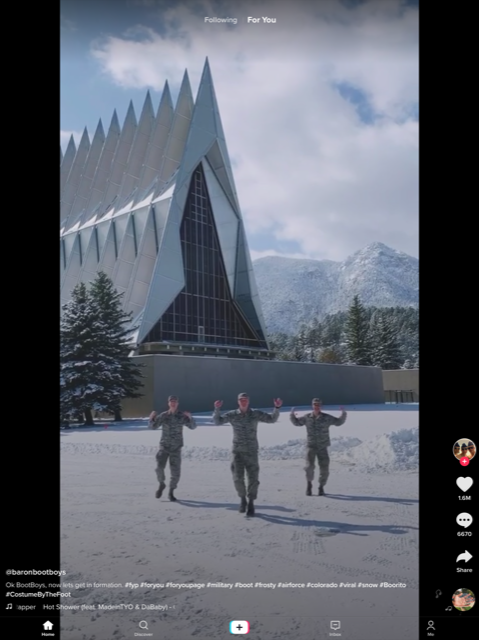 How TikTok Works
TikTok users record 15- to 60-second repetitive-loop vertical videos, often adding fun effects such as AR filters, text overlays, and music before sharing with other TikTokkers.
Like other social platforms, users can like and comment on content, however, comments don't show in the feed unless a viewer clicks to see them. 
TikTok's hidden-comments format allows users a safer type of newsfeed -- free from haters, trolls, and the politically-determined. This approach lets viewers enjoy content without negativity.
TikTokkers Love Challenges!
Challenges are an inspiration for some of the most popular content on TikTok.
For example, talk show host Jimmy Fallon created the #TumbleweedChallenge, which produced over 8000 videos and 9 million views in only 7 days.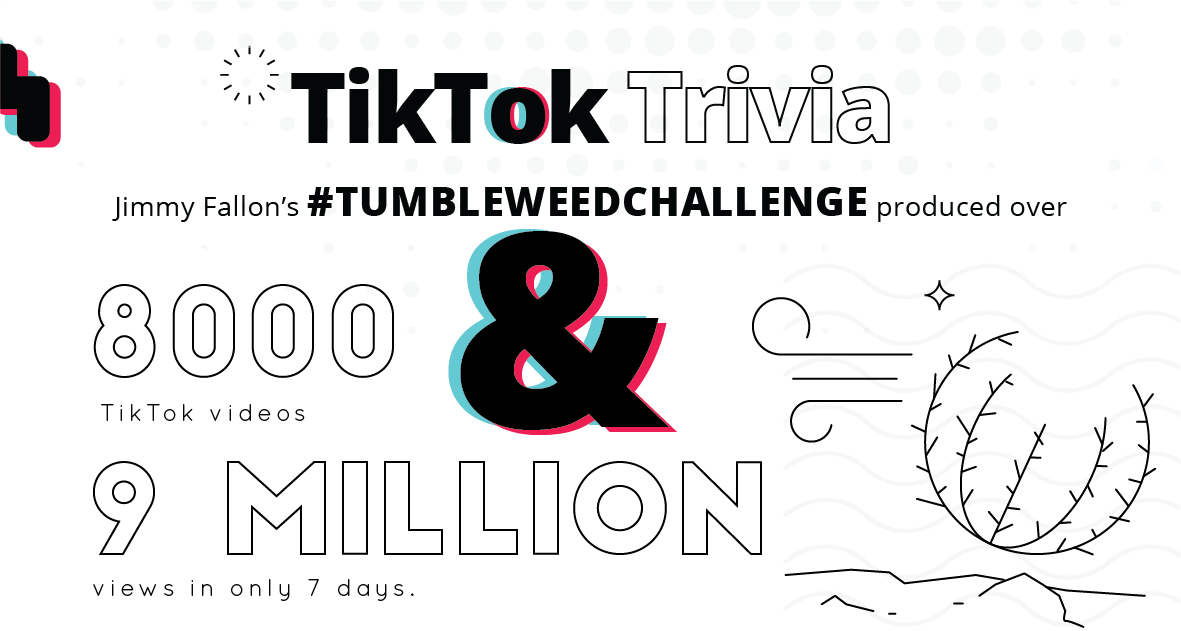 To participate in the #TumbleweedChallenge, users create videos of themselves going about a normal day until, cued by the tumbleweed music riff, they drop and begin rolling across the floor like a ball of tumbleweed.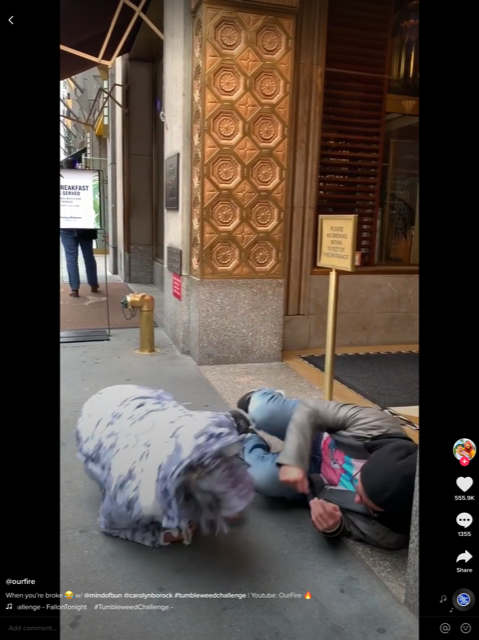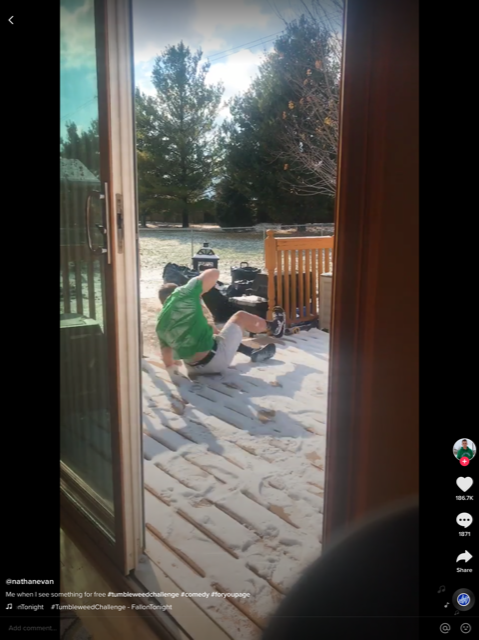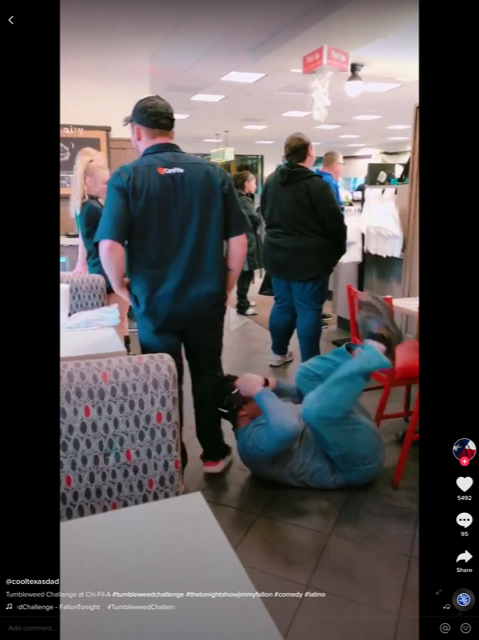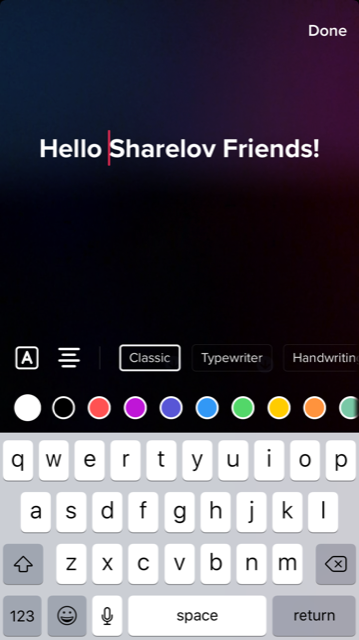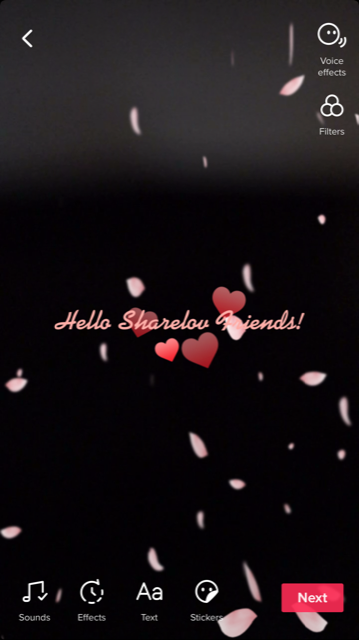 8. Add filter: tap the filter icon (located on the right side for IOS) to select your filter.
9. Add sound effects: if you want to add sound effects such as chipmunk, echo, helium, and more, tap the sound effect icon located near the filter icon.
10. Complete your special effects: when you're finished adding all your creative elements tap "next" to access your post options.
11. Lastly, choose your settings and publish your video: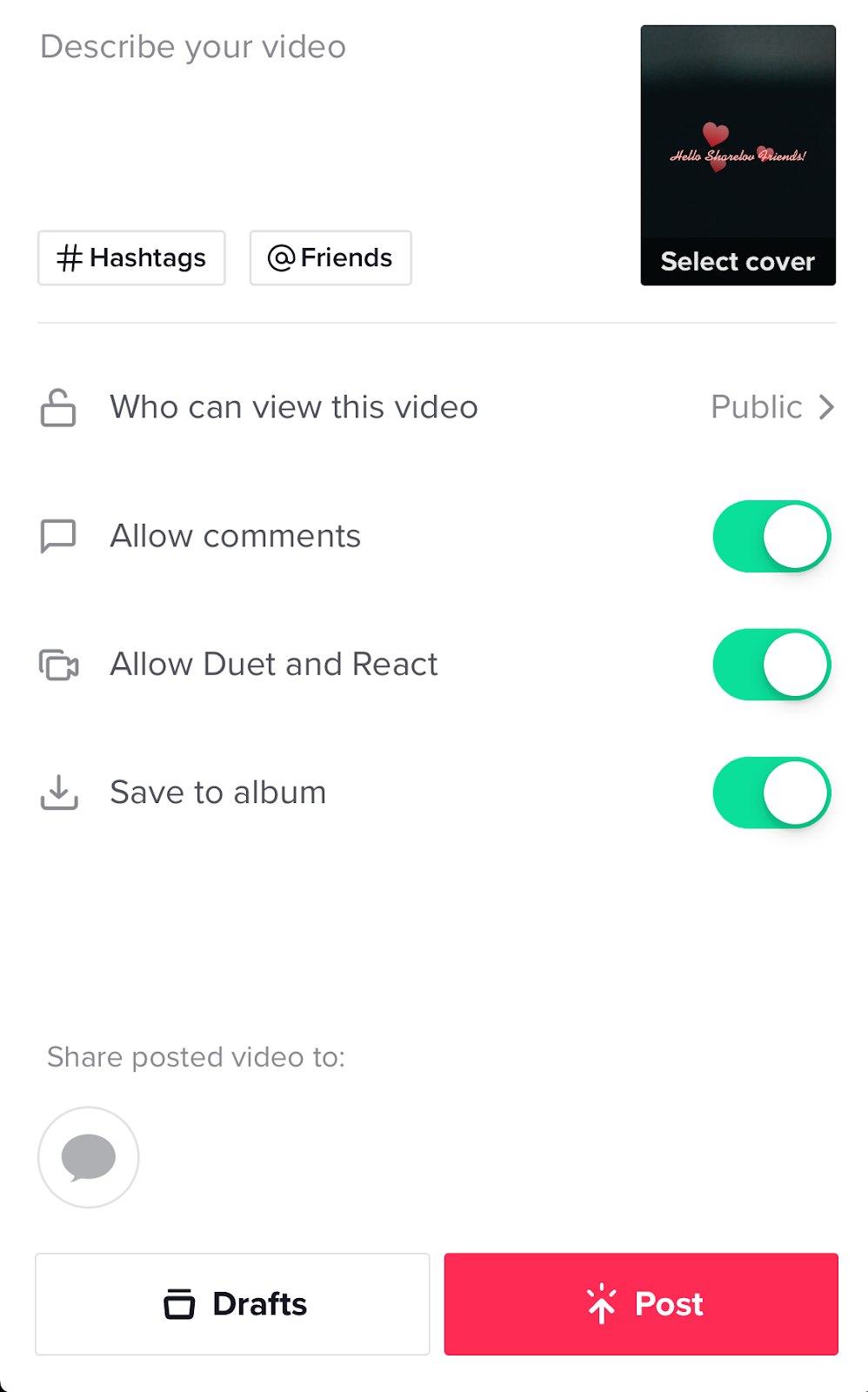 Add a description.

Add #hashtags or mentions by tapping the labeled icons.

Select your cover.

Choose your privacy settings. Choose from public, private, or friends.

Allow comments? 

Allow duet and react?

Save to album?

Tap the red "Post" button to publish your video.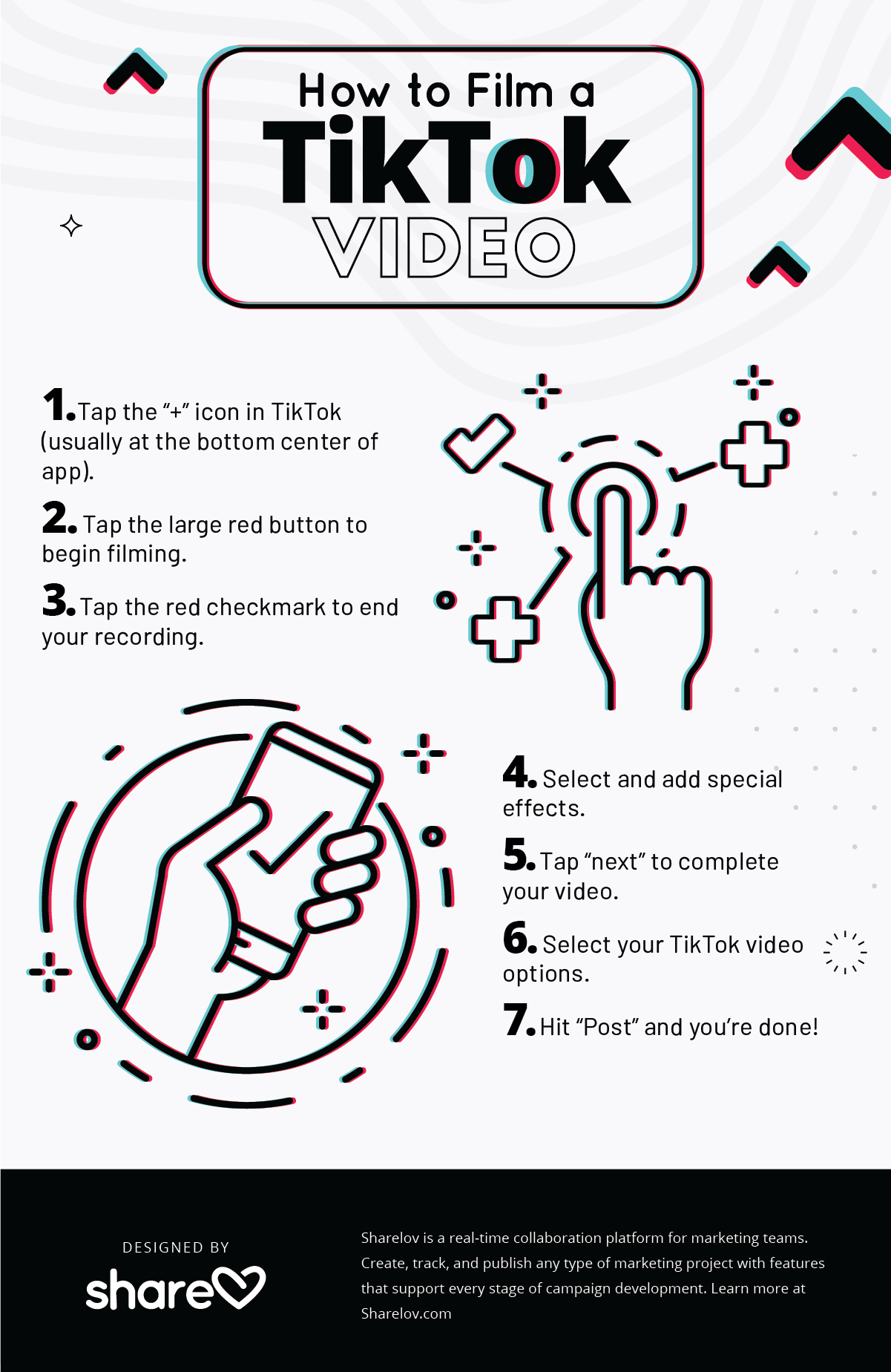 How to Upload and Add Music to Existing Videos
If you've already filmed your video, you can upload it to TikTok from your phone's library with the steps below.
To get started, tap the "+" icon that allows you to create a video, then:
1. Tap "Upload" button
2. Tap "Add Sound" icon
3. Tap "My Sound" in the upper right corner 
4. Select a song from your library by tapping on it
5. Tap "Record" and film your video
6. Tap the ✔ red checkmark ✔ in the lower right corner when you're done filming.
Remove Background Noise
Does your air conditioner make humming noises? Did your dog bark during the video? Does traffic outside interfere with your song quality? 
Remove background noise from your video with the following steps:
7. Tap the mixer icon in upper right corner
8. Lower the original sound to remove background noise (optional)
9. Adjust the soundtrack volume if needed.
Choose Your Song's Start Point
10. Tap on "Trim" icon in the upper right corner
11. Drag the blue slider to select your ideal start point for the song
12. Tap the red checkmark in lower right corner to finish.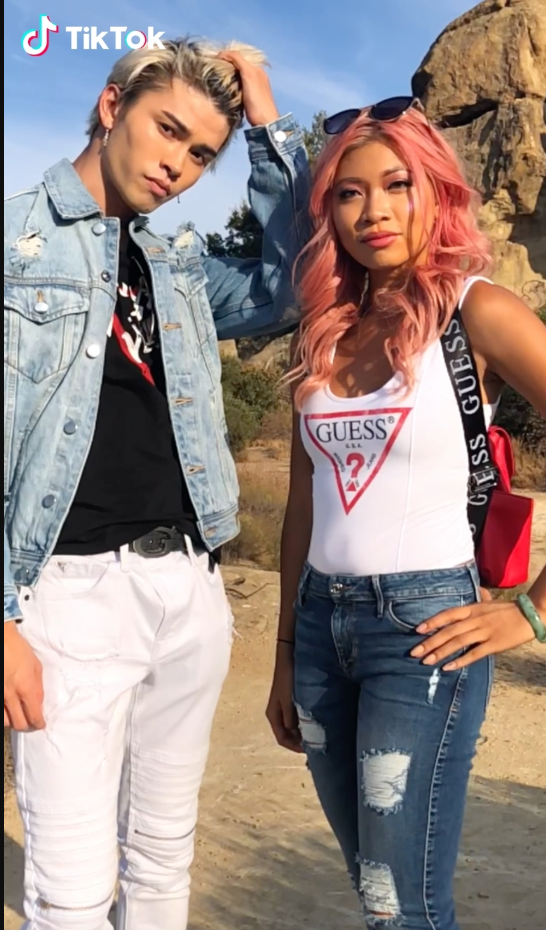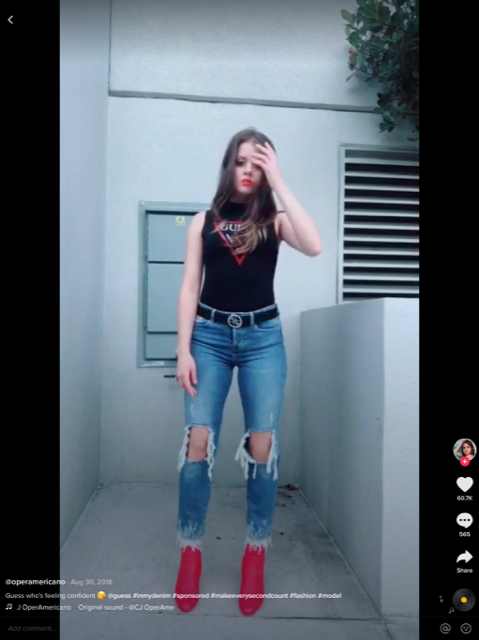 The challenge encourages jeans wearers to make their jeans look fabulous — resulting in eye-catching Guess Jean images that expand the brand's reach through shared audiences.
3. Hold a Contest
Contests are an excellent way to drive engagement on any social media channel. 
For example, Malaysia McDonald's "Big Mac TikTok Challenge" asked TikTok users to post a photo of themselves dancing to the "Big Mac Chant," with the hashtag  #bigmactiktok contest.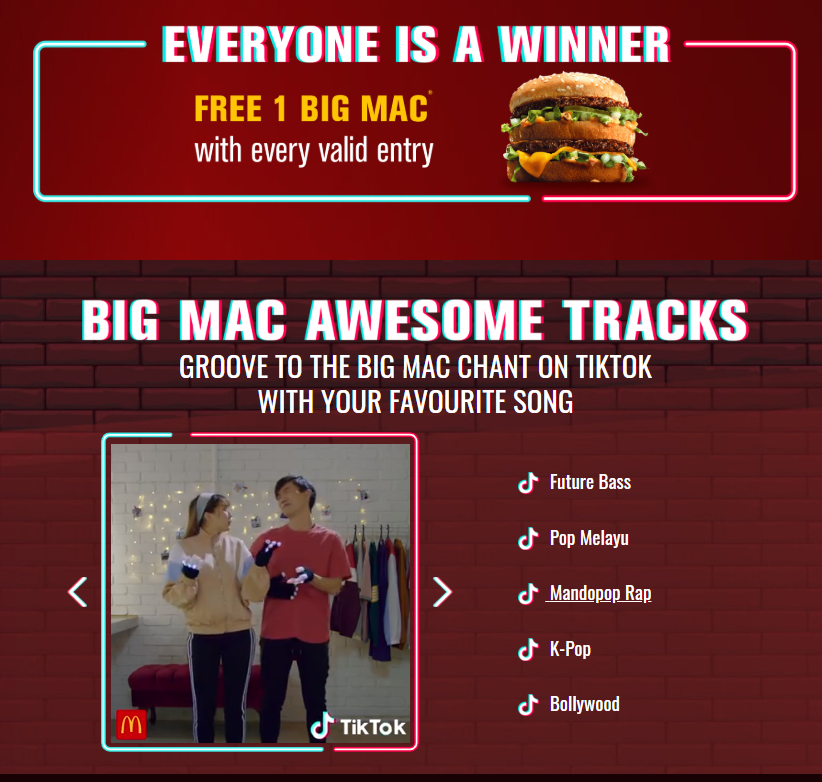 The fast-food chain gave away a free Big Mac to all participants, plus offered attractive cash prizes to winners.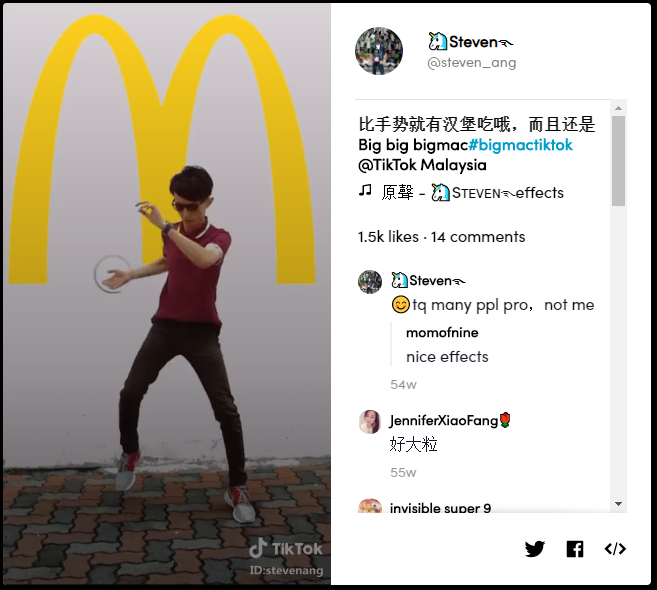 Contests are an excellent way for brands to expand their reach and grow an audience on TikTok.
4. Create Short Music Videos
Marketing on TikTok means rethinking some of your old ideas about music videos. Remember, videos are short but you've got filters and features that let you pack them full of action.
For example, Chipotle syncs video clips of routine employee activities, such as mixing salsa, up with the music using special effects. The result is a music video synced to the song!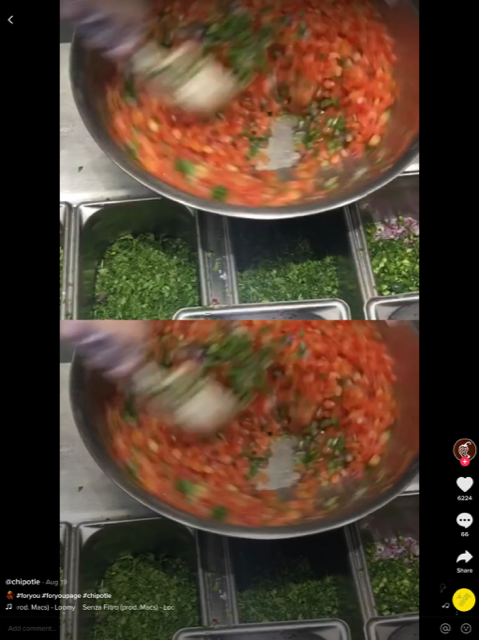 The Washington Post published a "TikTok audition" music video to Redbone's "Come and Get Your Love."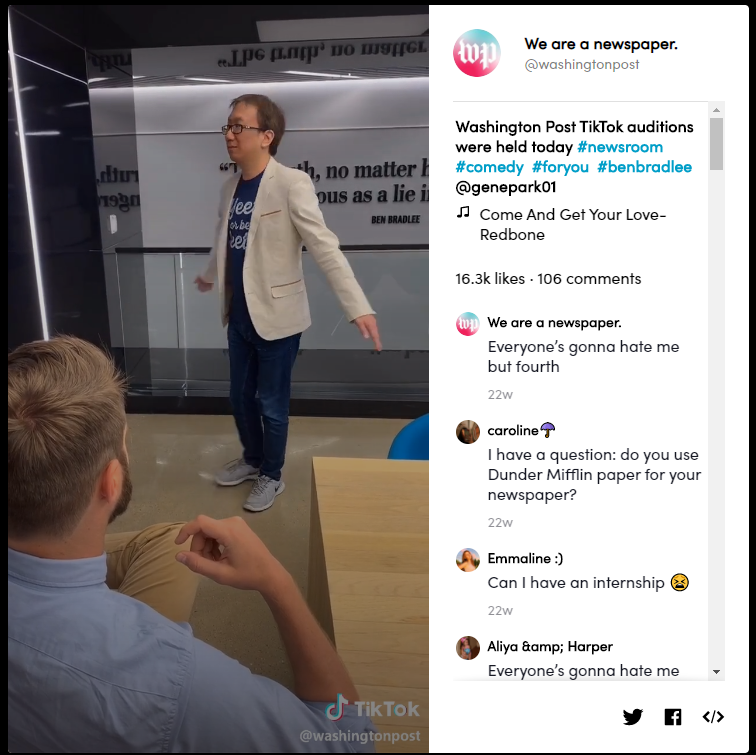 Some police officers post on TikTok, helping to create a "brand" image that's more relatable and approachable than what people often see on the news.
For example, some police officers satirically lip-sync to emotional songs, creating hilarious videos for the TikTokers.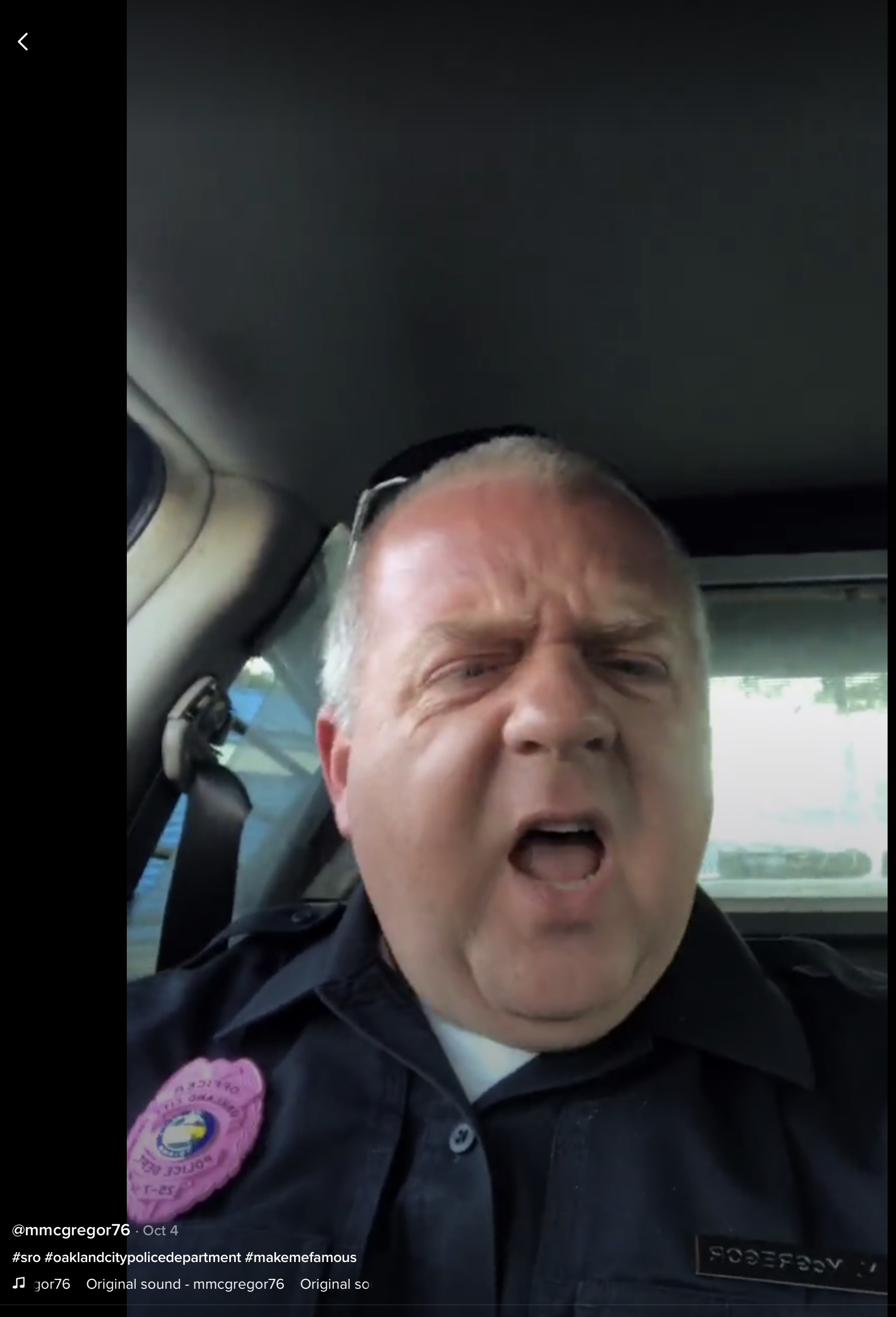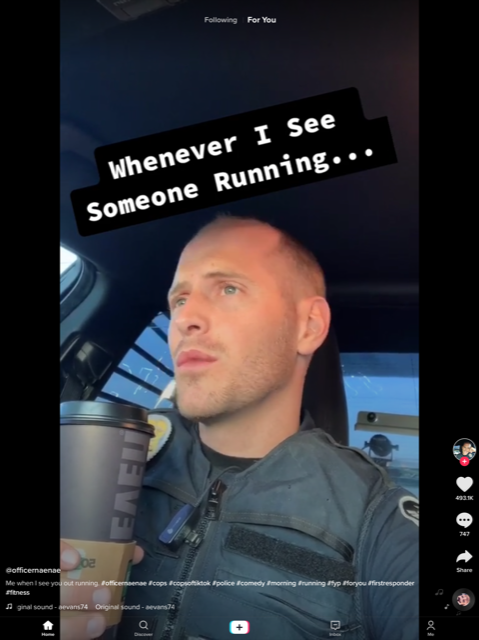 5. Let Your Employees Dance at Work
Whether you choreograph a dance or just let your employees create their own dance video, TikTokkers love it.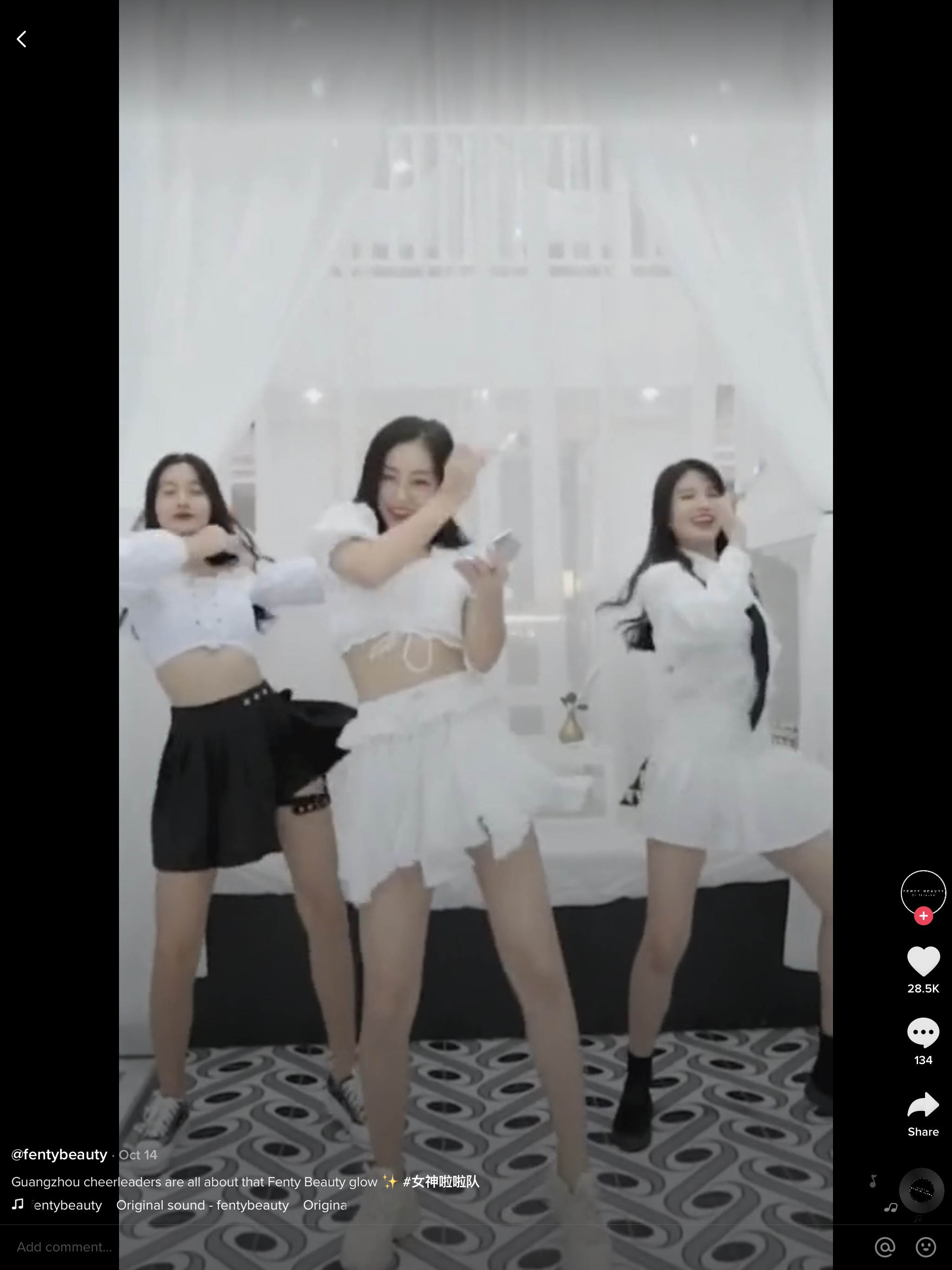 If you've browsed TikTok, you know that inept dancers with a good sense of humor are as welcome as professional dancers with choreographed routines.
The key to success lies in sharing your brand culture in a way that's authentic and entertaining.
6. Post Musical Duets
The musical duet feature allows you to post two videos in which one user responds to the other.
You can check out examples of musical duets by searching #musicalduets. Get creative with duets! Use them to share information about your product and its benefits.
7. Post a Nope/Yup Video 
Nope/Yup videos, in which users answer a series of questions in sync with a rap soundtrack titled "Choices," are a hot trend on TikTok.
You can adjust Nope/Yup videos to fit your brand. 
For example, The Red Cross's video about what to do and what not to do in first aid emergencies features good and bad examples of commonly-used first aid tactics.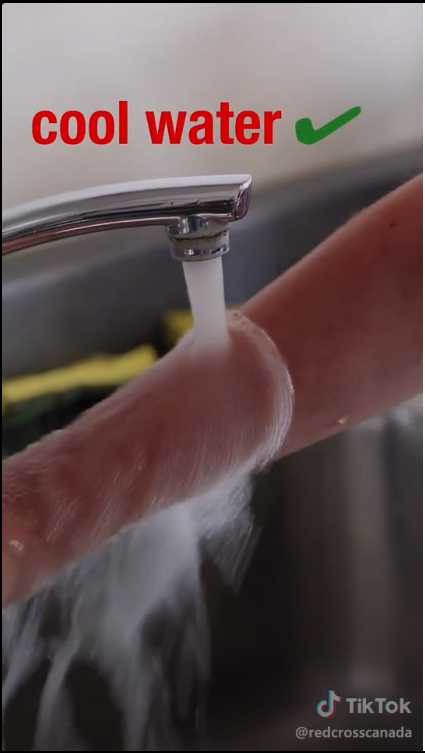 Nope/Yup videos turn common questions into fun, expressive, and engaging  videos that brands can use to share product info, expand their reach, and entertain their audience.
8. Partner with TikTok Influencers
Considering partnering with TikTok influencers to promote your brand using features such as:
Feed content

Brand takeovers

Hashtag challenges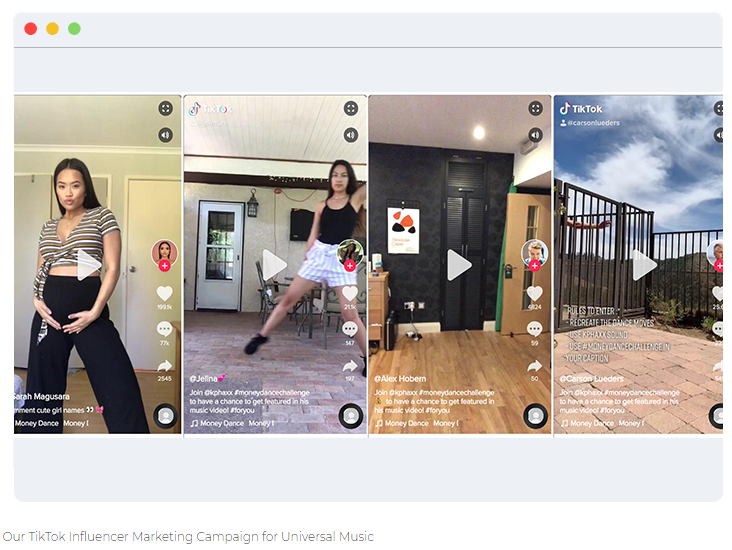 Influencers can help you grow an audience more quickly and provide you with creative ideas for generating engagement on TikTok.
TikTok Provides Unique Ways to Promote Your Brand
TikTok's rapidly growing network of fun-loving audiences provides many ways for brands to build awareness on the platform. 
TikTok creates exceptional opportunities for employee advocacy content and user-generated content, which are some of the best types of marketing videos for brands looking to gain trust from consumers.
Have you tried TikTok? We'd love to hear about it! Tell us about your TikTok content and ideas in the comments section below!