With more than 2 billion active users and 122 million daily users, YouTube is one of the top social media channels on the planet and the #1 most popular in the United States. 
So does that mean you should use YouTube to livestream videos for your audience?
YouTube Live is an excellent tool for marketers, brands, creators, artists, and entrepreneurs wanting to build and engage a wide audience. As your audience grows, you can access features such as live shopping and Superchat to significantly boost your conversions and sales on the platform.
Keep reading to find out why businesses love using YouTube Live, plus get step-by-step instructions, examples, and marketing tips to help boost the success of your live video broadcasts on YouTube.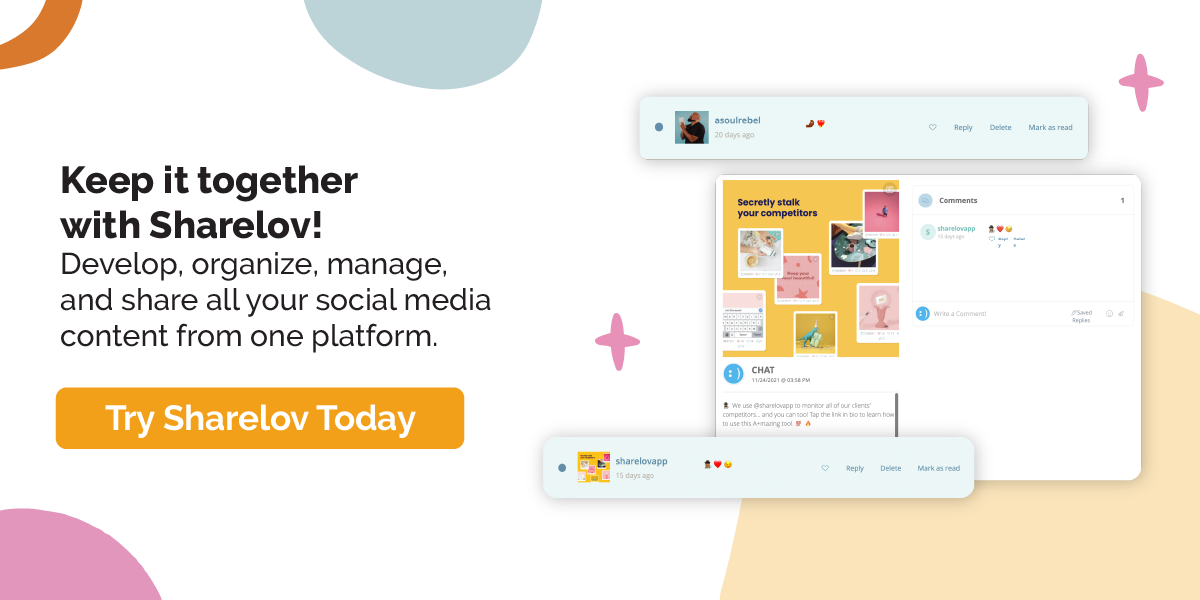 What Is YouTube Live And How Does It Work
YouTube Live is real-time streaming video that marketers, brands, and creators use to boost reach, engagement, and sales on the platform.
When your live video ends, it's saved as a recorded video in your YouTube Live library, so viewers can access it anytime.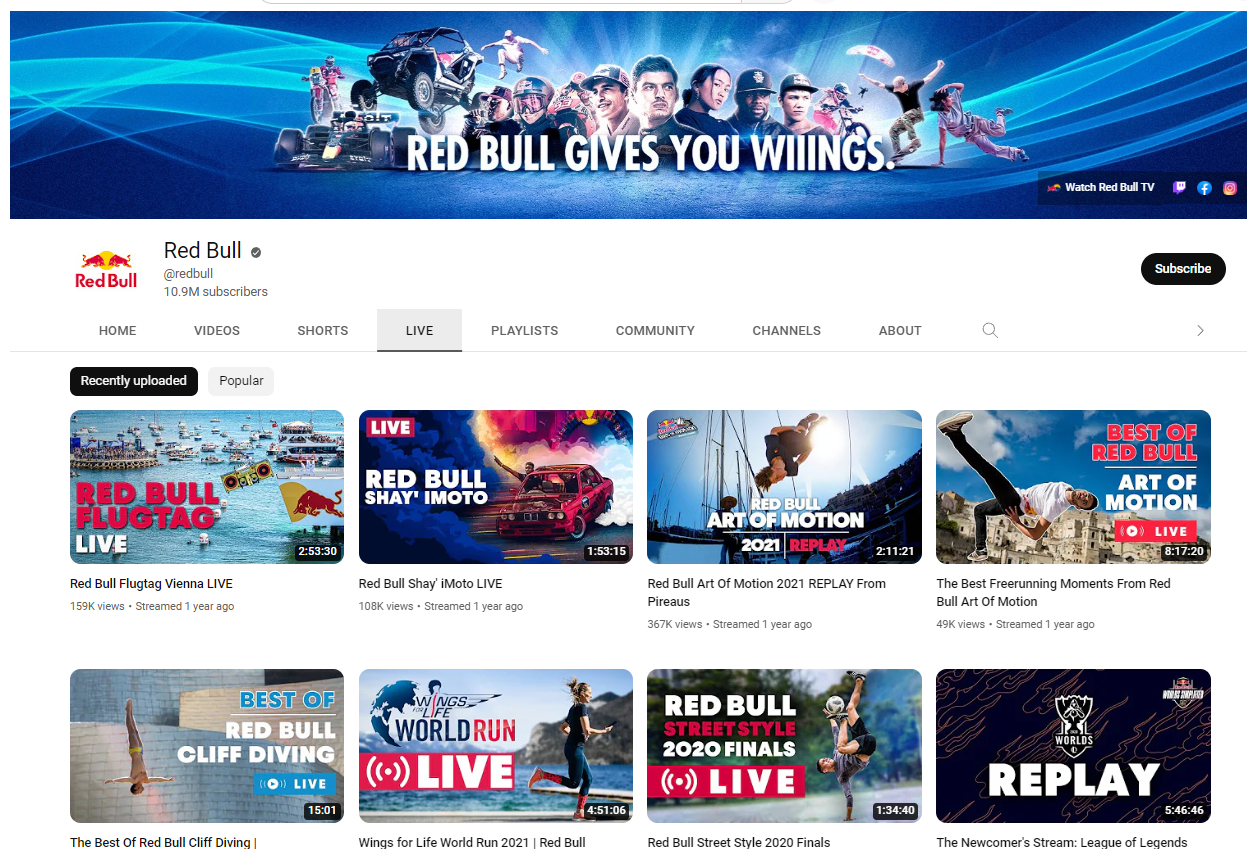 Almost anyone over the age of 13 can broadcast live for free from a webcam, mobile device, or encoder. Many brands and creators monetize their live videos by enabling ads using Superchat & Super Stickers or linking to shoppable products.
YouTube's popularity, combined with its Live broadcast features, tools, and tutorials, make it a #1 choice for many marketers.
5 Reasons YouTube Live Matters To Brands And Creators
Broadcasting live videos may give your business a serious edge over the competition. YouTube Live's ease of use and overall popularity make it a top choice for many businesses wanting to boost their reach, engagement, and conversions.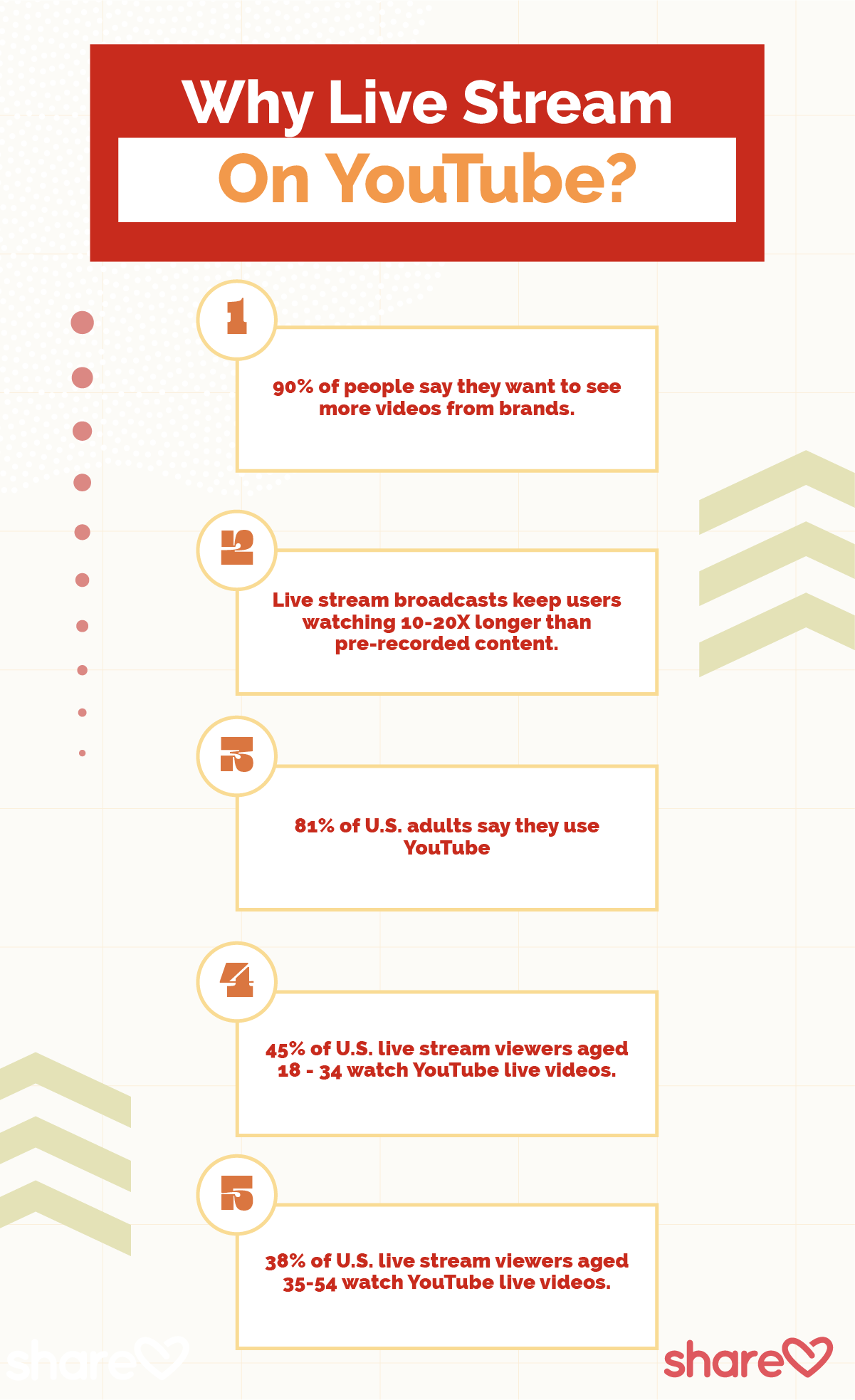 Here are 5 reasons to incorporate live video and YouTube into your social media marketing strategy.
#1 — Social media users can't get enough of brand videos.
Despite the statistics that prove most (86%) businesses use video as a marketing tool and nearly all marketers (92%) say video is an important part of their strategy, almost 90% of social media users say they want to see more brand videos.
#2 — Going live gives you an edge over the competition.
Live stream videos

keep users watching 10-20X longer

than pre-recorded content.
#3 — In the U.S., YouTube is the #1 most popular social media platform.
Globally, YouTube comes in 2nd to Facebook, however, in the U.S., 81% of U.S. adults say they use YouTube, compared to 69% who use Facebook. 
#4 — YouTube is the #1 live-streaming platform for U.S. viewers ages 18 – 34. In this age group, no platform — not even Facebook — beats YouTube. 
45% of U.S.

live stream viewers

aged 18 – 34 head to YouTube Live to watch them.

38% of U.S. live stream viewers aged 35-54 use YouTube Live.
Globally, the majority of all internet users (62%) check out YouTube videos daily and 90% of people say they want to see more videos from brands.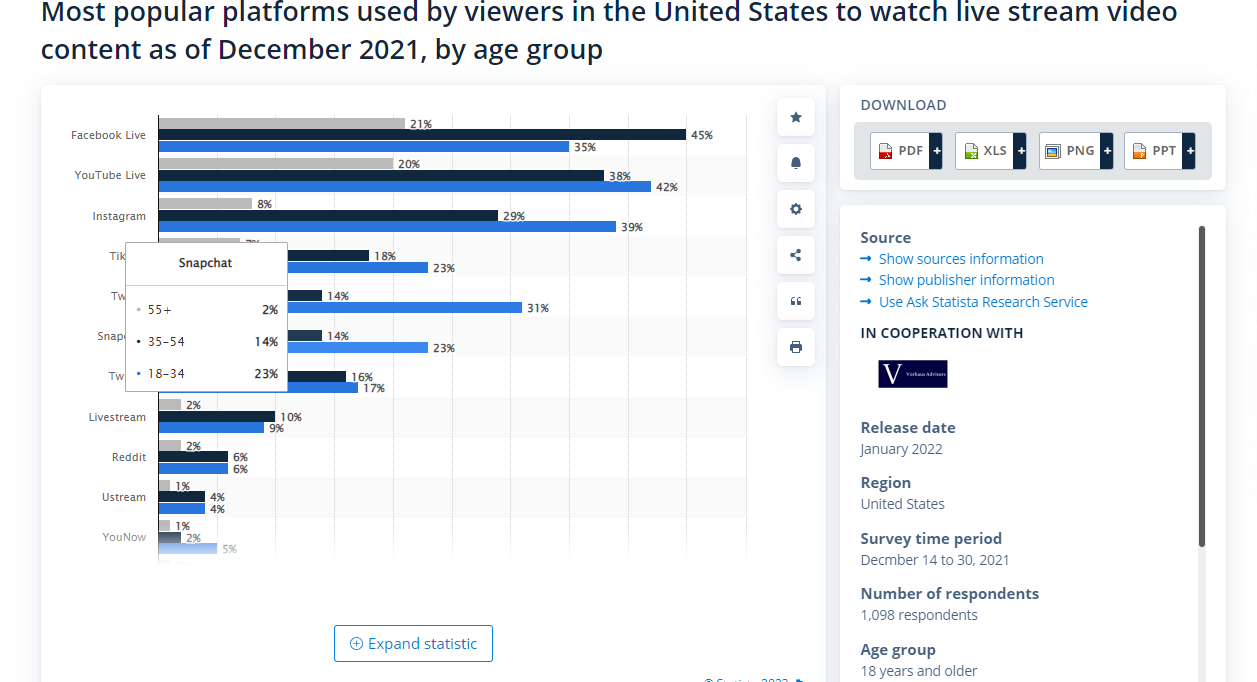 #5 — YouTube Live makes live streaming easy.
On YouTube, you can get started with real-time streaming from nearly any device or desktop. The technical requirements are simple, although you can add many optional features along the way once you're ready for them.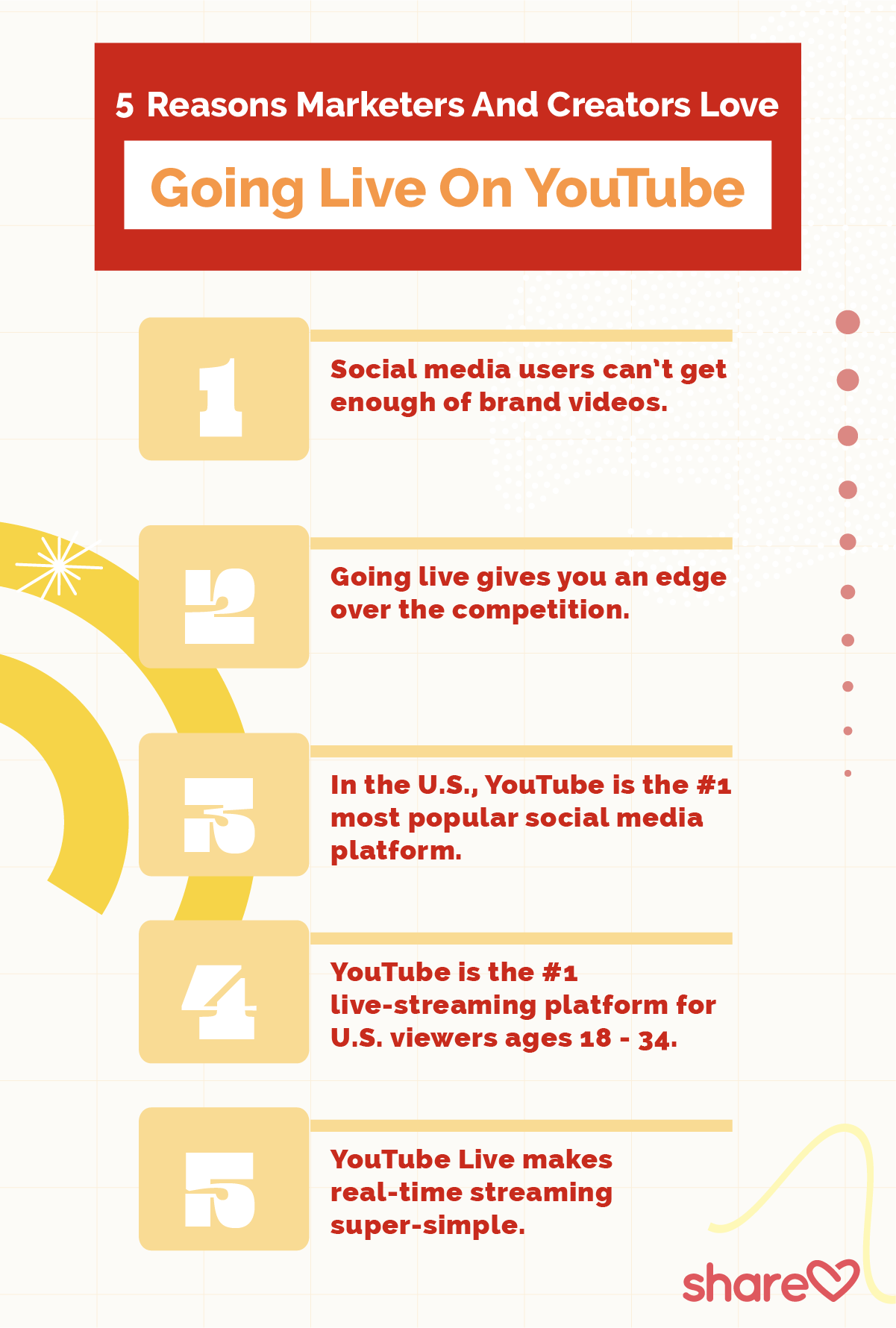 YouTube Live is an easy-to-use but effective marketing tool that can give brands an edge on their competition while developing or maintaining an engaged audience.
How Different-Sized Businesses Use YouTube Live 
YouTube Live works well for businesses of all sizes, including creators, artists, small and medium-sized businesses, and large/enterprise businesses.
Here are some ways that businesses use YouTube Live:
Creators and artists

frequently use YouTube live streaming to develop a a community of supporters and build a reputation or to drive traffic to their website for sales. It's an excellent platform for monetizing creative works through ad monetization, live shopping, and

Superchat/Superstickers

.



Small and medium-sized businesses

can promote their brands, sell products, grow an audience, and build a personal relationship using their followers with live video.

Large and enterprise-level businesses

often additionally use YouTube Live to communicate with employees and stream events such as company-wide meetings, awards ceremonies, and company events.
For example, Petco made great use of YouTube Live with its November '22 Make More Merry Market broadcast featuring company co-founders Antoni Porowski and Jonathan Van Ness.
Petco's broadcast incorporated YouTube's Live shopping feature, which allows viewers to click or tap on a "View Products" button to browse and shop for products mentioned in the video. 
When a viewer taps the "View Products" button, the live shopping column pops up and allows them to scroll the company's products. When they tap on an item's image and title, the link takes them directly to the product page on the company's website.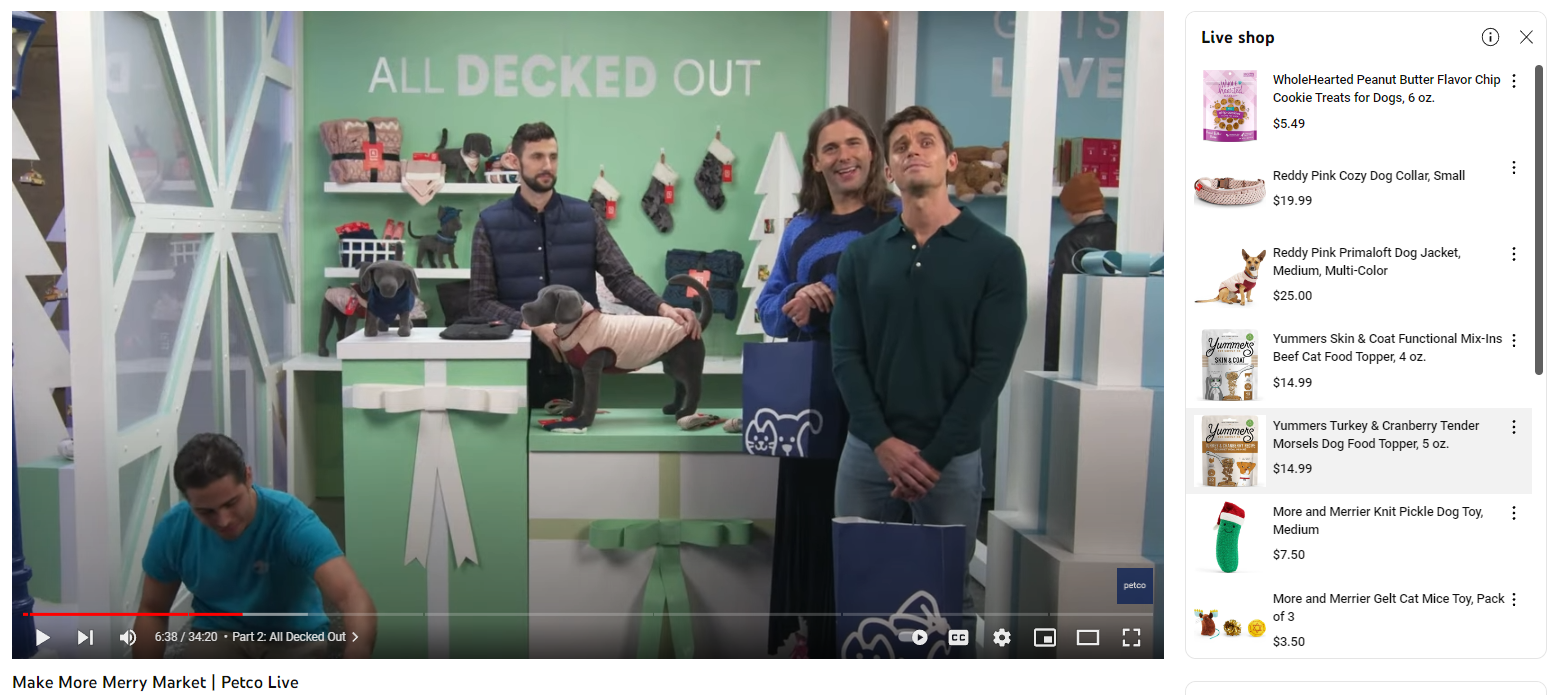 MRI REal Estate Software uses live streaming to hold quarterly town hall meetings with hundreds of its employees across the globe. 
According to MRI CEO Patrick Ghilani, live video streaming helps to "provide a singular message with a singular voice." He explains that live streaming the town hall meetings is "significantly important and I think it's helped change our culture."
Ghilania says he wants people to feel "that the logo you're wearing on your shirt is something to feel proud of," and live streaming helps accomplish that.
Roblox uses YouTube Live to broadcast its Roblox Innovation Awards ceremony, which recognizes and rewards people who have created notable games or gaming experiences. 
The September '22 Roblox Innovation Awards ceremony generated more than one million views, 60,000+ likes, and 6,000+ comments.
Adweek Magazine streams live interviews with female sports figures as part of its Adweek's Most Powerful Women in Sports series.
According to Adweek, its live streaming interview series helps spotlight women in sports and provides an opportunity for viewers to get leadership advice and learn to navigate opportunity and adversity.
Blick Art Materials streams live painting tutorials that naturally inspire people to purchase its art supplies.
Talaat and Tai McNeely, use YouTube Live to promote their company, His And Her Money, by broadcasting live educational videos that share financial tips and advice.
You'll notice that all of the business mentioned above share once common goal: to provide live stream content that enriches, benefits, or entertains their audience instead of blatantly self-promoting. This is the type of content that inspires people to watch and interact with live brand videos — which ultimately results in more customers.
Whether you're a solo artist, SMB, or large corporation, YouTube Live can be an excellent way to connect with your audience and build or boost your business with real-time video content.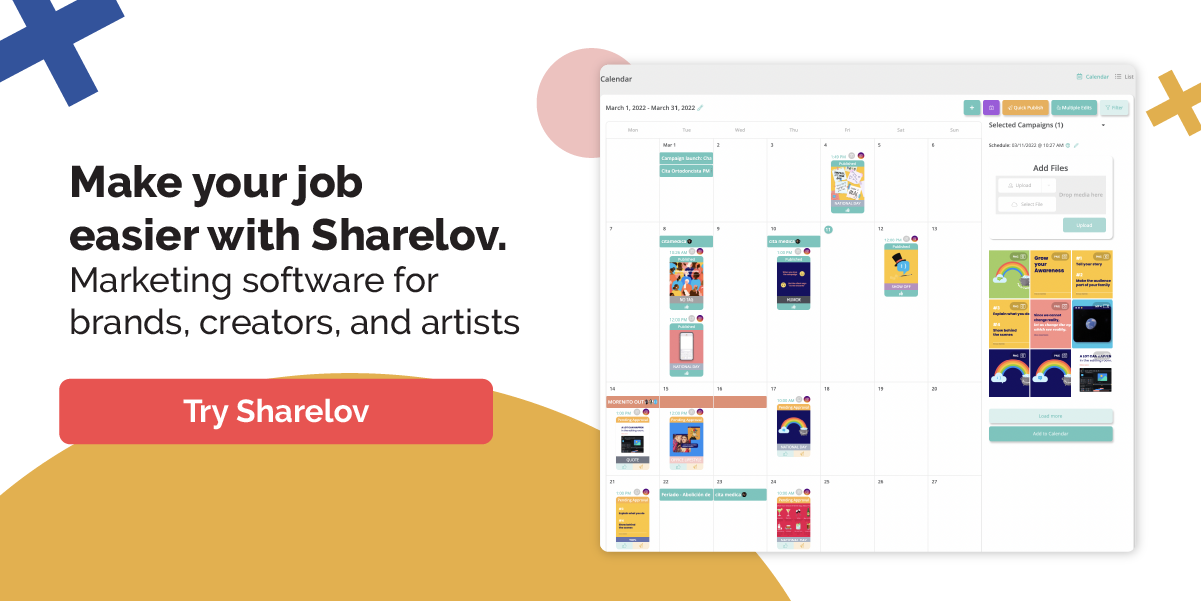 How To Get Started With YouTube Live – Step By Step
Whether you have 5 followers or 5 million, it's easy to get started broadcasting on YouTube Live.
Technical Requirements To Broadcast On YouTube Live
To broadcast with YouTube Live, you'll need a mobile phone (Android 5+ or IOS 8+) or a laptop or desktop computer with a camera and microphone.
Eligibility Requirements To Broadcast On YouTube Live
YouTube requires that you verify your channel, enable live streaming, and have no community restrictions (a result of violations). If you broadcast from a computer, there are no minimum subscriber requirements, but you'll need at least 50 subscribers if you plan to film from a mobile device.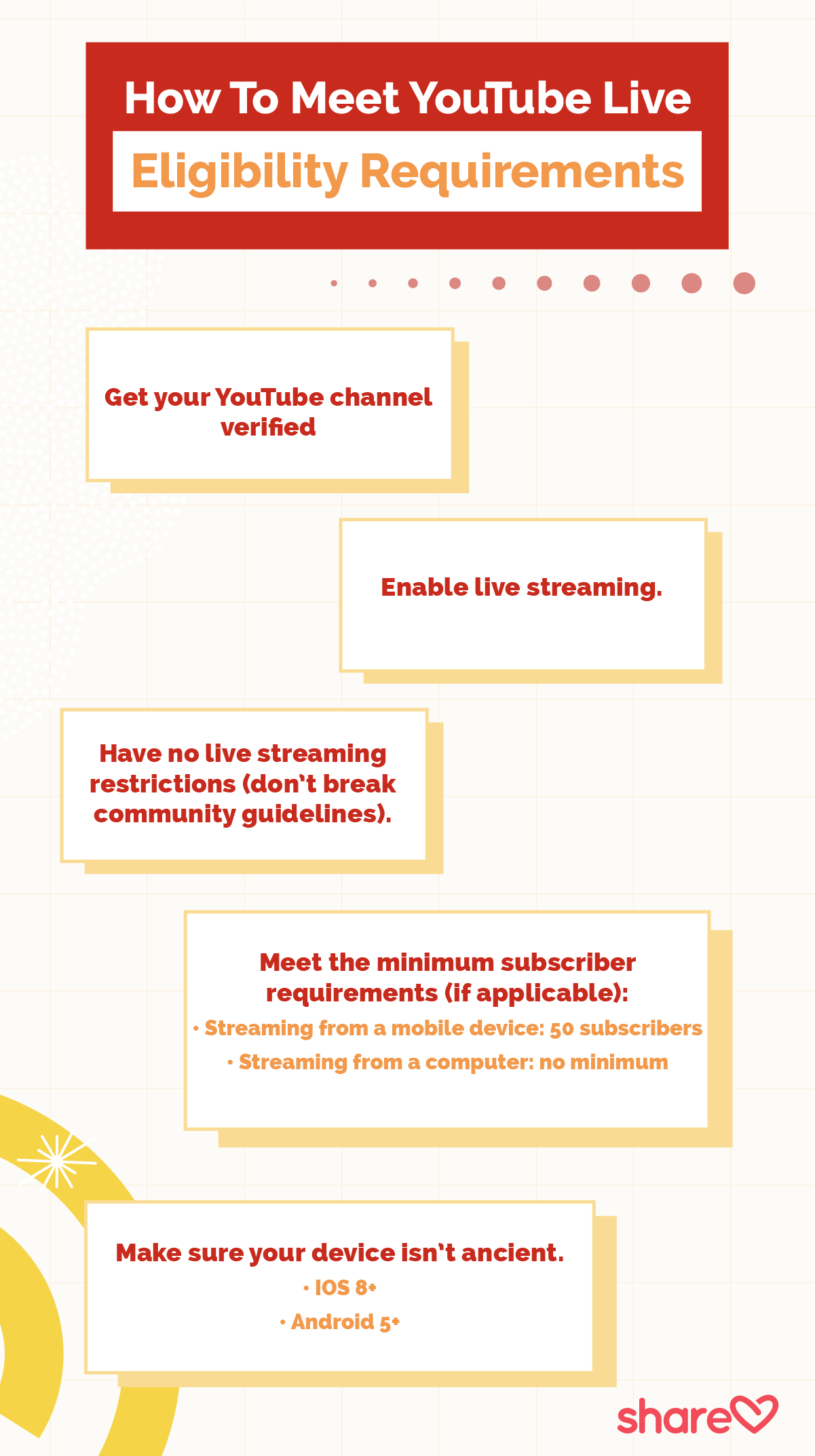 YouTube Live Eligibility Requirements:
 Get your channel verified by following these steps:


Enter your phone number, then enter the verification code they send you.

Enable live streaming (may take 24 hours after you enable it to stream your first video).

 Have no

live streaming restrictions

.

Meet the minimum subscriber requirements below:


Broadcasting from a computer (laptop, desktop): no minimum subscriber requirement.

Broadcasting from a mobile device: minimum 50 subscribers.
Eligibility requirements are easy to meet if you have no community violations, and it shouldn't take more than 24 hours from the time you enable live streaming until you can launch your first broadcast.
Step By Step Instructions: Getting Started With YouTube Live
Here are step-by-step instructions on to launch a livestream video on YouTube from any device or computer:
Go to YouTube > Create > Go Live
Smile, you're on camera!
Keep in mind that you'll need to meet the basic eligibility requirements (listed above) before you can stream. But launching your live broadcast is as simple as tapping a button.
Note: Businesses that prefer to use an encoder (for advanced productions that require game streaming, screen sharing, external audio, etc.) should visit Google's YouTube Live encoding instructions for detailed information.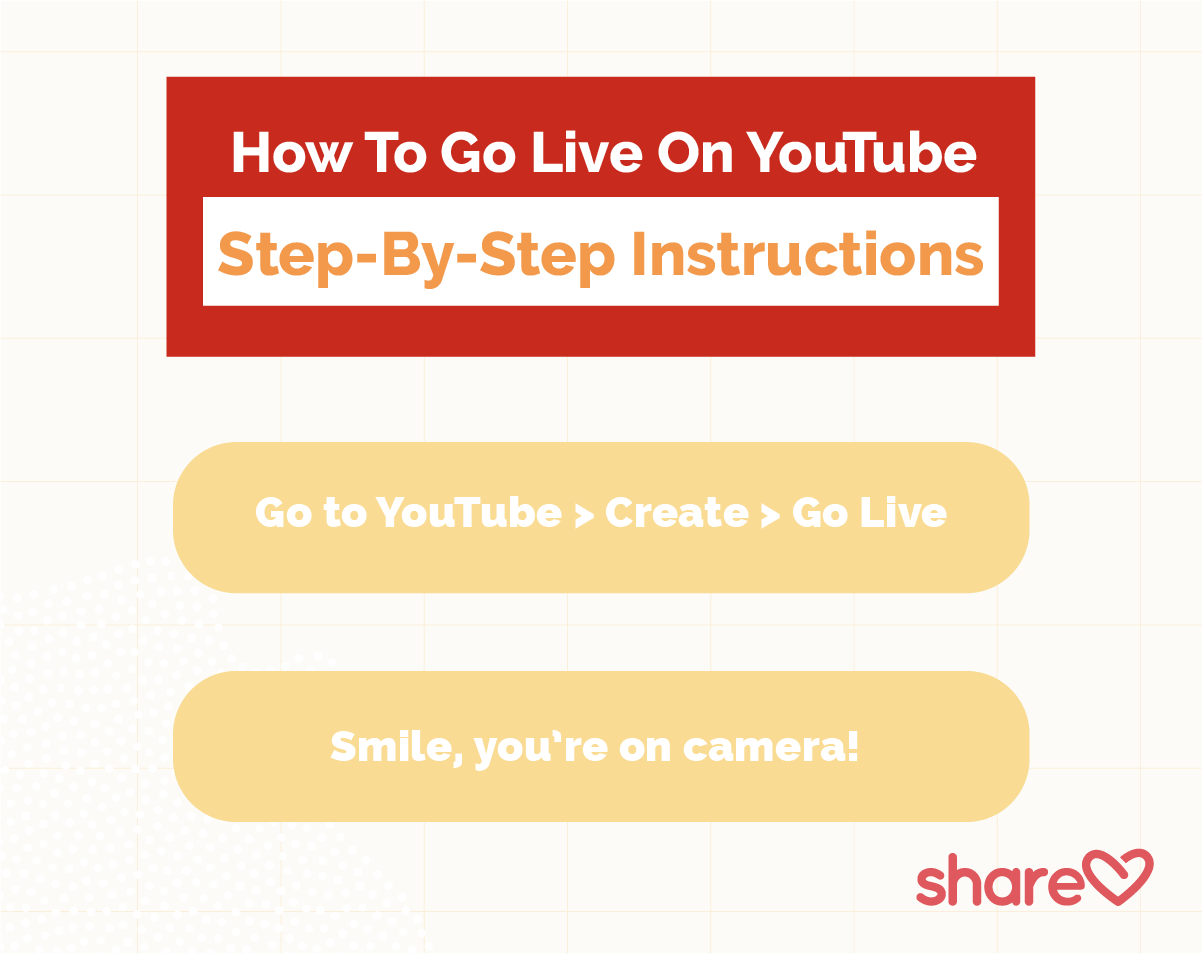 YouTube also provides tools and features you may want to incorporate over time, such as:
The special features come with higher eligibility requirements, such as minimum subscriber counts, but the platform makes it easy for anyone to get started building an audience with live video.
13 Tips For Successful YouTube Live Events
The following tips will help you prepare, execute, and wrap up a successful live video event using YouTube Live!
#1.  Schedule your live broadcast for a time when people are most likely to tune in. 
You can find the best time to stream by checking out content analytics from your YouTube Studio dashboard and familiarizing yourself and your team with the overall best times to publish on YouTube.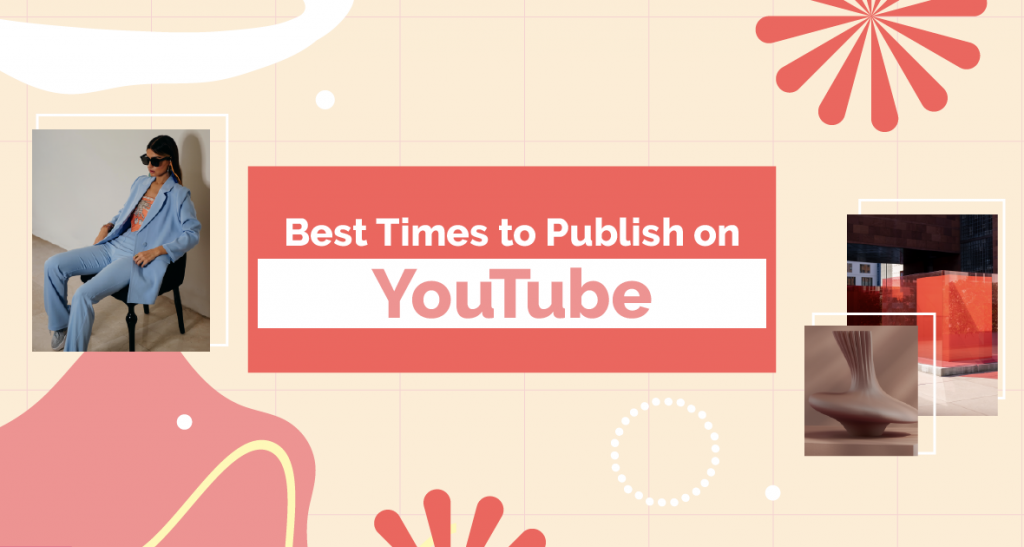 #2 — Use your YouTube channel to promote your upcoming live event. 
Create video promotions such as trailers and teasers to get your audience excited about your upcoming broadcast.
#3. Cross-promote your live event on your other social media channels. 
Before you cross-promote, find out how to do it the right way. Social media cross-promotions are a highly effective strategy when they're done well, but you also must avoid tactics that can drive your followers away. We get honest and specific about how to successfully cross-promote in the FREE Sharelov Guide To Cross-Posting On Social Media.
#4. Promote your upcoming event with a link on your website and in your marketing emails.
Encourage your email subscribers and website visitors to subscribe to your YouTube channel and join you for live broadcasts.
#5. Customize your YouTube channel by creating a Live Section, adding an associated website, and applying the recommended optimization techniques recommended in the live stream promotions section of the YouTube help pages. 
#6. Prepare for live production by ensuring that you have a reliable internet connection, and test your recording equipment in advance. 
If you're wondering whether you should upgrade your video recording equipmpment, visit the YouTube Live Stream Help page for recommendations..
Also, check out YouTube's safety recommendations to learn how to use the privacy and safety settings to keep you safe during life streams. 
#7. Create a written plan for your live recording.
Good marketers know that a written plan significantly improves their chances for success. Planning becomes even more important when you're live on air! Plan what you'll say and how you'll keep viewers engaged, and consider how you'll incorporate visuals, special features, and live chat into your broadcast.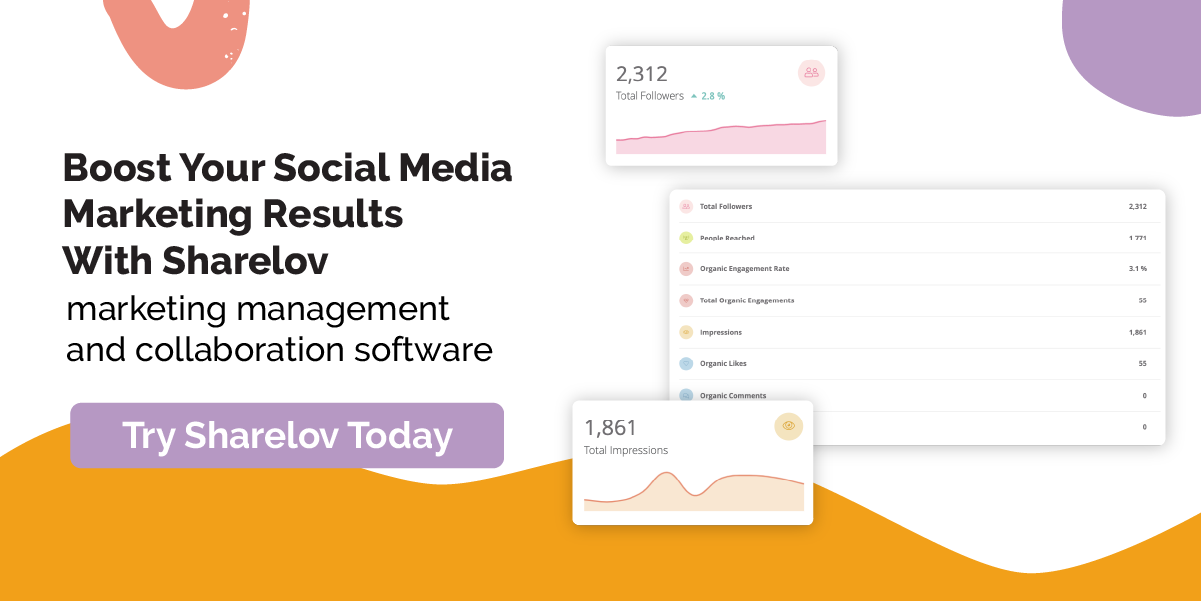 #8. Research what's working — or not working — in your industry.
Check out what type of video and live streams are working well (or not so well) for your competitors and industry influencers across all your social media channels. You can save a massive amount of time and money by learning from their mistakes and from their wins.
Monitoring  your competitors social media strategy and content on other channels such as TikTok, Instagram, and Facebook can broaden your understanding of your own target audience.
If your target audience is mostly under the age of 35, check out the trends across other platforms such as TikTok and Instagram to learn what's attracting subscribers to your industry.
#9 — Use teasers, trailers, announcements, and influencers to promote your live event.
Influencers can add a massive boost to your video reach and engagement. Consider partnering with micro influencers who have smaller but highly-engaged audiences
#10 — Develop your event as part of an entire campaign and marketing strategy.
Campaigns can help build excitement surrounding your live videos, and a well-written social media marketing strategy will help ensure that your broadcasts meet the marketing goals they were designed for. 
Additionally, a good social media content calendar can help you plan all your live videos and supporting marketing content.
To learn more about setting objectives and creating a marketing strategy, check out Sharelov's FREE guide to creating a social media strategy for your brand!
#11 — Use social media advertising to promote your upcoming broadcast to new people.
Advertising is an excellent way to expand your reach and grow your audience. It can also help drive traffic to your livestream events!
#12 — Take advantage of social media automation for a more effective use of your resources.
The right type of automation can give you an edge on your competitors and help you reach the right people at the right times to promote your live event. It can also save you time on routine marketing tasks such as compiling and sharing insights, organizing communications, monitoring your industry and your brand mentions.

You can learn more about how automation works and which kind of automation to use for your business Sharelov's Guide To Social Media Automation.
#13 (bonus tip!) — Use marketing software to save time and improve your chances of success.
There are many steps to successful marketing and broadcasting. A good marketing software can help you do almost everything more effectively in half the time.
Sharelov for teams: Sharelov can help your  team organize, develop, create, communicate, and promote all your content across multiple platforms and campaigns.
Collaborate with team members on content development, production, and publishing — all from one platform.

Communicate with your team using real-time live chat, messaging, or project comments.

Create and track tasks for all your team members across multiple campaigns.

Enjoy AI-powered marketing tools such as the Best Times To Post, Hashtag idea tool, and more on platforms such as Instagram and Facebook.

Customize, track, and share social media insights (analytics) from one simple, visual interface.

Monitor your competitors & influencers' posts and ads

And so much more!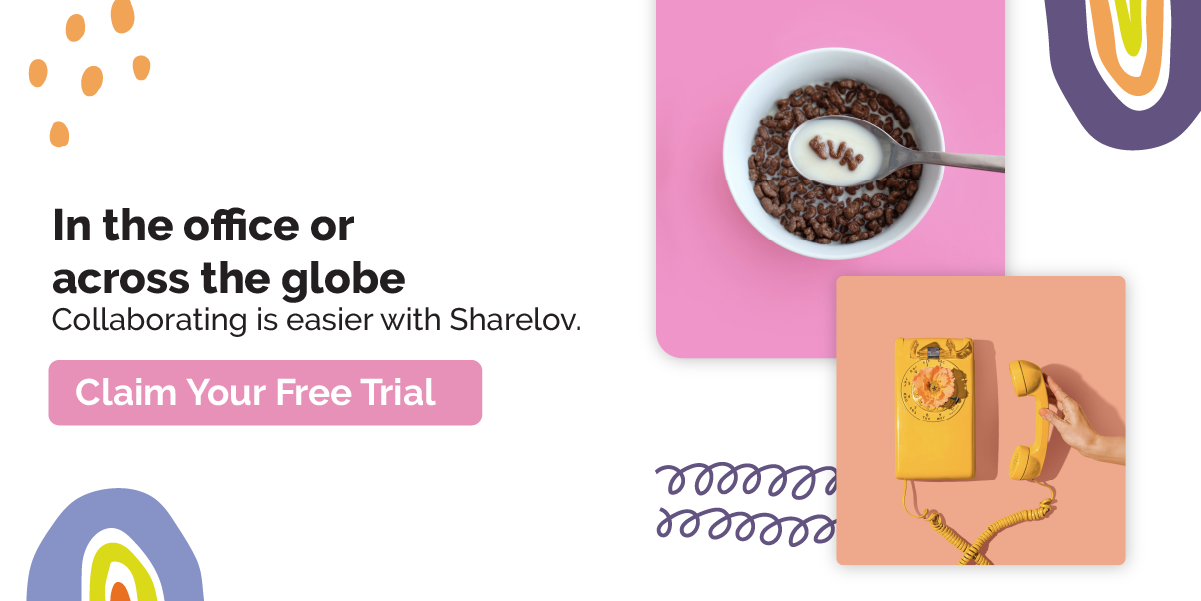 Sharelov for creators, artists, and entrepreneurs: 
Set deadlines and track tasks for all your projects with the to-do tool.

Plan events and keep on schedule with the drag-and-drop social media content calendar.

Request approvals from partners and clients in one click.

Store all your media in our cloud server.

Develop multiple campaigns across several social media channels and keep them all organized and easy to access.

Enjoy AI-powered tools and featuresthat help you reach and engage followers.

Easily track your competitors activity and your own brand mentions on platforms such as Instagram, Facebook, and TikTok.

Simplify social media insights with shareable visual charts you can customize to match your objectives.

Track and respond to social media comments on platforms such as Instagram.

Only $10/month per person after your free trial.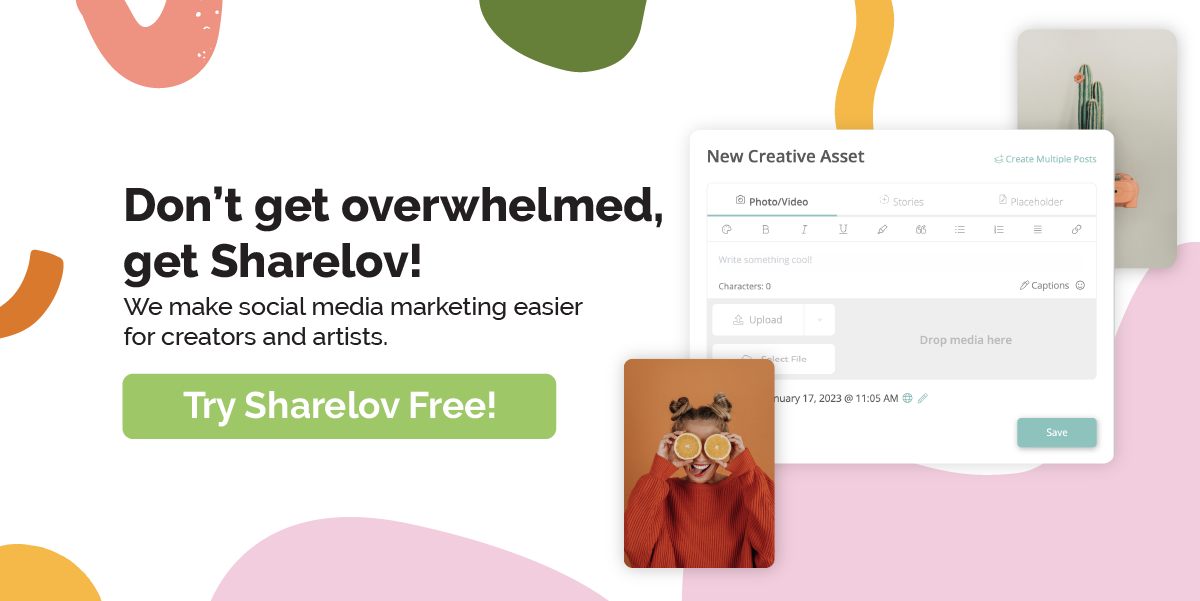 Prepare for your live video events by planning out the activity, promoting your livestream in advance, and taking advantage of helpful resources such as the YouTube Help Pages, social media automation, and a good marketing software.
Youtube Live — An Excellent Tool For Any Size Business.
YouTube Live is an excellent real-time live video streaming service for any size business. It's free to use and easy to get started, yet has plenty of tools and features to inspire and reward your growth on the platform. 
We'd love to hear your live video success stories! Have you tried live video? Do you prefer YouTube for livestreaming or is there another platform that works better? Share your stories with us in the comments below!