Updated January 2019
Imagine gaining an edge on your Facebook competition without spending thousands of dollars on research.
Let's say someone hands you a current report that shows you exactly what times of the day (and week) audiences interact with brands on Facebook.
Now, you've got an edge.
In this guide, we show you the best times to post on Facebook to get more likes, comments, and shares for your brand.
Did you know that many of your competitors are scheduling content based on old data? Worse, they rely on studies about when other brands publish, instead of when people engage with brands.
And it's all based on recent data that measures audience-to-brand activity.
If you don't have 12 minutes to read, just pick a category and jump straight to our recommendations:
Why Does Facebook Matter?
Since changes to its algorithm in early 2018, Facebook has become commonly referred to as a "pay to play" network. Brands wishing to expand their reach and grow an audience on Facebook must include paid advertising as part of their strategy.
So, if you're hoping to increase your brand's reach, then Facebook Ads Manager will help you find the best times to place paid advertising.
But, if you want to increase engagement (reactions, comments, and shares), then you're in the right place!
Here's why Facebook matters to brands:
Despite the algorithm changes and privacy concerns that define the current 2018 Facebook landscape, the social platform continues to grow.
The recent Statista report below lists the top social media networks by popularity.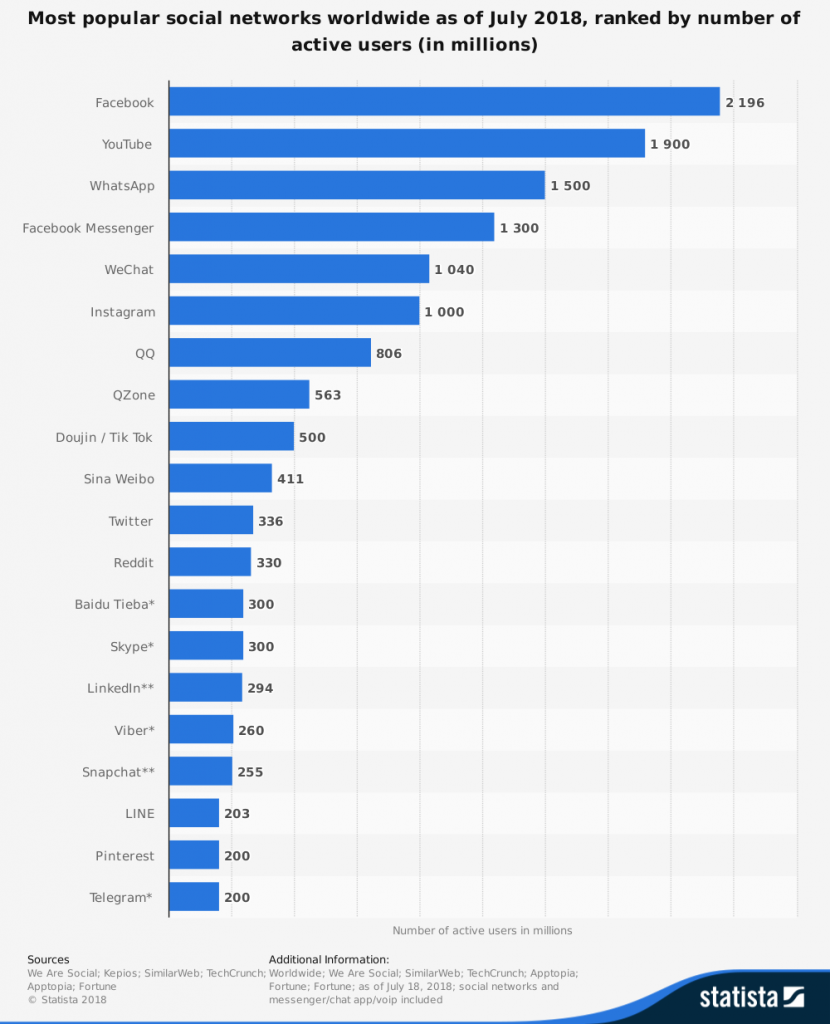 What are the Best Times to Post on Facebook?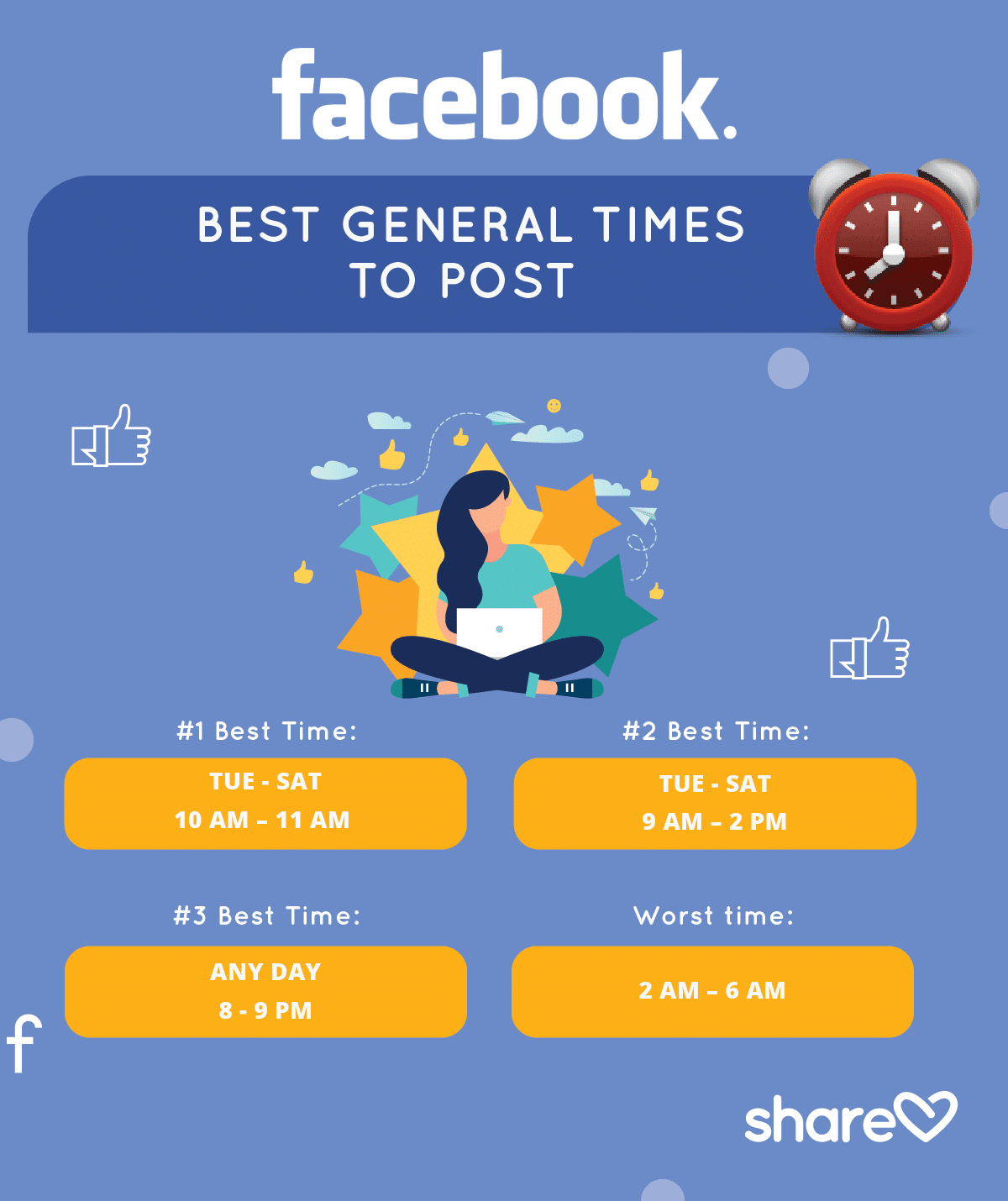 The next chart shows you how the most popular times versus the most effective times to post.
Number of Posts Vs. Total Interactions Chart:
2. The #2 best general time for brands to post on Facebook is anytime between 9 am – 2 pm Tuesday through Saturday.
Sundays and Mondays also have high engagement rates, but they're slightly lower than Tuesday – Saturday.
3. The #3 best general time to post on Facebook is 8 – 9 pm on Thursdays.
8-9 pm – any day of the week

is also a high engagement period, but studies show Thursdays are slightly better.

Interesting fact: Most brands don't publish content after business hours, even though there's a sharp spike in engagement between 8 – 9 pm on weekdays.

As a result, 8 - 9 pm may be an excellent opportunity for brands looking for a high engagement time period with low competition.
4. The worst general time to post on Facebook is 2 am – 6 am. Just. Don't. Do. It.
What Are the Best Times to Post Photos on Facebook?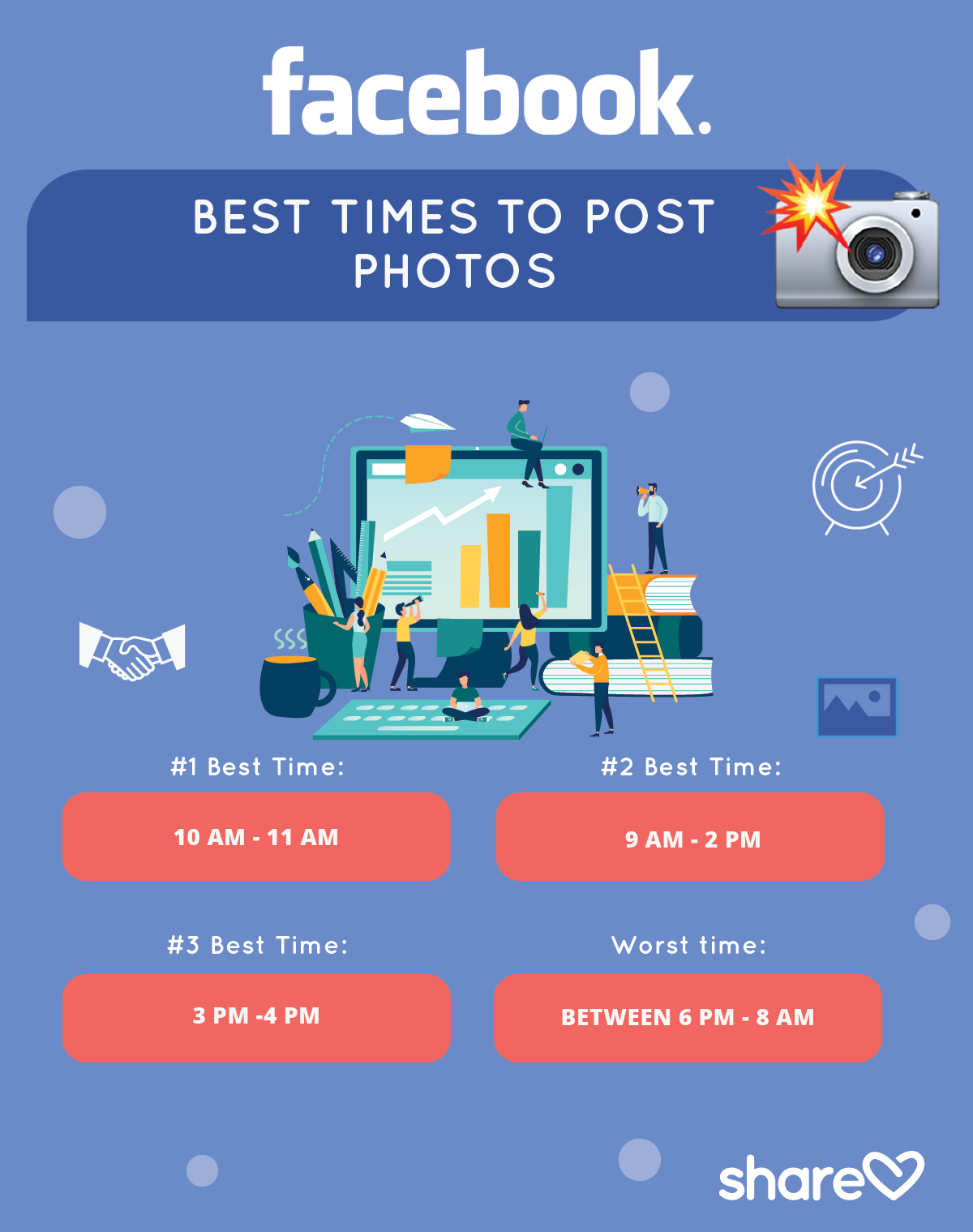 The best time for brands to publish content on Facebook are:

The absolute best time to post photos is between 10 - 11 am. (This is the same time frame as the #1 spot above).

The

second-best time

to post photos is

between 1 – 2 pm

. You might want to lean toward publishing closer to 1 than 2 since there's a dramatic dip in engagement at about 2 pm.

The

third-best time

for posting photos is

between 3-4 pm

.

The worst time to post photos is after 6 pm and before 8 am.
What Are the Best Times to Post Videos on Facebook?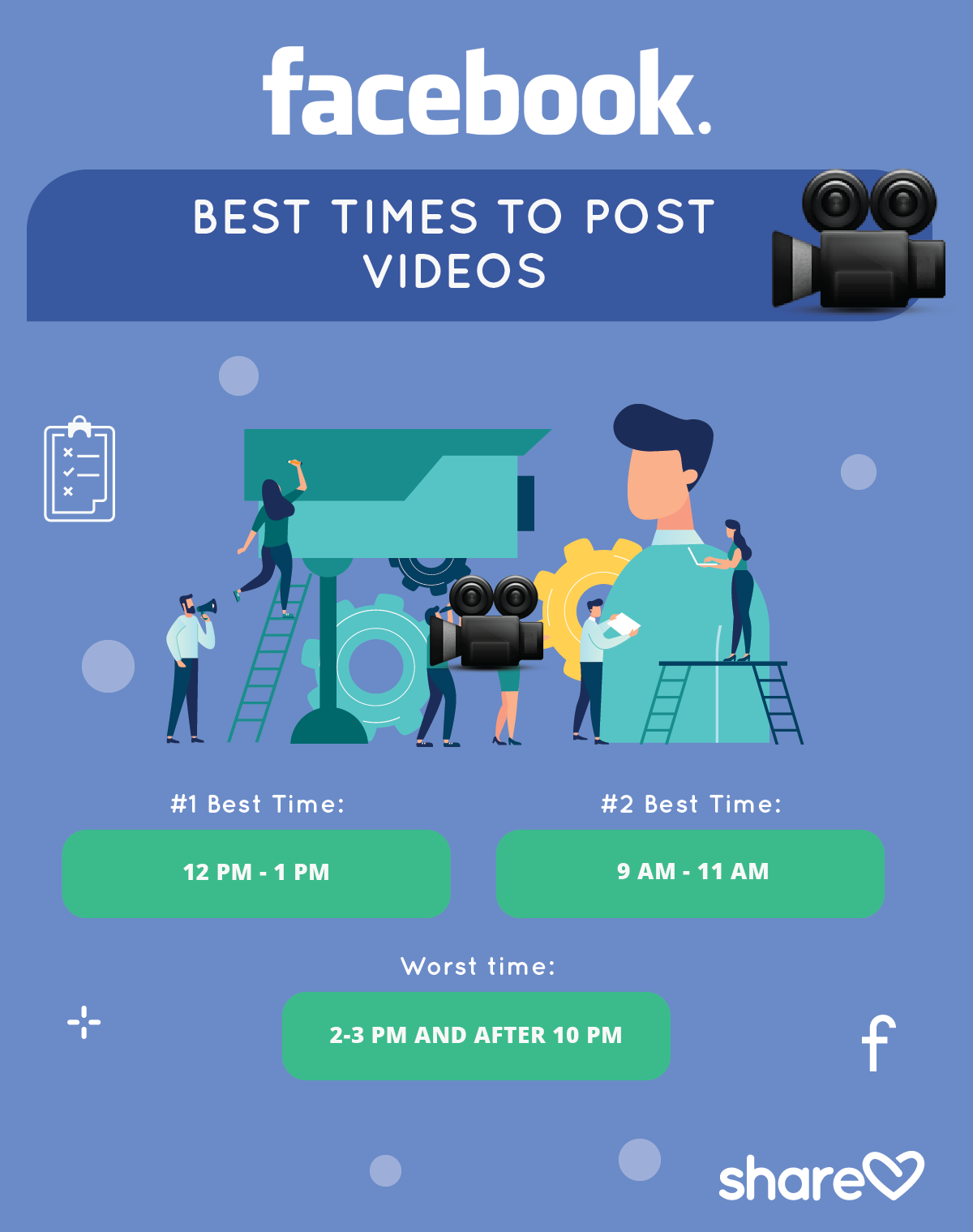 According to the way users interact with brand videos, here are the best times to post videos.
The second best-time to post videos is

between 9 – 11 am

.

The worst time to post videos is between 2-3 pm and after 10 pm.
Tip: When you post videos, be sure the content is compelling enough to engage your audience.
Take the time to get to know your followers and study what types of brand videos they're most likely to interact with.
Because when you publish videos that get repeat viewership, they get a boost in the news feed.
What Are the Best Times to Post Live Videos on Facebook?
The best time to live stream on is when your audience is most likely to be on Facebook.
Here's how to find out when your audience is online
Facebook Insights shares information about when your audience is online.
Here's how to use Insights to find out the best times to post your live videos:
From your brand's Facebook page, choose "Insights" from the top menu.

Next, select "posts" from the choices in the left-hand column.

Choose the "When Your Fans are Online" tab, located above the chart.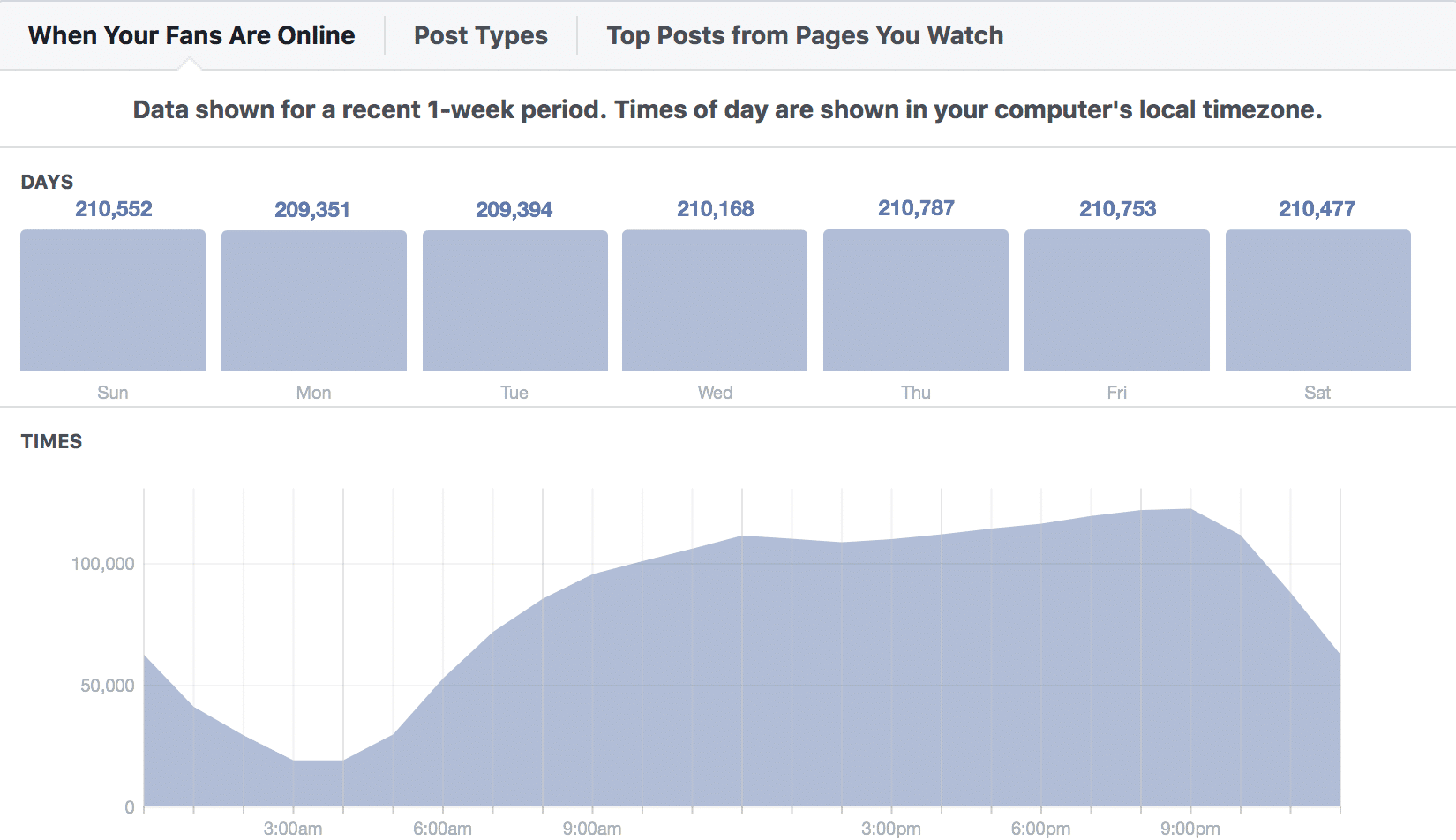 Below the daily information is a chart that shows you what times of day your audience is most active. Scroll over different points in the chart for a popup that gives you more details.
Tip: Consider scheduling a regular weekly live stream so your audience can make plans to join you live.
This gives you the chance to invite, announce, and promote your live videos.
Since content that generates conversations between people shows higher in the newsfeed, be sure to engage your viewers!
Here are a few ways you can encourage your audience to join in the conversation:
Encourage viewers to introduce themselves as they join in throughout your broadcast.

Mention people by name as they introduce themselves.

Ask people to share comments and opinions.
Facebook Live videos get an average "6X times as many interactions as regular videos."
Be sure to give your viewers a reason to engage!
Live videos are saved so your followers can watch them later.
But, there are a couple of good reasons to try to reach your audience in real-time instead:
Your video is more likely to appear in their newsfeed during the live broadcast.

Live audience interaction boosts viewership.

Followers are more likely to attend live events when they're already on Facebook.
Broadcast Breaking News When Possible
Although this may only happen once or twice a year for your industry, it's worth your while to prepare yourself to broadcast live news as it happens. Be sure that the news is relevant to your audience and important enough to capture their attention.
What Are the Best Times to Post for Specific Industries?
The recommendations below are based on slightly-different data than the ones above. Provided by *Sprout Social, this data examined specific brands, channels, and time frames for the tech, education, and healthcare industries.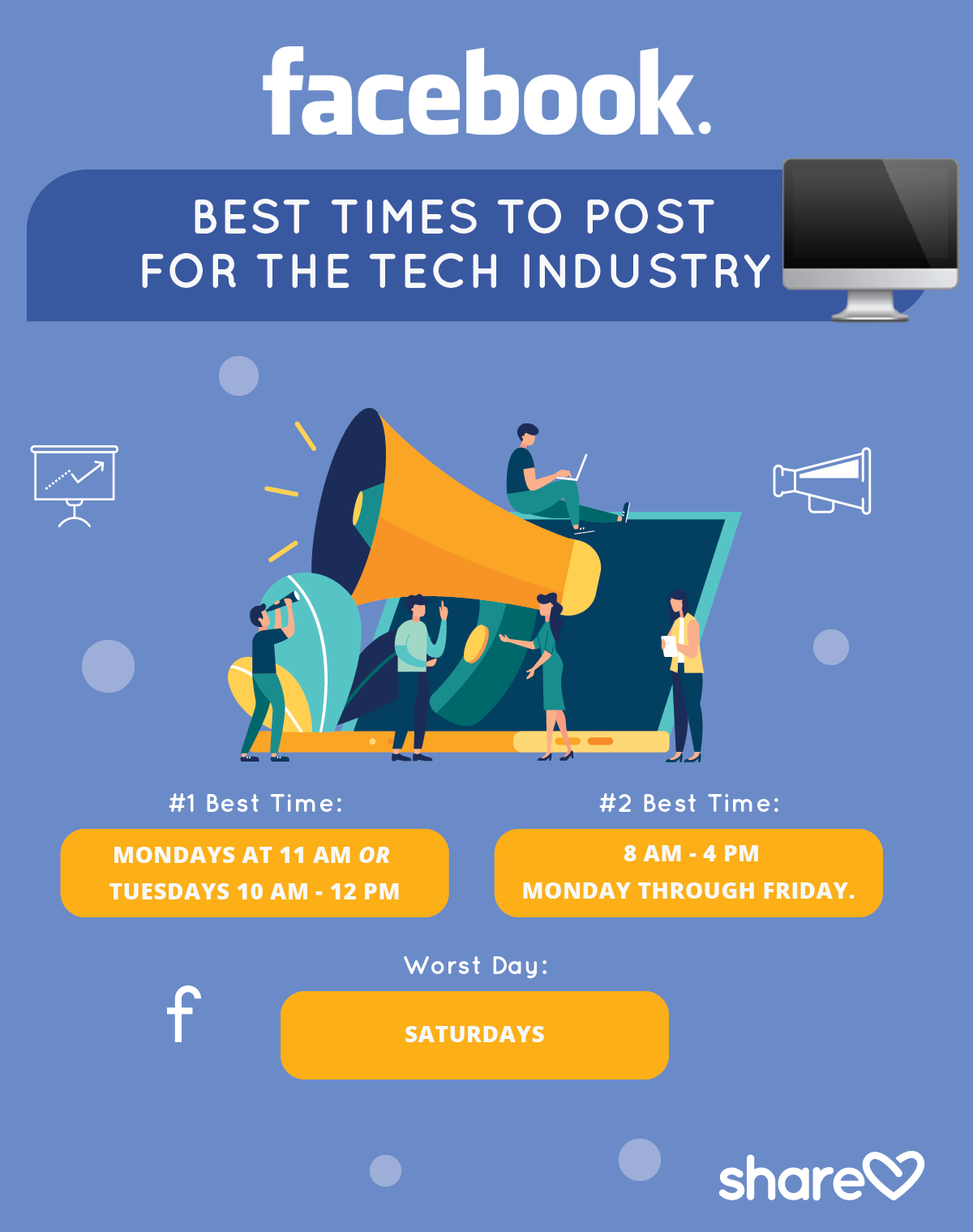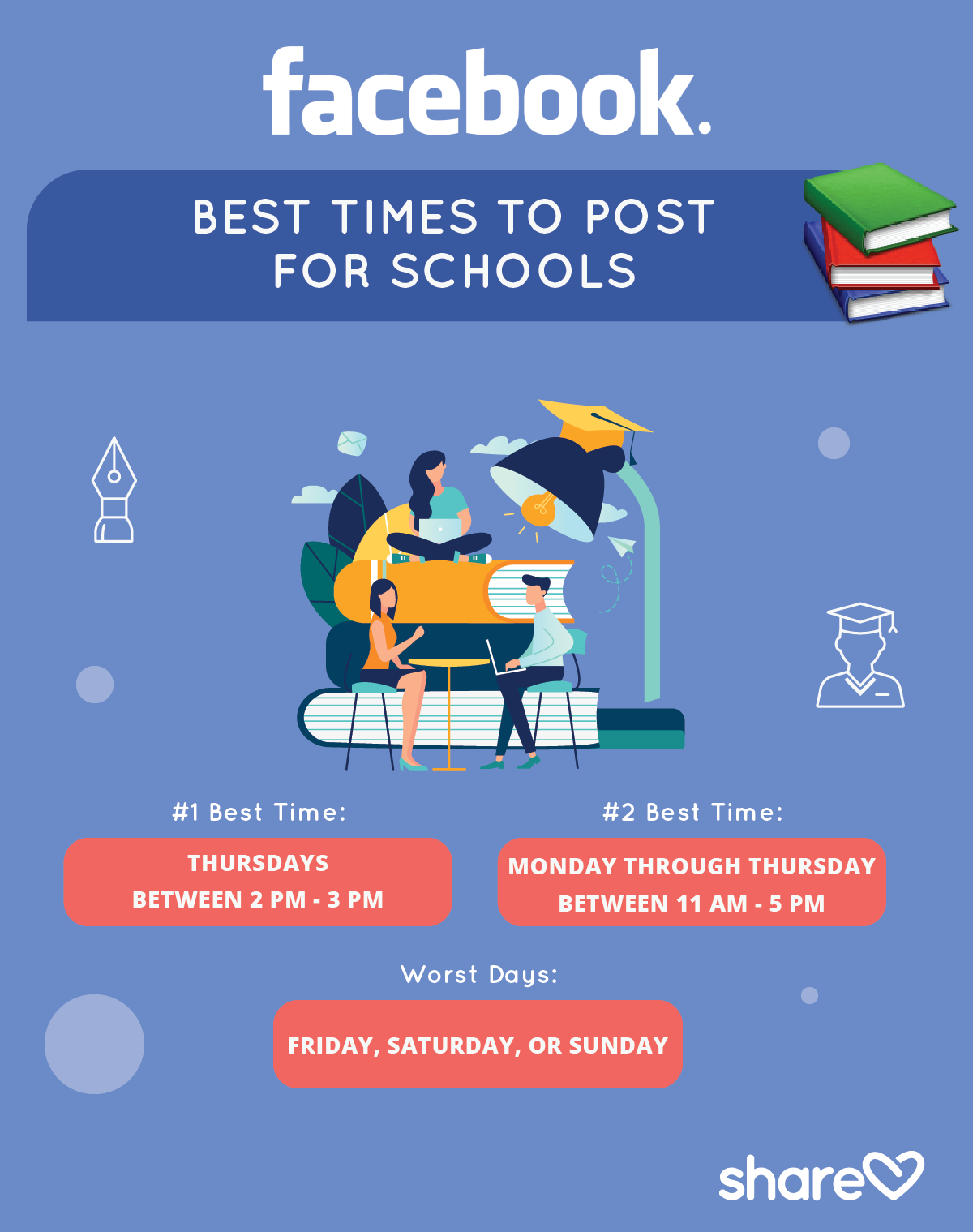 Anytime Monday through Thursday between 11 am – 5 pm is also good.




The worst time for schools to post on Facebook is anytime Friday, Saturday, or Sunday.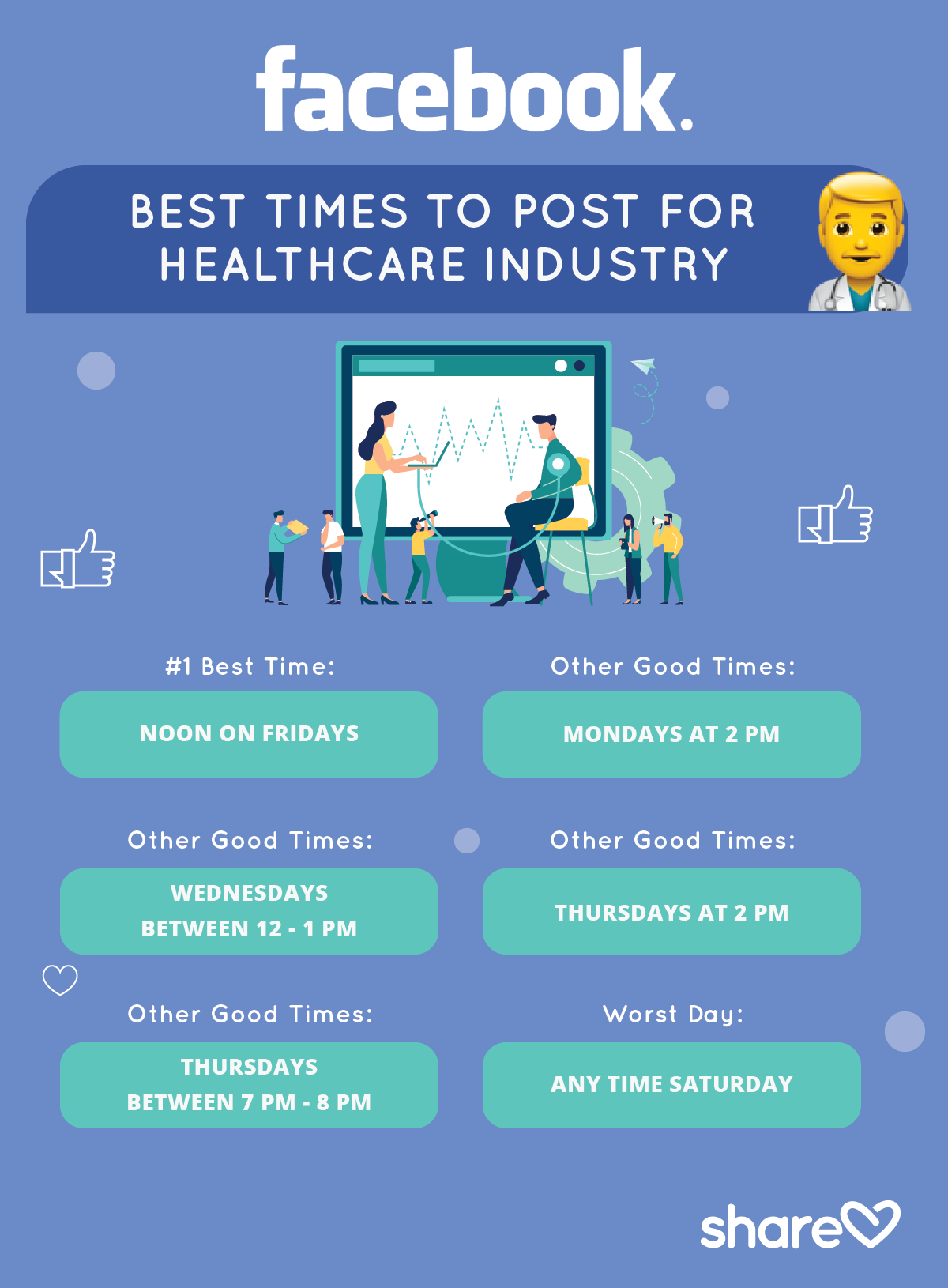 Other good times for healthcare practices include:
Mondays at 2 pm

Wednesdays between 12 – 1 pm

Thursdays at 2 pm

Thursdays between 7 – 8 pm.

Sunday at noon or 2 pm.
The worst time

for healthcare practices to post on Facebook is anytime on Saturdays.
How Often Should I Post on Facebook?
Most brands should post about once a day.
However, if you have over 10,000 followers, you'll want to publish more often.
According to a recent report by Vend Social, most brands see a decreased number of clicks when they post more than 1 – 2X a day.
But, larger brands with 10,000+ followings receive more interaction the more they post.
No matter how often you publish, keep in mind that quality comes first.
Share content that people will react to and comment on, so your post has a better chance of ranking higher in their newsfeeds.
How to Use Best Posting Times to Increase Brand Engagement on Facebook
Start by using the best posting times above to schedule content in your social media calendar.
As time goes by, the Insights feature will show you which times are working best for your audience.
Here are a few final tips to help you make the most of your content and scheduling:
About half of all the comments a post receives in its lifetime happen within an hour of publication.


So,

Publish toward the early part of your "best time to post" window.


For example, if 10 – 11 am is the best time frame, don't wait until 10:55 am to publish because you'll miss 55 minutes of prime engagement time!

Avoid getting red-flagged for "engagement bait."


Learn how to avoid engagement bait

before you press "post," so your content has the best chance of getting seen by your followers.

Publish content that compels people to engage.


Remember, more engagement = higher newsfeed rankings.

Work in teams.


Every time your brand posts on Facebook, you're competing with a sea of global giants.




So, your content needs to be compelling and laser-focused on your target audience if you want people to engage.
As with any social media platform, be sure to experiment, measure results, and adjust your posting schedule as you learn what works best for your audience.
With Sharelov, your team can work together faster to produce better marketing campaigns from social media to traditional.
What do you think about the best times to post on Facebook? Do you have any inside tips for your industry? Tell us about it in the comments section below!
---
*Tech, Healthcare, & Education best times to post: Sprout Social Best Times to Post on Social Media: 2018 Industry Research
Best Times to Post on Facebook 2019 [Infographic]

Facebook Livestream Tips [Infographic]