Find out how to design a Facebook posting schedule for your brand in our guide below. Discover the best times to post, how often to post, and what to post to reach your marketing objectives.
The best times to post on Facebook in 2022 are:
Wednesdays 3 – 3:15 pm
Tuesdays 10 – 11 am
Fridays 9 am – 12 pm
Keep reading to discover everything you need to know about designing your brand's Facebook publishing schedule. 
You'll find tips on more best times to post, how to tailor posting times to your audience and industry, and what type of content helps boost engagement, reach, and conversions.
What Are The Best Times To Post On Facebook?
Does Timing Matter On Facebook?
Posting your Facebook content at strategic times can help get it in front of more people who are likely to interact with it on the largest social media platform on earth. The more people interact with your content, the more likely its algorithm is to show it to even more people.
Organic Facebook posts only reach about 5% of a brand's followers, so marketers need to go the extra mile to expand their reach and generate engagement with their content.
Why Facebook Matters
With nearly 3 billion active monthly users, Facebook is still the champion of social media, by far the largest and most active social platform in existence.
Here's who's on Facebook in 2022, according to recent reports by Dataportal and Hubspot:
37% of all the people on the planet

and

69% of Americans

use Facebook.

73% of U.S. adults log on

to Facebook

daily

.

93% of businesses

are active on Facebook.
The sheer volume of people on Facebook, plus the fact that nearly all marketers use it and its paid ads provide the best ROI are why the social media channel still matters in 2022. 
And if like many people, you think that Facebook is only for "older" people, then it's time to take a peek at the statistics: 61% of Facebook users are under the age of 35, and 42% of American teens use Facebook.
How Old Are Facebook Users?
Ages 13 – 17:

119.0 million users

Ages 18 – 24: 481.1 million users

Ages 25 – 34: 643.2 million users

Ages 35 – 44: 401.5 million

Ages 45 – 54: 237.0 million users

Ages 55 – 64: 145.4 million users

Ages 65 and up: 114.1 million users
The largest group of Facebook users are between the ages of 25 and 34, and the 2nd largest age group lands at ages 18 to 24.
Top Age Groups On Facebook:
Largest age group: Ages 25 – 34 (643.2 million)
2nd Largest age group: Ages 18 – 24 (481.1 million)
3rd Largest age group: Ages 35 – 44 (401.5 million)
Facebook reaches and engages nearly everyone of every age, and is the #1 largest, most active social media network on earth. Marketers and brands wanting to connect with audiences will almost always want to build engaged audiences on the platform.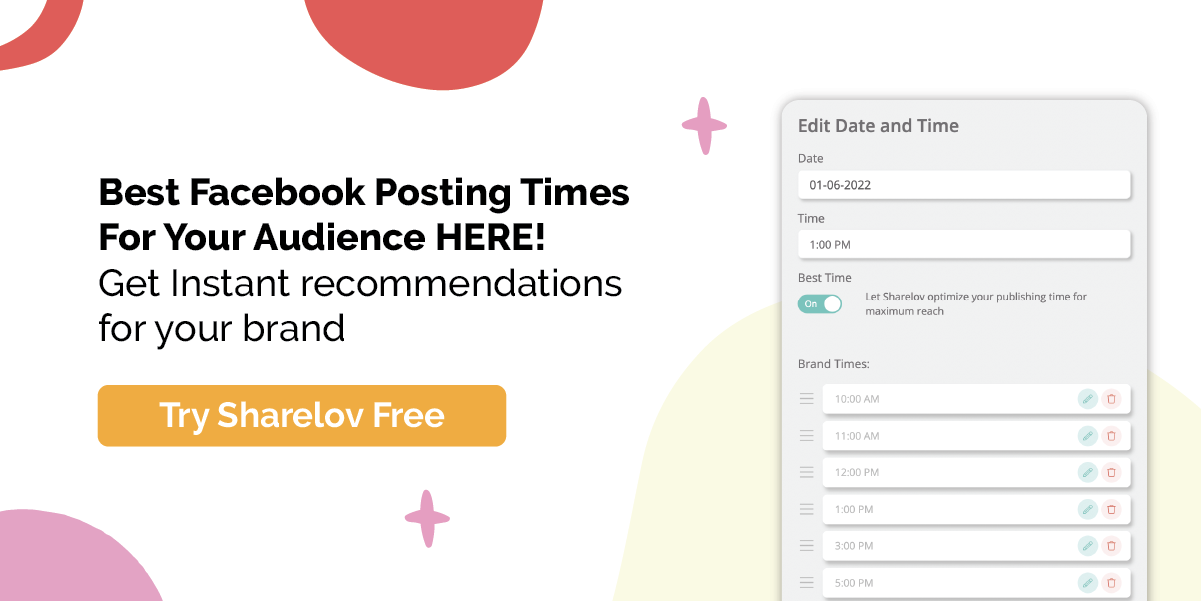 How The Facebook Algorithm Works And Why Timing Matters
For brands, engagement isn't easy to come by on Facebook. Even getting posts in front of your own followers can be a real challenge.
How can marketers win? For starters, understanding how its algorithm works can go a long way toward succeeding on the platform.
The Facebook algorithm begins by evaluating each piece of content based on 4 signals: 
Who posted it 

When it was posted, 

What time of day the user browses 

Speed of the user's internet connection
It then uses those signals to try and predict the following user response:
How likely is the user to comment on a story?

How likely is the user to spend time reading that story?

Would the user watch the video through to completion?

How likely is the user to say they find this story informative?
Once it collects all of the information above, the algorithm tries to predict the following factors before making its final decision:
How likely is it that the viewer will click?

How likely is it that the viewer will spend time with this post?

How likely is it that the viewer will comment and share?

How likely is it that the viewer will find it informative?

How likely is it that this content is clickbait?

How likely is it that the content links to a low-quality webpage?
Given what we know about Facebook's algorithm, timing and engagement are critical factors in how often and to how many people your content is shown on the platform.
Best Times To Post On Facebook
Our recommended best posting times are compiled by analyzing several of the most reliable studies and reports sources in the industry. For our 2022 Facebook posting guide, we used only the most recent and reliable sources, including Hubspot, Social Pilot, Sprout Social, Influencer Marketing Hub, Coschedule, and Later.
More than at any point in social media history, brands will need to monitor their social media insights to tailor posting schedules for their audiences in 2022.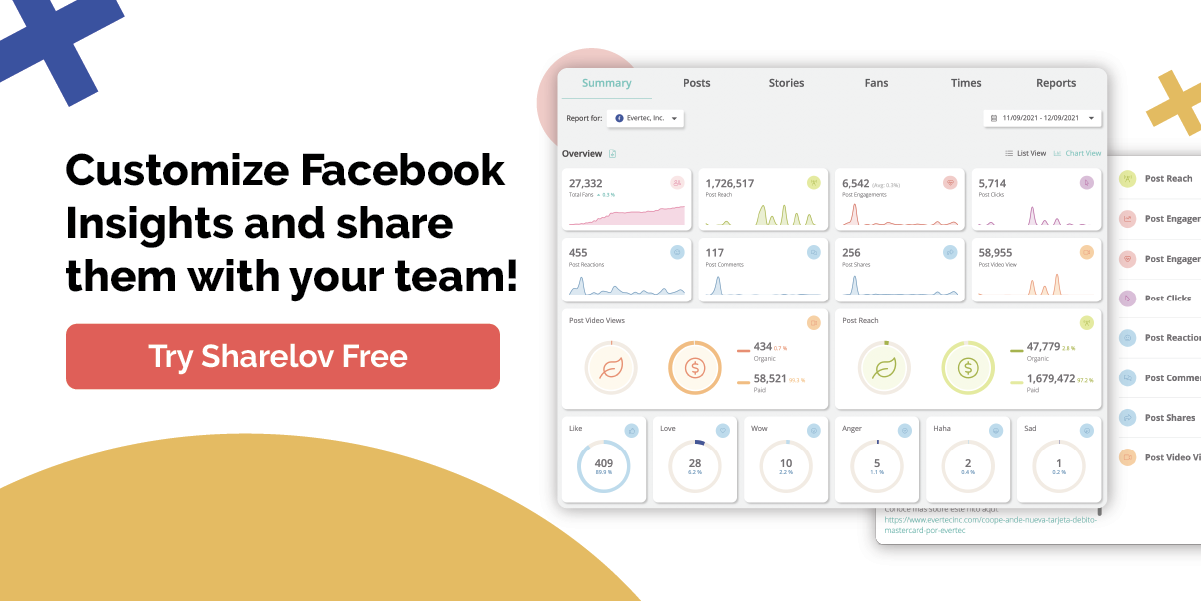 We examined several 2022 reports for this year's guide, and never before have we seen so much conflicting information about when to post on Facebook!
It makes sense, though, when you consider the upheaval in people's schedules over the past three years. Each quarter brought radical changes to the way people work and play, which affects when and how often they log on to social media.
It's great to see things getting back to "normal," right? Yes!
But settling back into routines has been a marathon — not a sprint — which means that, as a whole, people's new social media habits are still evolving. We think this is the reason for all the conflict in the 2022 Best Posting Time reports because data pulled from any given month probably changed within a couple of weeks.
Many brands and marketers will be "winging it" this year, trying to determine when their audiences are most likely to log on to Facebook and engage.
Until then, our 2022 recommended posting times can help kick-start your publishing schedule until you can determine the patterns of your audience's social media behavior.
We show you how to tailor the best times to your brand's audience in the last section of this guide, and it may be the most helpful section in the entire guide (last but not least!), so we hope you don't miss it!
Best Overall Times To Post On Facebook
Wednesday afternoons, Tuesday mornings, and Friday mornings look like the best time to post on Facebook for most brands.
The best general Facebook publishing times for brands are:
Wednesdays 3 – 3:15 pm
Tuesdays 10 – 11 am
Fridays 9 am – noon
More than one study, including Hubspot's survey of more than 300 marketers, indicated that Saturdays are an excellent time to post, instead of the weekdays listed above. And, while several reports listed Sunday as the worst day to post, a couple of others suggested it may be one of the best.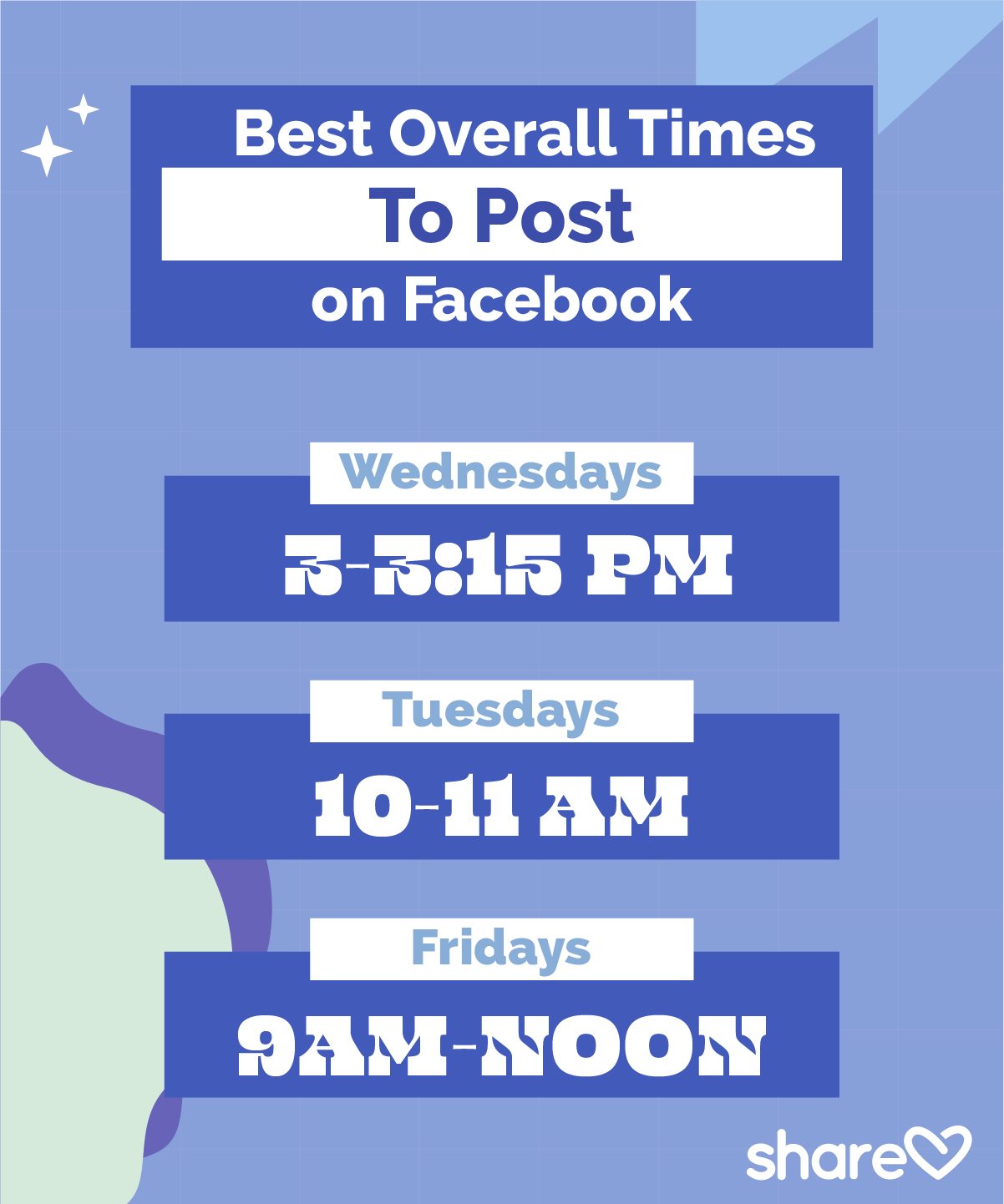 Our research from other platforms such as Instagram and TikTok indicates that social media users may be now spending more time on platforms over the weekends, so please consider incorporating some weekend test runs along with the recommended best posting times above!
Best Days To Post On Facebook
Saturdays, Wednesdays, and Fridays are the best days of the week for Facebook posting.
Saturdays

Wednesdays

Fridays
Most studies agree that Tuesdays through Fridays are good days to post. Even though there's no Saturday time slot that's recommended as highly as our top three times (Wednesday 3 – 3:15 pm, Tuesdays 10 – 11 am, and Fridays 9 am-noon), the day is mentioned in several studies as one of the best opportunities for generating engagement.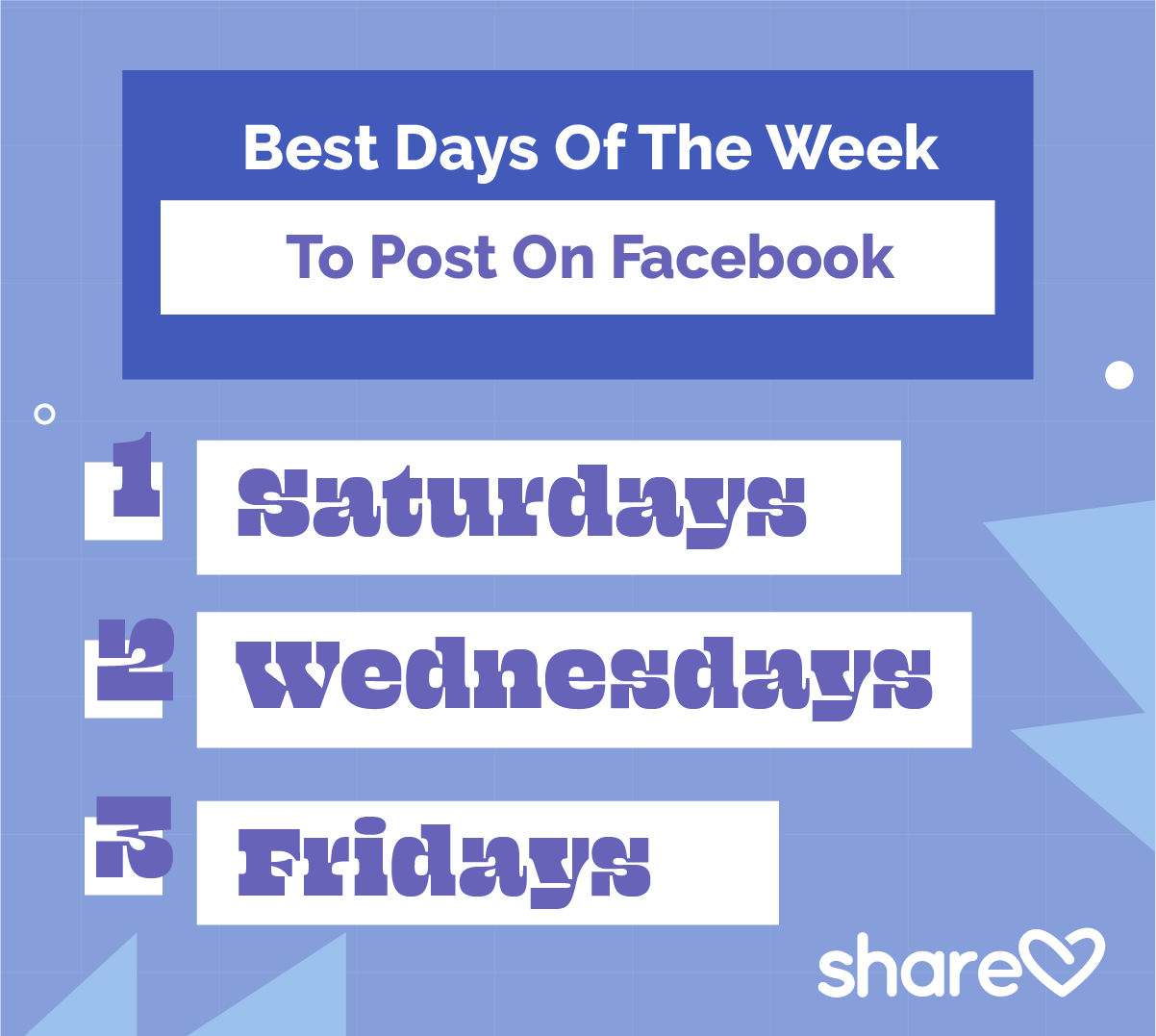 Best Time Of Day To Post On Facebook
The best times of day to post are mid-afternoon, late morning, and lunchtime.
3:00 – 3: 15 p.m.

10:00 – 11:00 a.m.

12:00 pm (noon)
Anytime between 9 am – 6 pm is a decent time to post, but the 10 am and 3 pm spots show strong potential across several different reports.
Best Times To Post On Weekdays
If you're committed to daily posting, here's what we recommend for the best times every day of the week.
Mondays: 3:00 – 3: 15 p.m.
Tuesdays: 3:00 – 3: 15 p.m.
Wednesdays: 3:00 – 3: 15 p.m.
Thursdays: 3:00 – 3: 15 p.m.
Fridays: 3:00 – 3: 15 p.m.
Overall, the best time to post on weekdays is afternoons between noon – 6 pm.
Best Times To Post On Weekends
Some brands and marketers find that weekends are their most engaged days of the week, despite many others claiming that Sundays are the worst day to post.
If you're going to post on the weekends, we recommend scheduling your publishing around the lunch hour.
Saturdays: 12 – 1 pm
Sundays: 12 – 1 pm
Best Times to Go Live on Facebook
If you broadcast live on Facebook, consider streaming on Tuesdays or Thursdays in the early afternoon.
Tuesdays & Thursdays 1 pm – 3 pm
For tips, ideas, and examples on how brands successfully broadcast live, check out The Ultimate Guide To Facebook Live Events and discover how to prepare for, promote, and engage followers for live video.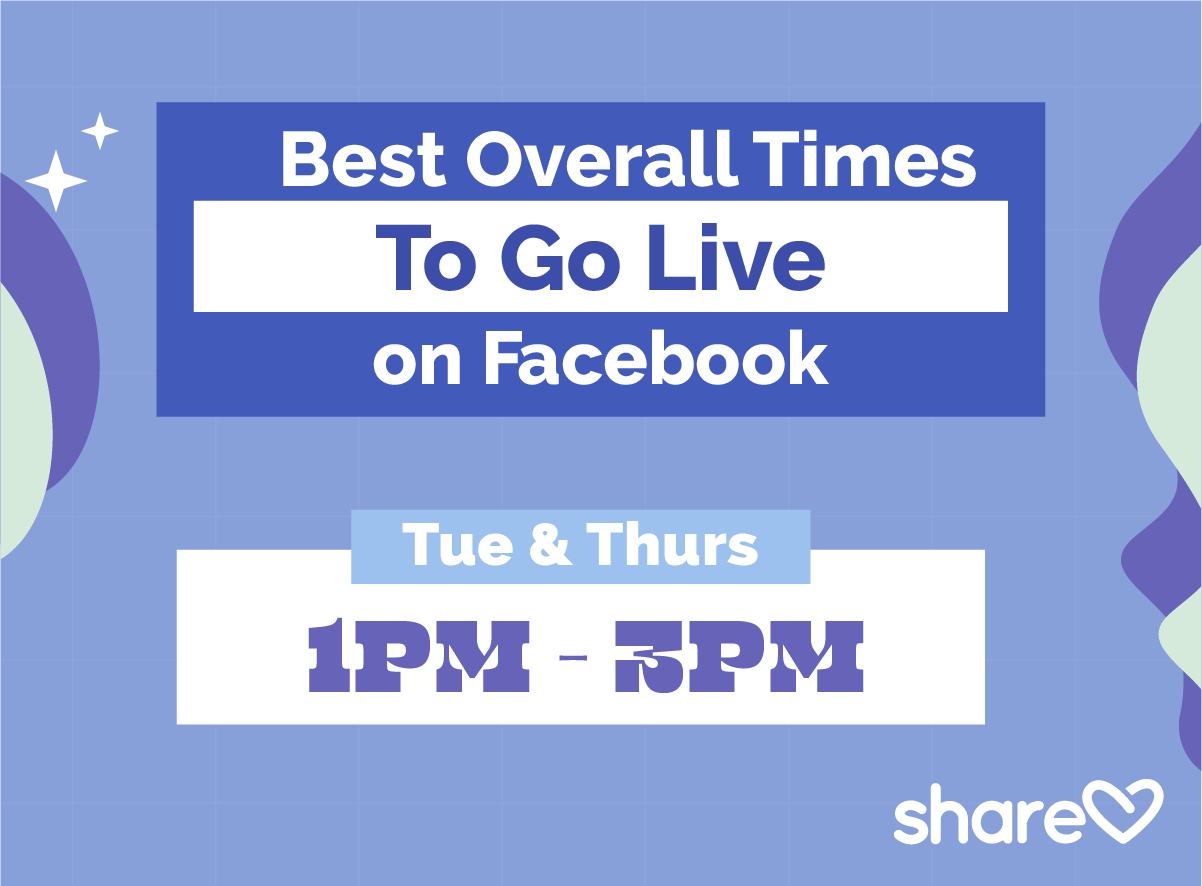 Best Times To Post On Facebook By Industry
Some industry audiences have different social media habits than others, resulting in a variety of best posting times. 
Check out our recommendations for specific industries in the list below.
B2B brands: 9:00 a.m. to 2:00 p.m. on Tuesdays, Wednesdays, Thursdays

B2C brands: 12:00 p.m. EST on Tuesdays and Wednesday

Agriculture: 9:00 a.m. to 12:00 p.m. Saturdays

Food & beverage brands*: 9:00 a.m. to 12:00 p.m. Saturdays

Hospitality:  9:00 a.m. to 12:00 p.m. Saturdays

Media: 8:00 a.m. to 10:00 a.m. and 5:00 p.m. Tuesdays through Fridays

Nonprofits: 9:00 a.m. to 2:00 p.m. on Tuesdays, Wednesdays, Thursdays

Software companies: 9:00 a.m. to 2:00 p.m. on Tuesdays, Wednesdays, Thursdays

Travel:  9:00 a.m. to 12:00 p.m. Saturdays
Food and beverage brands, and restaurants, will definitely want to experiment with different time frames since mealtime hours are also typically a great time to engage audiences.
Worst Times To Post On Facebook
Some days showed poor interaction for Facebook posts, particularly Sundays, early mornings, and late evenings.
Worst day: Sunday
Worst times of the day:
Mornings before 9 am
Evenings after 9 pm
It's worth noting that some studies showed Sundays as an excellent day of the week to post on Facebook — a good reminder to experiment and monitor your audience analytics for clues about your audience!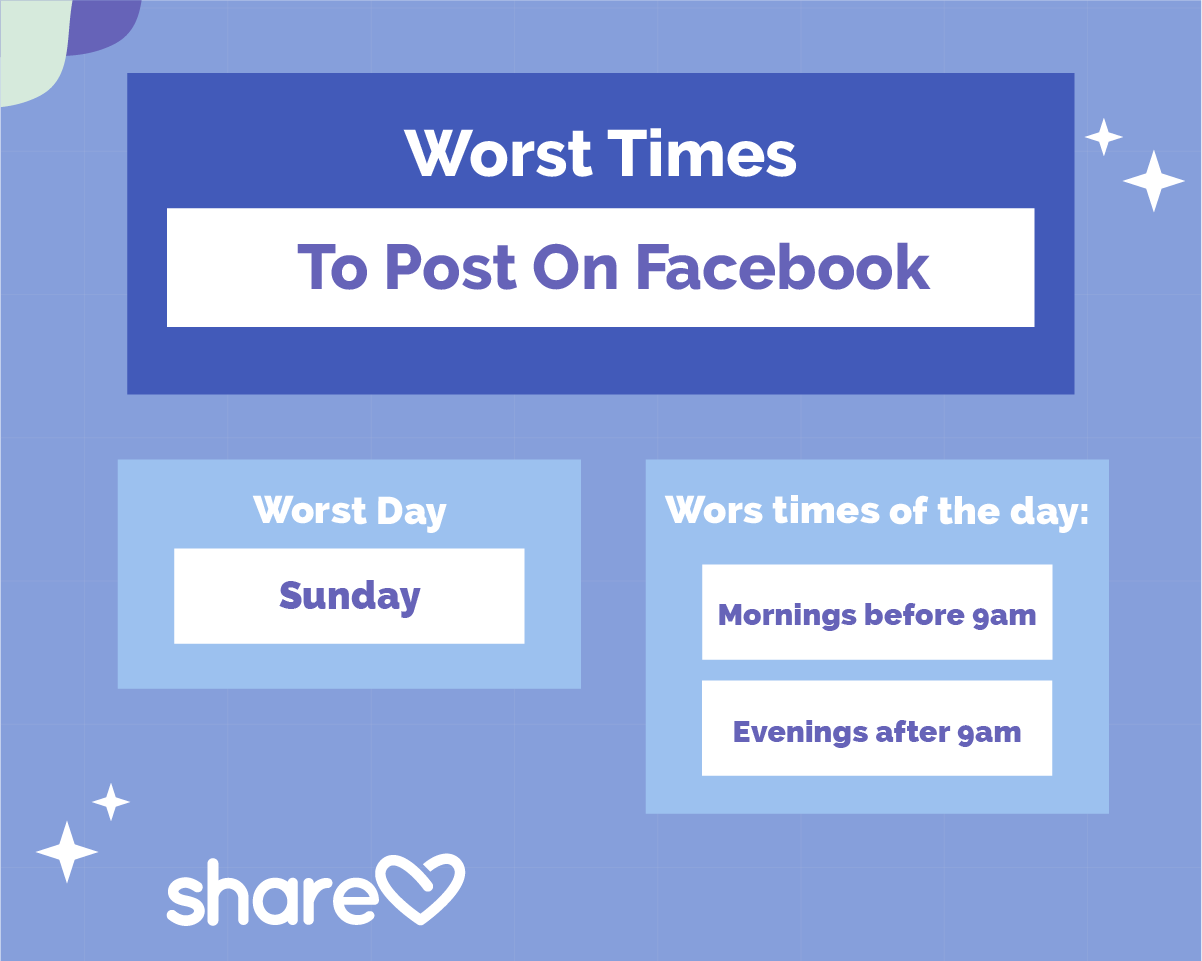 How Often To Post On Facebook
On average, marketers publish 5 ½  posts per week on Facebook.
Most studies agree that brands should never post more than once per day on Facebook.
Maximum: Once a day

(or 3 times per week for the restaurant industry)

Minimum: 3 times a week
Brands with less than 10,000 followers should be especially careful not to overpost, since companies that posted more than once a day saw a 50% decline in engagement, according to Hubspot's survey.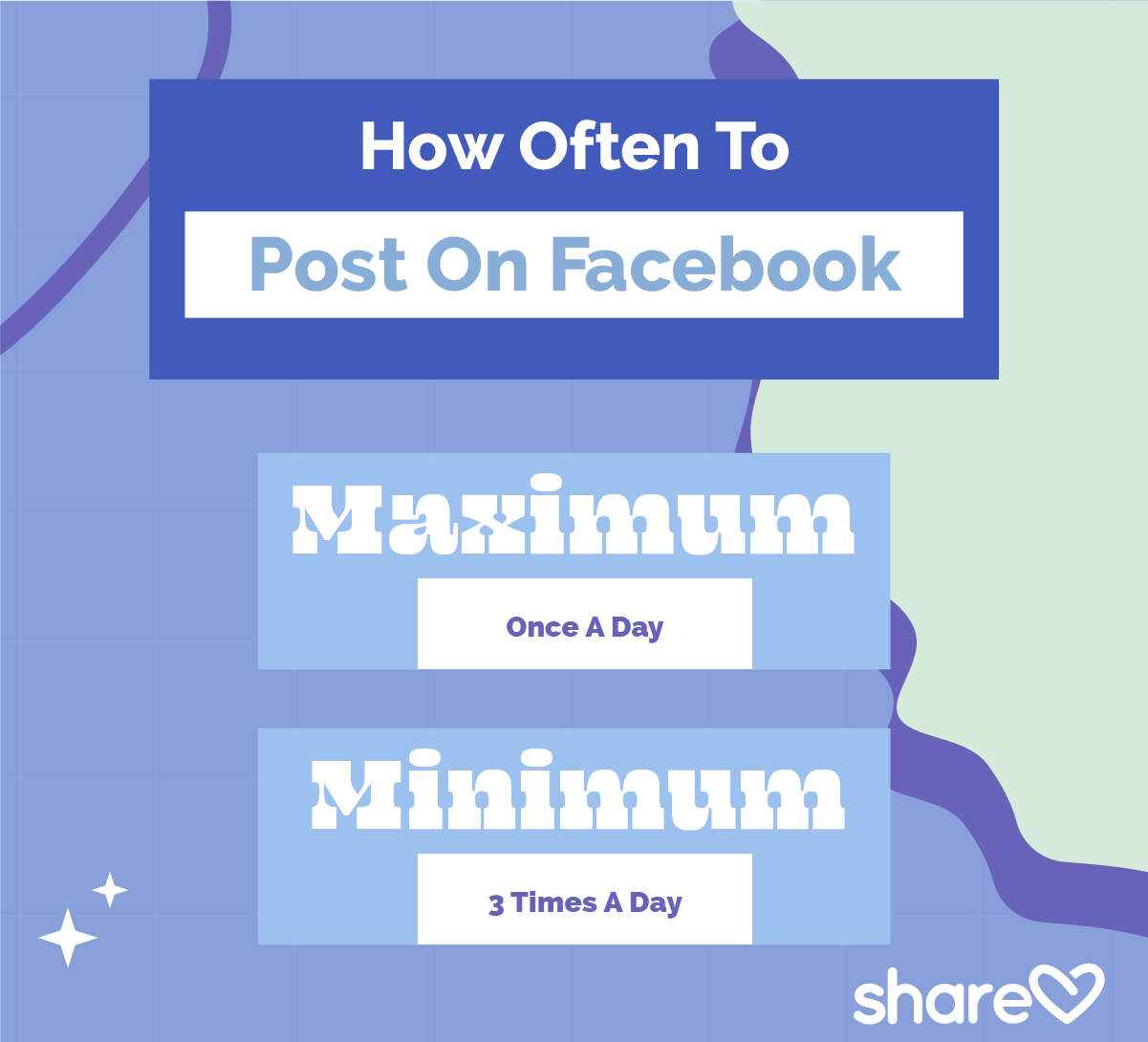 Tips To Help Boost Your Facebook Engagement Rates
Here's a peek at some of the habits that can increase or decrease your Facebook engagement rates.
Publish more video content.

One

report by Statista

found that

video generates the highest engagement rates

on Facebook, and Hubspot's report shows that

62% of people

report more interest in a product after seeing it on Facebook.

Native video

has the highest video engagement rates on Facebook, generating

221,652 comments on average per video according to the report.

Live video

is the 2nd-most engaging video content on Facebook, generating 38,038 comments on average per video according to the report.

Embedded video

is the 3rd-most engaging video content on Facebook, generating an average  6,685 comments on average per video according to the report.

Avoid link posts

. Link posts (that take users off the platform) receive 73% less engagement than video posts (Hubspot 2022).

Consider influencer campaigns

. 35% of marketers report successful influencer campaigns on Facebook (Hubspot 2022).

Publish Facebook Stories.

73% of U.S.

Facebook users say

Stories enable them to experience new things outside their everyday lives.

57% of people in the US say Stories make them feel part of a larger community.

More than one billion Stories are shared on Facebook's family of apps every day.

Publish unique, creative content in other formats

that your audience loves, such as:

Behind-the-scenes stories

Graphics with inspirational, identity-related, or humorous text.

Posts that engage your audience with questions.

User-generated content that encourages your audience to share with friends.

Find the absolute best posting times for your audience

by using Facebook analytics. Monitoring your Facebook insights daily can go a long way toward understanding when your audience engages with you and what they respond to.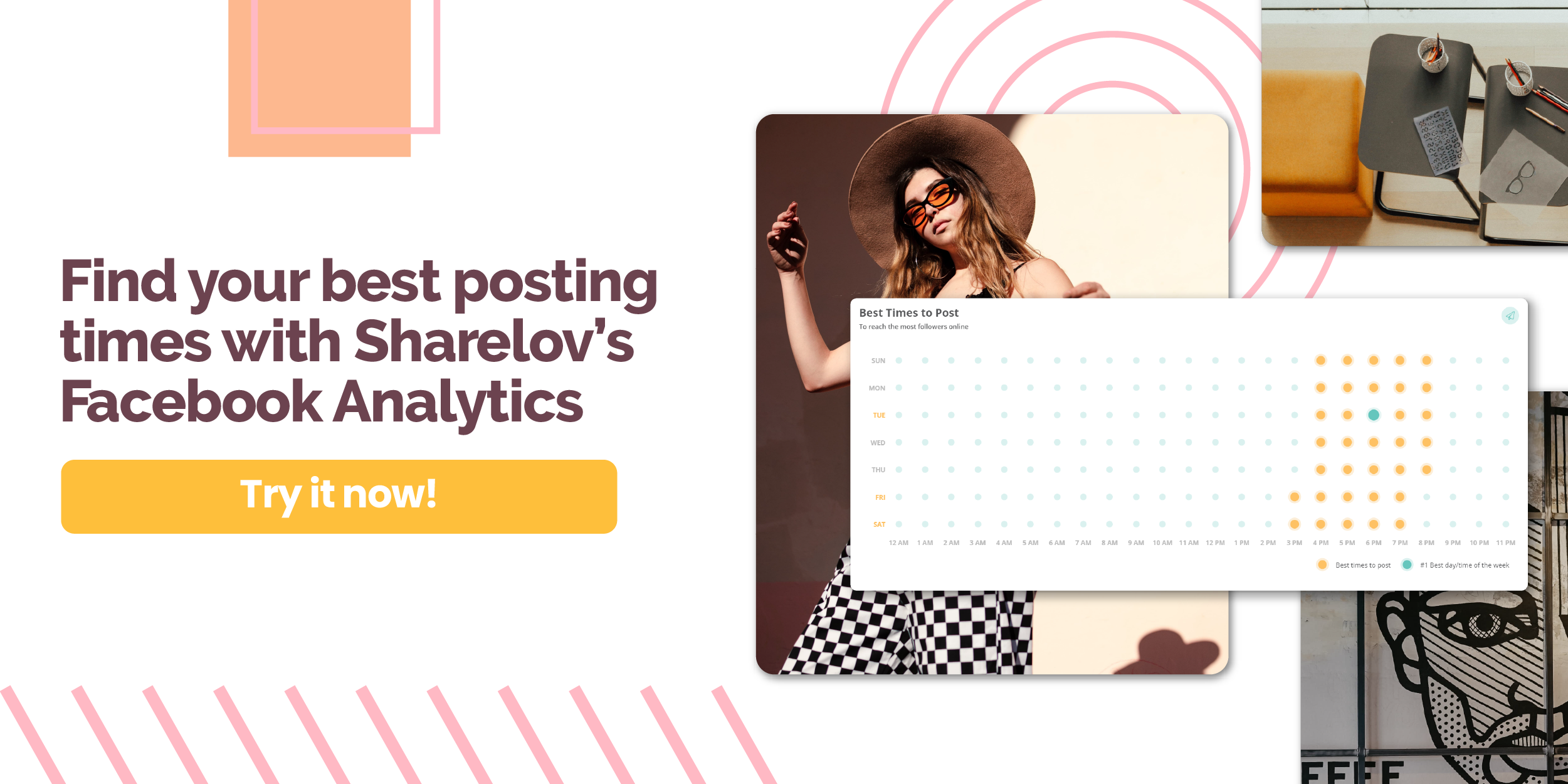 Daily monitoring can be a challenge, but with the right social media software, you can effectively monitor content and campaigns in minutes a day — and share key points with your team
Sharelov makes Facebook analytics super-easy by allowing you to choose your own KPI's and access them in seconds — anytime. Plus, you can instantly share the data cards (in a beautiful, visual format) with your team and clients at the click of a button.
How To Find Posting Times That Work Best For Your Brand
Marketers have a lot of tasks to juggle to keep up with changing social media trends and connect with their audiences. For that reason, it's easy for analytics to fall by the wayside or not get the attention they need to keep up with the changes in audience behavior.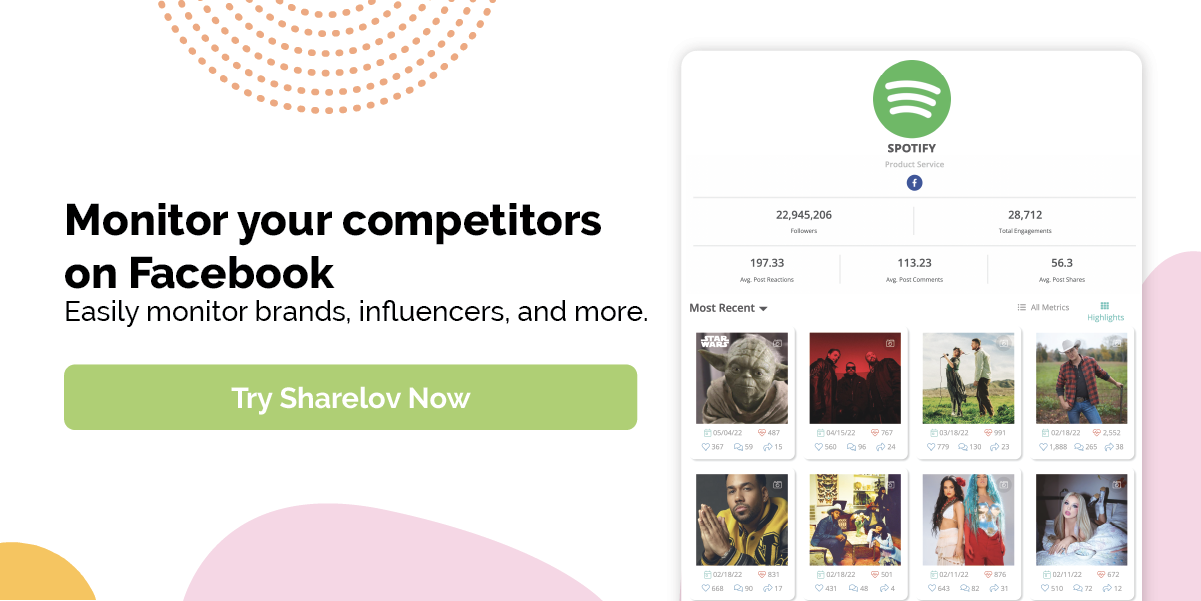 Sharelov understands how busy marketers are, yet how critical their audience insights and best posting times are to their campaigns. 
That's why our marketing collaboration platform does more than help your team work together remotely. We provide dozens of tools to make your campaigns more effective, such as:
Best Times To Post Tool: instantly suggests ideal posting times for all your Facebook content.

Facebook analytics: allows you to view the KPIs that matter most to your team — in beautiful charts and displays that you can share with your team and clients. Plus, your engagement rates are instantly calculated for you.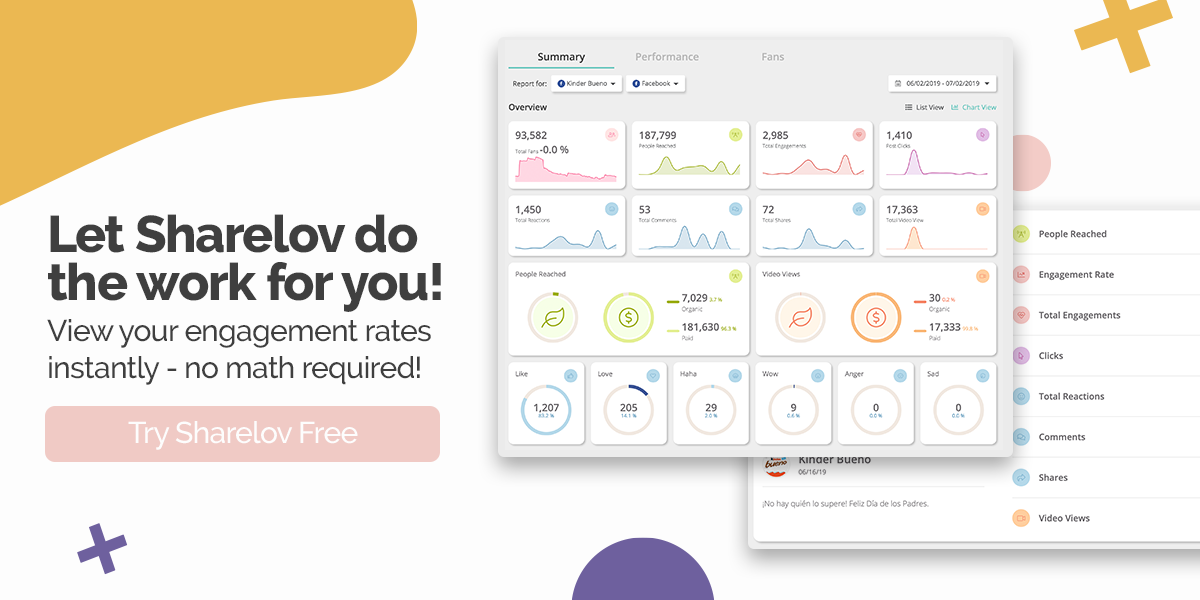 Competitor and influencer monitoring tools

allow you to track the activity, advertising, and insights of any of your competitors or industry influencers to keep current on what's working in your industry.
Your team will also love the collaboration features that bring them closer together and make team creativity natural and organic, even when working from different locations.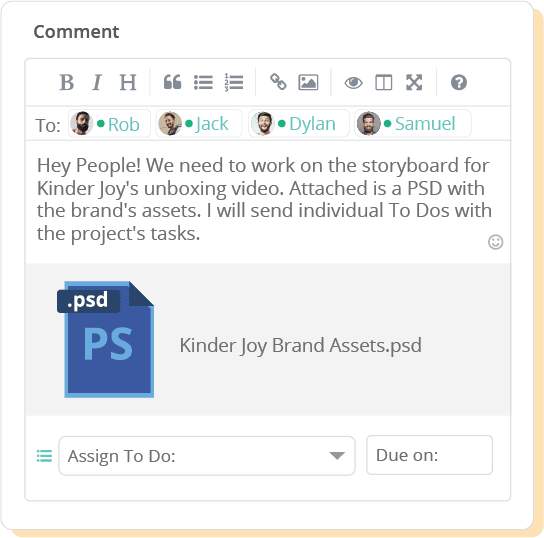 Real-time chat messaging means your team can communicate live, even if social media is down.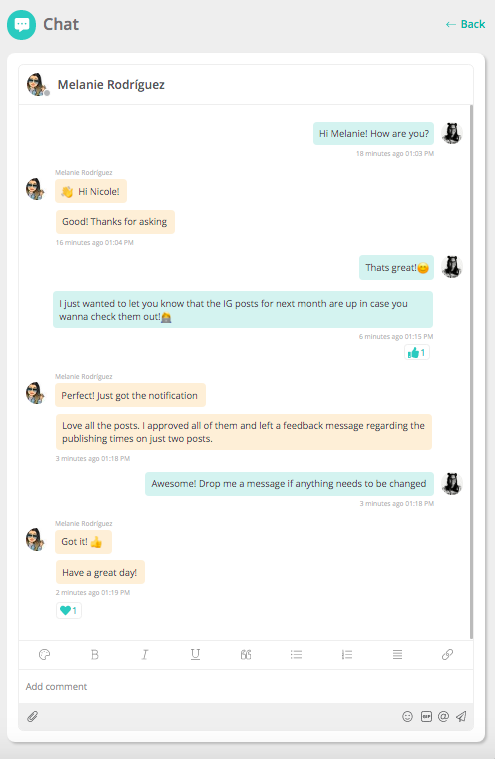 You can assign tasks to team members' and Sharelov will add them, with deadlines, to their to-do lists.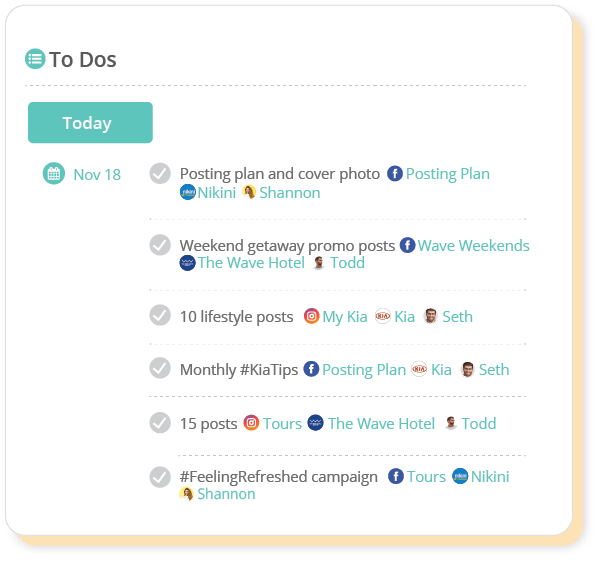 The to-do tool also emails reports to your team so they can see what they're accomplishing together.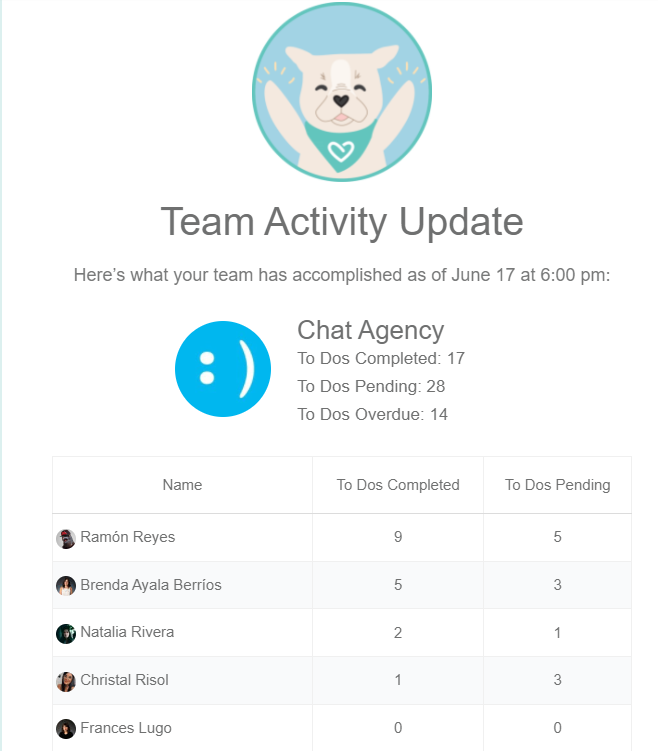 To-do reports and statistics go out to managers so they can see how well the team is doing overall.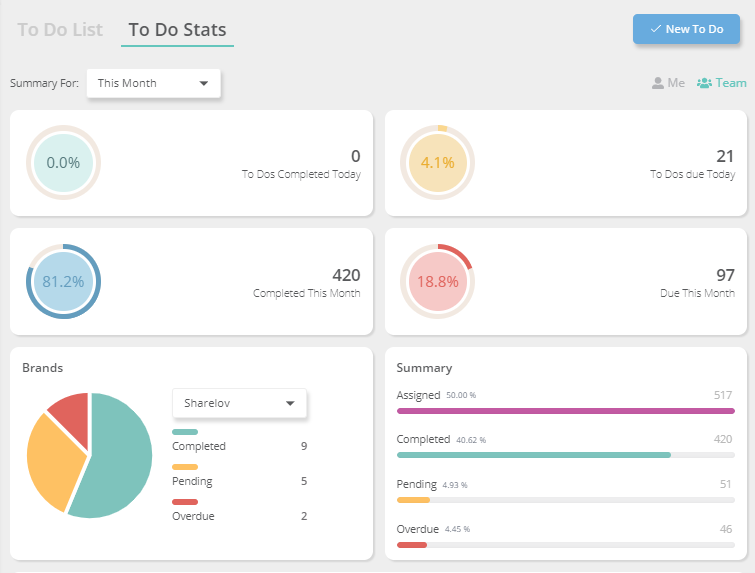 Request and obtain approvals on any content or campaign.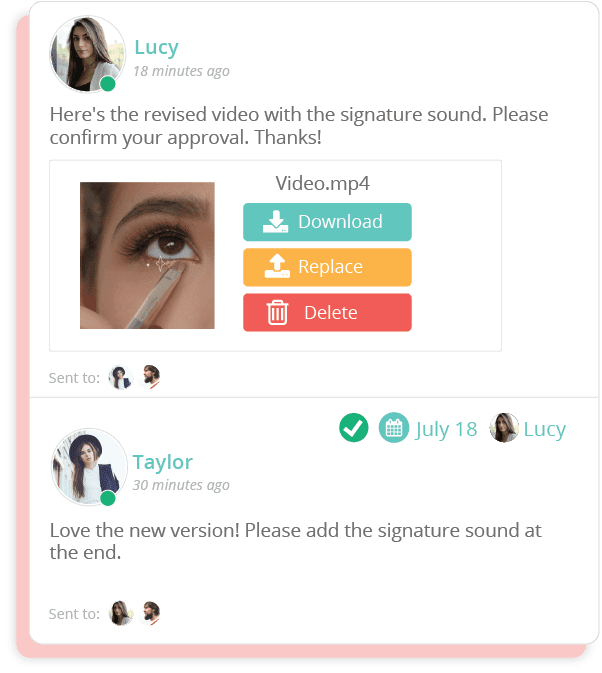 You can give Sharelov a try, for free, to see how your team likes it (we think they'll thank you!).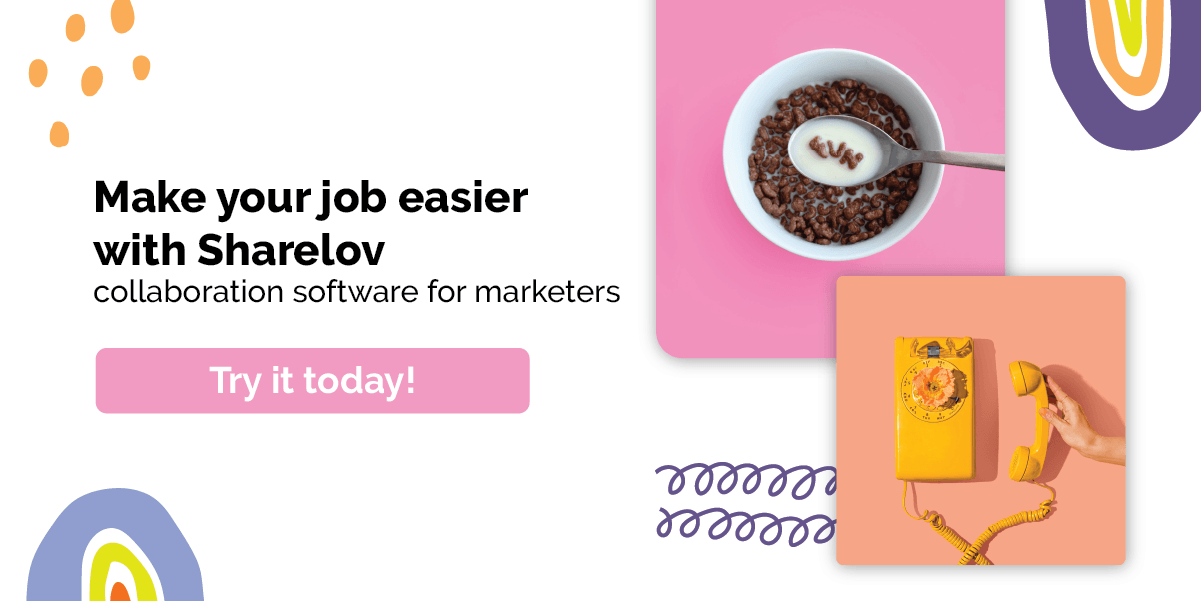 How Best Posting Times Impact Reach And Engagement On Facebook
Posting your Facebook content when your audience is online and open to interacting with brands can help you reach and engage more people. As you engage more people and post at strategic times, the algorithm will take notice and share your content with more of your followers.