In this article, we're going to show you how to use Facebook Live to broadcast events that form a connection with your audience while also supporting your brand and products.
In this 2020 Guide to Facebook Live, you'll discover:
Why Facebook Live Events Are A Marketer's Best Friend
Over half of all U.S. consumers have seen a product they're interested in on Facebook, and Facebook Live is one of the best ways to catch their attention.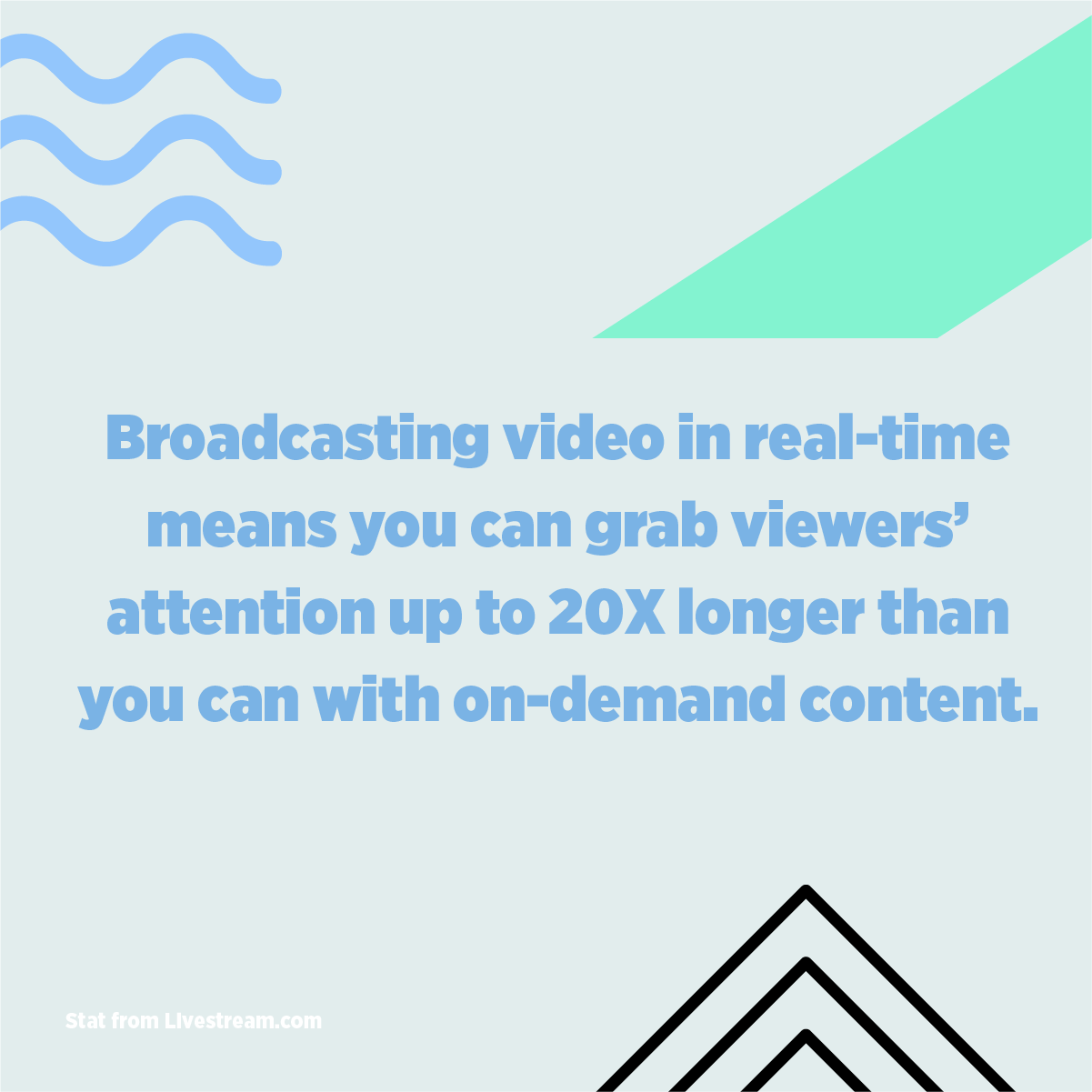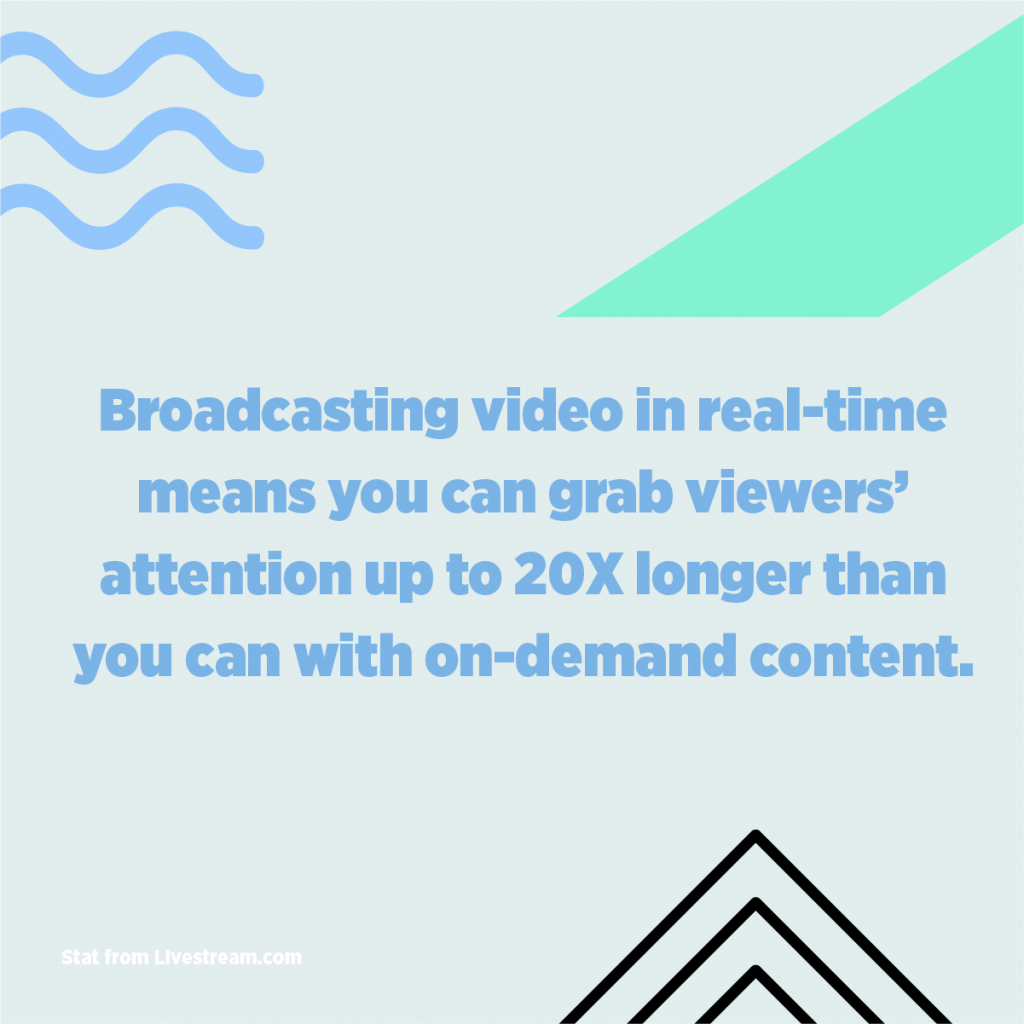 Facebook Live events help your brand connect with audiences in real-time.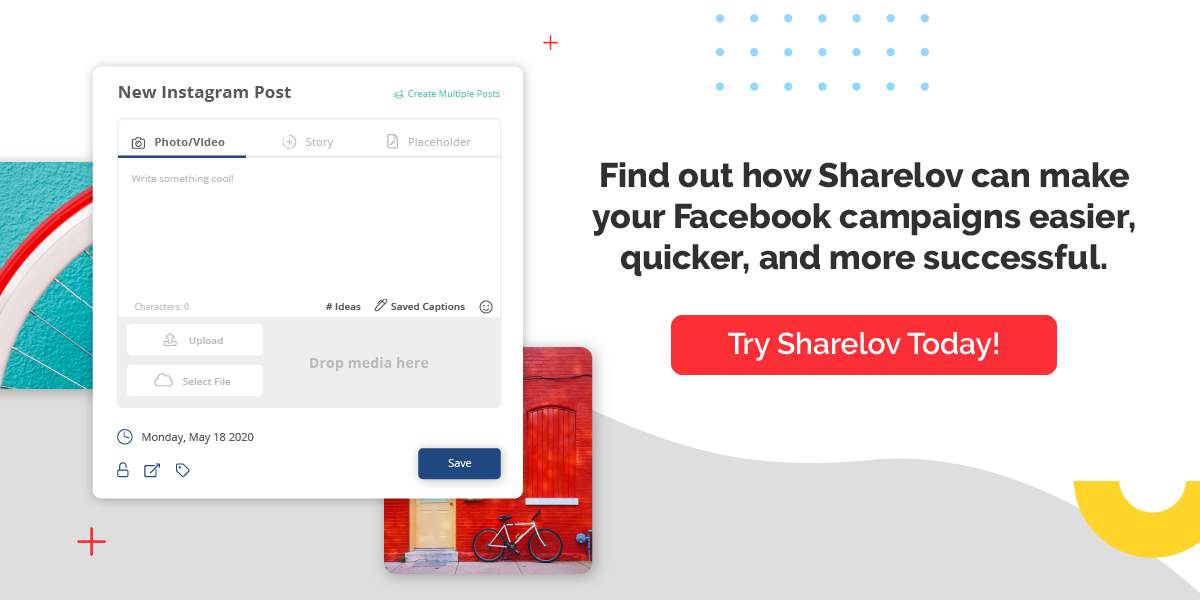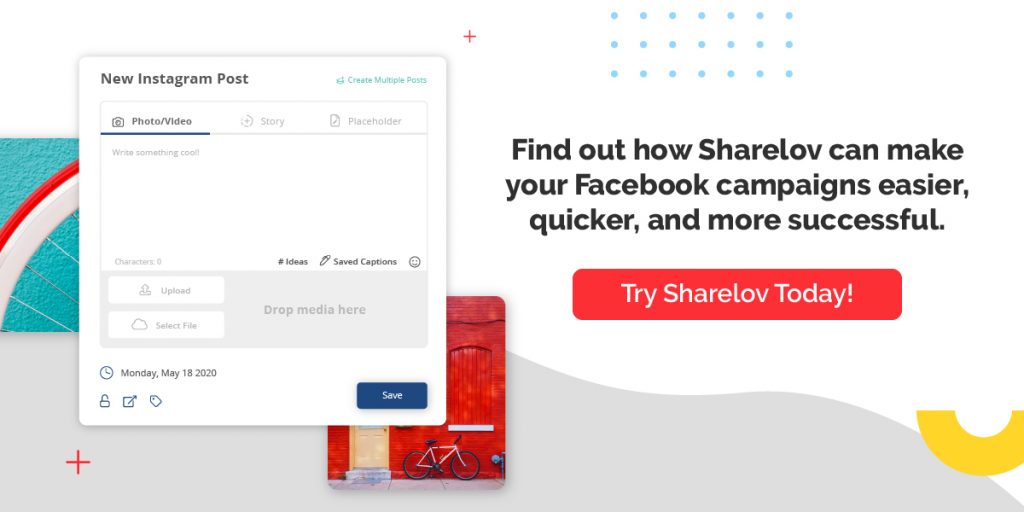 Broadcasting video in real-time means you can grab viewers' attention up to 20X longer than you can with on-demand content.
Live video is a hit with audiences and marketers alike. By 2023, experts predict that live streaming will be a $70.5 billion dollar industry and account for roughly 65-70% of all video content.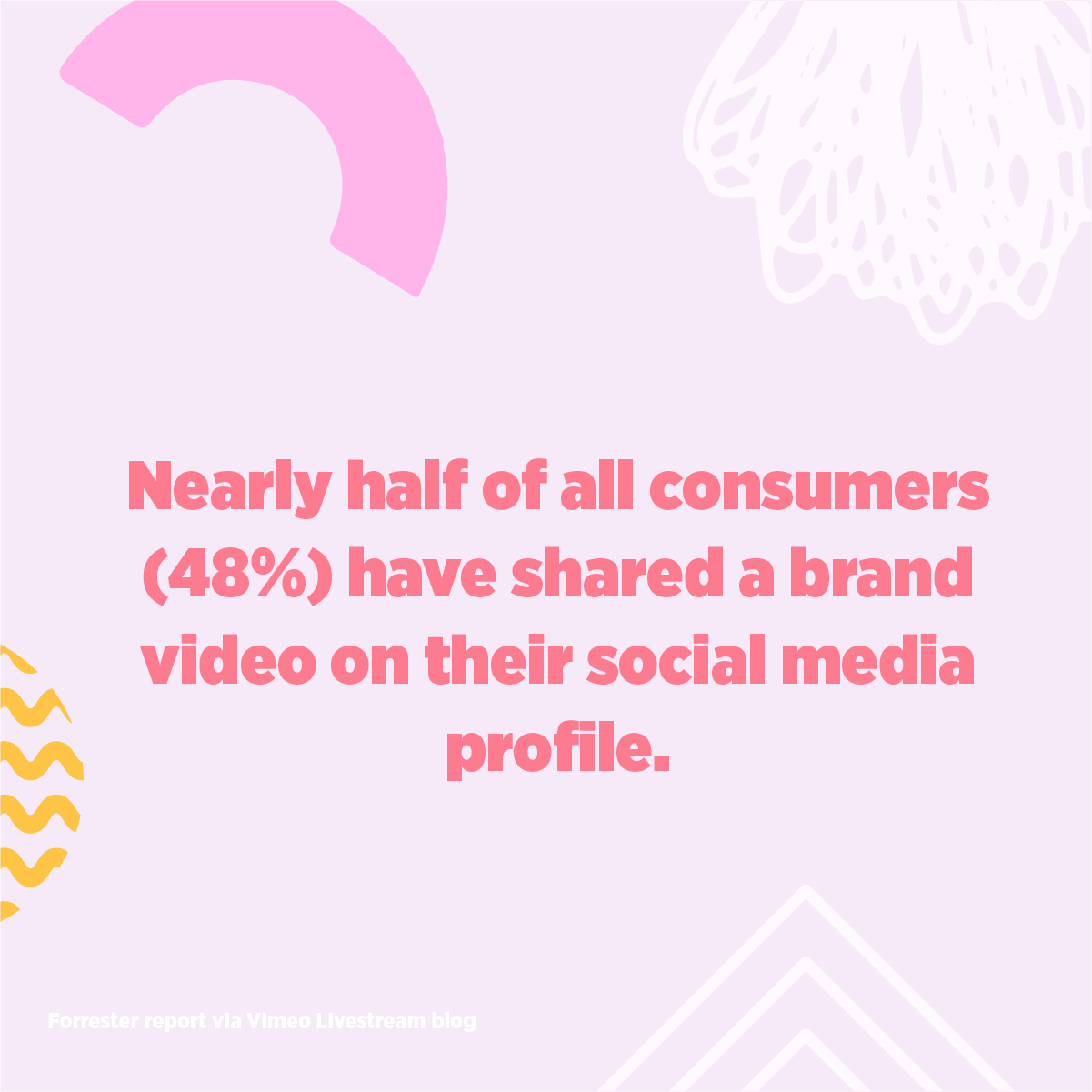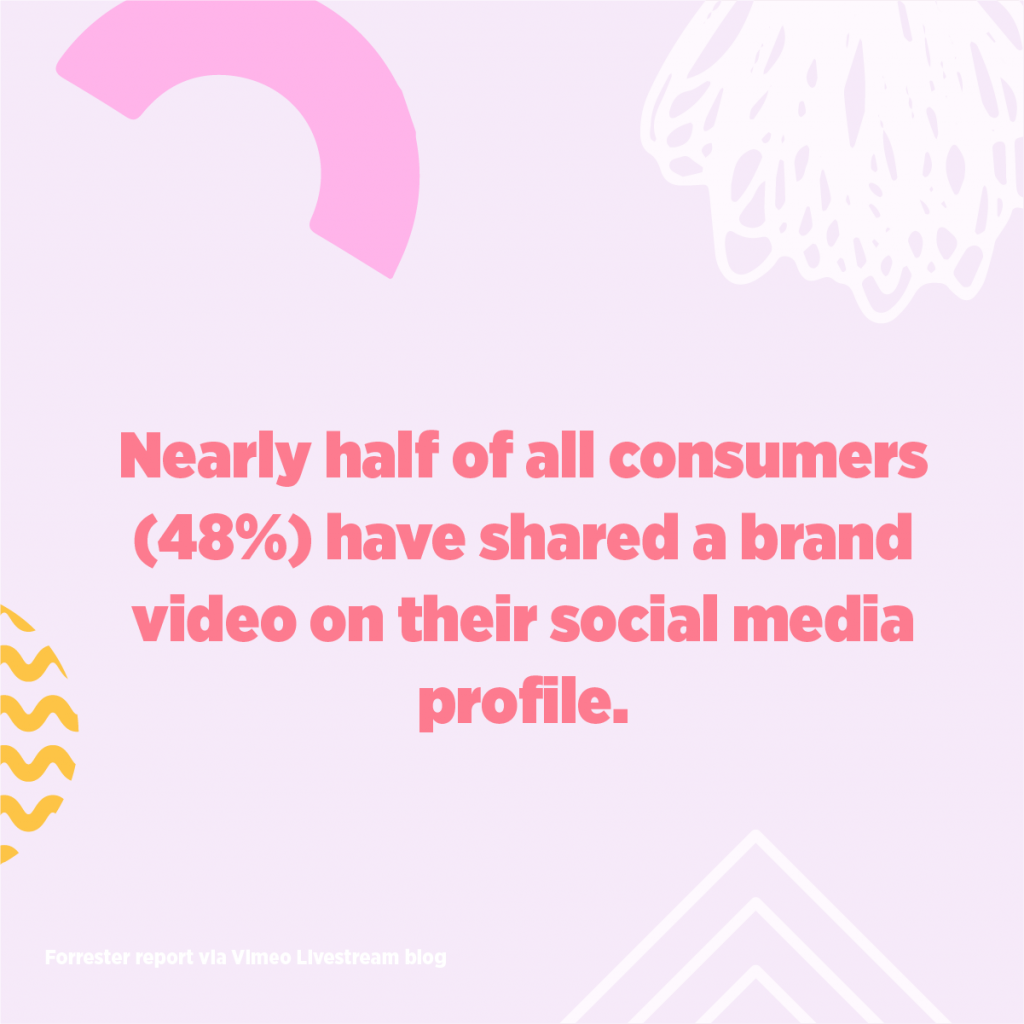 According to a report by 99firms, Facebook Live videos:
Produce 6X more interaction than pre-recorded videos

Generate 10X more comment engagement  than pre-recorded videos

Get watched 3X longer than pre-recorded videos
You can use Facebook Live for nearly any type of event, such as:
Conferences and workshops

Q & A (AMA) sessions

Clearance Sales

Auctions

Performances

Product launches

Training

Interviews
For example, you can invite viewers to join you for special events.
Starbucks invited its Facebook followers to join its National Voter Registration Day event in Queens, NY.


Source: Starbucks Facebook Live
Viewers watched as the hosts introduced themselves, gave a live tour of the activities, and watched inspirational speeches — all in real time.
Ask Me Anything videos are a popular format, and an excellent way to engage your followers.
Sephora beauty store broadcast an AMA session with Jen Atkin of Ouai Haircare and Christophe Robin Paris. Viewers added comments with their hair care questions, and some questions were chosen as part of the live video event.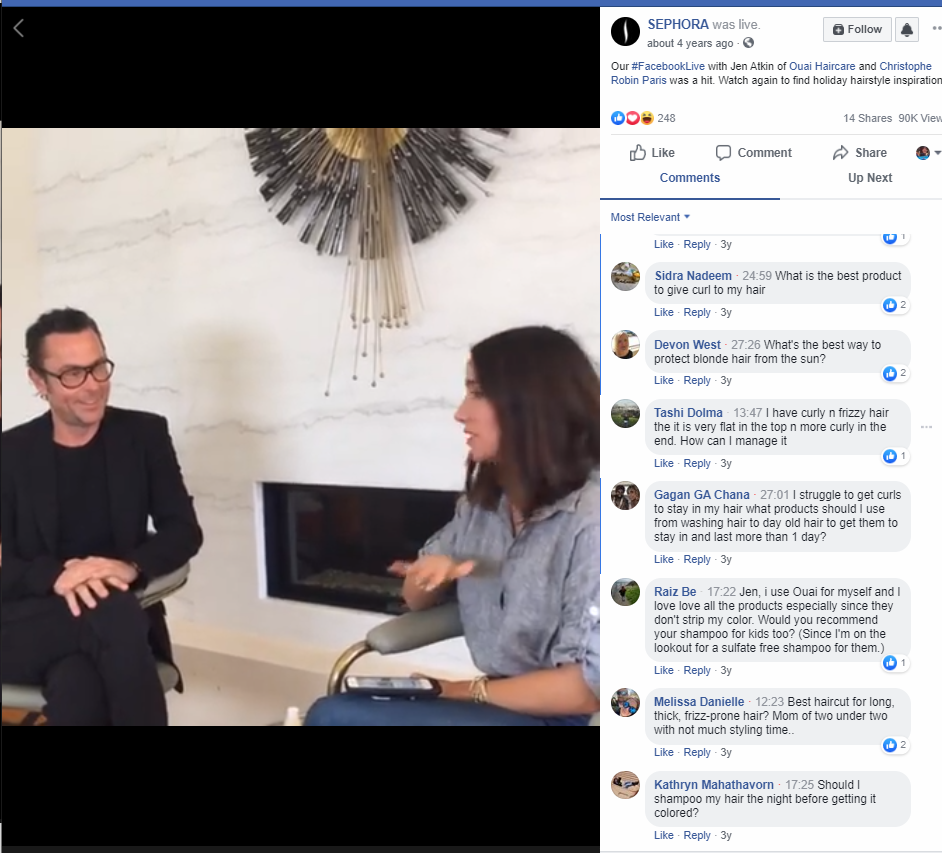 Rallying well-known influencers and leaders in your industry can help make your event a success by boosting viewership and engagement. 
It's easy to include your products in Facebook Live events!
Consider offering an event filled with sneak peeks of your upcoming products, launch day celebrations, or even hosted clearance sales.
When you promote products on Facebook Live, find unique ways to keep your broadcast entertaining. No one wants to be "sold to," so provide entertainment, surprise deals, or unique presentations that engage your audience.
In this Facebook Live video from Schmitt Music, the host demonstrates instruments with compelling musical performances, stopping for short breaks to explain why each instrument is unique.
You can use Facebook Live for any type of event that engages viewers while supporting your brand's marketing objectives.
How To Prepare For A Facebook Live Event
To produce a successful Facebook Live event, you'll want to schedule it in advance, prepare for the technical aspects of broadcasting, and become familiar with Facebook Live policies.
In this section, we give you a step-by-step checklist for producing your first Facebook Live Event.
Step One: Schedule Your Event In Advance
Scheduling your live broadcasts in advance allows you to promote your event with a broadcast link that you can use in your event marketing.
You can schedule Facebook Live events up to 7 days in advance, but before you do, make sure you have the following in place:
Choose the best day and time for your event. 
Facebook Audience Insights can show you when your audience is online and most likely to engage with your brand.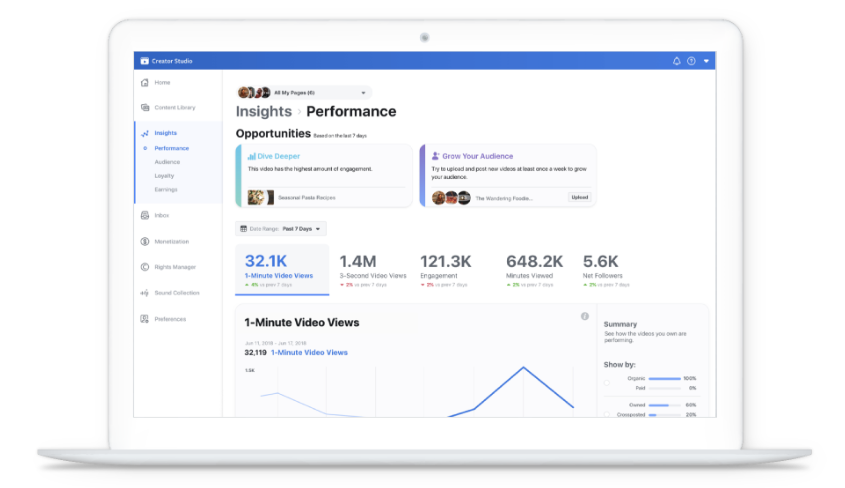 You can review and assess your analytics more efficiently with Sharelov. 
Sharelov displays your Facebook insights in a more visually-oriented setting than most analytic dashboards. The intuitive reporting system lets you instantly view and measure the KPIs that matter most to your brand.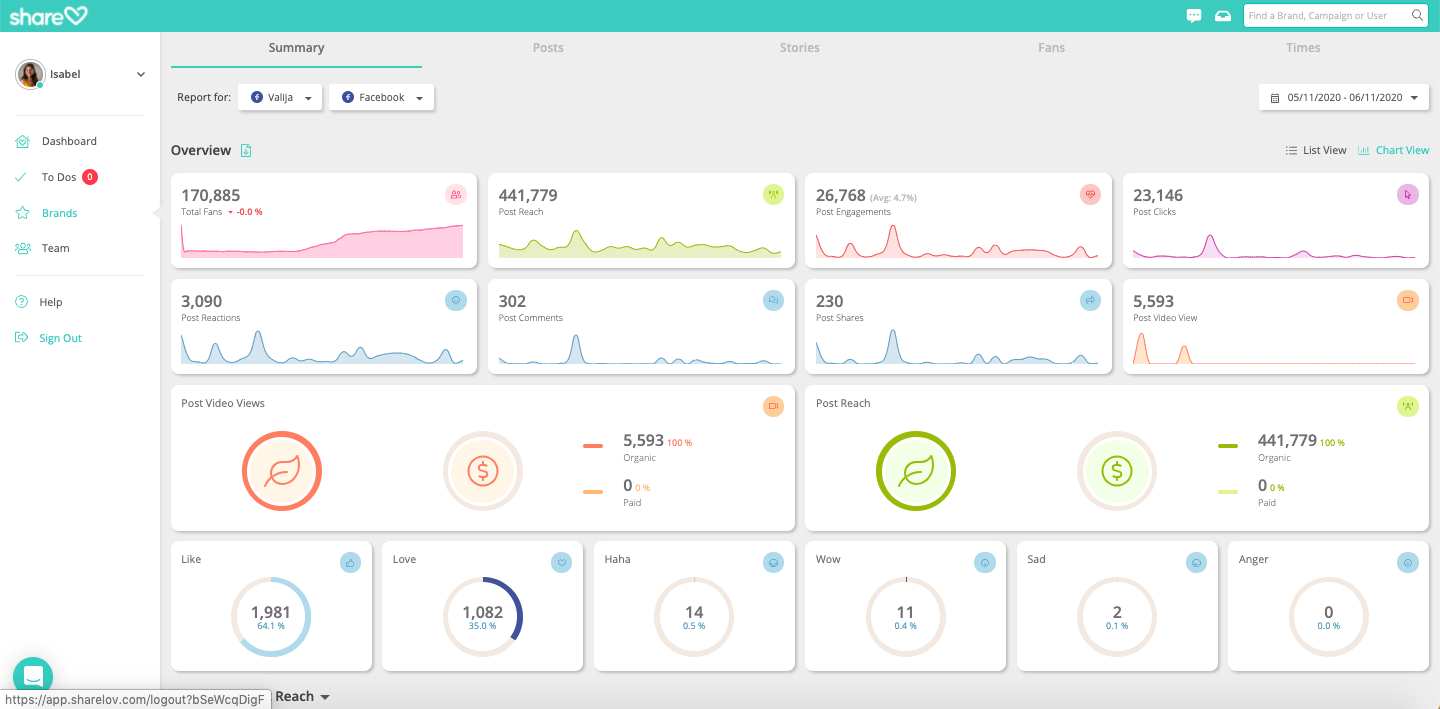 Prepare your equipment and software.
Caution! Don't skip over these instructions!
Scheduling a live event in advance means you get a broadcast link that helps you promote your Facebook Live video in advance.
However, scheduling a live event also means you must use a camera and 3rd-party streaming software, such as ecamm for Mac or vMix for PC,  to broadcast your event. 
Source: ecamm
The extra steps are worth the effort because your video comes out looking much better than average videos. But, you will need to take the time to learn how to set up and use your 3rd-party software before your first live event.
You can record live video from your mobile phone instead of using the extra equipment and software, but you can't record scheduled live broadcasts from your phone. 
Since pre-scheduled broadcasts provide several helpful promotional tools, most brands will prefer to use cameras with 3rd-party software for live events.
Step 3: Get Familiar With Facebook Live Policies
Facebook requires businesses to abide by several policies when recording live, including:
Avoid copyrighted music. 
Facebook is serious  about its copyright policies and may shut down your live broadcast if you are playing any commercial music, even if it's only playing in the background. Before you broadcast, remember to turn off any background music (including any live bands) so you don't run into problems with copyright violations.
If you need music to fill out your Facebook Live event, you can use sounds and songs from the Facebook Creator Studio free sound library.
The Creator Studio Sound Collection allows you to filter songs and effects by genre, mood, length, and instrument.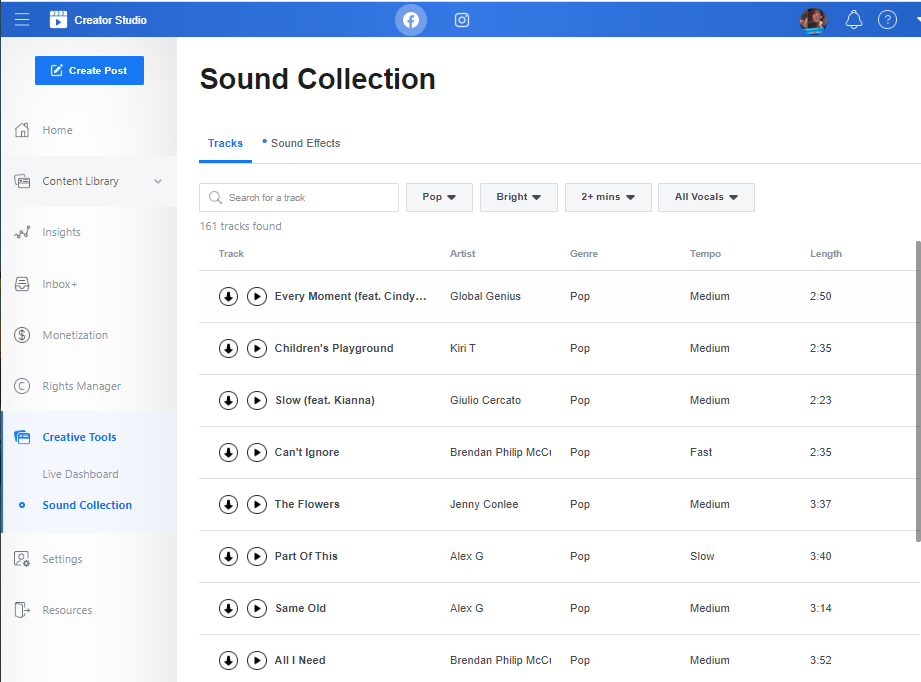 Step #4: Use these Specs For High-Quality Facebook Live Videos
Before you broadcast your first Facebook Live event, check to make sure that your video meets the Facebook video specifications below:
Facebook Live Video Specs
VIDEO FORMAT:
Expected resolution: 720p (1280 x 720) at 30 frames per second

Keyframe: GOP of 2 seconds or keyframe every 2 seconds

Recommended max bit rate: 4000-6000 Kbps

Live API: H264 encoded video and AAC encoded audio only

Length: 8-hour maximum
VIDEO LENGTH:
AUDIO FORMAT:
Sample rate: 48 kHz

Channel layout: Stereo or Mono

Codec: AAC

Bit rate: up to 256 kbps
ADVANCED SETTINGS:
Pixel aspect ratio: Square

Frame Types: Progressive Scan

Bit rate Encoding: CBR
Prepare for your Facebook Live events by familiarizing yourself with Facebook policies and standards, and ensuring that your video meets the recommended specifications.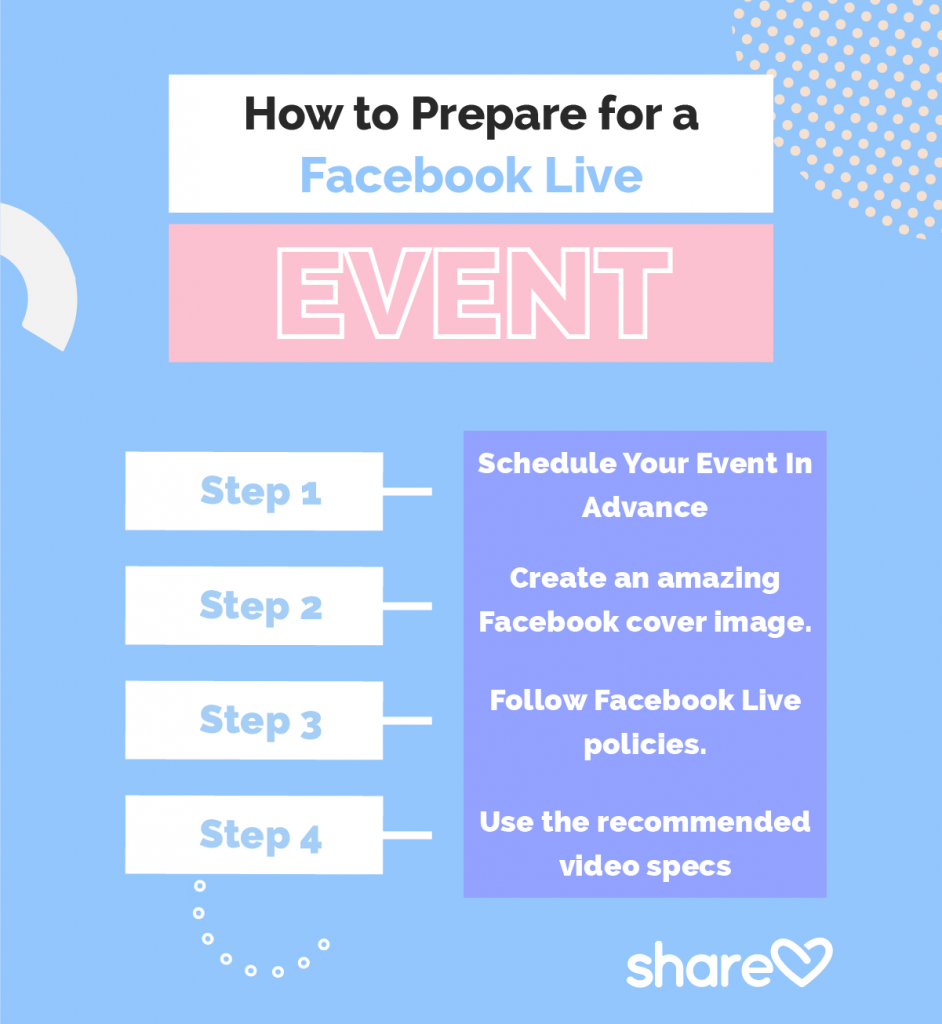 7 Tips For Promoting Your Facebook Live Event
The more people at the party, the more fun it is, right? 
Think of virtual Live events as a way of socializing with your audience. The more people that join in on the fun — the more fun it is for everyone involved!
Here are some tips to help you promote your Facebook Live event in advance.
Tip #1: Promote your upcoming event with well-timed posts.
Publish your event promotions when your audience is online and wanting to engage.
You can use Sharelov's Best Time to Post feature to discover the best times to post content for your audience.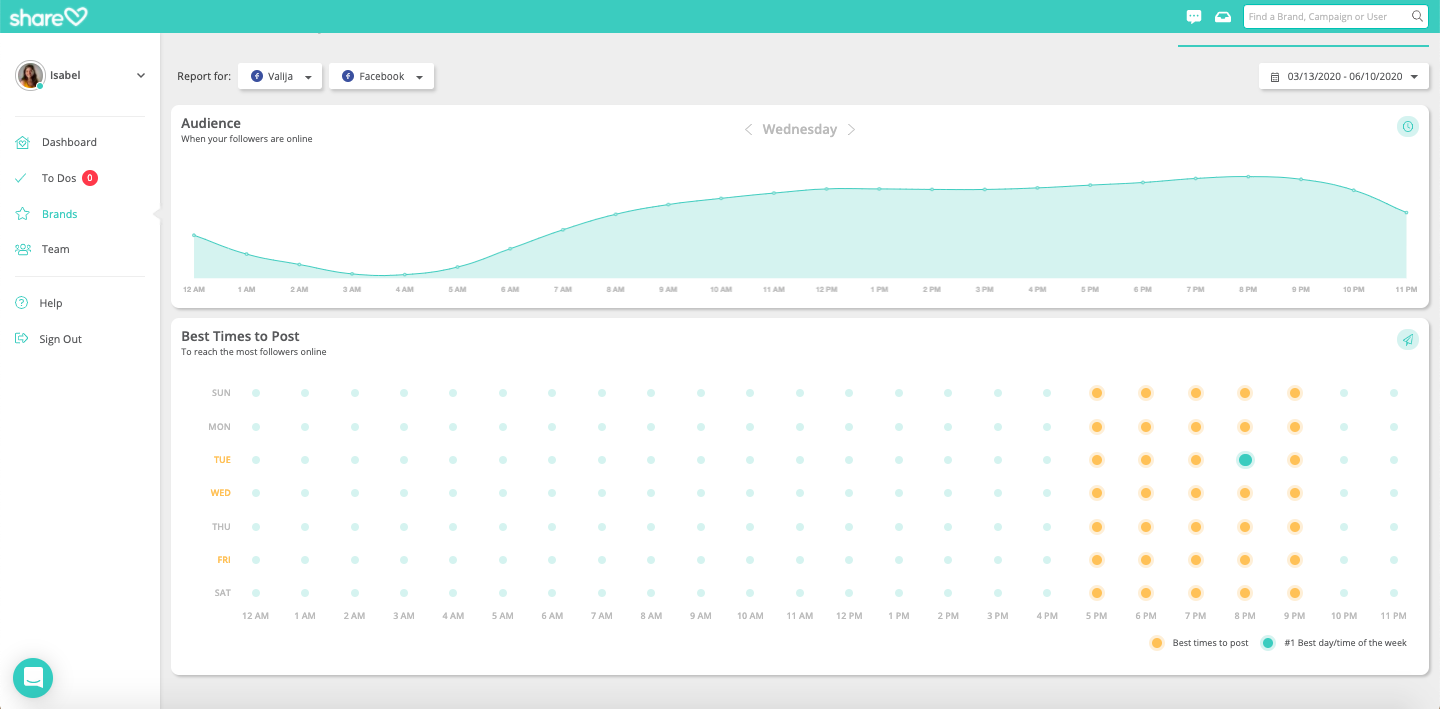 Tip #2: Promote your upcoming event across all your social media channels
Write a compelling description of your event and combine it with your broadcast link in promotions across Instagram, LinkedIn, and all your other social channels.
Tip #3: Promote your upcoming event in your blog, podcasts, and at in-store events.
Keep in mind that the more well-attended your event is, the more people will talk about it afterward! Promote your live event as ambitiously as you would promote an in-person event, using all your resources and outlets.
Speaking of posting blog articles — do you ever have trouble sharing blog posts to Facebook? 
Sometimes adding a blog link to a Facebook post doesn't come out looking right – maybe the image is wrong or the caption isn't what you'd hoped. 
The reasons behind botched blog-to-Facebook postings are complicated, but the solution is simple and free, and you can find it here: How to Use the Facebook Debugger Tool to Fix your Blog Post Previews.
Tip #4: Use teasers, polls, announcements, and celebrity guests to build excitement.
Instead of announcing all your event details at once, spread them out over time to build excitement. 
For example, one day you might publish a poll asking what topics your audience wants to see covered at the event.
Another day, you might announce a guest that will be appearing, or interviewed, during your event.
Mix up the details of your event to create anticipation and encourage your audience to stay tuned for more information.
Tip #5: Build a professional marketing campaign to promote your live event.
Using your event theme, colors, and messaging, you can build a short marketing campaign to boost attendance at your live event.
Sharelov's team software can help you develop and produce high-quality artwork, content, and materials to promote your live event. Plus, the competitive and influencer monitoring tools can help you research what type of content has been successful in your industry.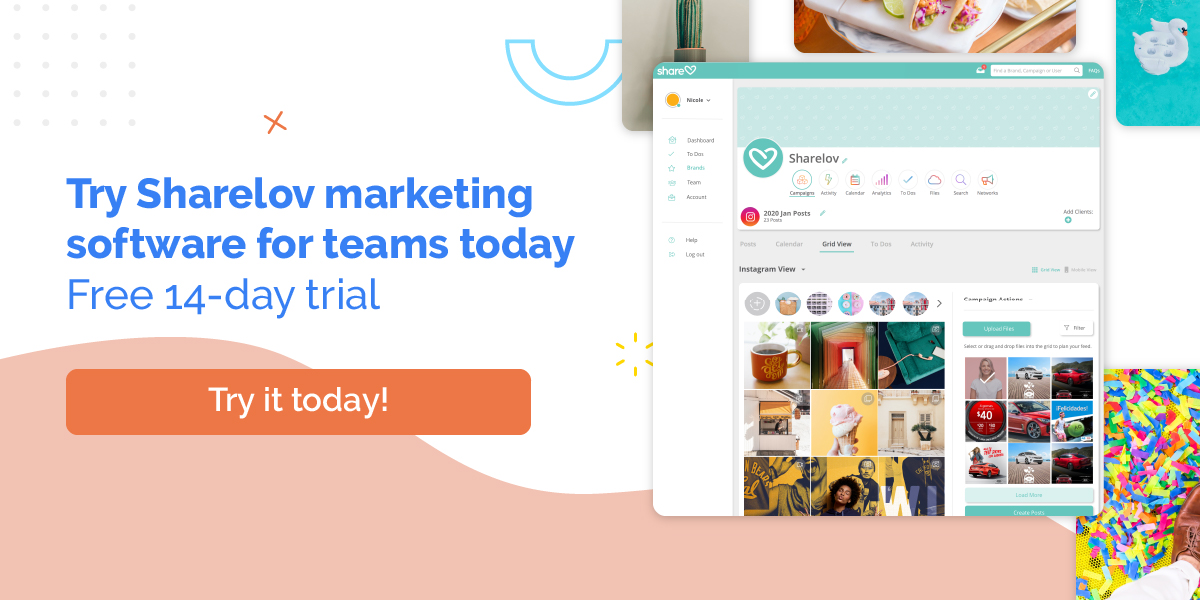 Tip #6: Use Facebook advertising to build a crowd for your event.
With Facebook Advertising's ability to target audiences, brands gain an amazing opportunity to draw new followers to upcoming events.
Before you advertise, be sure to check out your competitors' latest ads to learn what's trending, engaging, and working well in your industry right now.
You can study your competitors' ad history by visiting the ad library of any company page, or by using Sharelov's ad monitoring tool to quickly pull up several competitors' ads.
Tip #7: Use Facebook Stories to build anticipation for your Live Events.
Facebook Stories are posted at the TOP of your follower's newsfeeds, giving you the chance to skyrocket the visibility of your Facebook Live promotions. 
Facebook Stories are as popular as Instagram Stories, and if you haven't tried them — or if you need ideas and examples — be sure to check out our Definitive Guide to Facebook Stories to learn more!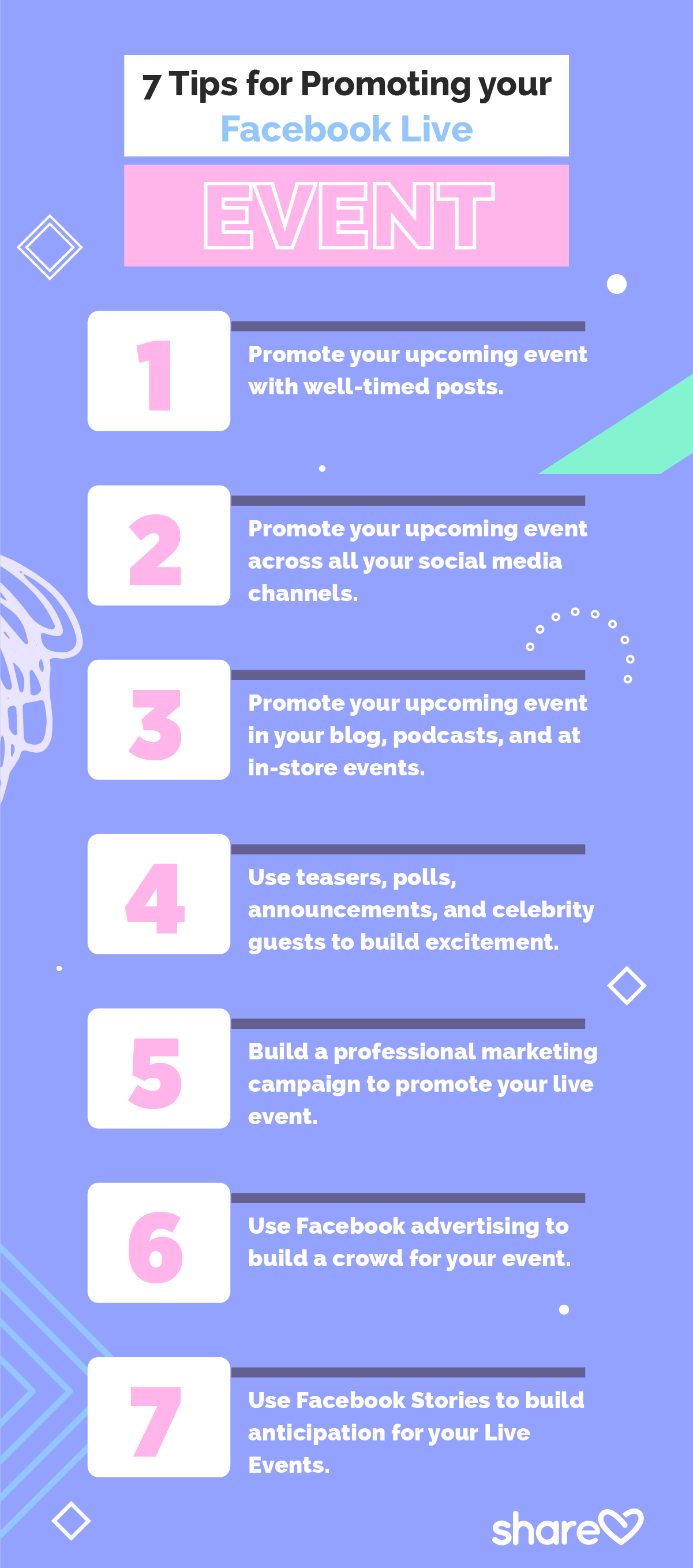 5 Tips For Boosting Engagement At Facebook Live Events
Pulling viewers in and encouraging them to engage with you during live events forms a long-lasting connection. It also creates a more social atmosphere that people remember long after the event is over.
Consider some of the following tips to help boost engagement during Facebook Live events.
1 . Introduce yourself and your event frequently. 
Viewers will join in at different times. Some, by invitation and others, out of curiosity. Re-introduce yourself at regular intervals to welcome people who have just joined your live stream.
For example," If you're just joining us, this is Sally of Sally's coffeehouse, and we're coming to you live from Portland, Oregan at our annual coffee-tasting festival.
2. Welcome newcomers by name.
Say hi to people who join your live stream! Obviously, you can't recognize everyone who joins in (especially if there's a lot of people), but the people you do mention will appreciate the personal connection. 
3. Ask audience questions such as "Where are you all from?"
Asking questions gives you an opportunity to read responses on air, and recognize your viewers by name.
4. Deliver a few unexpected and exciting moments.
Whether you surprise your viewers with a well-known personality, surprise announcement, or a heart-melting golden retriever — unexpected surprises keep viewers engaged and help form a connection with your brand.
Special, exclusive deals and discounts can also be an excellent way to surprise your guests!
Plan to deliver at least one or two unexpected, exciting moments during your live event, to increase viewer engagement — during and after the event!
5. Keep up a quick pace.
When you've got the attention of viewers, don't disappoint them with long speeches or awkward pauses that make them bored.
Instead, plan an agenda that keeps your guests entertained and engaged throughout your event. 
For example, consider sprinkling interactive activities as raffles, prizes, and giveaways, throughout your event.
Remember to study your competitors' live broadcasting strategies, if available, to discover new ideas for engaging and entertaining your audience!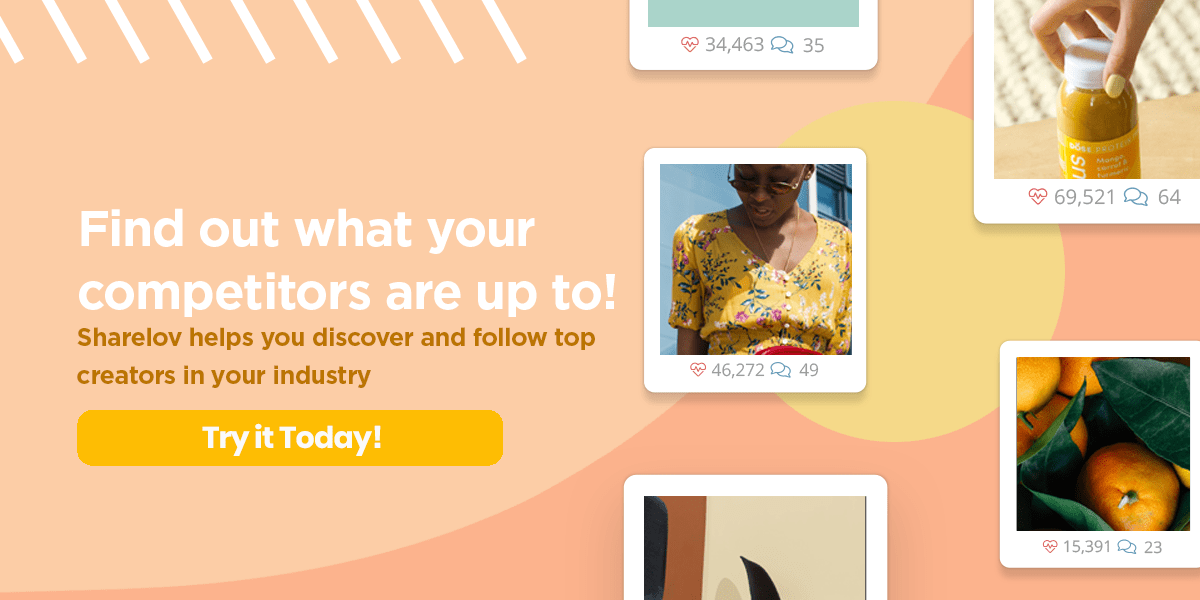 How To Analyze The Results Of Your Facebook Live Events
The Insights section at Creator Studio shows you how well your live broadcast performed.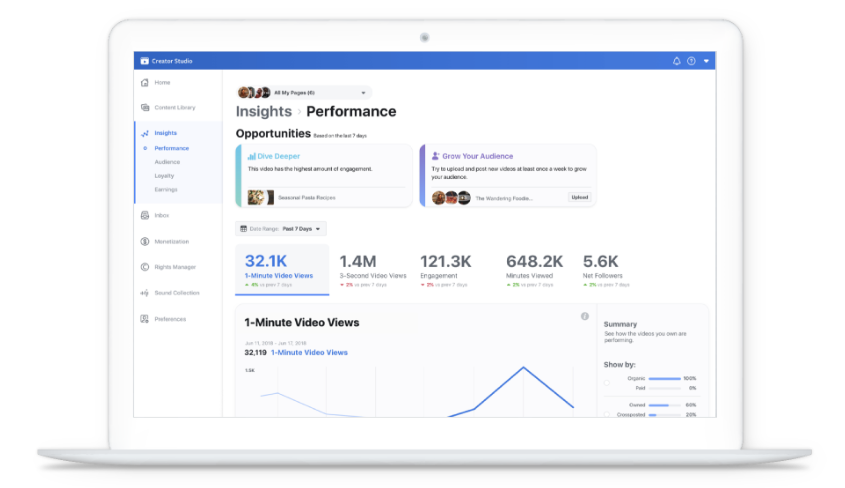 Look to your analytics to discover what worked well for your live videos, including how many people attended, what was the average watch time, and where did your engagement rates rise and fall?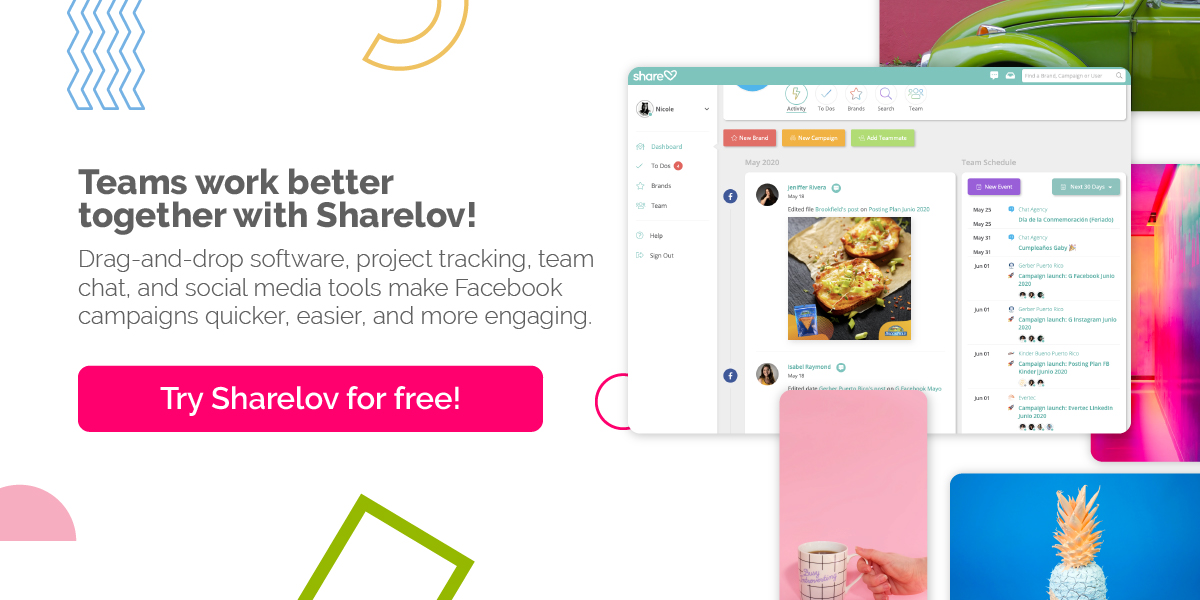 Facebook Live Builds Connections While Promoting Your Brand
When used to broadcast events, Facebook Live provides a way for brands to promote their reputation and products while forming a lasting impression with followers.
Use Facebook Live regularly to launch innovative events that surprise and delight your followers