Your friends at Sharelov are obsessed with creating an inspiring and collaborative workspace for you. So today we've got exciting news! We're launching a beautiful new Brand Calendar, which pulls together all your marketing campaigns' assets into a unified collaborative planner.
The ultimate bird's eye view for all the brand's marketing efforts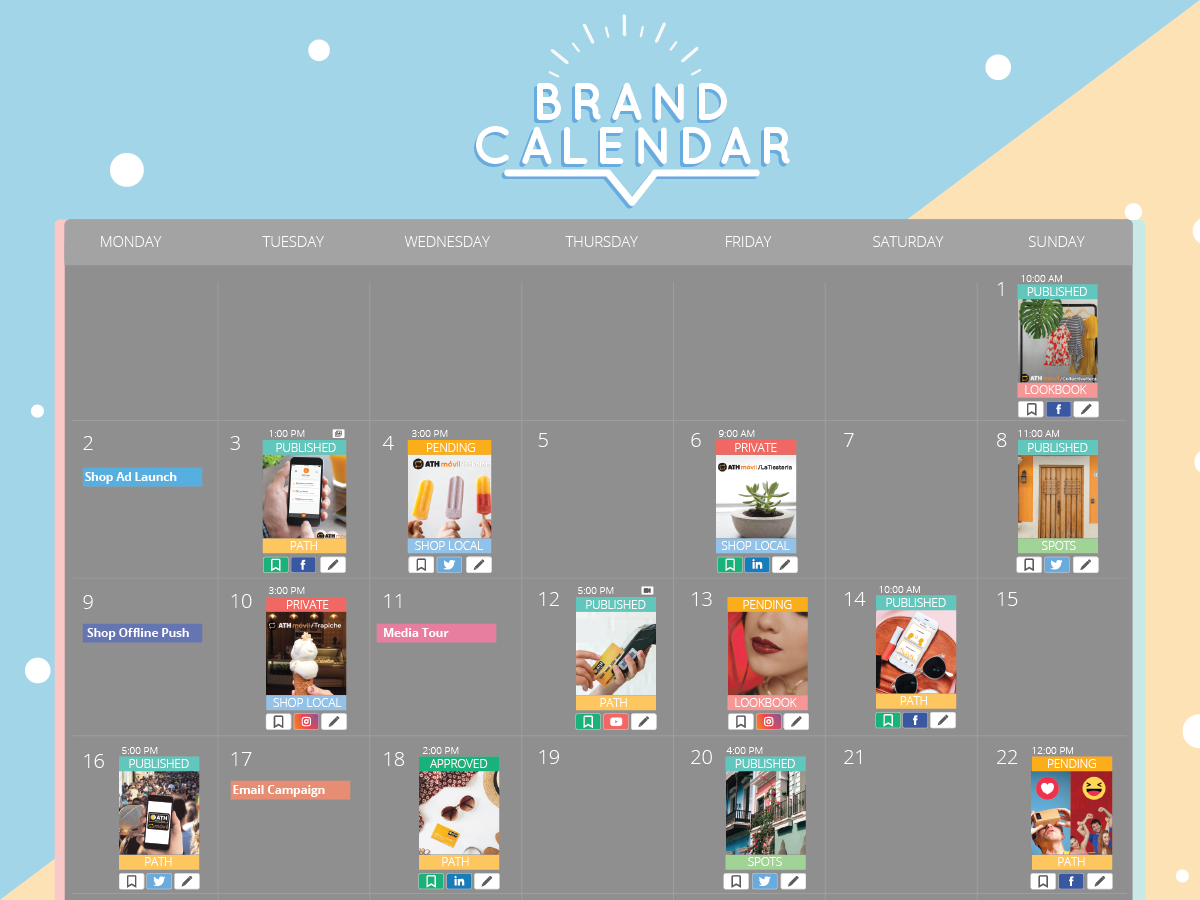 The new Brand Calendar consolidates all your campaigns into a centralized hub where you can review and manage a brand's entire marketing strategy. Since it's a shared content calendar in the cloud, everyone in the brand team has access to the final version of all creative assets and brand events. The Brand Calendar makes it seamless for everyone in the team to be on the same page in regards to the brand's content strategy.     
Introducing the new Events feature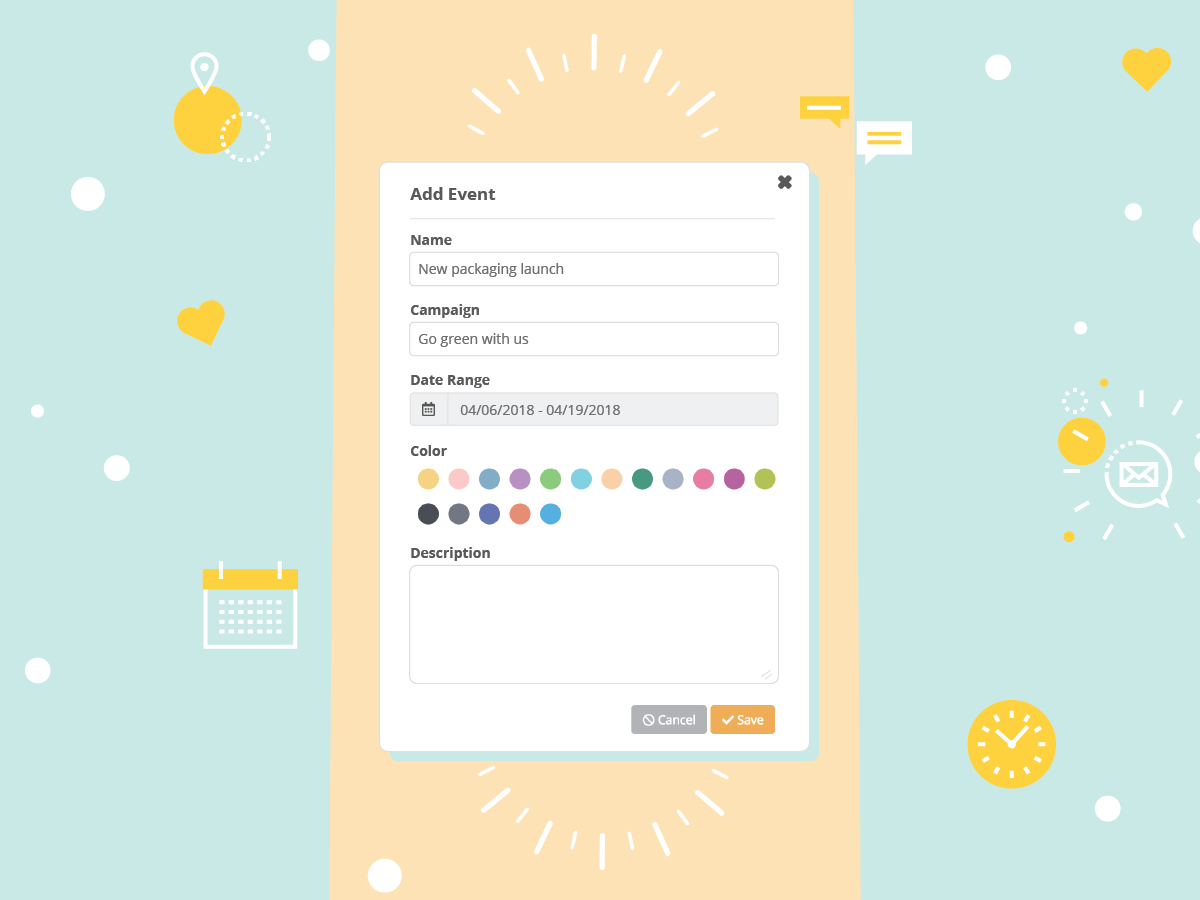 The new Brand Calendar arrives with a very versatile and visual planning tool: Events! You can now create events in your brand and campaign calendars, perfect for planning and sharing important activities with your team and client. This provides a richer perspective on the brand's strategy roadmap. So start your engines! We're going on a digital marketing trip.
Some popular use cases for the new Events feature include:
Productions timelines

Media plans

Campaign phases

Promotional activities

Channel activations

Project milestones and due dates

Team planning, such as vacations or holidays
Clients love to review creative assets on the Brand Calendar  
 
Sharelov's Brand Calendar provides clients with a unified view of all their brand's campaigns, assets and events in a neatly shared calendar.
Your clients will love you more for upgrading their service experience. The Brand Calendar helps clients visualize and understand how multiple campaigns will run. Clients can easily provide feedback and approve creative assets within the calendar. This also provides a better review process and a more efficient workflow.
The Brand Calendar works for you
You can personalize the Brand Calendar to show the campaigns you need to review. Want to exclude a campaign from the calendar view? Simply click on the Campaigns button and select the campaigns to show.
The Brand Calendar is not limited to a monthly or a weekly view. Need to review a specific time frame? Just click the edit option and select the desired dates.
The Brand Calendar is awesome if you want to segment posts across campaigns. Say you want to review all your Facebook, Twitter, Instagram, LinkedIn and YouTube posts that are pending approval. Simply apply the desired status tags and the Brand Calendar returns the requested filtered view.
The most beautiful Calendar in the business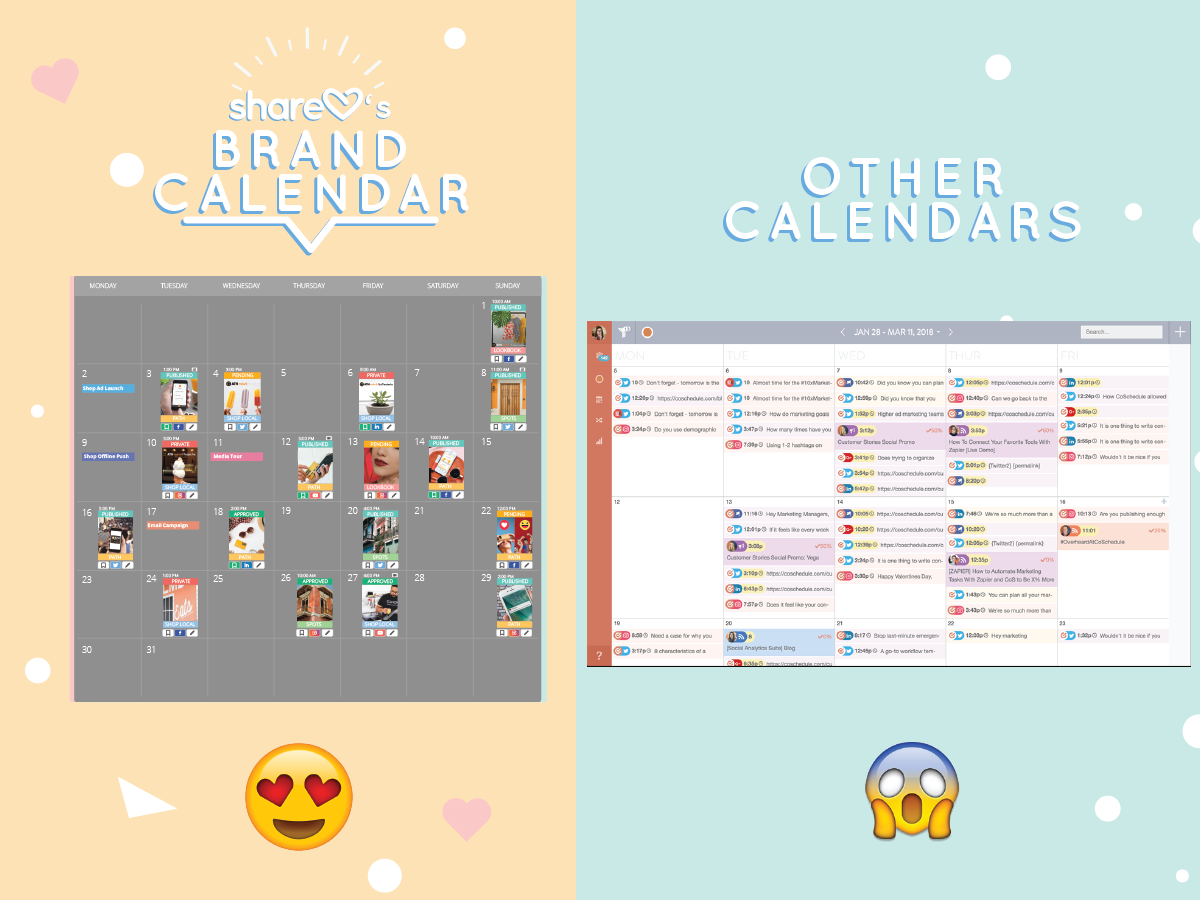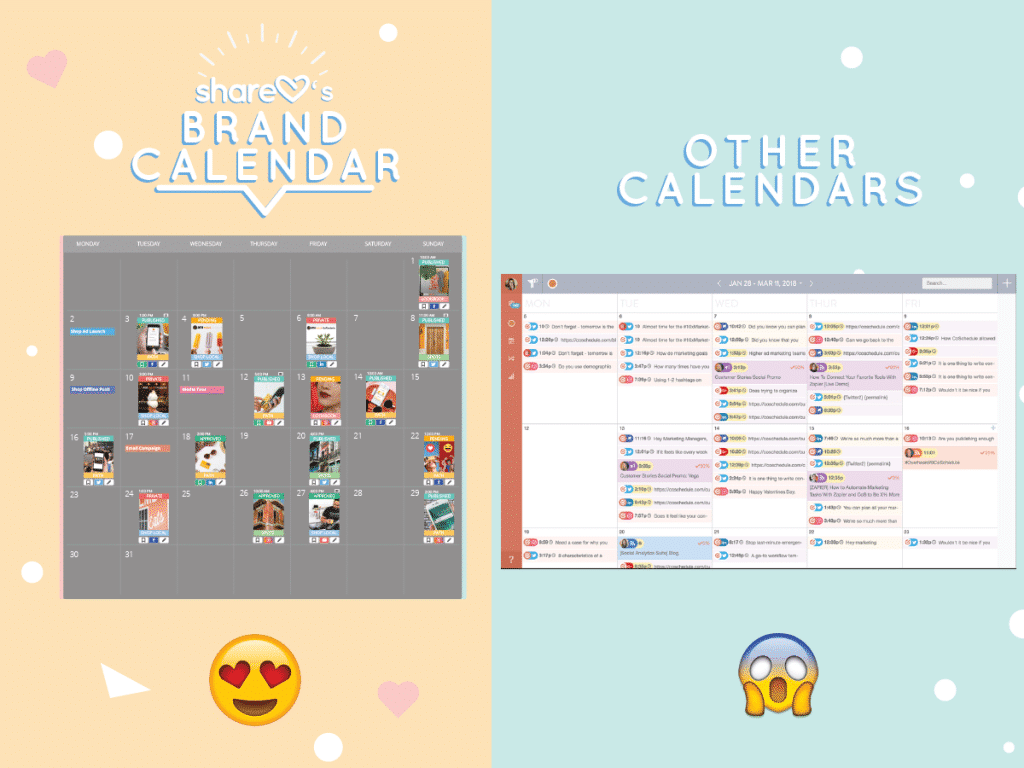 We'd be lying if we said that we weren't totally gushing over the new Brand Calendar. It's eye candy for content creators and planners. And don't we deserve a workspace that's just as beautiful as it is uncluttered? How else are we supposed to get our creative juices going?
Posts in the Brand Calendar are neatly presented in generous thumbnails to provide a comprehensive view of the brand's entire content strategy. They're also packed with useful information, including publishing time, post and campaign type, statuses and tags. And if you need to review a post's caption, just hover over the thumbnail to display of its copy. Boom!
Easily work on all your campaigns with the Brand Calendar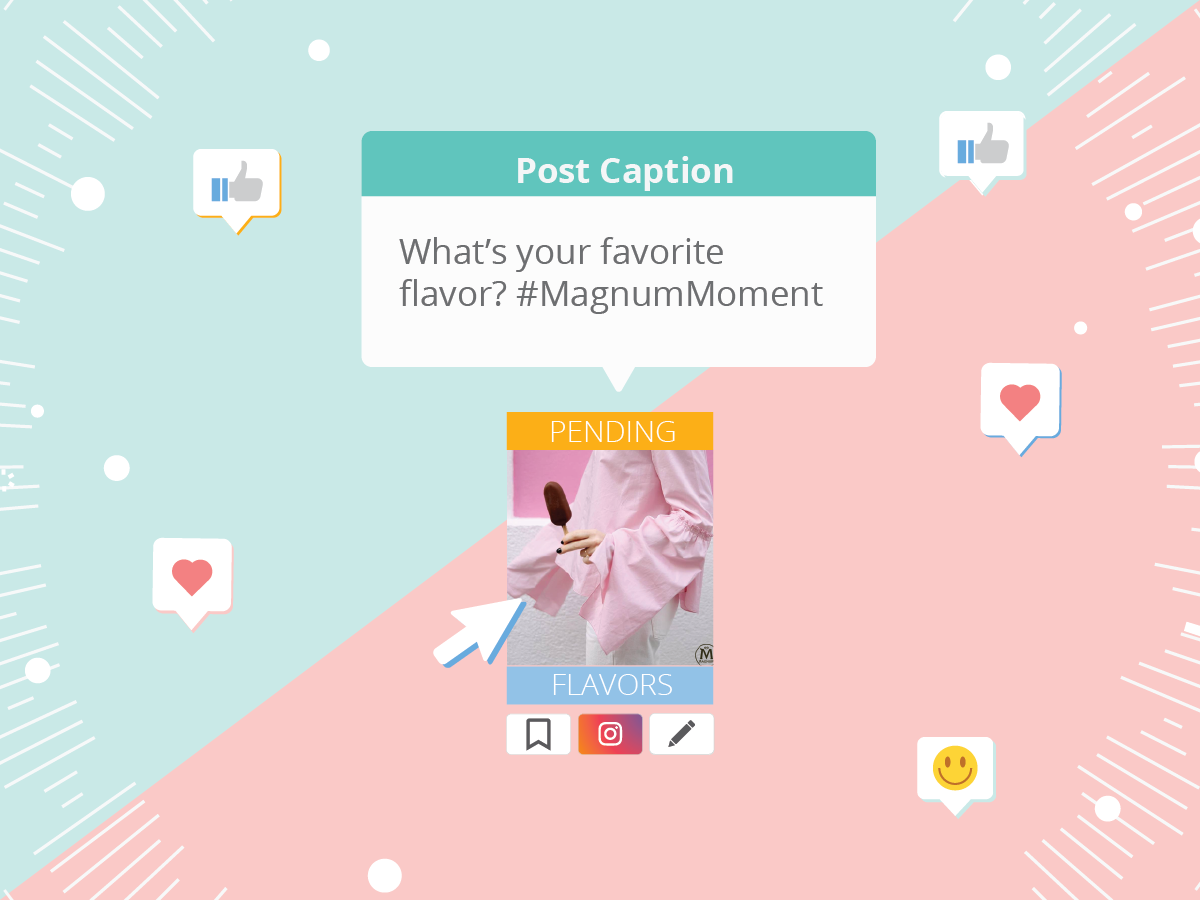 Working on multiple campaigns in the Brand Calendar is a joyful experience for agencies and marketing teams. The comprehensive view of all your campaigns together with powerful editing tools helps content creators put together campaigns faster than ever before.
The Brand Calendar lets you easily make all needed post edits without leaving the calendar view.

Drag & drops posts to quickly edit publishing dates across campaigns.
Select one or multiple filter options for a tailored calendar view. This is super handy when you need to focus on a segment, such as posts pending client approval for multiple campaigns.


Need to create a content calendar for a client? Simply click the Tags option for a streamlined view of your content strategy based on your posts' tags.
Meet your favorite new productivity hack
Running multiple actions in the Brand Calendar will be your favorite productivity tool. You can now simultaneously apply up to 7 editing actions across multiple posts on multiple campaigns.
Since the Brand Calendar pulls all your campaigns' posts, you can run bulk editing actions, such as copy, move, tag, approve and publish to a selection of posts across multiple campaigns.
Need to copy and move a number of Posts from Facebook to Twitter? See how easy it is with Multiple Actions in the Brand Calendar:

Select the posts you want to edit in bulk by clicking on the multiple actions icon in each post.

Once you have all the posts selected, click on "Multiple Actions" to activate the editor.

In the Multiple Actions menu, click the Copy and Move options. Select the desired destination campaign you want to copy/move the selected posts.   

Click Update and you're done!
Who's the awesome content creator? You are!   
The Brand Calendar is the ultimate social media publisher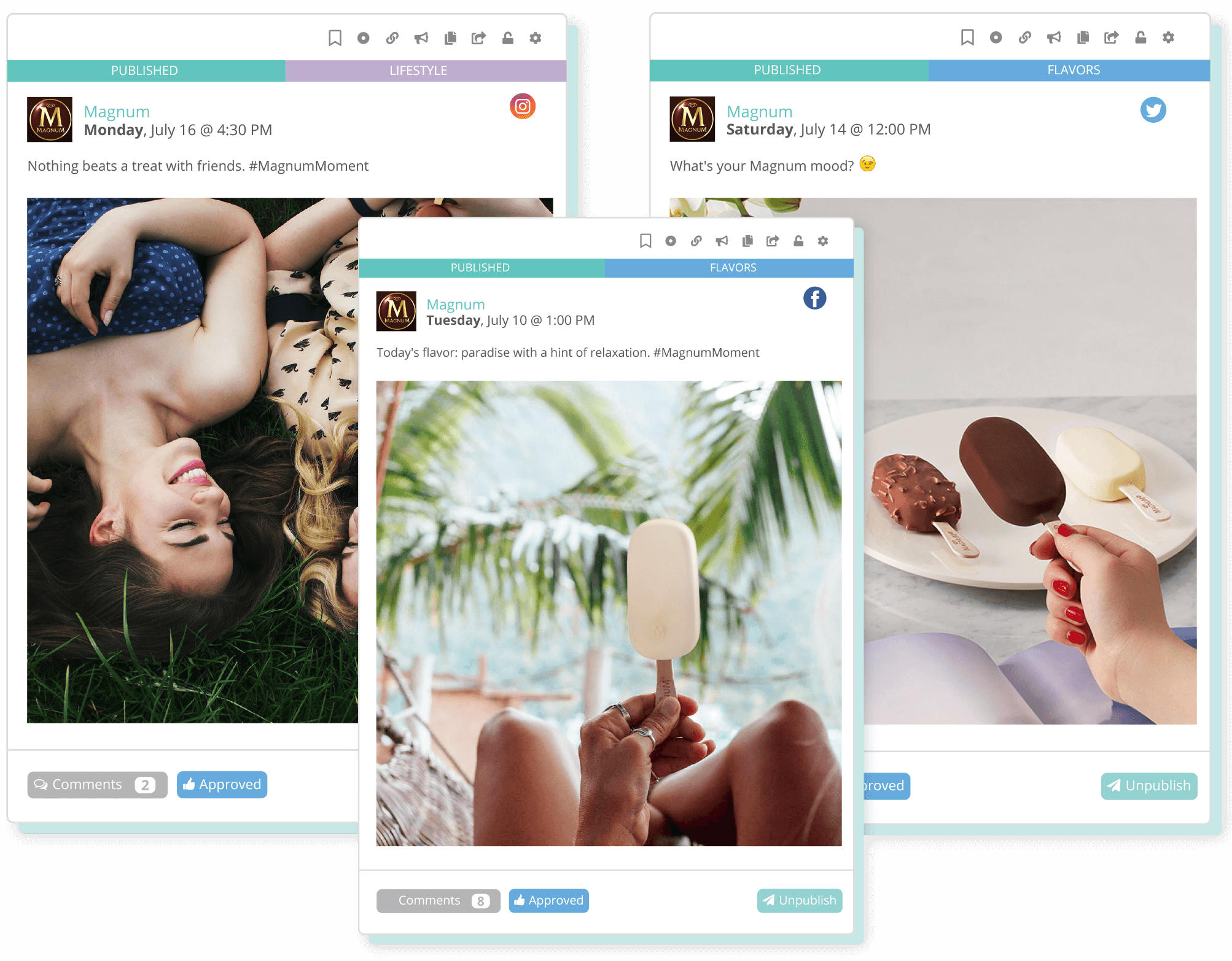 The Multiple Action feature also allows you to approve and publish posts from all your social media channels in the Brand Calendar. Here's how it works:

Select the posts you want to Approve/Publish in bulk by clicking on the multiple actions icon in each post.

Once you have all the posts selected, click on "Multiple Actions" to activate the editor.

In the Multiple Actions menu, click the Approve and the Publish options.

Click Update and you're done scheduling all your posts!
It's that easy!
We've put a lot of heart into developing the best content calendar for you and your team, so make our day and share the love! Here are some awesome trending tweets: