Learn how to use Instagram Stories Highlights to introduce your brand to the world. Includes step-by-step instructions PLUS free downloads.
Today we'll show you EXACTLY how to use Instagram Stories Highlights.
Over 200 million Instagram users visit business profiles every day, and most of those visits come from new people who aren't following the business.
In this article, we show you
what Highlights are
,
how you can add them to your profile
, and
how successful brands are using them
.
We also answer your most frequently asked questions about Stories Highlights.
When you're finished, you'll be able to create a selection of Highlights that compels visitors to learn more about your brand.
What are Instagram Stories Highlights?
Instagram Stories Highlights are Stories featured on your Instagram profile just beneath your bio. When visitors click on a Highlight icon, they're taken to the full Story.
For example, Starbucks and Nike brands both include 11 Highlights on their Instagram profiles.
How Do You Add Instagram Stories Highlights to Your Profile?
Once upon a time… Instagram Stories were ephemeral and disappeared after 24 hours.
Now, though, you can archive your Stories, which saves them to a cloud. These archived Stories can be used as Highlights.
Here's How to Add Instagram Stories Highlight to Your Profile
To create a Highlight:
Tap the "+" sign in the Highlights section of your profile, or, if there's no "+" sign, tap Story Highlights
Select the Story you want to add
Choose a cover photo and enter a name for your Story
During the process, you'll be asked to add a cover and name your Story. These are essential elements of your profile since they're the first thing people see.
Keep your Highlights titles short and descriptive, and use icons or chosen photos for your Highlights covers.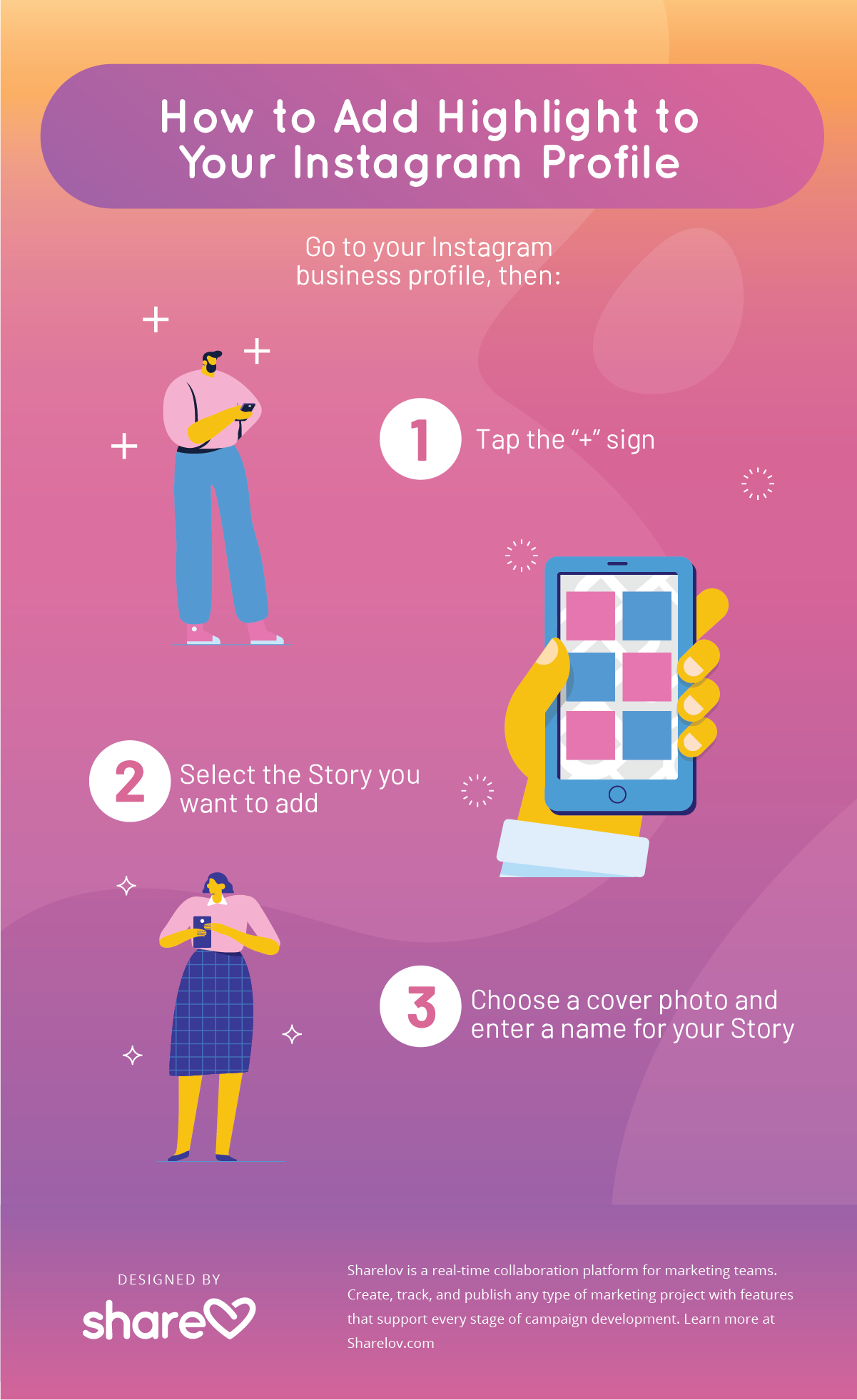 Instagram Stories Highlights — Frequently Asked Questions
Below we've answered some of the most common questions people have about Highlights.
How Many Highlights Can I Include On My Profile?
You can add unlimited Highlights to your profile, but wait! Before you get too carried away…
Think of the navigation menu on your website. Too many choices can overwhelm people and compromise the user experience.
Choose your highlights wisely and make each one count.
How Long Do Highlights Last?
Highlights stay on your profile as long as you choose to keep them there.
How Can I Add More Photos to a Highlight?
You can add photos and videos to an existing highlight by tapping Edit Highlight.
What If The "+" Add Highlight Option Isn't Showing Up On My Profile?
If the add highlight option isn't available, try these steps:
Switch to a mobile device if you're on a laptop or desktop.
Check to make sure that your Stories archive setting is turned on.
Try clearing your app data and cache and log in again.
One of these 3 solutions should solve the problem so you can add new Highlights to your profile.
How Do I Archive my Stories?
Your Stories are automatically backed up to your Stories Archive, but you should double check to ensure this feature is turned on since this is where your Highlights come from.
To turn your Stories Archive on or off:
Tap the menu icon on your profile.
Go to settings>Privacy and Security>Story Controls.
Tap the Save to Archive button on or off.
How Do I Remove a Story Highlight from my Profile?
To delete a Highlight from your profile, go to the Story Highlight beneath your bio, then tap and hold it.
Tap Delete Highlight to remove it.
What's the Best Way to Use Instagram Highlights?
Brands use Stories Highlights in several ways. Below, we show you how some successful brands are using Highlights to engage their profile visitors.
Create a Brand Portfolio with Instagram Highlights
GoPro's Instagram profile features 5 Stories Highlights.   The brand uses its highlights section as a portfolio, sharing the following collection:
GoPro Tips: Quick Start guide for one of its products
A Brief History: Entertaining history about GoPro
GoProPlus: Promo with CTA and special deal
1 Million Dollar Challenge: Contest
GoProHero7: New Product announcement
GoPro does a few things that really make its Highlights section stand out:
Consistent and memorable icons (Highlights covers)
Titles that are quickly understood, even when truncated
Limits the number of Highlights – this is an especially good choice for brands that offer a blend of different Stories the way that GoPro does.
Use Highlights as Product Categories
Hobie Surf Shop uses Highlights to showcase its clothing line. Its Highlights are product categories such as:
Swim: Swimwear collection
Hobie Mens: Men's clothing
Hobie Womens: Women's clothing
Fragile Ocean: Social campaign and "Causewear" that promotes respect for the ocean
Hobie's does an excellent job of compelling visitors to browse its highlights:
– Keeps menu simple
– Easy-to-read titles
– Incorporates a social cause that appeals to surf shoppers
Combined Stories Highlights
Madewell's Story Highlights combine a bit of everything.
Sometimes a mix of things on your Highlights can get confusing, but Madewell uses simple icons and one-word descriptions that make its selection easy to understand and fun to browse.
Included in its Highlights:
2 denim product Stories, to promote its denim wear
1 social cause promotion raising awareness for LGBTQ equality
1 events Highlight that showcases different aspects of its activities
1 "hometown" Story that highlights local people
1 mens category
1 just-for-fun music collection
Influencer Artists Highlights
Spotify uses its Highlights to showcase different artists in Influencer Stories in which artists promote Spotify.
For example, it's "Me!" Highlight promotes a new Taylor Swift single titled "Me," followed by a video clip of Taylor Swift promoting Spotify.
Spotify's Instagram Profile includes 9 Stories Highlights, all of which spotlight a different artist promoting its service.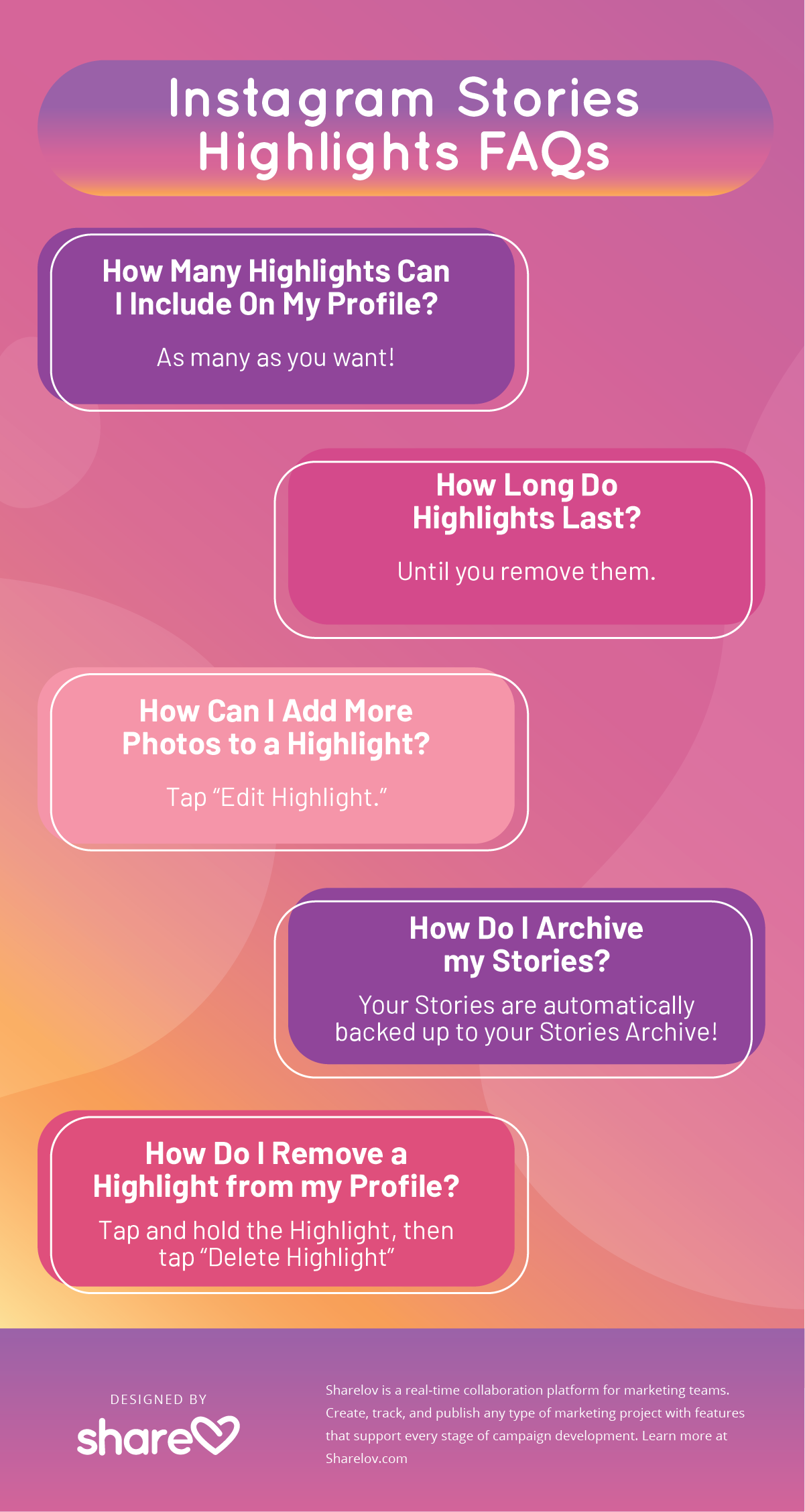 Use Highlights to Attract Your Target Audience
Instagram Stories Highlights also give you the chance to showcase your social causes, events, influencer campaigns, and much, much, more.
Use your Highlights in a way that aligns with your target audience and introduces new people to the unique attributes of your brand. Or, highlight your marketing campaigns and Instagram Live videos in your Highlights section,
How do you use Stories Highlights? We'd love to hear your ideas! Tell us about your brand's highlights in the comments section below!