The future is here, and every corner of it connects to social media.
Today, nearly half the world's population (3.5 billion) uses social media, and that kind of growth means big change for brands, users, and platforms.
In this article, we show you what major trends and changes will influence our social media promotions, content, and interactions in 2020.
In the coming year, marketers will enjoy more opportunities than at any time in history. 
Are you in?
Let us introduce you to the trends and tips that will drive your growth, engagement, and conversions in 2020.
By this time next year, more people will own mobile phones than have running water or electricity.* 
As more of the globe continues to connect through social media, we move into 2020 with a more balanced, sensible approach to digital life than at any time in history. 
Seven social media trends will drive change across all the major platforms in 2020. 
Trend #1 Build Small Communities
Social media's not just for geeks anymore.
Today's social media landscape includes nearly half the people on the planet, and users come from all walks of life: from all age groups, social and economic backgrounds, and cultures.
As the number of social media users continues to grow, smaller communities are emerging as THE way people find and connect online.
"2020 will be the year we see consumers start to use public social media LESS even as social media usage per se continues to rise." – Jay Baer, Convince & Convert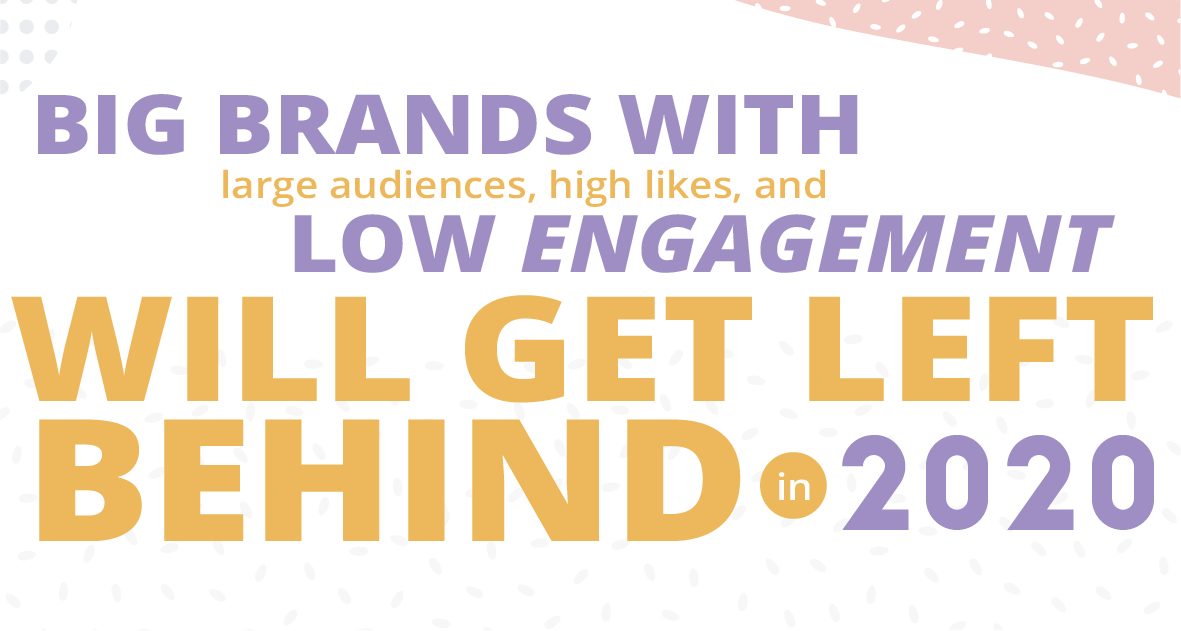 Engage your audience with these 6 community-building tips:
Tip #1: Create

small groups

and forums that engage your audience members.

Tip #2: Use social channels as micro-blogs and publish directly whenever possible.

Tip #3: Consider using chatbots, messaging, and text to communicate with your customers in a more personal way.

Tip #4: Stay involved! Start discussions, ask questions, and acknowledge people who comment on your posts.

Tip #5: Consider meeting your audience on their favorite social media platforms. Smaller, growing channels such as TikTok and Snapchat provide an excellent chance to build engaged, authentic communities.

Tip #6: Consider meeting your audience on their favorite platforms.
"I'm not talking about engagement so that your content shows up better in the algorithm, but actually thanking those people in your community not only when they comment or engage with your content but actually proactively reaching out to them like a social media user would reach out to a friend.

If your business wants to survive in organic social media in 2020, I believe that this sort of humanization of your brand will be necessary." Neal Schaffer
Where is your audience at?
Facebook, YouTube, and Instagram are ideal for B2C audiences, while LinkedIn and Twitter tend to draw more of the B2B crowd. 
Gamers enjoy Twitch. 
Generation Z loves YouTube and Snapchat. 
Creative types flock toward TikTok, and shoppers love Instagram and Pinterest.
Get better engagement by posting when audiences are most likely to engage with brands!
Whatever your audience loves, consider forming small communities on their favorite platforms to help engage and maintain the interest of your audience in 2020.

Trend #2 – Provide a Trustworthy and Authentic Space for Your Audience
Fake reviews, fake influencers, and fake followers are taking center stage as the FTC begins cracking down on social media fraud toward the end of 2019. 
Inauthentic marketing tactics, such as buying followers and asking employees to write online reviews, are now formally recognized as fraud. 
According to a report by Stackla, 90% of consumers say authenticity is a top priority when choosing which brands to support.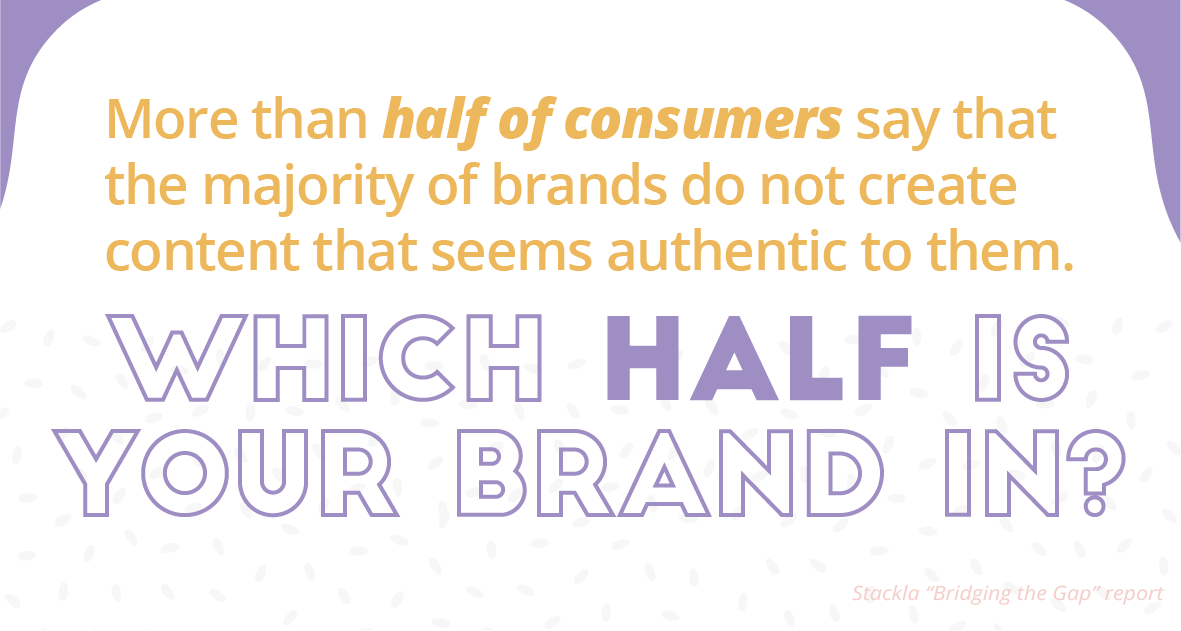 In 2020, brands should prioritize authenticity more seriously than ever before, or risk destroying their reputation.
4 Tips To Help Your Brand Prioritize Authenticity On Social Media:
Tip #1: Audit your social media accounts for any:
Tip #2: Strengthen your safety measures to ensure that your brand's social media accounts don't get hacked. 
Tip #3: Exercise transparency in data collection, and make sure that the links you post lead to safe web pages.
Tip #4: Create headlines that represent your content instead of sensationalizing it.
Provide your followers with a safe community, free of inauthentic marketing tactics and privacy intrusions, to gain your audience's trust.
Trend #3 – Utilize Organic Influencers 
As influencer marketing becomes more common, people are less persuaded by influencers with large followings and celebrity names. 
Most people trust content shared by their friends, peers, and family over posts from celebrities and influencers.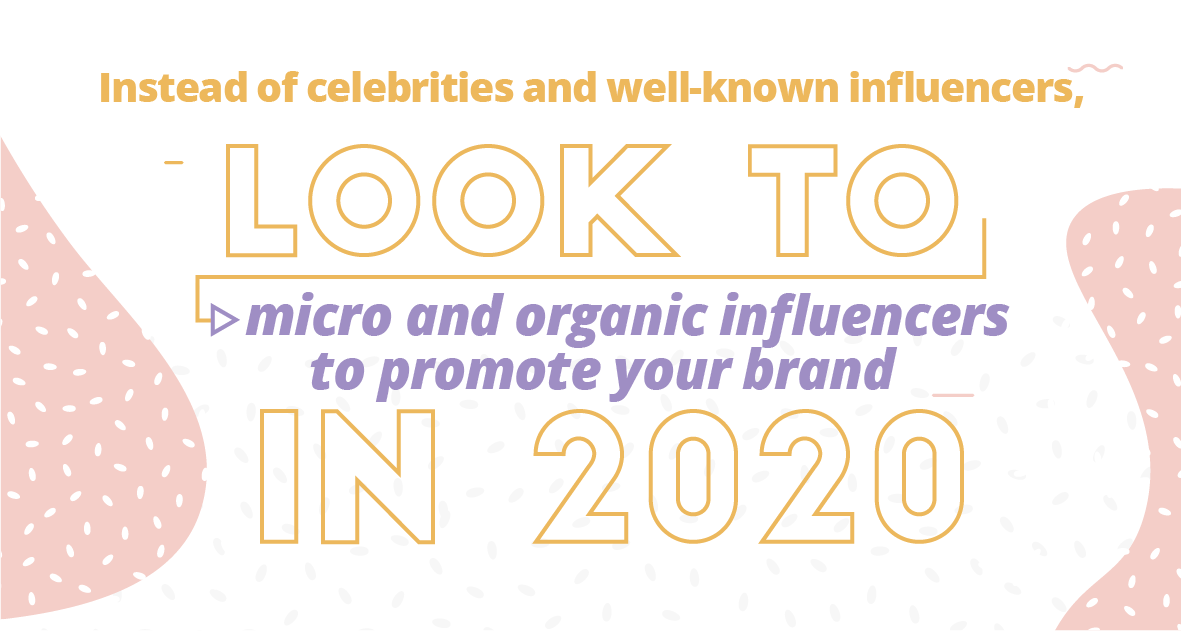 Organic influencers are real people who are passionate about your brand, regardless of the size of their audience. 
To find organic influencers, reach out to people in your audience who already love your products, and see if they're willing to advocate for your brand.
Many brands continue to invest in celebrity influencer marketing, even though it's becoming less effective every year. 
Instead, marketers should consider switching to micro or organic influencers while doing everything they can to generate social proof.
Trend #4 – Provide Social Proof
As social media users demand more transparency, honesty, and authenticity, they will turn toward recommendations from their friends and family over those from celebrities and ads.
The influence of user-generated content (UGC) will play a more important role than ever in 2020:
79% of consumers say

UGC has significant influence

over their purchasing decisions.

UGC is

9.8X more effective

than influencer content.

Consumers are 2.4X

more likely to trust UGC

over branded content.

The majority of consumers (56%)

want to see UGC that includes photos and videos.
6 Types Of Social Proof You Can Share On Social Media
User-generated content

Video testimonials by customers

Customer photos that include your product

Certifications or approval from major organizations

On-platform reviews

Case studies
Boost your social proof content by including several of the suggestion above in your social media strategy.
Find out how to pin social proof to your Instagram bio! The Ultimate Guide to Instagram Stories Highlights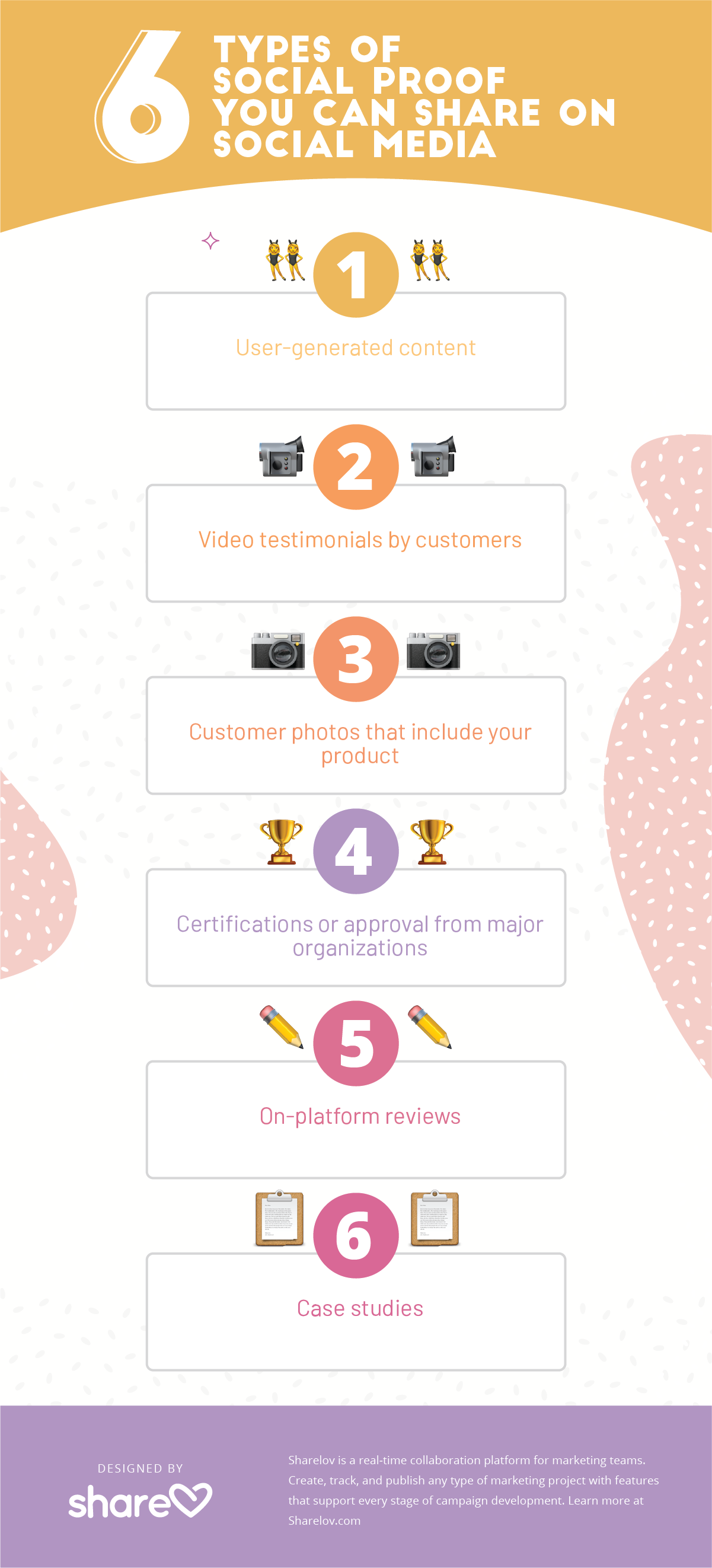 Trend #5 – Market with Multiple Generations in Mind
To build engaged audiences, zero in on what they're looking for. 
For many brands, an understanding of the generations provides an opportunity to tailor content, focus efforts on the most effective social media channels, and build a following of passionate brand advocates.

Moving into 2020, six generations represent the bulk of internet users:
The Silent Generation: 74 – 91 years old
Baby Boomers: 55 – 73  years old Generation X: 39 – 54 years old
Millennials: 23 – 38 years old
Generation Z: 8 – 22 years old*
Generation Alpha: Ages 6 and under (born until 2025)* – name and dates are not yet official
Rather than separate the generations, focus on marketing efforts that encompass all of them by representing the different age groups in your marketing photos and videos.
Learn how to create engaging videos!
Typically, Baby Boomers and the Silent Generation frequent social media sites such as Facebook and Youtube, but you'll also find them on Instagram, TikTok, Pinterest and LinkedIn.
Younger generations learn toward YouTube, Instagram, and TikTok, but many also visit Facebook regularly, even if they're just lurking.
Part of creating engaged social communities means understanding the habits of different generations and encompassing diversity in several ways – including embracing a mix of age groups.
Trend #6 – Boost Your Social Shopping Strategy
The 2019 release of Shopping on Instagram, including shopping posts and stickers, sets a precedent for all other social media channels. 
Much like stores in a strip mall, the popularity of one channel's shopping experience will help to boost the success of others.
In other words, as people become accustomed to shopping directly on their favorite social media platforms, you can expect to see other channels boosting their on-platform shopping experiences. 
5 Tips for Boosting Your Social Media Shopping Conversions
Once you've set up shopping and product stickers on your favorite social media channels (like Instagram and TikTok), try these 5 tips to help increase conversions.
Tip #1 – Incorporate keywords into your posts to boost your results in on-platform search engines.
Tip #2 – Make sure your social proof is visible from your bio page, if possible.
Tip #3 – Add social media customer service to your Facebook, Instagram, and Twitter accounts.
Tip #4: Control your brand reputation by monitoring social channels and responding to negative feedback.
Tip #5 – Incorporate message marketing in your 2020 marketing strategy, to help you promote your social media products.
Social media users are ready for a diversion from fake news, politics, and controversy. Brands can benefit from this trend by boosting their social shopping efforts as we move into 2020.
"I think Google gives up on creating a social network and openly incorporates existing social networks into their search algorithm."

– Brett Farmiloe, Founder & CEO of Markitors, on what will happen in 2020
Get more social media shopping tips…
Trend #7 – Embrace Digital Well-Being
Scandals, scammers, and screen time have had an impact on social media users, and to be honest, they're feeling a bit overwhelmed.
As we move into the new year, people are more dedicated to stress-free social media than ever before and are looking for ways to avoid negativity and add more real-world interaction into their lives.
What we've learned since the launch of the first popular social media platform (Facebook in 2004) is that balancing the time we spend online, and regulating the type of content we view, can have a positive effect on our mental health.
Avoiding negative social media content like fake news, trolls, and politics helps lift our spirits, and regulating the amount of time we spend online improves our physical and mental well-being.
Welcome to the era of digital well-being and "social media wellness."
Social media users are limiting their social media and even taking breaks to avoid feeling overwhelmed or bad about themselves.
Android and Apple smartphones have incorporated features that help users track and monitor the amount of time they spend online, and on social media.
One research study by Google found that nearly 80% of people are happier about their phone usage since they started using digital wellbeing apps and features.
Digital wellbeing will continue to dominate social media attitudes in 2020. Get on board the wellness train with the following brand tips:
6 Tips for Supporting Digital Wellness on Social Media
Tip #1 – Build real-world challenges into your social media contests.
Tip #2 – Encourage user-generated content that requires physical activity.
Tip #3 – Use positive communication techniques.
Tip #4 – Avoid sensational headlines and negative-based advertising.
Tip #5 – Post feel-good content with affirmative messages.
Tip #6 – Make people feel good! 
Look for ways to encourage your users to interact with each other outside of social media, and you'll build a deeper connection with your audience.
Digital well-being is likely to become a permanent lifestyle change, rather than a trendy #DigitalDetox hashtag, and supporting your audience on their journey to happiness will help to build brand loyalty and awareness.
Critical Changes Ahead for Social Media in 2020
Even though the 2020 social media trends reflect critical changes, the adjustment won't be difficult for brands who've been on top of their game the past couple of years. 
Authentic content, community-building, social proof, and trust-building have played an important role in social media success throughout 2019. 
In the New Year, these trends will play a significant role in maintaining brand loyalty and publishing engaging material.