Find out how Instagram prioritizes people in your Stories viewers section and learn how to improve your sales and reach with Instagram Stories.
Find out everything you need to know about Instagram Story viewers.
In this article, we show you how to access your Story viewers list, how to understand it, and how to use it to increase your sales and reach.
How does Instagram rank Story viewers?
We cover that, too!
Plus, we show you how to send more viewers to your Stories so you can expand your reach and improve sales.
Continue reading to learn everything about Instagram Stories viewers in 2021.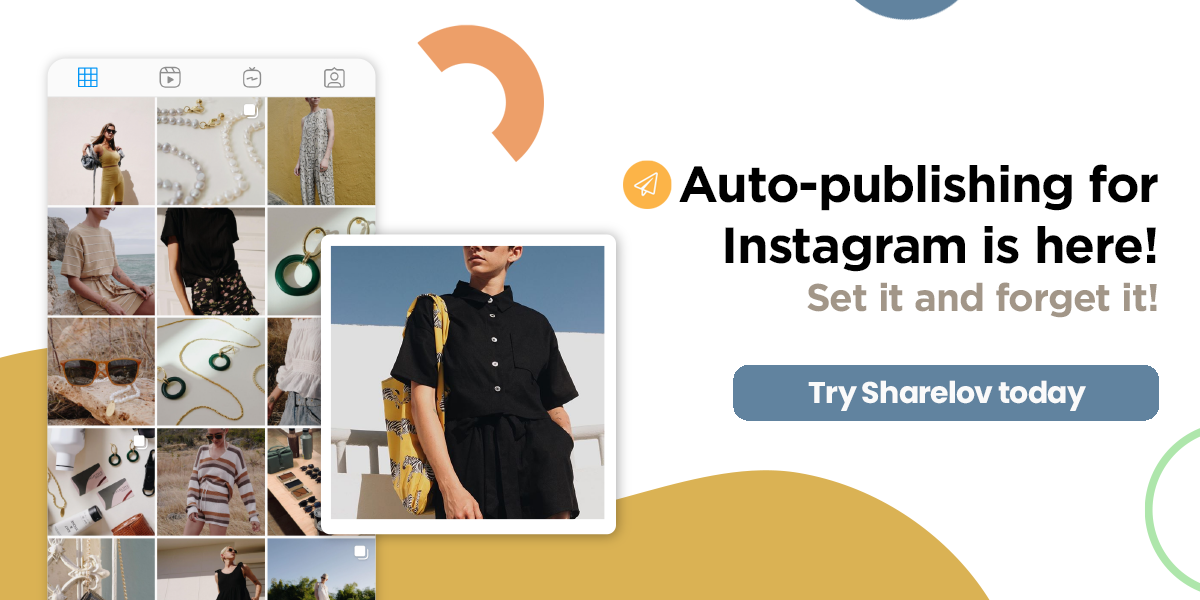 What Are Instagram Story Viewers?
Story viewers is a list of people who have viewed your Instagram Story. 
It includes the total number of people who've seen your Story, plus the user names of each viewer.
The total number of views on this list includes replays, so you might see more views than usernames.

How Do You Access Story Viewers?
To access Story viewers for an actively published Story, open it on Instagram and swipe up. 
To access Story viewers for 24 hours after it's been unpublished:
Tap the profile icon or  your profile image.

Tap the hamburger menu.

Tap Archive.

Scroll to your Story.

Tap the Story, then swipe up.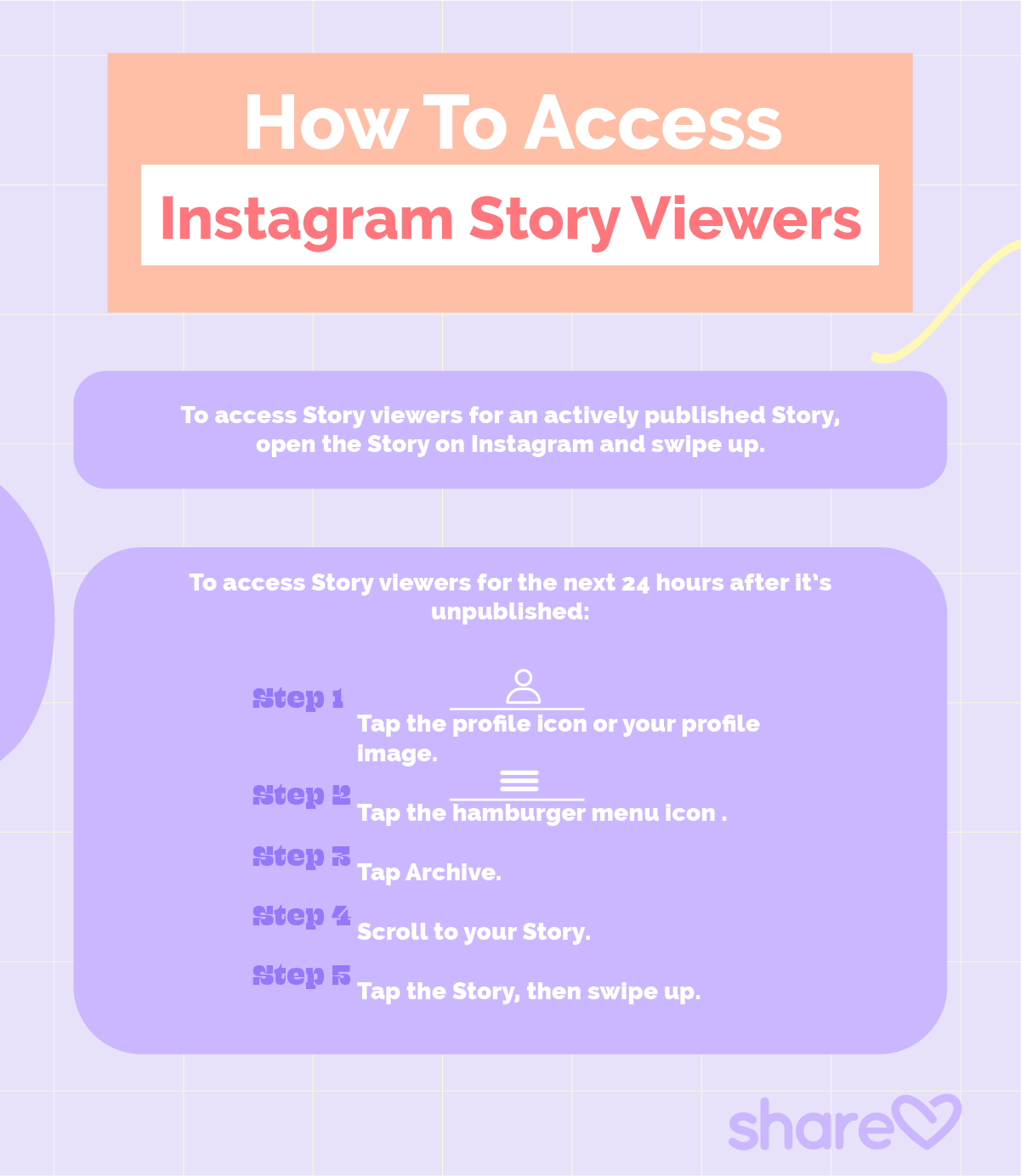 How Long Are Story Viewers Available?
Your viewers list is only available for 48 hours after you publish your Story.
Keep in mind, Stories are still ephemeral — they disappear 24 hours after you publish them, so that means the list of viewers remains available for another 24 hours after they unpublish.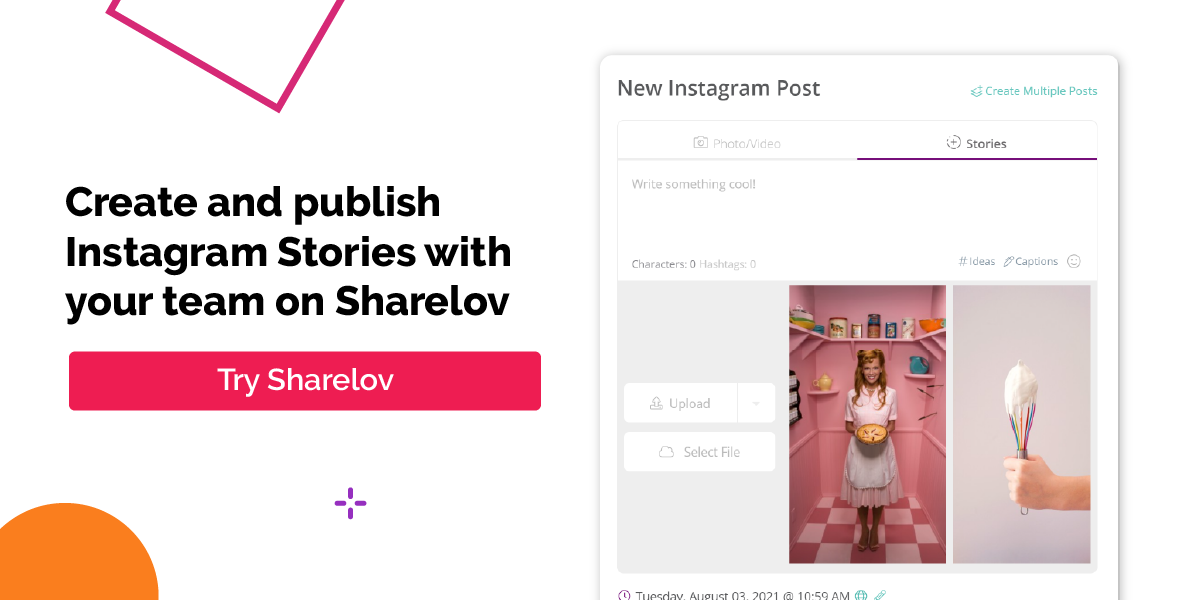 The Stories viewer list is not public, so only your team can see it.
You can make Stories last longer than 24 hours by pinning them to your profile as Highlights.
Here's how to convert your Instagram Story to a Highlight:
Tap the "+" sign in the Highlights section of your profile, or, if there's no "+" sign, tap Story Highlights

Select the Story you want to add

Choose a cover photo and enter a name for your Story
Tip: Keep your Highlights titles short and descriptive, and use icons or chosen photos for your Highlights covers.
You can find out more about how to use Highlights to your brand's advantage in the Ultimate Guide to Instagram Stories Highlights.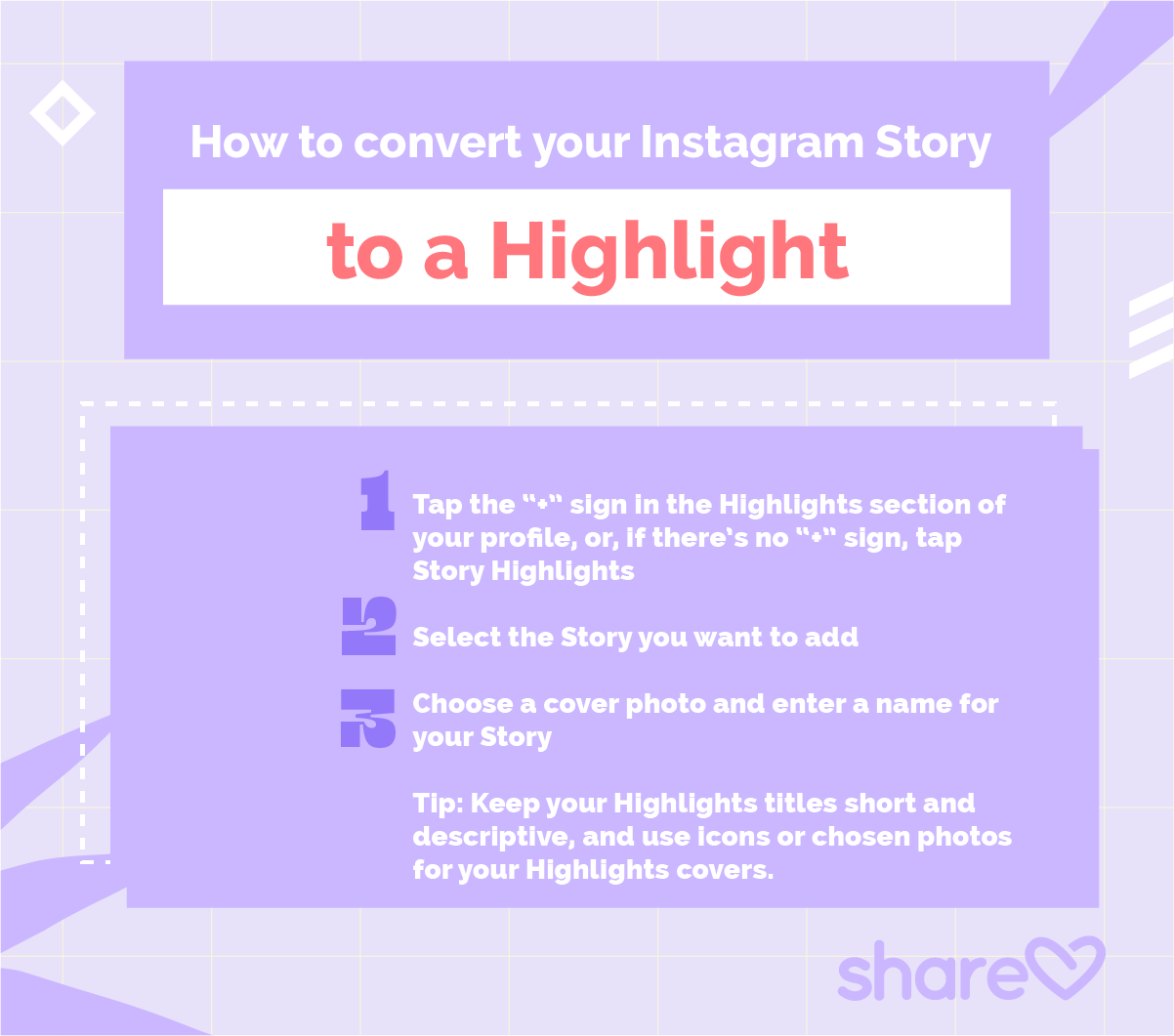 To continually increase your Story engagement, reach, and conversions, publish Stories often. Since Stories only last 24 hours, publishing new ones several times a week is reasonable.
Scheduling social media content is easier with a content scheduling calendar.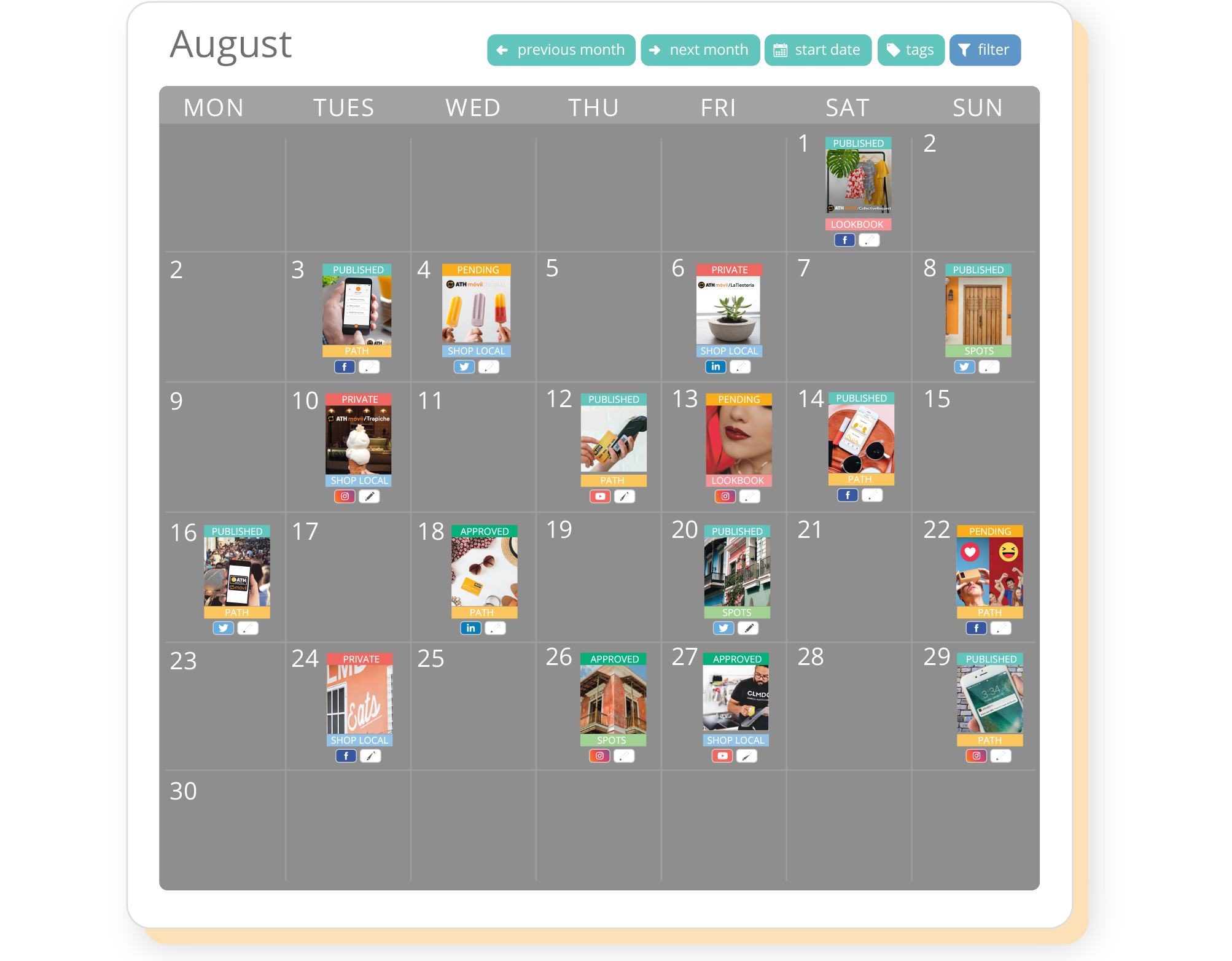 You can organize all your social media publishing with Sharelov's content calendar. It's free to Sharelov subscribers, so why not give it a try today!
Where To Get More Details About Your Story Viewers
Good news: You can learn even more about your Story viewers with insights on Sharelov. 
Sharelov subscirbers can quickly navigate to Story viewers analytics from their main dashboard. Just go to Analytics>Stories.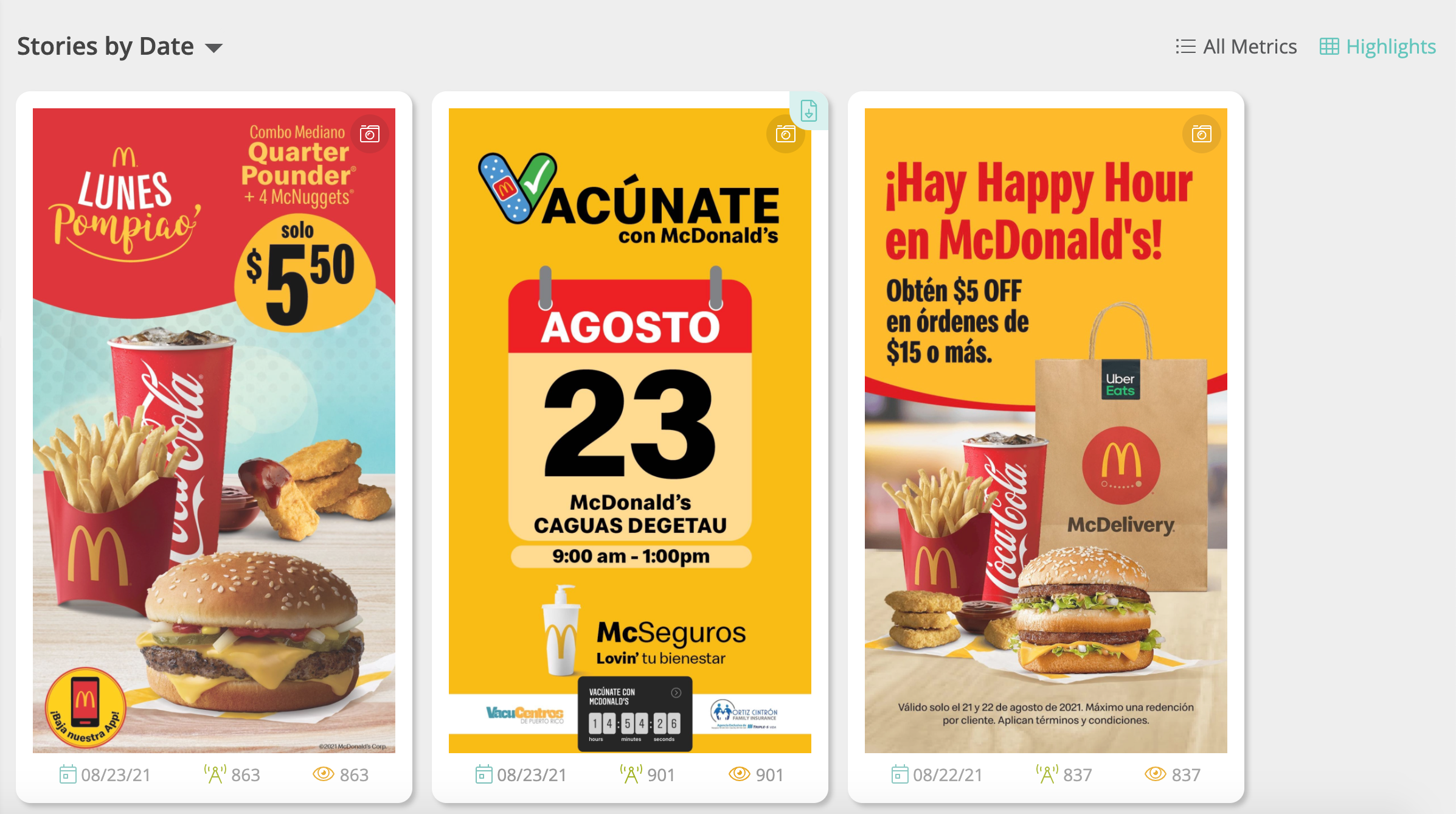 Within Story analytics, you'll discover a selection of filters and views, including the Highlights view, which lets you quickly see the total views and reactions of each of your Stories.
Want to go more in-depth on your Story viewers data?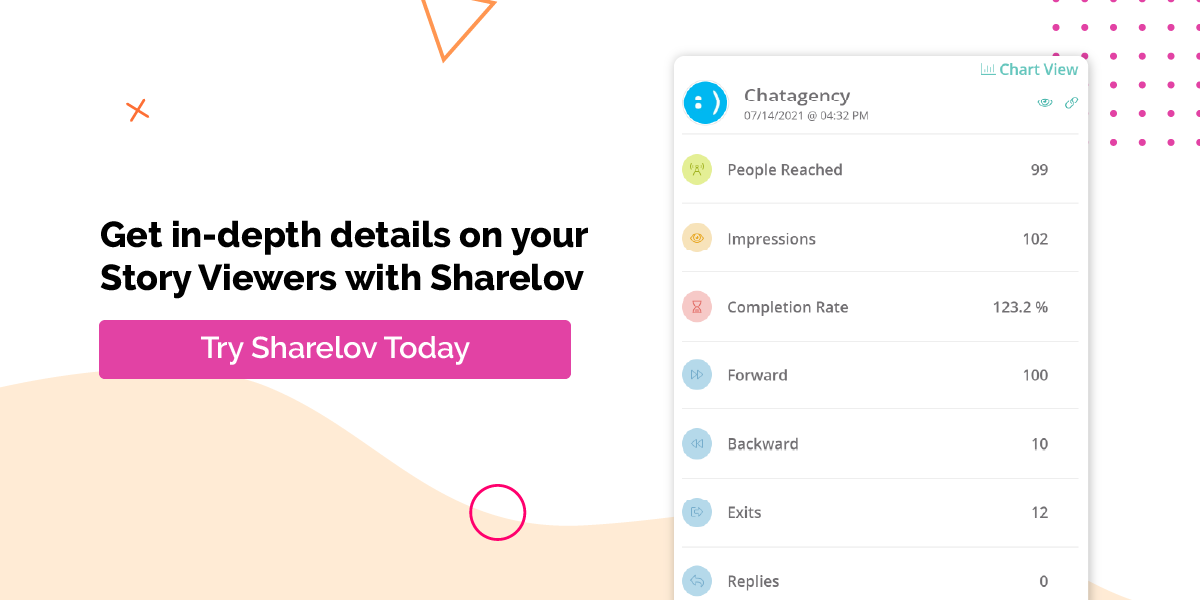 Just click on any Story card for detailed analytics that include:
Organic engagement rate

: How many people commented or reacted to your Story

People reached

: How many people viewed your Story

Impressions

: How many times your Story was viewed

Completion Rate

: How many users watched the entire Story

Forward

: How many people tapped ahead to see the next item in your Story

Backward

: How many people tapped backward to rewatch an item in your Story

Exits

: How many people tapped away from your Story while playing it

Replies: How many replies a photo or video received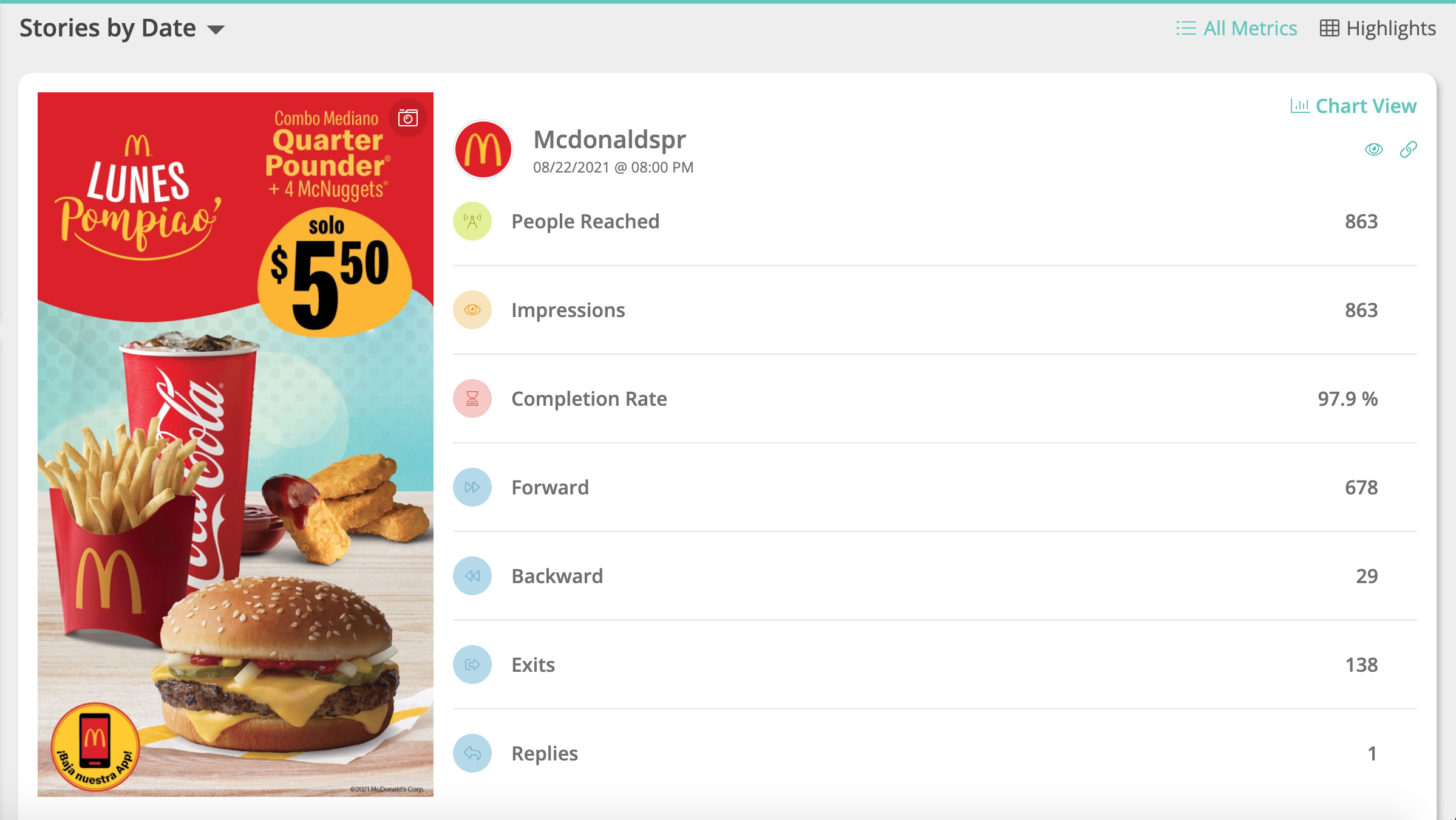 Sharelov lets you access Story and post analytics and quickly share data cards and main points with your team.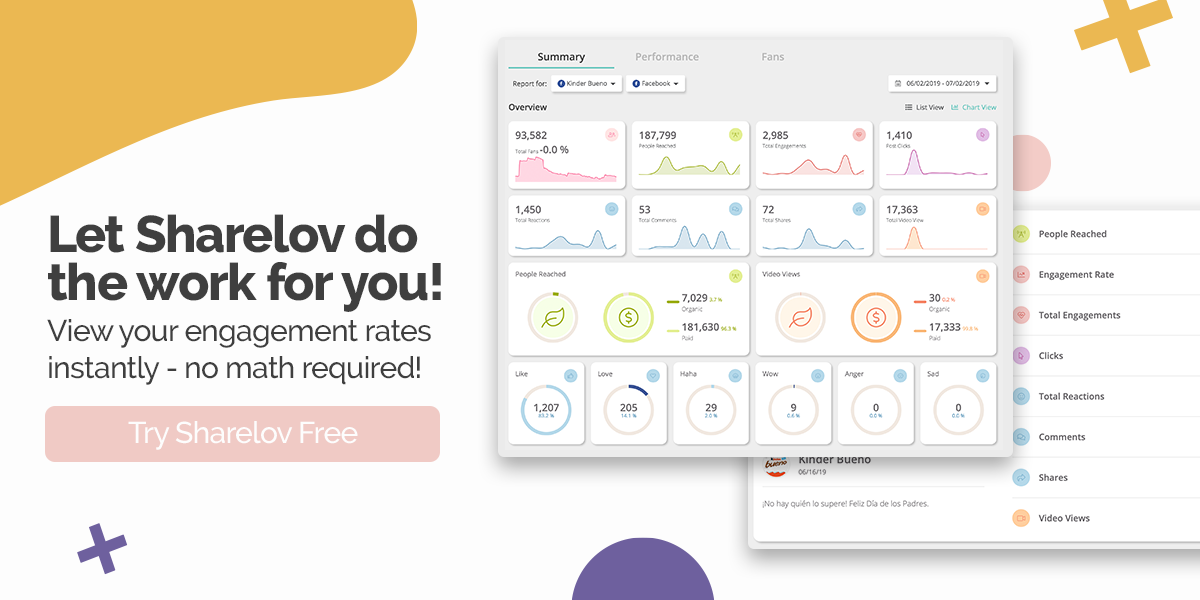 For more in-depth analytics on your Stories, you can also visit your overall account insights on Instagram.
If you're new to Instagram Insights (or if you could use a refresher course), be sure to check out our Ultimate Guide To Instagram Analytics for step-by-step instructions, tips, and examples.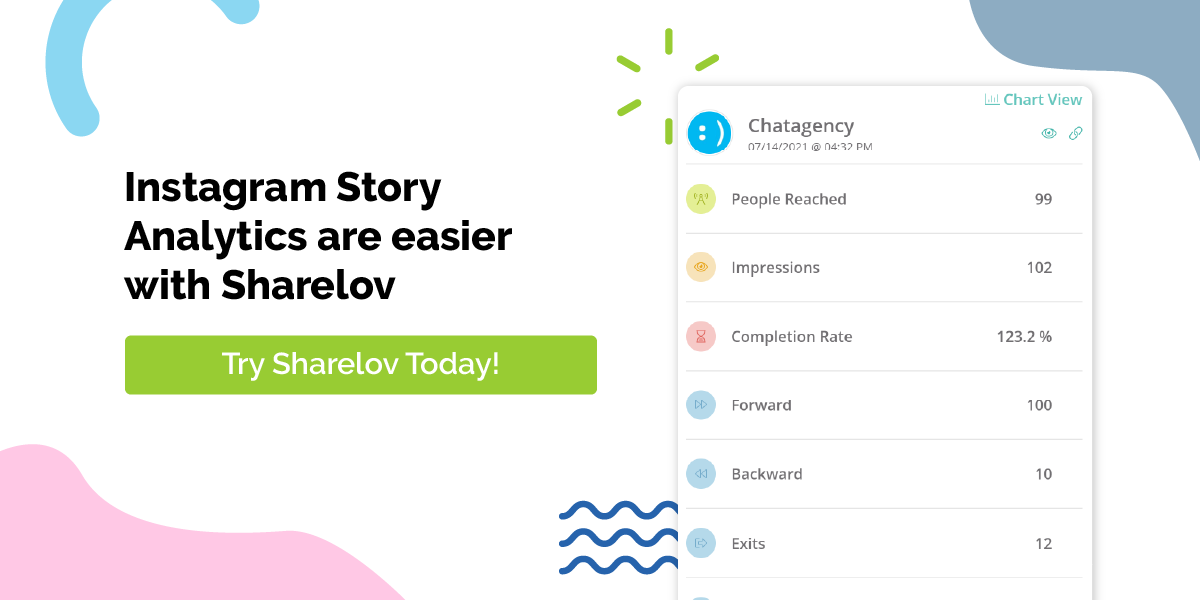 The Truth About Viewers' List Order
The biggest myth surrounding Instagram Story viewers list is the idea that it lists users according to how frequently they've viewed your Stories.
It doesn't.
The list order is determined by a private algorithm that hasn't been made public. 
Once, viewers were listed according to how frequently you, the brand, engaged with them. Or, in chronological order. Or, a combination of both —  depending on who was doing the theorizing.
According to Julian Gutman in 2019, Product Lead for Instagram Home "…The people that show up on that list are not the people that stalk you the most."
Redditor user infinitesimalFawn says the algorithm changed again in March 2021, while other users believe it's changed again since then. None can nail down the reasoning behind its list order.
Without a formal statement by Instagram, or obvious prioritizing, it's fair to say that the order of users on your Viewers list remains a mystery.
What we do know is that the Viewers list has nothing to do with how many times someone has viewed your Story or visited your account. It doesn't show who's "stalking" you.
The good news is that there's a lot of information you can learn about your Stories Viewers through Stories Insights.
Why Use Instagram Stories?
In 2021, more than 1 billion people use Instagram at least once a month, more than 500 million logon daily, and nearly all of them (90%) follow a business.
40% of U.S. adults say they've used Instagram.
500 million + Instagram accounts use Stories every day, and half of people surveyed say they visited a website to buy a product or service because they saw it in Stories.
Nearly 80% of marketers use Instagram, and 64% plan to boost their organic Instagram activities within the next year.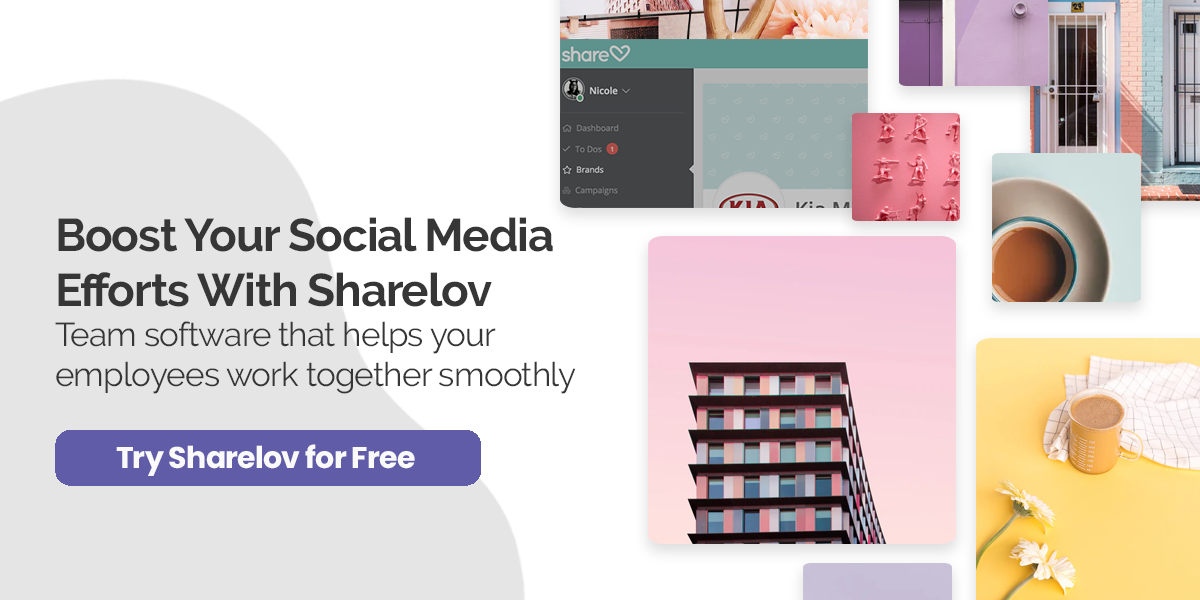 According to the 2021 Marketing report by Social Media Examiner, Instagram usage increased by 46% in 2020, and its story-based videos were used by 59% of marketers — more than Facebook or Tiktok.
With the rise of short-form video, Instagram is coming out ahead of the pack. 
The majority of marketers are investing in Instagram Stories, betting that the platform and its Stories format will continue to reign as a top platform for expanding brand reach, engagement, and sales.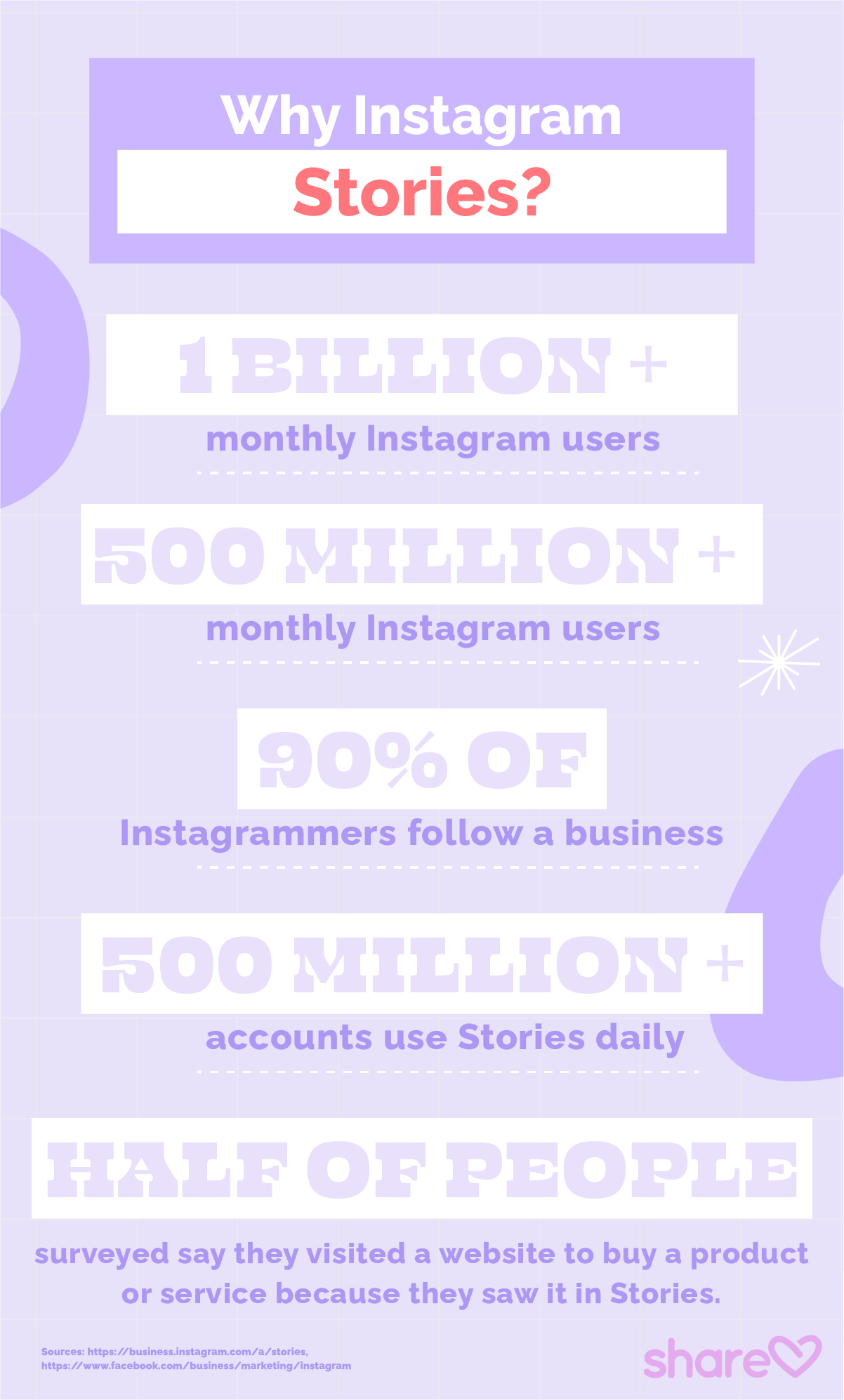 With so many marketers competing for attention on Instagram, trying to find a way to stand out is — a pretty big deal!
The good news is that there are several ways to keep up with the competition. For starters, a documented social media strategy will improve your odds significantly.
Monitoring your competitors, their advertising, your industry influencers, and niche hashtags can massively boost your ability to create a competitive strategy and content plan.
That's a lot to monitor, though, and  your time is valuable.
Sharelov lets you track and monitor competitors, ads, industry influencers, and hashtags — even if you only have a few seconds a day.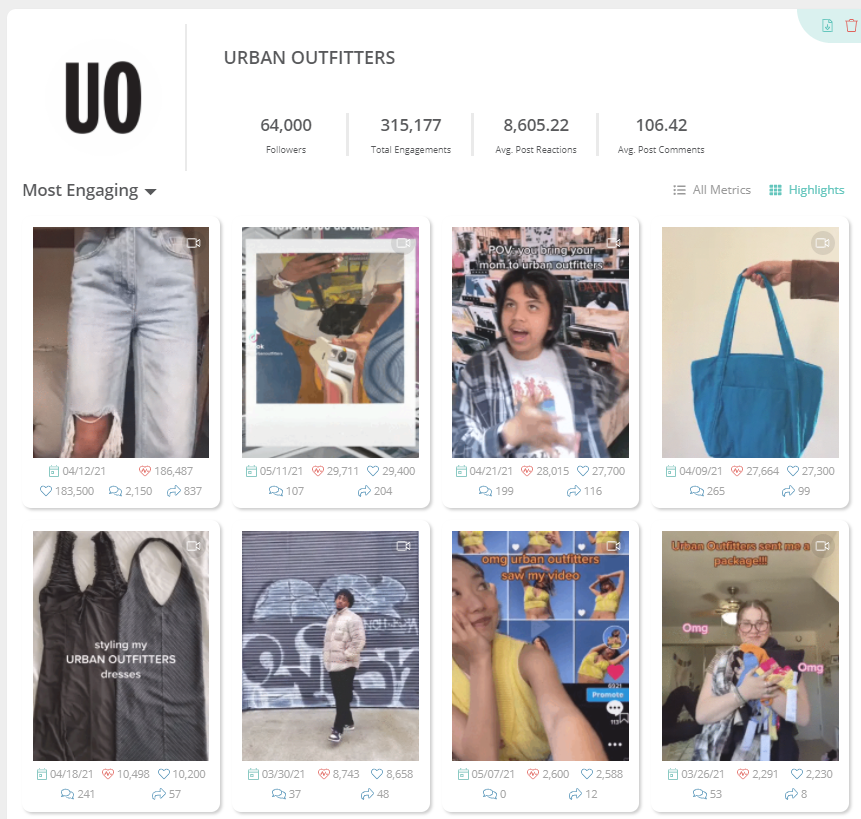 You'll find plenty of tips on monitoring your competitors' strategy in the Sharelov's guide: How To Monitor Your Competitors' Social Media Strategy. 
And, if you want to try the monitoring tool that makes your job quicker, easier, and more effective, just sign up for a free Sharelov trial right here.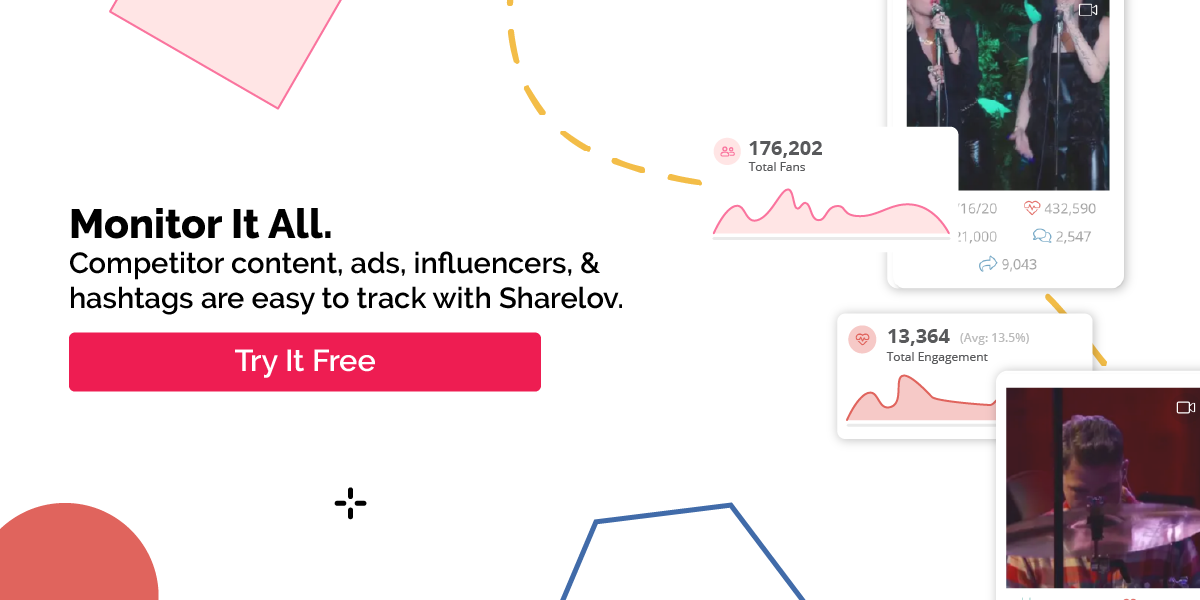 Who Uses Instagram?
According to a report by Pew Research, here's who's using Instagram in 2021:
Ages:
44% of people ages 18 – 29

48% of people ages 30 – 49

29% of people ages 50 – 64

13% of people ages 65 and up
Geographics:
45% of people in urban areas

41% of people in suburban areas

25% of people in rural areas
Economic:
47% of people who earn more than $75,000

39% of people who earn $50,000 – $74,999

45% of people who earn $30,000 – $49,000

35% of people who earn less than $30,000
Instagram users come from all walks of life and a vast range of geographic and economic backgrounds.
Whatever your brand, product, or industry, Instagram has an audience for you. The question is, how do you reach them?
One of the best ways to boost your ROI on social media is to publish unique, high-quality, content on a consistent basis.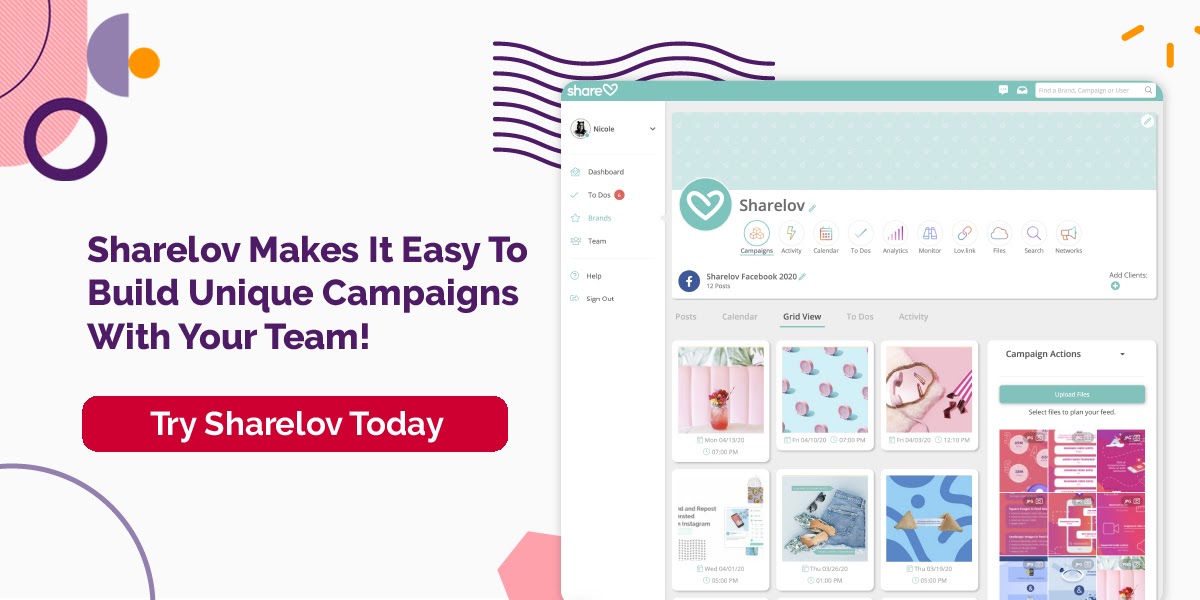 Your brand and audience are unique, so you need to create a unique posting schedule that targets your audience's browsing habits. Sharelov's Best Time To Post tool automatically calculates and suggests the best times to post for your Instagram audience.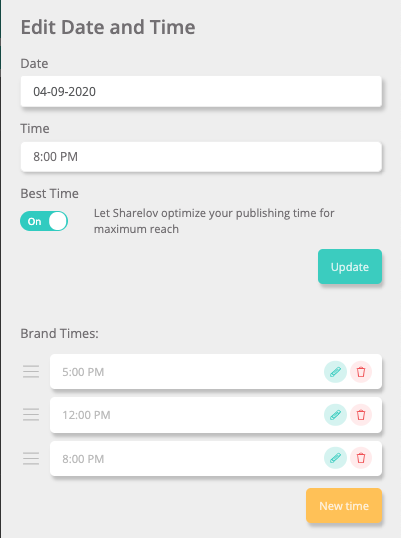 You can try the Best Time To Post tool free with a Sharelov free trial subscription.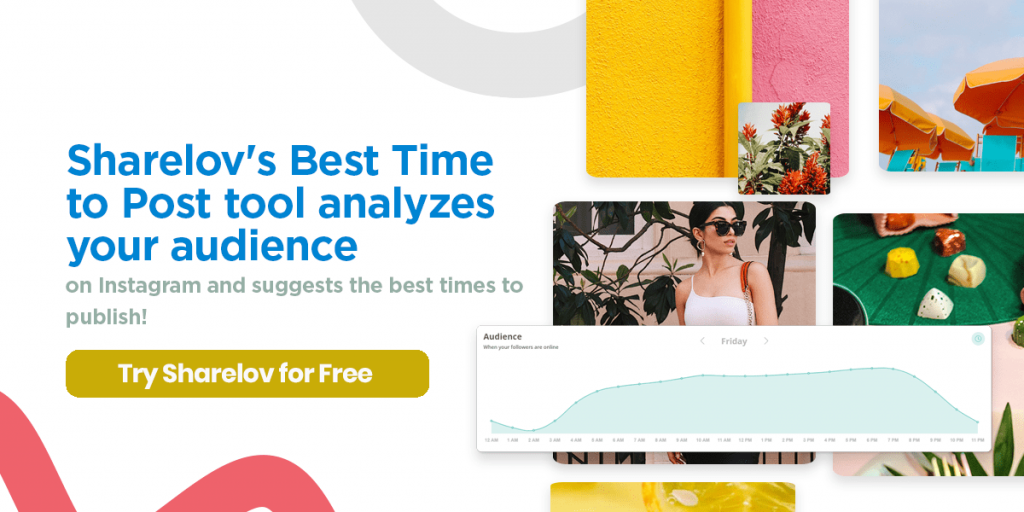 In the next section, we give you some tips for increasing the number of viewers for your Stories. 
9 Ways to Expand Your Reach With Instagram Story Viewers
Make the most of your Stories by using the following features. They'll help to expand your reach AND engage your followers.
#1: Add Hashtags To Your Stories To Get Seen In More Feeds
Use relevant hashtags to place your Stories into search feeds, so more viewers will notice you. Hashtags work best when you don't spam them, but instead research and choose them carefully.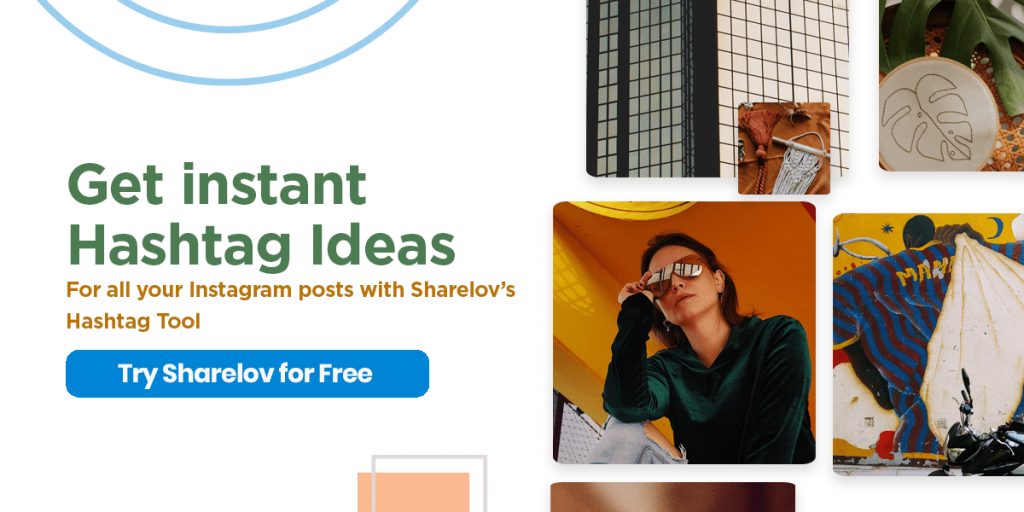 You don't need a lot of hashtags to increase viewers. Target a niche audience by selecting hashtags that potential viewers or buyers will be typing in the search boxes.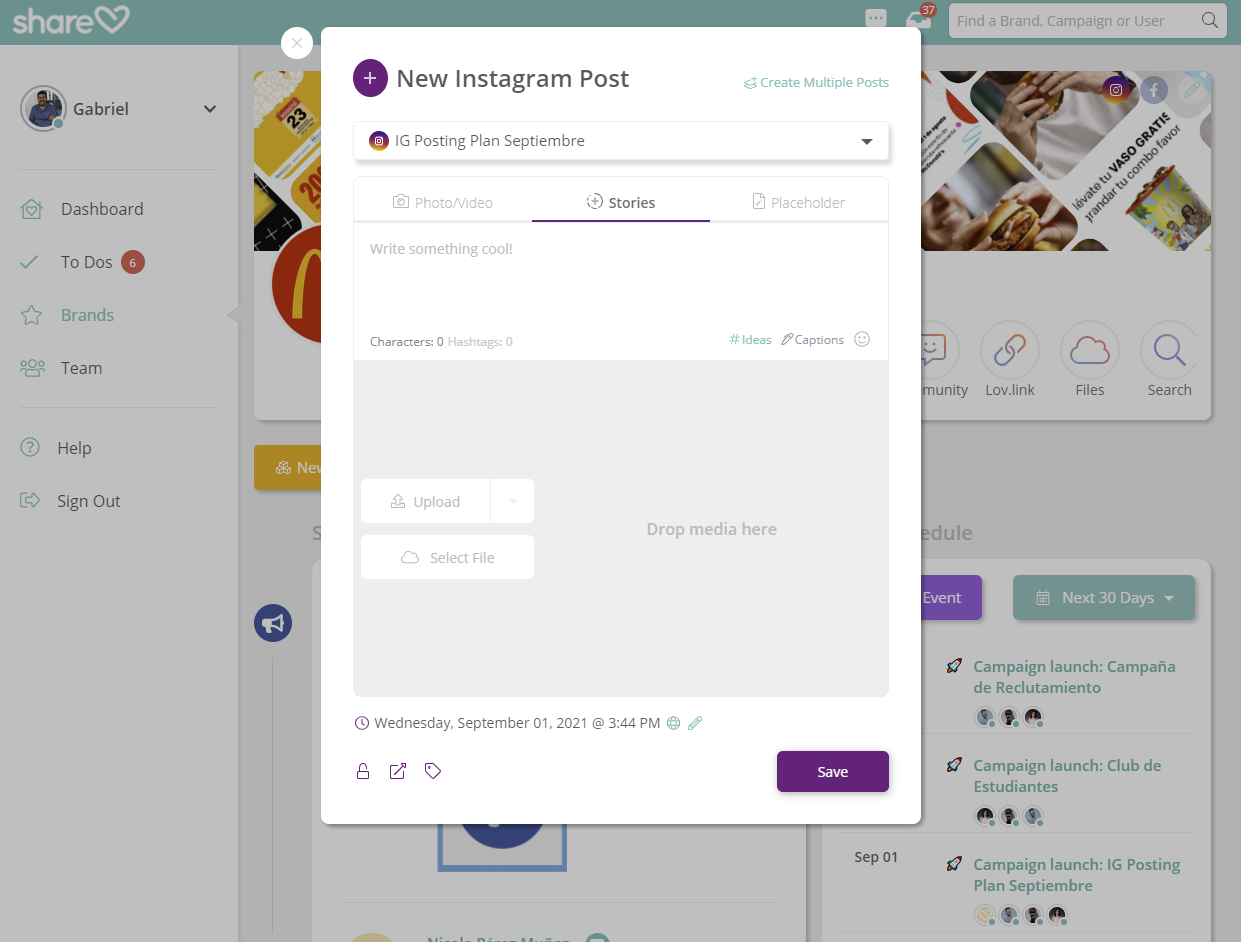 #2: Use Location Stickers And Geotagging To Get More Viewers And Boost Your In-person Traffic.
Location stickers and geotagging are powerful ways to increase your following and drive users to your physical location.
If you have a brick and mortar location, events, or popups, be sure to add location stickers into your Stories!
#3: Use Questions And Polls Stickers To Engage Your Audience.
Questions and polls help you engage and connect with your audience. 
Use question and poll stickers to spark conversation with audience members and keep them browsing your Stories for more.
#4: Use Instagram Influencers To Dramatically Increase Your Viewers And Engagement.
Are you looking for a massive amount of new viewers? Hire an influencer to promote your brand!
No matter what size your business is, there are influencers to fit your budget and help you expand your viewership.
Influencers can promote your brand through product images, takeovers, and recommendations.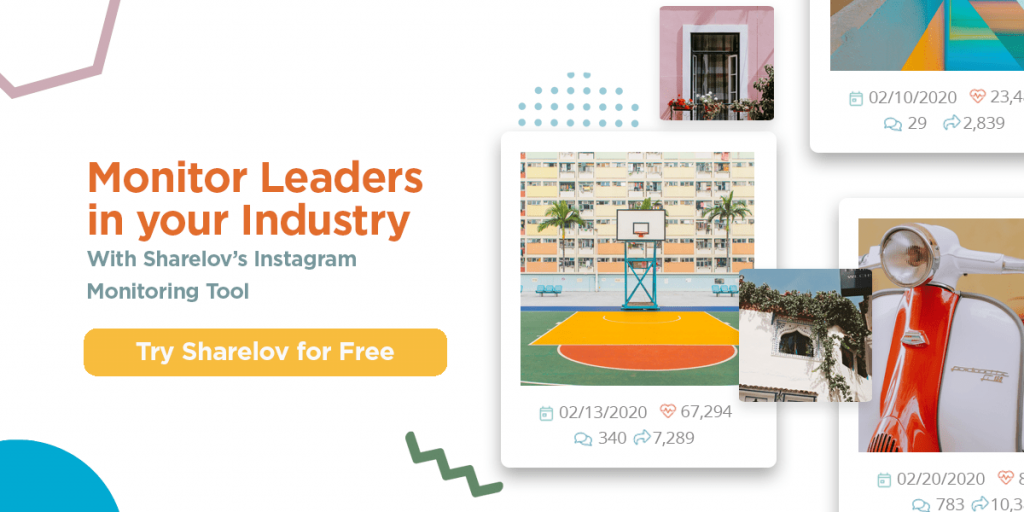 Micro-influencers are especially helpful for small businesses. Even though their audiences are smaller, micro-influencer engagement rates are usually higher than big-name influencers. Plus, their prices are typically affordable for any size business.
#5: Create A Compelling Instagram Profile And Bio With Plenty Of Stories Highlights.
Your Instagram profile is the first place viewers go to learn about your brand and decide if they want to follow you. 
Fill your profile out completely and add your best Stories as highlights, so they remain on your profile for as long as you like.
#6: Use Instagram Live To Give Your Brand A Boost In The Newsfeed.
Instagram Live, a feature of Stories, helps you get attention in your users' newsfeed. Go live often to keep your brand at the top of viewers' minds. 
Create engaging live videos that encourage users to interact and get to know the people behind your brand.
#7: Promote Your Stories With Paid Advertising
Ready to grow your audience? Reach people who are looking for brands just like yours by promoting your Instagram posts and Stories. 
Instagram has a wide assortment of stickers, features, and enhancements that help your brand to increase, engage, and convert your followers.
#8: Convert Your Stories To Highlights
When new people see your posts and Stories, they naturally navigate to your bio to find out more about your company.
Greet your profile visitors with a strong bio and engaging Stories Highlights that introduce your brand to newcomers. This will help you build a bigger following and expand the reach of your Instagram Stories.
#9: Auto-Share Your Instagram Stories To Facebook.
Kick up your reach in seconds by enabling Instagram to automatically share your Stories to Facebook!
Here's how to automatically share all of your future Instagram Stories to Facebook:
First, make sure that your Facebook and Instagram accounts are linked. If you haven't linked the two accounts yet, here are the instructions:
How To Link Your Instagram And Facebook Accounts For Sharing:
Tap on your profile image in the bottom right corner of your profile.

Tap the hamburger menu at the top right of your profile page.

Tap the settings icon.

Tap "Sharing to Other Apps."

Tap Facebook, then enter your Facebook login information.

Tap Continue>Yes>Finish Setup
How To Enable Autoshare Instagram Stories To Facebook:
Tap on your profile image in the bottom right corner of your profile.

Tap the hamburger menu at the top right of your profile page.

Tap Settings>Privacy>Story

Scroll down to "Sharing" and enable the toggle switch next to "Share Your Story To Facebook."
Autosharing your Instagram Stories to Facebook can help expand your reach to another major platform, without any effort.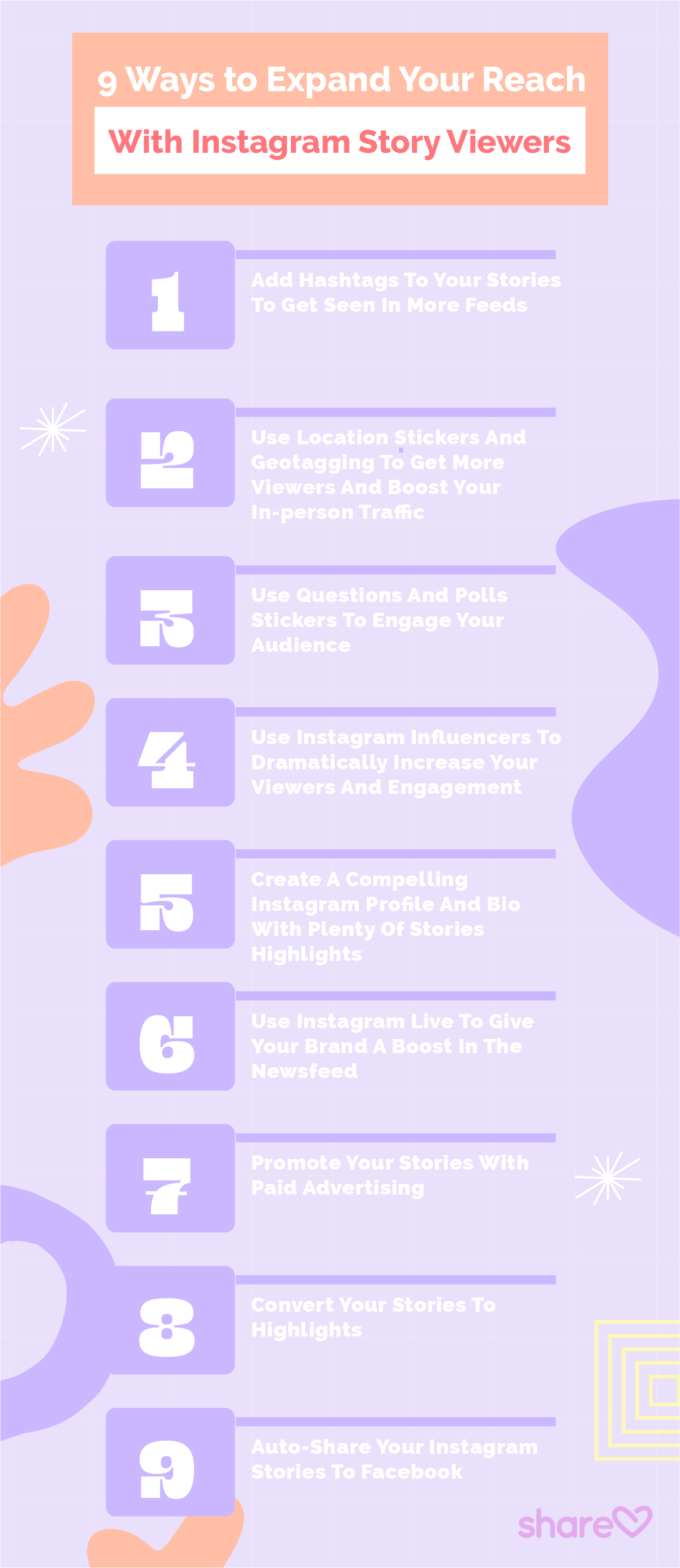 Did you know you can create and produce Instagram Stories in Sharelov? You'll love how easy it is for teams to work together, creating Stories that increase your reach and sales!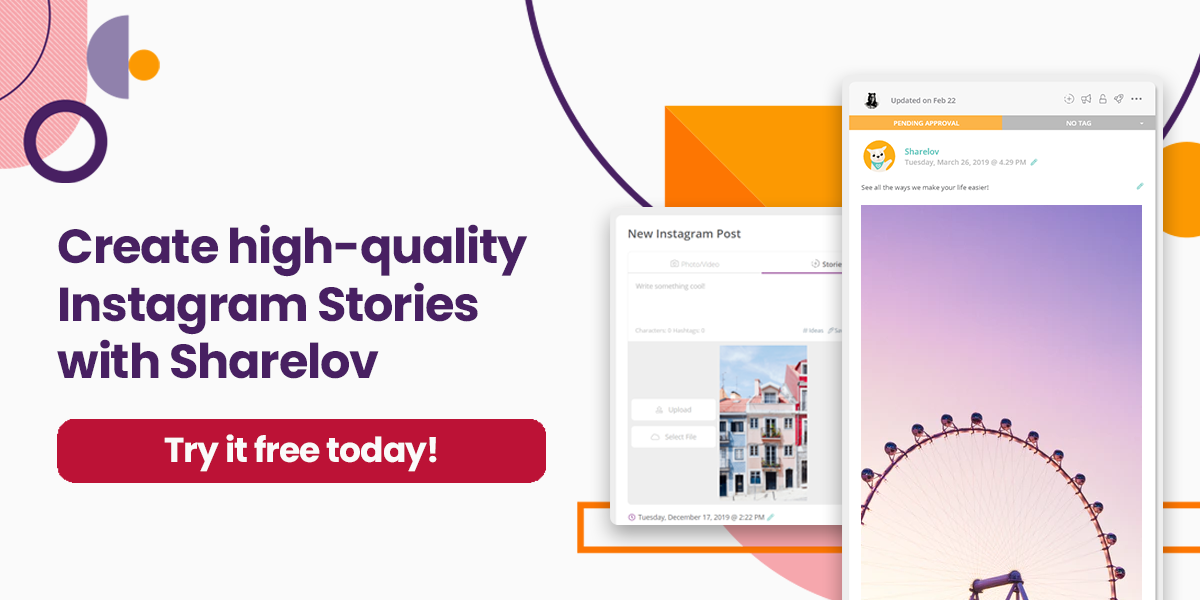 5 Ways to Increase Sales With Instagram Stories
Instagram Stories can be an excellent way to improve your sales. Here are a few tips for boosting your sales with Instagram Stories.
#1. Promote Your Instagram Account Outside the Platform
Send more traffic to your Instagram account and shopping catalog by promoting it on your other channels, including:
Other social media channels like Facebook, Twitter, and LinkedIn

From your website with Instagram icons

In your mailing list with images and Stories teasers
#2. Create User-Generated Content Campaigns
According to a report by Turn To Networks, over 70% of U.S. consumers make at least one online purchase every month, and 25% purchase online weekly.
If you want to convert viewers to shoppers, user-generated content is a must:
Almost all consumers (90%) said that user-generated content is the most influential part of their buying decisions. 

More than half (63%) believe user-generated content makes the shopping experience more authentic.

More than half (61%) say user-generated content encourages brand engagement

Most shoppers (65%) say user-generated content is more interesting than brand-created content.
What is user-generated content?
User-generated content (UGC) is any non-paid content that other people create about your brand. This includes images and videos that show or mention your products, reviews, and recommendations.
One way brands encourage followers to create UGC is by using Instagram Stories to promote  giveaways or sweepstakes to users who post images of their products along with hashtags.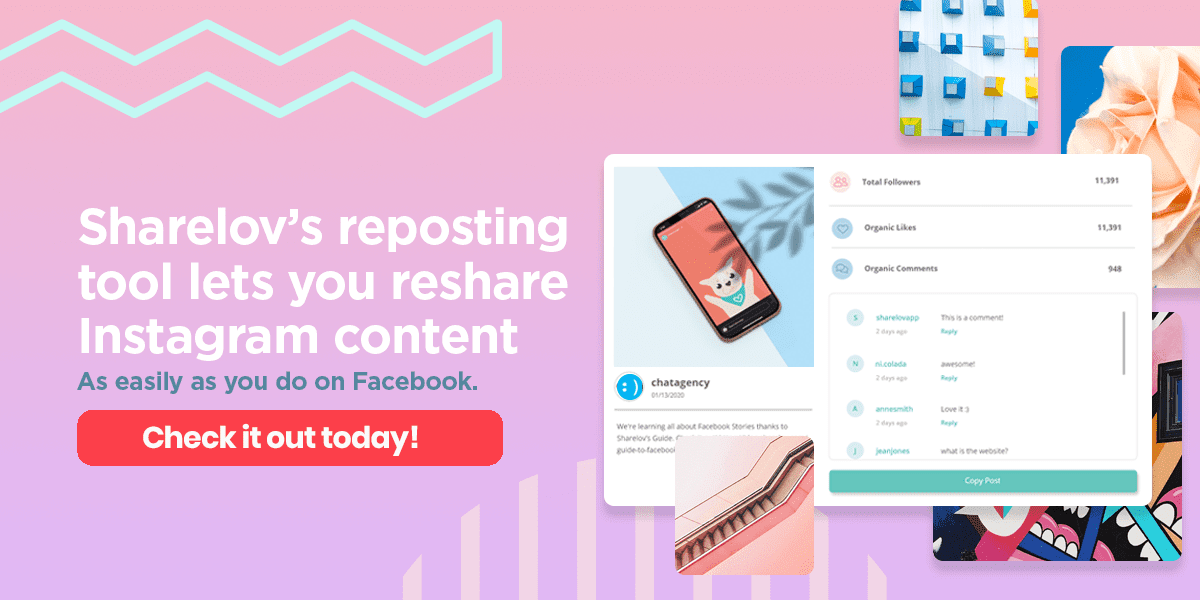 Others offer a chance to be featured. For example, Airbnb asks users to tag their images to be featured on its Instagram account page. 
Since Instagram doesn't have an easy "share" button, you have to go through several manual steps to repost content, unless you have an Instagram sharing tool. 
Sharelov's Instagram sharing tool makes reposting UGC content much easier.
You can try the Instagram reposting tool free, with a Sharelov trial subscription.
#3. Engage With Your Followers
By responding to every Instagram comment, you build trust and respect with your followers and make them more likely to become paying customers.
Responding to every comment can be a challenge without special software. It's easy to lose your place and lose track of comments. But, the last thing you want is to get frustrated when replying to followers!
Sharelov's got you covered. You can manage all your Instagram comments directly from your Sharelov dashboard, and build your brand's engagement rates, reputation, and sales in the process.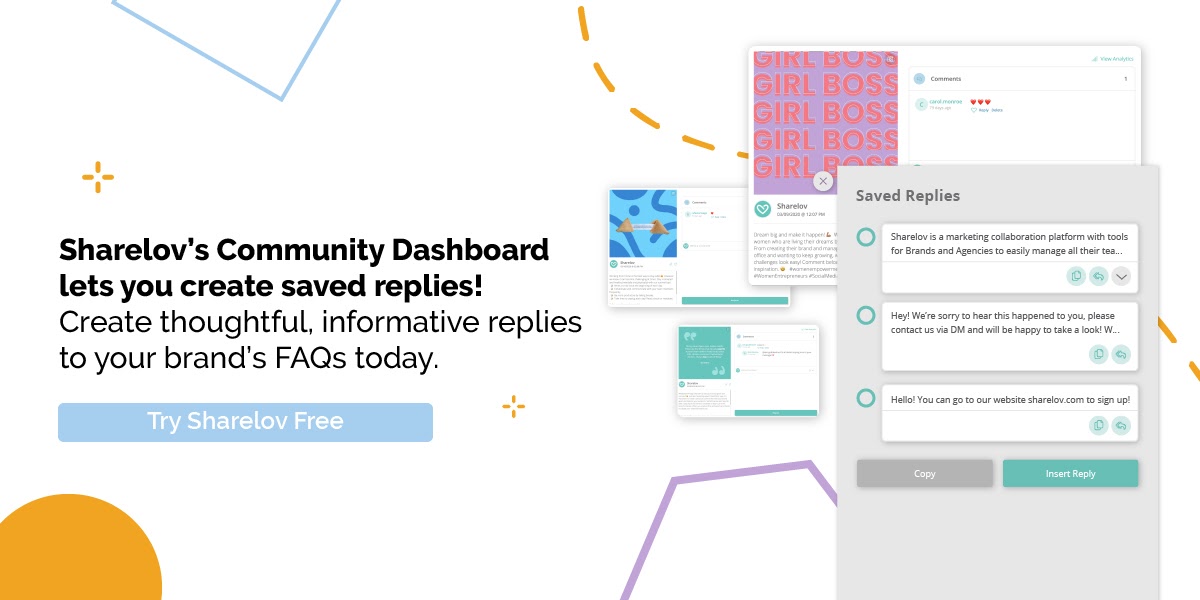 To learn more about how to reply to Instagram comments, check out our Guide to Instagram Comment Engagement here.
#4. Make The Most Of Instagram Shopping in Stories
Instagram provides several ways to help your business sell directly on its platform, and Stories is an excellent format for promoting your goods and services.
To make the most of potential sales with the Stories format:
Set up Checkout On Instagram, so you can sell directly from the Instagram app.

Create an

Instagram Shop

, if you don't already have one. 

Create "Collections" in your Instagram shop to encourage sales.

Attach Instagram shopping stickers to product images in your Instagram Stories. 
Our guide, The Ultimate Checklist for Getting Set Up, Approved, and Started with Shopping on Instagram provides you with step-by-step instructions for getting set up with Instagram Shopping. Check it out today and start boosting your sales immediately!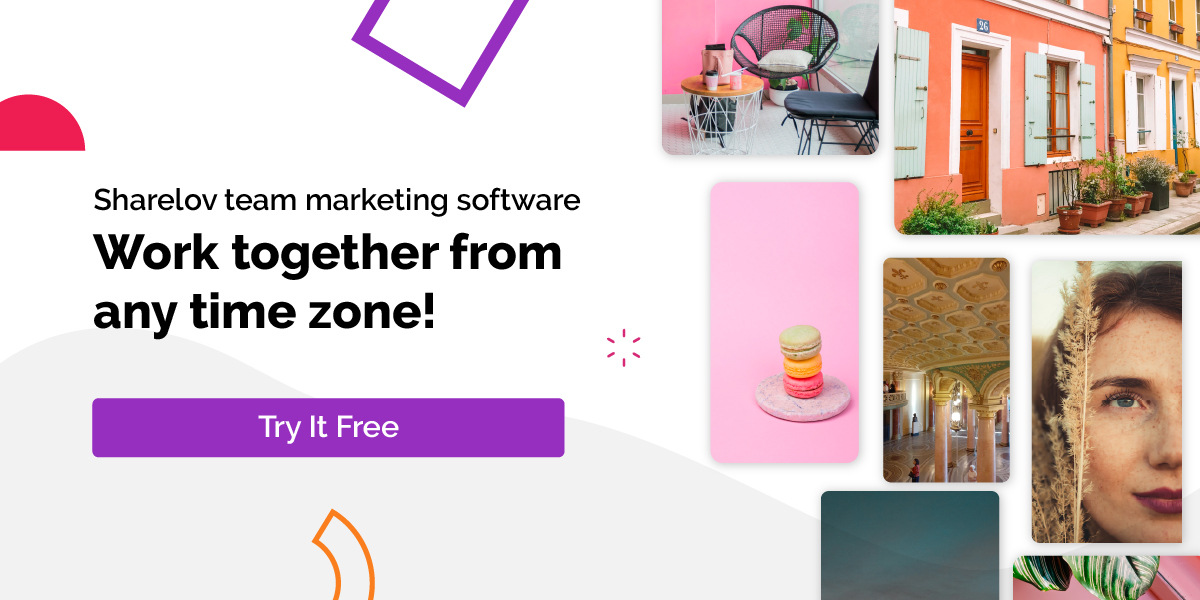 #5. Use Instagram Posts To Drive Viewers To Your Stories
Stories are an excellent shopping tool, and you can use your Instagram posts to drive more visitors to your promotional Stories:
Add a post CTA that encourages viewers to visit your (specific) Story for a special discount.

Share Story teasers in posts and encourage viewers to visit the full Story for more information.

Convert promotional Stories to profile Highlights, then add CTA's to your post encouraging viewers to visit your profile.
If you like these tips for boosting sales with Instagram Stories, you'll love this guide:
118 Ideas for Outstanding Social Media Content
Our Outstanding Social Media Content guide shares a ton of Instagram content ideas, examples, and tips that will help boost your engagement, reach, and sales.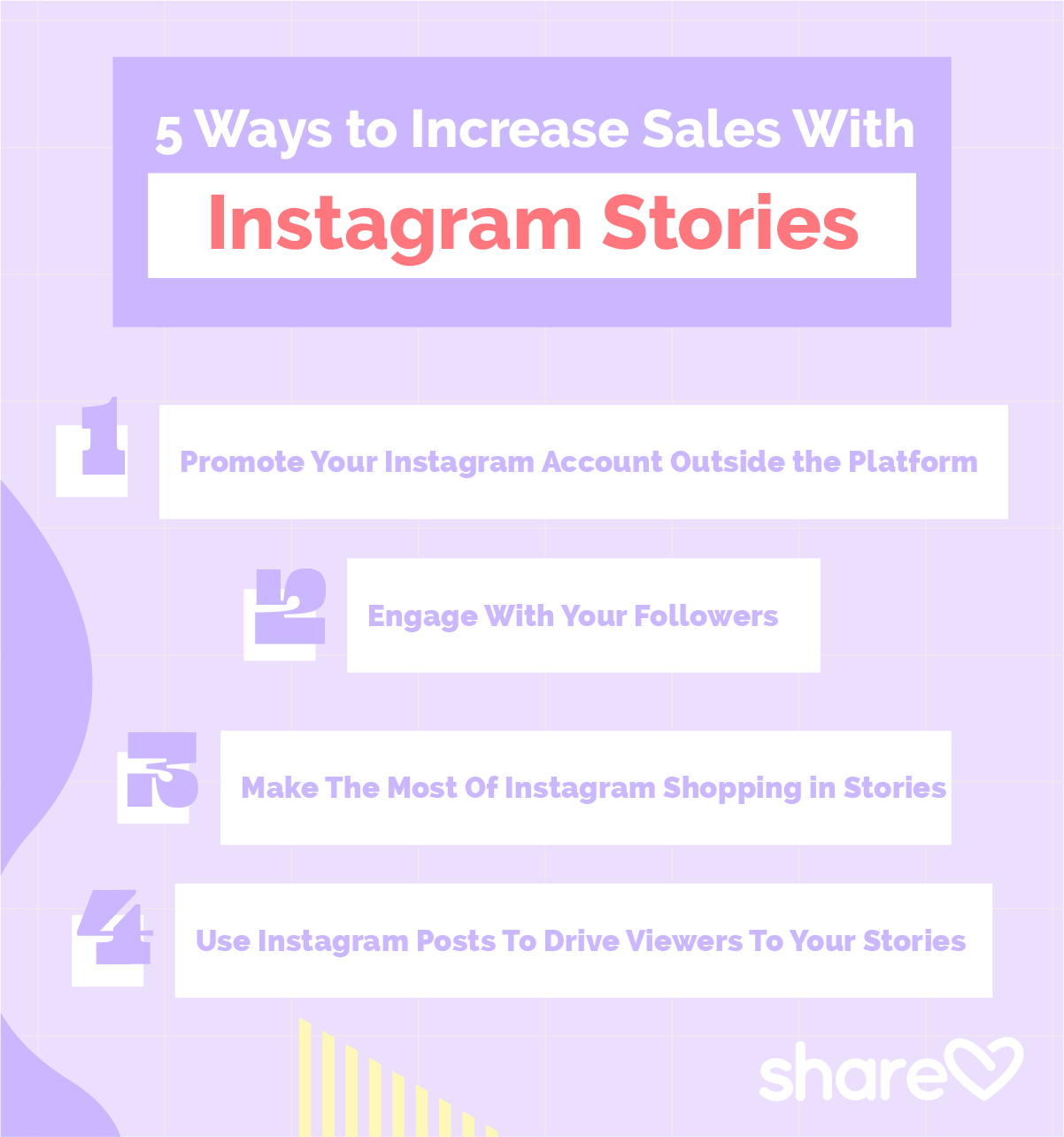 Use Instagram Story Viewers To Improve Your Sales, Reach, and Following
Instagram Stories are an excellent way to expand your brand reach and drive sales. To make the most of your Story Viewers, use Story insights to uncover more about your viewers.