With more than 2.6 billion users, YouTube gives brands and creators a chance to reach nearly any niche audience on the planet. 
With big audiences, though, comes big competition. 
The good news is that if you know what you're doing, there's plenty of room to succeed. 
90% of YouTube users say they want to see more brand videos.
In this guide, we show you how to create and optimize your YouTube channel and videos for the best chances of success.
If your long-term goals include generating profits, conversions, brand awareness, or sales from YouTube, this guide is for you.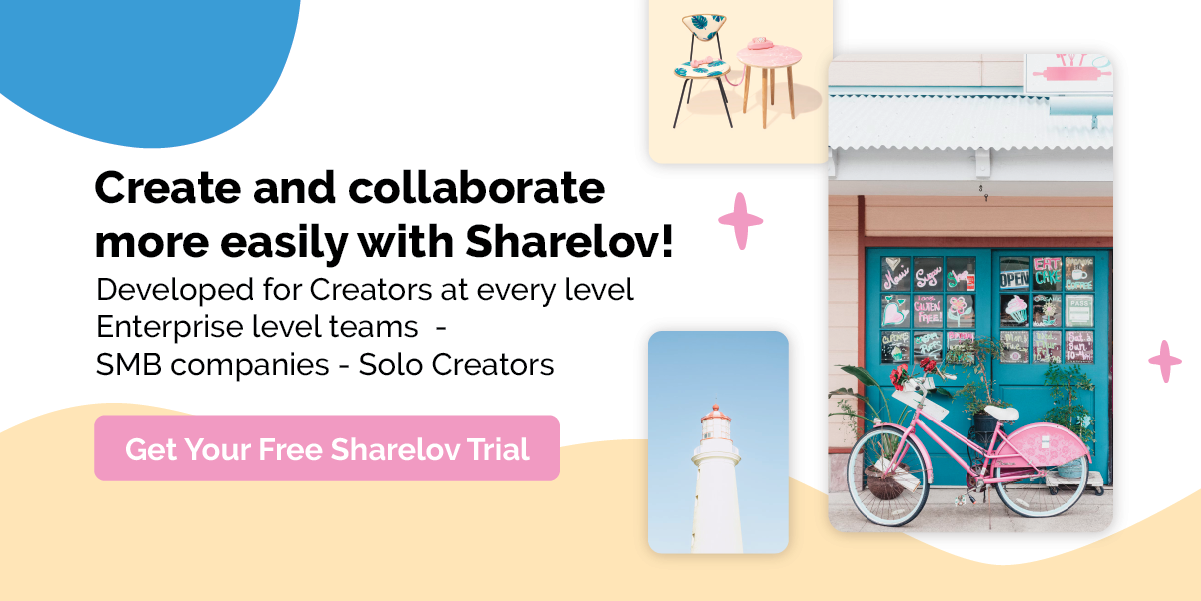 Keep scrolling for must-read information that will set your YouTube strategy on the path to viral.
How To Optimize Your YouTube Channel For Success
Anyone can launch a YouTube channel, for free, but how can you ensure that the time you invest in it is worth it?
Nearly all YouTube users (90%) say they want to see more videos from brands, and optimizing your channel is the first step toward reaching them.
Optimizing your YouTube channel involves much more than dropping keywords in the right places, though.
Success on YouTube means driving a target audience that returns to watch your videos again and again.
How to Optimize Your YouTube Channel
Set clear goals.

Define your target audience.

Research & select channel keywords.

Customize your channel.
Set Clear Goals For Your YouTube Channel
YouTube can be a lot of fun, even for serious business people. There are countless ways to create engaging videos that people love, and bringing those ideas to life to share with other people is often a highly rewarding adventure.
And let's face it, when the likes and subscribers begin to add up, it can be more exciting than a good night in a Vegas casino.
The downside of all that fun and excitement is that it's easy to lose your way if you're not crystal clear on your niche and marketing objectives before you begin. 
Millions of views won't do you any good if you attract the wrong people. And building a niche audience of millions is worthless if it's not attached to profits. So you want to be clear on why you're investing time in a YouTube channel before you get started.
Brands typically choose YouTube channel goals such as
Increase brand awareness

Generate leads and conversions

Sell products or services

Serve current customers
Solo creators often set YouTube goals such as
Generate merchandise or product sales

Drive website traffic

Earn revenue from

YouTube creator programs

such as channel memberships, super chat, and advertising.
Define Your Target Audience
When you're actively marketing on a channel like YouTube, with more than 2 billion users, you'll want to be clear on exactly who you want your videos to reach.
For example, marketing the best beef hamburgers on the planet to an audience of vegetarians won't set your channel up for success.
The more precisely you define your target audience in advance, the better your chances of success on YouTube. 
Clarifying your target audience, before you get started, will help you target the right people with content that serves them. It will also pave the way for greater creativity as you produce content.
Hubspot is an excellent example of a company that has a clearly-defined niche (marketing professionals in small-to-medium-sized businesses) and a successful YouTube channel. 
It caters to its target audience with content that serves and engages them, such as marketing tools and templates, advertising tips, industry news, success stories, and more.
Defining your target audience will help you reach the right people — ones who are more likely to purchase from or donate to you so that you can achieve your goals on the platform.
Once you've defined your goals and target audience, you're ready to choose keywords for your YouTube channel.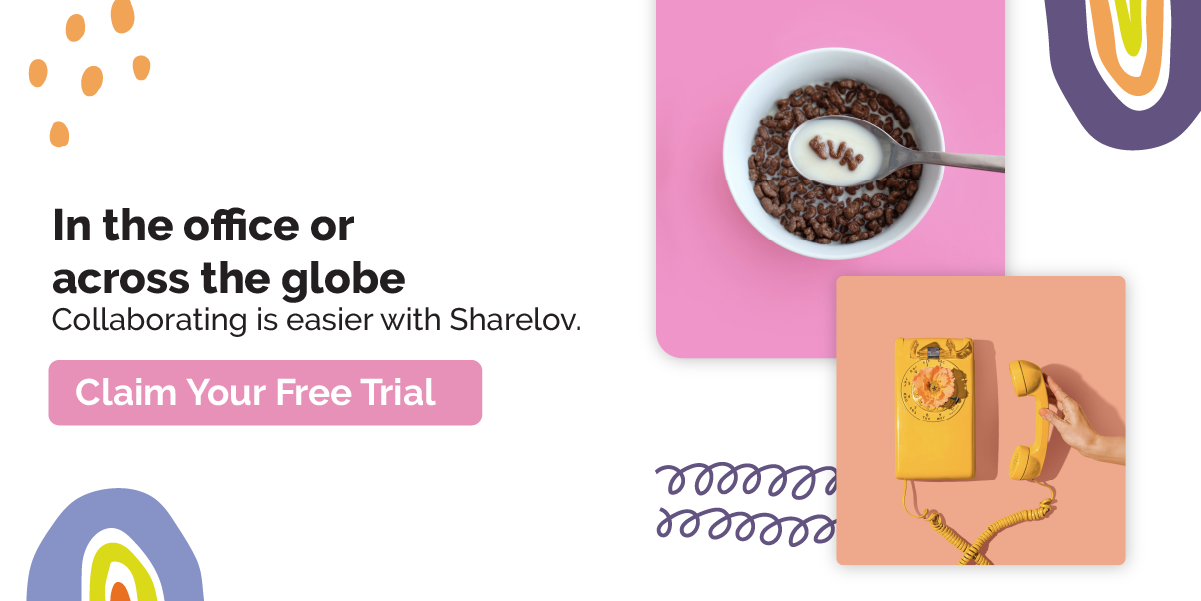 Research And Select Channel Keywords
You'll have the opportunity to rank for many different keywords on YouTube and on Google, but before you get started with keywords for your content, you'll want to choose your primary channel keywords.
Your channel keywords should focus on who you (or your brand) are and what you do. You'll use these keywords in the first sentence of your channel's "about" section, in the next step.
Customize Your YouTube Channel
Whether yours is a YouTube brand account (for businesses) or a personal account (for creators), you'll access YouTube Creator Studio to customize your channel.
To create your YouTube channel

, sign on to the platform, click your profile image, and select "Create a channel" from the dropdown menu. Follow the steps to create your new channel, including selecting whether to create a

business or personal YouTube channel

.



To customize your channel, click on your profile image and select "YouTube Studio" from the dropdown menu.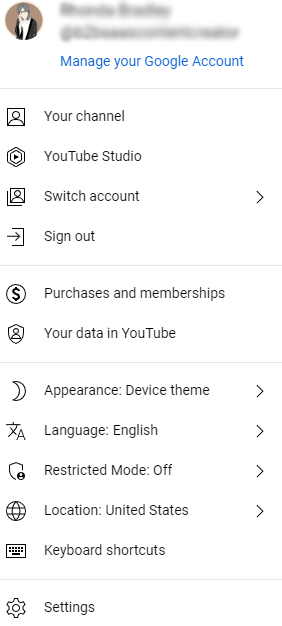 From the YouTube Studio, access channel customization from the left sidebar menu. The customization icon is the 2nd one from the bottom.

There are three tabs inside the customization panel; Layout, Branding, and Basic info.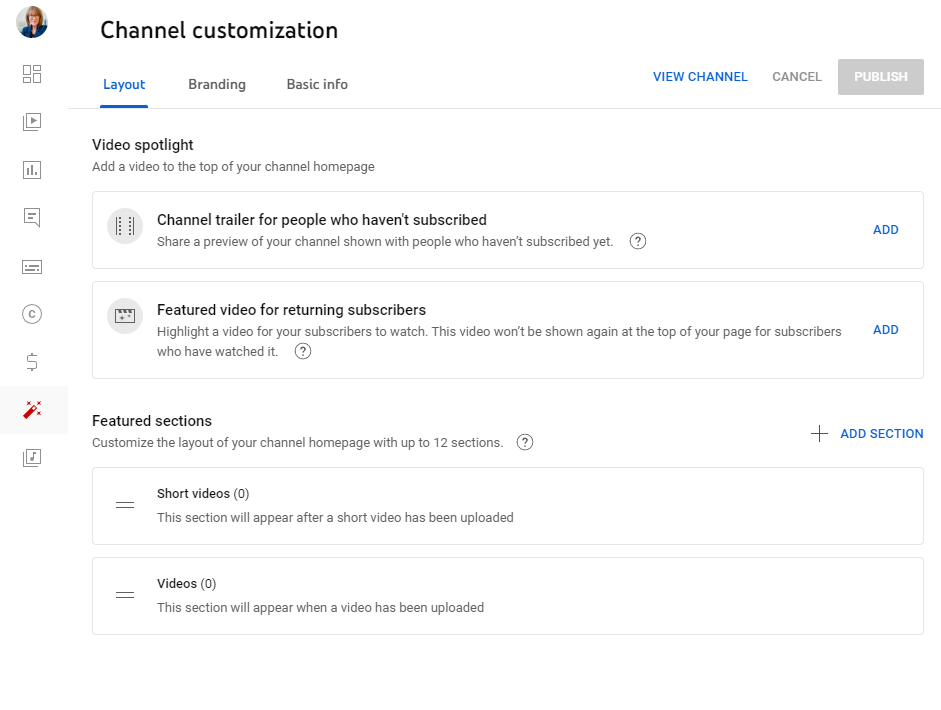 From the Layout tab of your channel customization, we recommend adding the following:
Upload a channel trailer for non-subscribers.

Upload a featured video for returning subscribers.
As your channel grows, you can return to this panel to add more featured sections such as:
Popular videos

Short videos

Live now

Past live streams

Playlists

Subscriptions

Featured channels
From the Branding tab of the customization section, ensure that you've uploaded a profile picture (or logo if you're a brand), a banner image (at least 2048 X 1152 pixels and 6MB or less), and a watermark (if you choose) to appear in the lower right corner of your video player.
We've used an illustration for this example, but you'll want to use a real image or brand logo for your profile picture.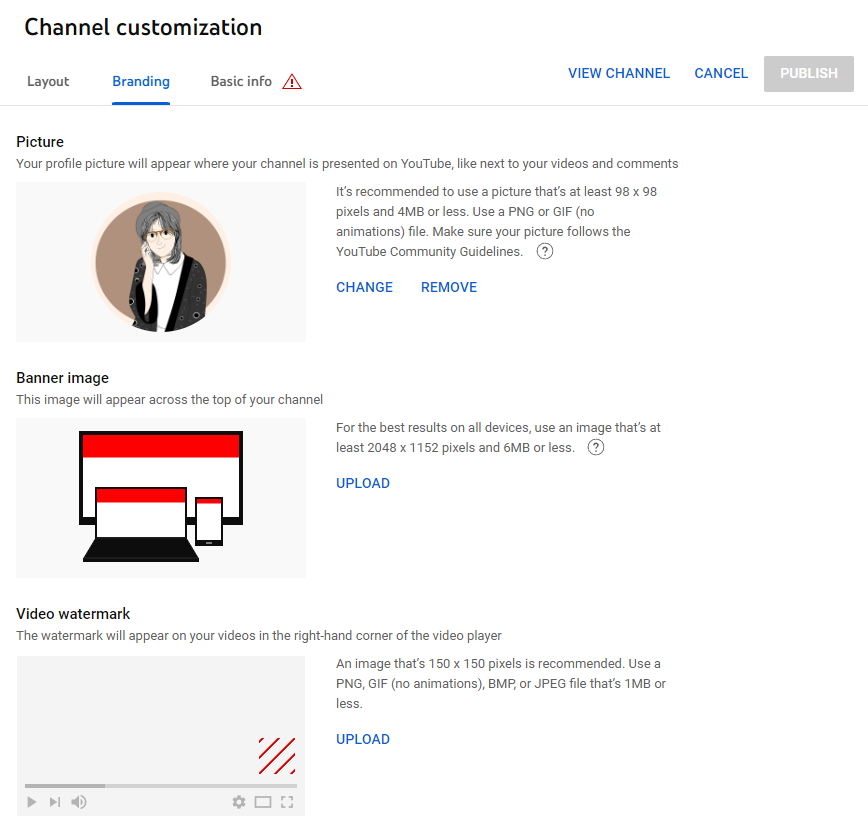 From the Basic info tab of the customization section, you'll enter your channel name, handle (hopefully the same as your channel or brand name), and a description of your channel.
Use your channel keywords in the first sentence of your Description

. This is your chance to get your keywords placed in your channel and tell your viewers what you're all about.
You can also add a link to your website or product page under the "links" section, and an email address under "Contact info."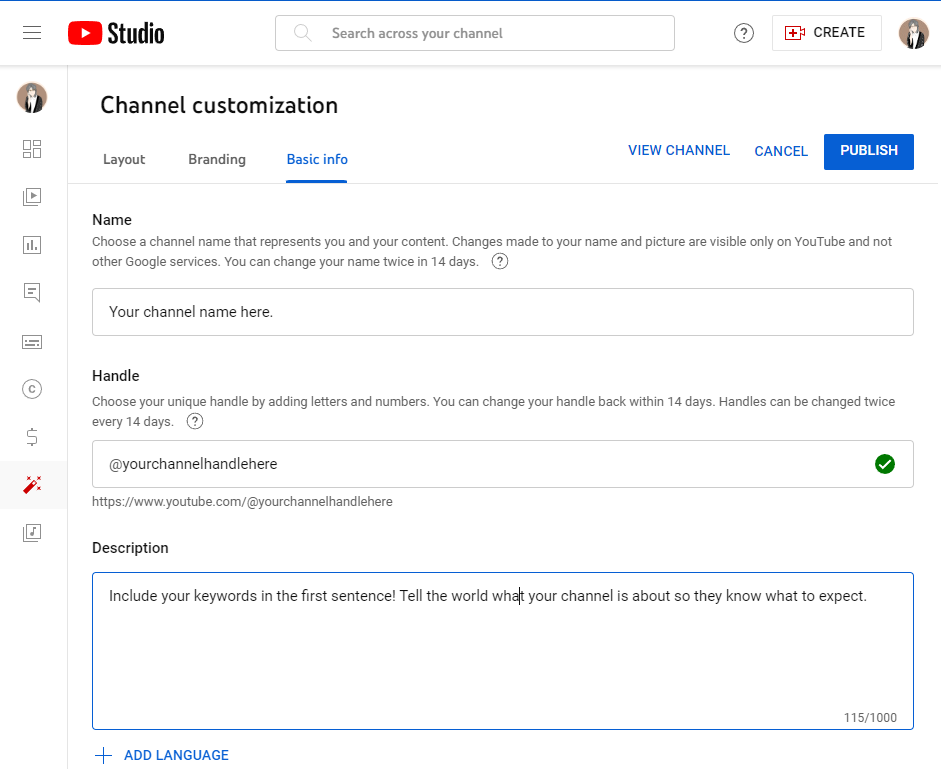 Remember to hit "Publish" before you navigate away from YouTube Studio! After publishing your changes, you can select "View Channel" in the top menu to see your changes.
Filling out your channel profile completely is the first step toward optimizing your presence on YouTube. Every blank in the form is an opportunity to represent your work and YouTube channel in a way that reaches your target audience.
How To Optimize YouTube Videos
Optimizing videos for YouTube extends beyond optimizing them for search engines and algorithms. To fully optimize your videos, you'll also want to develop a content plan that guides you toward creating the types of videos your audience responds to.
Conduct Keyword Research
Keyword research tells you what people are looking to watch, how much competition there is, and how likely it is that your videos will be a success.
YouTube Creators channel recommends using Google Trends to find search terms that people are looking for. Google Trends is a free tool that helps you research search terms. It also allows you to compare search terms in case you're undecided.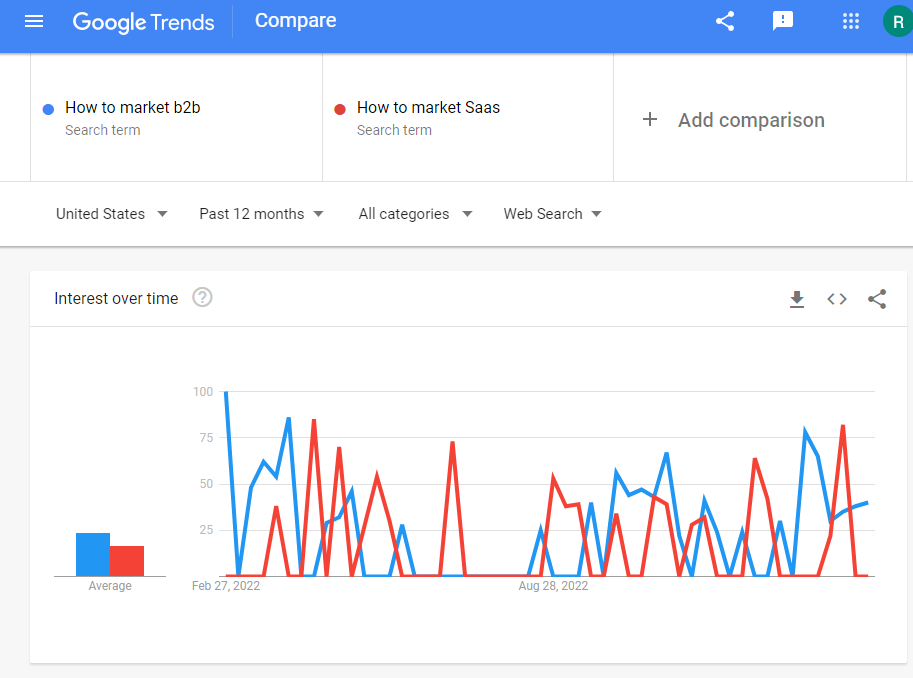 You can also use YouTube's predictive search and "People also watched" features to discover similar terms that people are searching for.
YouTube Predictive search is the list of suggestions that pop up as you're typing a term into the search bar.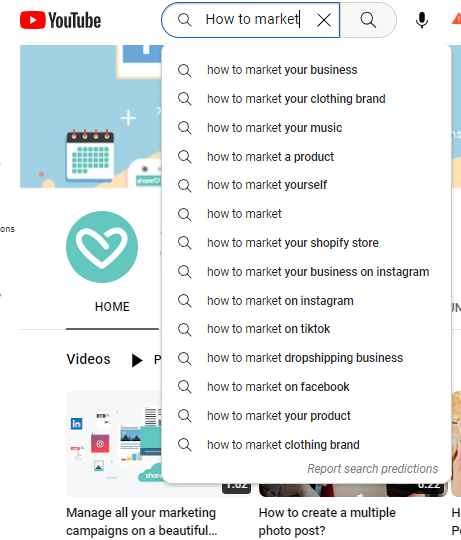 YouTube "People also watched" is a list of suggested videos that appears below the search results.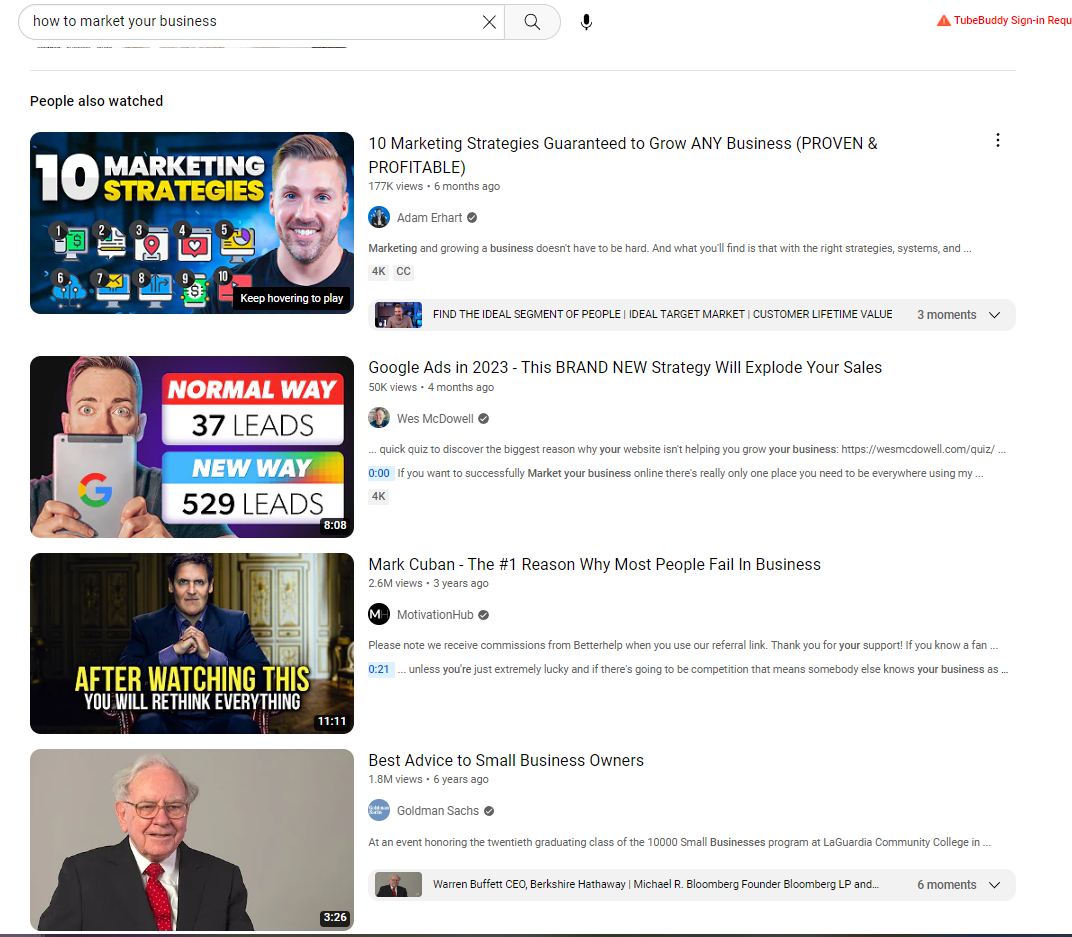 Professional tools such as Ahrefs and SEMRush can provide you with detailed information about potential keywords, and most have a free version or free trial that allows you to learn your way around before you pay.
For example, on Ahrefs you can enter your keywords for an estimate of how many YouTube searches were conducted for that term.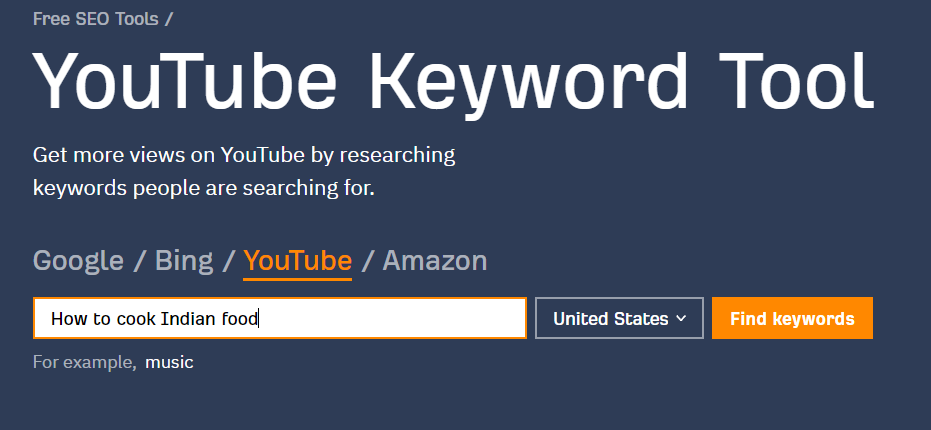 Its free version of the keyword tool can help you determine how much traffic you might compete for with any phrase.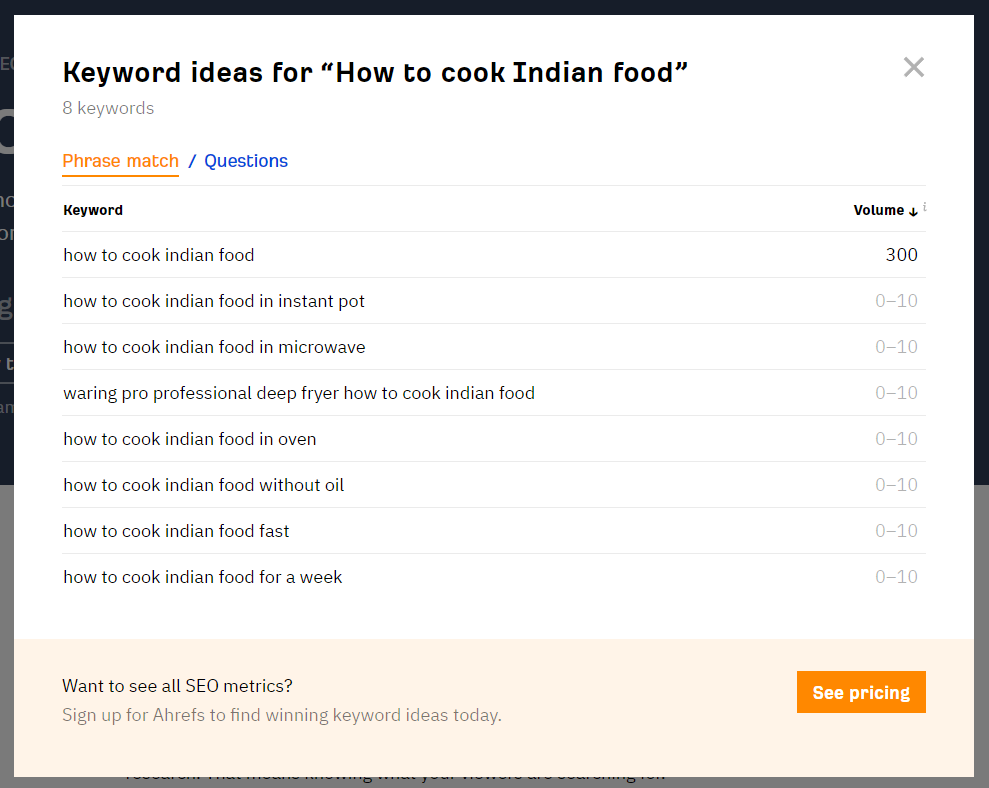 Paid versions of keyword tools are well worth the investment if you're serious about building an audience on YouTube. They help you choose better keywords by providing you with details such as how hard it might be to rank and what the competition is like, and much more.
Set A Consistent Publishing Schedule
While keywords and content development are a part of planning, they are not the only considerations. 
The timing and frequency of your publishing schedule is a key factor of success on YouTube. 
Publishing at the best times for your audience and releasing new videos on a consistent schedule can make a world of difference for your channel.
If you're a brand working with a team of people producing videos, you may be able to publish videos as often as once a day.
However, most businesses will publish less than that, which is fine. You should only publish new videos as often as you can create high-quality content.
Solo creators should use caution not to overextend themselves with the expectation of publishing too often. Keep in mind that success on YouTube takes time, and plan to publish only as often as you can create high-quality content without experiencing burnout.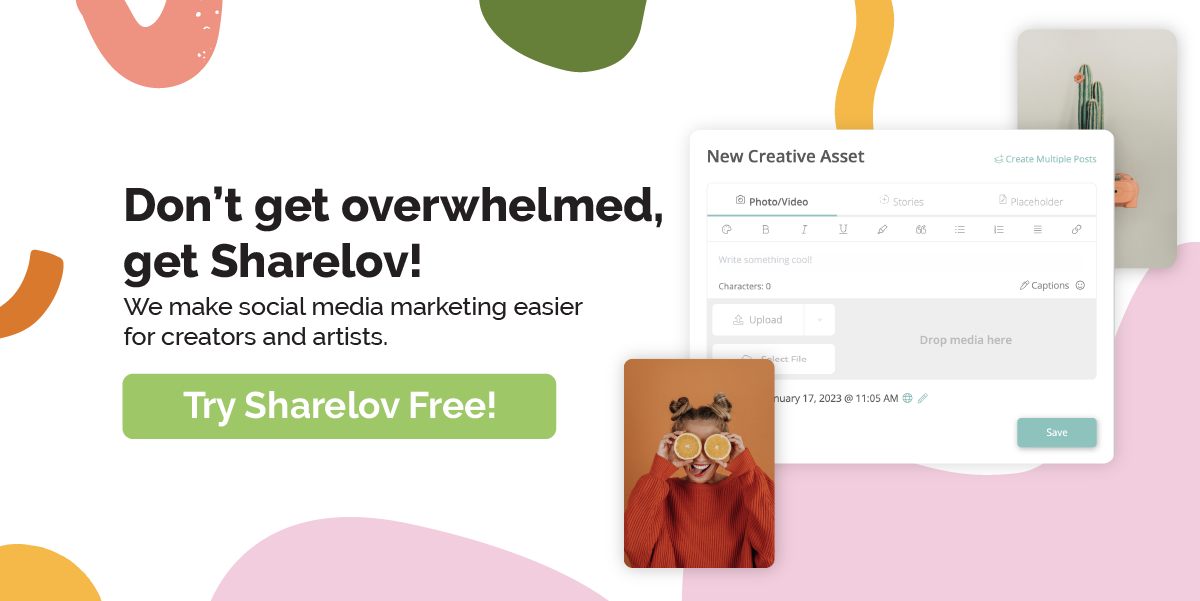 Regardless of your size, publishing consistently is critical to success on social media. For the best results, choose a consistent publishing schedule that you know you can stick with.
The best times to publish on the platform are different than on many other social media channels.
On YouTube, the days and times you publish can have a real impact on driving viewers to your channel. 
Publishing your videos at the right time can earn you between 2 – 5 times more views during the first few hours. 
If you plan to create YouTube live-stream videos, timing becomes critical. 
To find out the best days and times to publish your content, check out the Guide To The Best Posting Times On YouTube on the Sharelov blog.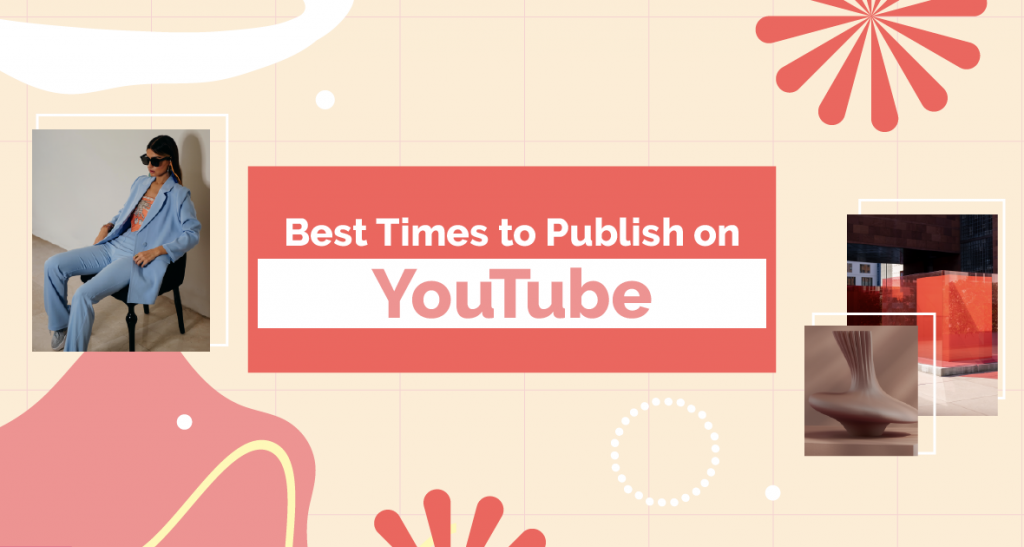 Determine Your Average Video Length
Setting an average length of time for your videos will help guide you and your team in the right direction, although you don't need to stick to a strict time schedule.
However, you should determine whether you'll publish Shorts, long-form videos, or a combination of both.
On YouTube, shorts are a good way to catch attention, but long-form videos are the best way to hold attention and generate engagement. 
The more time people spend watching and engaging with your videos, the higher you'll rank in YouTube's algorithm, and the more often you'll appear in the recommendations section. In most cases, it will serve you well to create long-form videos instead of Shorts.
Over time and as you publish more videos, your YouTube channel analytics, found in the YouTube Studio, will show you what length of videos are most successful for your audience.
Create A Content Calendar
A content calendar can help guide you and your team toward more successful videos. 
This doesn't mean that you have to (or even should) plan out your videos a year in advance. In fact, sometimes it's better to avoid planning more than a month or two in advance since you'll want to use your YouTube analytics to guide your channel's development.
A content calendar can help you do much more than plan which videos you'll publish. It's also an opportunity to plan and organize your marketing strategy, campaign themes, special events, and holidays.
A good drag-and-drop content calendar, like the one you get free with your Sharelov subscription, helps to keep your entire team on the same page. It can also go a long way toward helping small businesses and solo creators stay on track with their goals and avoid overwhelm.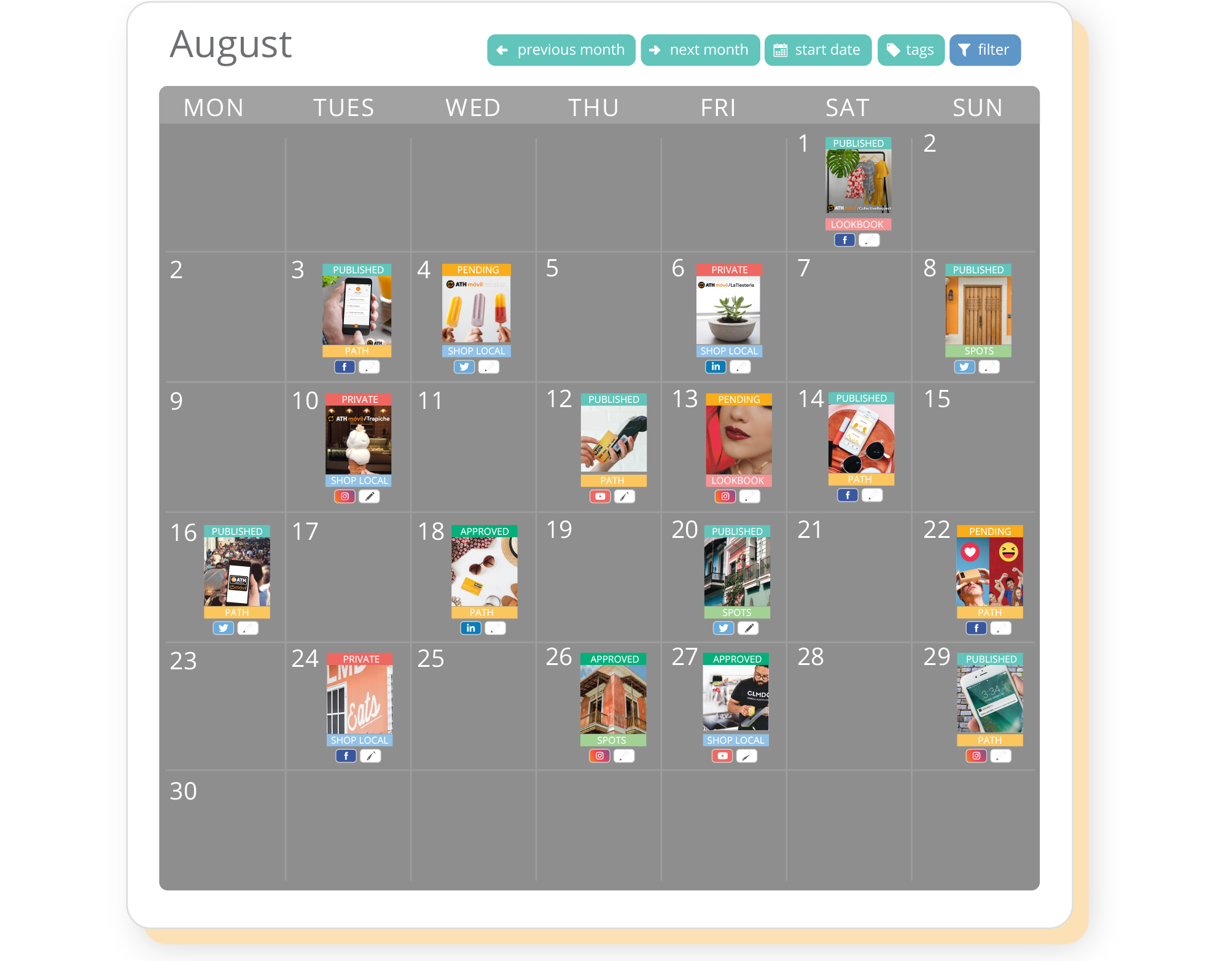 Content calendars benefit teams and solo creators equally. They can help you manage and organize the content, campaigns, and keywords for your YouTube channel.
Optimize Your Videos For Search
To optimize your videos for YouTube and Google search engines, write an engaging title with a keyword-rich description.
Writing great titles for your videos means including keywords while also engaging potential viewers.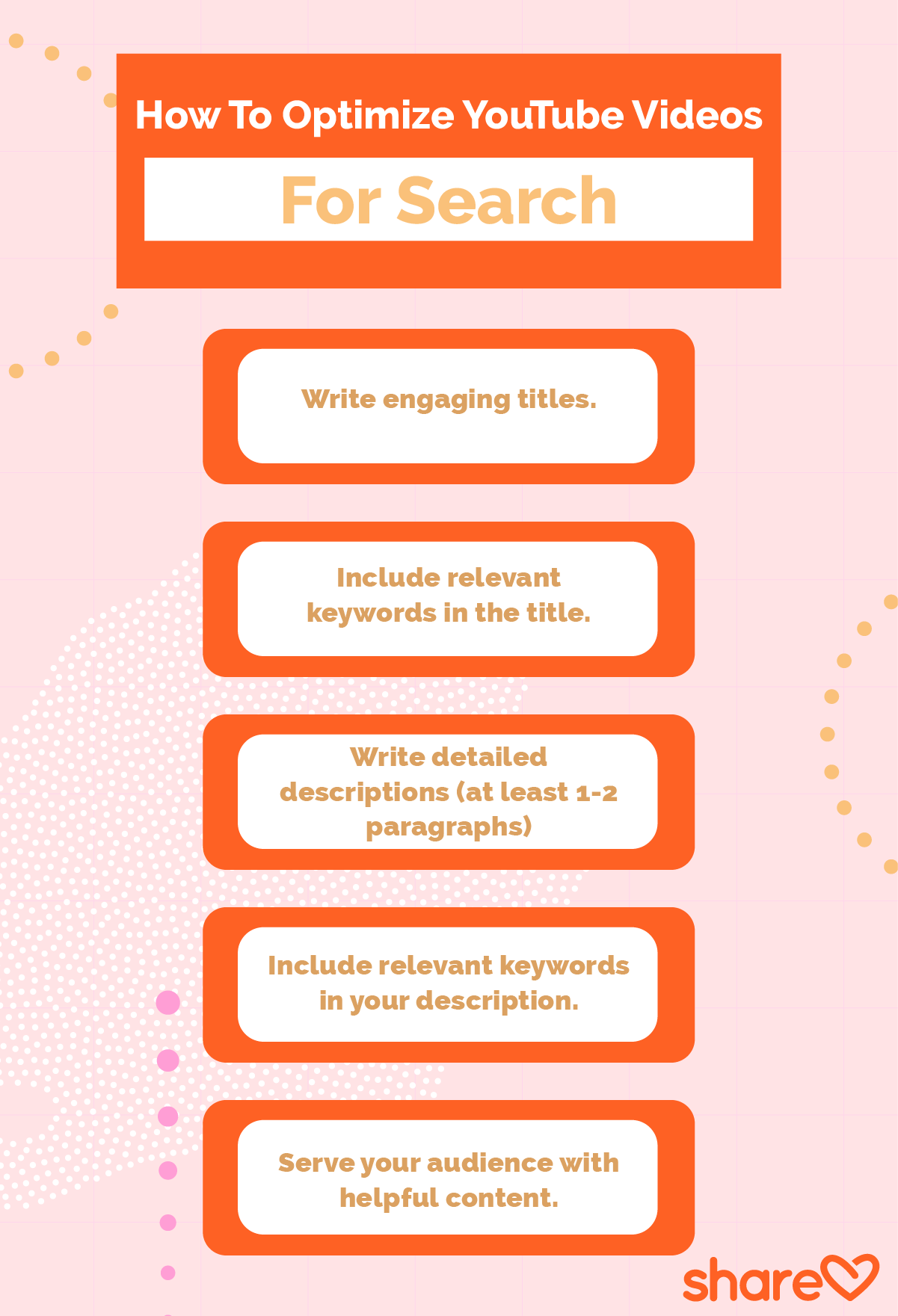 To create an engaging title, clearly state the benefit of watching it and include your keywords. 
For example, if you own a shoelace company and release a video on how to tie shoelaces (with keywords: how to tie shoelaces), you might make it irresistible with an engaging title such as "Learn how to tie shoelaces like a pro and never trip again."
To create an effective description, write at least one or two paragraphs that provide details about your video. According to YouTube, putting only a link or two in your description may cause you to miss out on views. 
Include relevant keywords in your description. 
Serve your audience well, and they'll come back for more. Don't be that brand or person that tricks people into watching your videos or spams them with constant sales pitches. Instead, provide your viewers with authentic, beneficial content that makes them want to return for more.
Encourage Viewers To Subscribe To Your Channel!
During the course of your videos, ask viewers to subscribe. It's easy for people to get caught up in what they're watching, and even easier to forget where they saw "that great video."
Remember to ask for what you want — which should always include encouraging viewers to subscribe to your YouTube channel.
Optimizing your YouTube videos includes consideration for search terms, but it also means preparing your content in a way that best serves your audience. To set your videos up for success, conduct keyword research, set a consistent publishing schedule, determine your view times, create a content calendar, optimize for search, and remember to encourage viewers to subscribe to your channel.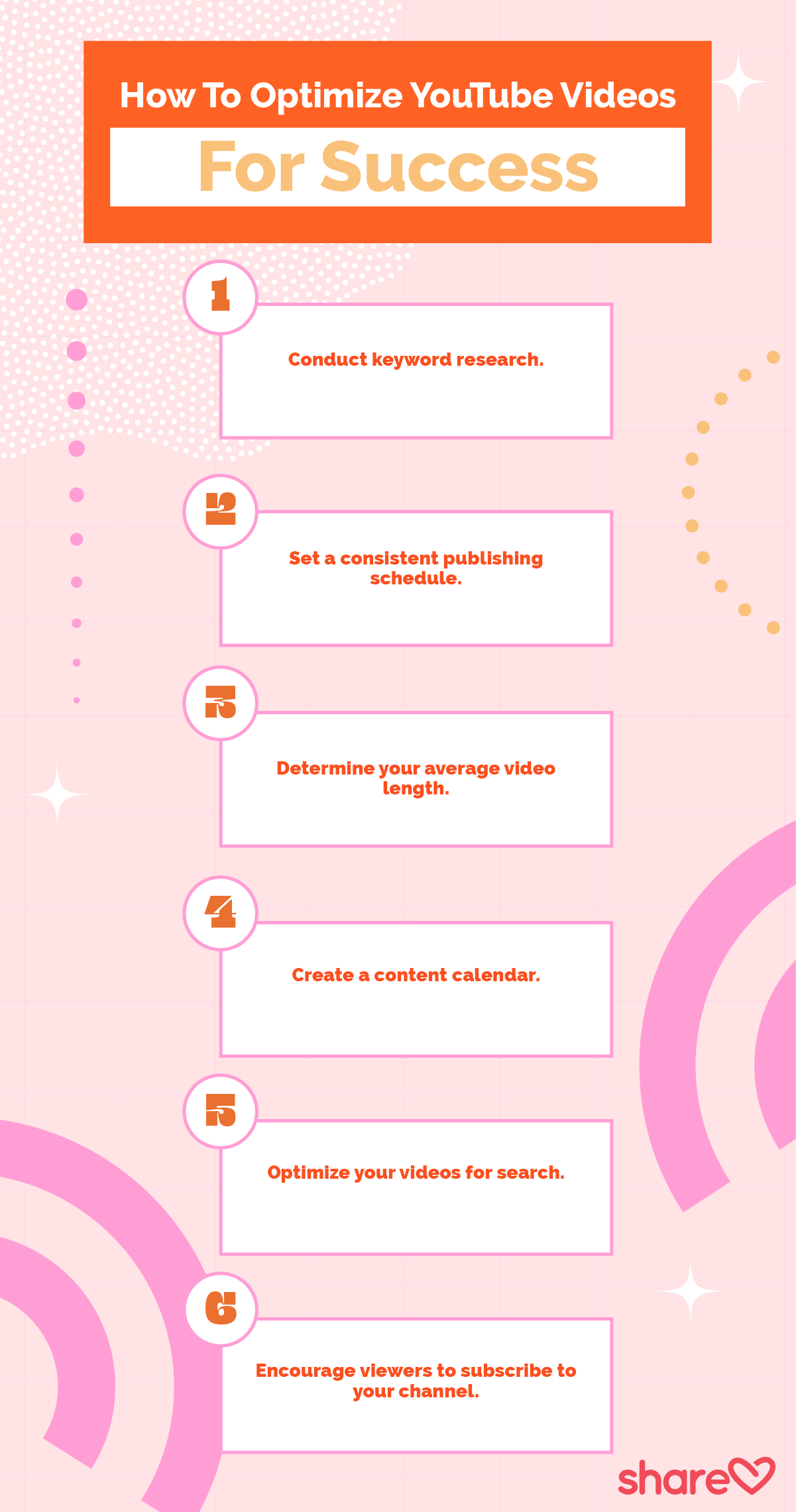 Optimize Your YouTube Channel For Success
Optimizing your YouTube channel and videos can help you to build an engaged and active audience on the platform. 
Keyword research and placement are a significant part of the process, however, understanding your target audience and creating content that serves them is equally important.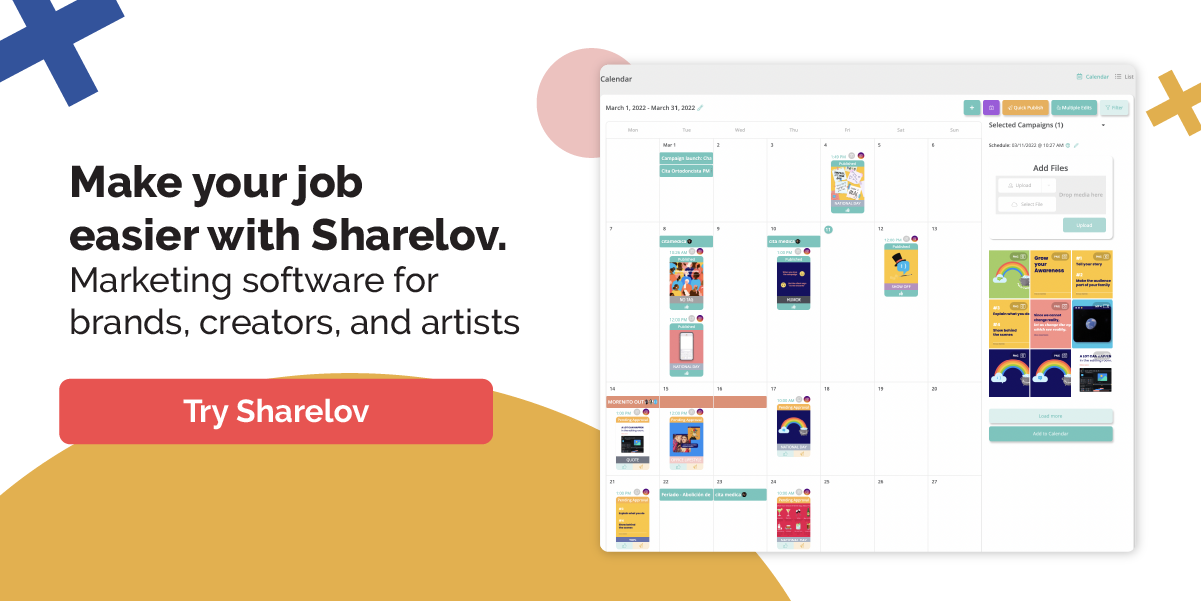 What do you think? Have you launched a successful YouTube channel in the past? If so, what are your favorite success optimization tips? Share them with us in the comments below!